Welcome to the world of mountain tattoos! If you're searching for cute and stylish ideas for your next mountain tattoo, you've come to the right place. Mountains are not only amazing to hike and explore, but also make for great tattoo designs. These natural wonders represent strength, resilience and majesty, making them a popular choice among tattoo enthusiasts. While large and detailed mountain tattoos are common, there's a growing trend towards minimalist designs that are just as beautiful and meaningful. So, let's explore some stunning examples of minimalist mountain tattoos that will inspire your next ink!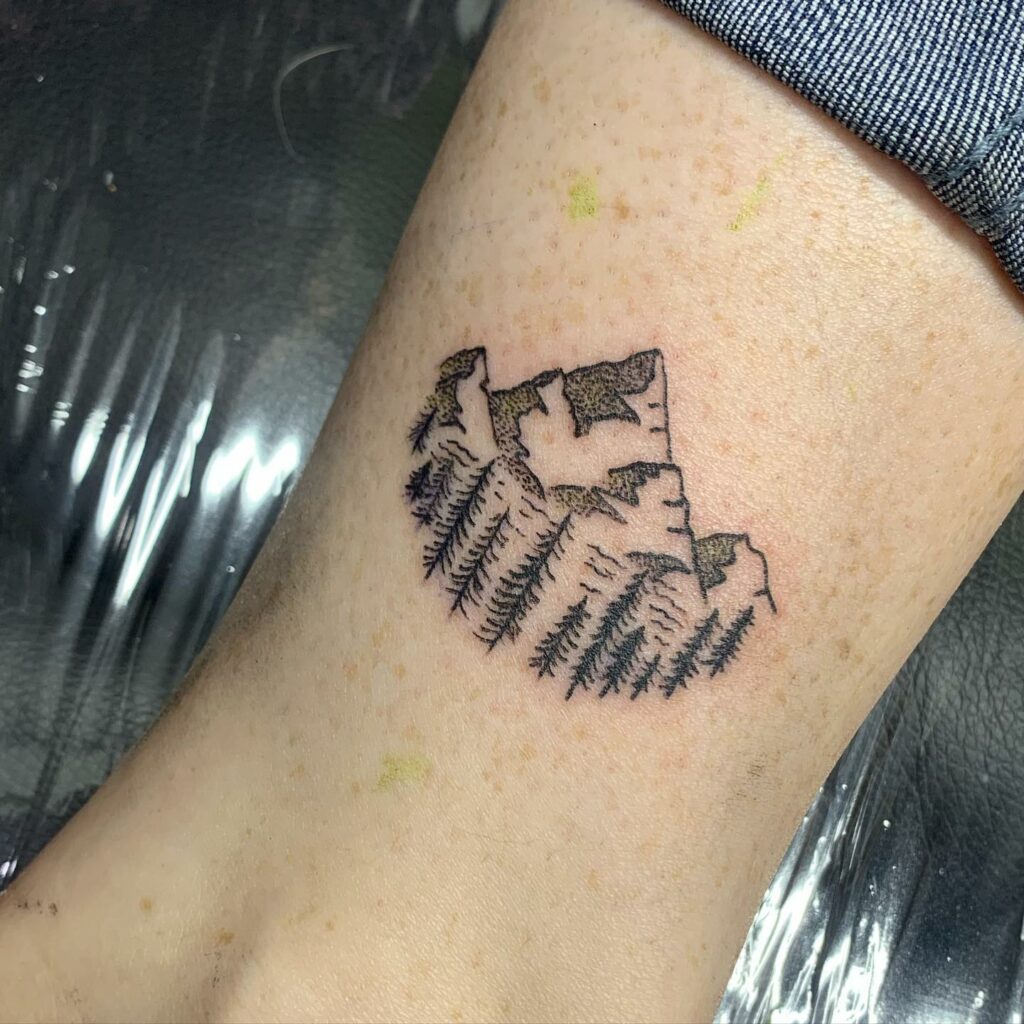 Simple Mountain Tattoo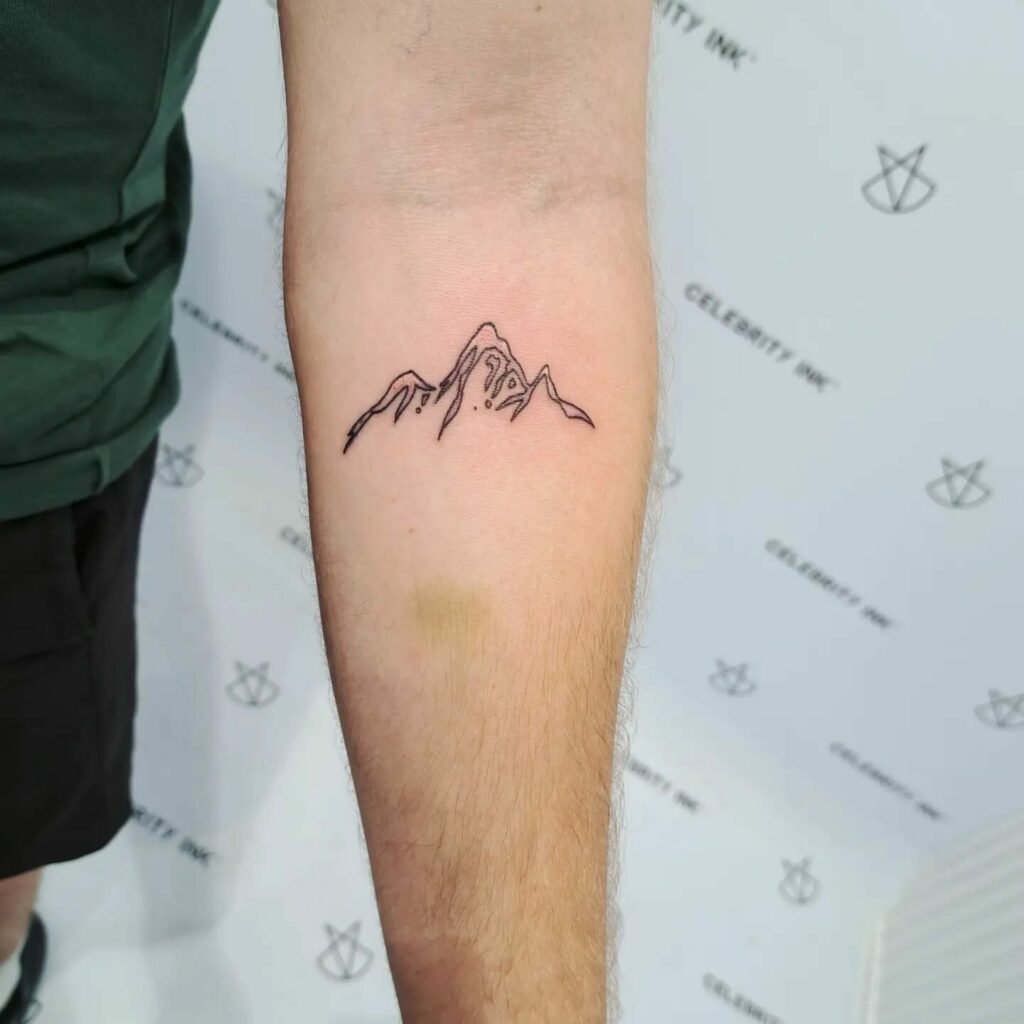 Mountain tattoos are a great way to symbolize your love for nature and adventure, and this example is no exception. The fine line work in this tattoo creates a stunning yet simplistic design of a mountain range on the forearm. The placement on the forearm is perfect as it allows for easy visibility and appreciation of the art. Mountains have long been associated with peace, stability, and strength, making them a popular choice for tattoo designs. They can also represent overcoming obstacles or achieving goals, as reaching the summit of a mountain requires determination and perseverance. If you're a nature lover or a travel enthusiast, a mountain tattoo may be the perfect way to capture the essence of your passion and remind you of the beauty of the natural world.
Mountain Armband Tattoo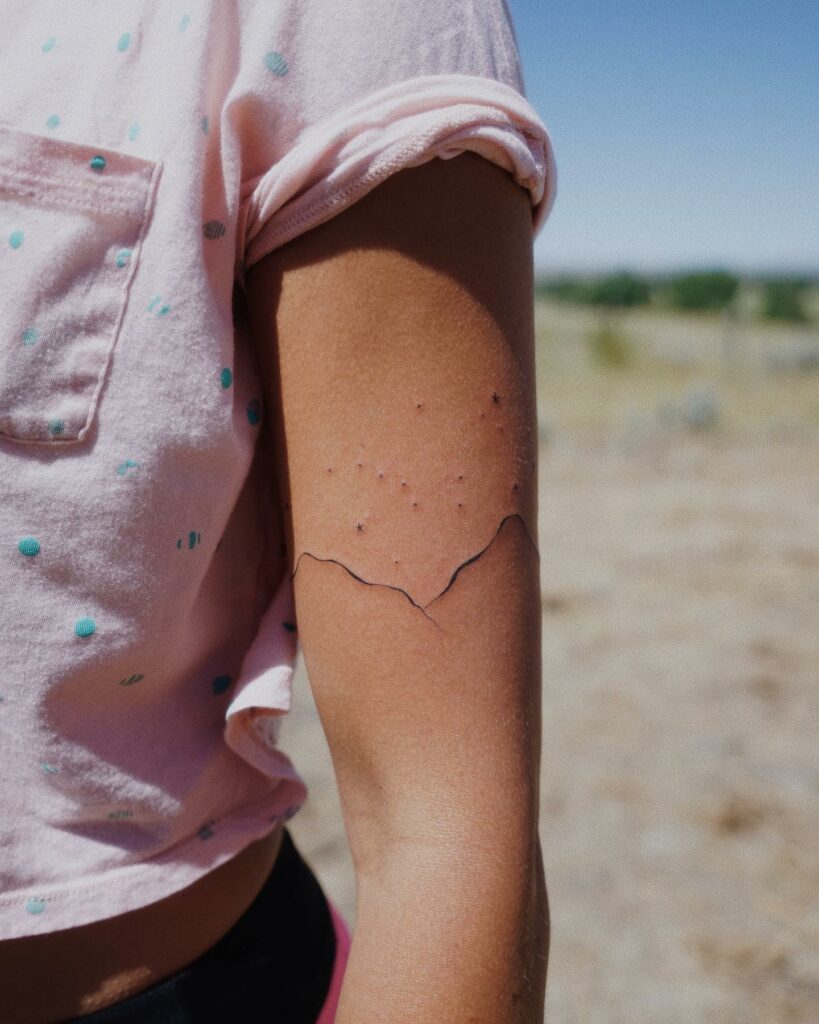 This mountain outline tattoo is a prime example of how simplicity can be strikingly beautiful. The artist has strategically placed this tattoo on the arm to create an armband-like illusion. These kinds of tattoos are perfect for those who prefer subtle and understated designs. The use of simple curved lines instead of straight lines creates an uneven texture, giving it a more natural and realistic look. The tattoo artist has used only black ink to create this minimalist yet captivating design. Mountains are a symbol of strength and resilience, and this tattoo can remind you of your own power to conquer challenges in life. If you're someone who loves the outdoors and the beauty of nature, then a mountain tattoo might just be the perfect fit for you.
Beautiful Mountain Tattoo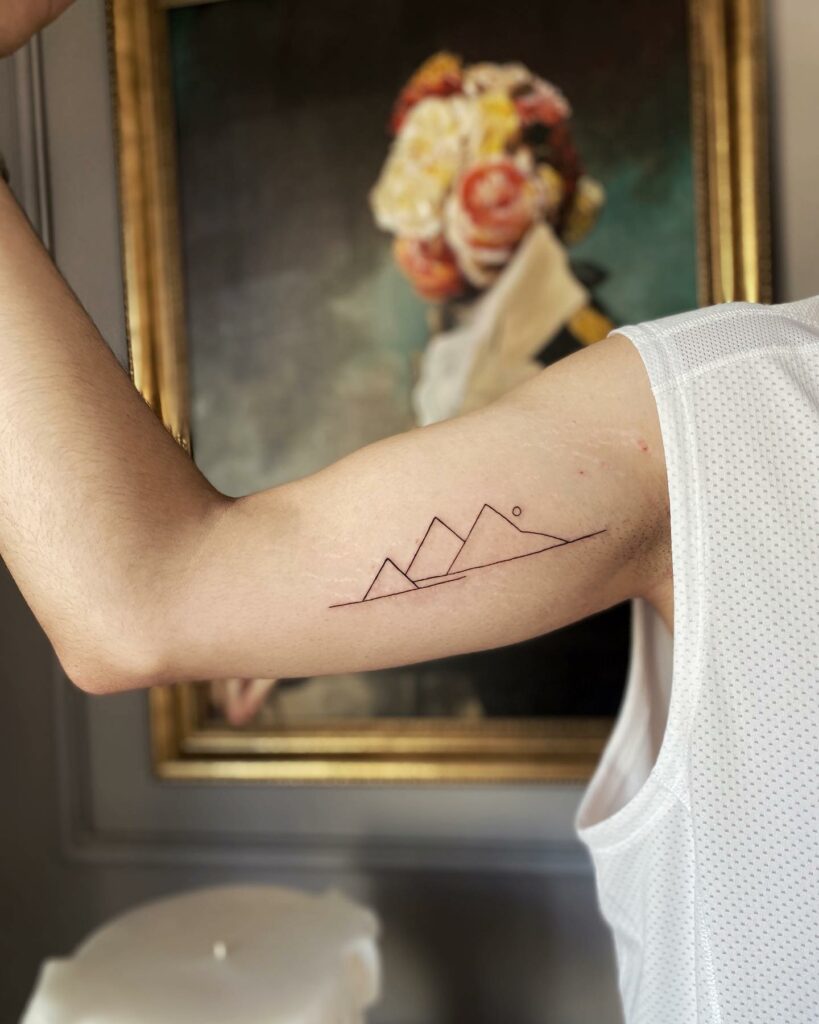 A small mountain tattoo could be just what you need. Take a look at this stunning example of a mountain design on an individual's arm. Fun fact: many mountain tattoos are inspired by real-life mountain ranges, such as Mount Everest or the Rocky Mountains. If you've ever visited one of these awe-inspiring locations, a mountain tattoo could be a great way to commemorate your trip. In this particular design, the artist has used straight lines in black and gray ink to create a striking mountain silhouette. But the real star of the show is the small sun at the peak of the mountain, adding a touch of realism and cleverness to this beautiful piece of body art.
Lettered Mountain Tattoo Design
If you're looking to personalize your tattoo design, adding a word that's close to your heart can be a great way to do so. In this image, the wearer has added the word 'adventure' beneath the mountain tattoo, making it an even more special design. If you're a nature lover or have a strong desire to explore new places, this kind of tattoo can perfectly capture your wanderlust spirit. These tattoos are not only easy to make, but also less painful, making them a popular choice among individuals. You can choose your favorite word to highlight in your tattoo and even add colors to match your preference. If you prefer a classic black and white design, this tattoo is definitely worth considering. So, go ahead and get creative with your tattoo design by adding a personalized touch that resonates with you.
Trendiest Mountain Tattoo Designs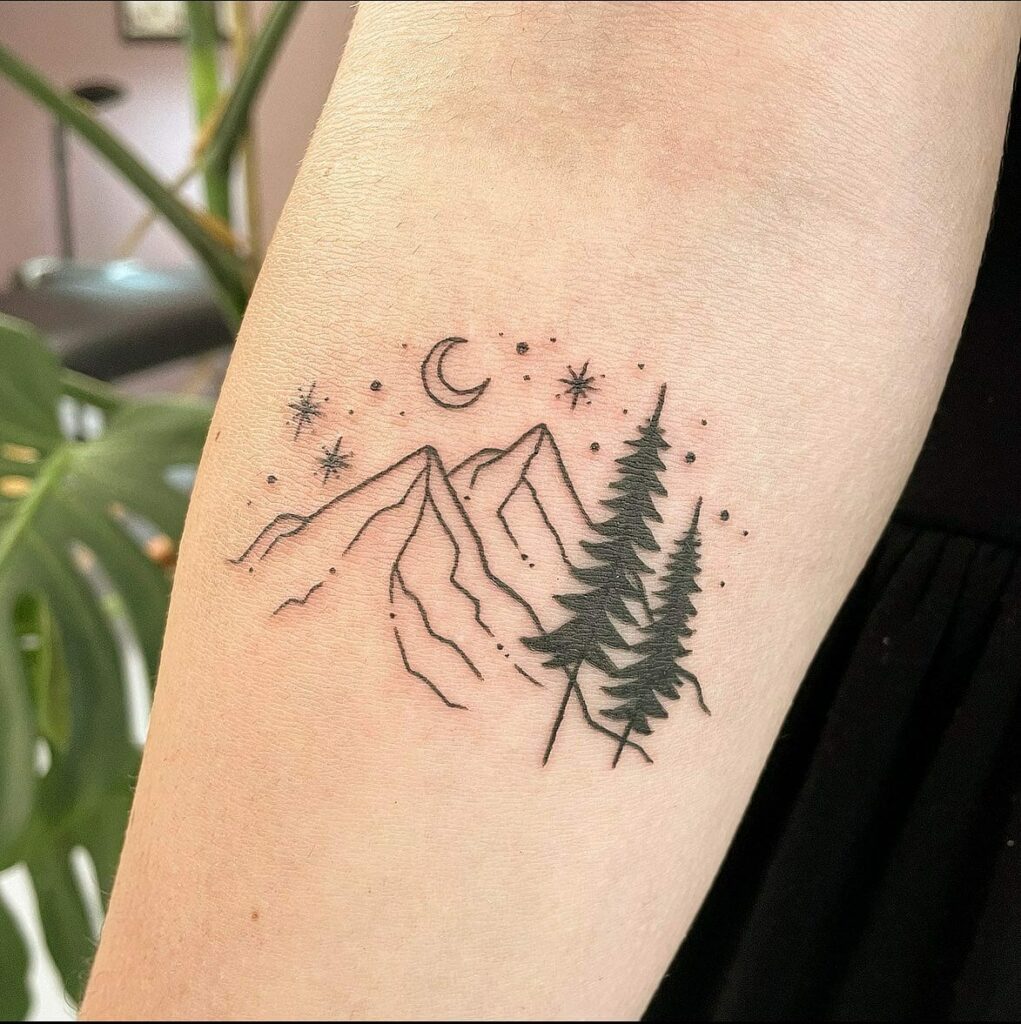 When it comes to tattoos, minimalist designs can be just as stunning as larger ones, and this image is a perfect example. In addition to the mountains, the artist has added three other elements to the design: the moon, the stars, and pine trees. The placement of these elements is crucial to creating a balanced and serene composition, and the artist has done a fantastic job here. Achieving a sense of depth and space is also key, and the sharp lines of the mountains set against the twinkling stars and colourful trees make for a truly beautiful image. While this design is done in black ink, adding a pop of green or blue could bring even more life to the piece. If you're looking for a tattoo that captures the beauty of nature while keeping it simple, this design is sure to inspire you.
Moon And Mountain Tattoo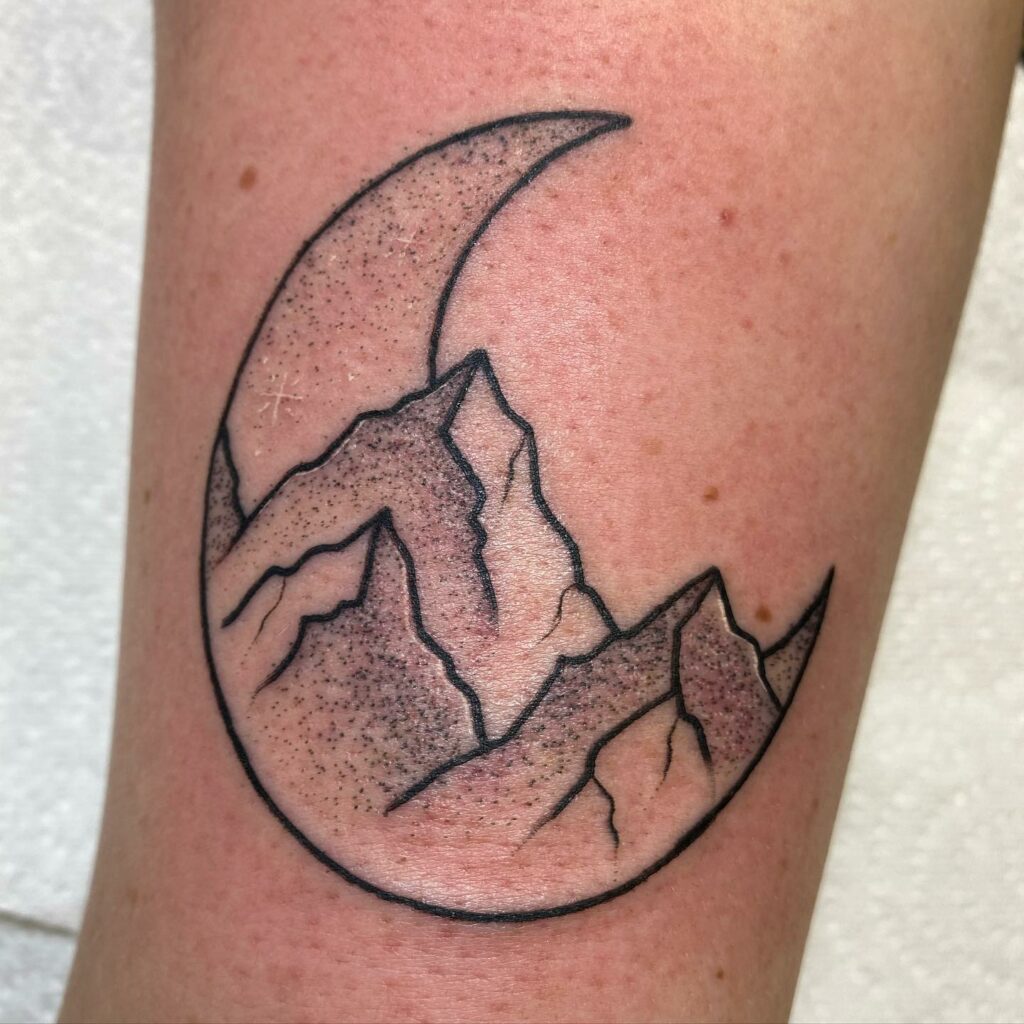 If you're searching for a mountain tattoo design with a feminine touch, this might just be the one for you. The crescent moon has always been associated with magic, fertility, and motherhood, and incorporating it into your mountain tattoo can add a mystical touch and a deeper meaning. In this design, the crescent moon sits atop a simple mountain design, with deep, bold lines emphasizing the outlines of both elements. The artist has skillfully added fine shading to the inside of the design, creating an aesthetically pleasing look. Take a closer look at how the artist has paid attention to detail, especially in the crevices of the mountain. This design is a perfect example of how two simple elements can come together to create a unique and meaningful tattoo design.
Geometric Mountain Tattoo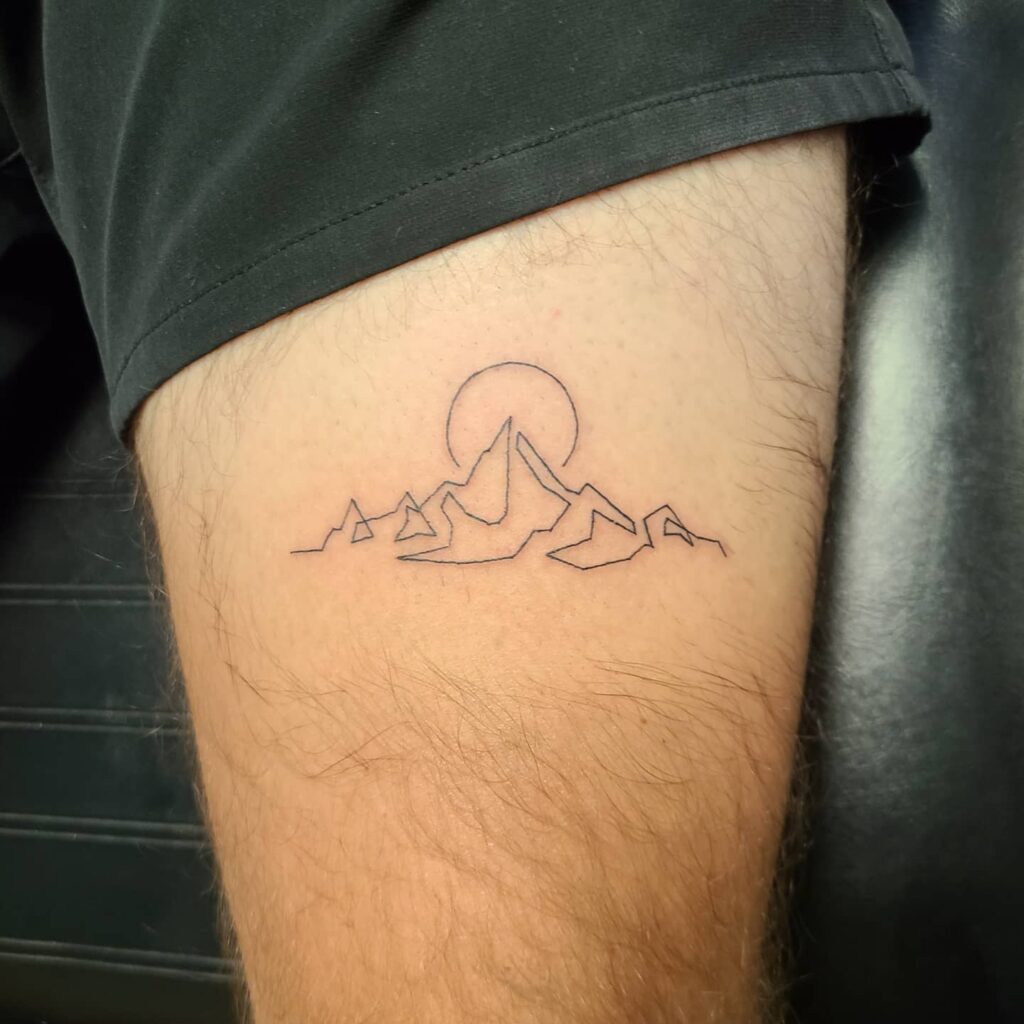 Geometric tattoo designs are all the rage these days, and it's not hard to see why! These types of tattoos are known for their precise lines and shapes, which represent balance and order in life. The best part about these designs is that they can be customized to represent your own unique meaning. This particular mountain tattoo design uses a variety of geometric shapes to create a beautiful and simplistic image. The addition of the sun behind the mountains adds depth and interest to the design. While black ink is a popular choice for these types of tattoos, you could also opt for different colors to make it even more personalized. At the end of the day, tattoos are all about expressing yourself and creating a unique work of art that you can proudly display on your body.
Minimalist Small Mountain Tattoo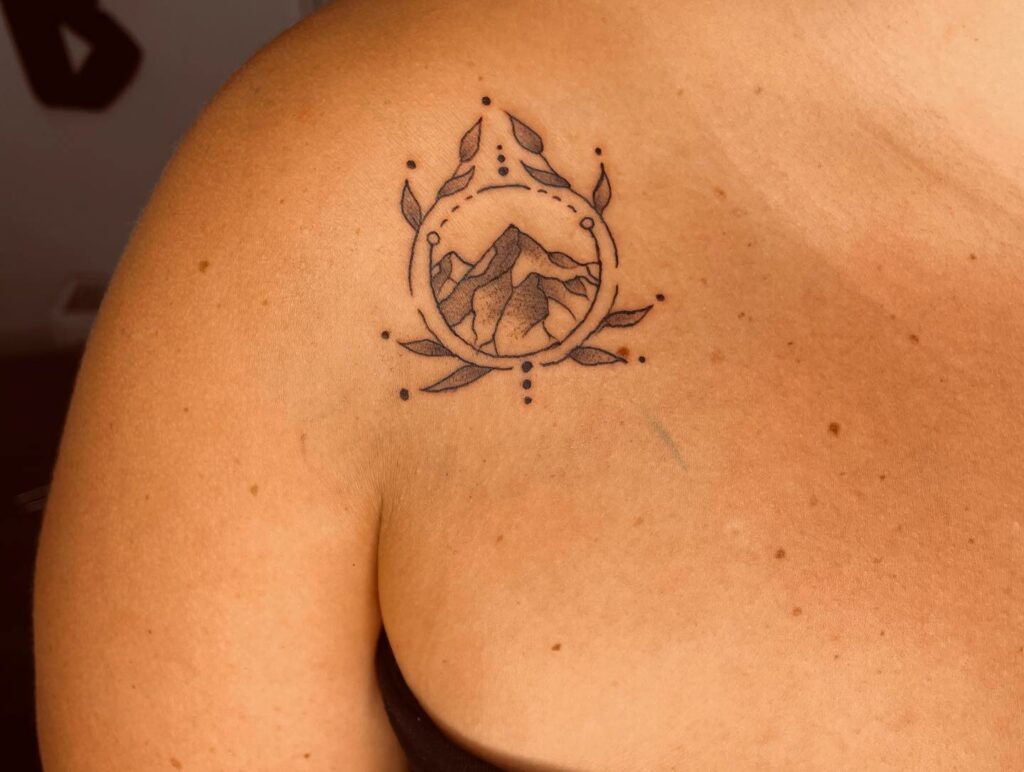 If you're looking for a unique and artistic design, then you'll love this line work tattoo on the shoulder. The artist has cleverly combined the Sun and mountain elements into a stunning shape that flows beautifully across the skin. Not only that, but the addition of the delicate leaf designs adds an extra layer of detail and beauty to the overall design. The shoulder is a great spot for this kind of tattoo, as it can be easily concealed or flaunted, depending on your preference. Moreover, the shoulder area is generally less painful to tattoo, thanks to its thick skin and low nerve endings. So, if you're looking for an eye-catching yet comfortable tattoo, this one might be the perfect fit for you!
Unique Mountain Tattoos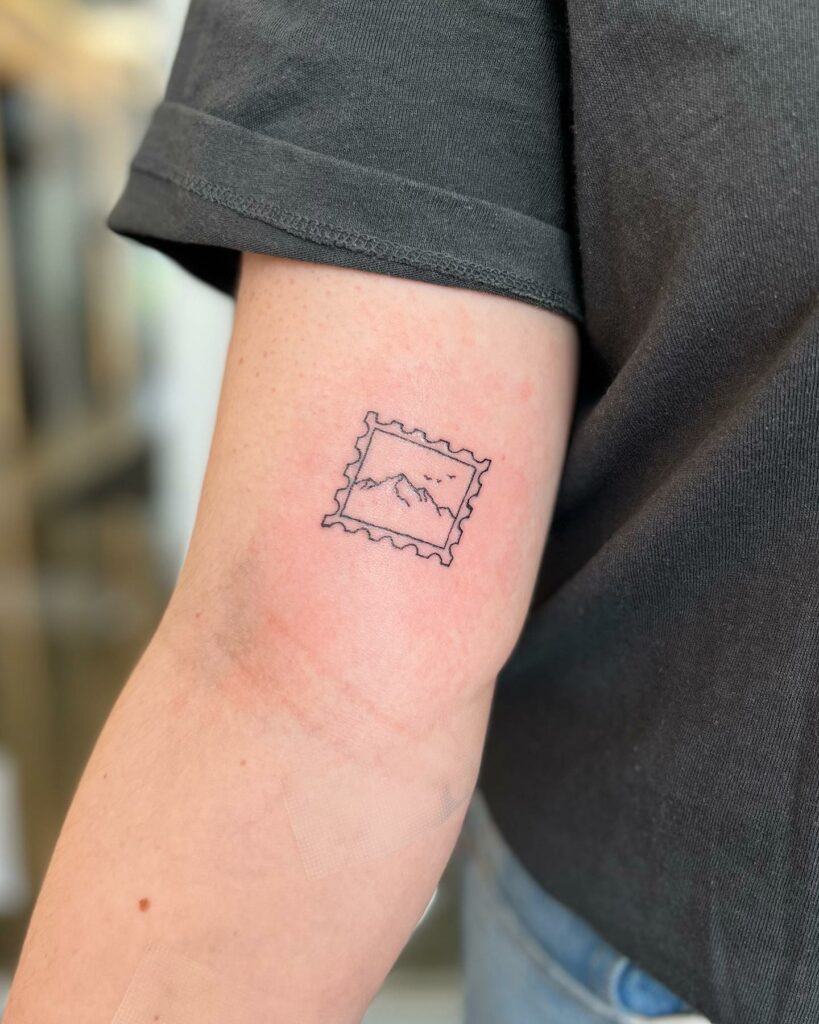 This mountain tattoo design is truly a work of art! The artist has managed to creatively incorporate the outline of the mountain into the shape of a postage stamp, giving it a unique and innovative look. These types of tattoos are perfect for those who want to commemorate a special memory or experience they had in the mountains. This particular design can serve as a permanent reminder of a cherished mountain trip. If you have a similar memory that you'd like to capture in a tattoo, take inspiration from this design and let your tattoo artist work their magic!
Minimalist Wavy Mountain Tattoo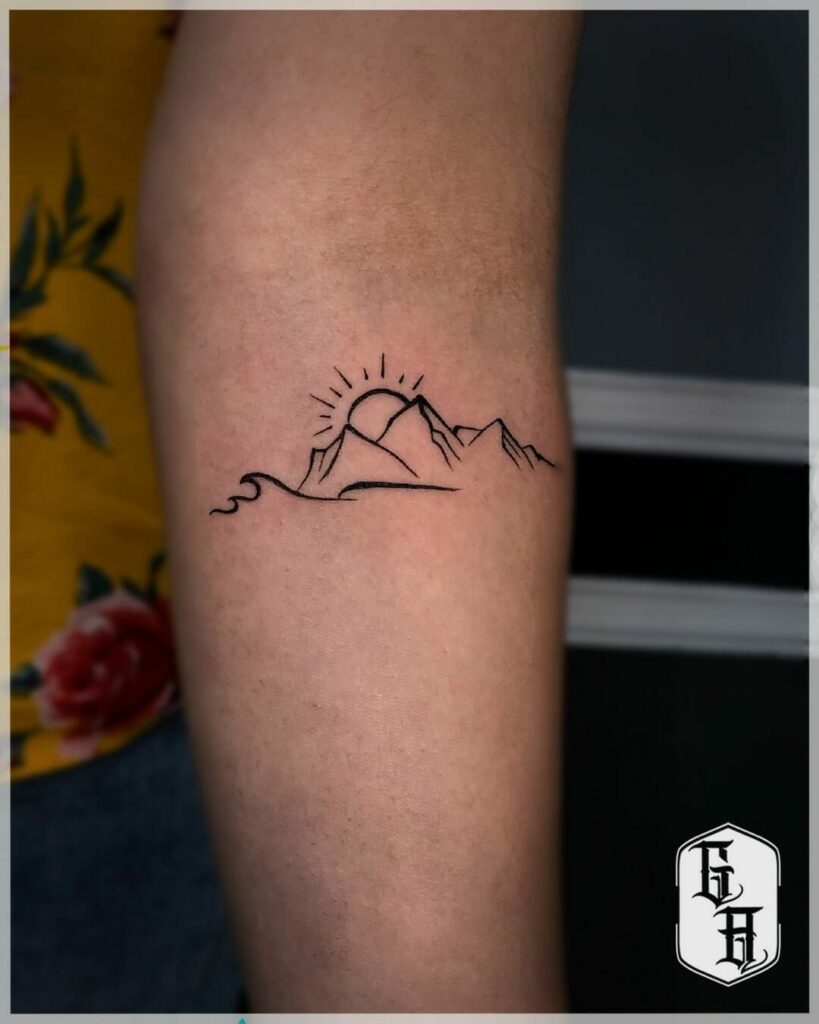 The combination of wave and mountain designs provides a unique balance between two contrasting elements of nature. The fluidity of the water, paired with the stability of the mountain, creates a visually pleasing contrast. In this tattoo, the artist has utilized black ink to highlight the minimalist design. However, adding more colours to emphasize the water or the sun can create a more realistic and vibrant look.
Minimalist tattoos have become increasingly popular due to their affordability and simple yet elegant designs. Typically, these tattoos cost around $100, depending on the complexity of the design. The use of a limited colour palette and smaller size makes them a discreet choice for those seeking a more subtle tattoo. Despite their simplicity, minimalist tattoos can still hold significant meaning and personal significance.
feature image from Pinterest – Want your tattoo to look brighter? Try "Tattoo Balm"