Are you a fan of music or cats? Or maybe both? If so, you might be interested in exploring some small and minimalist cat tattoo designs. Cats are more than just adorable companions; they have a special place in our hearts and culture. For those seeking a little bit of fun and adventure, a small and simple Cheshire cat tattoo might be just what you need. But for many cat lovers, getting a tattoo of their furry friends goes beyond just aesthetics – it's a way to express a deep and genuine connection. From the idea of cats having nine lives to using black cats as a symbol of remembrance, the meanings behind these tattoos are varied and meaningful. Check out some of these outlines minimalist small cat tattoo ideas that are perfect for both men and women.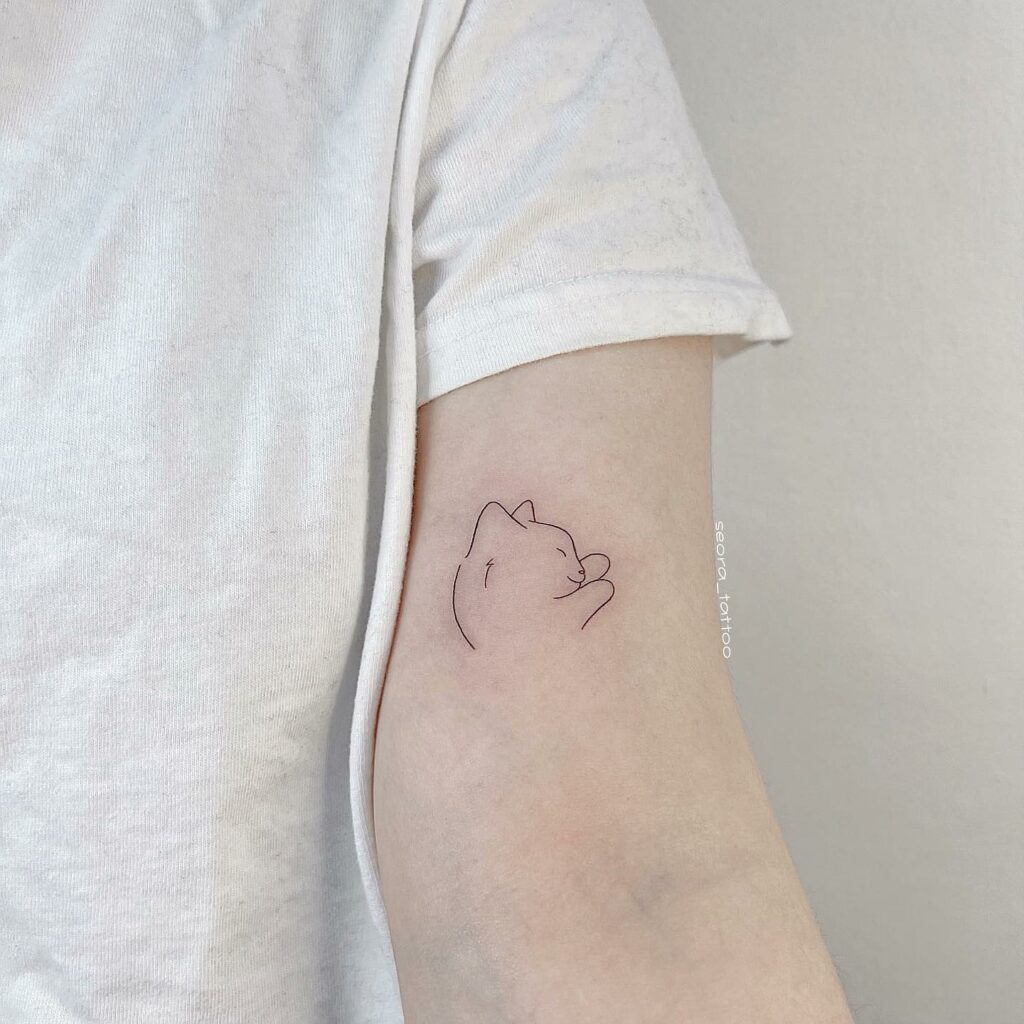 The Black Cat Tattoo With The Moon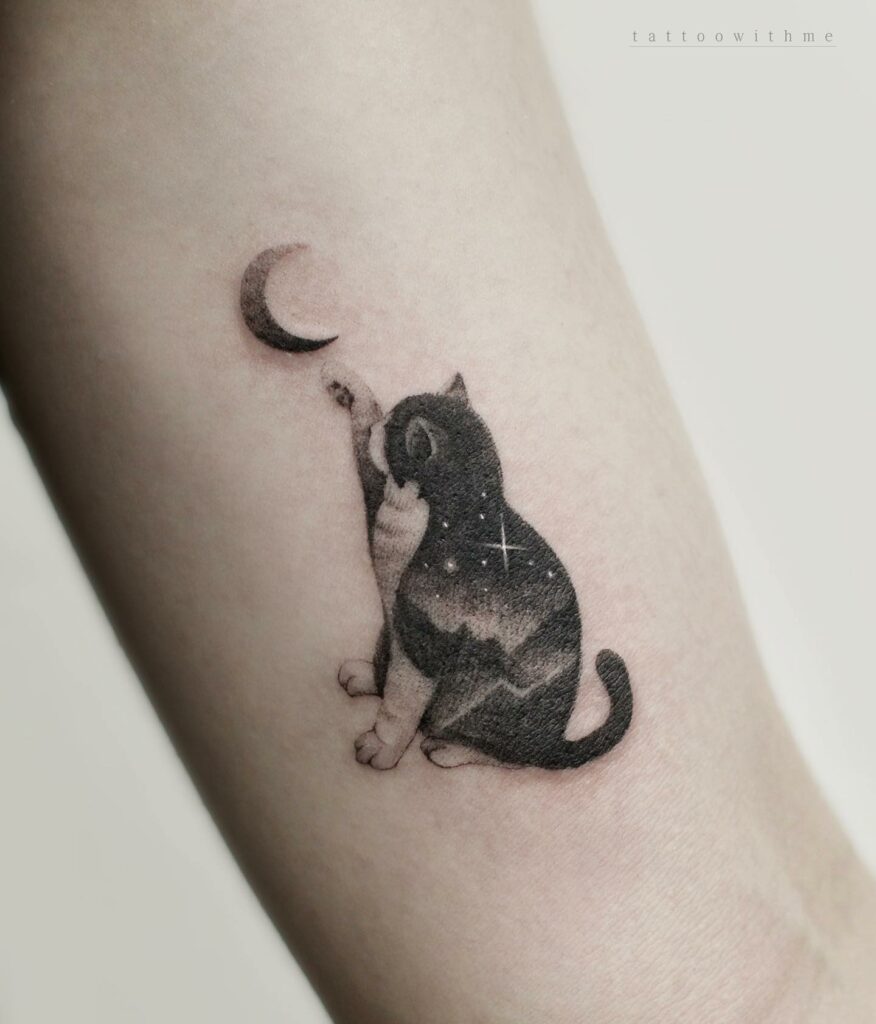 If you're a cat person, then this beautiful tattoo might be the perfect choice for you! Many people choose to get tattoos in memory of their beloved cats, and this design is a charming way to do just that. The image shows a curious cat reaching out to touch the moon, which speaks to the playful and quirky nature of feline companions. Cats are considered beloved pets around the world, and it's even illegal to harm them in some places due to the belief that it brings bad luck. In ancient Egypt, they were revered and prayed to as sacred creatures, and to this day, people admire their desirable qualities. This minimalist small cat tattoo is designed to fit perfectly on your wrist and is an ideal choice for anyone who wants a simple yet heart-touching tattoo design. So why not honor your feline friend with this beautiful work of art?
The Realistic Drawing Ideas Of Small Cat Tattoos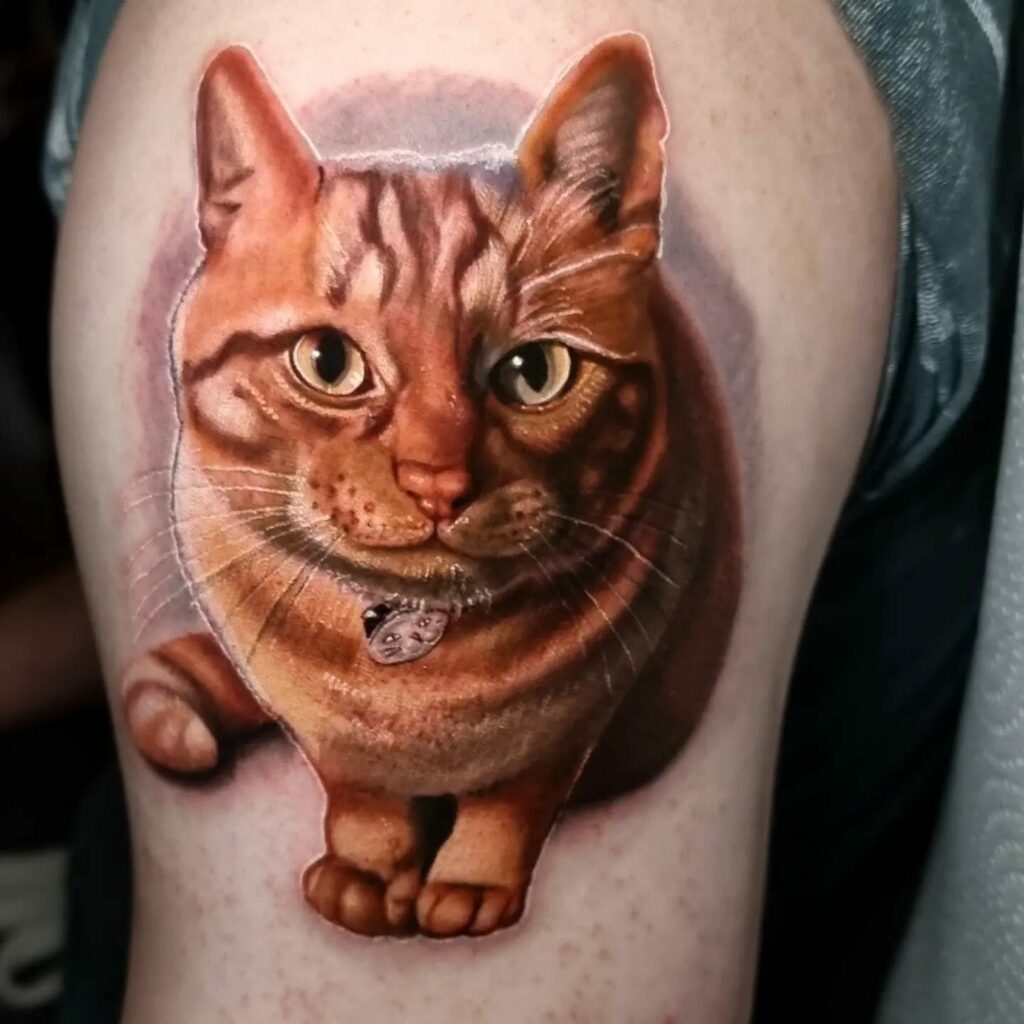 This charming new tattoo design features a yellow cat, who holds a rich and fascinating history. In medieval times, cats were thought to possess nine lives, making them objects of fascination and wonder. People would pray to cats for their resilience and longevity, and the idea of having multiple lives became a powerful symbol in various cultures. Ancient Egyptians, for example, revered cats as goddesses, with the feline goddess Isis being among the most famous.
For those who love cats and wish to celebrate their mystical nature, this tattoo is an excellent choice. The art is crafted with colorful ink, making the design pop and come to life. It's a realistic and attractive design that can be enjoyed by both men and women, and it's sure to be a conversation starter. Whether you're a cat lover or just appreciate the rich history and symbolism of these magnificent creatures, this tattoo is a perfect choice.
Simple Cat Tattoos Of Two Kitties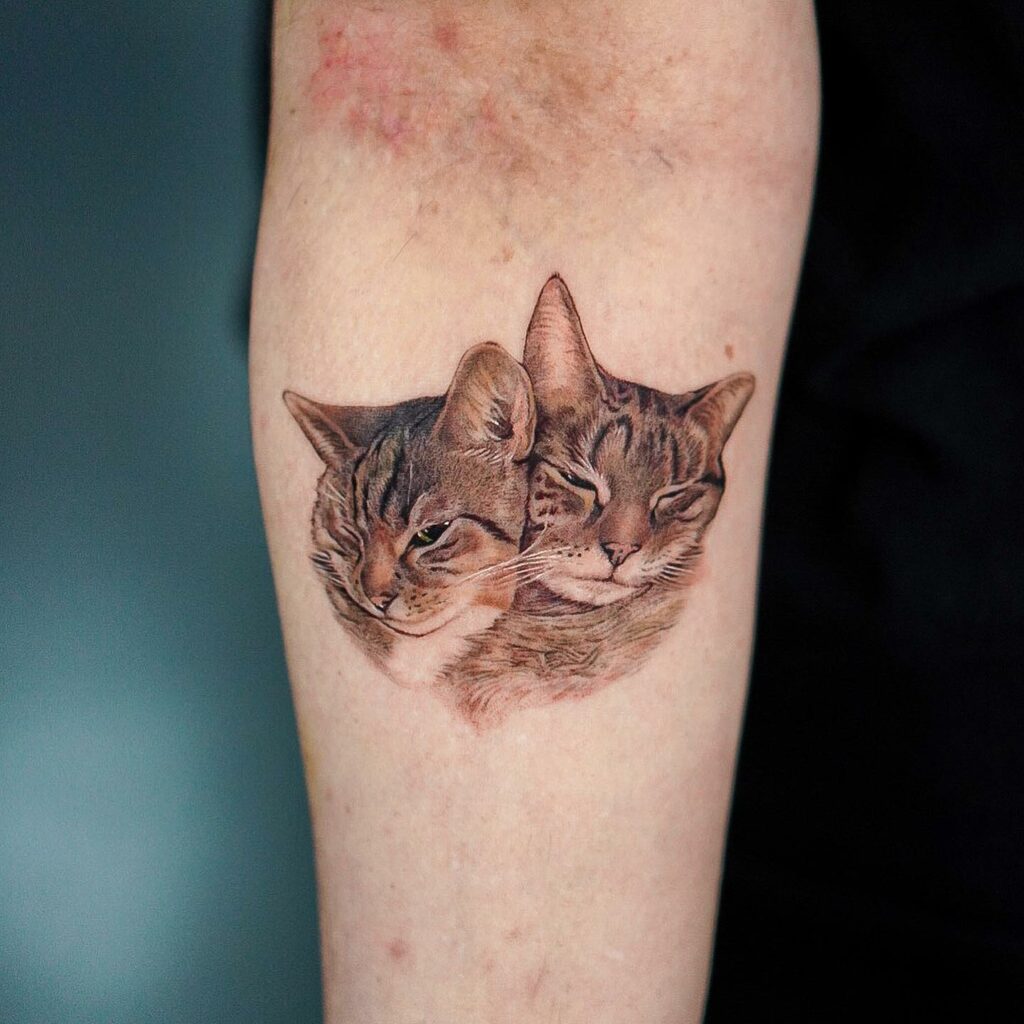 Looking for a cute and minimalist cat tattoo that will steal your heart? Look no further than these freshly finished feline designs! These tattoos can even be made into small cat tattoos that are perfect for the finger. The skilled use of colored ink gives these tattoos a lifelike quality, making it feel like two little kittens are sitting and staring right at you. But cats aren't just cute, they have deep symbolic meanings as well. They can represent hope, balance, and even spiritual growth.
These kitty tattoos are suitable for both men and women, and the meaning or significance of the tattoo can vary from person to person. For someone who is into spiritual practices or black magic, cat tattoos may have a completely different meaning. These tattoos are so pretty that they can be placed anywhere on the body, depending on the person's preference. Don't miss out on the opportunity to add a little feline magic to your life with these cute cat tattoos!
The Sparking Cute Little Eyes
The Geometric cat tattoo is a fantastic choice for pet lovers who want to include both cats and dogs in their tattoo design. This tattoo defies the common belief that dogs and cats cannot be friends, and instead highlights the beautiful relationship between these two animals. It is a symbol of innocence and the strong bond that pets share with each other.
This versatile tattoo design is not only for cat lovers, but also for dog enthusiasts who want to show their love for both animals. The black cat in the tattoo is beautifully rendered using white ink, which creates a striking contrast and gives the impression that the cat's eyes are shining.
There are various tattoo ideas that can be incorporated into this design to make it unique and personal to each individual. Whether you prefer a minimalist or intricate design, this geometric cat tattoo is a great choice that will make a bold statement.
The Mischievous Black Cat Tattoo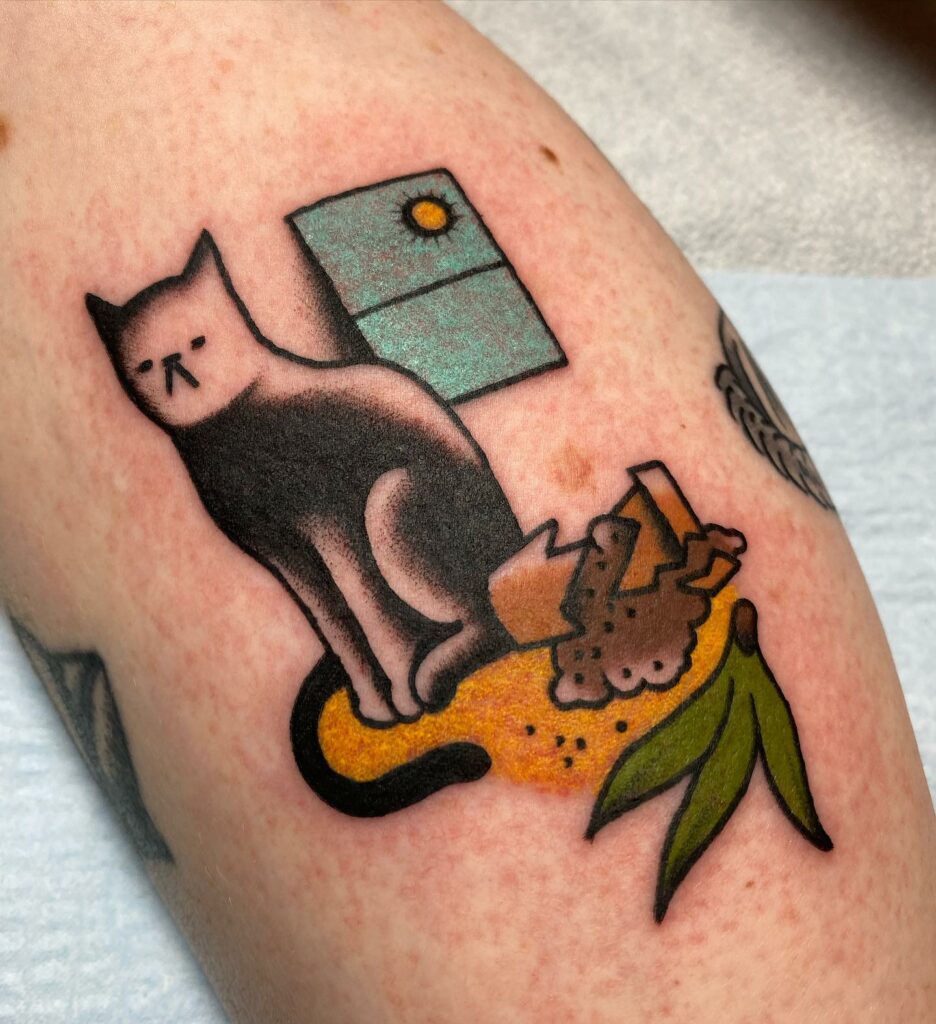 If you're a cat lover looking for a cute and funny tattoo idea, look no further! This tattoo perfectly captures the mischievous nature of our furry friends, while also showcasing their adorable, innocent side. The tattoo depicts a cat looking sadly at a broken pot and spilled soil on the ground, as if he's innocent and has no idea what happened. It's a relatable scenario that many pet owners can relate to, and it's a great way to show off your love for cats. This design is perfect for a subtle, small tattoo that packs a lot of emotion and personality. So, whether you're a cat lover or just appreciate a good laugh, this tattoo is sure to bring a smile to your face.
The Girlfriends Simple Cat Tattoo For Cat Lover Tattoo
This cat tattoo design is truly one-of-a-kind and perfect for those who adore felines. It incorporates Japanese culture by featuring a cat depicted as a human wearing clothing. What makes this tattoo unique is that it is one of the first designs where a cat is seen wearing a dress. The tattoo is affectionately known as the "drunken cat tattoo," as the feline is depicted with a bottle.
The tattoo's execution is both charming and intricate. The floral patterns on the cat's dress are skillfully crafted, and a headband completes the feline's ensemble. The tattoo artist has accurately conveyed the cat's emotions, making it a beautiful piece of art that is sure to impress any cat lover.
The Matching Cat Lover Tatoo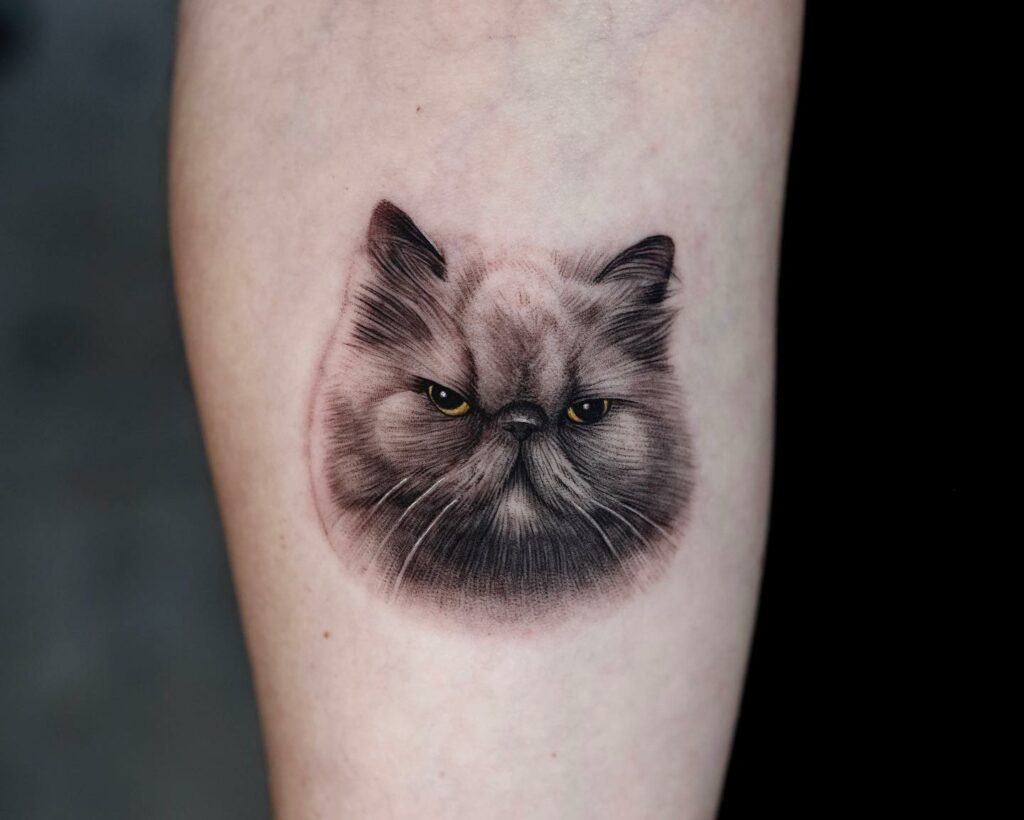 This simple yet stunning cat tattoo is an absolute must-have for anyone who adores our feline friends. The realistic depiction of the grey cat is so precise it looks as though you could reach out and pet it. The detail on this tattoo is absolutely amazing, with every strand of the cat's fur carefully crafted to give it an incredibly lifelike appearance. It's clear that a great deal of skill and patience went into creating this masterpiece.
What's more, this tattoo is versatile and can be placed on any part of the body. It's also perfect as a matching tattoo for cat-loving best friends or couples. And if you're feeling creative, you can customize the tattoo with other vibrant colors to match your personal preferences or your own beloved pet cat. Don't hesitate – get this gorgeous tattoo today and show off your love for cats in style!
The Simple Cat Tattoo For Cat Lovers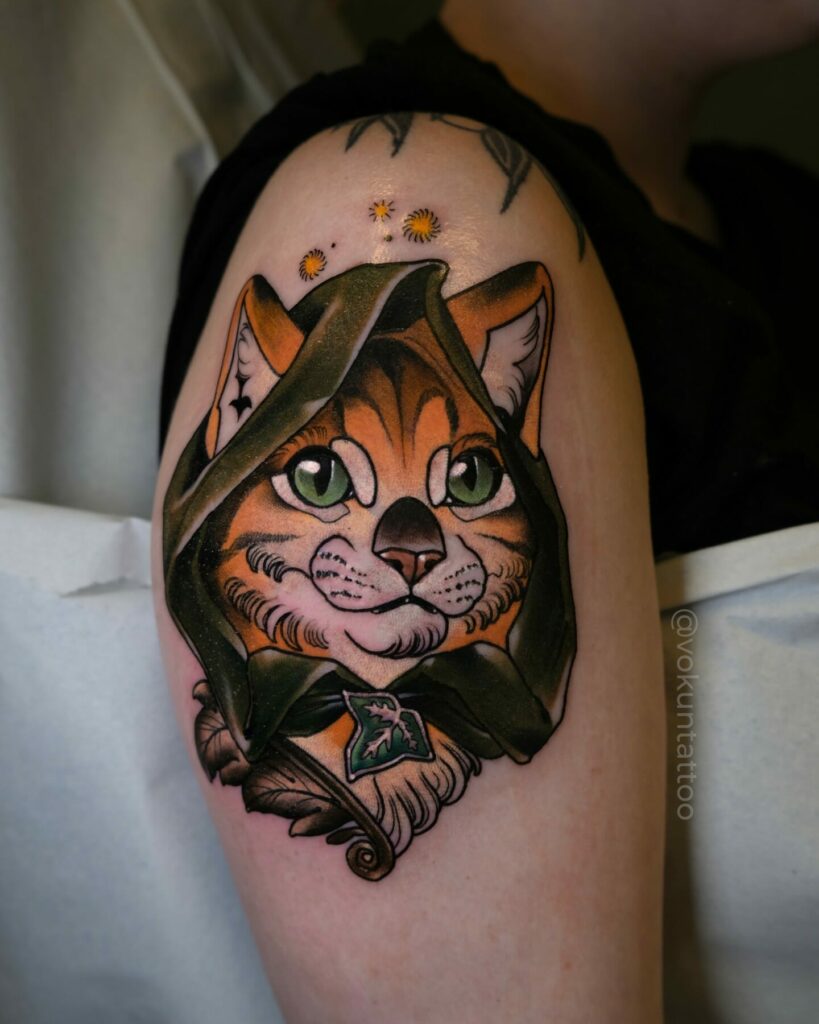 For cat lovers seeking a pretty and eye-catching tattoo, this design is a must-see. The cat's innocent and charming eyes are sure to captivate anyone's heart. The use of vibrant colors is fantastic and reflects the tattoo artist's exceptional talent. This design gives the impression that the artist is also a cat lover.
The tattoo design features a cat wearing a hoodie that reminds us of the beloved characters Mowgli and Little Red Riding Hood. The design is versatile and can be placed anywhere on the body, but it's especially suited for the shoulder blade. It can add a unique touch to any outfit and serve as an ornamental accessory for the skin.
This cute cat tattoo design is perfect as a matching tattoo for friends or a couple, especially for those who share a love for cats. It's an adorable and meaningful way to showcase your bond with your best friend or significant other.
The Cat With The Fishes Cute Tattoos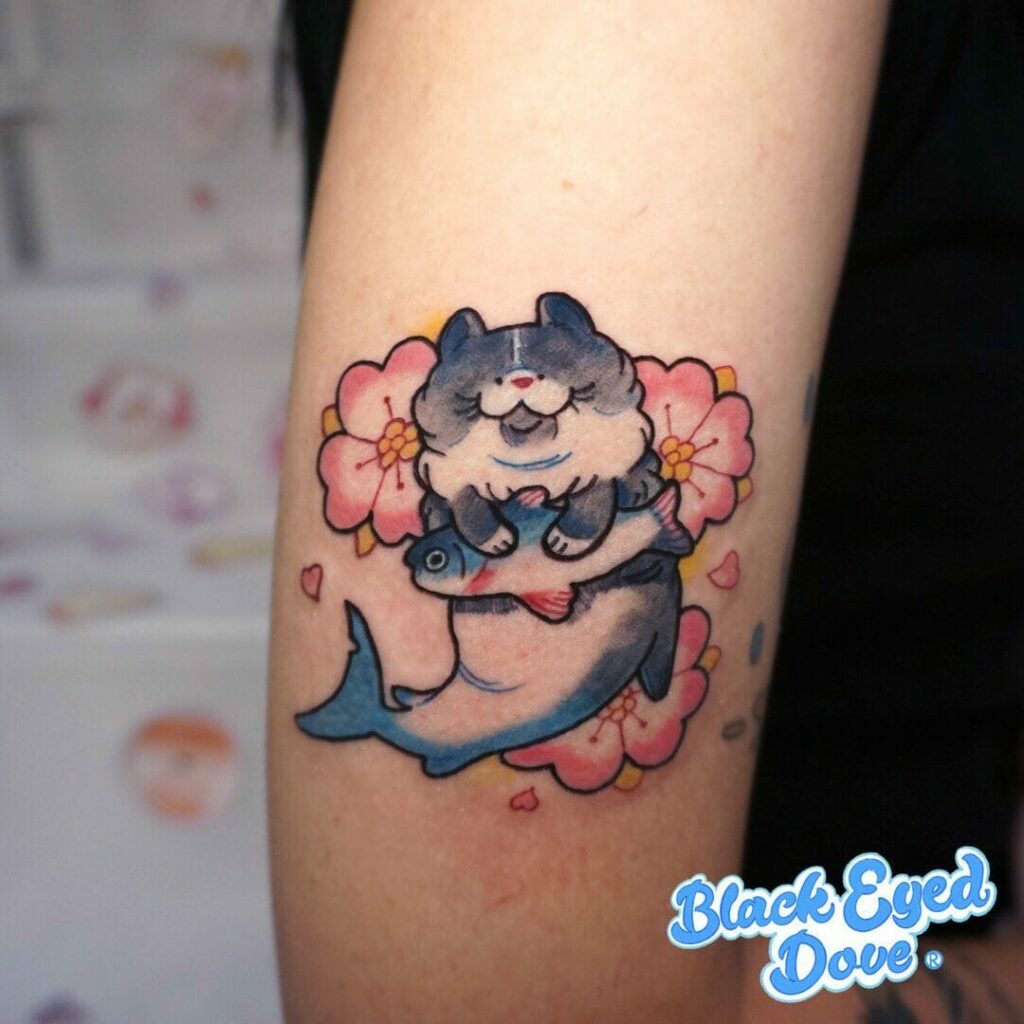 This stunning kitten tattoo is truly a work of art that exudes a unique Korean-inspired aesthetic. The intricate details of the tattoo artist's brushstrokes and color palette make the tattoo look almost lifelike. The tattoo captures a moment of playfulness as the adorable kitten clutches a fish with its paw and fends off the surrounding fish, who are vying for a bite of the tasty morsel.
This vibrant tattoo can be placed on any part of the body, allowing the wearer to show off their love for cats in a way that feels comfortable and personal to them. As with all tattoos, the possibilities for customization are endless. Cat lovers can adjust the colors, size, or even add details to the tattoo, such as a longer tail or a playful background.
Overall, this playful and captivating kitten tattoo is a must-have for any cat lover looking for a unique way to show off their feline adoration.
The Kitty On The Grass Cat Tattoos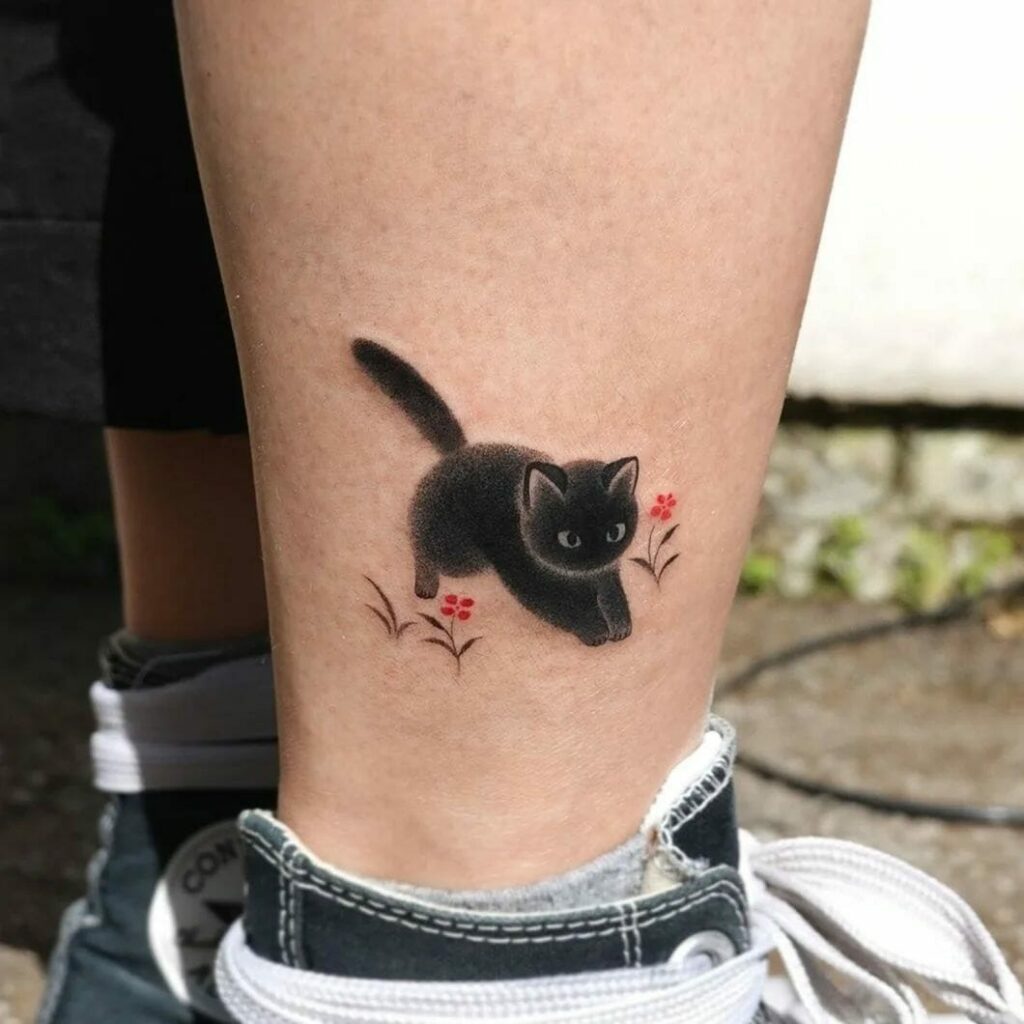 If you're a cat lover, this tattoo is a great way to commemorate your feline friend's playful beginnings. Much like how we capture photos and videos of babies as they start crawling and walking, this tattoo serves as a reminder of your cat's early days. You can get this tattoo anywhere on your body or simply as a tribute to your love of cats and kittens. It's a sweet and nostalgic way to reflect on your own childhood and the playful nature of our furry friends.
feature image from Pinterest – Want your tattoo to look brighter? Try "Tattoo Balm"