Intrigued by the beauty of the night sky and the mystique of the celestial bodies that grace it? Well, then star-themed tattoos might just be the perfect way for you to wear your fascination on your sleeve, quite literally. From childhood's whispered wishes on shooting stars to the cosmic dance of constellations that guide our zodiac, stars are inextricably woven into our lives.
These heavenly bodies, though appearing as tiny, twinkling points of light in our night sky, are in reality colossal fiery entities—many even grander than our own sun. Telescopes have allowed us to marvel at their distant beauty up close, further fueling our celestial obsession.
Stars have long held significant roles in our cultures and stories, symbolizing hope, freedom, destiny, and in some beliefs, guiding lights to the afterlife. Travelers of yesteryears relied on their steadfast presence for navigation, tracing their radiant paths across the sky.
In the world of body art, star tattoos have become increasingly popular, and it's easy to see why. Their simplicity yet profound symbolism make them a hit, particularly for enthusiasts leaning towards minimalist designs. Small and less detailed, these tattoos hold immense power in their understated beauty, making an impactful statement on the canvas of the skin.
As we delve into this compilation of minimalist star-themed tattoos, we've carefully curated a range of designs that highlight the ethereal charm of these celestial bodies. So let's set off on this cosmic journey, and perhaps you'll discover the perfect stellar insignia that resonates with you and your loved ones.
Shooting Star Tattoo
Have you ever found yourself gazing into the night sky, fascinated by a fleeting, fiery meteoroid? These "shooting stars" are the stuff of wishes and dreams, made popular by films and television shows alike. If you're someone who constantly chases your dreams, a shooting star tattoo could serve as an elegant symbol of your aspirations. Imagine a minimalist design, with a delicate star trailed by two triangular strokes symbolizing the star's tail, inked in simple black lines. Nestled on the ankle, this body art remains your secret aspiration etched in skin.
Three Star Tattoo
Our night sky holds a spellbinding canvas for those who seek beauty in nature. A tattoo featuring three prominent stars, surrounded by a sprinkle of smaller ones, stands for a love of travel and exploration. The design is further accentuated by the silhouette of mountains, acting as an emblem of adventure. Perfectly suited for trekkers or travel enthusiasts, this tattoo is gracefully placed below the shoulder area, the back sleeve region, rendering a meaningful glimpse into your wanderlust soul.
Small Star Tattoo With Very Masculine Vibe
Men seeking a uniquely minimalist star tattoo might find inspiration in this design. A single black line descends from the knee to the ankle, with a solitary star intersecting the line. The star, composed of eight crisscrossing lines, acts as a reminder of the goals you've set for yourself, a visual guide on your life journey. This innovative design packs a punch of meaning with a unique aesthetic appeal.
Simple Star Tattoo With Deep Meanings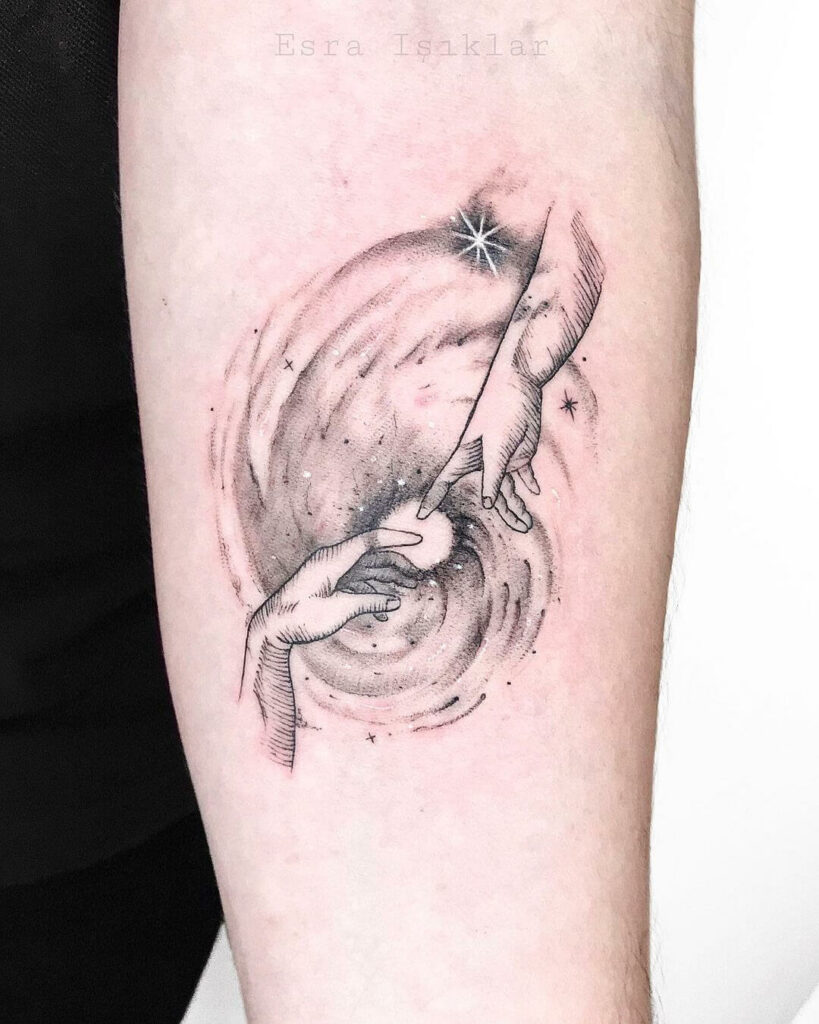 Minimalist tattoos can bear profound symbolism. Consider a design inspired by Michelangelo's iconic Sistine Chapel ceiling painting. It features two hands reaching towards each other, representing God and Adam. Encased in a galaxy of tiny stars, with the polar star distinctively shining brighter, this tattoo signifies divine guidance and direction. This tattoo etched on the forearm, speaks volumes about the wearer's spiritual depth.
Saturn And Star Tattoo
Saturn, named after a Roman God and known for its majestic icy rings, is a symbol of hard work. A minimalist Saturn tattoo could mirror your tenacity and diligence. The design features the planet with its striking rings and a moon, all encased within a delicate curve, sprinkled with tiny stars. Positioned on the forearm, this elegant inkwork promises a captivating piece of celestial beauty on your skin.
Colourful Star Tattoos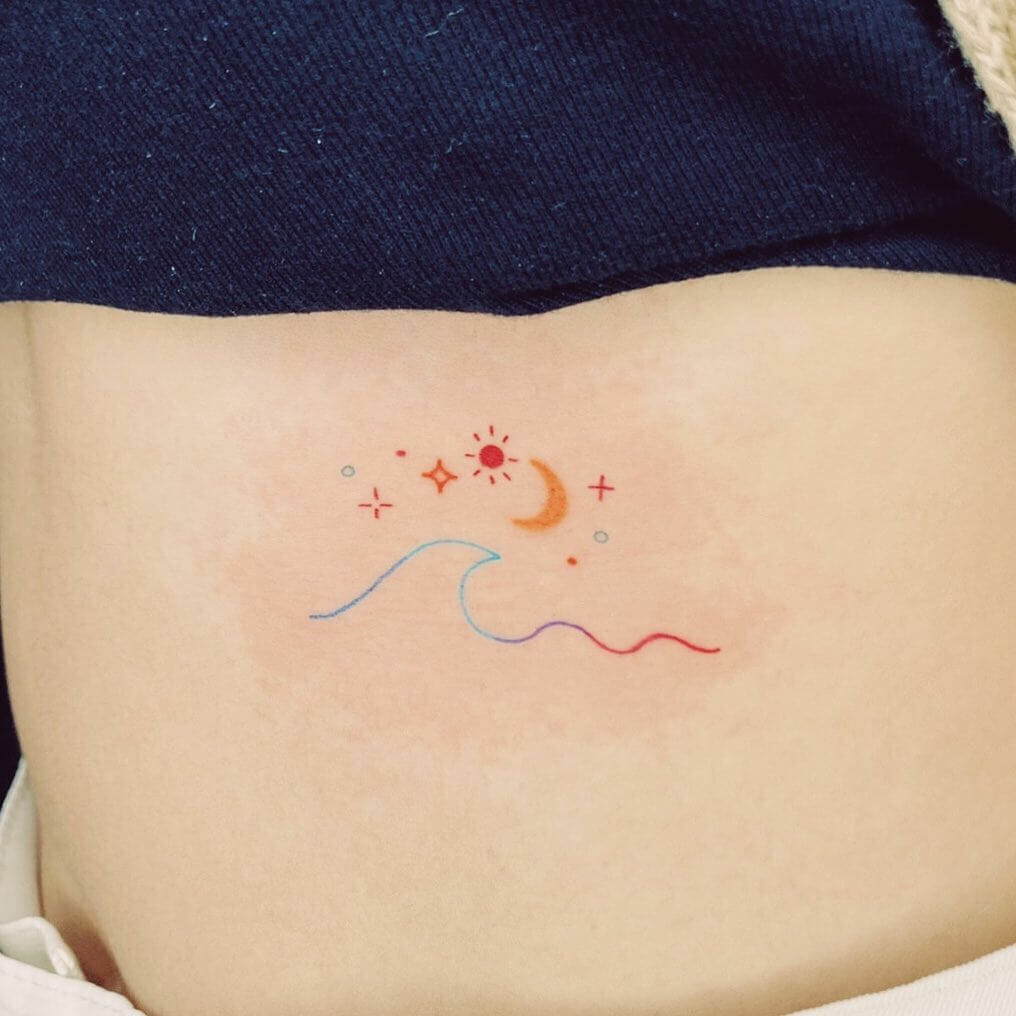 For young women seeking vibrant, minimalist tattoos, a design featuring a colorful sea wave, a cluster of bright red stars, a radiant sun, and an orange crescent moon could be an excellent choice. Tattooed on the inner belly region, this design reflects an adventurous, fun-loving spirit, brought to life through vivid colours.
North Star Tattoo- Minimalist Star Tattoo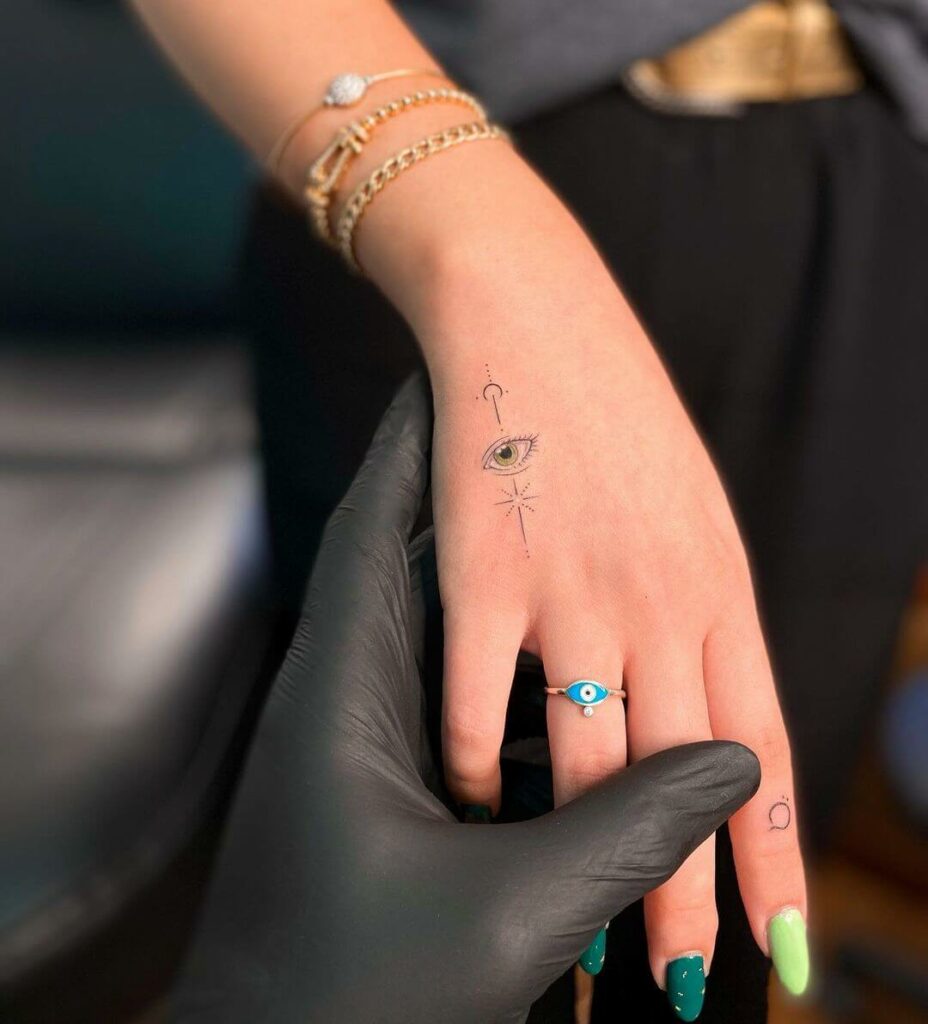 A wrist tattoo featuring an eye with the iconic pole star could be a strikingly unique minimalist design. It's a symbol of guidance and direction that's stylish and thought-provoking.
Minimalist Sun Moon Star Tattoo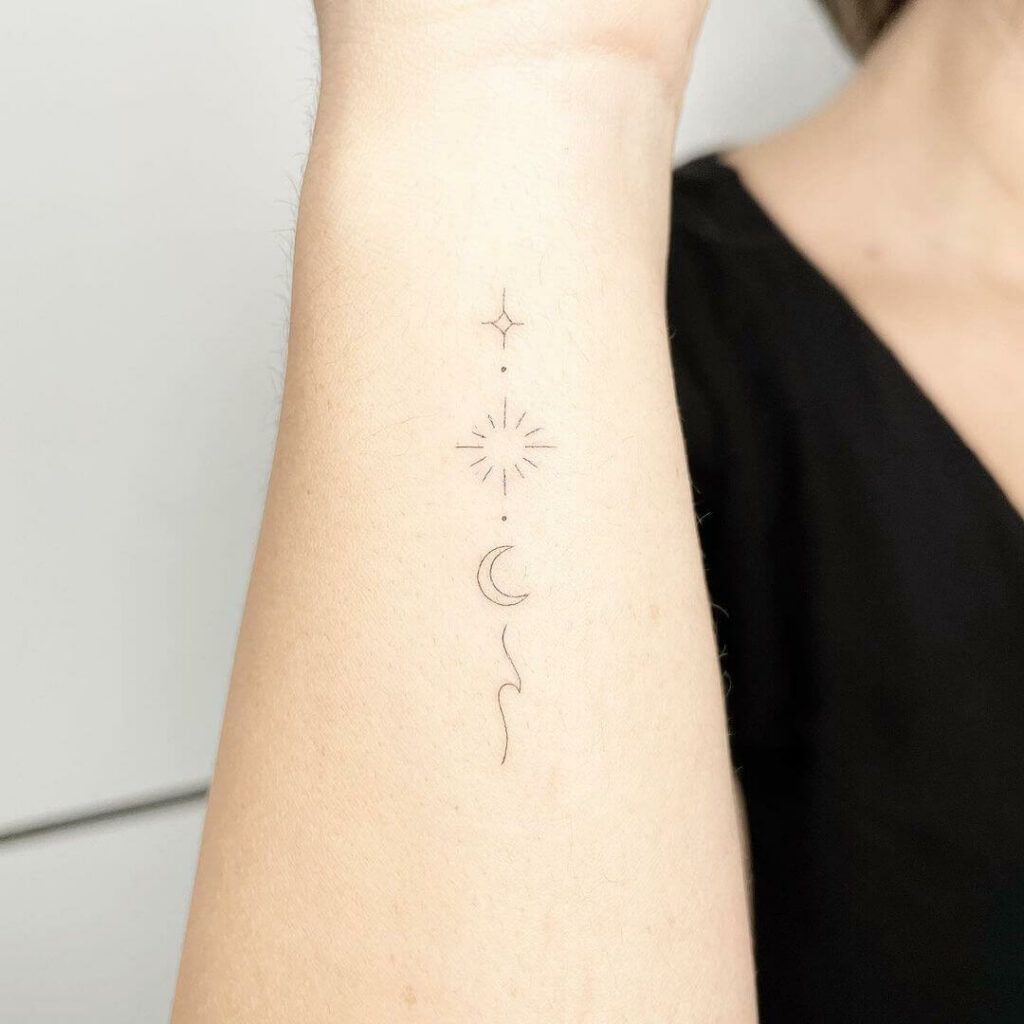 The sun, moon, and star together often symbolize a family unit. This tattoo design, inked from the wrist to the forearm, might appeal to those on the verge of starting a family. Each celestial body is delicately designed, representing the duality of masculine and feminine energies and the offspring that bonds them.
Nautical Star Tattoo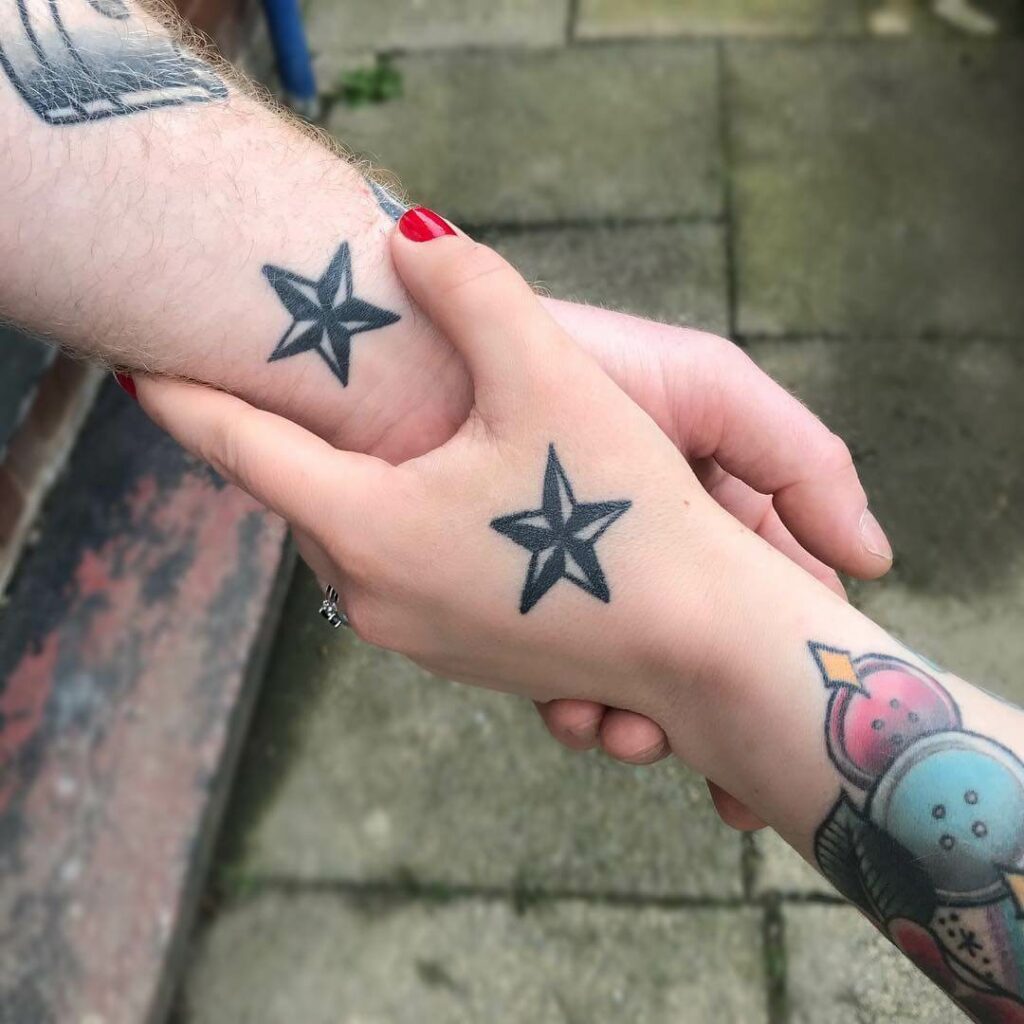 Planning on getting matching tattoos with your best friend, partner, or sibling? A nautical star, a popular symbol among the U.S armed forces, could be your choice. These tattoos exude courage and a thirst for adventure, acting as a tribute to the bravery of military personnel.
Geometric Star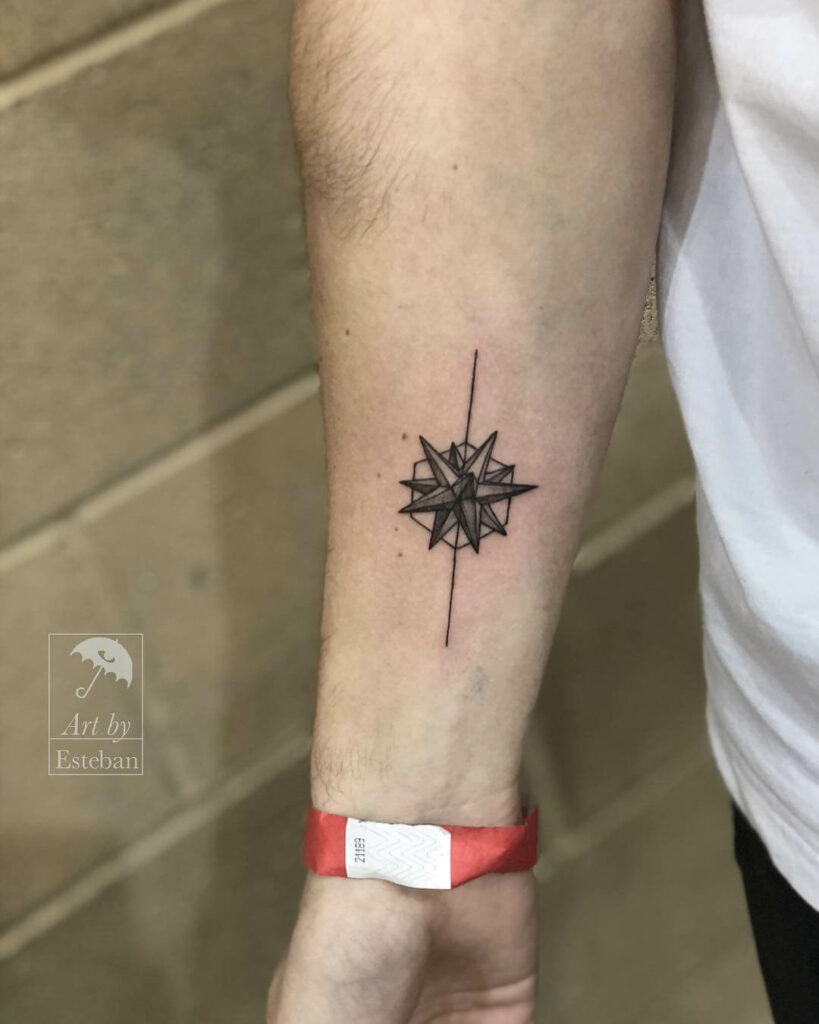 Men in search of a unique design might be intrigued by a geometric star tattoo. This design, featuring an intricate five-pointed star over a pentagon, lends a 3D effect. It not only signifies celestial fascination but also acts as a compass for those seeking direction.
Conclusion
In conclusion, tattoos are personal narratives writ large on the canvas of our bodies, each a unique, eloquent testament to our passions, dreams, and identities. Placement is a pivotal decision in the tattoo journey. Ankle and wrist tattoos offer subtle sophistication, while shoulder and forearm locations assert a bold presence. The cost varies, typically starting from around $50 for a small, simple design, reaching hundreds or even thousands for intricate, sizeable artwork. However, remember, it's not just about aesthetics and cost; safety is paramount. Always seek a reputable, licensed artist who adheres to the highest hygiene standards. Be aware of potential risks such as allergic reactions, skin infections, or even bloodborne diseases. Finally, remember that while tattoos can be removed or covered, both options can be costly, painful and imperfect. A tattoo is a lifelong commitment, a piece of art etched into your story. So take your time, choose wisely and ensure your chosen design sings a song that will still resonate in the years to come.
Feature image from Pinterest