Are you a very big fan of Miyamura from the Horimiya web manga show? Here are ravishing Miyamura tattoo designs you might fall in love with!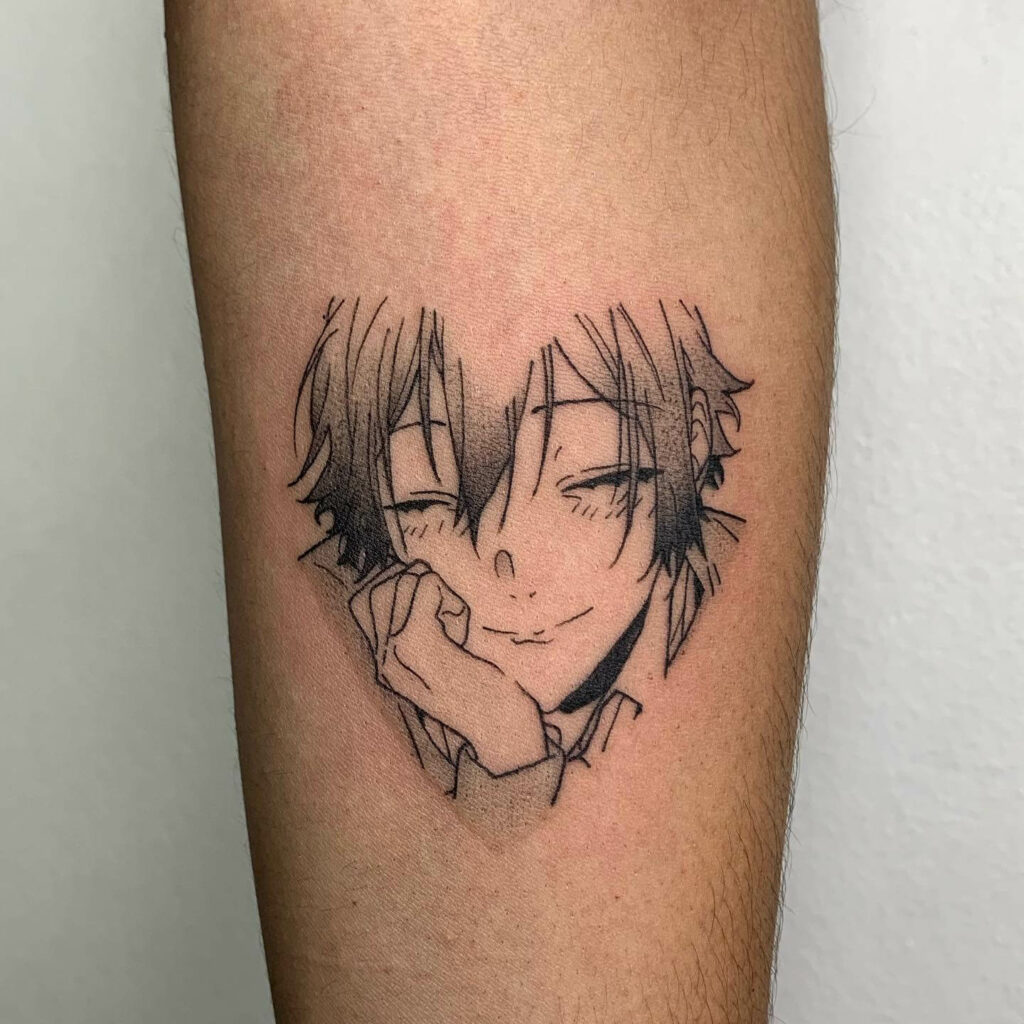 Izumi Miyamura is the main character or protagonist of the famous web manga known as Horimiya.
This manga was first published in 2011 and was discontinued in 2021. This manga was adapted into a series or a show in 2021 itself.
One of the main protagonists of this manga as well as anime is Izumi Miyamura. He is a school student, and his family is indulged in a baking business. Miyamura is a friendly teenager. Had is a quiet boy who is good at his academics. He has many attractive physical features like long hears and blue eyes. He was an otaku as well.
As the Horimiya show continued to gain popularity, many people started liking the characters from this manga. Many people love Miyamura. He has a pretty strong fan base. So we have hand-picked the best Miyamura tattoo designs for his fans.
Izumi Miyamura Tattoo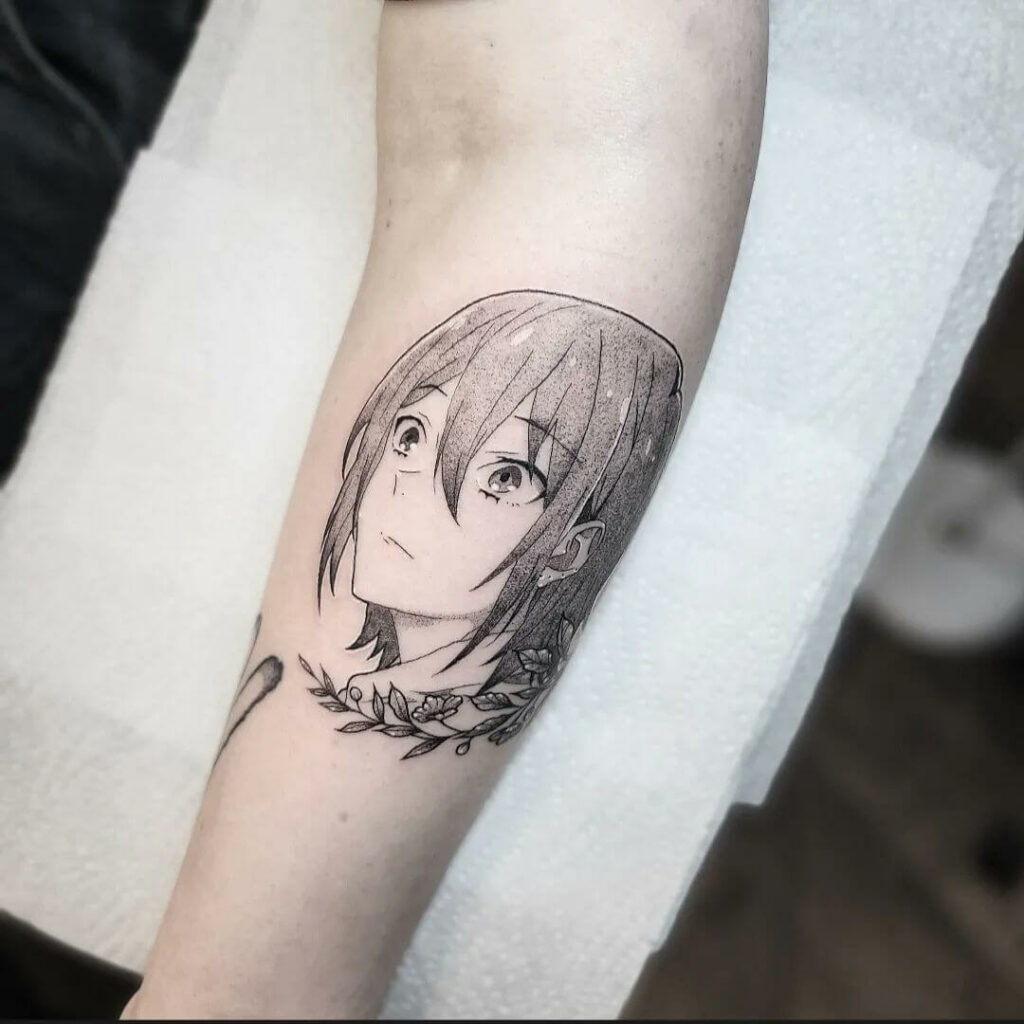 Miyamura's tattoo does not have any such legit meaning, but because of his nature and physical features, people prefer to get inked with his tattoo. In the series Horimiya, Miyamura shows certain introverted characteristics. If you consider yourself an introvert, then a Miyamura tattoo is ideal for you guys.
In this design, the tattoo artist has inked a Miyamura tattoo on the lower forearm region. The tattoo has been traditionally inked with black and grey ink. Just the face of Miyamura has been inked. He has big pretty eyes with shiny bright eyeballs. He got long hair that is coming down to his face. Besides his face, there is an olive branch that amplifies the tattoo design. An olive branch tattoo is a symbol of love as well as life. This is one of the most meaningful Miyamura tattoos.
Cool Horimiya Miyamura Tattoo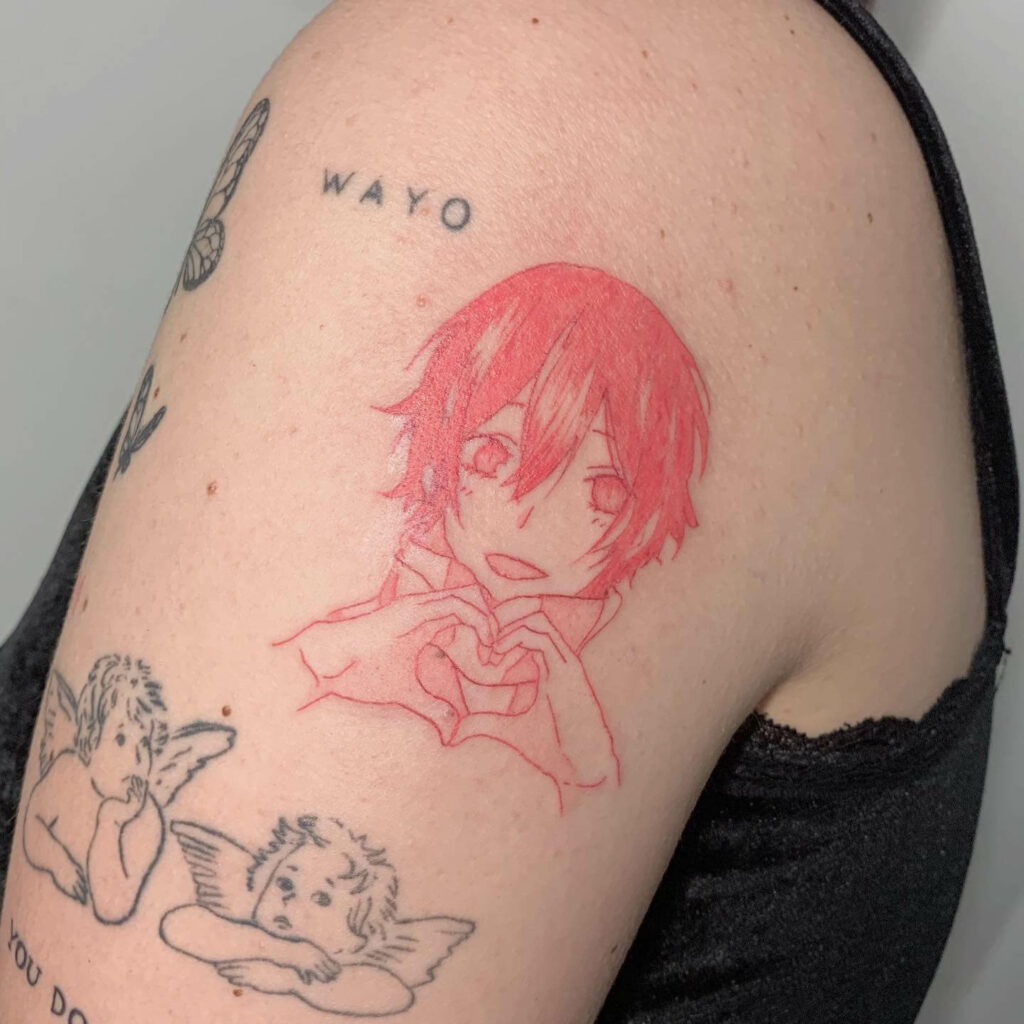 Anime or manga are very popular among Gen Z as well as Millennials. Being the youngest generations, they constantly search for cool tattoos that are different from the traditional black or grey ones. So here is a cool Miyamura tattoo.
Here in this tattoo, the tattooist has inked this design right on the upper arm near the shoulder region. The entire body art has been done with the help of red ink. Here Miyamura has long hair, as shown in the manga. Along with that, he has big eyes and a bright smile on his face. He has covered his neck with a scarf and has made a tiny heart-like structure with both his hands. All genders can get themselves inked with such a rare design.
Colorful Izumi Miyamura Tattoo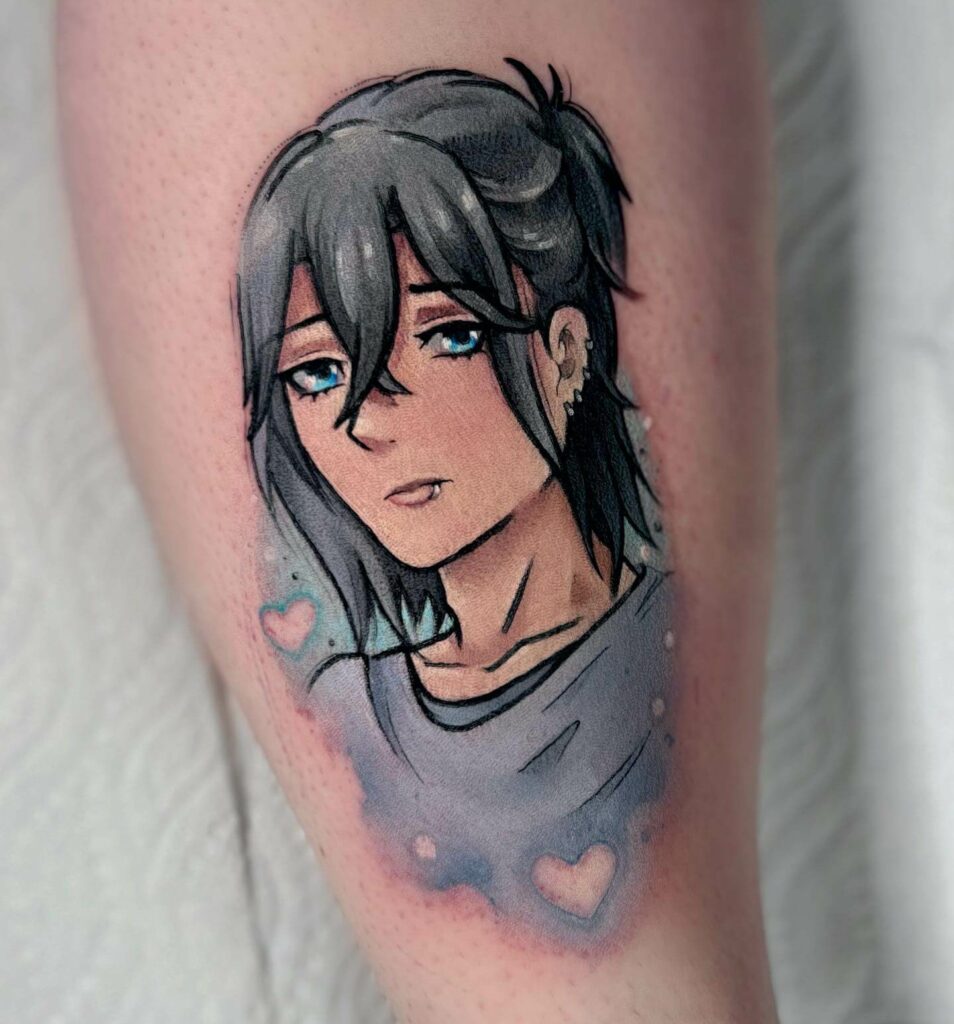 Sometimes, people get stultify with the traditional black and grey tattoo designs. We have chosen a colorful Miyamura tattoo design idea to eliminate these weary conditions instead of those monotonous traditional tattoos.
In this body piece, the tattoo artist has made use of pastel colors to ink this tattoo idea. In this tattoo, the facial piercing of Miyamura is quite visible. He has a piercing right at the corner of his mouth. The rest of the piercings are on his ears. He possesses a nice blue pair of eyes. Along with this, he has long black hair. And has a very calm face. He is wearing a purple t-shirt. There are few heart shapes surrounding this tattoo design.
Hori And Miyamura Tattoo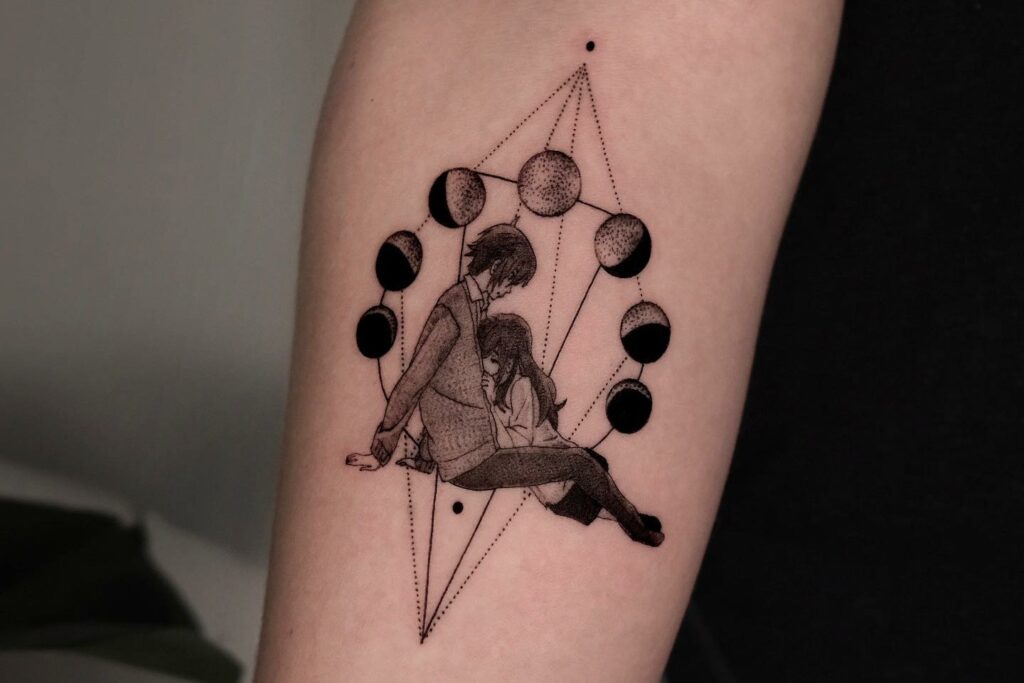 Kyouko Hori is another well-known character from the Horimiya manga. She is also a school student. She is a very happy and optimistic character in this anime. She loves to create a blissful environment around her. In this anime series, Hori is the love interest of Miyamura. Both of them love each other dearly.
In this tattoo design, the artist has drawn both of the characters. Here Miyamura is sitting on the ground with his hands supporting his body. And Hori is hugging him while both of them are sitting on the ground. They both are wearing school uniforms. Hori has long locks that are almost reaching her waist. These two characters are inked with light and dark shades of grey as well as black. Behind them, the tattooist has drawn all the phases of a moon cycle. A Moon cycle tattoo is a sign of purity, magic, and eternity. This rare meaning describes the dynamics these two shares as a couple. If you are searching for a deep-meaning tattoo, this might be perfect.
Cute Izumi Miyamura Tattoo
Miyamura is an adorable teenager. He is cute as well as liked by all. To portray his cuteness, the tattooist has inked this small Miyamura tattoo. In this tattoo, the tattooist has just inked the upper body of this teen boy. He is sitting with a hand that is on his cheeks. He is smiling while his eyes are closed. His long locks are covering his forehead. Besides these, he wears his uniform, which consists of a shirt and a blazer. The entire tattoo has been drawn using black and dark grey colors.
Forearm Miyamura And Hori Tattoo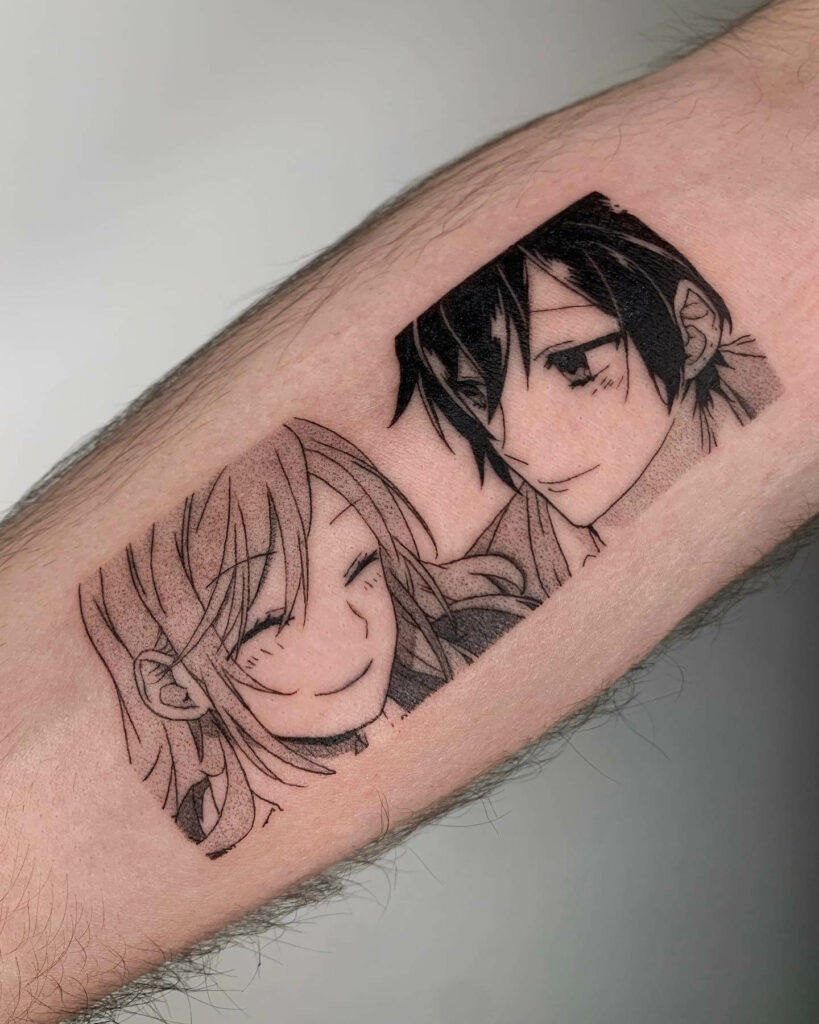 Forearm Tattoos are one of the most demanding tattoos. It also creates a great armband piece when inked with great concentration and dedication. Here is a stunning Miyamura forearm tattoo with his lady love Hori.
This tattoo has been entirely inked with the help of different shades of black and grey ink. The tattoo artist has just inked the face of these two characters that is Hori and Miyamura. Hori has light-colored hair, while Miyamura has dark black hair. In this tattoo, Hori is blushing with a big smile and closed eyes. And Miyamura is smiling at her. He has big black eyes in this design. This is such an adorable tattoo that will attract your attention.
Leg Miyamura Tattoo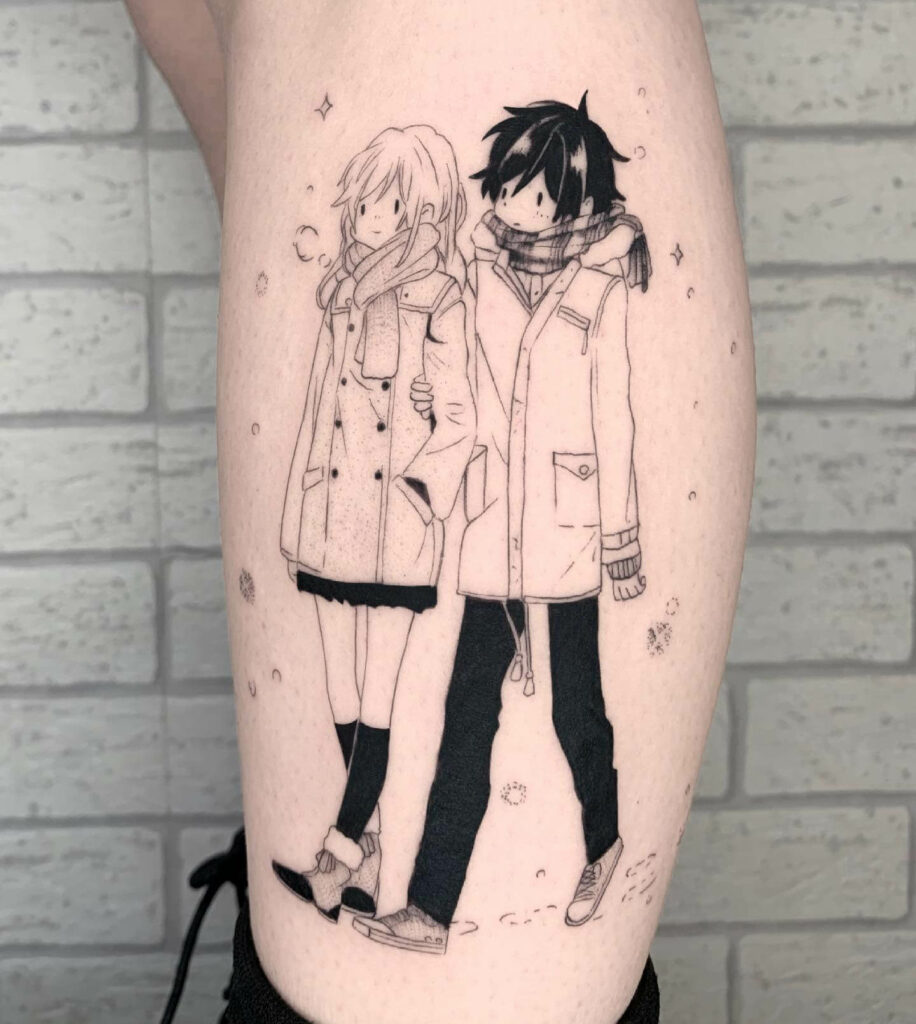 Leg tattoos are very common among teen girls and young women. Therefore here we have selected one of the most eye-catching tattoos. In this tattoo, we can see Miyamura and Hori walking together. It feels like the tattoo theme is based on wintertime, as many things indicate it's winter. Like Hori and Miyamura, both are wearing coats and scarves or mufflers. Surrounding the couple, some snowflakes are falling from above. The couple is looking adorable, and they are holding each other's hands. The entire tattoo has been inked with a black outline, and a few parts are entirely filled with black ink. The tattoo has subtle finishing because of its theme as well as the content.
Simple Izumi Tattoo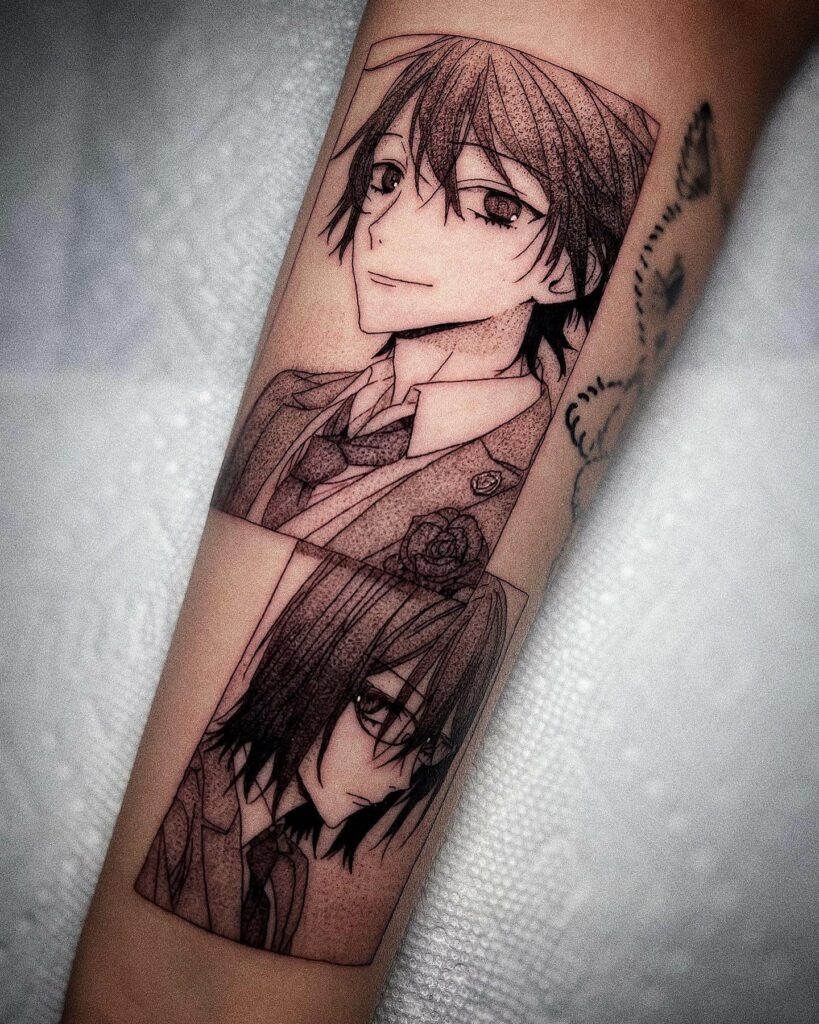 Many people prefer large and big tattoos with many elements and inner meaning in them. Then few people love simple tattoos with very few elements in them. Therefore, we have handpicked this simple yet ravishing Miyamura tattoo design for those simple tattoo lovers.
The tattoo artist has drawn Miyamura in a rectangular frame. He has a charming smirk on his face along with his long messy locks. The tattooist has inked large and beautiful eyes. Here Miyamura is wearing a shirt along with a loose tie. On top of the shirt, he is wearing a blazer. A rose is attached to the coat, which I'd make the look complete.
Miyamura Piercings Tattoo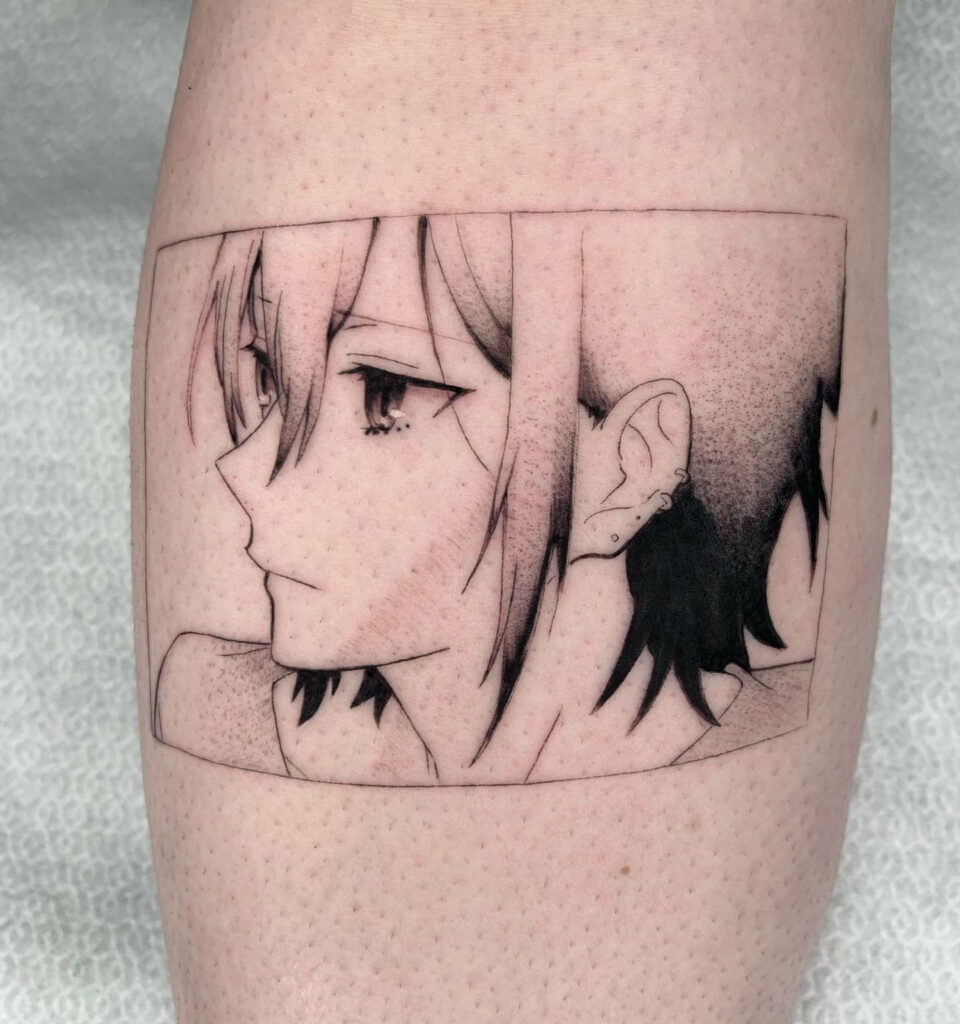 In the series and the manga, Miyamura had piercings and tattoos on his body. This is secret. Therefore he used to cover himself as much as possible so that these things were not visible to anyone else. In this tattoo, the tattooist has emphasized his piercings which are quite visible in the design. On his earlobe, Miyamura has four piercings. In those earrings, he is wearing rings as well. Apart from his piercings, the tattooist has added every detail exactly from the manga. He has long hair which is falling on his face. Apart from that, he has big and bright eyes. The tattoo has been entirely done with the help of different black and grey shades. This combination enhances the appearance of this tattoo.
Miyamura Fan Art Tattoo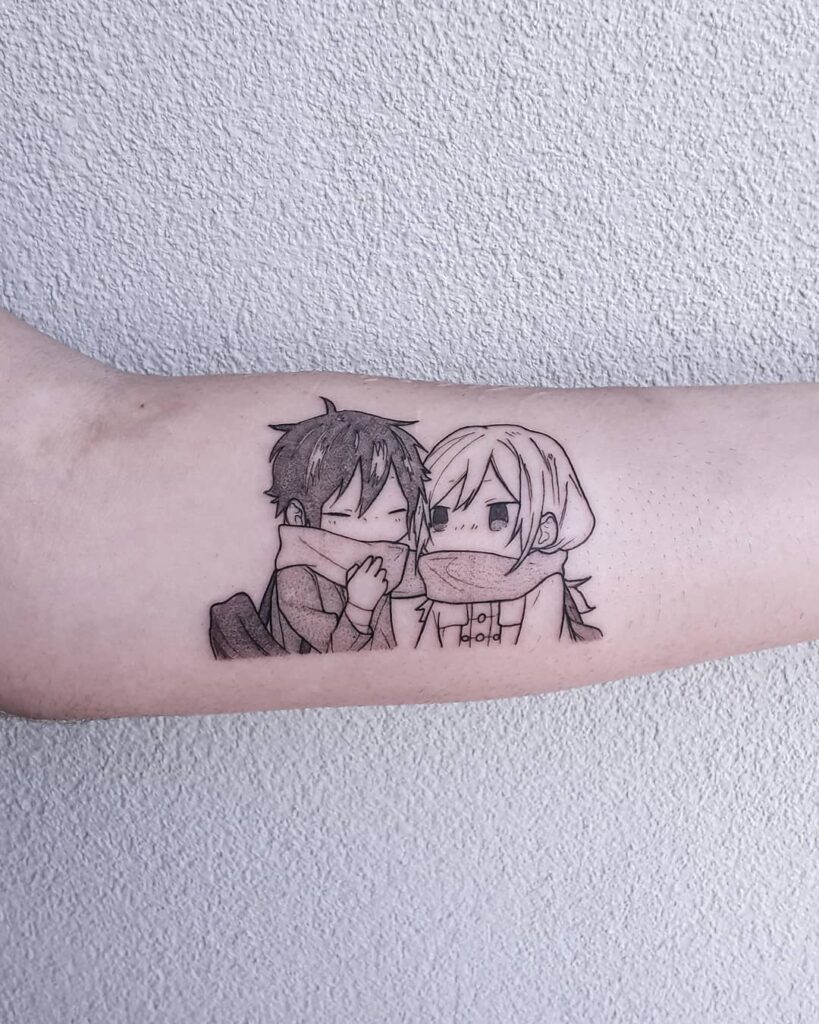 Here is one more Miyamura and Hori tattoo. This tattoo is a bit different from other tattoo designs because this is fan art hence the facial structure is quite different from the facial structure that is shown in the manga or the series.
In this tattoo, Miyamura and Hori are wearing scarves covering half of their faces. Both of them are in their school uniforms and are carrying school bags. The entire tattoo has been made with the help of a dark and light greyish hue.
There were so many Izumi tattoos that we couldn't add every design to this list. Hence we have created one more list, which includes more ravishing tattoo ideas. And we are sure that y'all will love these designs as well.
Feature Image from Pinterest – Want your tattoo to look brighter? Try "Tattoo Balm"
Last reviewed and updated on September 15, 2023