Hey there, tattoo lovers! Are you looking to add a touch of prosperity and financial success to your ink collection? Look no further than our awesome list of money flower tattoo designs!
Money rose tattoos are a symbol of financial growth and overcoming hardships to achieve success. If you've worked hard to achieve financial freedom and meet your goals, a money flower tattoo can be a powerful reminder of your journey and the power of hope for a better future.
These designs can also convey a sense of power and success, making them a popular choice for those who want to showcase their achievements in an artistic way. Some people even choose to incorporate dollar bills into the design, adding to the visual impact and emphasizing the connection to wealth and prosperity.
Ultimately, a money rose tattoo is a beautiful symbol of change and growth, reflecting the challenges we face in life and the resilience we possess in overcoming them. So why not add a touch of financial success to your ink collection with one of these stunning designs? Check out our list below for inspiration and let your creativity soar!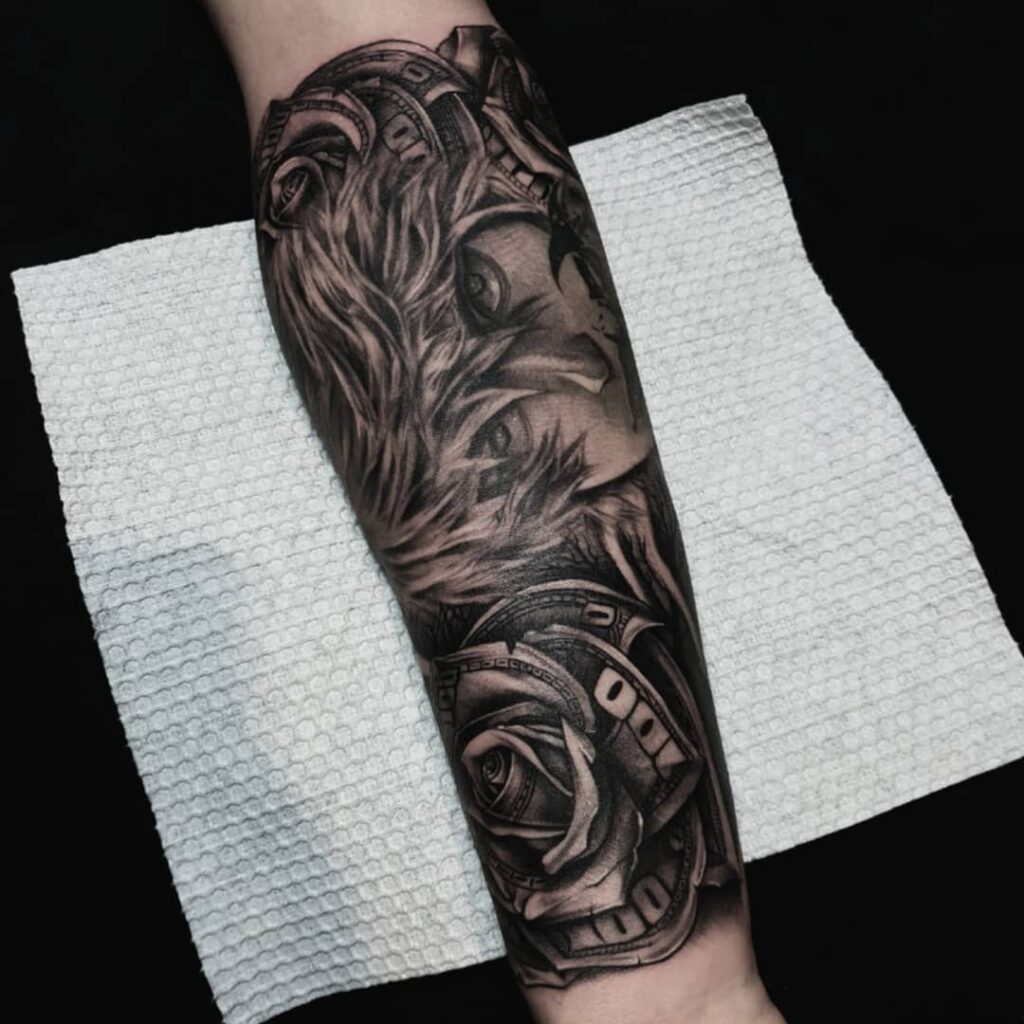 Greyscale Money Rose Tattoo Arm Sleeve Design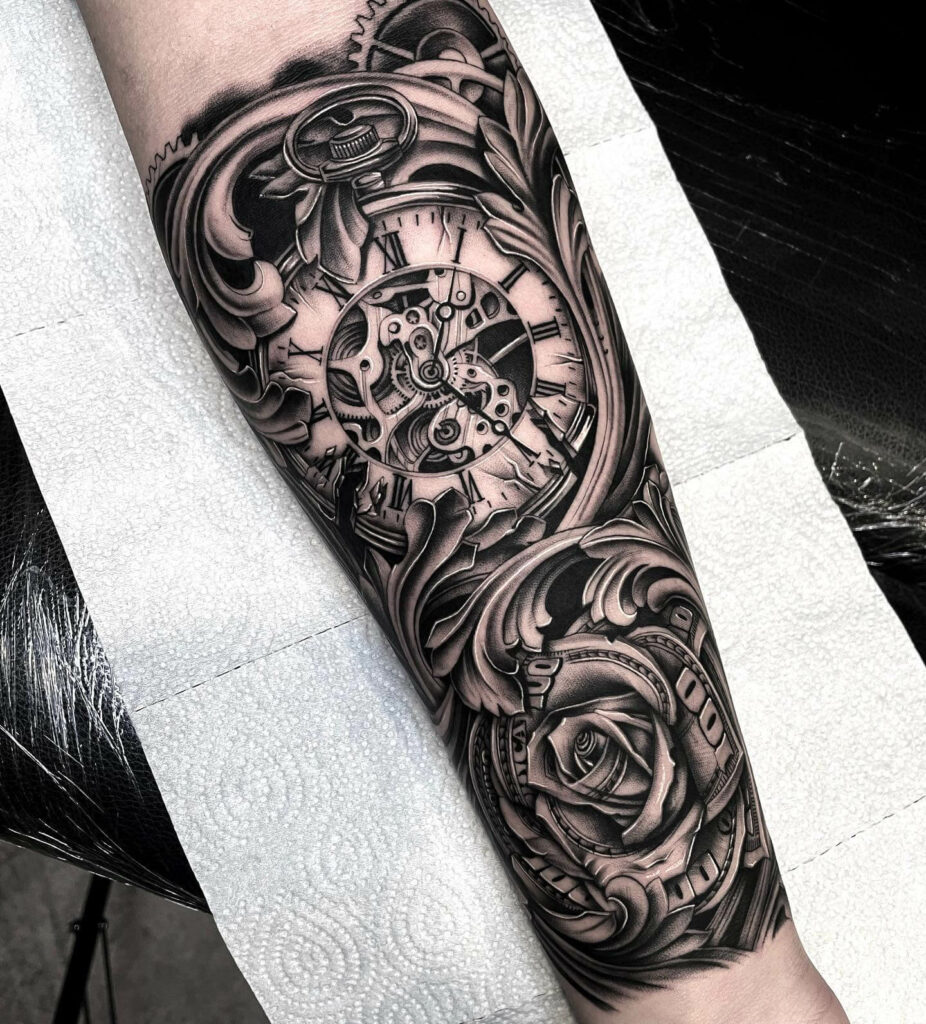 The dollar rose tattoo design is a unique and eye-catching piece of body art. The rose is beautifully created using the shape and texture of dollar bills, giving it a distinctive look. Some designs feature loose dollar bills wrapped around the rose, while others incorporate a single bill in a circular shape. This tattoo design is a testament to the desire for financial abundance and growth in one's passion or business. The intricate details of the tattoo make it a time-consuming project, often requiring multiple sessions to complete. The forearm is an ideal placement for this design, although the artist can adjust it to fit other areas of the body as well. The dollar rose tattoo is a perfect choice for those looking to showcase their financial goals and aspirations through body art.
Money Rose Tattoo On Hand Design With Tiger Tattoo Design
Money rose tattoos have become increasingly popular in recent years as a way to symbolize financial growth and prosperity. The use of dollar bills or the dollar sign can help to differentiate between these two meanings. Additionally, some individuals choose to incorporate tiger tattoo designs into their money rose tattoos, as tigers represent strength and fearlessness. Whether you are a business owner or simply someone with dreams of wealth, this tattoo design can serve as a daily reminder of your goals and your determination to achieve them.
Money Rose Arm Sleeve Tattoo Design With A Time Piece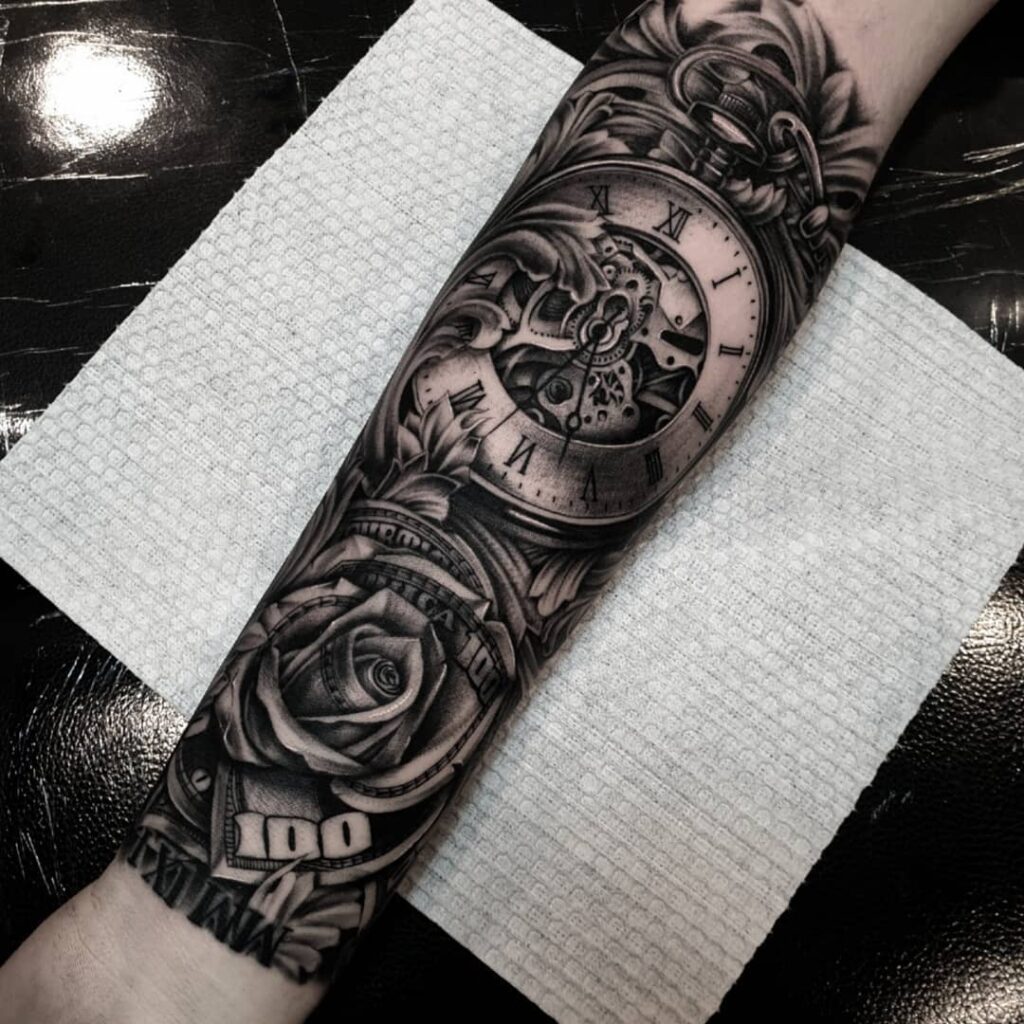 Adding another tattoo design to the money rose tattoo can make the body art more meaningful and complete, especially when designed as a sleeve. While it may not be possible to have all the money in the world, it's nice to have a tattoo that symbolizes the aspirations and goals we are striving for. Some people choose to include the Monopoly Man in their design as he represents control over wealth. It's empowering to be able to create a visual representation of our ideas through tattoos. A time tattoo, which can represent the passage of time or a specific meaningful moment, is also a popular choice, as many consider time to be just as valuable as money. Combining a time tattoo with a money rose tattoo is a great way to create a unique and personalized design.
Small Money Rose Tattoo Design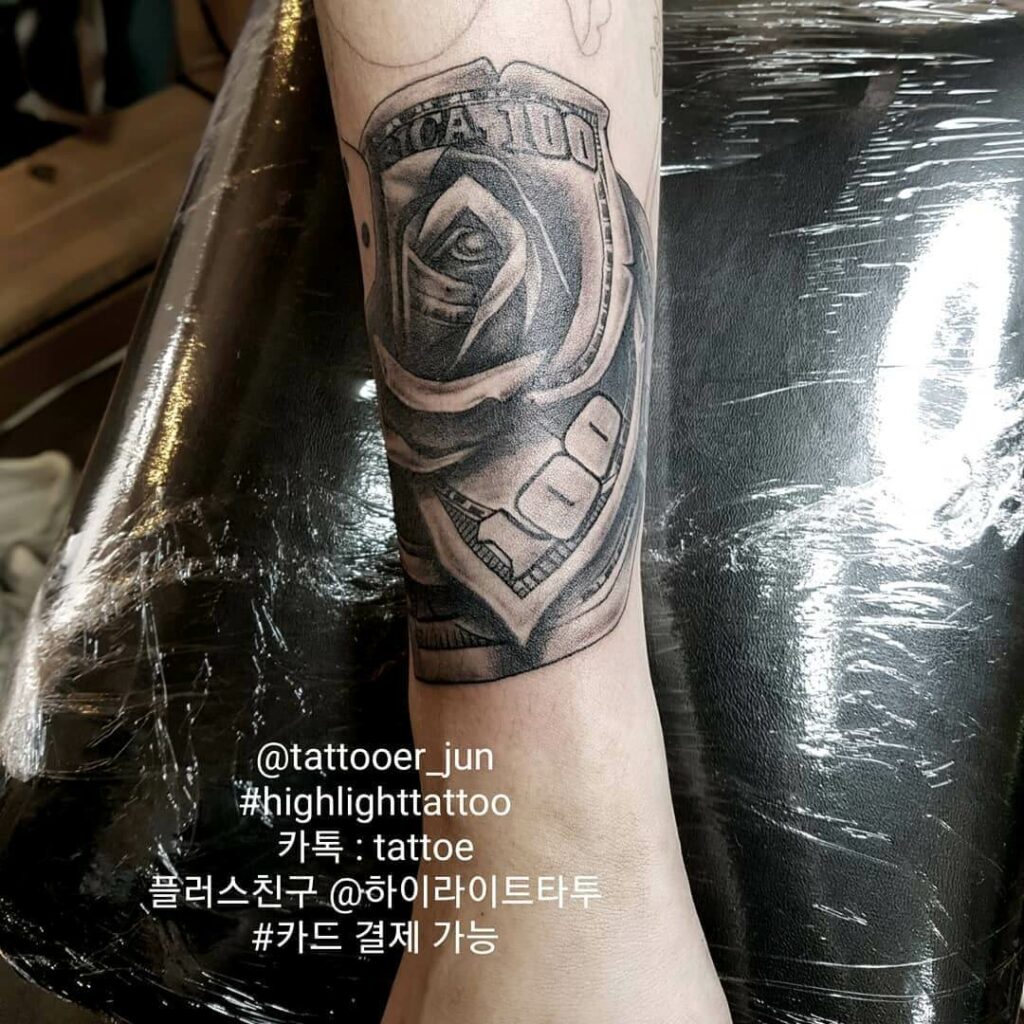 Money rose tattoos have become one of the most popular designs in recent years. The beautiful rose petals made from dollar bills represent both prosperity and financial growth. To add a bit of extra symbolism, you can include the dollar sign within the bill design. Many people choose to get this tattoo on their forearm and some even opt for multiple money roses. For a unique twist, the outer elbow is also a popular placement choice. While some may see this tattoo as a symbol of greed, it ultimately depends on your personal interpretation. The quality of the ink used in the tattoo will also impact its overall appearance, with many artists opting for a "realism" style to make the rose look as lifelike as possible.
Money Rose Tattoo On Elbow Design
Money rose tattoos are a popular choice among tattoo enthusiasts, and it's easy to see why. This design typically features dollar bills wrapped around a rose, creating the petals of the flower. The realism style of tattooing is often used to make the rose look more lifelike. While this design can be placed on any part of the body, it's most commonly found on the forearm. Many people believe that this tattoo design attracts wealth and symbolizes independence, making it a popular choice among women. If you're looking to manifest prosperity and a sense of financial stability, a money rose tattoo might be the perfect choice for you.
Money Rose Tattoo On Hand Design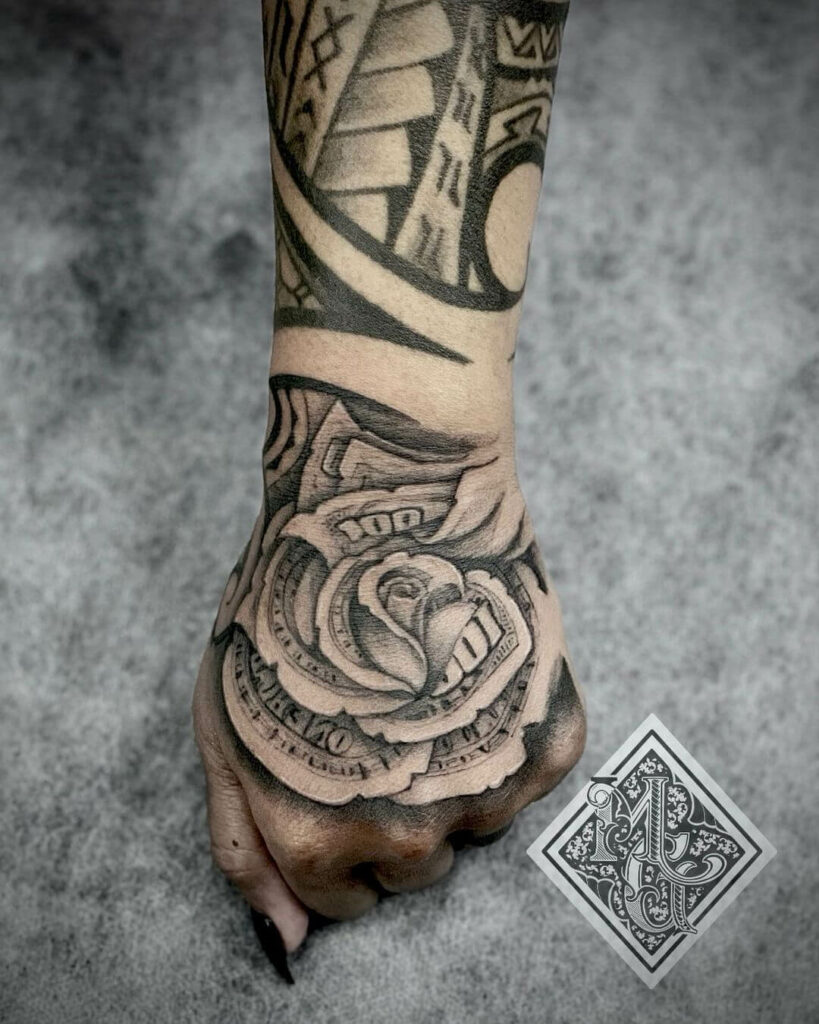 Money rose tattoos are not only cool but also have a deep meaning. It's a visual representation of manifesting wealth and prosperity in life. This tattoo design signifies that you have the potential to create a future that you desire, and you have the courage to overcome any challenges that may come your way. It is a symbol of hope and a reminder to keep striving towards your goals. When planning to get a hand tattoo, it's important to discuss the level of pain with your tattoo artist. They can recommend suitable designs and techniques that minimize pain and ensure the best results.
Money Rose With Roulette Table Tattoo Design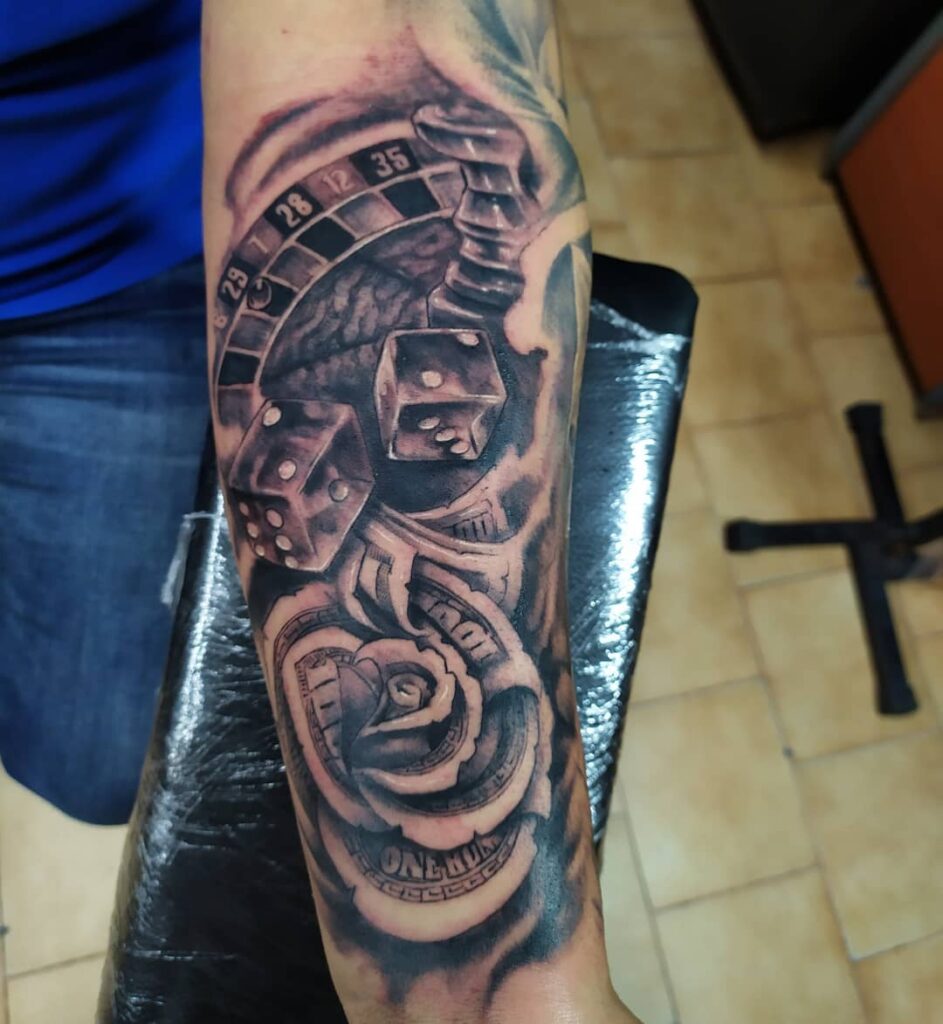 The fusion of elements in this tattoo design is truly a unique and cool idea to explore. The beauty of this design is the different meanings you can interpret from it. The roulette table in the design symbolizes being carefree with your finances. Meanwhile, the rose petals are made from the cash that flows from the roulette table, signifying a desire for financial abundance. It's important to discuss your ideas with your tattoo artist so they can create a personalized and meaningful design for you. With this tattoo, you can showcase your personality and style while also carrying a symbolic message.
Money Rose Tattoo Design With An Arm Sleeve Design
Money rose tattoo designs are often combined with other tattoo designs, which makes them perfect for those who have a variety of ideas they want to incorporate into a tattoo sleeve. A skilled artist can help you create a cohesive theme that brings your ideas to life. This particular design has a certain edgy, gangster vibe to it, as if you're ready to take on the world and come out on top. Forearm tattoos are a popular choice for this design, but you can work with your artist to decide what placement will work best for you. Inspiration for tattoo designs can come from anywhere, including TV shows and movies, so don't be afraid to explore all your options.
Money Rose Chest Tattoo Design
Money rose tattoos are a common design that can be customized with different elements, such as the Monopoly man or a roulette table as seen in previous designs. This particular design is often placed on the forearm and features the petals of the rose made from cash, representing the idea of making it through financial struggles. While the Monopoly man is not as commonly incorporated, it can symbolize control over wealth. The rose itself represents overcoming hardships, making this a meaningful tattoo for those who have overcome financial difficulties.
Money Rose Forearm Tattoo Design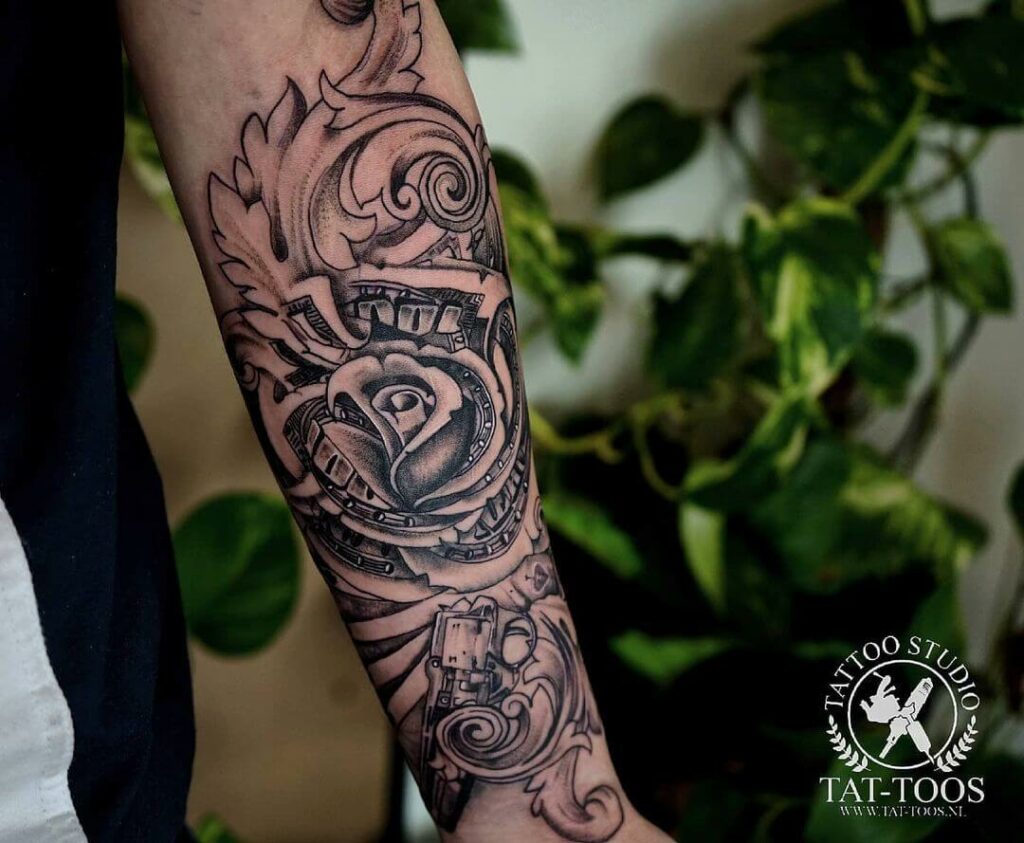 Money rose tattoos are a popular choice among tattoo enthusiasts who want to showcase their financial independence and determination to achieve their goals. This tattoo design is not limited to a specific gender and is appreciated by both men and women. The "realism" style of tattoo art is used to make the tattoo look more realistic and adds to its visual appeal. This design is often misunderstood and is thought to be a symbol of greed and show-off behavior. However, in reality, it represents the struggles and hardships that one has overcome to reach a financially stable position. It is a symbol of resilience and the "hustle culture," where individuals work hard to achieve their dreams and aspirations. Getting a money rose tattoo can be a way to commemorate your financial independence and personal growth.
Feature image from Pinterest – Want your tattoo to look brighter? Try "Tattoo Balm"