Hey there, ink aficionados! Are you ready to celebrate the unbreakable bond between a mother and her children? Look no further than the symbolic and heartwarming Mother of Two tattoo designs we've handpicked just for you.
These tattoos come in various designs, featuring symbols, numbers, words, and more to represent the deep connection between a mother and her kids. And what better way to celebrate this special relationship than with matching tattoos between mothers and daughters?
There's something truly magical about the love between a mother and child, and a Mother of Two tattoos is a beautiful way to showcase that bond for all to see. Whether you're looking to put a smile on your mom's face or to express your own motherly love with a bold and artistic design, these tattoos are sure to make a lasting impression.
So why not take the leap and choose a Mother of Two tattoo design that speaks to you? These tattoos will not only level up your style but also serve as a daily reminder of the love, joy, and gratitude that comes with being a mom. Join us as we explore some of the most creative and heartwarming designs out there – your next ink session just got a whole lot sweeter.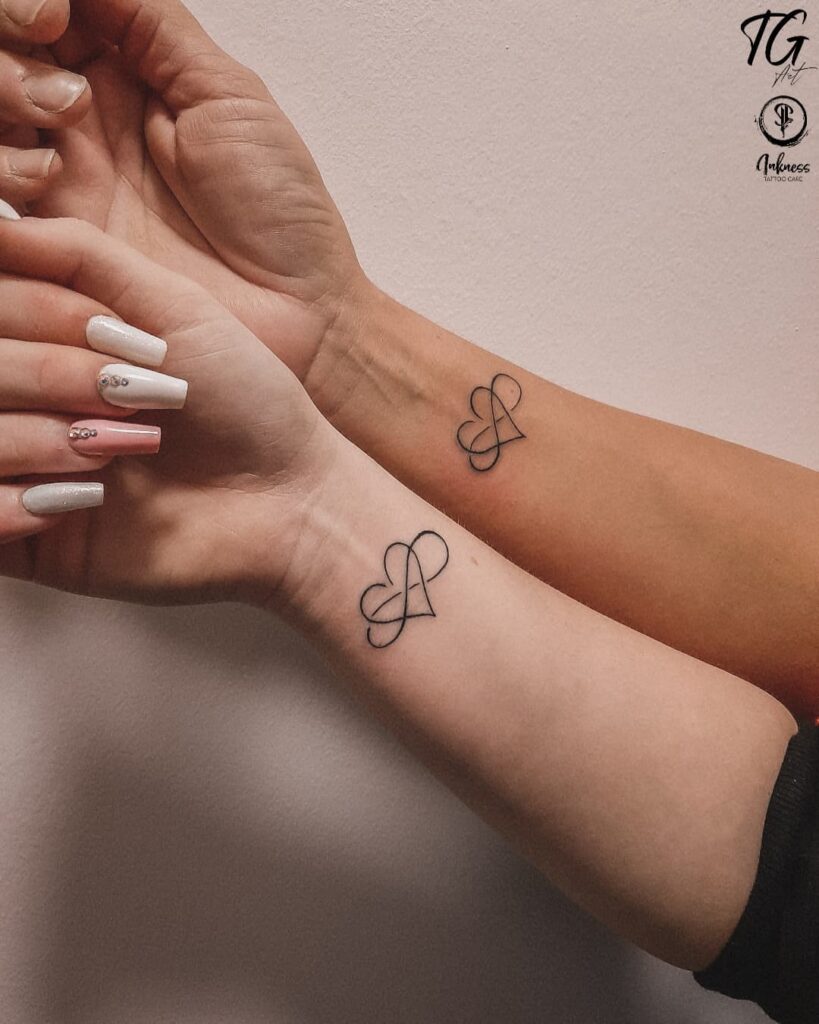 Infinity Mother of Two Tattoo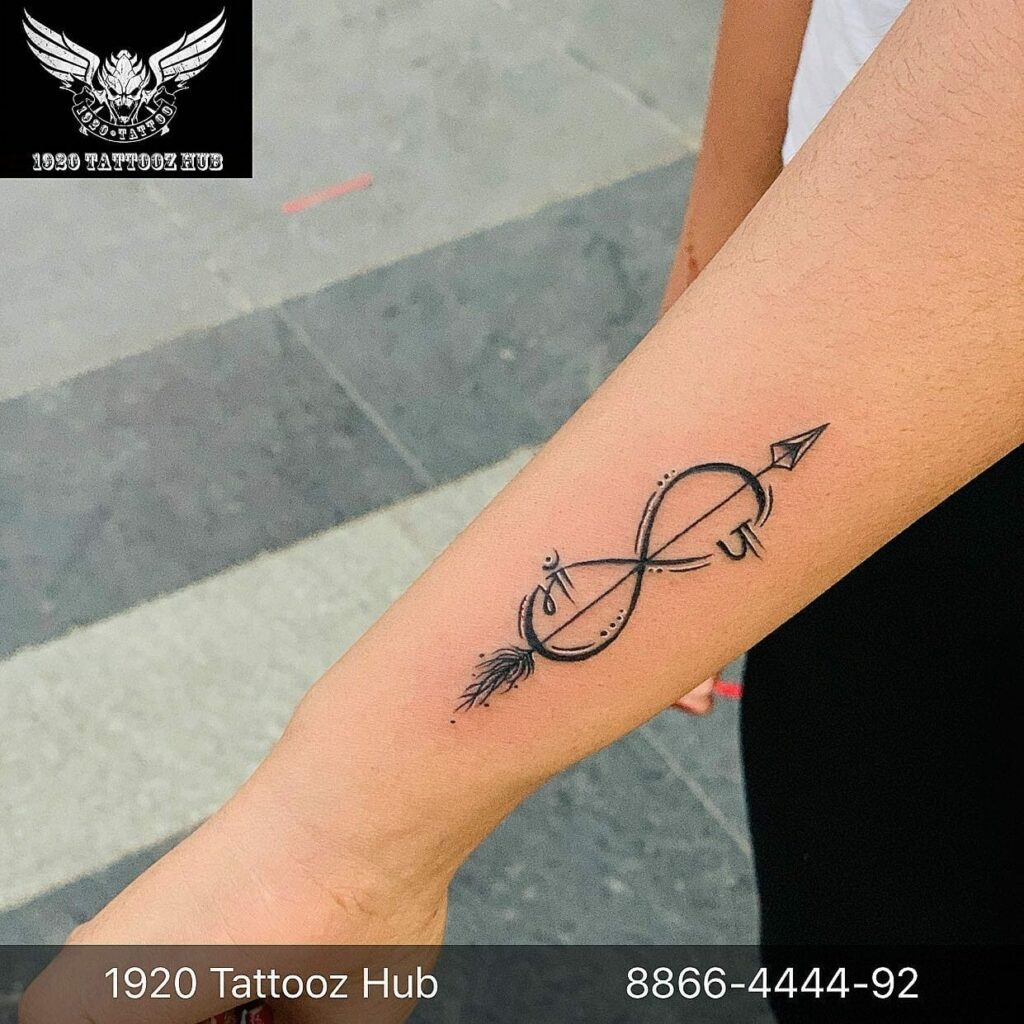 Infinity tattoos have become one of the most popular and meaningful tattoo designs in recent years. They are a beautiful way to symbolize an eternal bond, especially between a mother and her child. This small and delicate tattoo is a perfect reminder of the infinite love between a mother and her child.
One can choose to incorporate the child's name, initials, or favorite symbol within the infinity loop to personalize the design. Flowers, hearts, and stars are some popular choices that add a touch of elegance to the design.
These tattoos are ideal for placement on the wrist, a perfect reminder of the bond of motherhood. Not only are they a beautiful piece of art, but they are also a meaningful representation of the unbreakable connection between a mother and her child.
Small Mother Daughter Tattoos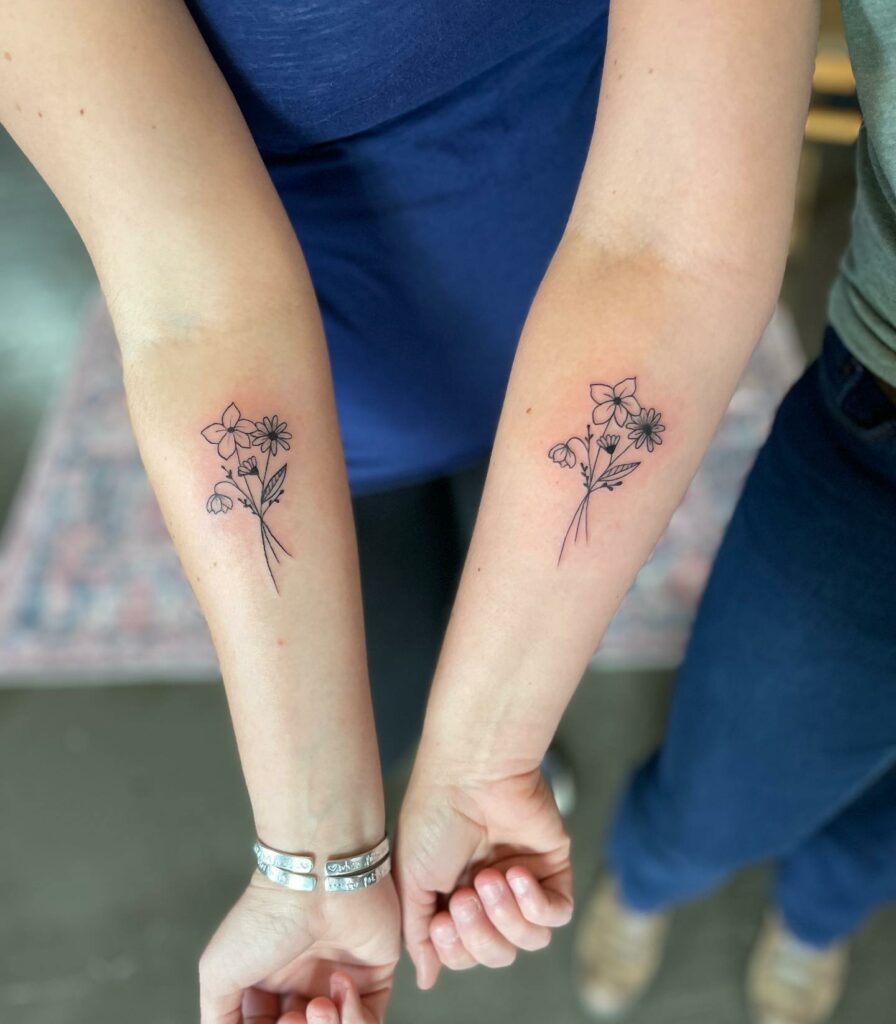 Choosing a small yet meaningful tattoo design for you and your mother or daughter is a great way to express your special bond. Matching tattoos can be simple yet fascinating, like a heartbeat symbol on your index finger or a pair of tiny birds on your ankle. If you prefer words, mother-daughter quotes are a fun way to get creative with your matching tattoos. Collaborate with your tattoo artist to create a unique design that captures the essence of your relationship. Small, matching tattoos are a timeless way to celebrate your love for each other.
Mother of Two Boys Tattoo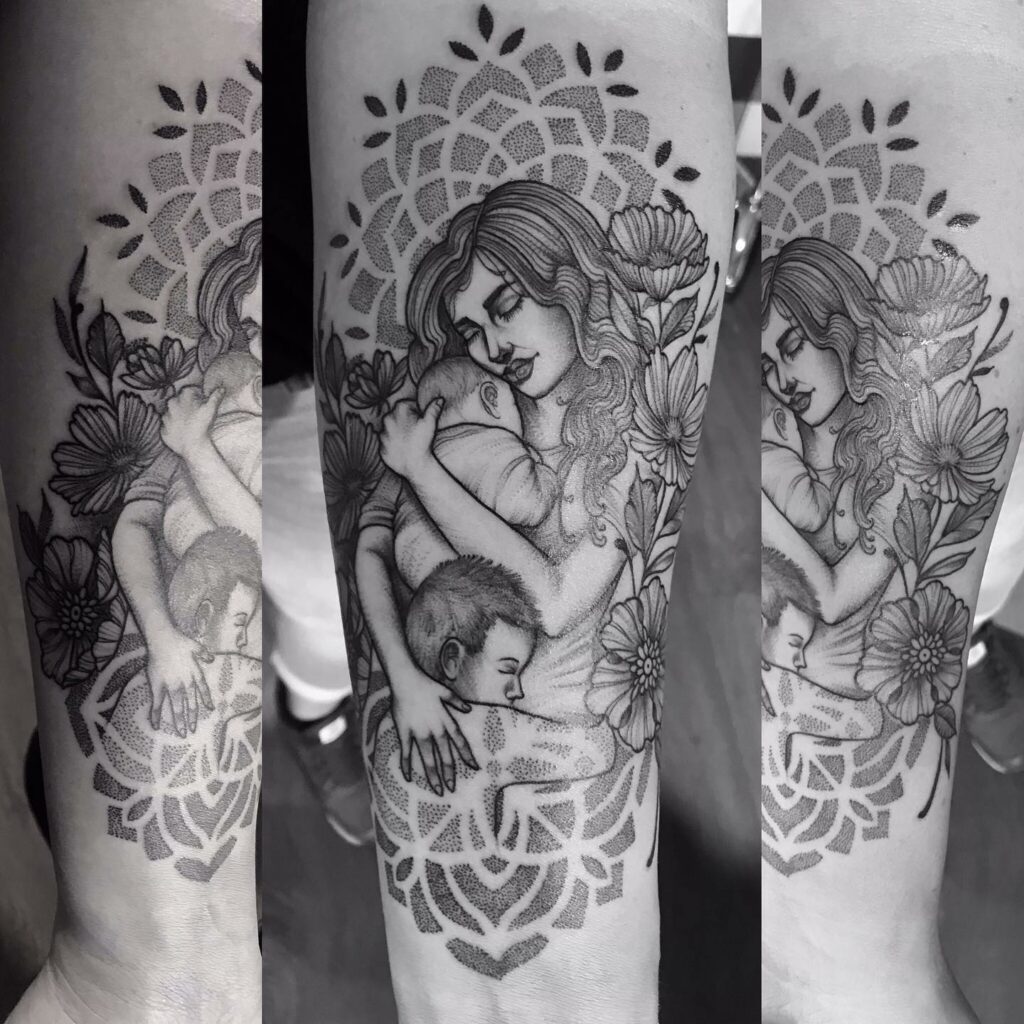 Mothers who have two sons can also get inked with tattoos that symbolize the bond they share with their children. Raising and nurturing two boys with love and care is a cherished experience for many moms. The tattoos can serve as a reminder of the shield their sons have become for them as they grow up. Birth dates of the children can be added to the design to make it even more special and personal. The tattoo design can represent the love and strength a mother seeks from her boys. The sight of the tattoo can boost a mom's spirits during times of exhaustion and serve as a constant reminder of her courage and love for her children.
Lioness and her Cubs Tattoos
The mother of two sons' tattoo designs offers endless possibilities to express your love and commitment to your children. An illustration of a lioness and her cubs is a timeless symbol that depicts your strength and courage as a mother. However, you can also choose other animals that resonate with you and your family's personality traits. This tattoo design is a testament to the powerful lineage you have created and the unbreakable bond you share with your children. It serves as a reminder of the love and protection you provide to your family. These tattoos look stunning on the shoulder blade or the arm and are perfect for any mom who wants to celebrate the special bond she shares with her sons.
In Mother's Arms Tattoo
As the saying goes, "the best place in the world is a mother's arms." And what better way to express this love than through a small yet meaningful tattoo? Whether you opt for a simple black outline or an intricate design, the symbolism of a mother's embrace is sure to warm your heart.
The image of a mother holding her child close evokes a sense of comfort and safety that only a mother's love can provide. It's a nostalgic reminder of carefree childhood days, and even if you're far away from your mom, this tattoo will keep those memories close to your heart.
While this design is simple, its meaning runs deep. It's important to choose a skilled tattoo artist to ensure that you get the perfect look you want. This tattoo design is best suited for the right chest, shoulder, or arm. So go ahead, let this tattoo be a beautiful reminder of the love that surrounds you.
Mother of Two Butterfly Tattoos
The butterfly is a beautiful symbol of transformation and independence. For those seeking a matching mother-daughter tattoo design, the butterfly is a perfect choice as it represents hope and renewal, and embodies the natural beauty of the world. This design is especially appealing for those who love nature and want a tattoo that is both graceful and meaningful.
The design can also include other elements such as flowers, which add to the overall beauty and elegance of the tattoo. Adding vibrant colors to the butterfly's wings can make the design even more eye-catching. This is a great option for mothers and daughters who live far apart as the tattoo can serve as a reminder of the happy times spent together.
Choose a professional tattoo artist to bring your vision to life and create a design that perfectly captures the essence of your bond. The placement of this tattoo is versatile, but it often looks stunning on the wrist or ankle.
Mother's Hand Tattoo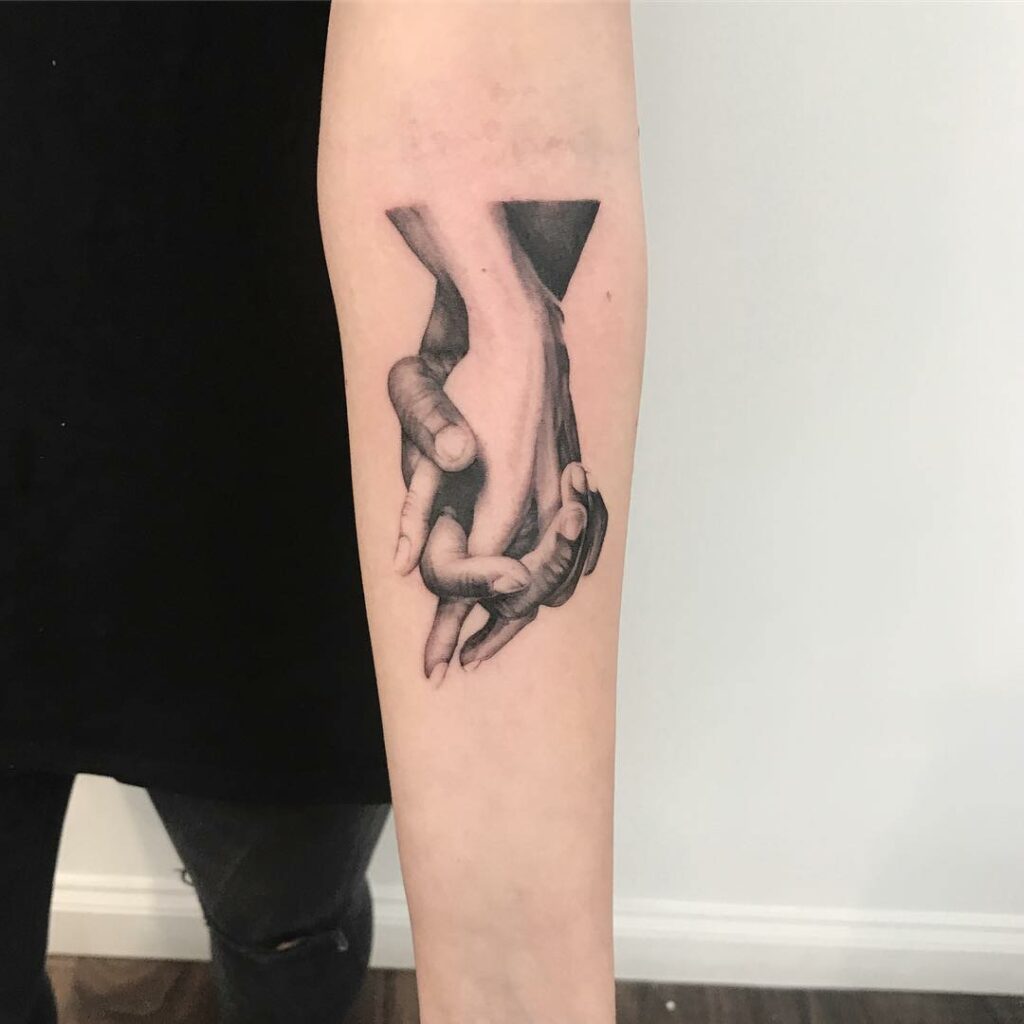 A mother's hand is a symbol of comfort and security that we seek in times of distress. As children, we always held on tight to our mother's hand during difficult times, whether it was the fear of an exam or crossing a busy street. The touch of her hand provided us with a sense of reassurance and satisfaction. So why not commemorate those precious moments by getting a tattoo of your mother's hands holding yours?
This tattoo is a beautiful way to cherish the memories of your childhood, even if you are far away from her. It serves as a source of comfort during stressful times, reminding you of the love and support you received from your mother. The tattoo also represents the strong bond and friendship between a mother and her child. It serves as a reminder to always be there for your mother and to support her in times of need.
Connecting Tattoos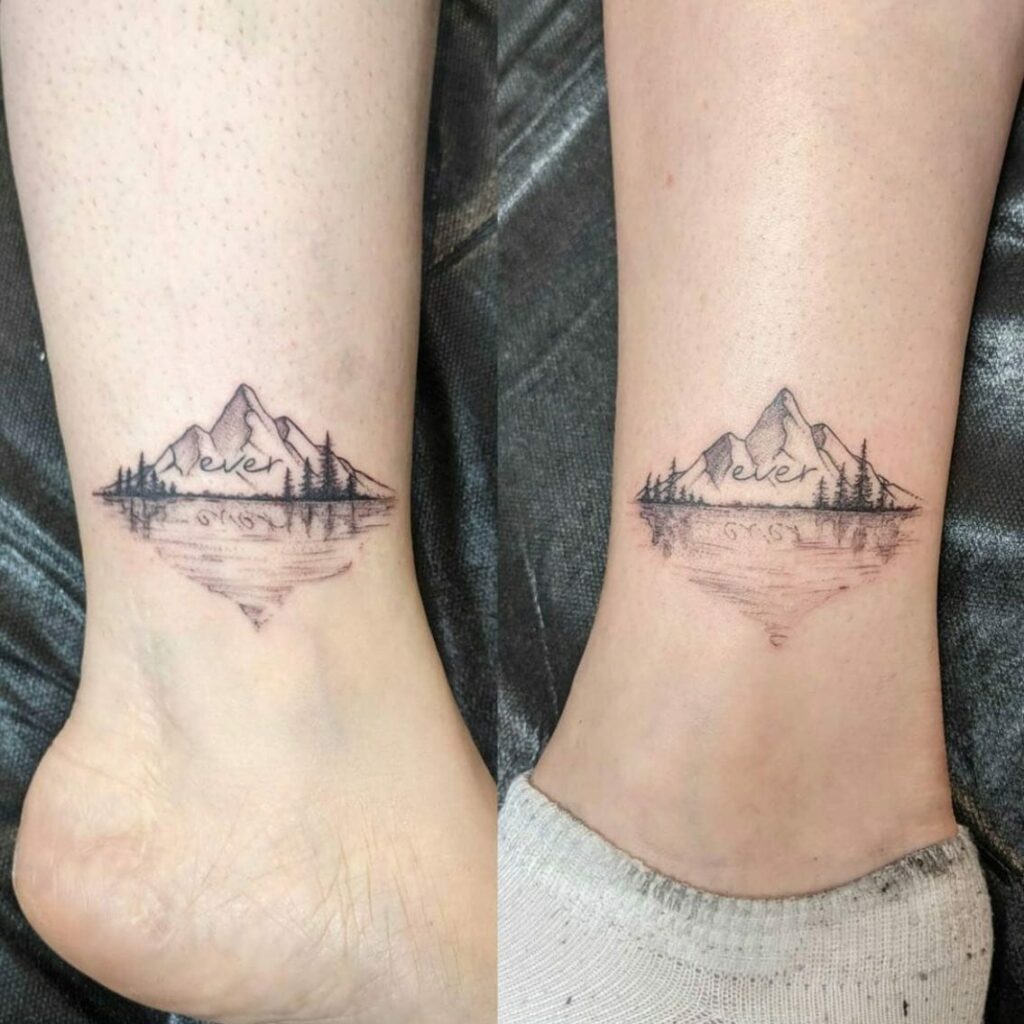 Matching tattoos are a great way to celebrate the special bond between a mother and daughter. Connecting designs that symbolize your family ties and close relationship can be both artistic and meaningful. Heart tattoos, symbols, or even special places can be incorporated into the design to create a unique and personalized tattoo. The perfect choice for those who want a reminder of their loved ones, these tattoos are best placed on the wrist or arm. Delicate outlines and intricate designs bring out the beauty of the bond shared between a mother and daughter.
Sun and Moon Tattoos
The mother-child bond is symbolized perfectly through the sun and moon tattoos. Just like how we can't have a day without a night, the sun's light is reflected through the moon at night. This reflects how a mother's guidance and teachings are instilled in a child, even into their adulthood. Sun and moon tattoos not only bring out a deep meaning but also enhance feminine beauty. With these natural elements, you can never go wrong with your decision. This matching tattoo will look great on the wrist, shoulder blade, and neck, reminding you of the eternal bond you share with your mom.
Mother Daughter Tattoo for Shoulder Blades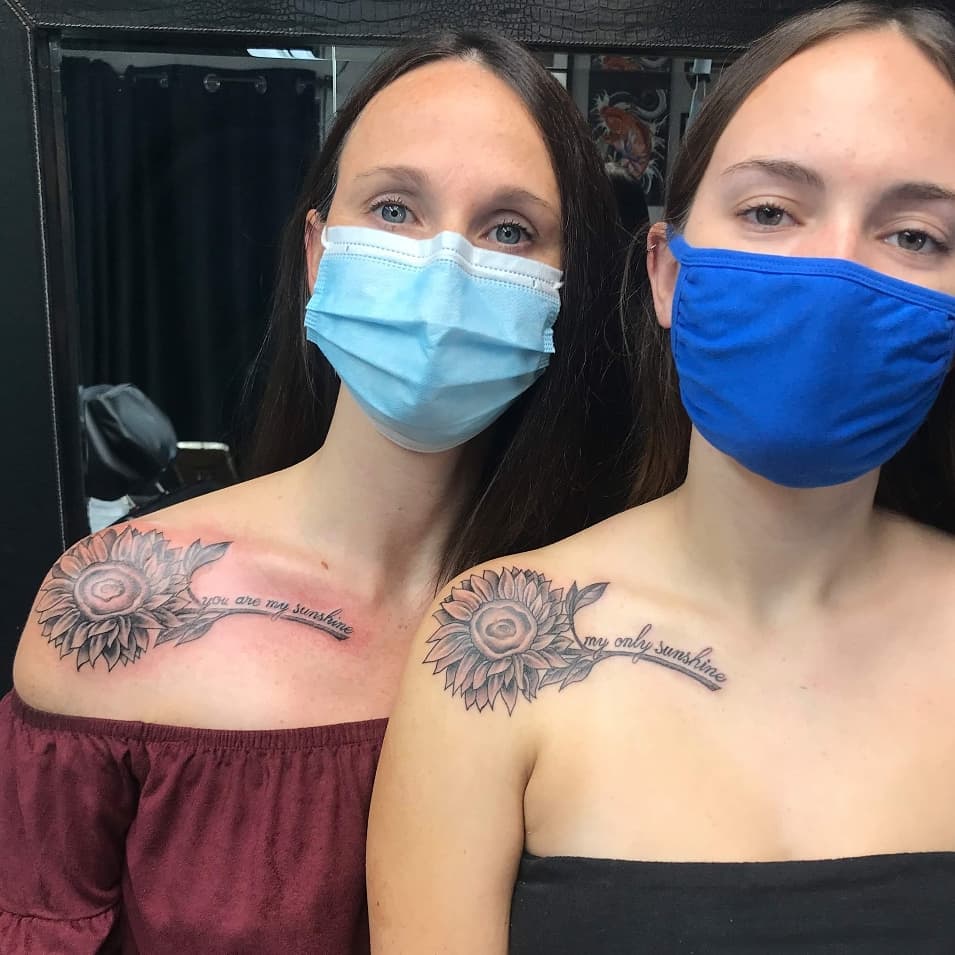 Shoulder blade tattoos are a popular choice for those who want to express their love for their mothers. Tattoo artists are always excited to create unique designs for their clients, whether they be small and simple or matching tattoos for mother and daughter.
One great option is a simple tattoo featuring a mother's face with the outlines of her two children. Another choice is a mother of two tattoo with the names of her kids, or a single child tattoo for a more personalized touch. Animal figures such as elephants with their babies or a doe cuddling with her fawn are also popular designs. Heart tattoos and meaningful quotes can add creativity and style to any shoulder blade tattoo.
These meaningful tattoos are perfect for special occasions like Mother's Day, and will undoubtedly be worthy of sharing on Instagram. Show your love for your mother with a beautiful shoulder blade tattoo!
feature image from Pinterest – Want your tattoo to look brighter? Try "Tattoo Balm"