In the hunt for a unique emblem that honors the extraordinary bond with your mother? Here are 10 distinct mother tattoo designs that will surely tug at your heartstrings. Mother tattoos have surged in popularity in recent times, epitomizing not just strength but an elemental force without which our world would feel starkly barren. These tattoos hold immense appeal for both mothers and their children – daughters and sons alike.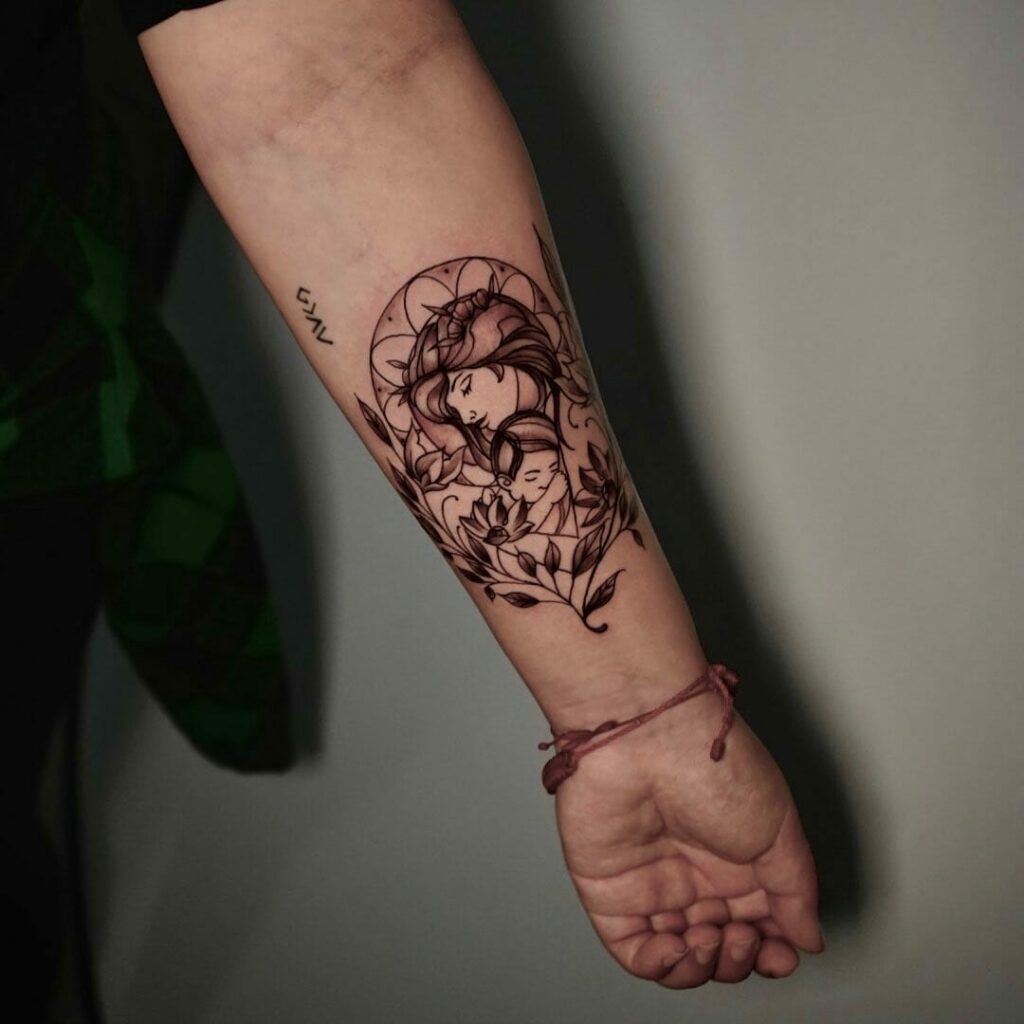 Tattoos, for many, offer a medium to express the often inexpressible depth of their sentiments. And when it comes to the intricate relationship between a mother and her child, the feelings run deep. A mother is a beacon, a safe harbor eradicating the tumult of stress and sorrow, while nourishing her child with an unwavering love and connection. This bond, transcendent and unparalleled, empowers both daughter and son to navigate life's certain and uncertain twists and turns with resilience. Hence, a mother may choose to ink a mother-daughter or mother-son tattoo as a testament of her enduring love, while a child may opt for the same to pay tribute to the unassailable strength and infinite affection of their mom.
Floral Mom Tattoo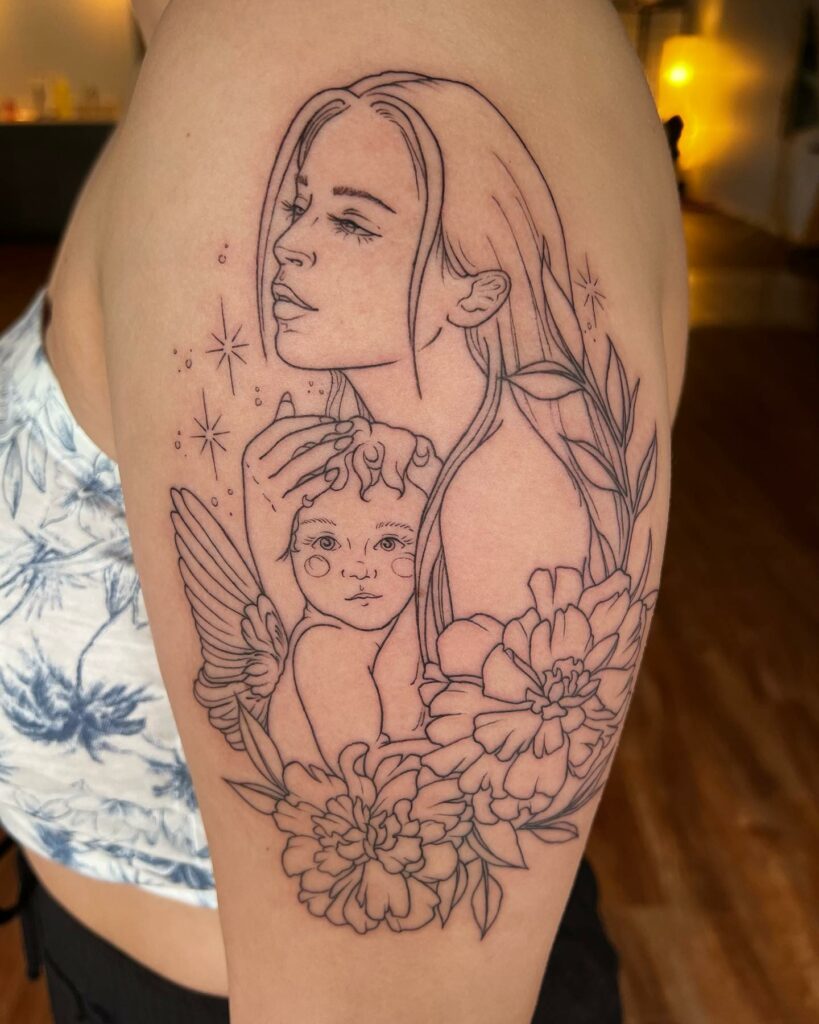 A tender depiction of a mother enveloping her child in a loving embrace, accentuated with motifs of flowers and stars. The 'Floral Mom Tattoo' isn't just a stunning piece of body art but a heartwarming depiction of a mother's protective instinct. It's as if you can almost see the child's sense of security mirrored in the design. Crafted with floral elements, this tattoo further amplifies the concept of pure love and connection with nature, potentially symbolizing divine contentment. The artist's palette can truly be your playground here, bringing the tattoo to life with an array of colorful flowers, butterflies, and more.
Mother And Baby Tattoo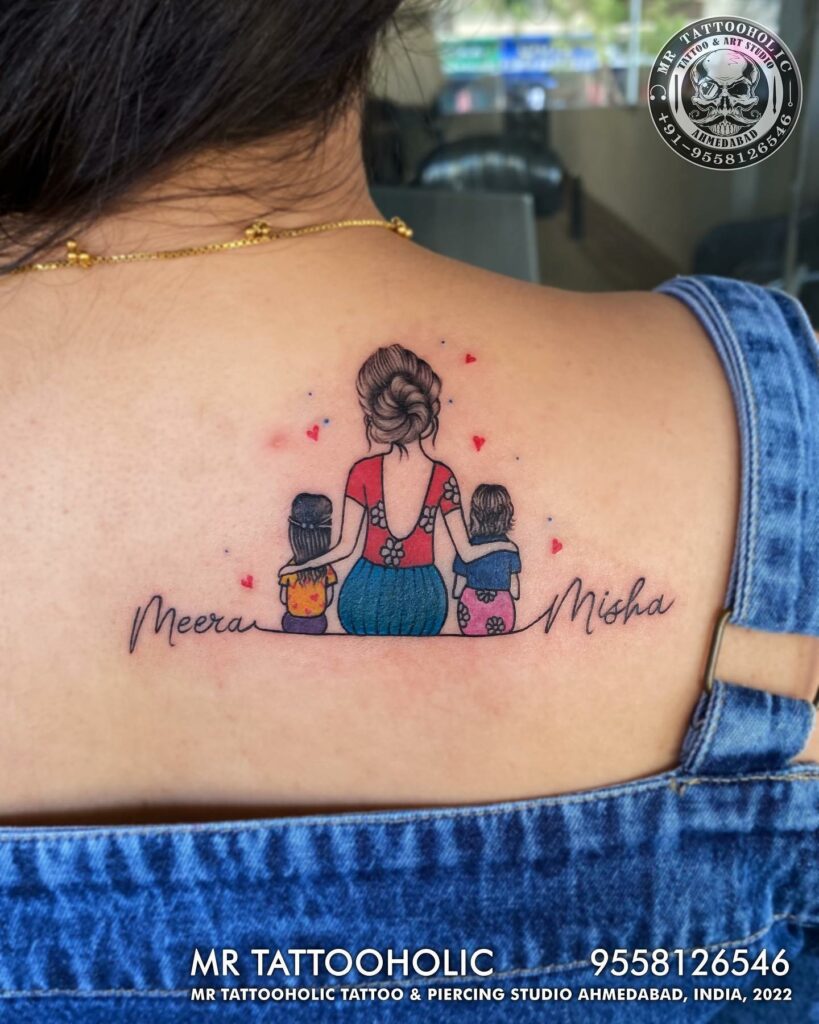 The 'Mother And Baby Tattoo' stands as one of the most poignant mother-child tattoos globally, illustrating a realistic scene of a mother sitting with her son and daughter, perhaps sharing a precious moment of togetherness. An ideal tribute to your mother on special occasions like Mother's Day or her birthday, this design doubles as a wonderful matching tattoo for siblings. Traditionally, it fits nicely on the shoulder blade, with a dedicated artistic phrase as a loving nod to your mother.
Animal Mother Tattoo
Animal lovers might resonate with the 'Animal Mother Tattoo', a charming portrayal of a lioness with her cub. Beyond its visual appeal, it's a symbolic representation of a mother's fierce love and care, drawing inspiration from the wild. It's the perfect homage to wildlife enthusiasts and an inspiring reminder of a mother's enduring struggle.
Cute Mother Daughter Tattoo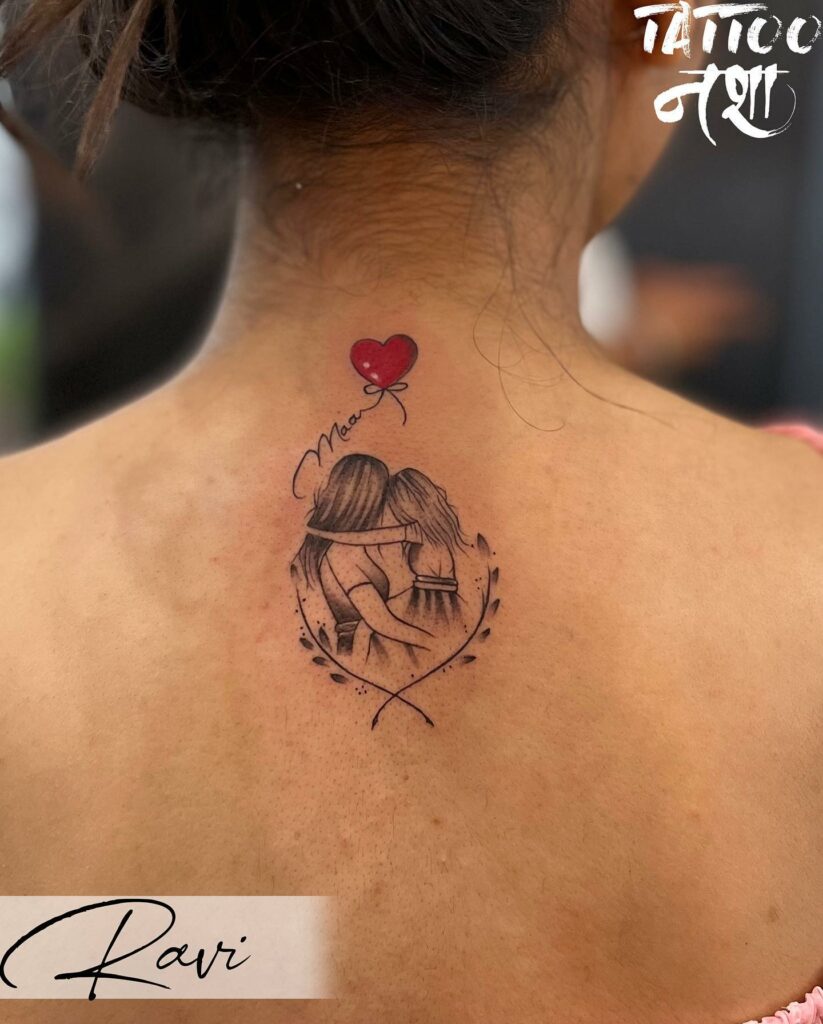 The 'Cute Mother Daughter Tattoo' weaves a nostalgic tale of mother-daughter bond. Adorned with the word "Maa" (Mother) in a ribboned red heart, it invokes memories of childhood playtimes with mom, and serves as a touching tribute for those whose mothers have passed away. This charmingly simplistic design works as a popular matching mother-daughter tattoo, reminiscent of the "mother-daughter guess how much I love you" sentiment.
Mother Son Tattoo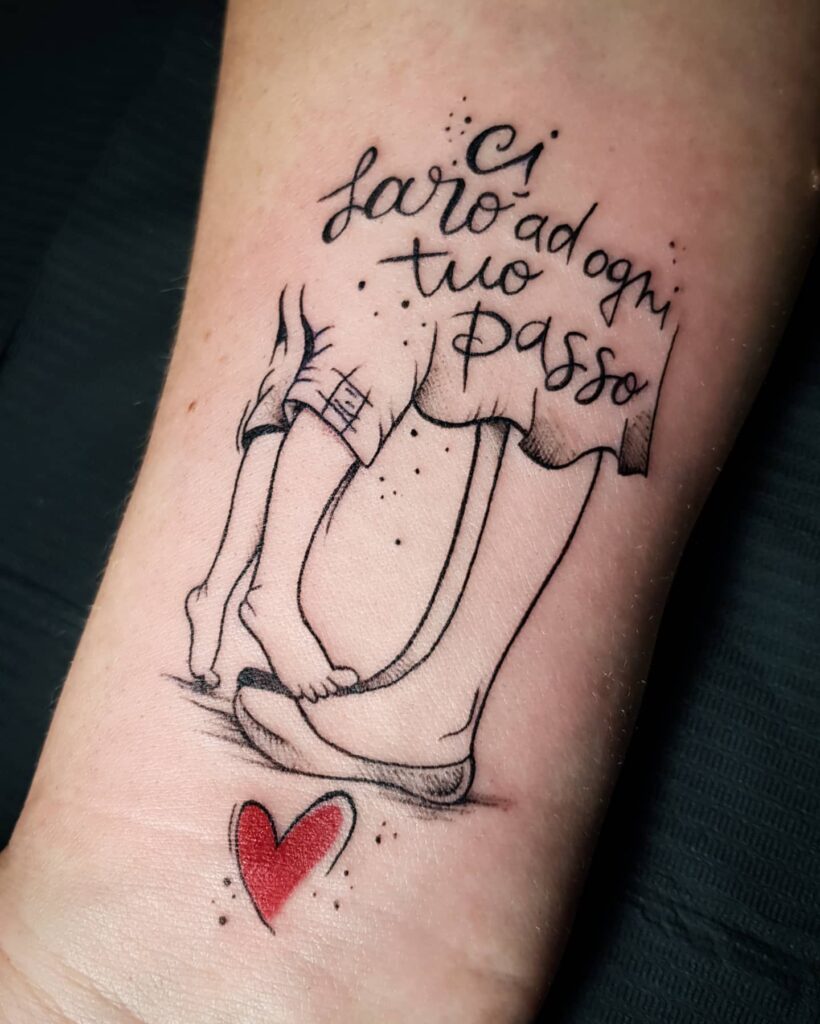 The 'Mother Son Tattoo' captures the playful interaction between a mother and her son through a creative representation of the child's feet on the mother's. This design is a favorite among enthusiasts, symbolizing the strong bond between a mother and her son while evoking childhood memories.
Traditional Mother Daughter Tattoo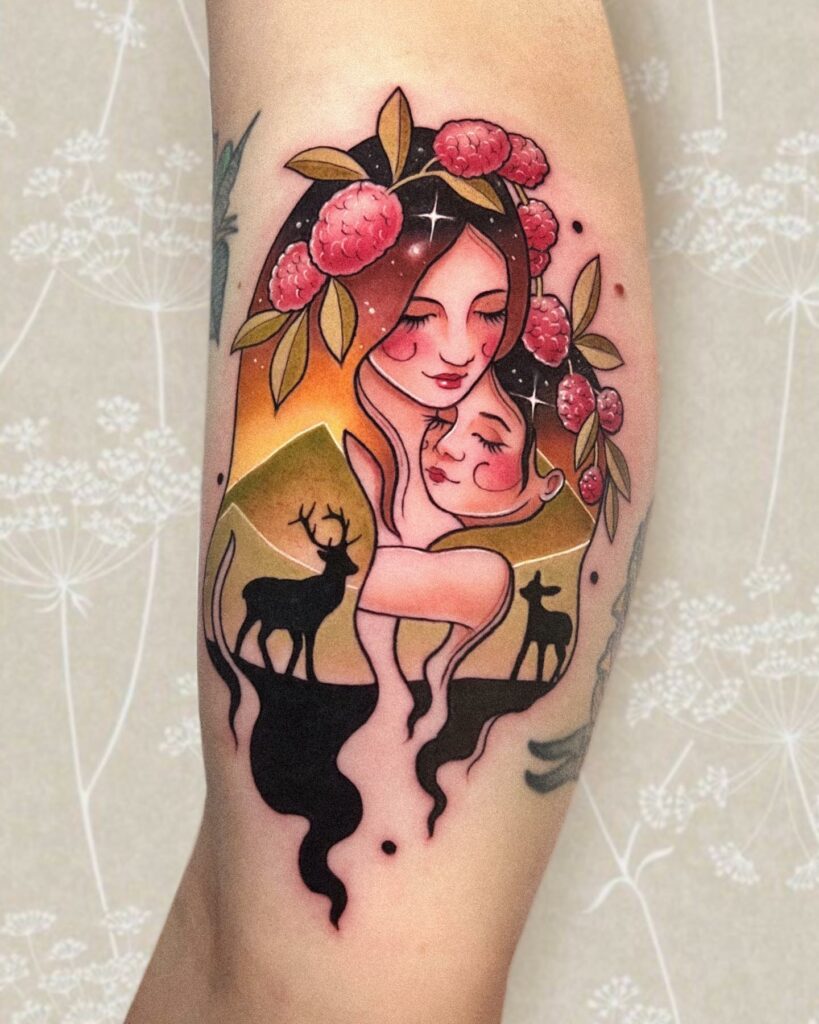 A mesmerizing scene unfolds in the 'Traditional Mother Daughter Tattoo' of a mother holding her little girl, with an accompanying image of a mother deer and her fawn, further accentuating the universal connotation of motherhood. This compelling design, expressive of peace and hope, can be a brilliant way to channel your emotions for your mother.
Back Tattoo Of A Mother And Child
The 'Back Tattoo Of A Mother And Child' beautifully depicts a mother cradling her newborn, symbolizing the joy and strength that embodies motherhood. This design tells the story of a baby's entry into the world and the boundless love of a mother, making it an apt choice for commemorating your child's birth or birthday.
Hands Holding Tattoo
In the 'Hands Holding Tattoo', you'll find an unusual representation of the unbreakable bond between a mother and child. The tattoo illustrates a newborn clasping the mother's hand, with floral accents amplifying the theme of togetherness.
Tattoo Of Mother And Her Two Children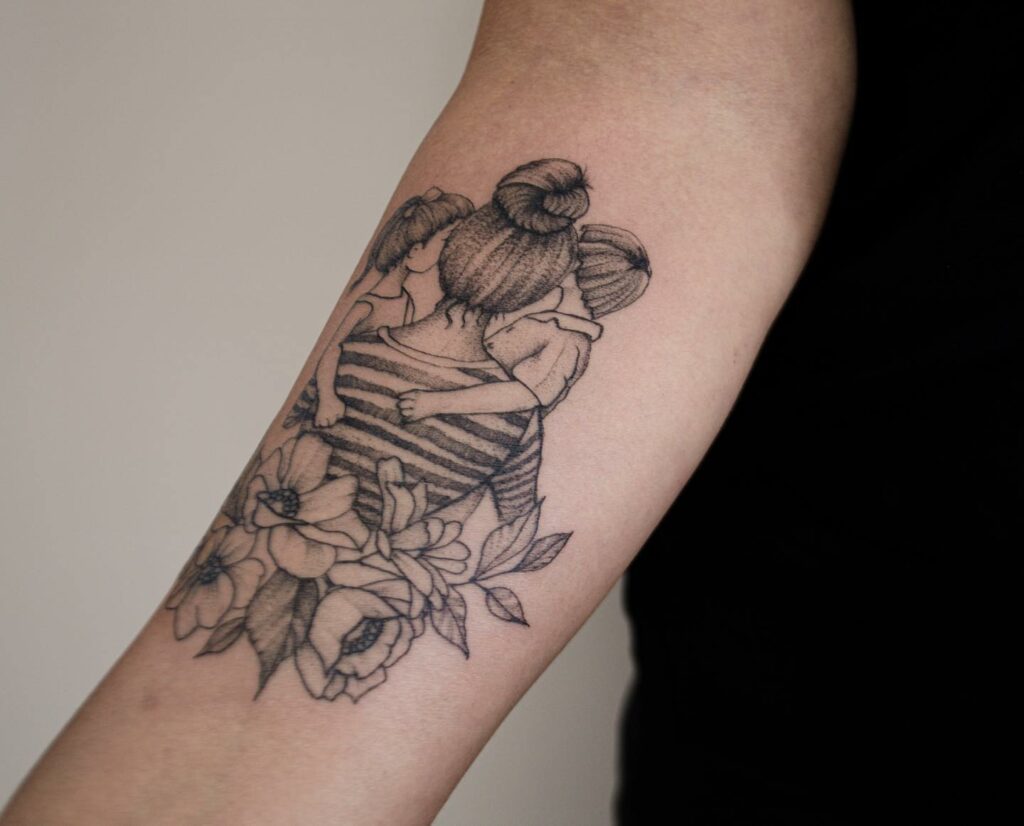 'Tattoo Of Mother And Her Two Children' is more than a mother tattoo; it's a tribute to sibling bonds. This creative artwork features a mother holding her daughter and son, evoking images of shared conversations and joyous times together. A perfect choice for siblings, this design is a testament to familial happiness and bonding.
Mother Love Tattoo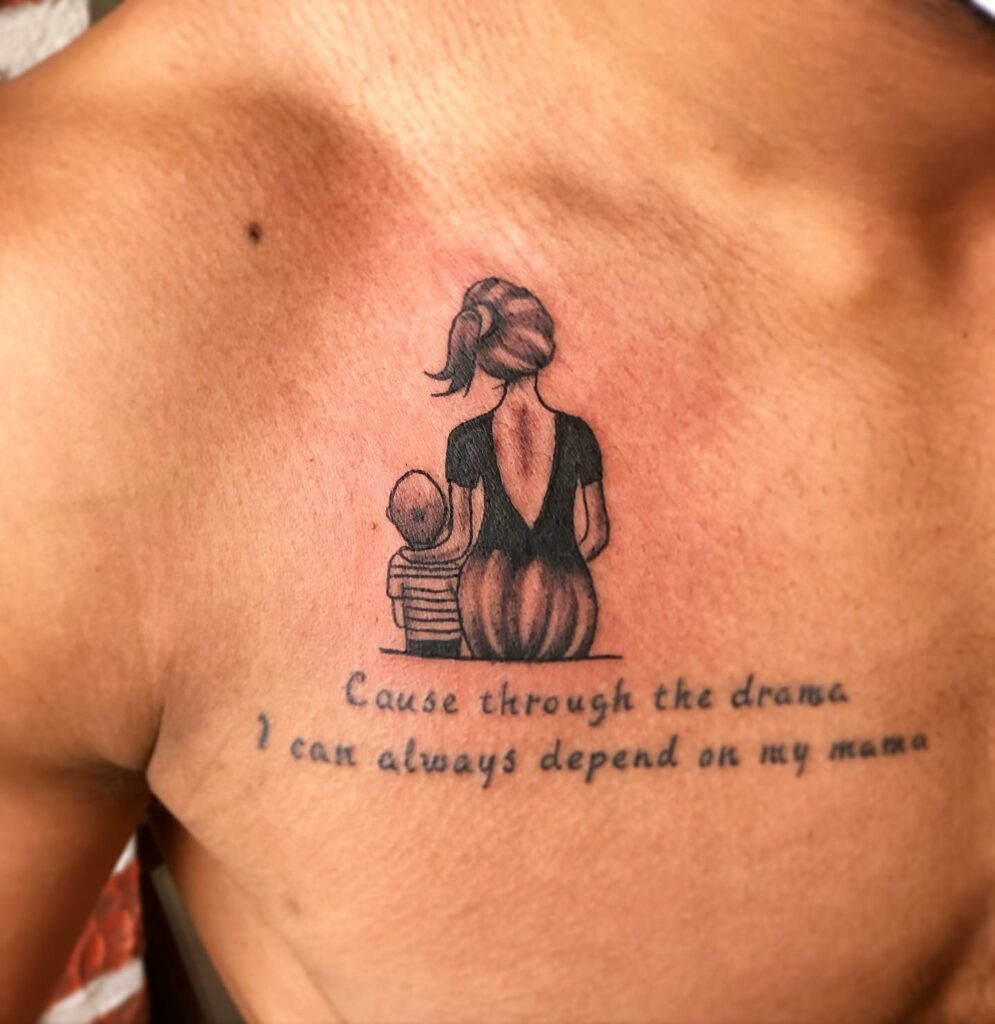 'Mother Love Tattoo' depicts a mother and child sitting together, suggesting a mother's guidance to her child. It's a constant reminder that to a mother, you'll always be her child, and her love and blessings are your lifelong companions. This tattoo is not only a symbol of happiness and hope but also a testament to the ever-present motherly
Conclusion
To encapsulate, the journey of picking the perfect mother-themed tattoo is as deeply personal as it is profoundly symbolic. Whether it be the tender floral mother-child image or the fierce lioness with her cub, each design holds a story, a sentiment that captures the essence of the mother-child bond. Deciding where to place your tattoo is an important consideration, with popular areas including the shoulder blade, forearm, and back. However, it's ultimately about where it feels right for you. As for the cost, it varies significantly based on the complexity of the design and the reputation of the tattoo studio, so it's essential to set a budget early on.
While tattoos are largely safe, potential risks include allergic reactions to the ink, skin infections, or in some rare cases, bloodborne diseases. Ensuring your chosen tattoo studio follows strict hygiene practices and that you follow proper aftercare is paramount to minimize these risks. Tattoos are indeed a beautiful way to honor the bond with your mother, but it's crucial to make these decisions carefully and mindfully. After all, like a mother's love, a tattoo is for life.
feature image from Pinterest