Big fan of the epic Godzilla? Or even looking for something super cool flies? Check out these Mothra and Godzilla tattoo ideas posts and get yourself inked today with a tattoo!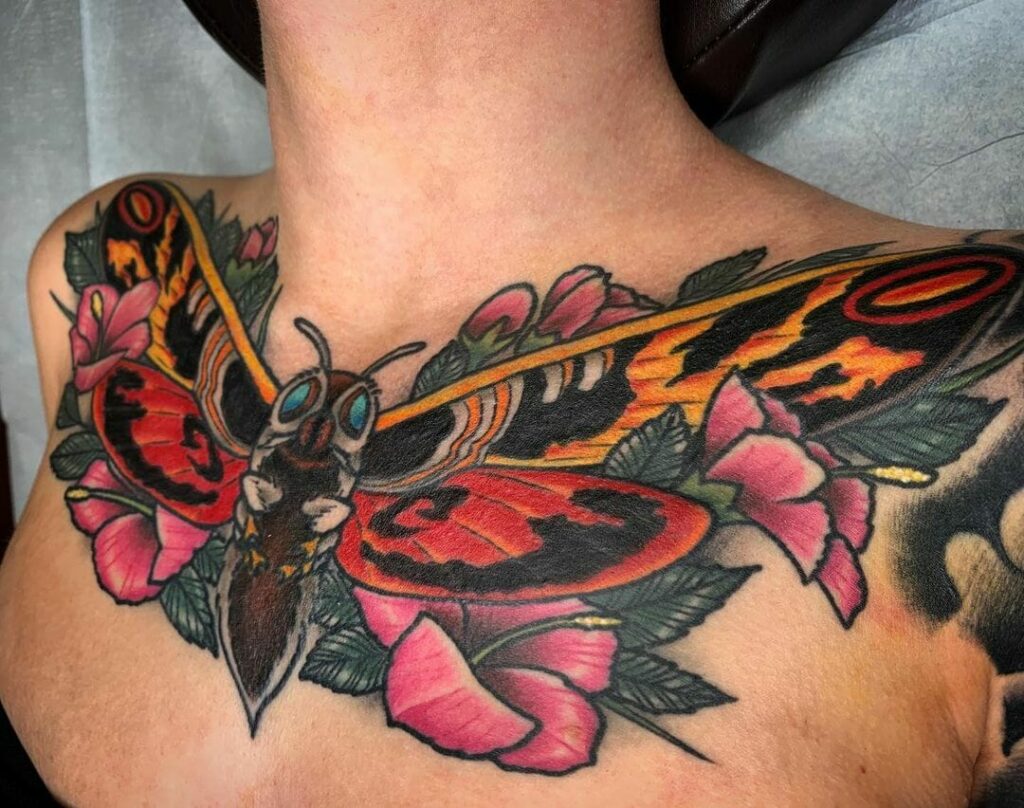 Mothra, at least in most remakes, does indeed portray the balance of nature.
She's meant to be Earth's defender, and she's very excellent at it. If you want a new tattoo, you might like to get inked a Mothra tattoo, because of the whole concept of what it represents or just because it looks super cool and amazing.
Let's have a look at these amazing Mothra designs and tattoos.
Super Marvelous Gigantic Wings Mothra Tattoo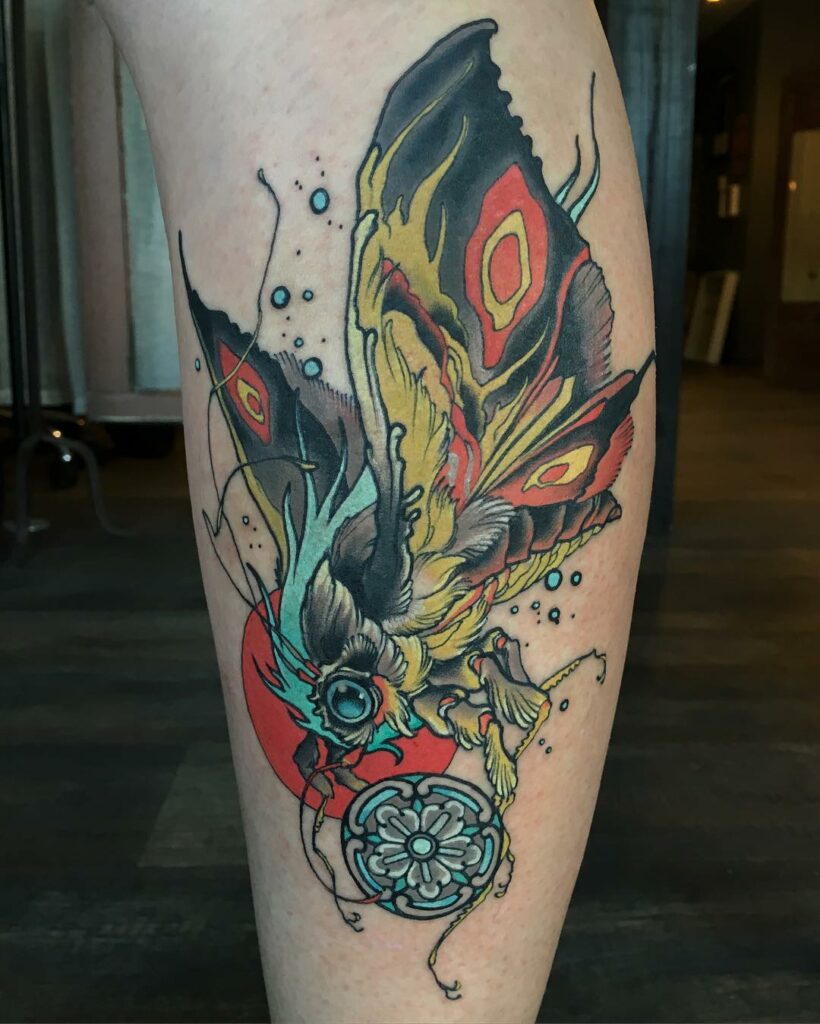 Mothra does certainly symbolize the balance of nature, at least in most versions. You might agree that there is a lot we can learn from Mothra. She's a guardian of the earth and, at times, an adversary of Godzilla. She's also quite excellent at what she does, as we all know. So if it sounds something like you too? If you want a new tattoo or a Mothra design tattoo, you should add this to your tattoo bucket list right now.
It goes like a rhythm the proper proportion from top to bottom. From the menacing moth and gigantic marvelous wings to its tiny legs. The small blue circles like bubbles making it more appealing. They say the more detailed work the more tattoo design makes sense. And this one made a lot more sense, isn't it obvious? This new tattoo won't matter if you are a girl, a guy, or nonbinary. This is a Mothra design that will look equally awesome on literally everyone.
Yellow And Black Mothra Tattoo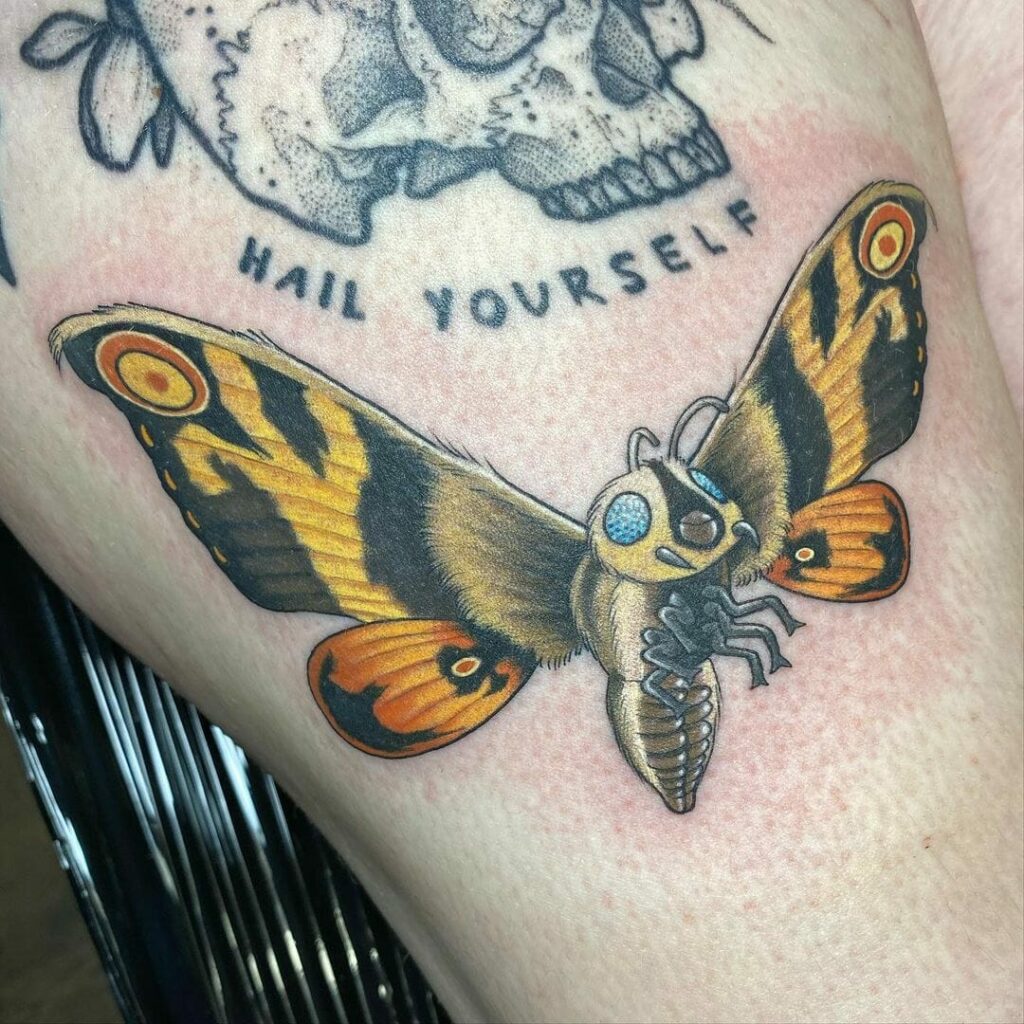 We all know Yellow stands for happiness and hope and black indicates strength and darkness. And if you want to show these all aspects in some magical wings, this one is for you and just you! The wings have a combination of colours of yellow and black, just like a honey bee. Maybe a mixture of a bee and a moth together does not look like a bad idea after all? In many cultures, insects including moths are considered to be scared, so the following culture believer will try not to harm any of them intentionally.
A cute new Mothra tattoo with shades of yellow and orange with a highlight of black will sure look adorable on you too. This is a Mothra design that will look great on you whether you are a boy or a girl, so do check this tattoo out!
Flowers And Wings Mothra Tattoo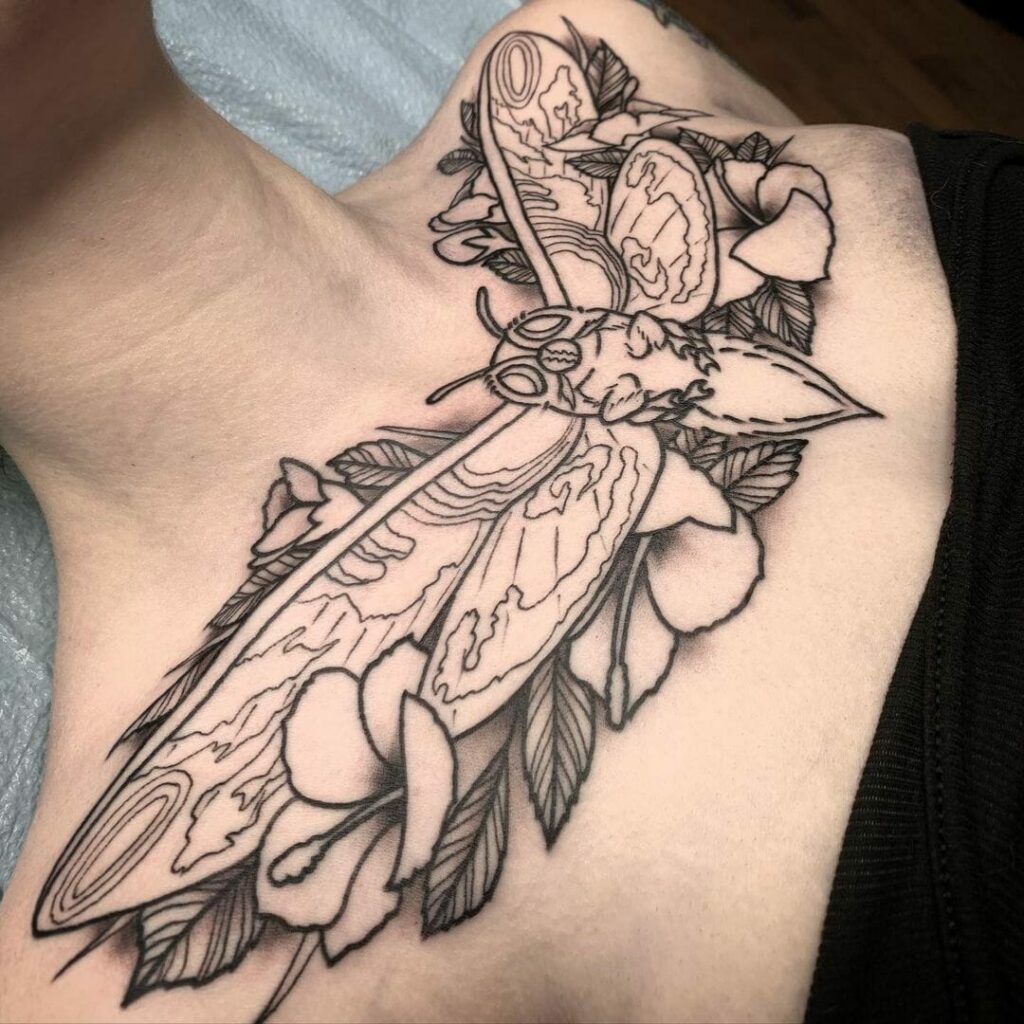 Not a big fan of colours? Just want to keep it simple and neat? We got you covered all the time.
This Mothra tattoo design is the subtle art of flowers, leaves, and wings mainly. The outlines inside the wings add delicacy and inspired the fragile feature of the wings. As we know Mothra is a fighter and is one of the most benevolent moths that regularly communicated to humanity. It has always been heroic, a protector and a goddess. It did find enthusiasm in music too. The results of getting a tattoo like this are spectacular, as it even looks similar to a geometric Mothra tattoo.
This is one of those tattoos that you must have if you like Mothra. Isn't it beautiful to have something like this inked on yourself?
Cute Little Angry Mothra Tattoo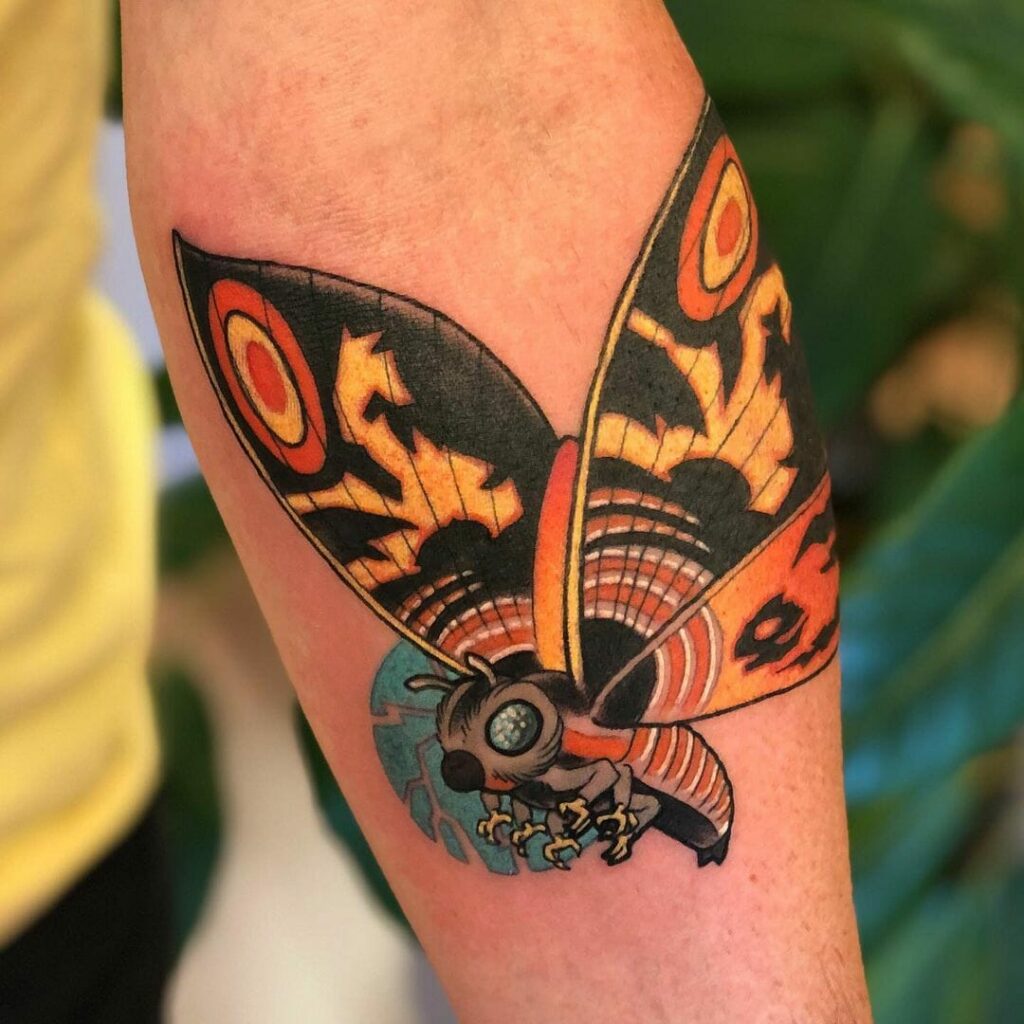 Doesn't it feel awesome to have a small adorable species inked, that literally represents mother nature?
Even if you are not a nature person, you can just say no to this. The wings just beautifully add love to the whole look. This can save you from a bad omen if you believed it so. As we know she was one the kind and a goddess, having a good character inked won't hurt that much. A cool feature of this tattoo is the distinct skull shaped pattern that you can add to make it even better.
The eyes, the little 6 legs, and the well-detailed wings will just suit you well too.
Cute Godzilla And Mothra Tattoo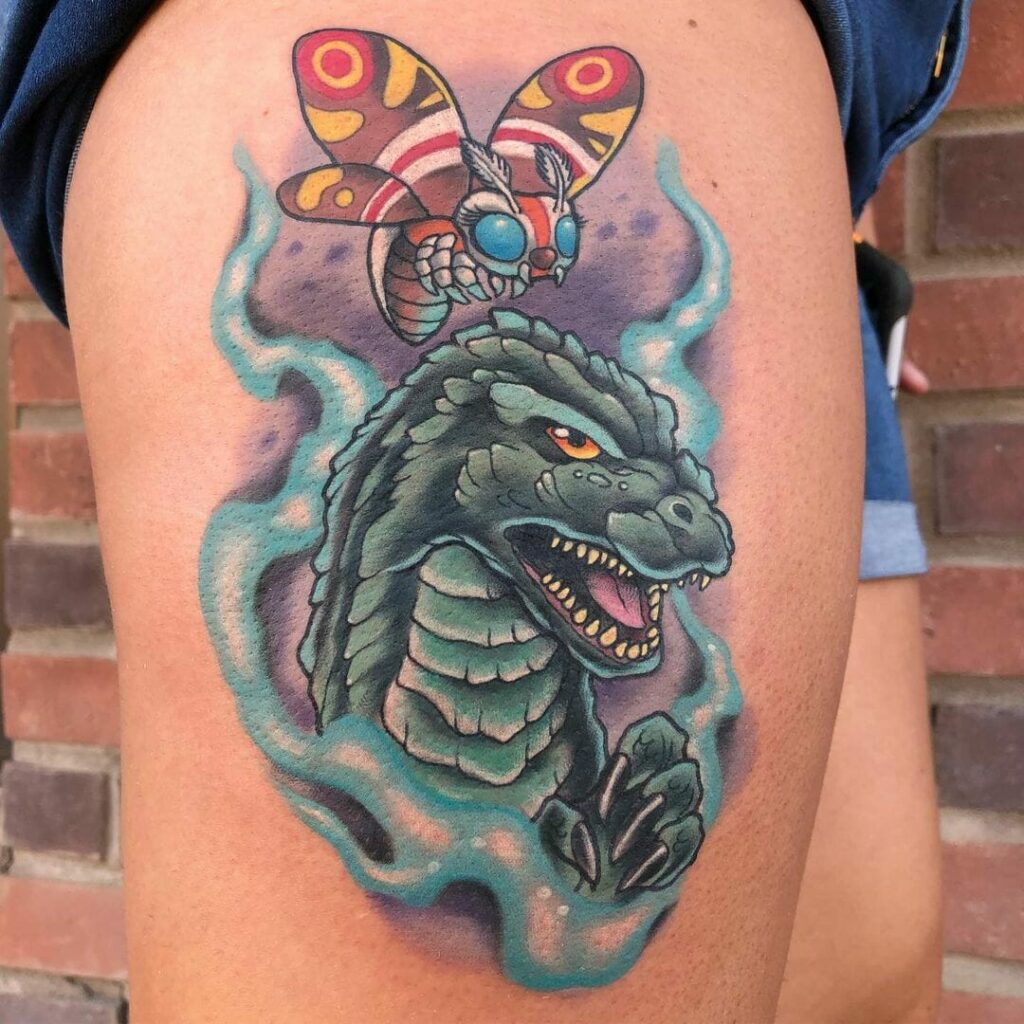 As it was said earlier you do not need to be a Godzilla fan to get yourself inked with a tattoo as cool as this!
If you are a fan of fiction? Go for this famously featured dinosaur-like, a monster that has armored plates on its back. If you will look at Godzilla who had a crush on Mothra you can sense the power, destruction, and strength. On the other hand, the creepy-looking insect is not so creepy after all! The Mothra symbol tattoo just represents the guardian of the earth.
1961 Mothra Tattoo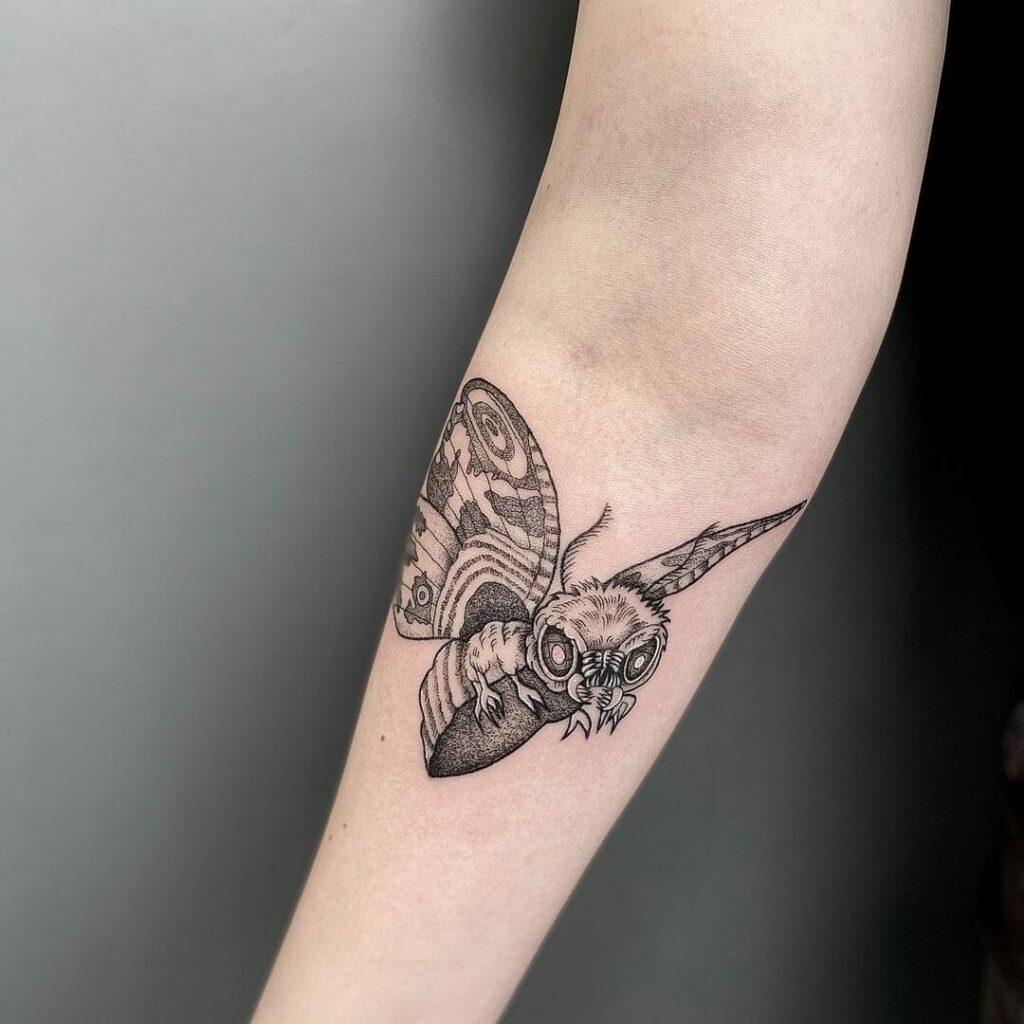 If you looking for something old and as raw as it is just made, this one is for you.
The epic Mothra from 1961 sci-fi movie. Is it just awesome to see something this authentic and raw?
The angry sight in the eyes, and the whole face just sending us a determined and fierce look, the feather-like horns and the death and exquisite in the wings. What a perfect combination of every aspect of life in just one new tattoo design.
Mothra Wings Tattoo
Godzilla in the right with oceanic blue and sky blue colour, with those sharp teeth and claws looking just at you? Do not be scared, and just look at the Mothra tattoo design that has awesome and so many pretty shades of warm colours. Orange, bright red, and deep yellow ochre with the right amount of black to enhance the warm colour effect just look so nice! so cheerful. The proper symmetrical design in wings and the gradient effect of red and black in the background just make this tattoo look more terrific. The above photo in which collections of these colours are shown? just might fit you.
Mothra With Flowers Tattoo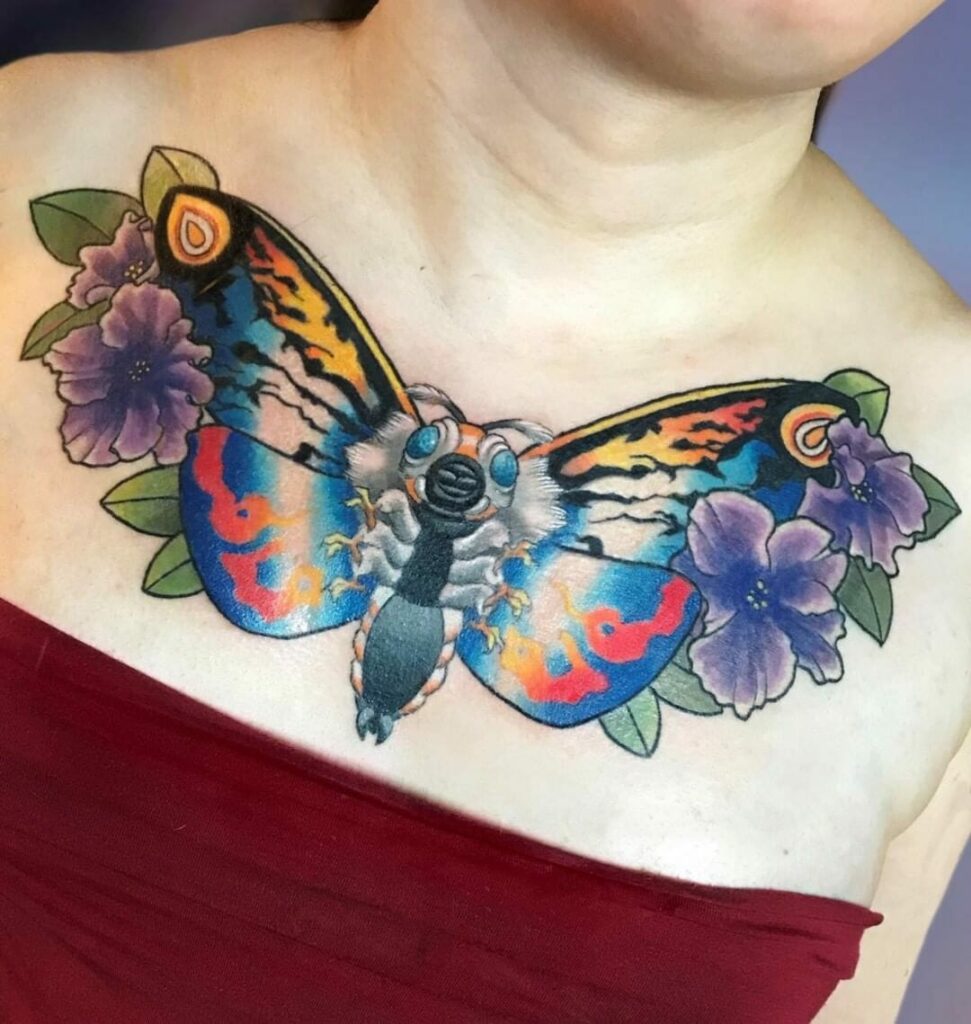 Your mood will never fade if you can't just stop looking at this heavenly beguiling artistic mothra tattoo design. What Mothra tattoo meaning is? It is the earth, the beauty of nature, and just like how we can never stop appreciating mother nature you can not get tired of having the sight of stunning purplish-blue and lavender colour flowers with leaves around the alluring wings of the moth.
From deep royal blue to light yellow, the moth wings give you an alluring sight of every shade your heart will desire to see. The bright blue eyes and the white fur legs with a greyish-black centre inside look, make it more appealing. Do check out this mothra design!
Silence Of The Lambs' Tattoos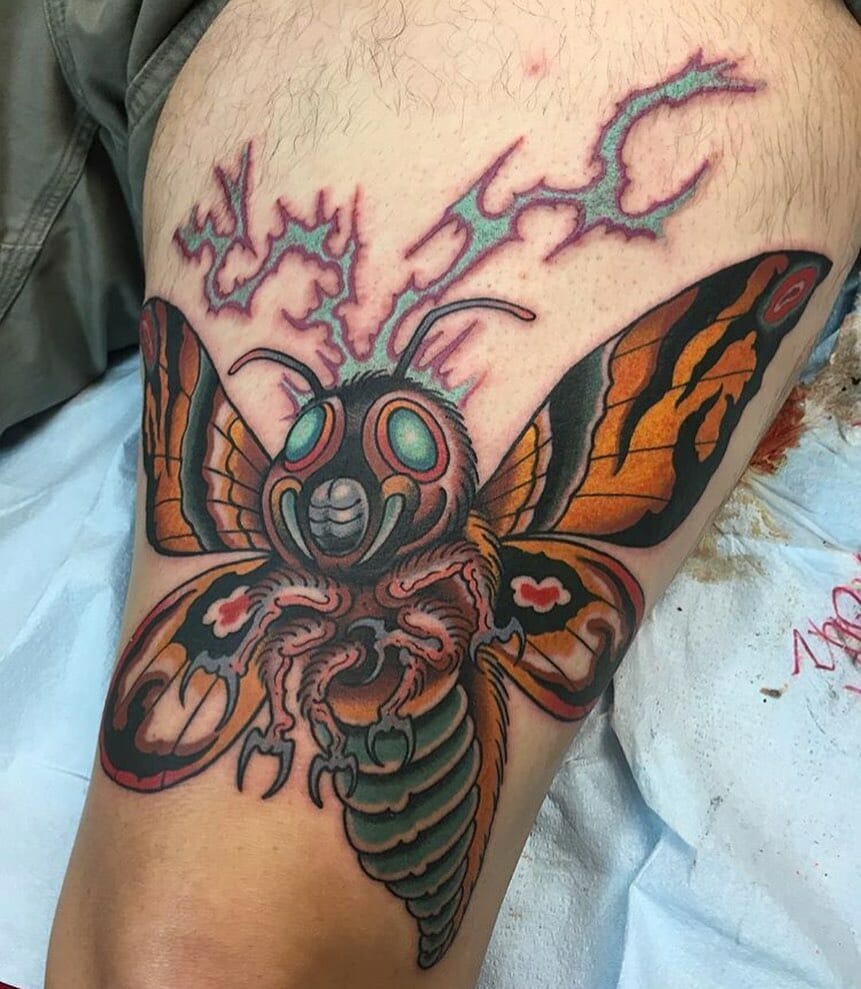 Wings are small because the peculiar body is big. The outer teeth are on a hunt. Those blue eyes with a red circled outline, depict the creature to look tiny but dangerous. The lightning emitting from the top supports the feature of mothra being dangerous but kind. So many colours, worth looking through. The little claws look like the batman logo, and give the same macho vibes! This silence of the lambs moth tattoo is a great idea if you like mothra!
Traditional Hand Mothra Tattoo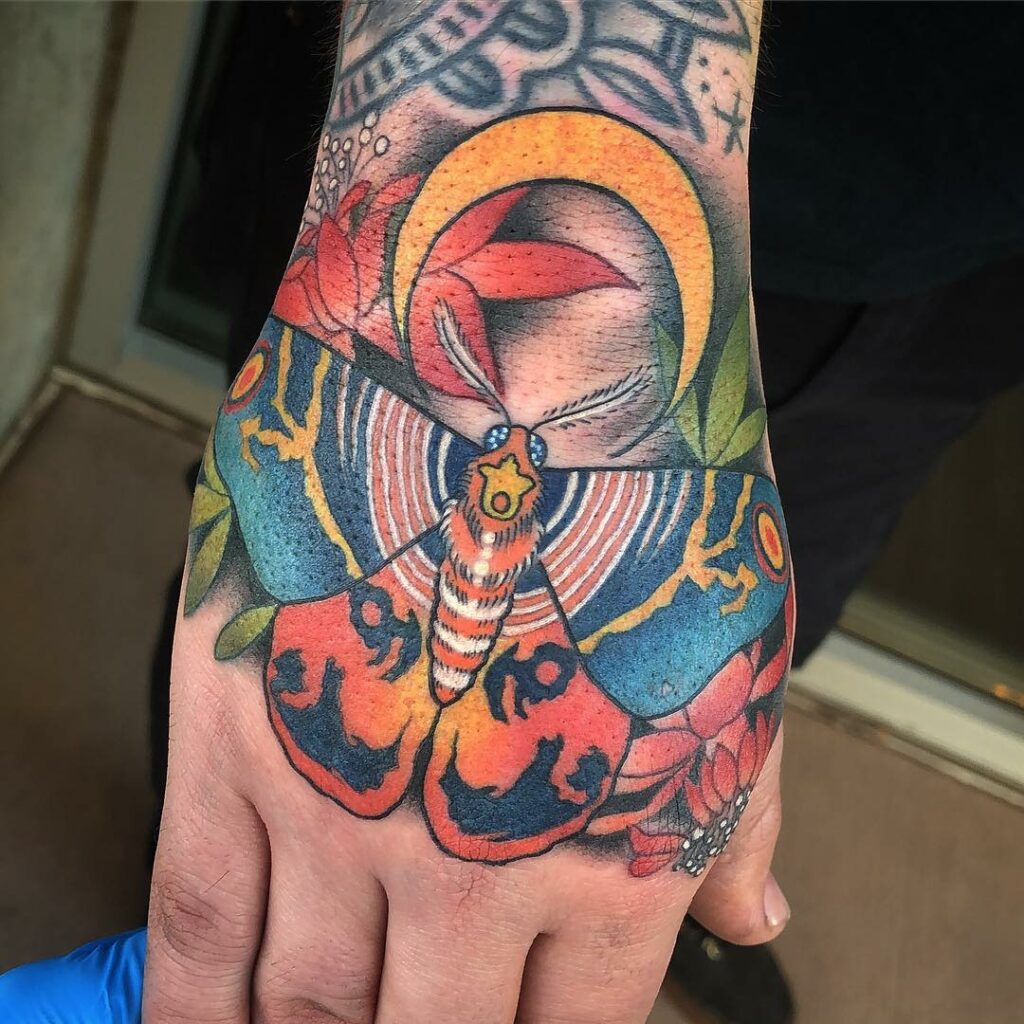 Did you say colours again? We heard you.
The photo considered the top view of this Mothra tattoo flash that is just everything you might have been looking for. We can find the semi-circles in the upper wings section with a blue and yellow combination finish up, the lower section of the wings consist of the continuation of the semicircle and the final touch of a black and orange combination just like Halloween, which is also a scary but fun.
We hope this helped you to get an idea of which cool tattoo you would go for, the Mothra looks scary but kind, dangerous but nice. Any tattoo design would look nice on you as long as you're super excited to have them!
Last reviewed and updated on March 8, 2023