Are you looking for some cool sleeve tattoo ideas that will cover your entire arm? We have some fantastic nature tattoo sleeve designs just for you!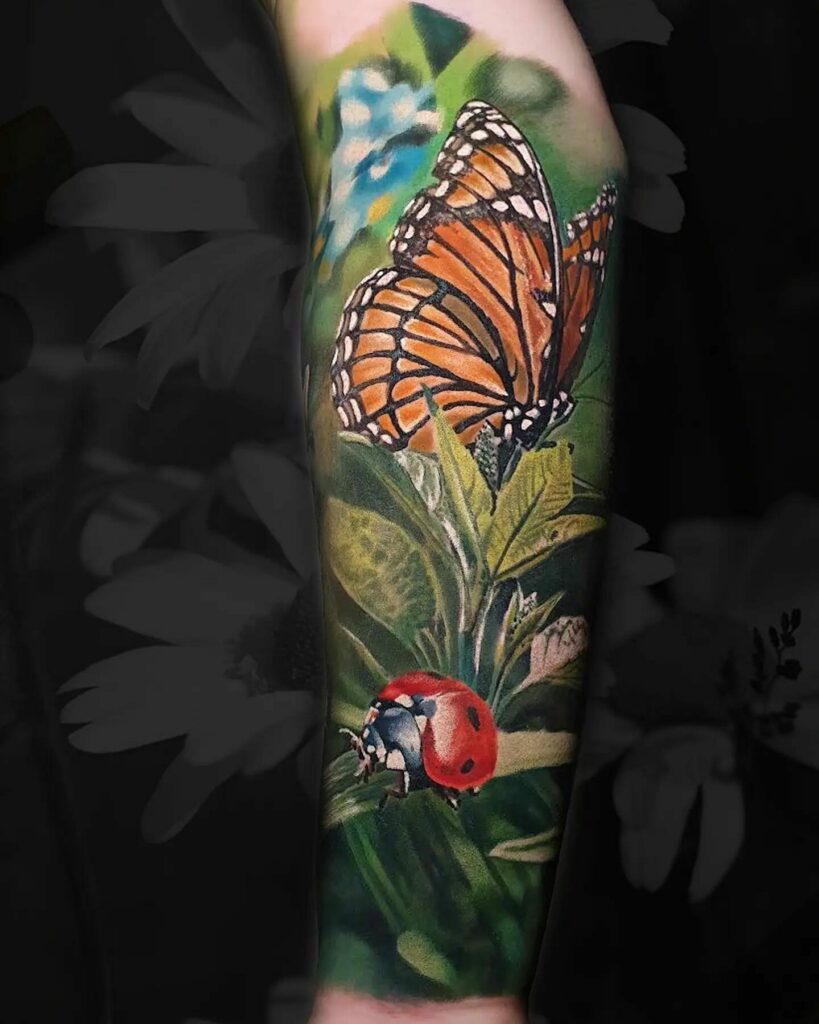 Sleeve tattoo ideas are a great way for every person to bring out their own personalities and thoughts to life.
Not only are these sleeve tattoos, eye-catching and beautiful they are also deeply meaningful. Converting an entire leg or an arm into a piece of art requires a deep love for tattoos and great commitment.
Sleeve tattoos may be a strong choice for men. They are also a very powerful choice for women. The detailing and colors of such tattoos stand out as a great way to start a conversation. The most common sleeve tattoo is a nature sleeve tattoo. These tattoos are a way to celebrate life and everything that creates and feeds us. These tattoos are inspirational and beautiful. They have natural elements like trees, flowers, mountains, and rivers. The beautiful strokes and art of these designs make them look very appealing. Not only do these tattoos represent the ultimate cycle of life, but they are also a great way of calming the soul. Every tattoo design could mean something different to every person. How you interpret that design matters the most.
We have done the research and curated a list of the 10 most amazing nature sleeve tattoo designs. They are appealing and beautiful. So what are you waiting for? Check out these designs, pick your favorite art, and make your next tattoo.
Deer And Flower Sleeve Tattoo
A deer tattoo is often associated with spirituality or spiritual authority. According to certain cultures, like the Celtic tradition, the deer tattoo symbolizes femininity, gentleness, and grace. A flower tattoo, on the other hand, has several different multi-layered meanings. If you look at it, it appears to resemble beauty and grace, while it is also a resemblance of commitment and devotion to God.
This particular design is a beautiful representation of different flowers in a forest and a deer. This tattoo has taken up the entire arm from the shoulder to the wrist. There are several different kinds of flowers and funds in this design. Near the shoulder, the tattoo shows the face of a deer. The entire tattoo has been made with black ink and in certain areas, shades of grey and black have been used. You can add bright colors to this design to make it a more mesmerizing tattoo.
Mountain Scenery Tattoo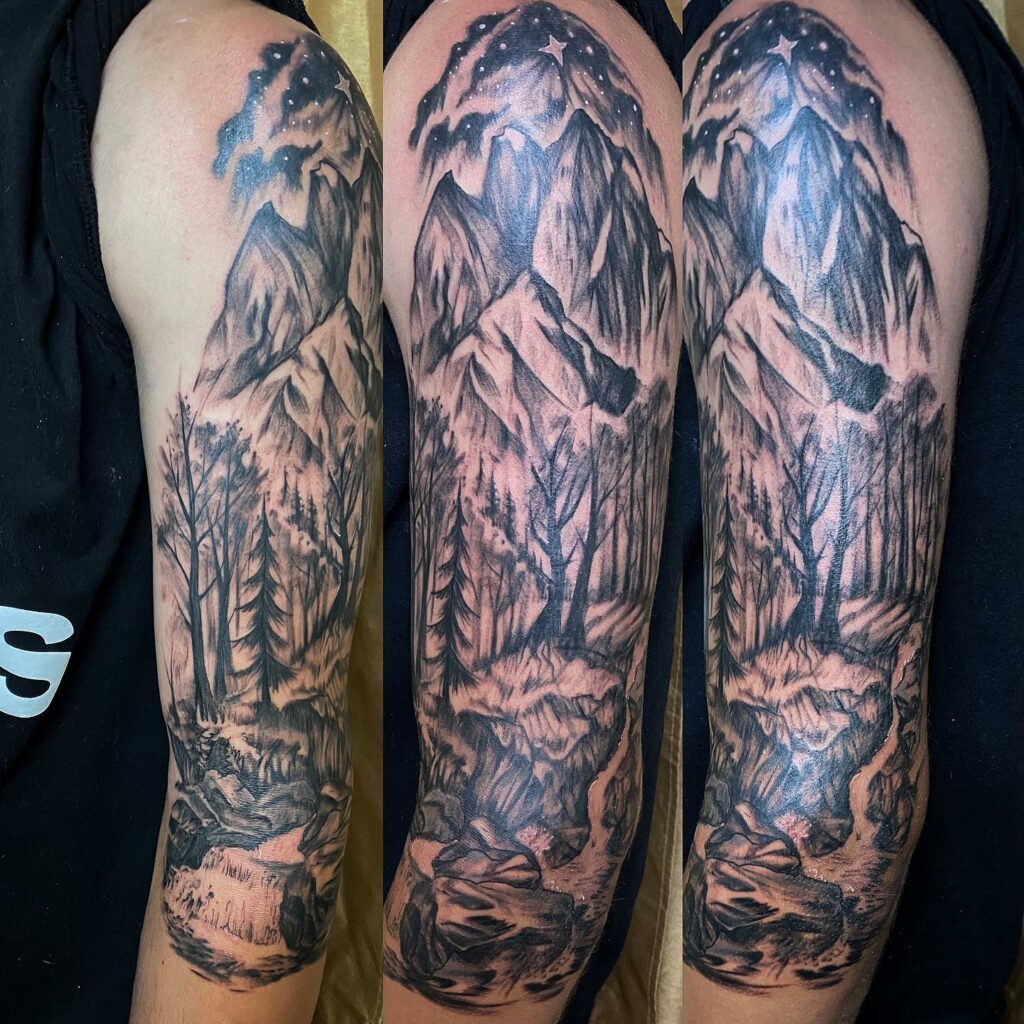 This tattoo is a beautiful representation of mother Earth and her beauty. It has a lot of natural elements like mountains, rivers, stones, trees and even the beautiful sky. Each element has been made with a lot of intricate strokes and details. The entire tattoo has been made with shades of black, grey, and white ink. Search nature tattoos are generally a representation of the calmness in life. These tattoos are also a representation of your inner self wanting to be close to nature.
For people who like to travel to the mountains during their holidays, this tattoo is perfect for them. The design has taken over most parts of the arm, from the shoulder to the elbow.
Forest Sleeve Tattoo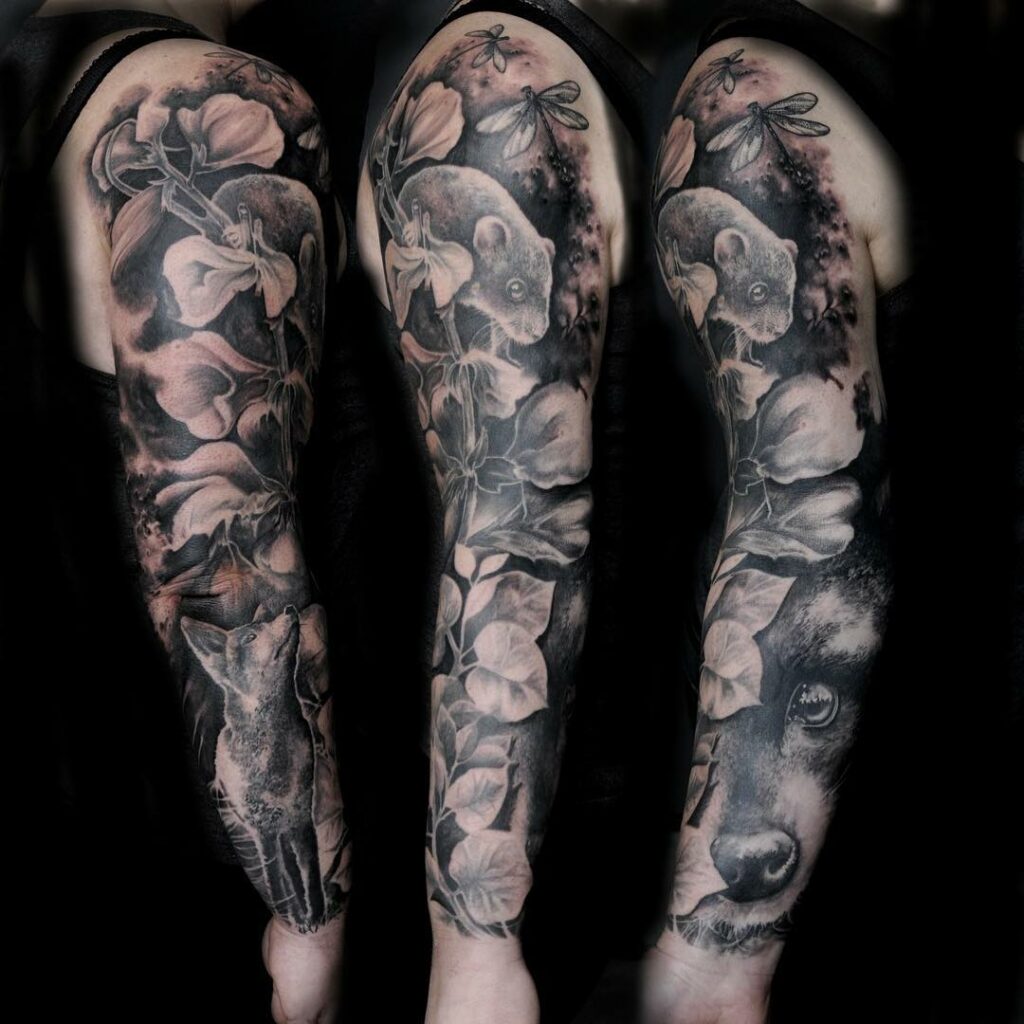 Forest tattoos are a very common sleeve tattoo design. They are used to show that people who are wearing them are proud of the people around them. These tattoos also symbolize protection and the tough phases of your life that you go through.
This particular tattoo design covers the entire arm, from the shoulder to the wrist. This tattoo depicts a forest scene at night where a wolf is sleeping and around the wolf is a small beaver. The entire tattoo has been made with black ink and all the elements have shades of black and grey. The tattoo artist has made intricate strokes on every element of this design to make it appear realistic. This full-sleeve tattoo is a great way of showing your love for nature.
Rocky Mountain Sleeve Tattoo
This is a very beautiful Rocky Mountain and river design. This tattoo looks like it was taken straight out of a painting. The bright colors and beautiful strokes blend together to make this design look perfect. Such scenery tattoos are used to bring a sense of calm to yourself. These designs also represent your closeness to nature or places you want to visit in your lifetime.
The scenery shows the sky with shades of yellow, orange, and blue, making it look like it's sunset time. The mountains appear to be snow-covered. The fields are filled with greenery and trees. There is a river flowing beside it with shades of different colors of blue. The tree in the center of it has been made with black and grey ink. This tattoo has been placed on the lower leg of the person. However, it will make a great upper arm tattoo or a forearm tattoo as well.
Mother Nature Tattoo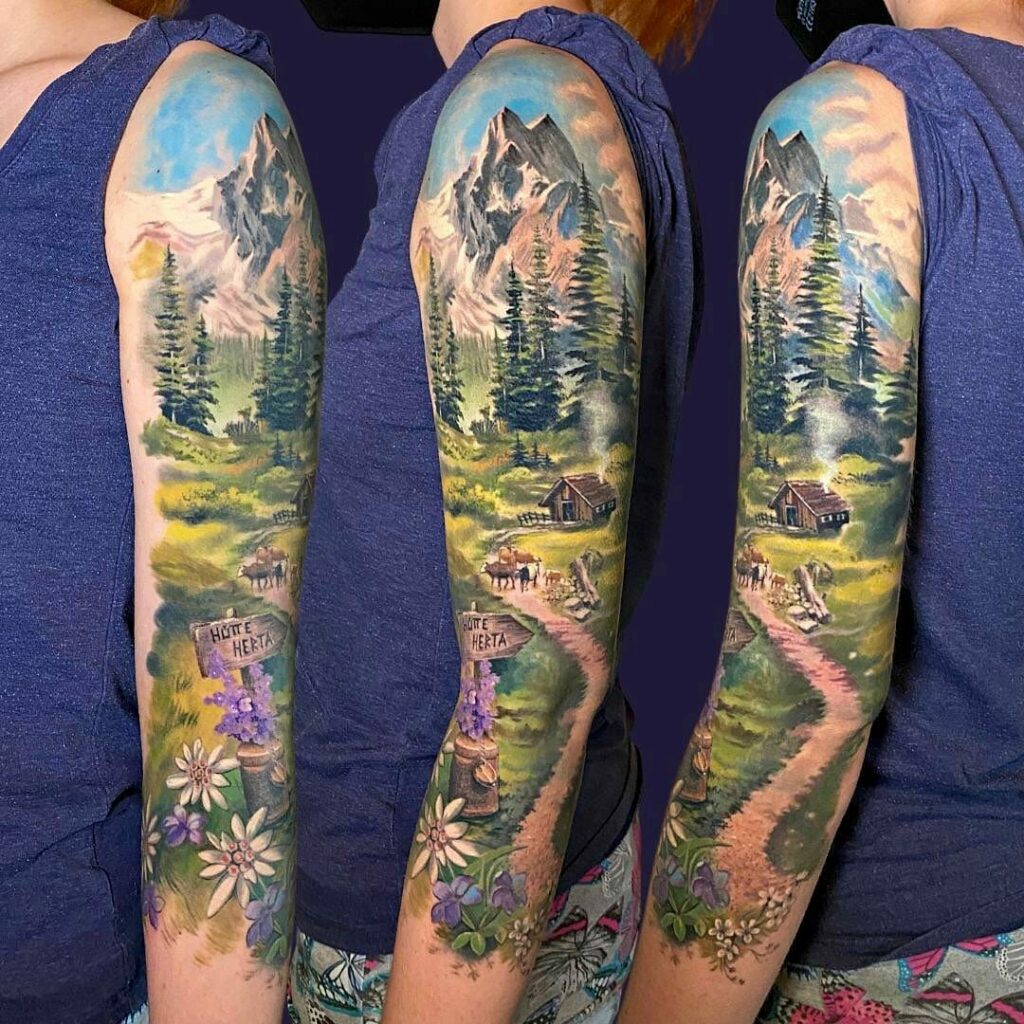 This is a colorful sleeve tattoo that represents every aspect of nature. The tattoo starts on the shoulder and goes down to the forearm. The tattoo artist has used several different colors that blend very well together. Every stroke and every shade of color has been used in a very delicate manner. The contrast between the sky, the mountains, and the fields look absolutely wonderful. If you look carefully, there's a little house in the middle of the fields and its chimney is emitting smoke. The white, yellow, and purple flowers right at the beginning of this design make it look more realistic. The tattoo artist has done a wonderful job with this design and it looks like it is a watercolor painting.
Sea Sleeve Tattoo
This sailboat on a sea tattoo is absolutely stunning. This sailboat could be a representation of new beginnings adventure as well as exploration in life. The waves that are pushing the boat would be leading them towards their own enlightenment. Search tattoos are a representation of keeping things in perspective and remembering what your goals are.
The tattoo artist has done a great job with the contrast between the sky and the sea. The sky has been made of colors like blue, orange, and yellow, while the sea has been made of different shades of blue and white. The artist has used shades of grey and white to make the boat. If you want to show a design that resembles your journey through life, this could be a great half-sleeve tattoo.
Abstract Nature Tattoo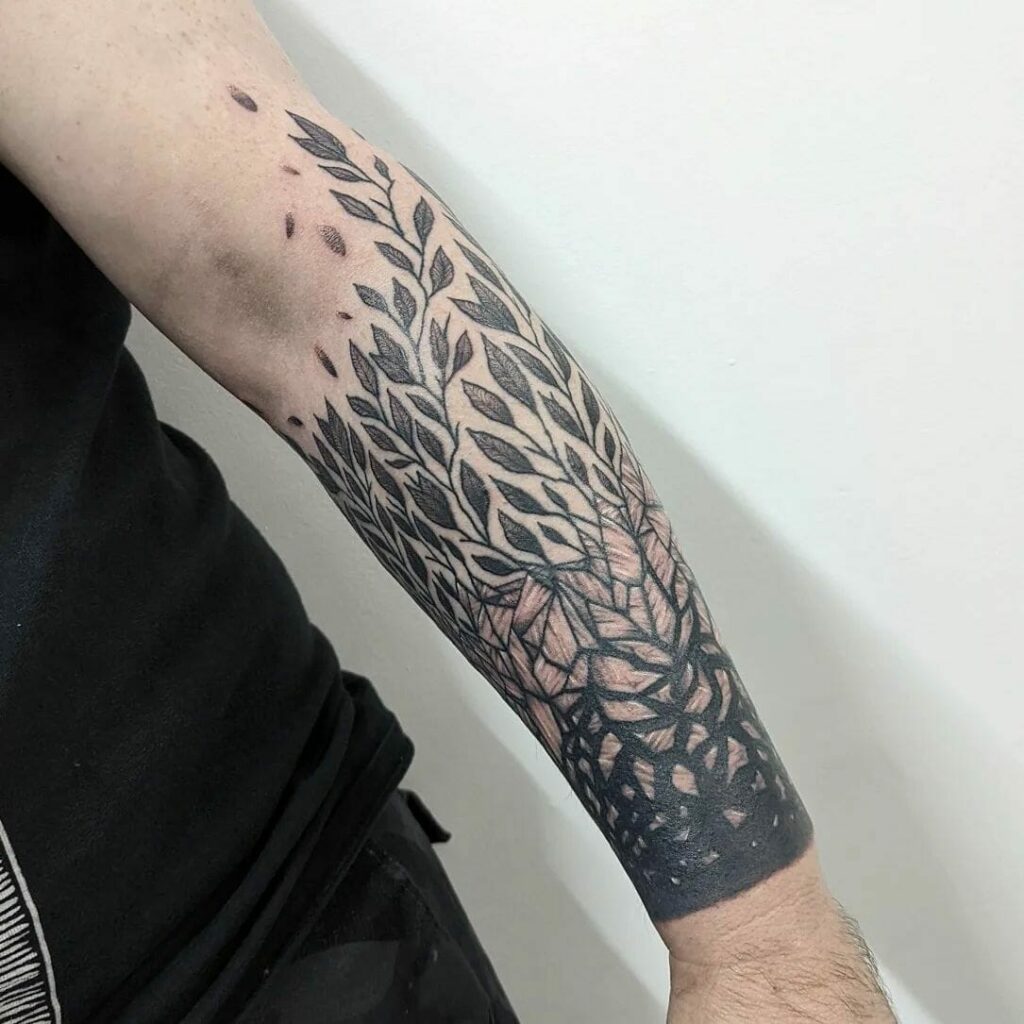 Abstract art has gained a lot of popularity in recent years. These tattoos never have a single thing. They have multiple designs that have multi-layered meanings. This tattoo is very similar to an abstract one. Although it just shows foliage, it could mean something personal to the wearer. This design has been made in shades of black, grey, and white. The design is made on the forearm of the person. It starts from the rest and goes up to the elbow. The leaves and the stems seem to be intertwined with each other which could be a representation of the difficulties and complications in a person's life. If you are looking for a multi-layered meaning tattoo, this design is perfect for you.
Wolf Sleeve Tattoo
This particular design appears to have several different elements and designs in it. On the top half of the tattoo is the design of a wolf tattoo. On the bottom half appears to be a mountain scenery tattoo. The tattoo artist has made this design with great detail and vibrant colors have been used. The upper half of the tattoo represents protection, loyalty, strength, and the true nature of a person. The bottom half of the tattoo is meant to give peace and calmness to the soul. The combination of this tattoo absolutely stands out and the different designs blend together very well.
Waterfall Sleeve Tattoo
This waterfall tattoo appears to be a new design in the nature sleeve tattoo genre. A waterfall tattoo has great meaning attached to it. It represents the person's obstacles and difficulties in life and how they overcome them. These tattoos are a reminder of bravery and positivity in a person. It is very common in the Japanese culture as a sleeve tattoo.
This beautiful design has been made entirely in Shades of Grey and black ink. The water appears to be coming from a mountain and falling into the fields and flowing. The tattoo artist has added great detail to each element of this design. From the mountains to the trees, everything looks absolutely perfect.
Realistic Image Sleeve Tattoo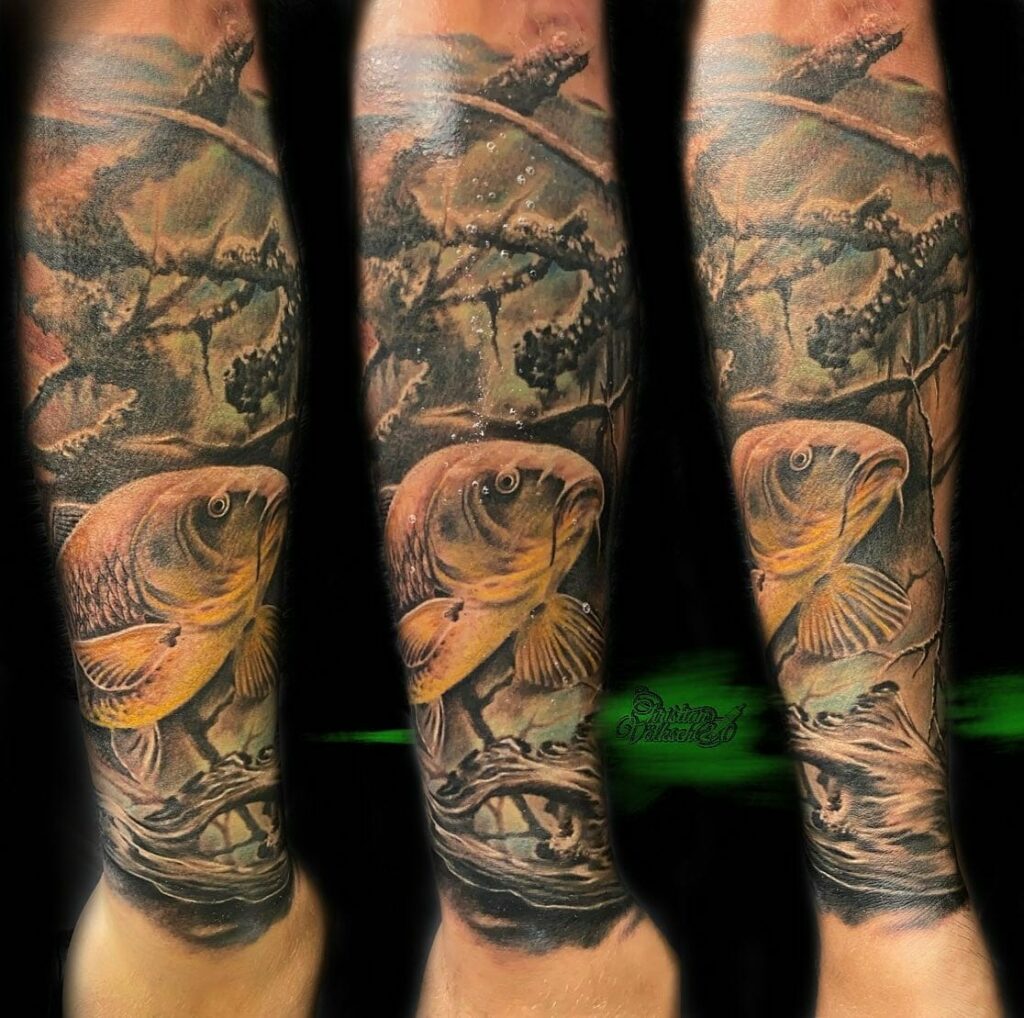 This design appears to be of a very realistic nature sleeve tattoo design. The scenery appears to be of fall, where the tree is dry with no leaves. In the background, the sky appears to be in shades of yellow and orange, indicating that it's sunset time. The blue water is in absolute contrast with the sky, which makes it look more appealing. Since it is a sleeve tattoo, it is made around the entire arm. To complete this design, the tattoo artist has added a little wolf looking in from the back of a tree. Each stroke of this tree has been made perfectly. If you are a true nature lover, this design is a great option for you.
Steve tattoos are generally a large design that takes up either half or the entire arm, Therefore they can pose a huge commitment. This is the reason why a person must be very careful while selecting the design and colors of the statue. Once this tattoo is on your body, it is almost impossible or very difficult to recreate it or change it.
feature image from Pinterest – Want your tattoo to look brighter? Try "Tattoo Balm"
Last reviewed and updated on June 13, 2023