The Neo or Neo-trad art style is really cool and if you also want to look at some amazing tattoos in this style then here are some neo tattoo ideas for you.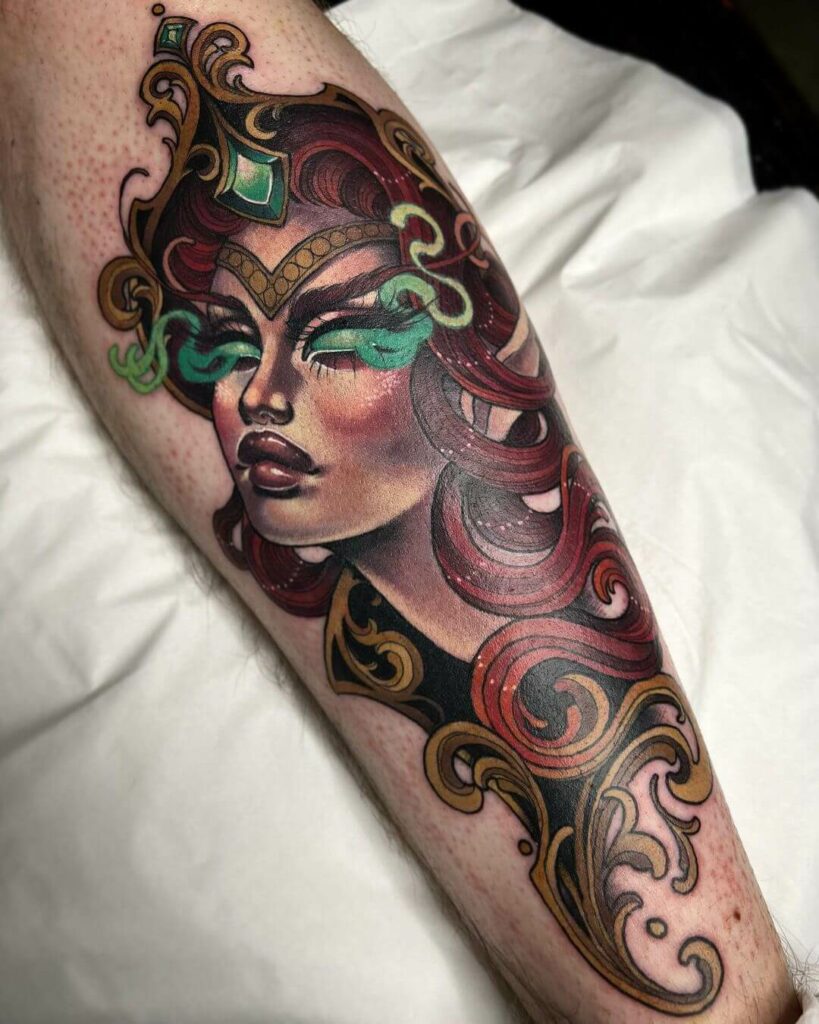 Neo tattoos or neo-traditional tattoos are very popular nowadays.
People love the vibrant colours and the boldness of these tattoos. They can be viewed as a modern take on the traditional tattoos.
Neo traditional or neo trad tattoos are an umbrella term for a wide variety of tattoos. It is not really dependant on the subject of the tattoo but more on the style of tattooing that it follows. The neo traditional style of tattoos follow some basic rules but the art styles for different artists vary a lot. Typically, neo traditional tattoos have bold lines, much like the traditional tattoos. But these tattoos also have a lot of bold colours from the modern palette. Very few colours are used in the American traditional tattoo style. But Neo traditional tattoos use a lot more colours and blends. Even though this art style does not have any specific rules, these are the few features that all of these tattoos share. If you are also a fan of this phenomenal art style, then you will love this list of Neo traditional tattoos that we have compiled for you.
Amazing Neo Traditional Wolf Tattoo Ideas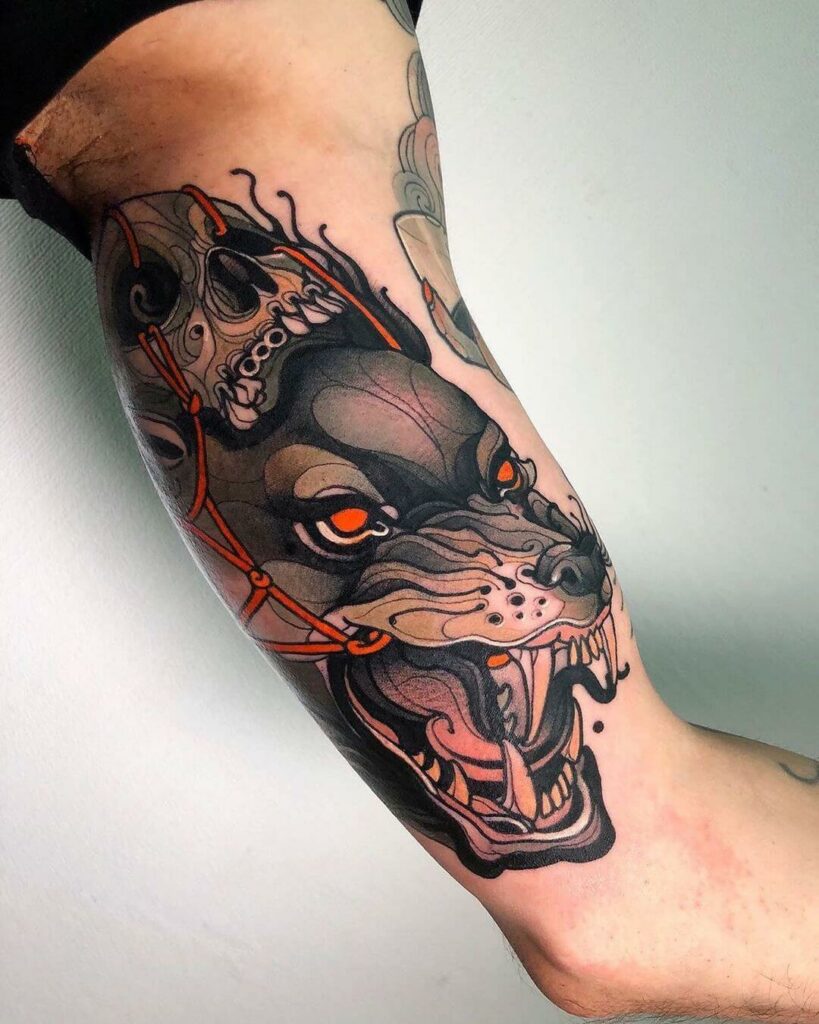 Wolf tattoos are always very famous because of all the noble traits wolves are associated with. Wolves symbolise loyalty, honour, family, freedom and wildness. And they also just look super cool. Combined with the neo traditional style, they look amazing. This tattoo features a mostly black colour palette with some orange and yellow thrown in the mix. It gives the tattoo a very traditional yet trendy look. It also features a skull above the wolf head but you can also choose to get just a neo traditional wolf tattoo and it would look amazing.
Stunning Neo Traditional Snake Tattoo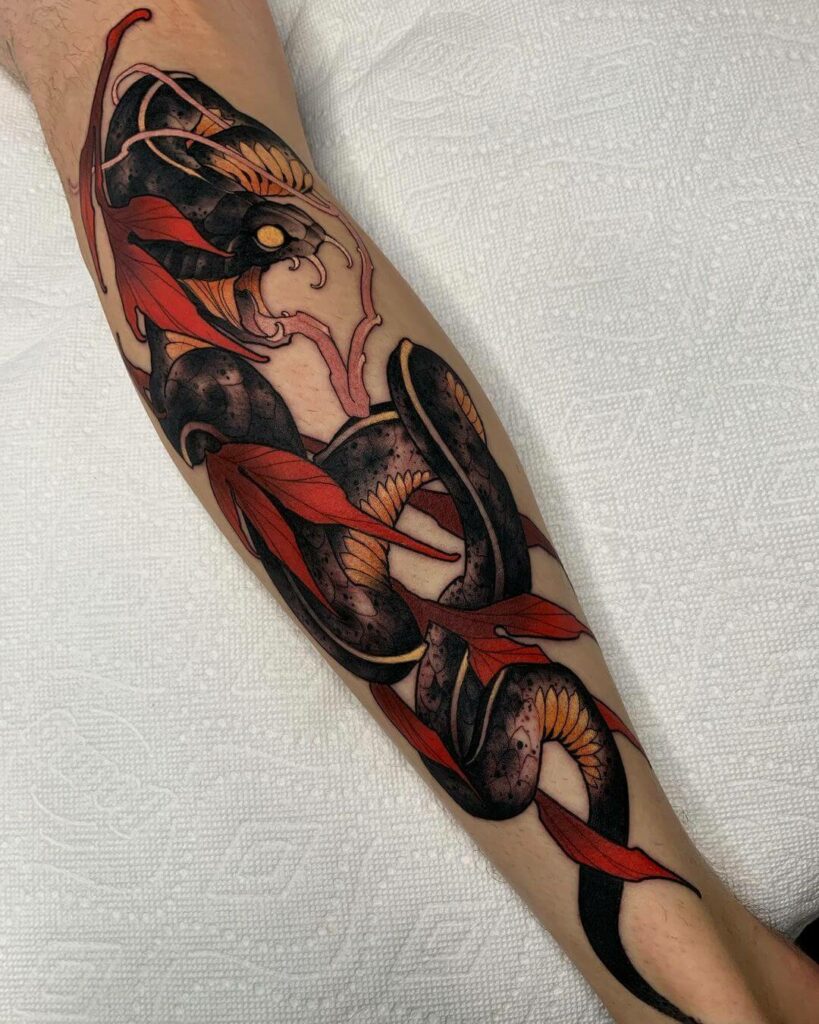 Snakes are a very popular subject in the classic old school traditional tattooing. So it comes as no surprise that neo traditional snake tattoos have also been a hit amongst the tattoo enthusiasts. This particular tattoo also has a lot of black in it, but it also features some yellow accents. It also has some super saturated red and orange in the background. It uses some of the most famous old school traditional tattoo colours but in a more new school way. If you have always wanted a neo traditional tattoo of a snake then this idea is perfect for you. You can also go for a snake and skull tattoo as it is one of the most famous subjects in classic traditional tattoos as well as neo traditional tattoos.
Fantastic Neo Traditional Anime Tattoos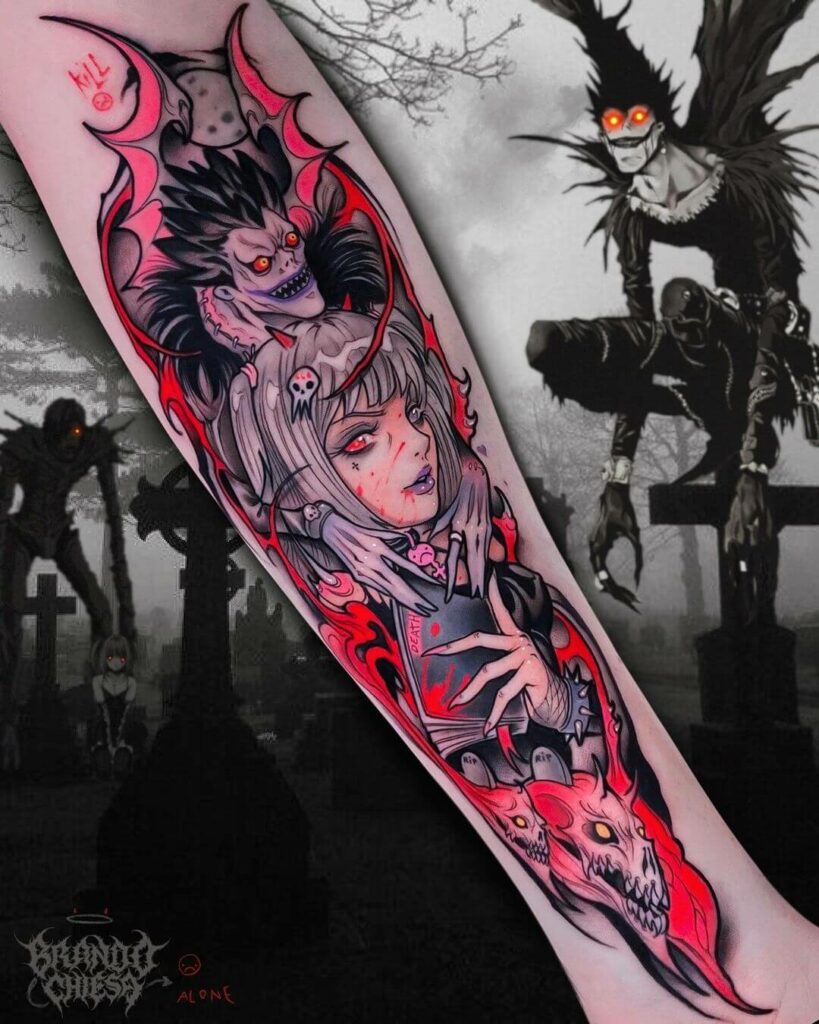 Anime tattoos have recently become very famous after anime became one of the main consumed type of content amongst the current youth. So if you are also an anime fan, then we have the perfect tattoo for you. This amazing anime tattoo features very bold lines and a lot of saturated colours. It also has an amazing amount of details packed into one piece. The details bring out the beauty of the tattoo even more. But if you want a smaller tattoo, then you can ask your artist to design a neo traditional anime tattoo to your liking with your favourite characters. As the anime art style also features a lot of details and colours, these two are a perfect match for each other.
Neo Traditional Animal Tattoo Ideas For Animal Lovers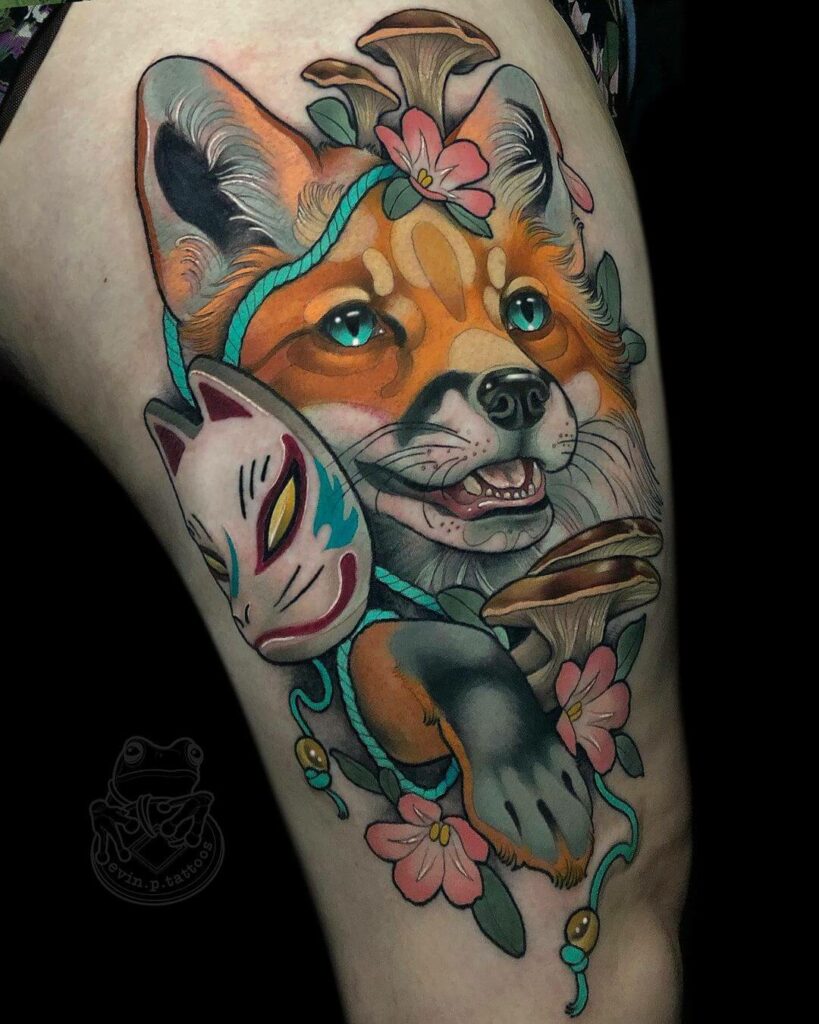 Animal tattoos look really amazing in the neo traditional art style as it gives the figures more depth and dimension. This tattoo features a fox with a mask which gives it a very mystical look. This tattoo would look amazing on your arm or thigh. You can also go for your favourite animal or get a tattoo of your beloved pet in the same style. If you want it to have a more classic look then you can also choose to get a traditional old school tattoo. But if you are looking for a neo traditional tattoo, then this idea is perfect for you.
Stunning Neo Traditional Tattoo Sleeve Ideas
Tattoo sleeves are a hit amongst tattoo enthusiasts. They are one of the more larger designs done on the body so it is better to get a tattoo sleeve if you have experience in getting tattooed. But if you are experienced and want to get one done in the neo traditional style, then this tattoo idea is perfect for you. This one has a lot of black and features two wolves on the two halves of the arm. But you can always ask your artist to customise your tattoo just as you would like. You can also change the colour palette and add many details and elements to the tattoo as you want. But it is a big tattoo and it will take time to heal so be careful while getting your tattoo sleeve done.
Pretty Neo Traditional Rose Tattoo Ideas
Rose tattoos have always been one of the most popular tattoo subjects in any style. And rose is one of the most commonly found subjects in traditional tattoos. So it is no wonder that while looking for neo traditional tattoos, we will also find some amazing rose tattoos. This tattoo features not only roses but also a lot more details like a bottle, a fish and some fruit. These all look amazing and the colours also look contrasting and stunning. But if you want a more simplistic rose tattoo, you can go for that as well.
Mystical Neo Traditional Portrait Tattoos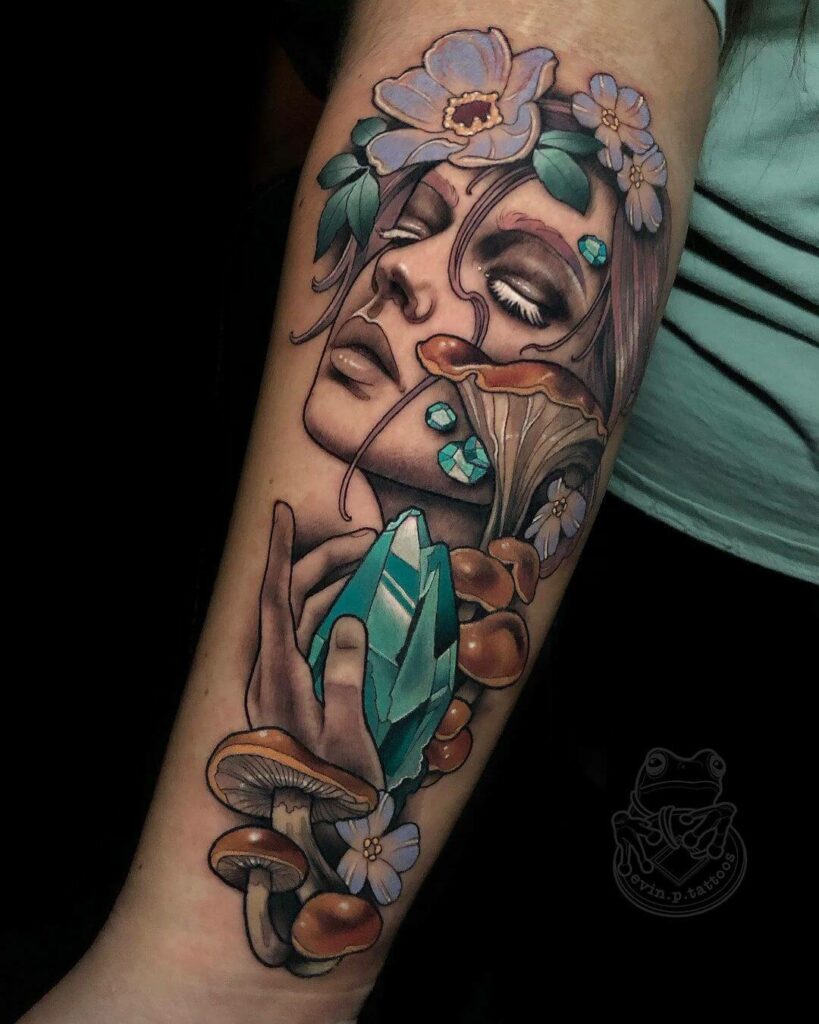 Neo traditional portraits always look amazing. Most of them have some magical or mystical element to them that gives them a mythical and otherworldly look. This portrait of a woman also features flowers, mushrooms, and crystals. You can also combine other items of your choice in your tattoo and it will look amazing. The best part is that you can ask your tattoo artist to design a tattoo based on your loved one and add some mystical details to make a tattoo that is both beautiful and also will remind the person how much they mean to you. This is one of the best ideas if you want to get a semi-realistic and yet fun portrait of someone on your body.
Super Cool Neo Japanese Tattoo Ideas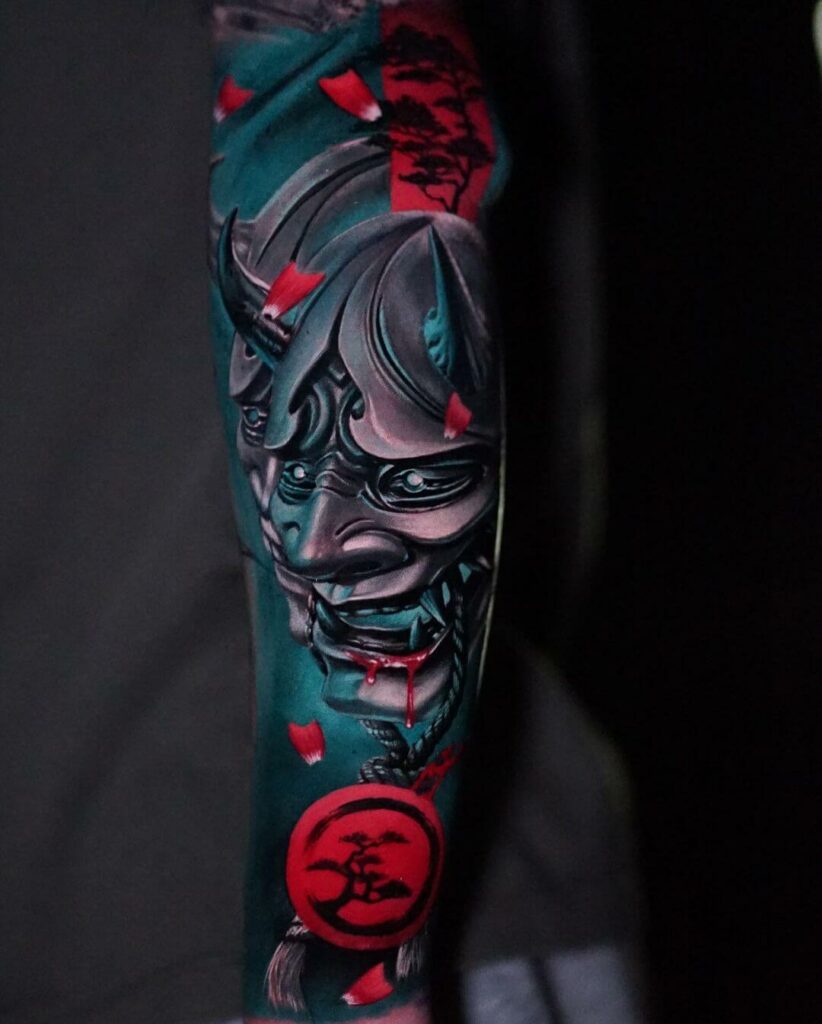 Traditional Japanese tattoos are very famous. Not only for their style but also for their many symbols and subjects. The Oni mask is also one of these popular subjects in traditional Japanese tattooing. But this tattoo takes a new school take on the traditional figure of the Oni mask. The result is stunning as you can see. The dark and saturated colours give the tattoo a mythical look. It looks almost realistic. And with the patterns and details combine, it looks really phenomenal.
Fantastic Neo Traditional Bird Tattoo Ideas
Birds, especially eagles and hawks are one of the most famous subjects in the traditional school of tattooing. The neo traditional tattoos are no different. You can get a tattoo of any bird you want in this style. It can be more classical bird figures like this tattoo of a hawk. You can also go for other birds that have more colorful feathers as they will make for really stunning tattoos. You can choose to add details like flowers and leaves to the tattoo.
Amazing Neo Traditional Skull Tattoo Ideas
People love getting tattoos of skulls in every tattoo style. They are one of the darker yet very fun subject that is cool and scary at the same time. Neo traditional tattoos also offer a large variety of skull tattoos from which you can choose. In this one a human skull is featured along with flowers and leaves. But you can also go for an animal skull if that is more to your liking. Just make sure to find a skilled artist that will bring your beautiful idea to life.
Feature image from Pinterest – Want your tattoo to look brighter? Try "Tattoo Balm"