Are you an anime aficionado with a passion for ink? If so, prepare to be thrilled by our curated list of killer Demon Slayer Nezuko tattoos that will leave fellow fans in awe.
Anime has become a pervasive and beloved genre in recent times, with Demon Slayer: Kimetsu no Yaiba taking center stage as a popular manga hailing from Japan. Nezuko Kamado, the captivating character we'll focus on in this collection, holds a prominent role in the Demon Slayer narrative. She's a unique blend of human and demon, exhibiting a range of emotions such as empathy and care.
Nezuko's story revolves around her brother, Tanjiro, who is on a quest to restore her humanity and exact revenge for the tragic loss of their family. The character's captivating duality, as portrayed by the talented mangaka (manga artist), is a striking representation of the complex nature of living beings – a tapestry woven from various binaries.
So, come along as we explore some awe-inspiring Nezuko tattoos that perfectly capture the essence of this beloved character and the powerful story behind her.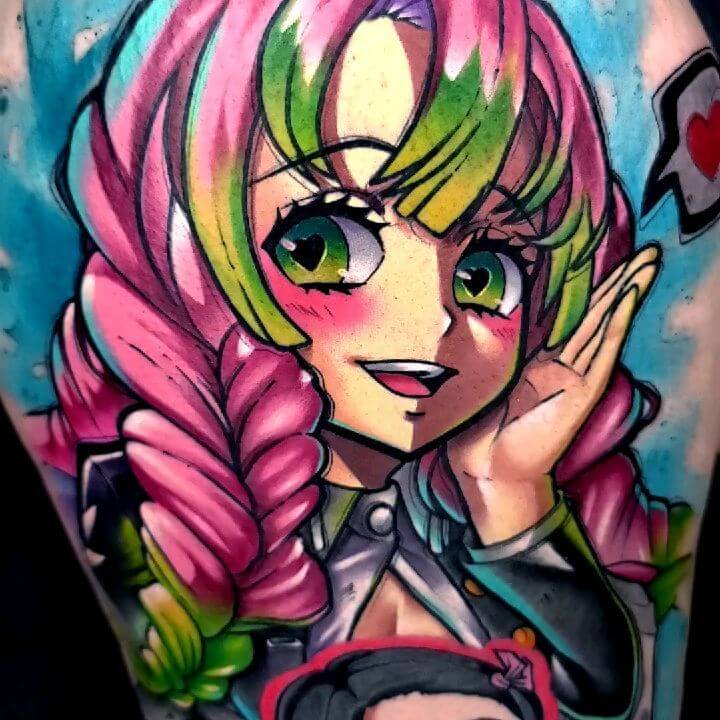 Black And White Nezuko Kamado Tattoo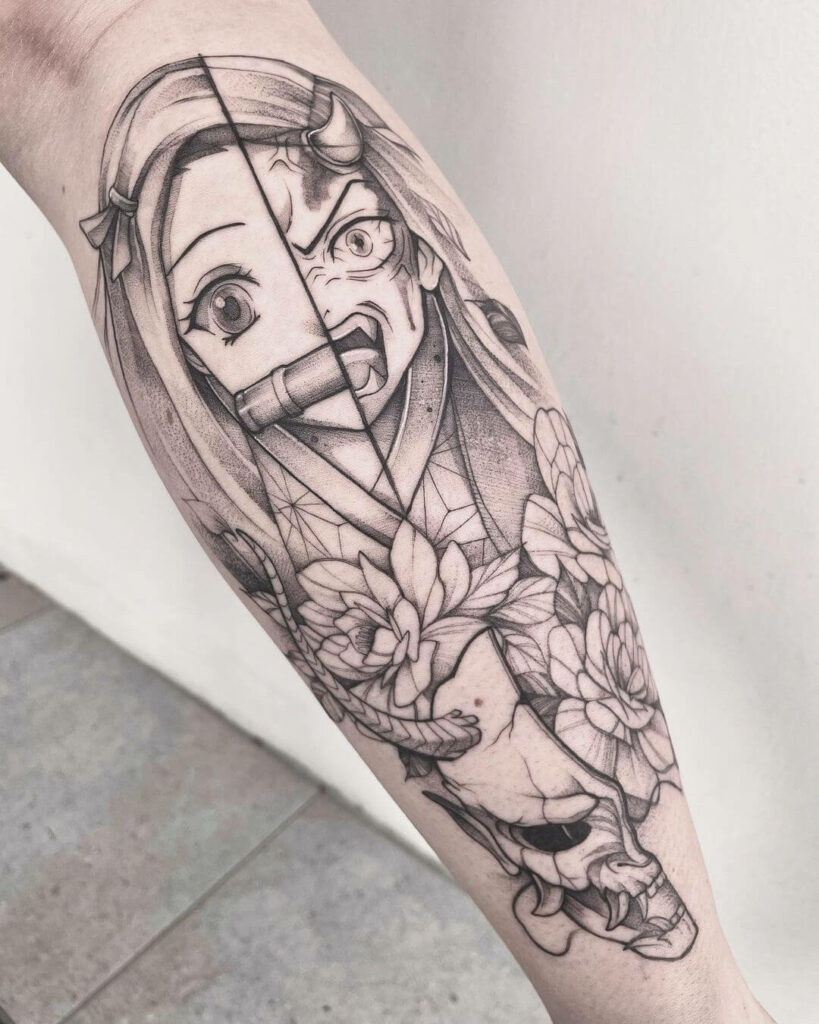 Nezuko is a popular character from the anime Demon Slayer, and this tattoo design shows both her human and demon sides. The tattoo is designed to fit perfectly on the hand, with both sides of Nezuko taking up the necessary space without being too spread out. This is a great option for those who want a compact but meaningful tattoo that showcases their love for the series.
Fiery And Ruthless Demon Slayer Tattoo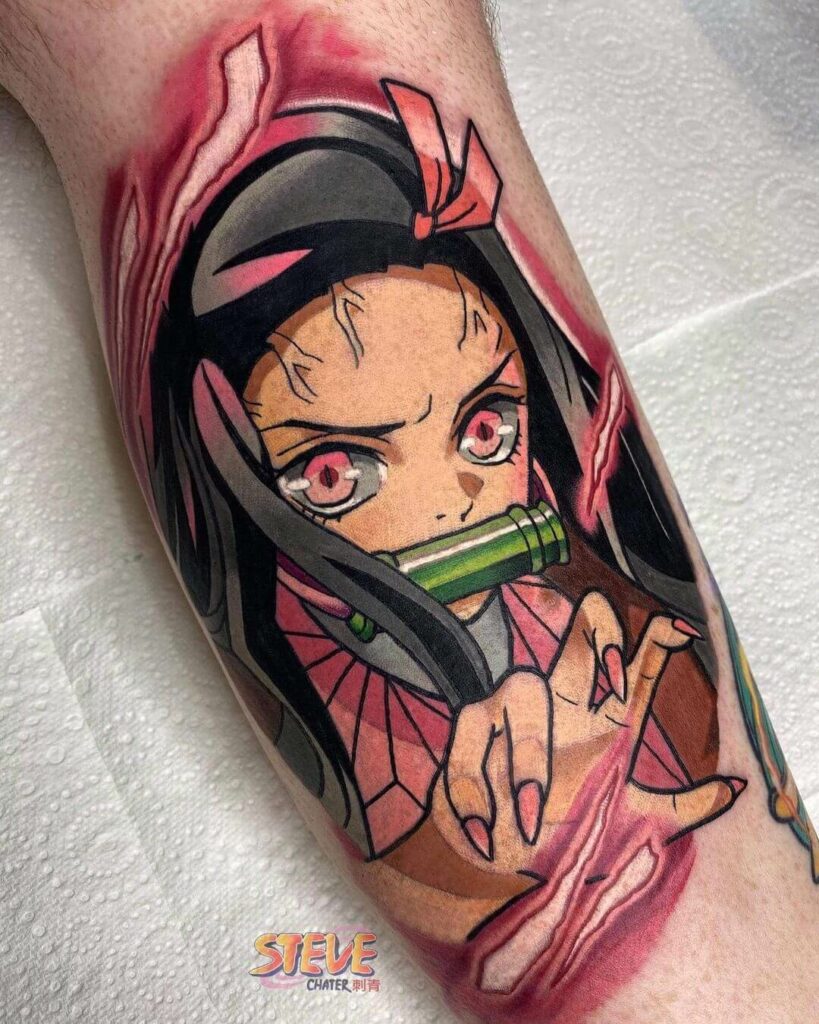 This Nezuko tattoo showcases her demon side and is most likely on the leg, although it's not entirely clear from the picture. The tattoo artist did an excellent job of capturing Nezuko's unique and striking pink eyes, which stand out as a symbol of her character. Interestingly, pink is typically associated with positive qualities like innocence and purity, which contrasts with Nezuko's demonic nature. However, her pink eyes suggest that she still retains some of her humanity despite her transformation. Eyes can convey so much about a person, and this tattoo certainly captures that aspect of Nezuko's character.
Colourful Demon Slayer Tattoo
This tattoo is an explosion of colors that can be considered for the upper arm area, just beside the shoulders. The artist has used a wide range of colors that make this tattoo pop, and the colors blend in perfectly to create an impressive work of art.
Demon Slayer Nezuko Tattoo With Her Bamboo Muzzle
This charming tattoo features the Demon Slayer, Muzan Kibutsuji, and is ideal for placement on the lower arm. In the Universe of Demon Slayer, Kibutsuji is responsible for creating all of the demons, including Nezuko Kamado. However, his transformation of Nezuko has not been entirely successful, as she has retained some of her human qualities. Despite being a demon, she still thinks and cares like a human, looking out for her family and others, rather than solely focusing on satisfying her demonic desires. This adorable tattoo is a great way to celebrate the unique and complex character of Nezuko in the Demon Slayer series.
Small Demon Tattoo
This lower arm tattoo design features the demon slayer in a cartoon-like and animated style. The design shows the slayer's face with a bamboo muzzle inside a box, giving off a sense of innocence and vulnerability. The use of simple lines and bright colors makes this tattoo perfect for those who want to showcase their love for anime-inspired body art. The placement of the tattoo on the lower arm ensures that the design is visible and draws attention.
Two Demon Tattoos of Nezuko
This upper arm tattoo is a masterpiece of red and black ink work. It portrays the demonic side of Nezuko, highlighting the unique and multi-faceted characteristics of her personality. Unlike other demons, Nezuko uses her sleep as a source of energy to fight, and doesn't rely on human blood to survive. This sets her apart from other demons and is a clear reflection of her human-like qualities. The tattoo artist has done an excellent job of capturing Nezuko's unique traits and bringing them to life through this tattoo.
Artistic Demon Slayer Tattoo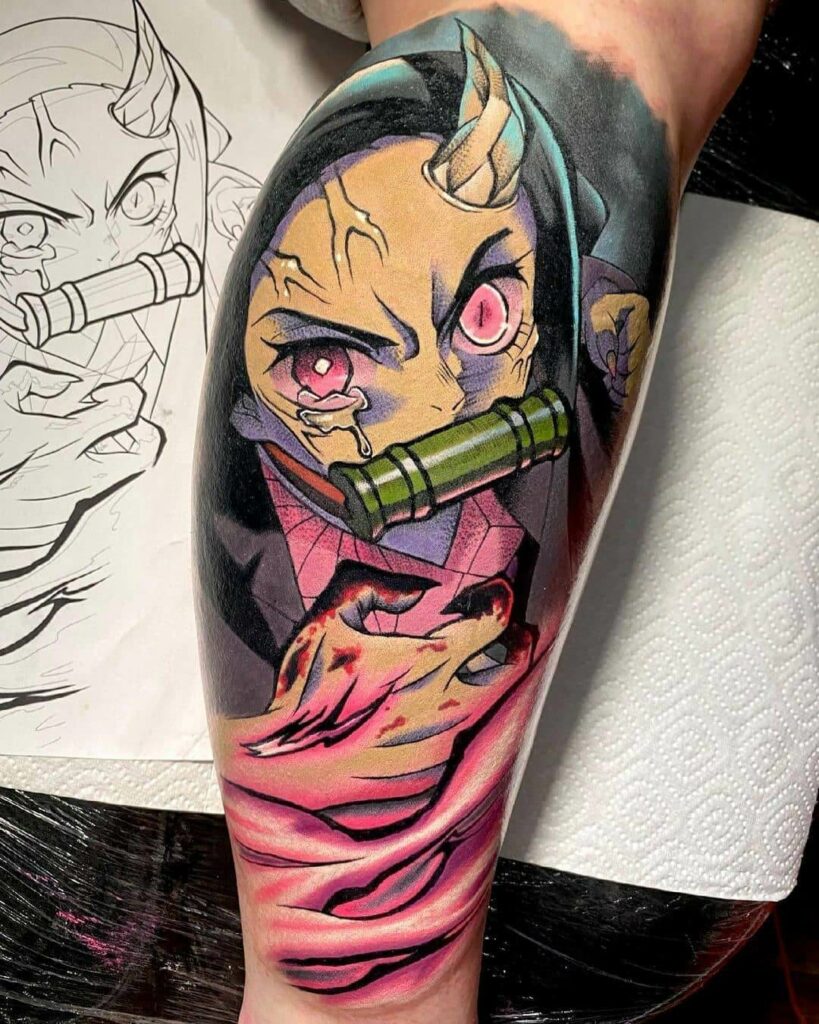 This is a powerful tattoo of the demon slayer showing her demon side with a fierce expression in her eyes. The tattoo artist used red and green colors which make the tattoo pop and look dynamic. The green may represent her monstrous demon nature while the red may symbolize her anger and fighting spirit. This tattoo is a great representation of the character and would be a stunning addition to the upper arm.
Demon Slayer and Tanjiro Tattoo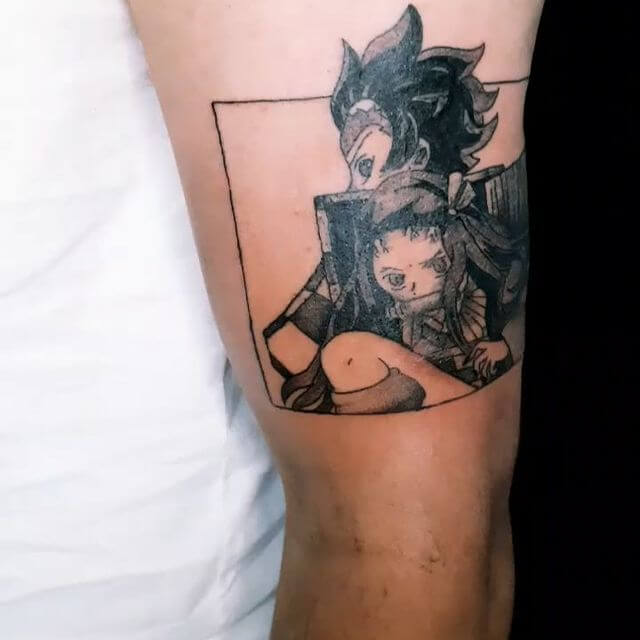 This Manga-inspired tattoo for the upper arm tells an interesting story. While it is typical for demons to be portrayed as selfish and evil, the demon slayer's transformation is different. Nezuko Kamado, the demon slayer, did not completely lose her humanity after her transformation. Her brother, Tanjiro Kamado, is known for his selflessness, but Nezuko is also shown to prioritize others, especially those she considers family. This tattoo serves as a reminder that even in the darkest of times, there is always a glimmer of light and hope that can be found in unexpected places.
Demon side of Nezuko Tattoo
This lower arm tattoo is a wonderful piece of art, showcasing the creativity and imagination of the artist. The intricate details and design elements used in this tattoo are truly impressive and a testament to the artist's skill. The placement on the lower arm provides a great canvas for this piece and allows it to be easily visible for all to appreciate.
Cute Nezuko Tattoo Design with her cute Muzzle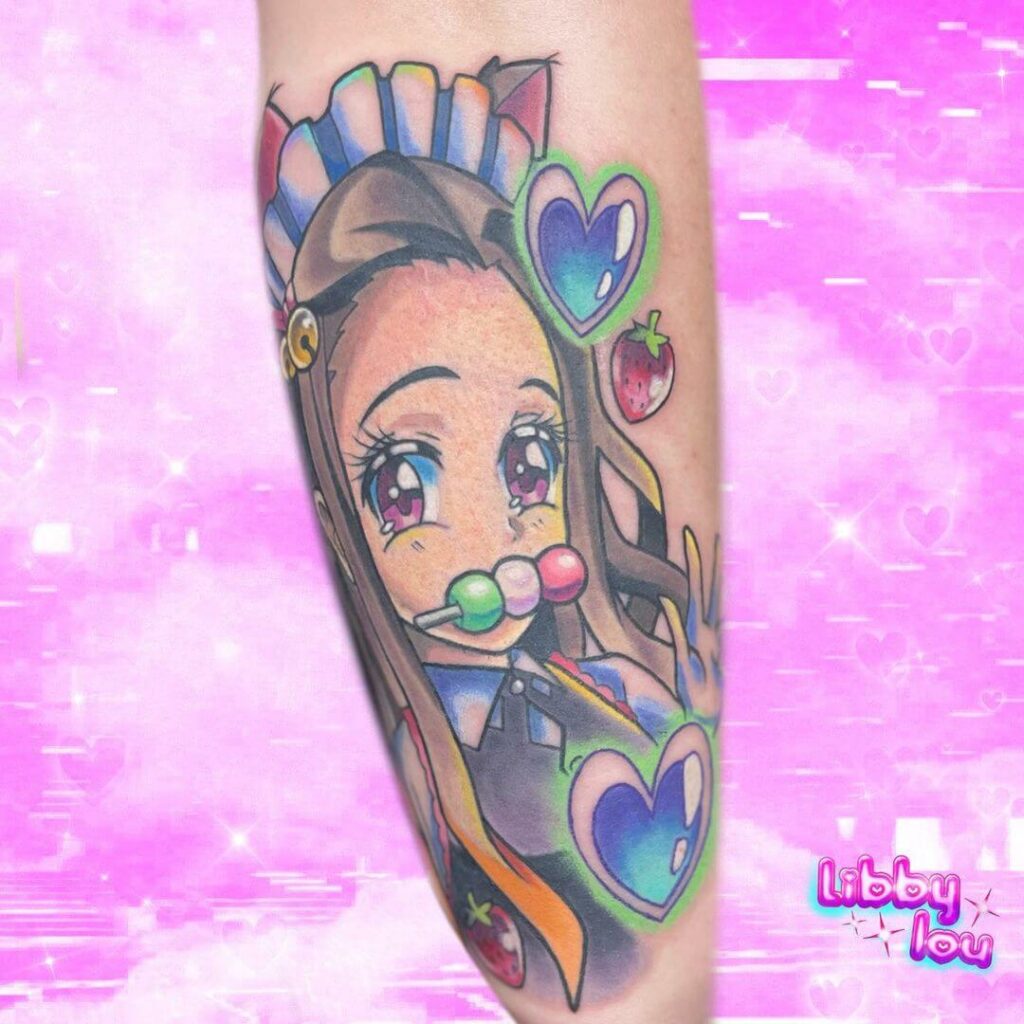 The bamboo muzzle is an essential tool for the demon slayer Nezuko. This tattoo portrays the significance of the muzzle in the world of Demon Slayer. The muzzle has multiple benefits; firstly, it prevents Nezuko from biting anyone, which can be dangerous and result in their transformation into a demon. Secondly, it helps Nezuko to conceal her fangs, which can be confusing for others to understand her true identity. This tattoo highlights the importance of this tool in Nezuko's quest to maintain her humanity while dealing with the struggles of being a demon slayer.
Feature image from Pinterest – Want your tattoo to look brighter? Try "Tattoo Balm"