Are you looking for some old school Nickelodeon tattoos? Stop right here, 'cause, we have got you covered with 10 cool Nickelodeon tattoos you'd totally love!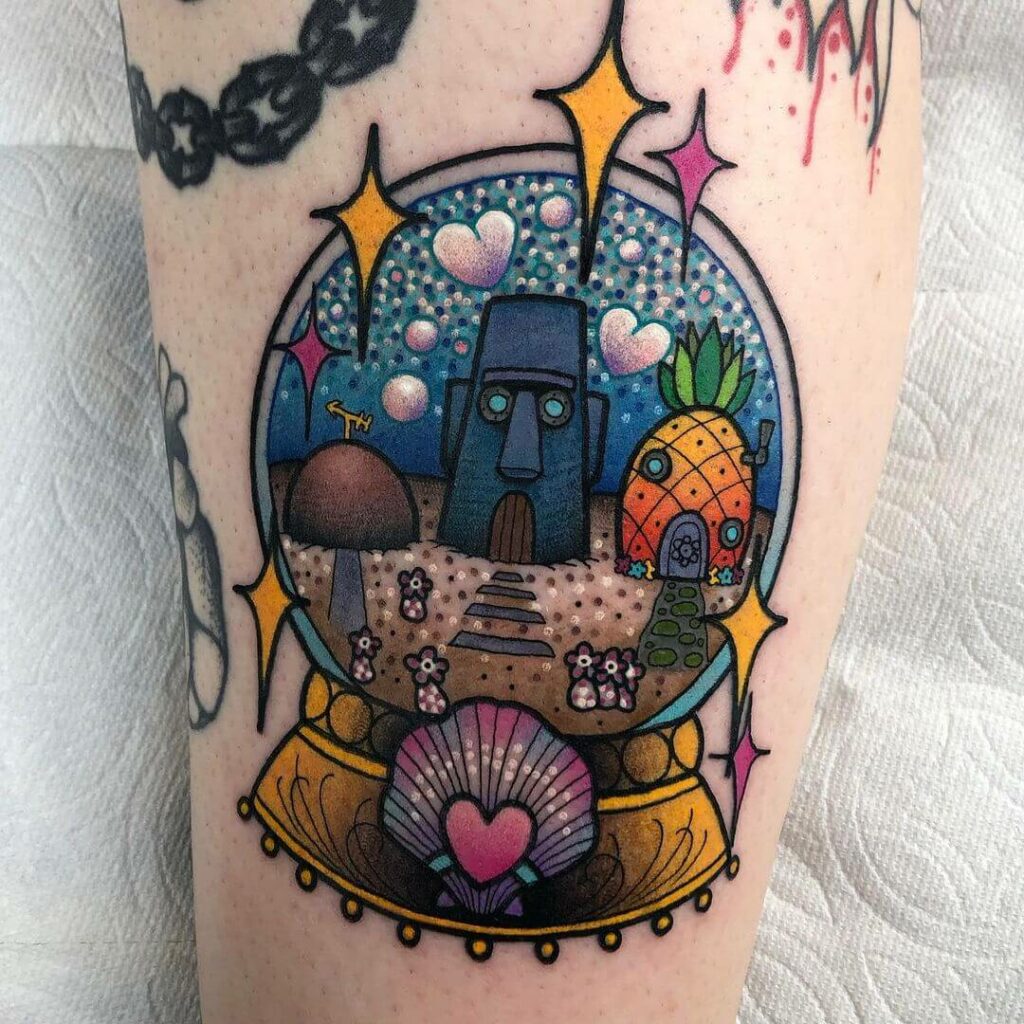 Getting fictional tv show characters inked is quite a popular choice these days.
For the last four decades, Nickelodeon has been able to keep kids entertained like no other television channel could. And the unaccounted number of Nickelodeon originals gives us millions of tattoo ideas to choose from.
Nickelodeon or Nick (shortened) was first tested in 1977 and launched in 1979 as the first television channel exclusively made for children. Its journey started with airing Pinwheel with preschoolers as the target audience. From animated to live-action or scripted, Nickelodeon has aired all sorts of series and telefilms since it was launched till now. Even though Nickelodeon has given us live-action shows like iCarly, All That, Drake & Josh, Kenan & Kel, Big Time Rush, The Thundermans and Henry Danger, Nicktoons (the branding for the original animated tv series produced by the channel) is what inspires most Nickelodeon tattoos. Some animated Nickelodeon characters that are often turned into body art are SpongeBob, Aang, Arnold, Zim, Danny Fenton, Squidward, and Jenny Wakeman. And if you want to, you can wear a tattoo Nickelodeon has inspired with pride. Be it a minimalist piece or a big one, tattoos that bring back memories never go out of style. And so if you want to get characters from your favourite Nickelodeon show inked on your skin, we have got some of the best Nick inspired cartoon tattoos that can be placed anywhere you want to on your body:
'The Ren & Stimpy Show' Crossover Tattoo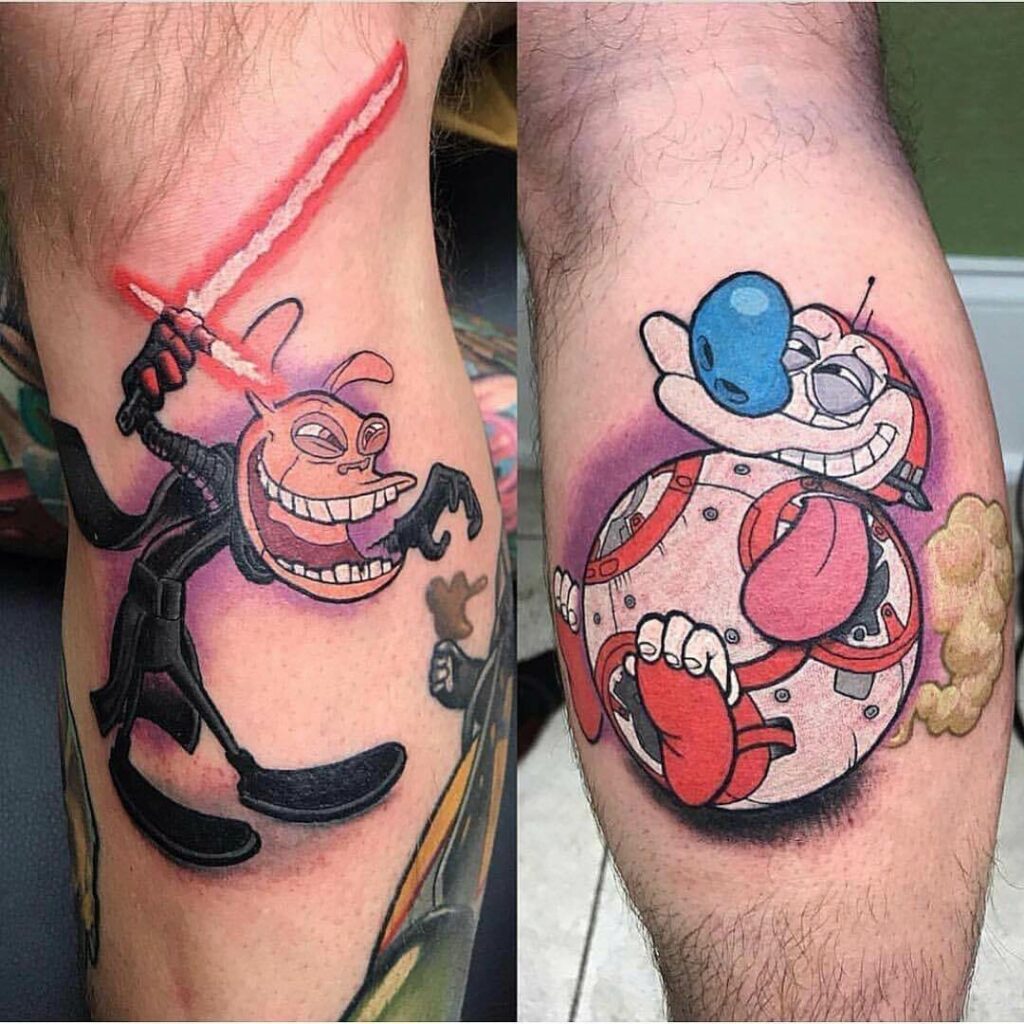 'The Ren & Stimpy Show' showcases the adventures of Ren Höek, an emotionally unstable and sociopathic Chihuahua and Stimpy, a nice yet dimwitted cat. But what if we combine them with Star Wars character logos? Well, you're right, we get Kylo Ren and Stimpy-8 if we do so. And this tattoo is a beautiful representation of that. So think no more and get this done already.
Doug And Porkchop Tattoo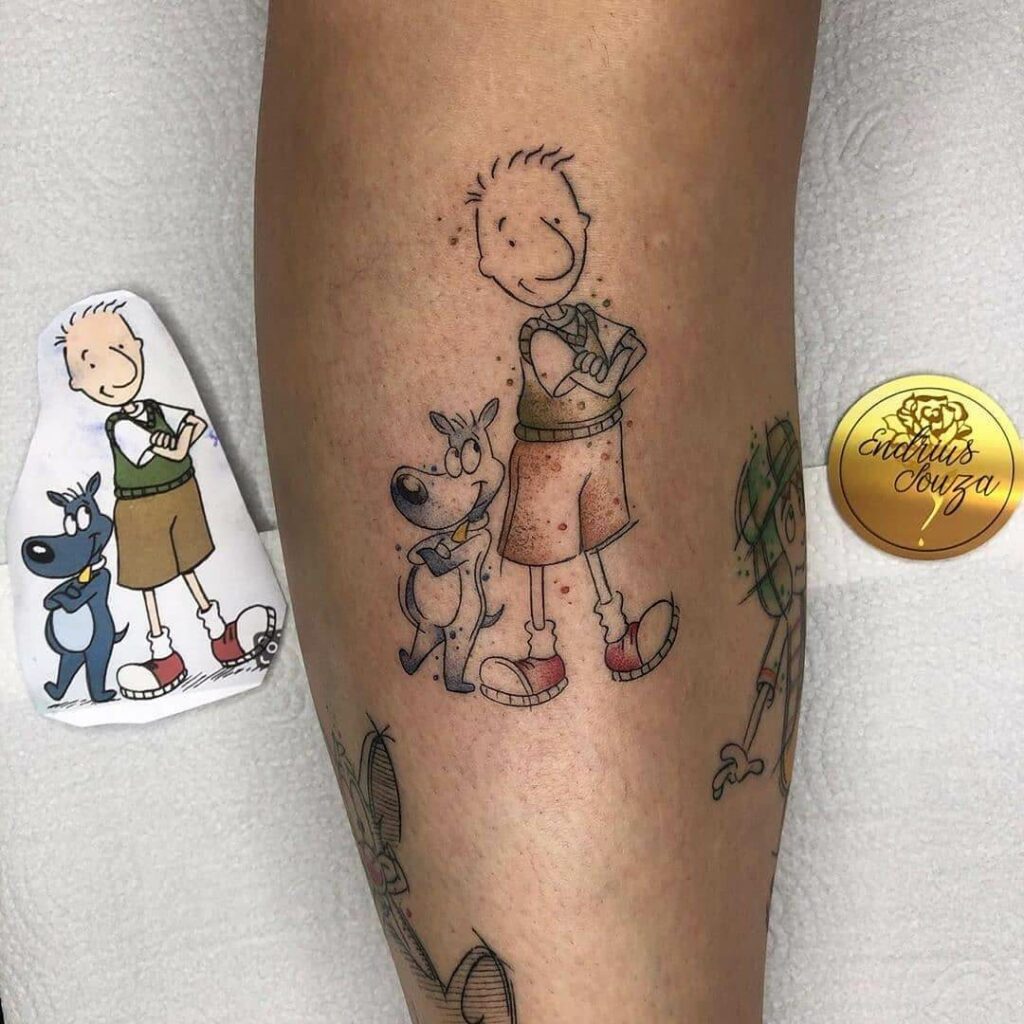 Like master like dog, Porkchop (the dog) is the only character other than his owner (the lead character), Doug Funnie who appears in every episode of the Nickelodeon show, 'Doug'. And these two have a beautiful human-dog relationship that has been excellently portrayed in the series. Thus, if you have that kind of bonding with your dog, you should consider getting this one inked.
Chef Spongebob Tattoo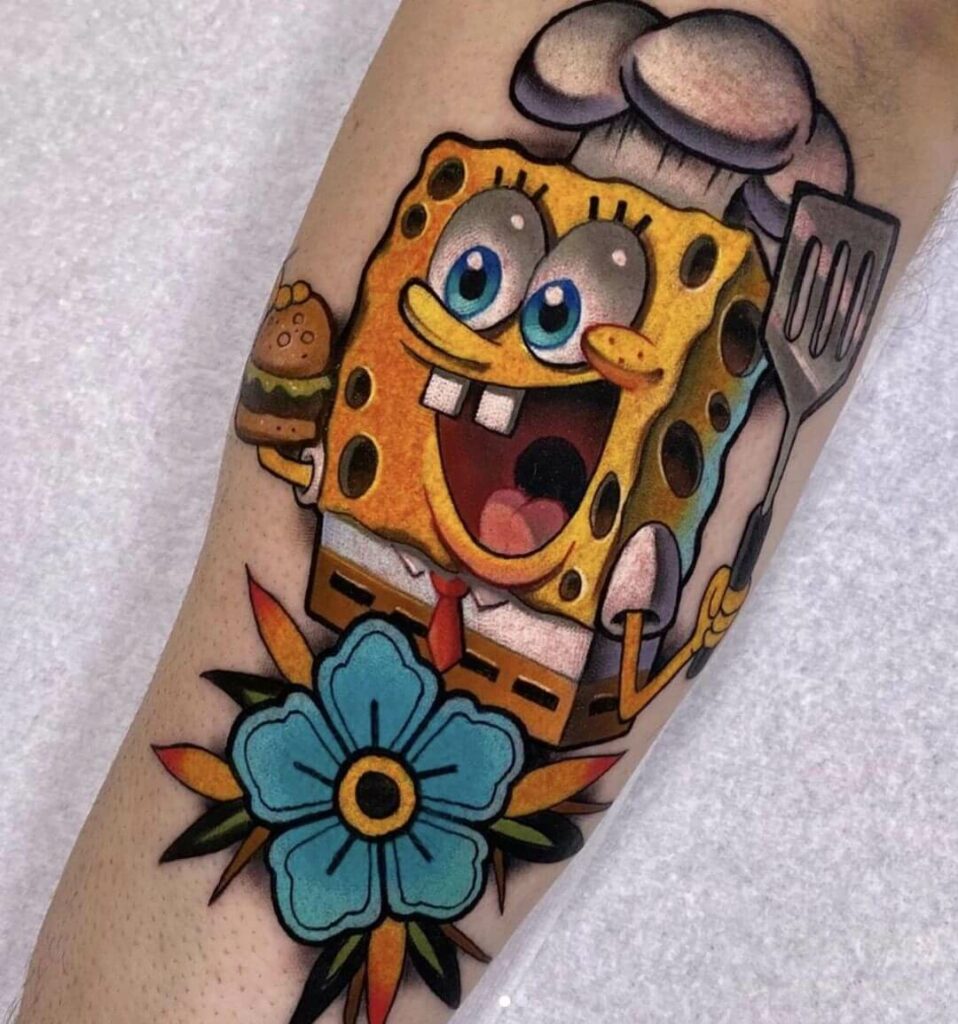 SpongeBob tattoos are so trendy that almost all the 'SpongeBob SquarePants' characters can be turned into body art. But what could really be better than a classic SpongeBob portrait tattoo? We all know how skilled SpongeBob was at his job as a fry cook at Krusty Krab. Hence, this tattoo capturing that essence so well is all that you need on your skin right now.
Chuckie Finster From 'Rugrats' Tattoo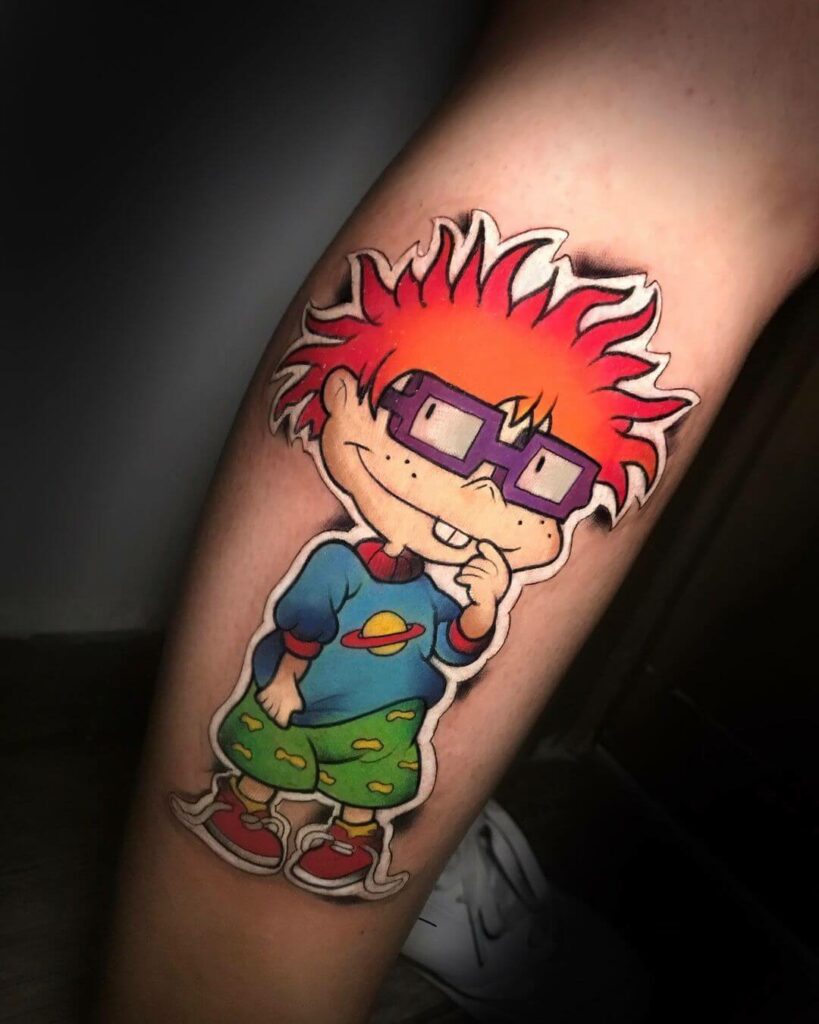 Chuckie is the best friend of Tommy Pickles, the protagonist of the Nickelodeon show, 'Rugrats'. This 2-year-old is the oldest one among the babies. But unlike Tommy, he is clumsy and timid. He rarely wants to be a part of the babies' adventures and unquestionably accepts Angelica's bullying. If you relate to this meek character, this would be a great option for you.
Donatello The Turtle Ninja Tattoo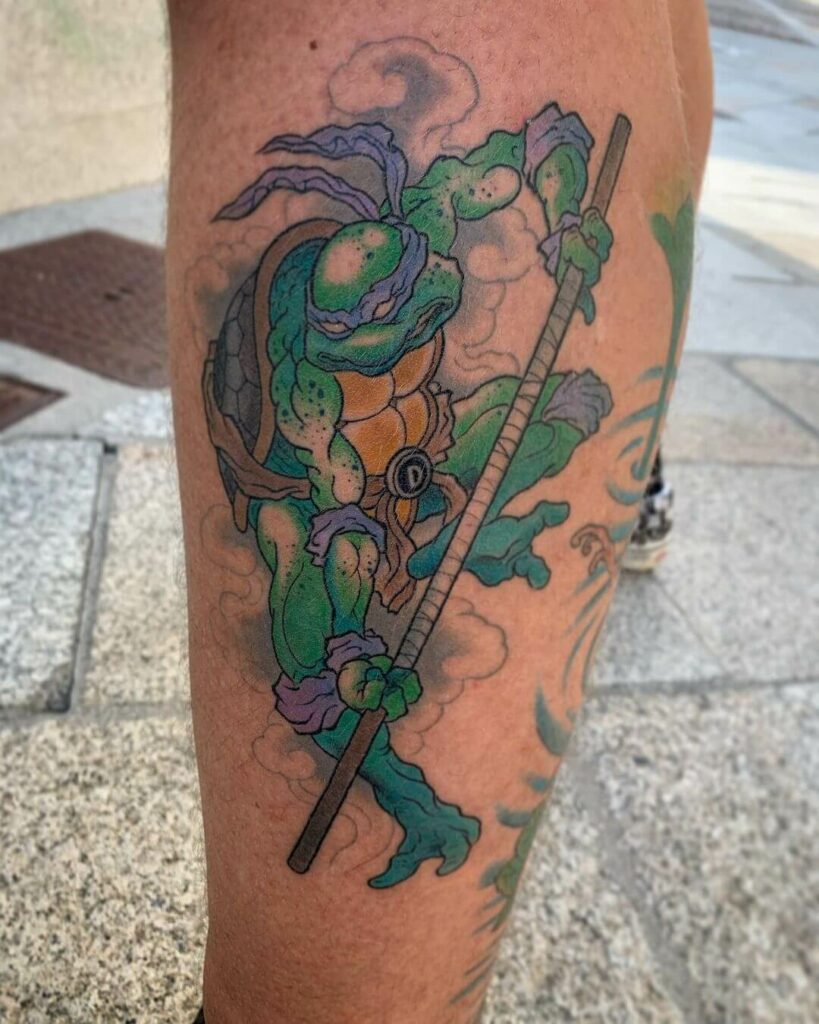 Donatello is one of the lead characters of 'Teenage Mutant Ninja Turtles'. This genius Nickelodeon character is the inventor and weapon-builder of his team. He has the ability to create fantastic gadgets from a trash heap and is extremely detail-oriented. And we believe, there is a superhero in all of us. So this tattoo would be a great inspiration for being strong and courageous.
Conjoined CatDog Tattoo For Siblings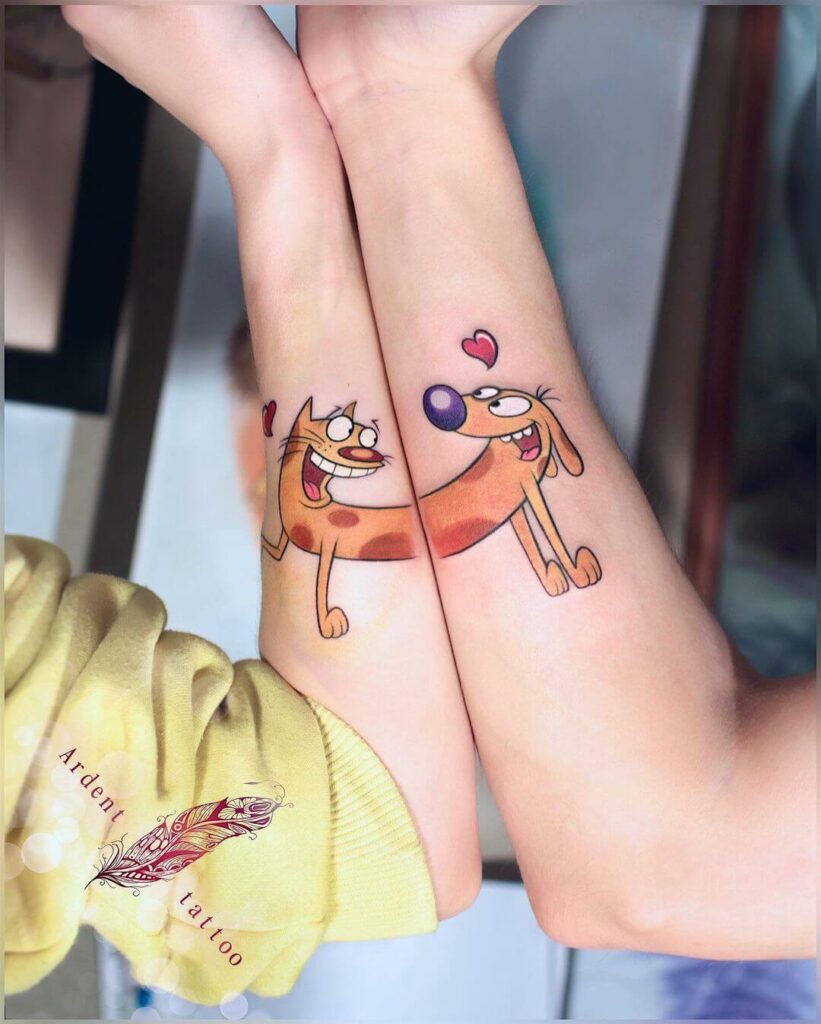 The Nickelodeon animated series 'CatDog' featured Cat and Dog (two conjoined twins who share the same body) and their adventures. Cat and Dog are two animals who are best friends in spite of having extreme characteristic differences. So if you and your sibling are planning to get complimentary tattoos that best define your relationship, we are sure, you would not regret going for this one.
Human-like 'Danny Phantom' Tattoo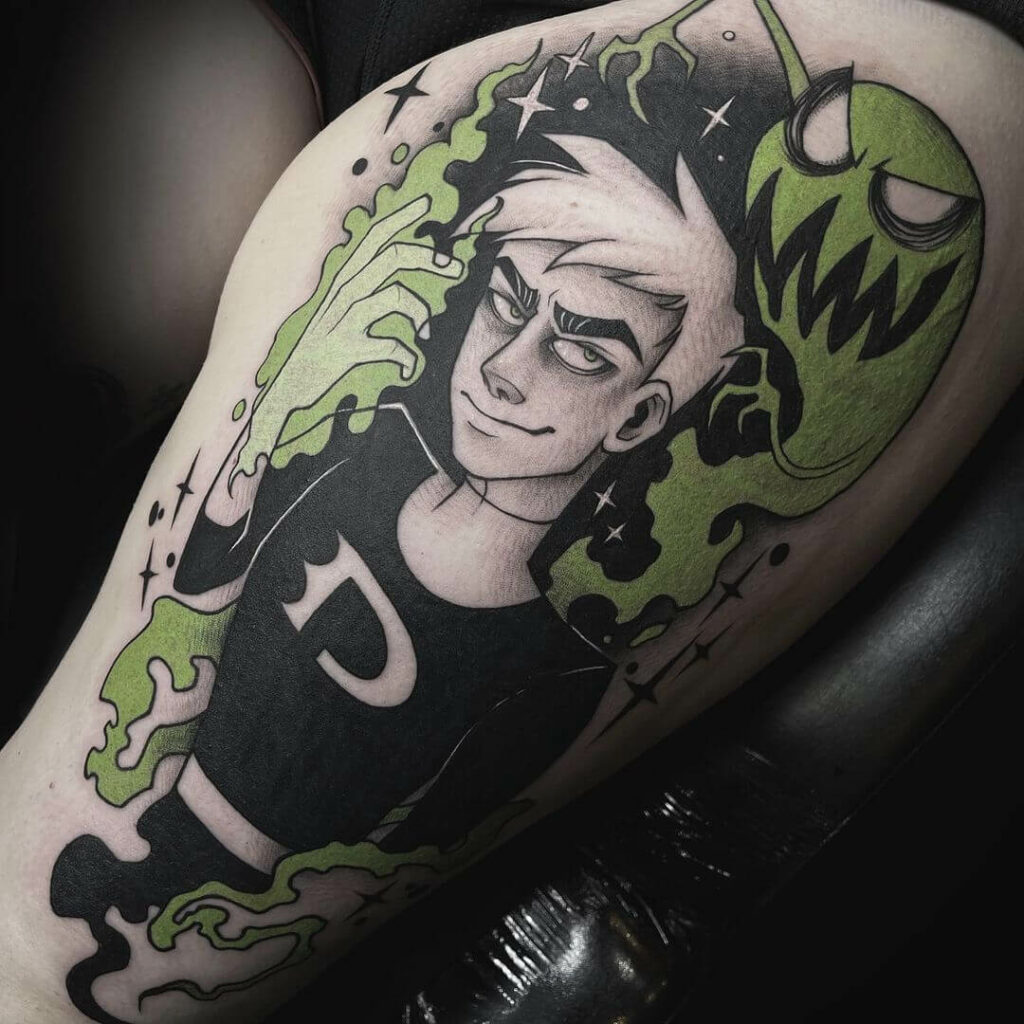 Danny Fenton (Phantom) was a teenage boy who became a half-ghost/half-human in a laboratory accident. So keeping his identity secret, Danny takes up the role of a superhero protecting the world from dangerous ghosts who have escaped the Ghost Zone. This tattoo portrays what he'd look like if he wasn't animated. So, find a trustworthy artist and get this superhero tattoo inked.
Aang From 'Avatar: The Last Airbender' Tattoo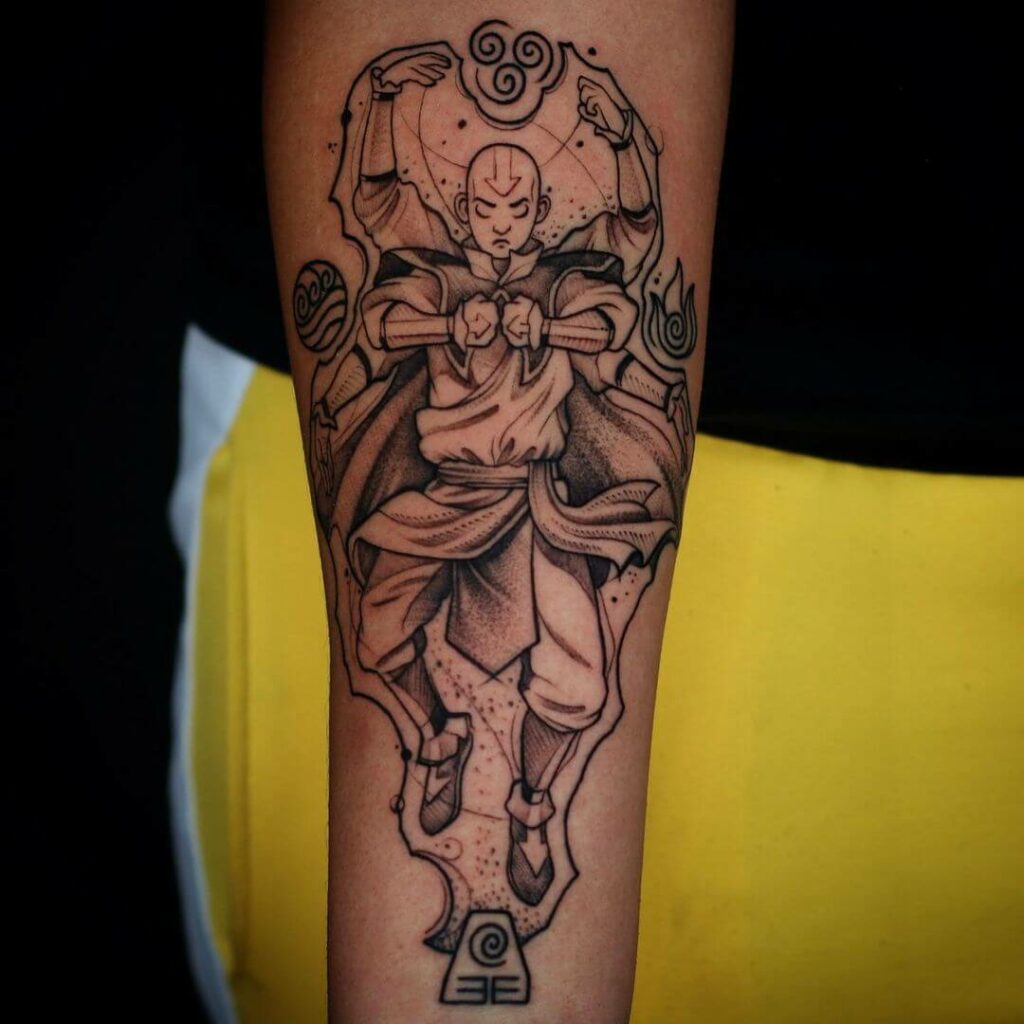 As seen in the show 'Avatar: The Last Airbender', Aang was the only person who could bend air, water, earth and fire as an Avatar. This tattoo featuring Aang and the logos of the four elements represents strength and determination. If you loved the show and want something inspirational, get this one. It might be a painful experience but the results will be worth it.
'AAAHH!!! Real Monsters' Tattoo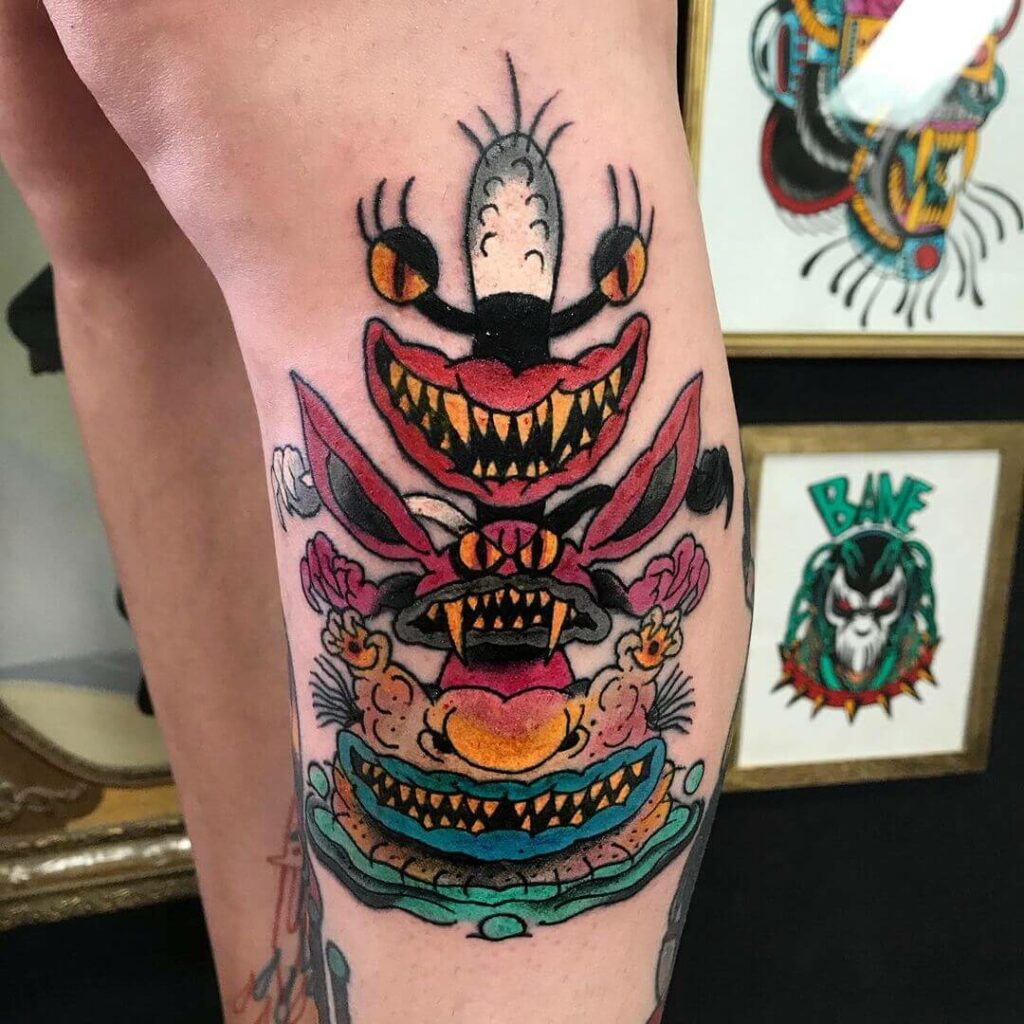 This tattoo showcases three real monsters, Oblina, Ickis and Krumm (from top to bottom). The story of their show revolves around these three roommates/friends who go to Monster Academy to learn the art of scaring humans. And if you are a 90's kid who loved the show growing up, there is nothing better than this that would bring back memories from your childhood.
Devil 'Dora The Explorer' Tattoo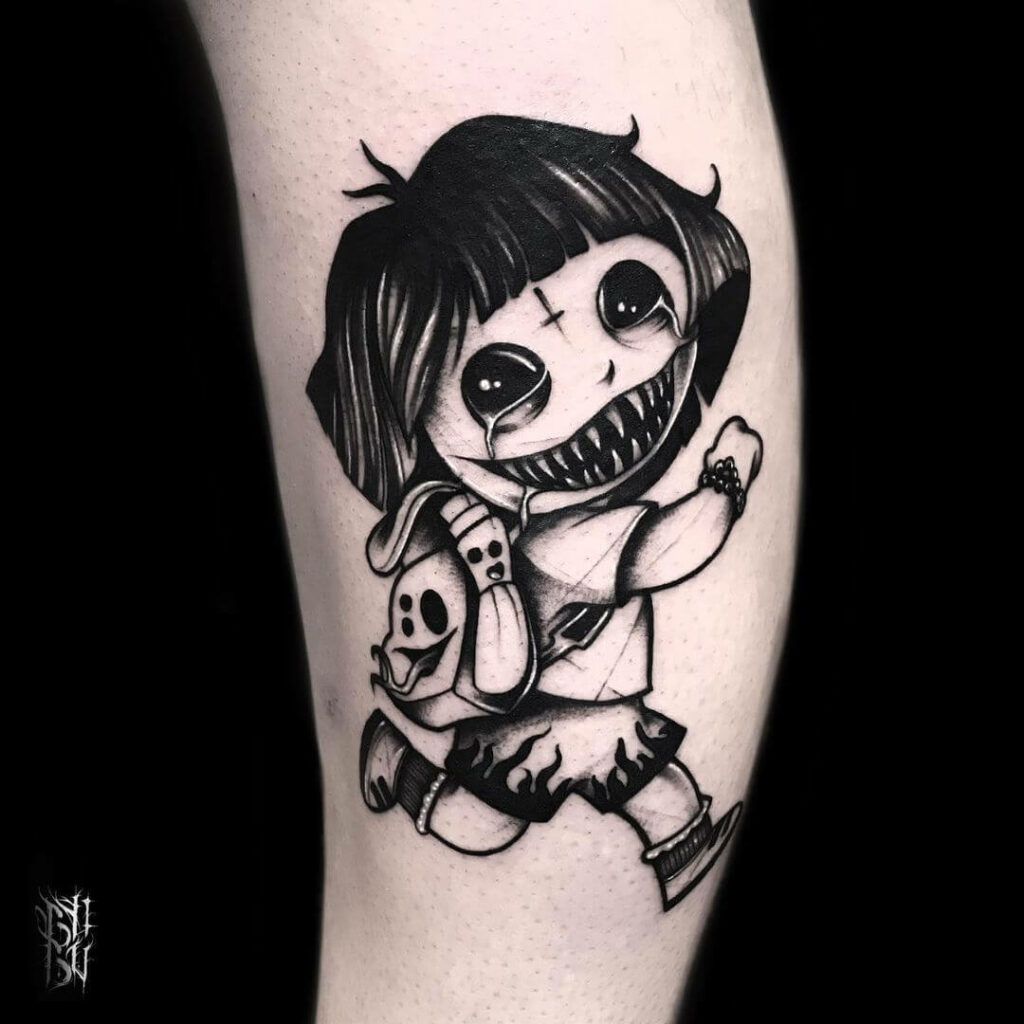 Though comparatively new, 'Dora The Explorer' gained a lot of popularity in the early 21st century. This interactive animated series revolves around the seven-year-old girl Dora and her adventures. This tattoo is a fun choice for those who are into dark things as it adds some terrifying demonic features to the innocent girl. So, find a skilled artist and get this devilish Dora tattoo now.
You should, by now, understand that Nickelodeon tattoo designs come in all shapes, sizes and colours because you get a variety of old school Nickelodeon tattoos to choose from. Getting something that takes you back to the good old childhood days inked on your body is never a bad idea and there are no boundaries for inking a Nickelodeon cartoons tattoo. You can always choose or customise one of those for yourself without having to think of your gender, skin complexion and even your age. But you might wanna be careful about choosing the tattoo you're getting inked as it is a lifelong commitment if you do not get it removed (which is a complicated process that'd leave a scar). Having said that, if you want an entire Nickelodeon tattoo sleeve or just an ankle piece, we are here to help.
Feature image from Pinterest – Want your tattoo to look brighter? Try "Tattoo Balm"