Hey there, fellow wanderers and adventurers! Do you feel that irresistible pull of wanderlust in your soul? Why not wear that spirit on your skin with a "Not all those who wander are lost" tattoo?
This profound quote, made famous by Tolkien's poem, beautifully captures the essence of exploration and self-discovery. Whether you're a deep thinker or simply want to celebrate the freedom of wandering, this tattoo speaks to the adventurer in all of us.
Sure, some might see the phrase as cliché, but the truth is, it holds a unique significance for each person. It could represent your vacation mindset or sum up your entire way of life. Some wear it as a badge of their focus, while others see it as a symbol of liberation. Tattoo artists agree that, despite the different interpretations, this quote can resonate with just about anyone.
Ready to find the perfect design for your "Not all those who wander are lost" tattoo? Dive into our curated selection and let your wandering spirit shine through your ink!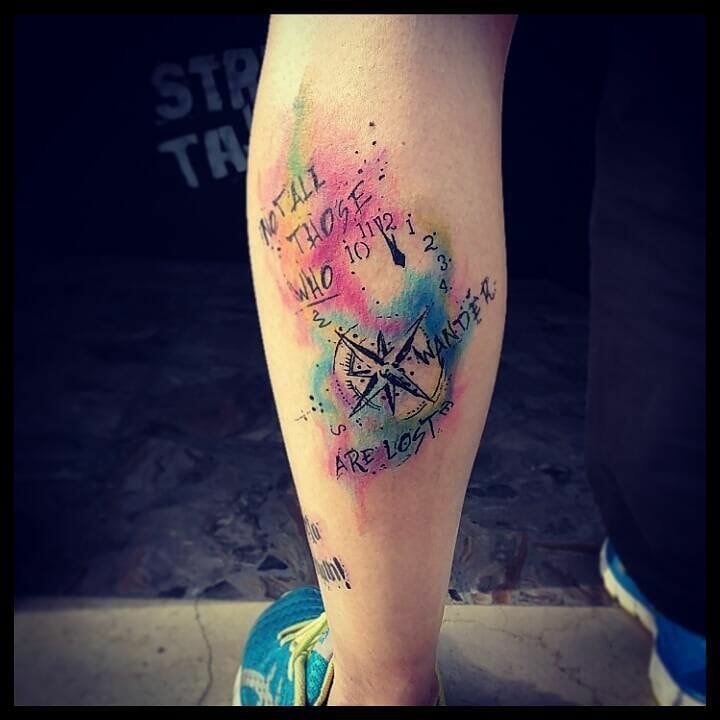 Not All Who Wander Are Lost Tattoo Map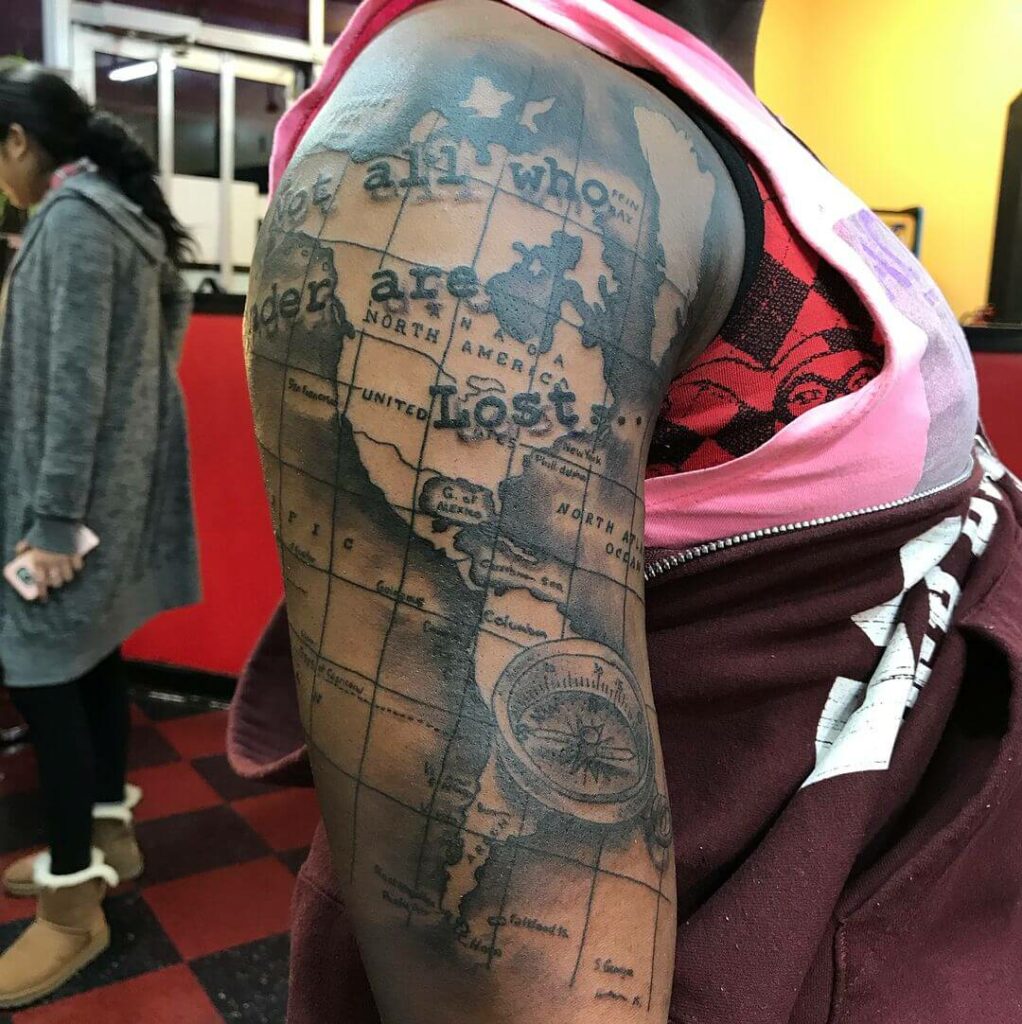 Do you have a yearning to explore the world without any restrictions? This tattoo design perfectly captures the free spirit inside you. The black and grey inked tattoo features a quote amidst a beautifully crafted world map, representing the idea of breaking free and exploring new places. The intricate details on this tattoo are simply stunning and are sure to impress any travel enthusiast. Whether you are a seasoned backpacker or just someone who loves to explore, this tattoo is a great way to showcase your adventurous spirit.
Not All Who Wander Are Lost Minimal Tattoo
Are you an adventurer who loves to travel the world? Then why not get inked with a mountain tattoo to signify your love for the outdoors and the beauty of nature? The mountain design is usually encircled by a quote, making it a perfect choice for those who want to express their wanderlust in a compact tattoo. The design can be customized according to your preference, and you can experiment with colours or shading techniques to add depth to the mountains. This is an excellent tattoo idea for nature lovers who seek a touch of adventure in their lives.
Not All Who Wander Are Lost Quote Tattoo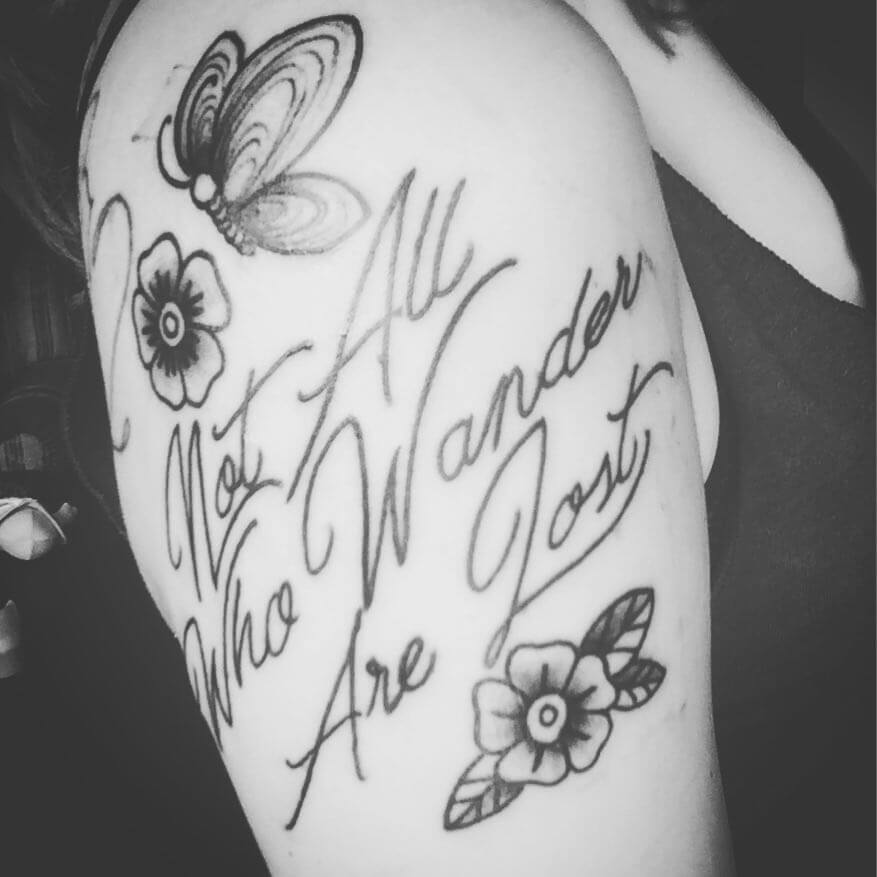 If you are a first-timer and want to start with a tattoo, we suggest starting with lettering to ease into the tattoo world. This tattoo design highlights a beautiful quote written in cursive letters and is enhanced with the addition of butterflies and flowers. You can personalize the font and add various Hawaiian flowers to make the design unique and meaningful to you. It is a subtle yet elegant way to start your tattoo journey.
Women's Not All Those Who Wander Are Lost Tattoo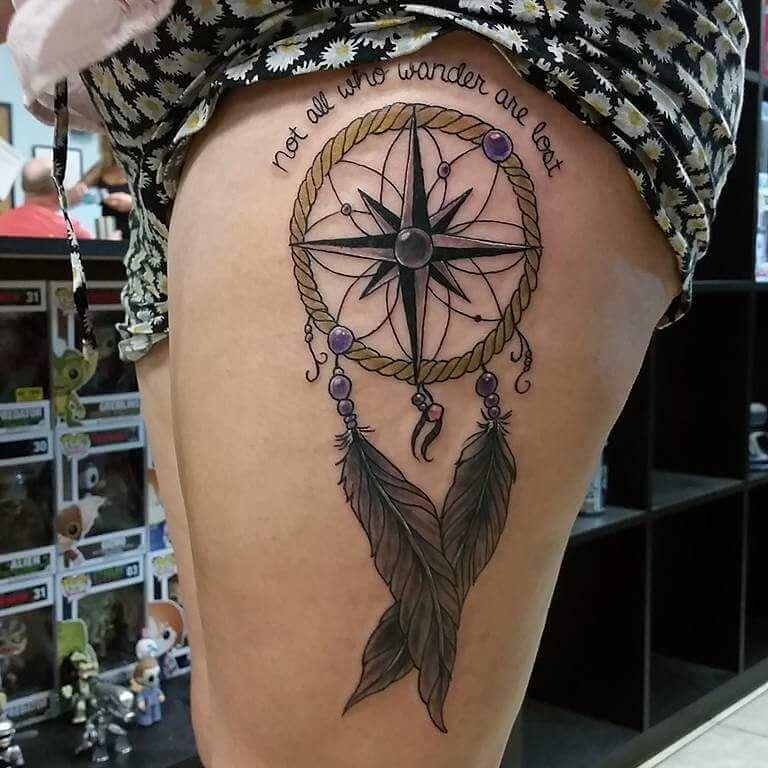 If you're a woman looking for a unique twist on the classic "not all who wander are lost" tattoo, consider adding a dreamcatcher to your design. This beautiful accessory adds a touch of sparkle and elegance to the quote, while also lending a deeper meaning to the overall look. Dreamcatchers are a powerful symbol of protection and good luck, and can be customized to suit your individual style and preferences. So if you're looking to add a touch of magic to your ink, consider incorporating a dreamcatcher into your design.
Traditional Not All Who Wander Are Lost Tattoo
If you're on the hunt for a classic yet meaningful wanderlust tattoo, look no further than this design! Featuring bold lettering and classic red roses, this tattoo is reminiscent of traditional tattoo flash. The centrepiece of this design is a compass, symbolizing direction and adventure, perfectly encapsulating the phrase "not all who wander are lost". This design is versatile, making it a great option for placement on your forearm or leg. So go ahead, embrace your adventurous spirit and ink yourself with a wanderlust tattoo that speaks to you!
Colour Bleed Not All Who Wander Are Lost Tattoo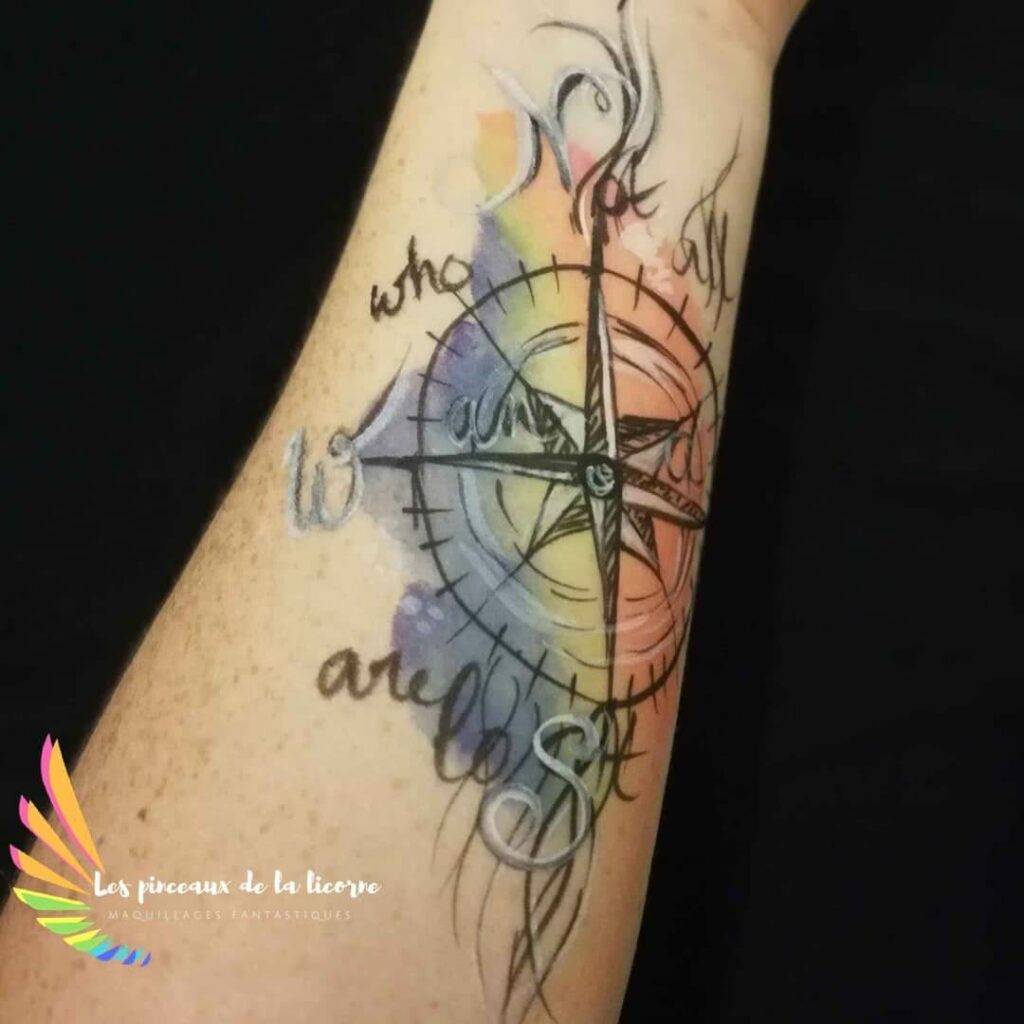 A compass paired with the timeless phrase "not all who wander are lost" makes for an unbeatable combination. But why stop there? Adding a splash of color to the mix can take your tattoo to the next level. Incorporating vibrant shades and even touches of silver or gold can really make your tattoo pop and reflect your adventurous spirit. So go ahead and let your creativity run wild!
Not All Those Who Wander Are Lost Compass Tattoo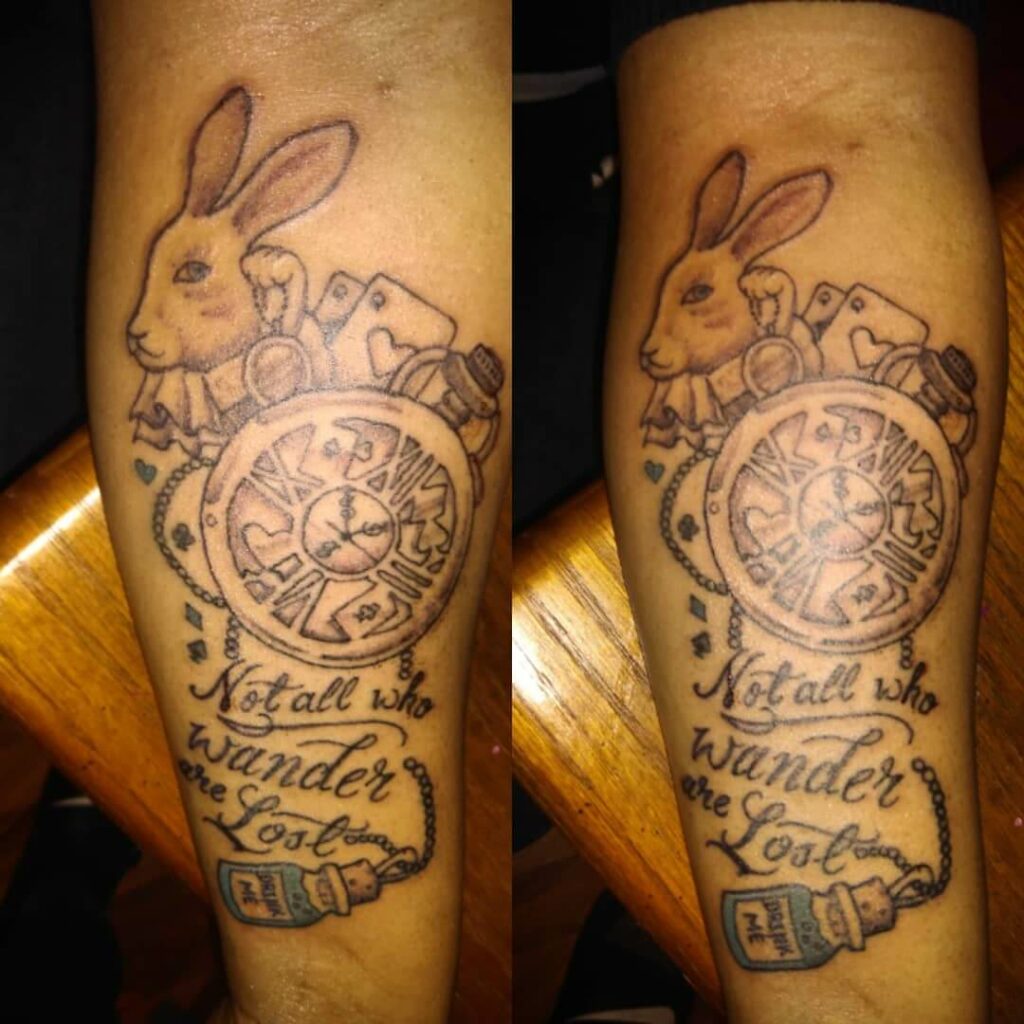 For fans of Alice In Wonderland, adding a rabbit to your not all who wander are lost tattoo is a fantastic idea. The rabbit symbolizes the unpredictable nature of life and can be used alongside other elements to create a complete motif. The design can be customized to suit your preferences, including the use of color or shading to create a unique work of art that truly represents your wanderlust.
Not All Who Wander Are Lost Tattoo With Pop Reference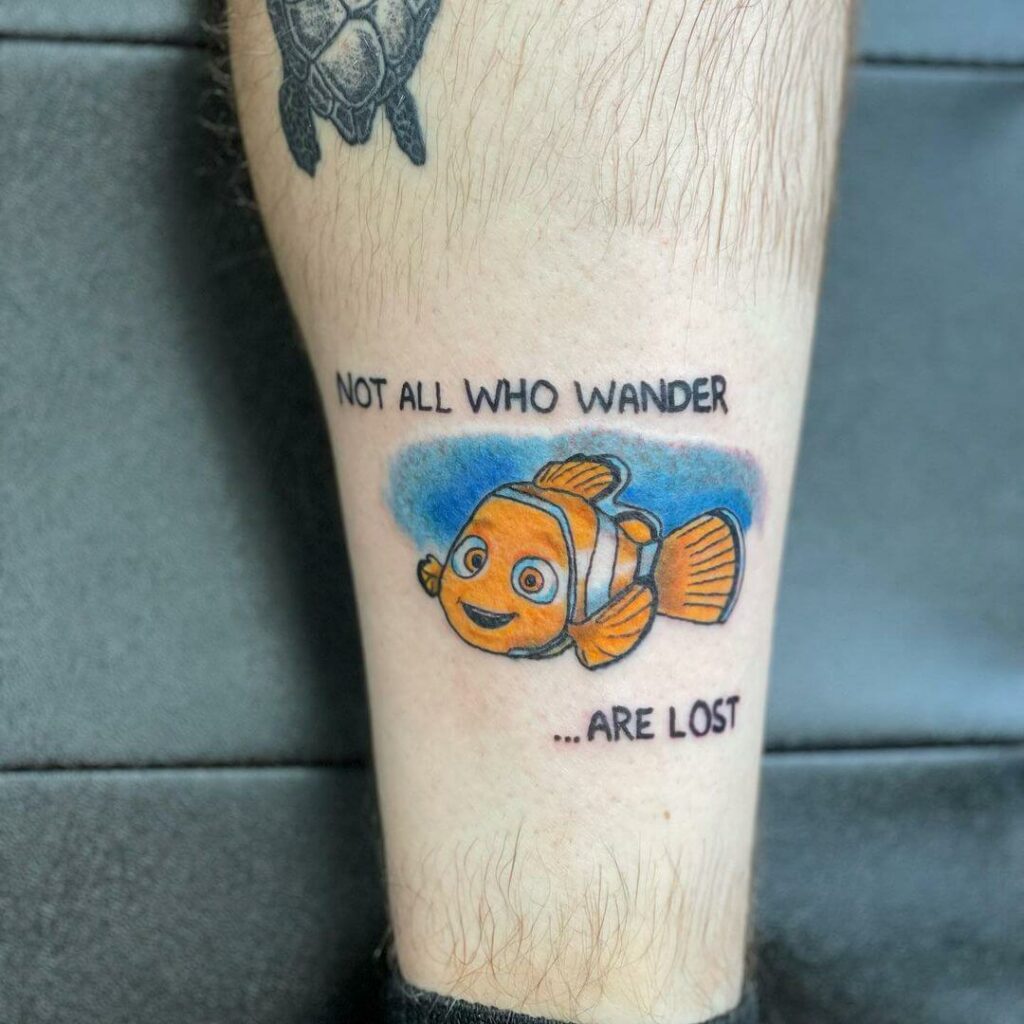 If you're a fan of Finding Nemo, then you'll love this not all who wander are lost tattoo design that features the iconic clownfish in its true colours. The quote is perfectly paired with the design to create a complete pop culture reference. The intricate detailing of this tattoo adds a unique touch, making it stand out from other wanderlust tattoos. You can choose to place it on your wrist or ankle to keep the design subtle or go bold and make it larger on your back or thigh. The options are endless with this beautifully crafted tattoo design.
Not All Who Wander Are Lost Tattoo With Viking Compass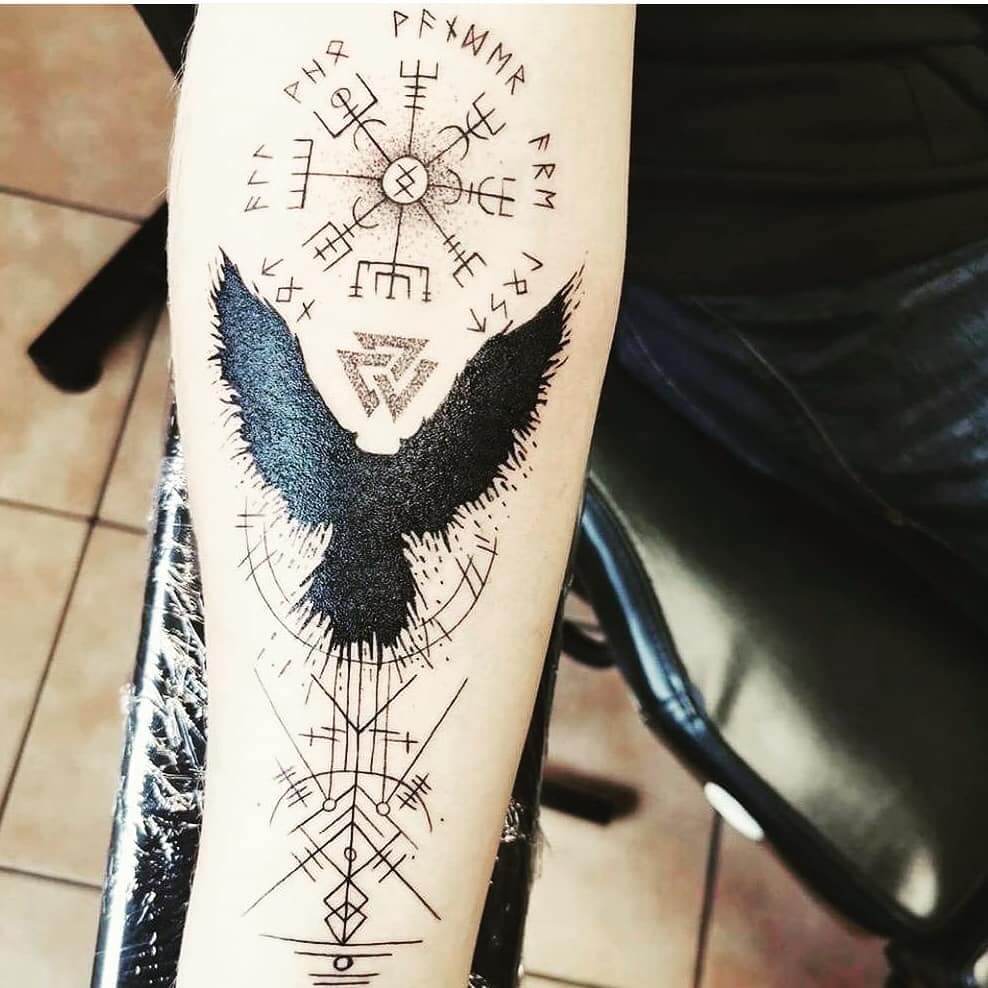 Are you ready to tap into your inner Viking spirit? Look no further than this amazing tattoo design! The Viking compass, complete with its intricate symbols and details, is perfectly paired with the inspirational phrase "not all who wander are lost." This design is elevated even further by the inclusion of the Valknut and a fierce falcon body, all rendered in bold black ink. This stunning tattoo captures the essence of Viking culture and the spirit of adventure that comes with wandering fearlessly. So why not take the plunge and make this design a permanent part of your own journey?
Not All Those Who Wander Are Lost Elvish Tattoo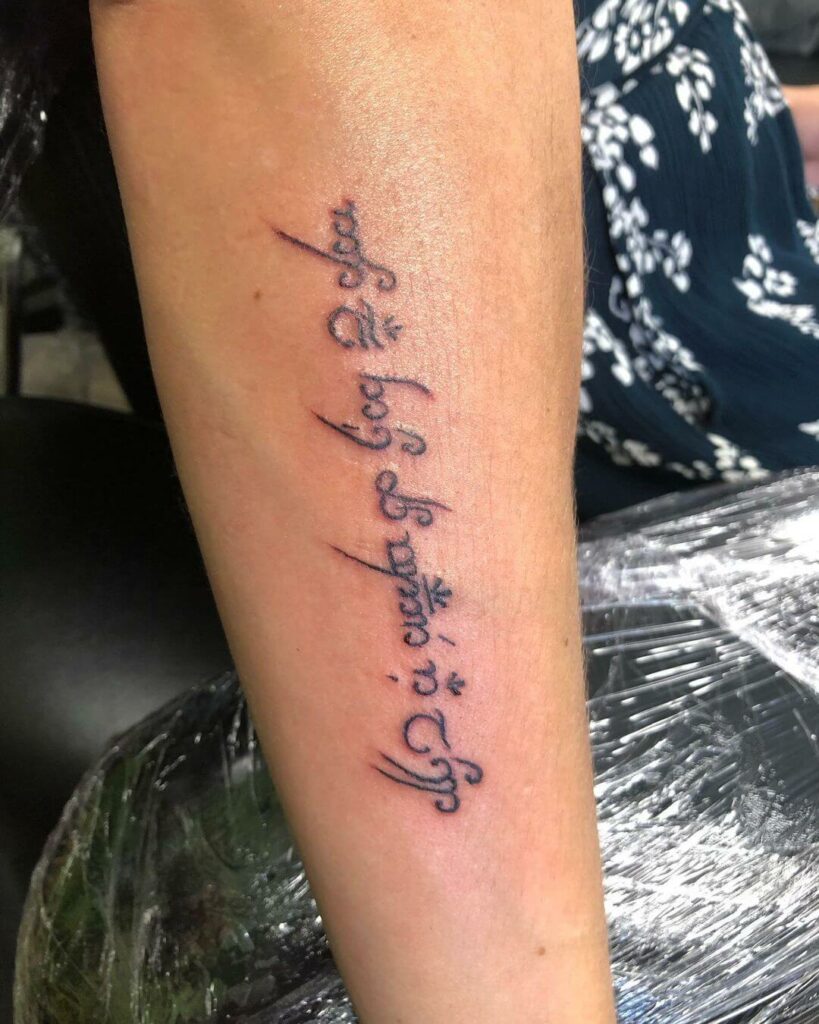 Elvish script is a beautiful and unique way to bring life to even the most mundane phrases. Although the writing is not easily deciphered by most, it serves as an excellent conversation starter. Symbolically, Elvish tattoos represent the influence of fate on our lives, making it a meaningful choice for the not all who wander are lost quote. Consider placing this tattoo on the side of your forearm for a stunning and subtle display of your love for adventure. In the end, this design captures the essence of wandering and the search for freedom better than any other tattoo.
Feature image from Pinterest
Last reviewed and updated on May 3, 2023