"Hello, dear readers! Fancy a trip down the fascinating lane of tattoo artistry, with a pinch of mysticism and folklore? If so, you're in luck today. We're delving into a uniquely captivating realm of ink — the Oni Mask Tattoo. Now, if the term "Oni Mask" leaves you scratching your head, don't fret; by the time we're through, you'll not only understand the rich symbolism behind this potent emblem, but you might also be picturing exactly where it'll fit on your skin canvas. We've handpicked a buffet of alluring design ideas for you to feast your eyes on. So grab your favorite cuppa, get comfortable, and prepare for an enlightening journey.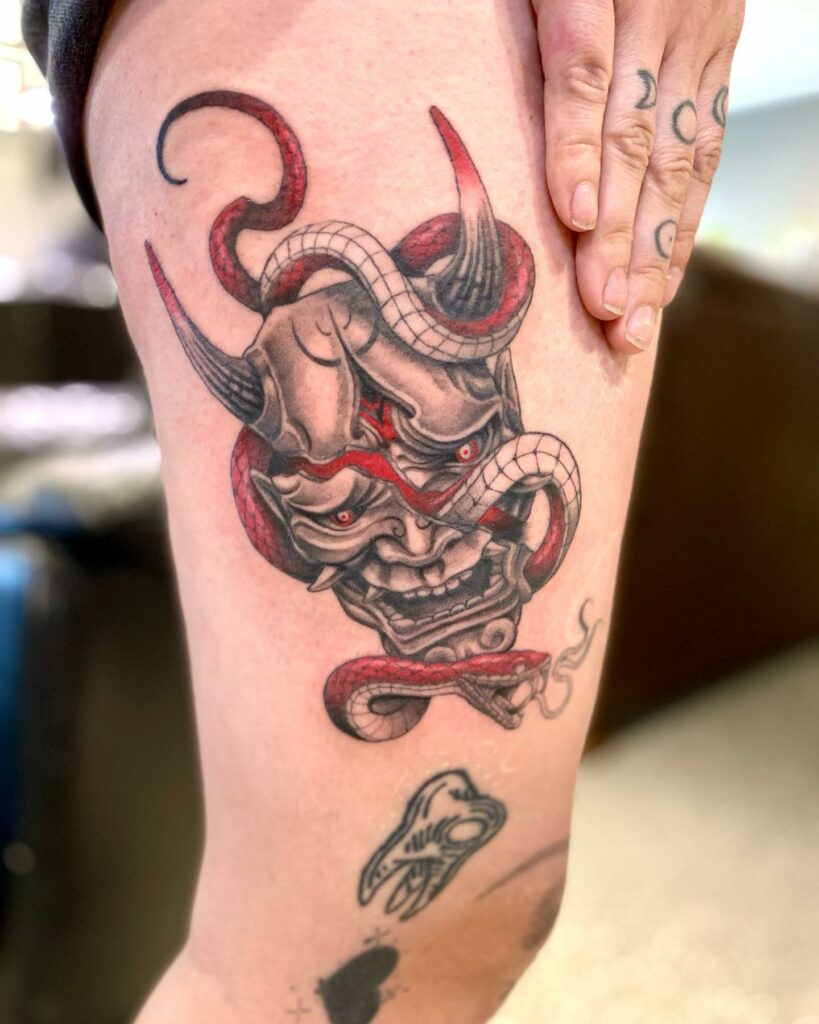 Oni Mask Tattoo Meaning
Stepping back into the rich tapestry of Japanese folklore, the Oni stands as a colossal figure, a symbol steeped in tales of caution, wisdom, and complex morality. Oni, the ogres of Japanese myth, were originally conceived as malevolent spirits causing disasters, disease, and other calamities. However, as centuries rolled on, their image evolved to incorporate a more protective aspect. The Oni mask, with its fearsome and grotesque features, came to represent this dual nature – a ward against evil, and a symbolic representation of the inherent human struggle between good and evil.
The tradition of tattooing in Japan, known as "Irezumi," is similarly layered with history and cultural nuance. For hundreds of years, tattoos served a punitive function, marking outcasts and criminals. But by the Edo period (1603-1868), tattoos had begun to shift from stigma to art, becoming a form of personal expression, adorning the bodies of firemen, laborers, and later, the infamous Yakuza. The cultural journey of the Oni mask and tattoos in Japan weaves a complex story, adding profound depth to the choice of an Oni mask as a tattoo. Bearing an Oni mask on one's skin isn't just a personal symbol of protection or duality; it is a vibrant echo of centuries of mythology and cultural evolution.
Believers will tell you that the Oni Mask serves as a ward against the devil that may seek to bedevil you, regardless of where you may find yourself across this vast globe. This formidable symbol is a silent roar against adversity, a beacon of resilience and strength in the face of life's most daunting challenges.
So, come with us, dive deeper into the fascinating world of Oni Mask Tattoos. Whether you're a seasoned tattoo enthusiast or a curious novice, we've got a rich tapestry of stories, insights, and design options that'll pique your interest and perhaps even inspire your next piece of body art.".
Oni Mask Tattoos
Monumental Chest Oni Mask Tattoo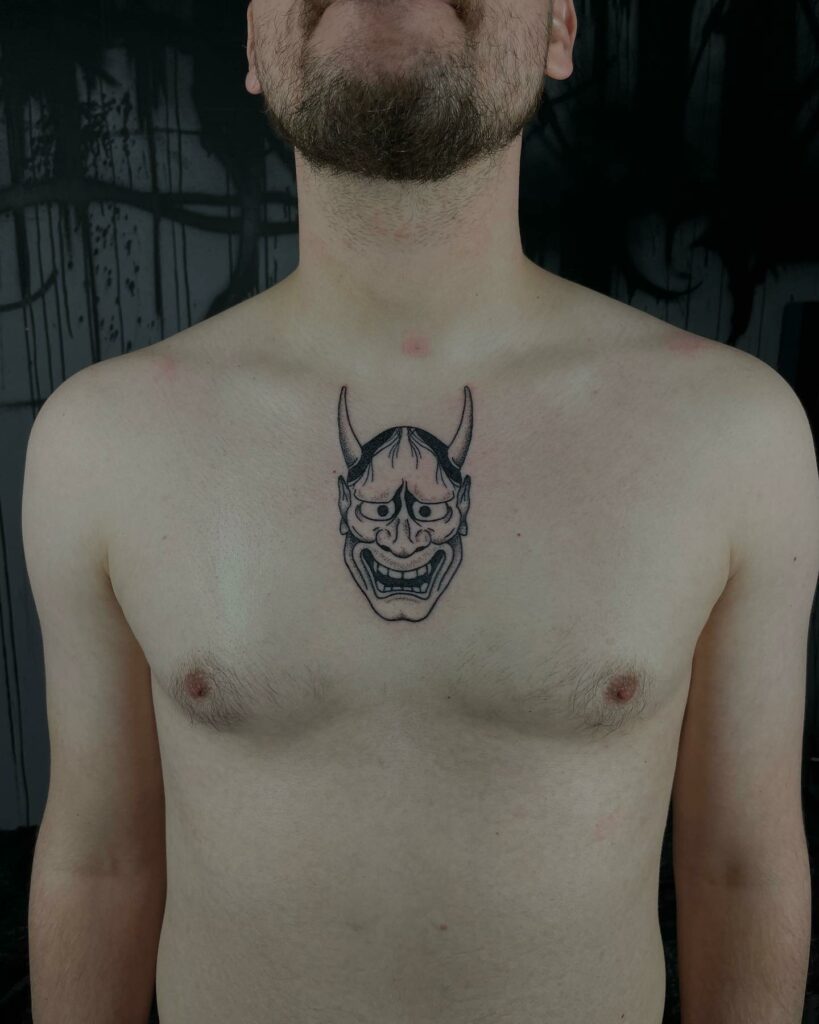 Feeling bold? Embrace your daring spirit with an Oni mask chest piece that oozes individuality. This isn't just a design, it's an embodiment of cool confidence and audacious dominance. One of my regulars, a surfer named Max, swears by his chest Oni tattoo. "It's more than ink," he'd tell me, "it's a symbol of my fearless love for the gnarly waves, dude!" If you, like Max, are drawn to art that uniquely expresses your take on beauty, this might just be your next piece.
Samurai Oni Mask Tattoo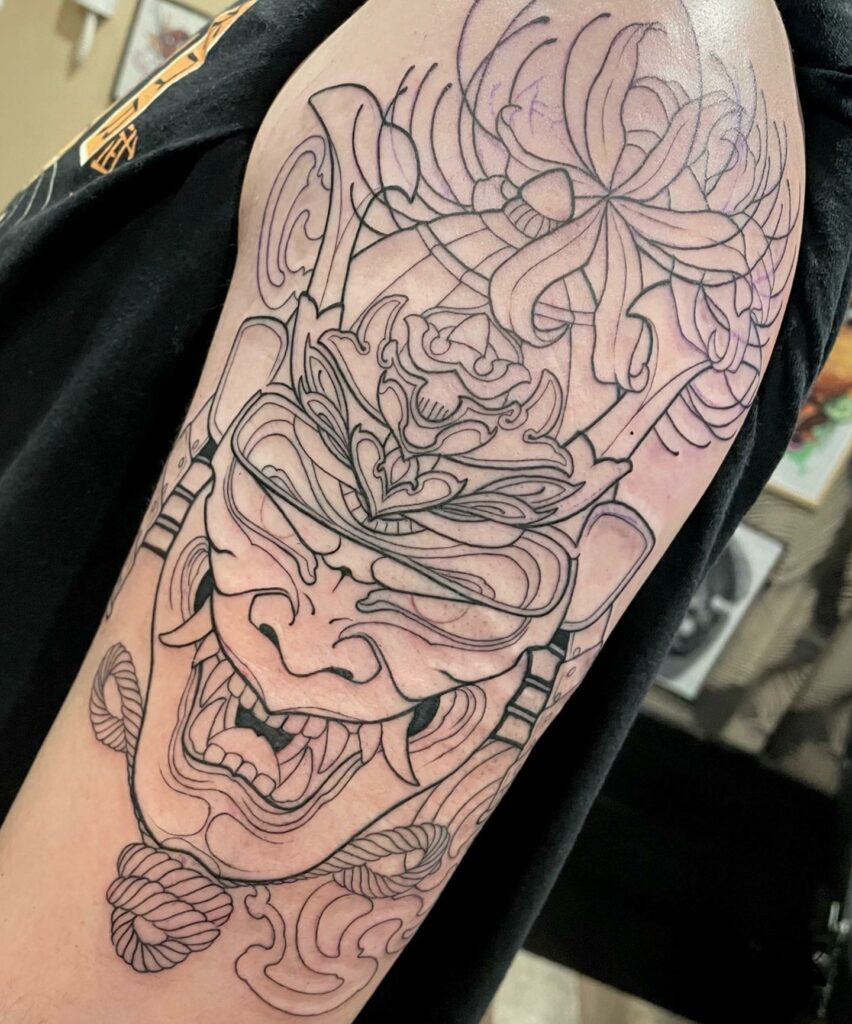 For those with an affinity for shoulder or arm pieces, the Samurai Oni Mask design is a delight. Unafraid of the needle's dance and eager for a fresh ink adventure? This design might just be your perfect partner. A friend and fellow tattoo enthusiast, Sam, proudly sports this piece and swears by its ability to ward off negative vibes.
Samurai Oni Mask Tattoo Over Chest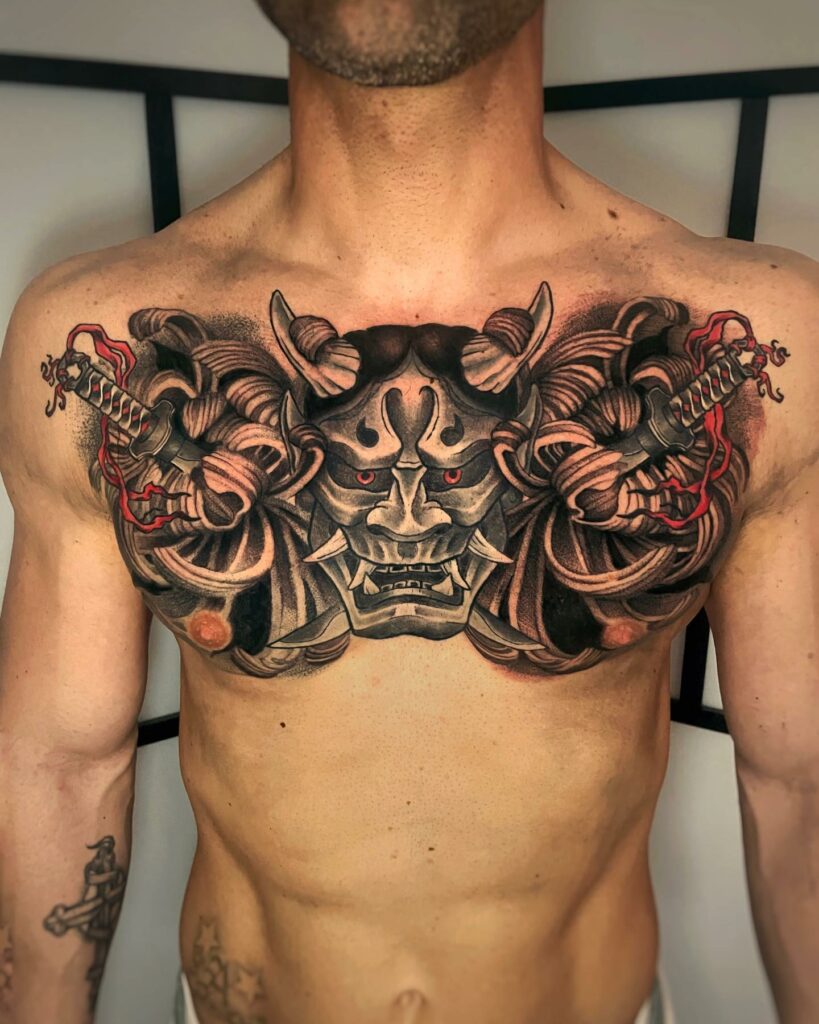 If you're a fan of chest art and black shading, this option presents a riveting visual experience. This design symbolizes life's battles – the good, the bad, and everything in between. Tattoo veteran, Mick, chose this piece during a personal renaissance. He found that it embodied his journey, serving as a daily reminder of his resilience and ability to navigate life's shifting sands.
Giant Red Geisha Oni Mask Tattoo
For those drawn to red – a color synonymous with power and passion – this Giant Red Geisha Oni Mask Tattoo is a dynamic statement piece. And if you're part of the group who find solace and strength in the spiritual world, you'll find this design especially intriguing.
Oni Mask Tattoo Sleeve Red Design
Oni Tattoos denote the devil's ability to mete out justice to wrongdoing. Don this design to flaunt your tough side and project a bold character. A friend of mine, a firefighter named Bruno, chose this tattoo as a symbol of his dedication to face any peril head-on. It's a testament to his life's journey and the challenges he's braved.
Oni Mask Tattoo Traditional Idea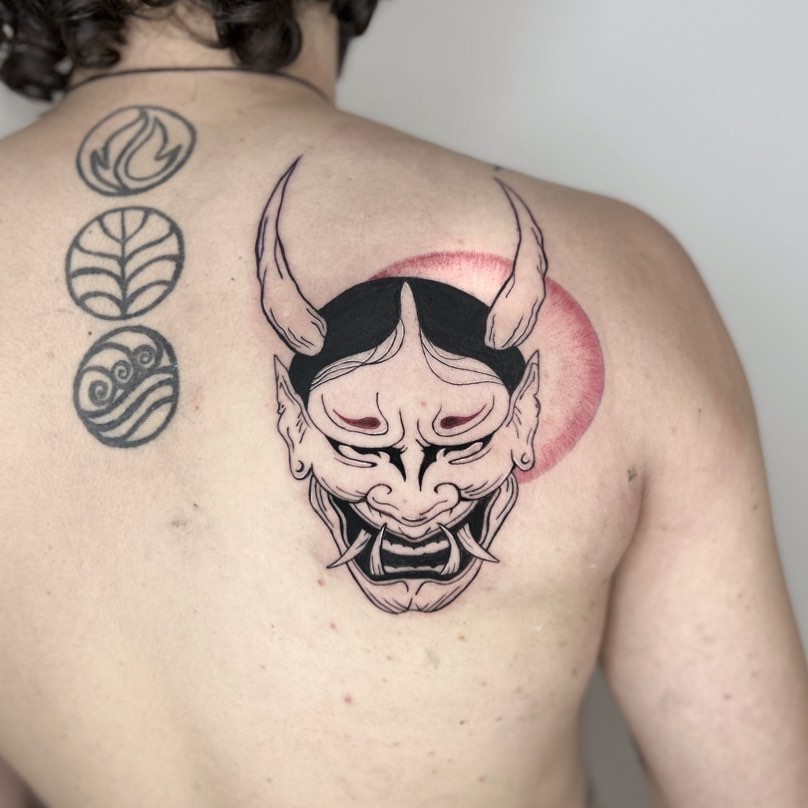 For the courageous souls ready to stand out, this striking and masculine design is a must. Just remember, as my buddy and local bartender, Tom, says, "Before you jump into this one, make sure your pockets and your patience are both deep!" This black ink design is a powerful choice that serves as a safeguard from negative influences.
Oni Japanese Mask Tattoo Over Back
Impressive back tattoos can add a unique dimension to your physique, especially if you're someone who's into fitness. And if blue's your hue, why not embrace it? As a lover of East Asian cultures, you'll find this design appeals to your cultural and aesthetic sensibilities while showcasing your bravery and protectiveness.
Oni Mask Tattoo Design Thigh Idea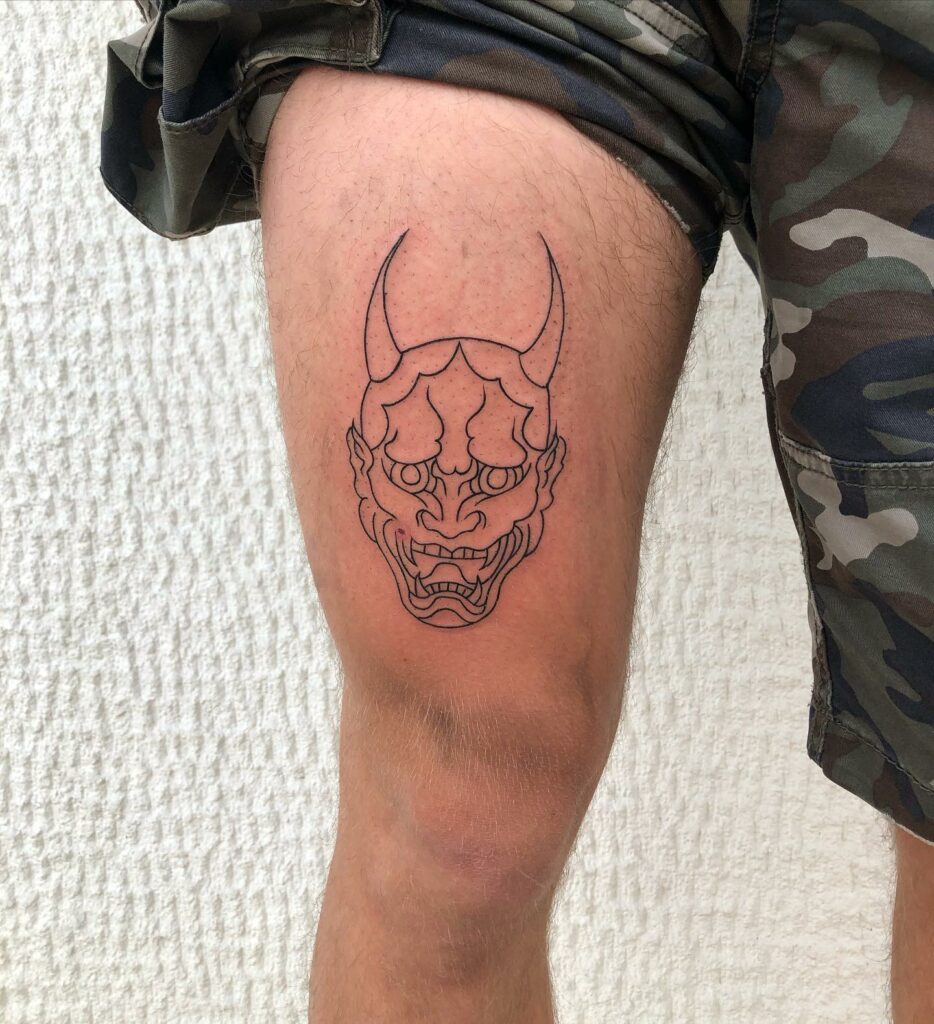 Thigh tattoos might be less common among guys, but who said you're just a regular Joe? This could be your stand-out piece, your beach-side conversation starter. My yoga teacher, Phil, decided to ink this design on his thigh as a testament to his belief in a higher power and protection against negative energies.
Black Ink Thigh Tattoo Oni Mask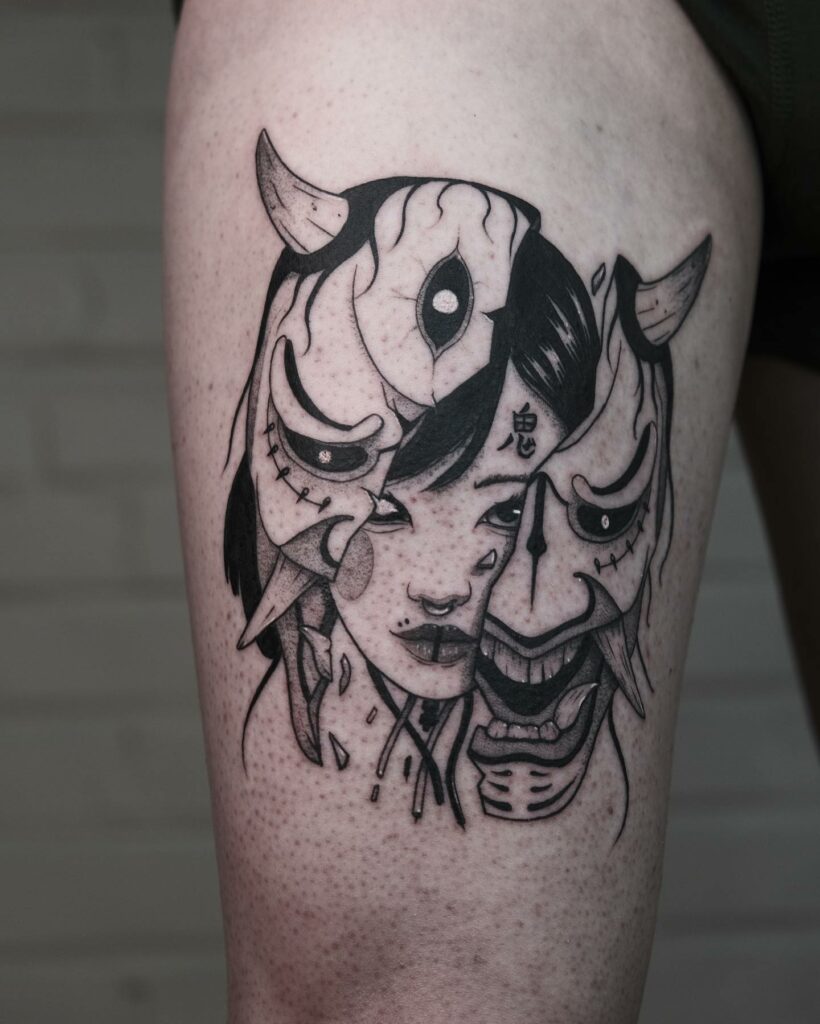 Finding a seasoned tattoo artist for this type of design is crucial. It's a complex piece that needs a skilled hand. But once done, it's a brilliant expression of will and hard work. Take it from one of my clients, a marathon runner named Lisa, who chose this as a symbol of her fight against life's adversities.
Oni Mask Tattoo Hand Idea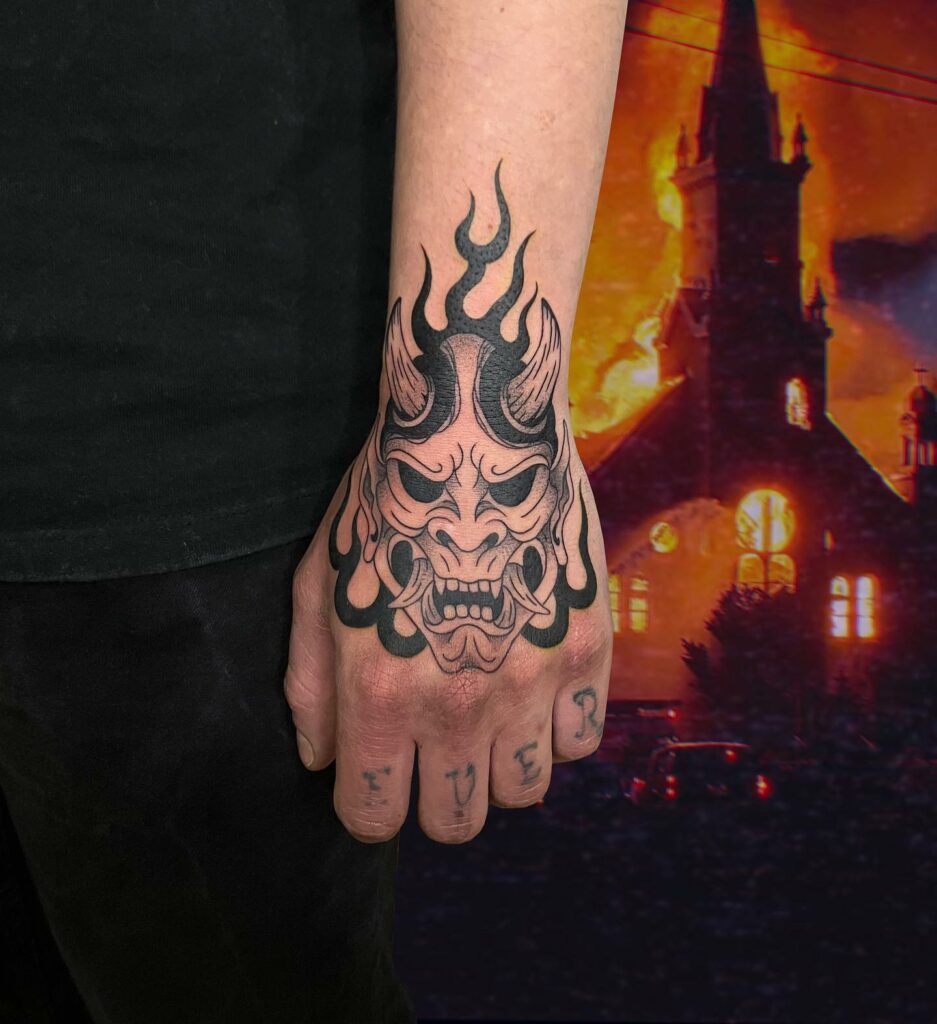 Fancy something bold and bright on your arm ? If your professional setting permits, this Oni Mask Tattoo is a way to stand out with a show of power and positivity. Much like Jerry, a local mechanic, who proudly wears this tattoo as a symbol of his energetic personality and protection against ill omens.
What Is Involved In Getting An Oni Mask Tattoo
Taking the plunge and getting an Oni mask tattoo is more than just walking into the nearest parlor and pointing at a picture on the wall. It's a journey, and it begins long before the first prick of the needle. Firstly, sourcing a reputable artist is crucial, one who not only has the necessary technical skills but also the cultural awareness to bring your vision to life respectfully. Study their portfolio, read reviews, and seek referrals from happy clients.
Next, comes the design and placement phase – a collaboration between you and your artist to balance your vision, your body's unique geography, and the intricate lines and color palette of the Oni mask. Your artist will be instrumental in adapting the mask design to suit different areas, whether that's the broad flat canvas of your back or the more intimate and curved terrain of a thigh or arm.
Finally, once your new tattoo is in place, comes the aftercare. Protecting your skin during the healing process is essential to maintain the vibrancy and longevity of your Oni mask tattoo. Listen closely to your artist's instructions: from keeping the area clean, using a recommended ointment to soothe and heal, to keeping it out of direct sunlight – these steps are as crucial as the tattooing process itself. Ultimately, the path to an Oni mask tattoo is a partnership between you, your chosen artist, and a deep respect for the rich cultural heritage that it represents.
Conclusion
Inking your skin with an Oni mask design isn't just a fashion statement; it's a declaration of your personal narrative, a symbol of your resilience, or a beacon of your spiritual leanings. Placement is deeply personal, ranging from the broad canvas of the back to the more intimate locales of the thigh or palm. The cost of this intricate artwork varies widely depending on size, complexity, and your artist's skill level – think anywhere from a few hundred to several thousand bucks. Yet, remember, folks, tattoos aren't without their risks – potential allergic reactions, infection, or even a sense of tattoo regret down the road. So, the real question isn't just where on your body an Oni mask fits, but where it fits in your story, your ethos. Ponder that, do your homework on your artist, and only then jump into the chair. Here's to the bravery of your journey, the lessons of your past, and the armor of your future Oni mask tattoo.