Hey there, tattoo enthusiasts! If you're looking for a tattoo design that represents love, the heart tattoo is undoubtedly the way to go. It's an iconic symbol and is especially popular among women. The best part? Heart tattoos come in a variety of styles and shapes, and each design carries a unique meaning. Even the colors used for the tattoo play a significant role in the message the tattoo sends. A black heart tattoo represents grief and sorrow, while a bright red one symbolizes love and friendship. No matter what style you choose, a heart tattoo is a fantastic way to show your loved ones how much you care. To help you out, we've gathered some of the best outline heart tattoo designs for your inspiration.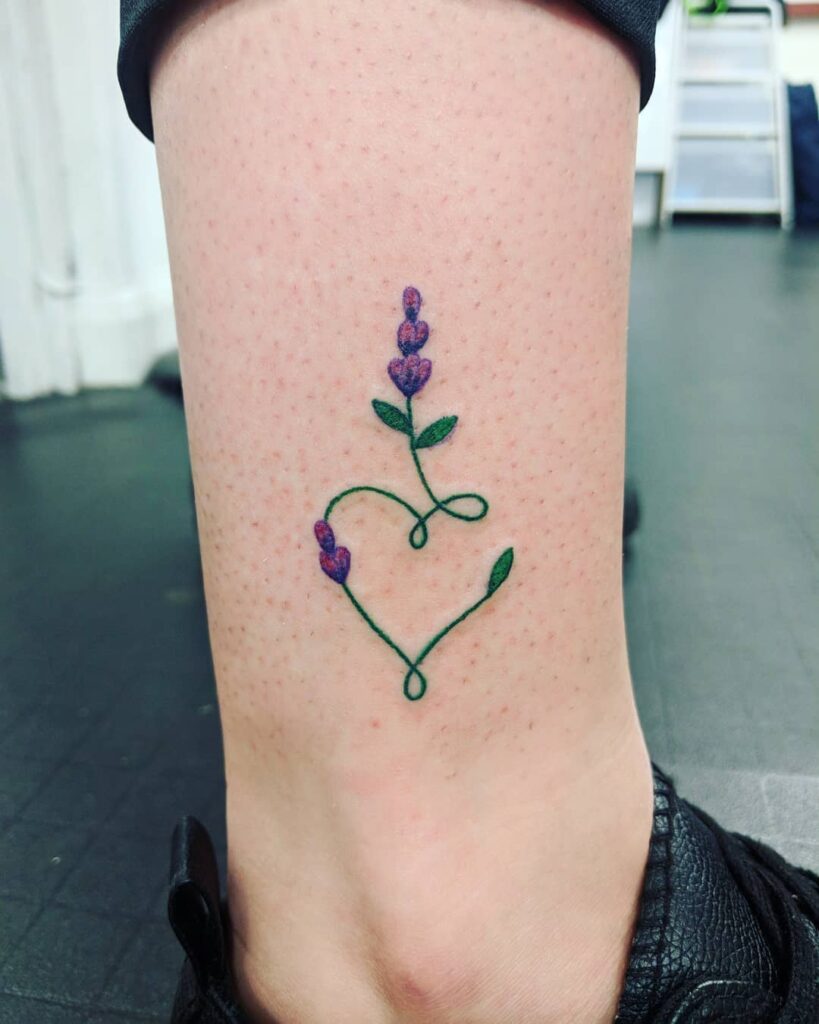 Heart outline Tattoo on Face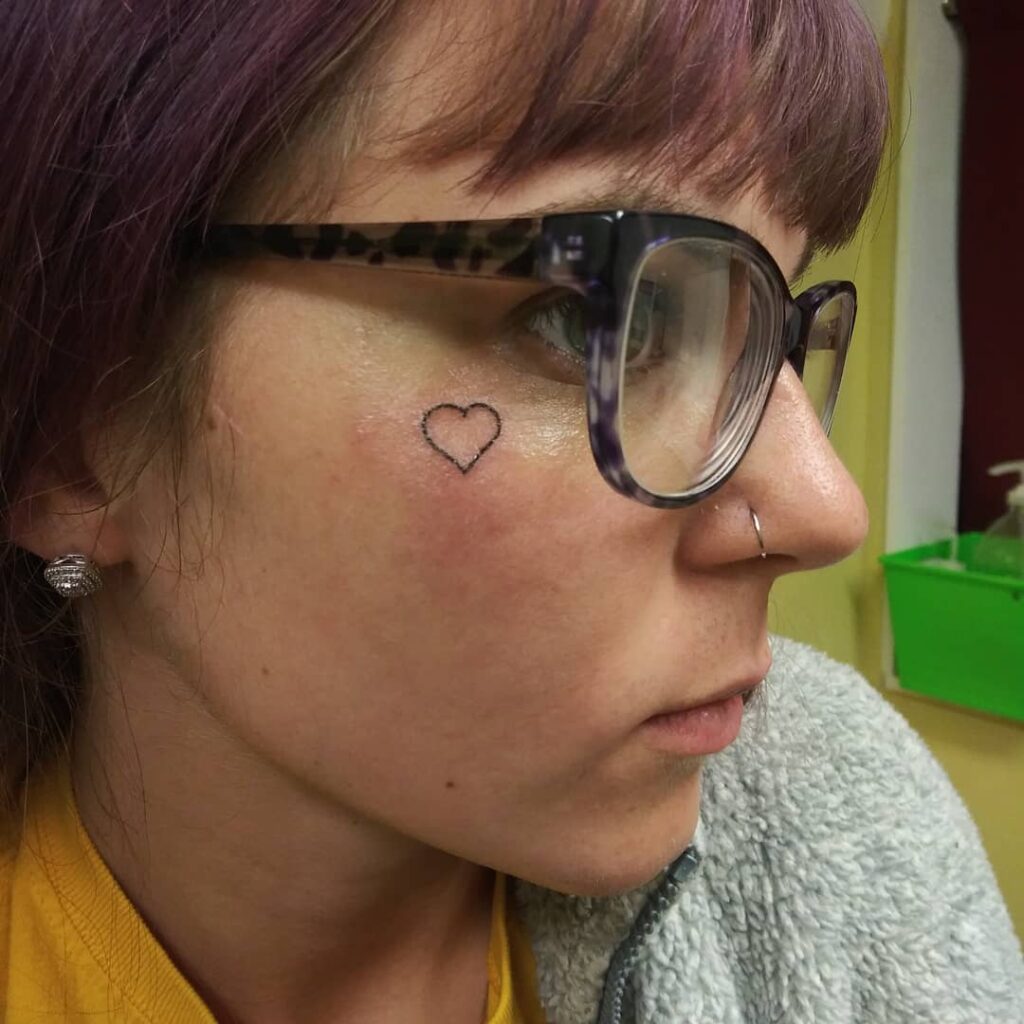 The world of tattoos has seen a surge in popularity of face tattoos, which have been embraced by many celebrities including Post Malone and Lil Wayne. Their boldness has inspired others to get inked on their faces too. However, it's important to remember that a face tattoo is a lifelong commitment and not a decision to be taken lightly. With that said, the heart outline tattoo near the woman's eyes in the image above is a perfect example of how a small, minimalist design can look stunning on the face. The tattoo artist used black ink to outline a simple yet attractive heart, proving that even the most straightforward designs can make a statement. If you're looking for a heart tattoo that is both minimalistic and bold, this design may be the perfect fit for you.
Heart Outline Tattoo With Paws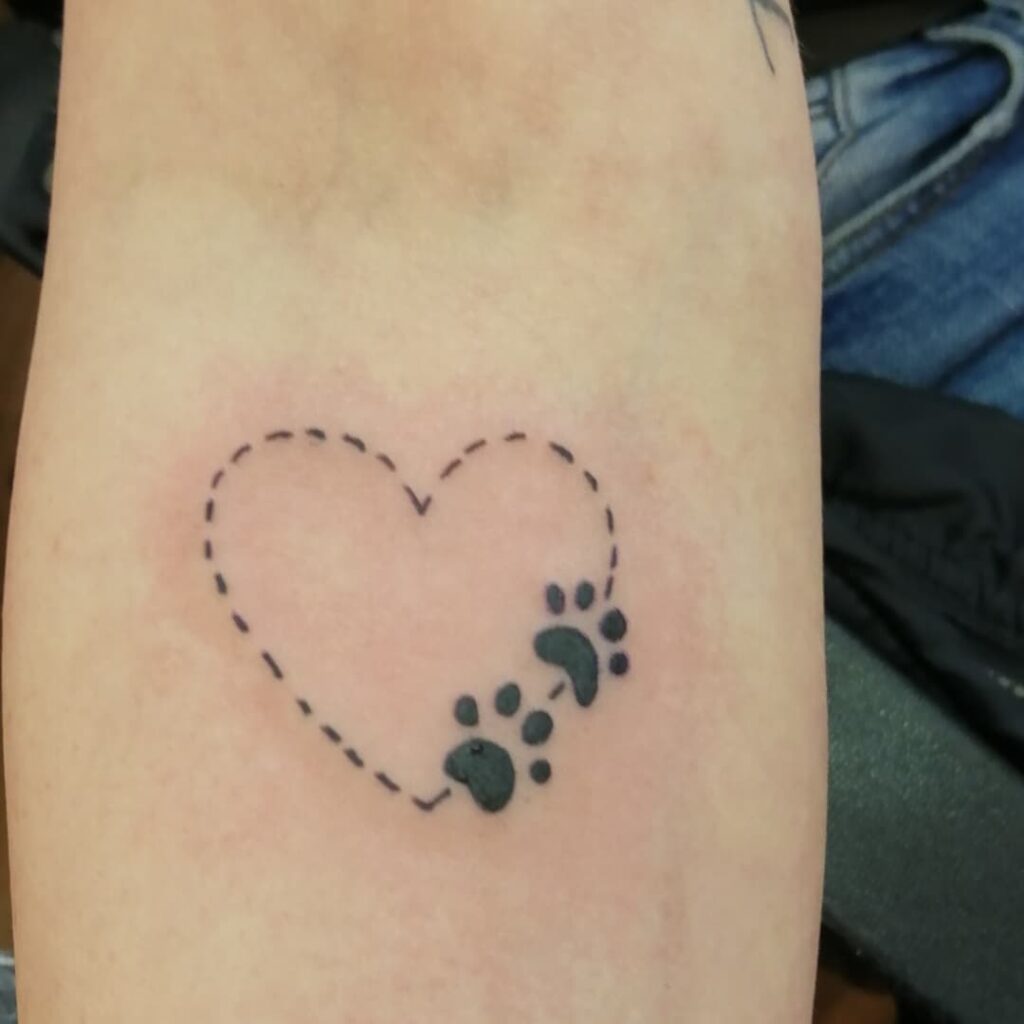 Paw print tattoos are a popular choice among animal lovers, and for good reason! They're a great way to show your love for your furry friends, and they don't have to be limited to just cats and dogs. In fact, you can choose any animal that holds a special place in your heart. In this image, we see a beautiful example of a heart outline tattoo on the forearm, with two paws beside it. The contrast of the black ink used for the paws and the delicate outline of the heart is simply stunning, giving it a feminine touch. You can also personalize your tattoo by choosing your favorite color for the heart outline. So, if you're looking for a unique way to honor your love for animals, a paw print tattoo may be the perfect choice for you!
Tiny Heart Tattoo On Wrist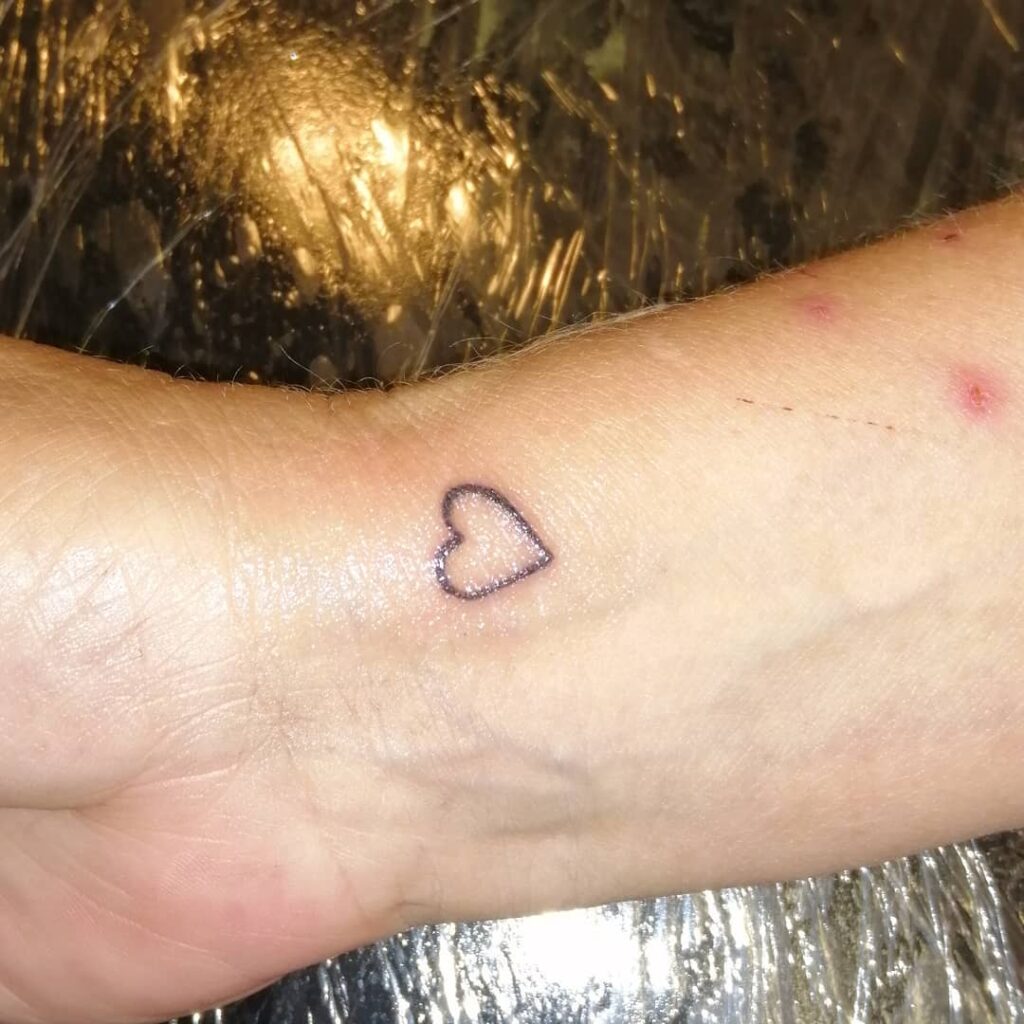 A heart outline tattoo may be the perfect design for those who prefer subtle, understated tattoos over larger, more dramatic ones. This tattoo design looks particularly cute on the wrist, as seen in the image above. Simple designs like these are popular among women, but they can also look great on men. The artist used only black ink to create this minimalist design, which adds to its overall appeal. This type of tattoo can be a great choice for first-time tattoo enthusiasts. You can personalize your heart outline tattoo by choosing any bright color, such as pink or red, to give it a more creative and personalized touch.
Two Heart Tattoos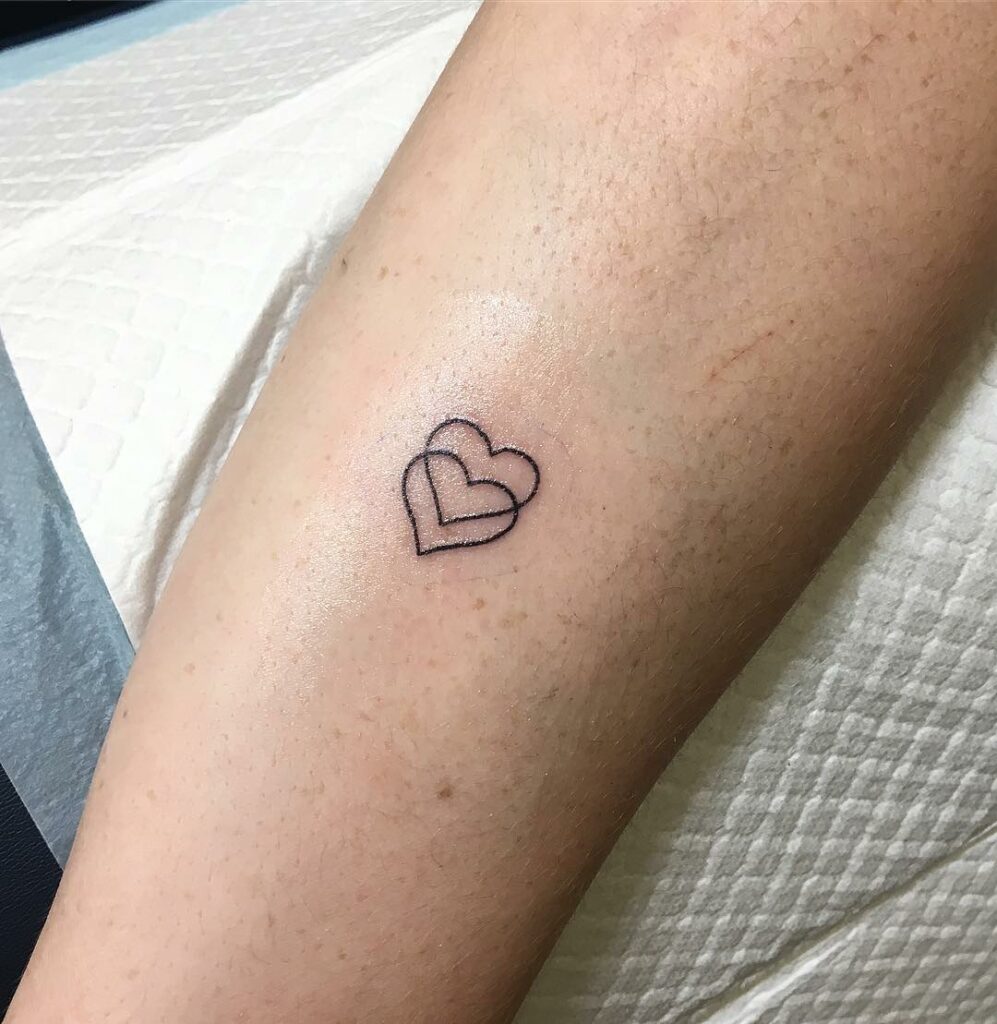 Creating a unique and exciting design for your small heart outline tattoo is easier than you think. Take a look at this stunning example of two tiny interconnected hearts. Not only is this design aesthetically pleasing, but it also represents strong emotions of passion and love. While the tattoo artist here has used black ink, you can personalize your tattoo by incorporating a combination of black and white ink, resulting in a remarkable design. If black and white is not your thing, you can opt for contrasting colors to make your tattoo pop. The wrist, ankle, and neck are popular spots for these types of tattoos. Consider getting creative and add a touch of personalization to your heart tattoo.
Quotes and Heart Tattoo Designs
The heart tattoo is undoubtedly a classic design that has been around for ages. However, what makes it so versatile is the fact that it can be used in so many ways to express different emotions and sentiments. In the image above, we see a beautiful combination of a simple heart outline tattoo and a quote that reads, "Everything Happens For The Best." This kind of tattoo can reveal a lot about the wearer's personality, such as their positive outlook on life and how they approach challenging situations. If you have a favorite quote that inspires you, incorporating it into your design can make your tattoo even more meaningful and unique. So, whether you're a fan of minimalist tattoos or prefer something more elaborate, a heart tattoo paired with a thoughtful quote is a perfect way to express yourself.
Heart Outline Tattoo Drawing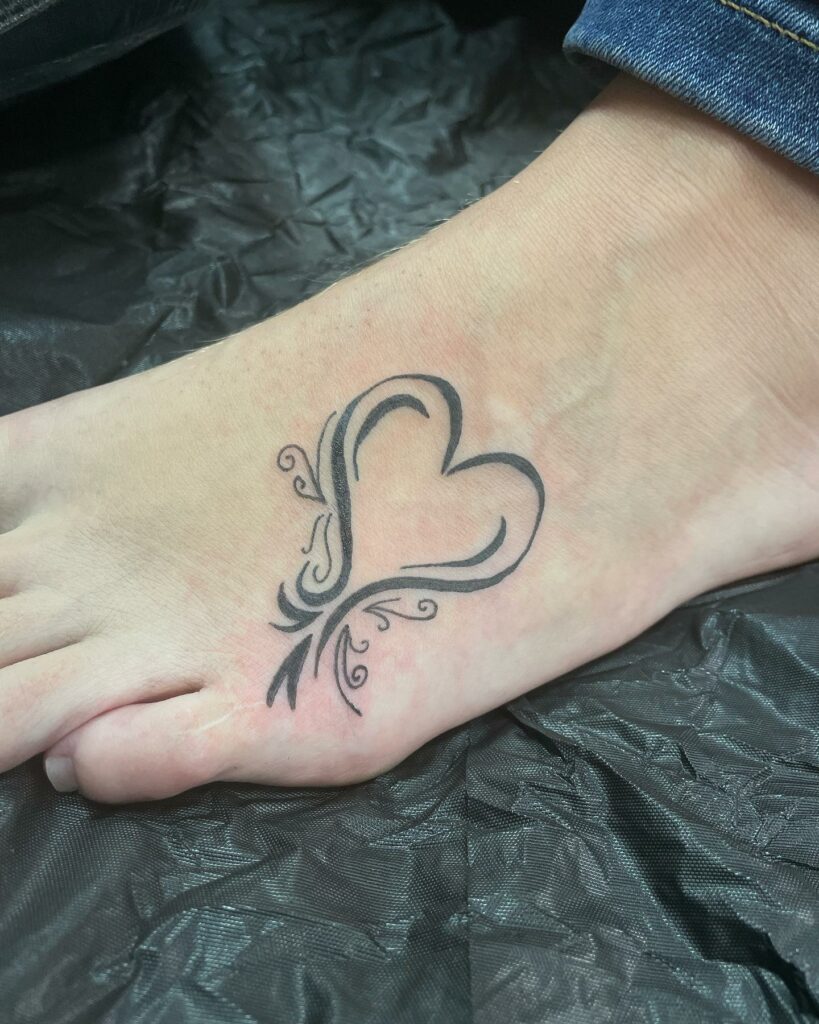 The art of tattooing has come a long way, and creative designs have taken over the simplistic ones. In this image, we see how a simple heart outline tattoo has been transformed into an intricate work of art. The artist has used fine lines and creative patterns to make it stand out. The tattoo is placed on the foot of the individual, which makes it even more unique. If you're looking for inspiration for your next tattoo design, this could be a great reference. You can add your own twist by incorporating your favorite colors. Just make sure the colors you choose complement the design and convey the desired message.
Broken Heart Tattoo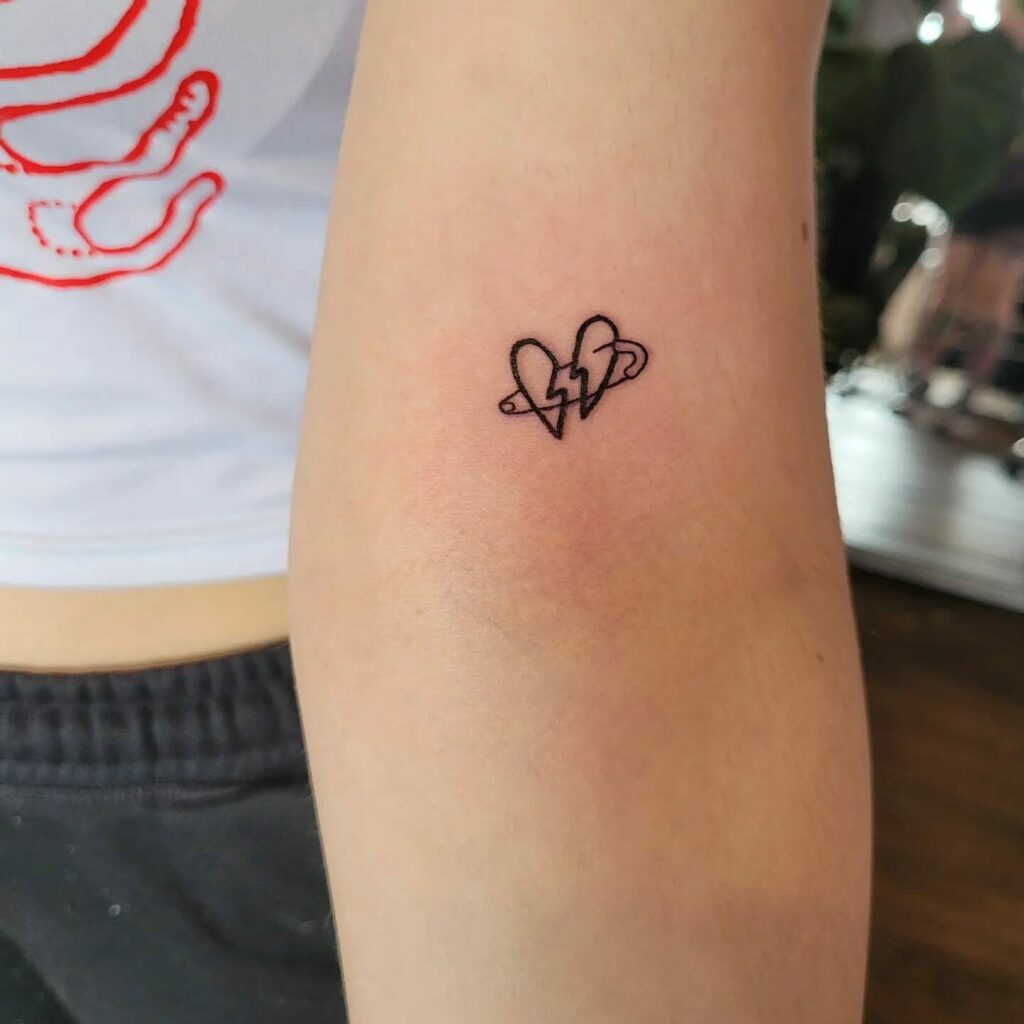 Heart tattoos can convey a wide range of emotions, not just love and passion. One such example is the broken heart tattoo, which can represent heartbreak and pain. In the image above, we can see a unique and intricate design of a broken heart, stapled together. While this tattoo design might seem negative, it can also serve as a powerful expression of grief and a reminder of the wearer's strength and resilience. It can also act as a guard against future heartbreak and serve as a reminder to cherish relationships. The tattoo is located on the wearer's forearm and although it is a small and cute design, it conveys intense emotions. If you are considering a broken heart tattoo, it is important to understand its meaning and the emotions it can evoke.
Anatomical Red Heart Tattoo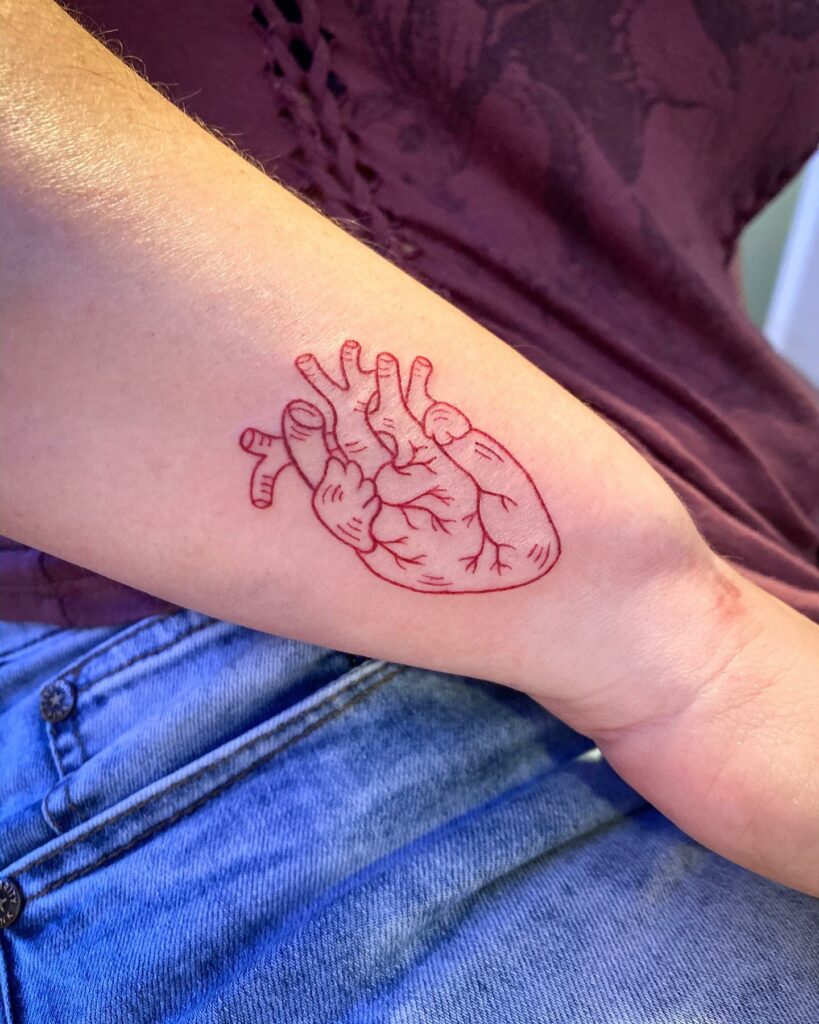 Heart tattoos are a great way to express emotions, and the anatomical heart tattoo is an excellent example of this. This type of tattoo design is mechanical and can be used to depict a strong bond of friendship or to showcase your emotional side. It also has a deeper meaning, which is that even if someone appears tough and unapproachable, they still have a heart beating inside. The image shows a detailed and striking red outline tattoo of an anatomical heart on the wrist. The bright red color accentuates the nerve endings in the heart, making it look vibrant and eye-catching. This design is a great addition to your heart tattoo collection and can serve as an inspiration for your next tattoo idea.
Cupid Arrow Tattoo
The fascinating history of tattoo art is full of symbolism and mythology. One of the most beloved symbols in Greek mythology is Cupid, the God of love and desire. According to legend, Cupid would shoot his victims with arrows, making them fall deeply and passionately in love. Today, Cupid's arrow is one of the most popular tattoo designs, especially for couples. It represents the unbreakable bond between two individuals who are hopelessly in love with each other. In this image, we can see a small heart symbol that has been pierced with Cupid's arrow. This design is an excellent choice for anyone looking to express their love and commitment to their significant other through body art.
Small Heart Tattoo On Fingers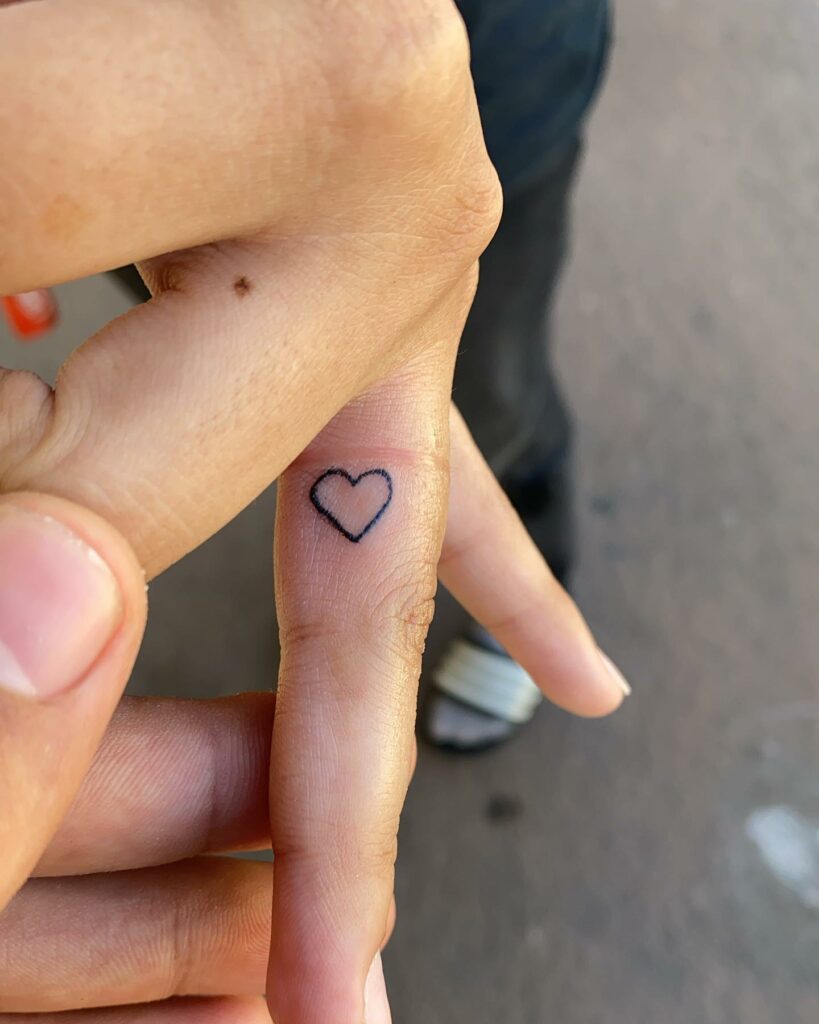 One popular placement area for tattoos among women is on the fingers. These small and charming tattoos not only look good but are also very aesthetically pleasing. In this image, we can see a delicate and petite heart outline tattoo placed on the innermost region of the finger. However, it's essential to note that finger tattoos are prone to fading faster than other tattoos, so periodic touch-ups may be necessary to maintain the design's vibrancy.
If you're new to the world of tattoos and not sure where to start, a heart outline tattoo can be an excellent option for you. These tattoos not only look adorable but are also effortless to design and typically don't cause much pain during the process.
feature image from Pinterest – Want your tattoo to look brighter? Try "Tattoo Balm"