Map out exceptional tattoo designs with outline stencil rose tattoo drawings and create masterpieces of your favorite elegant flower rose!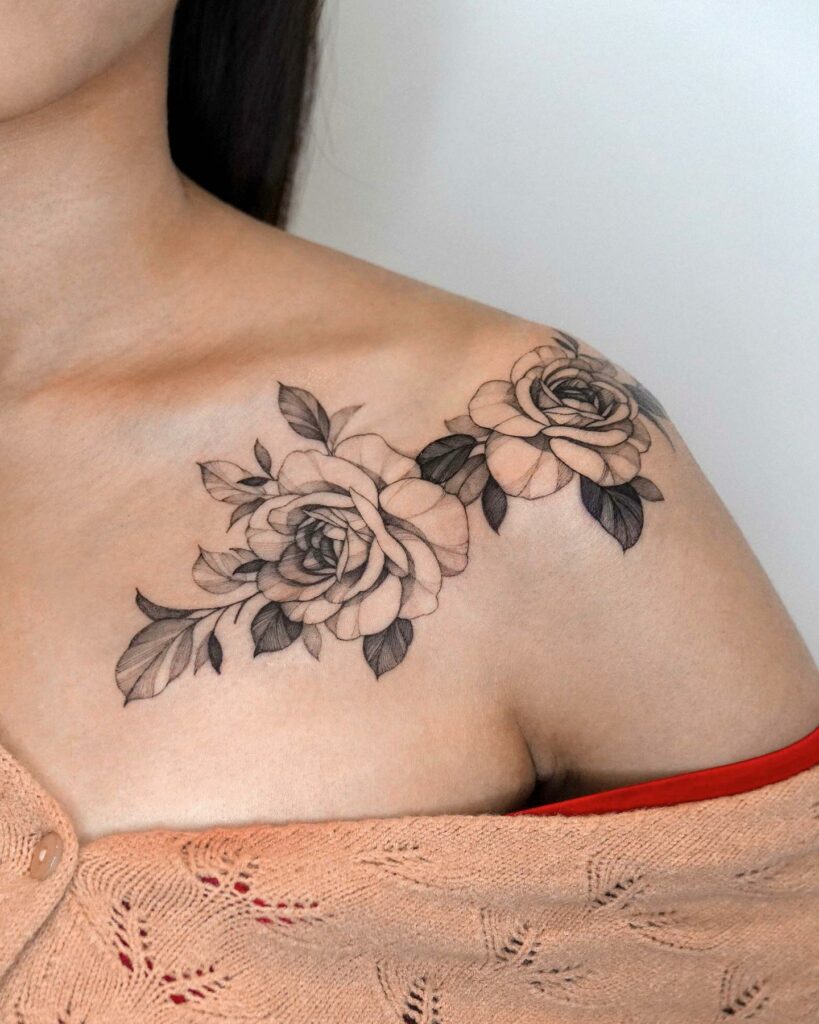 Tattoo stencil enables tattoo accuracy for artists to follow and create exceptional masterpieces.
The beauty of any tattoo shines brightest when accomplished with precision and neatness. Tattoo stencils introduce this precision to body art, using a stencil to create bold outlines and following the same to create vibrant art pieces.
Just like an architecture's build starts with a simple blueprint, a tattoo creation starts with its tattoo stencil. Tattoo stencils are used to create desired artwork and transfer it safely to the skin to follow it further to create body art. In order to keep the design as authentic as possible, artists draw intricate designs on tattoo stencil sheets and later transfer them onto the skin to include every detail for precision. You cannot erase tattooed mistakes, but a tattoo stencil can help minimize any possible error with a safe and best experience.
Rose tattoo stencil is one of the most famous art pieces among tattoo artists, known for its elegance and graceful build. Roses carry external as well as symbolic beauty, known for symbolizing courage and love. Tattoo artists intending to create complex rose tattoos can go for tattoo stencils and recreate their favorite artwork with prime accuracy.
Are you interested in getting roses tattooed? Then you are at the right place! Find a gorgeous outline stencil rose tattoo drawing to get inspiration for your next tattoo!
Roses And Sword Tattoo Stencil Art
Roses have been a part of royal settings in fiction and non-fiction for a long period of time, thanks to their velvety texture and elegant structure. Its varying symbolism and compelling looks make it essential to feature in art pieces and enhance their beauty. A similar art piece can be found above, flaunting the beauty of roses with the fierce look of a sword.
The rose tattoo stencil uses gray and black colors to emphasize the original color and highlights of the flower without exactly using those colors. It is nearly impossible to exhibit a rose's beauty without its signature color, but this tattoo makes it possible. Add this beautiful tattoo to your collection to celebrate the simultaneous existence of courage and elegance.
Ornamental Bloomed Rose Tattoo Stencil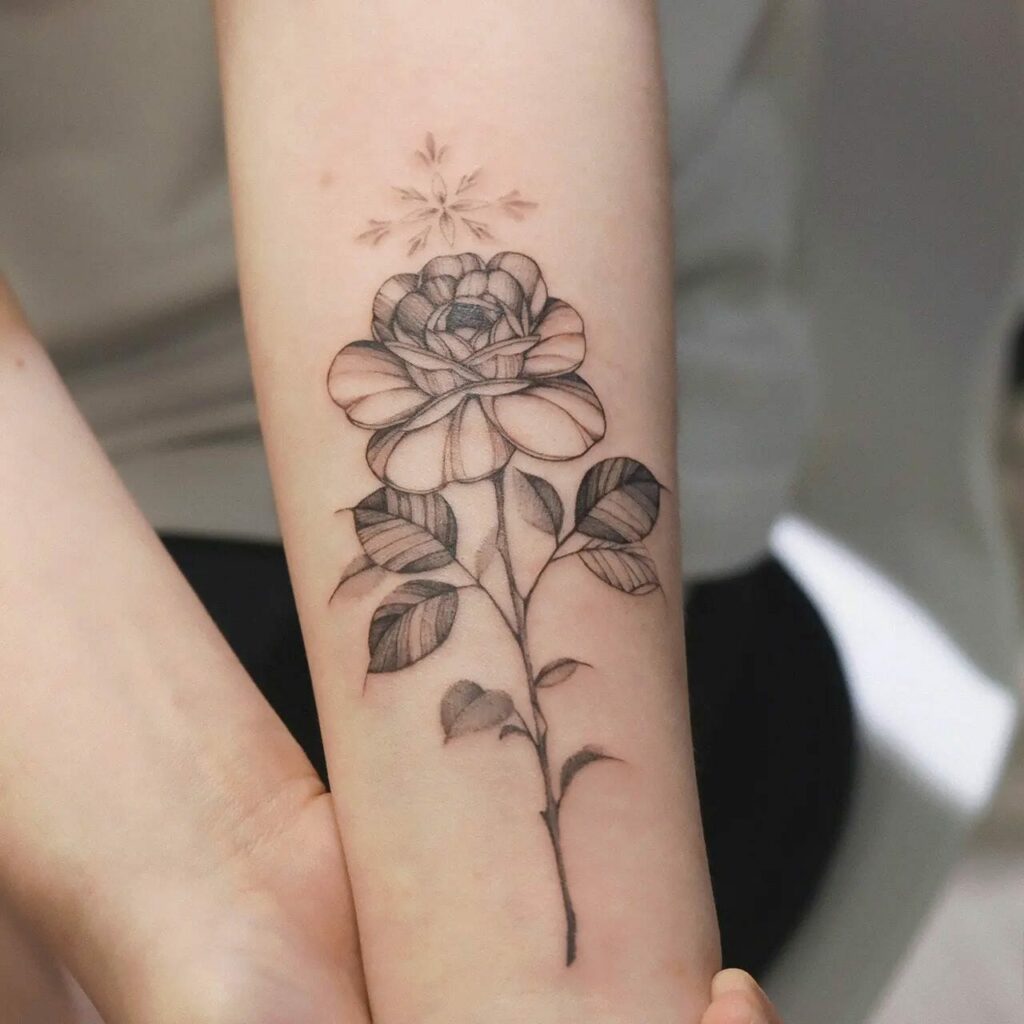 Ornamental tattoos are delicate pieces curated together to form a cohesive artwork that is visually compelling as well as unique from usual art styles. The ornamental rose tattoo stencil is yet to find its vibrancy in colors. However, the artwork still appears entirely cohesive, using shades of gray and highlighting differences in spaces like leaves and petals.
In order to blow life into this tattoo stencil, an artist can choose a color aligned with the required look. If the artist aims for the piece to appear optimistic, bright colors can be incorporated into the art piece. At the same time, if it intends to stay darker or suitable for a darker theme, then dull red or greens can be incorporated into the artwork.
Majestic Stencil Rose Tattoo Outline Drawing
Tattoo stencil being a savior for tattoo artists, enables them to play around with colors, shapes, and details without fearing mess-ups. The given tattoo has followed the same and incorporated a complex lion illustration as the face of the tattoo, surrounded by rose tattoo stencils. The tattoo stencils deliver a message of strength through the lion, while the rose reminds one to retain courage with elegance, making the entire illustration balanced and perfect to get on skin.
The tattoo stencil follows a thin line art with bold black used scarcely to emphasize certain features. As found in other artworks, the tattoo stencil does not incorporate colors. Therefore, one can either support vibrant colors inside artwork or keep it as it is with thin line art, which looks complete on its own.
Burning Flower Drawing Stencil Rose Tattoo Outline
In order to explore passion and love, the tattoo artist has used a burning rose tattoo stencil that appears extremely intense, giving off the vibe of an intense, dramatic movie. The tattoo stencil has exceptionally captured the realism of the flower as the black and white ink does not hide its beautiful texture and shape.
Although the color is required to compile the tattoo in its prime form, shades of black and gray work supremely well to exhibit the drama of this tattoo. As others describe the beauty of the rose for its lovely color and shape, you can take inspiration to showcase a different side of the flower.
Realistic Rose Tattoo Stencils With Smoke
Another smoky realistic rose stencil tattoo yet features the flower in a completely different light. The tattoo features an entire stalk of rose with a moon drawn in a style that makes it appear translucent and pretty unique from other generic rose tattoo designs.
The tattoo artist used a darker theme to describe the tattoo and illustrated the same in a gothic style. The abstract tattoo style features a gentle smoke erupting from the rose head, which is extremely delicate to recreate through free-hand tattooing. Thanks to a stencil, the tattoo could come to life with precision. This is your sign to play around with styles and get your own tattoo stencil done by an expert for unique body art.
Phases Of Rose Tattoo On Hand
There is nothing more beautiful than witnessing the growth of a young plant, right from its growth to the gentle blooms it offers after months. Rose stencil tattoo ideas also feature beautiful phases of rose tattoo stencil, which are found to have incorporated all major evolutionary changes in the life of a rose.
The tattoo not only describes the beautiful process of the flower growing, but it also signifies the love, life, and growth humans go through during different phases of life. As roses require pruning, watering, and gentle care with other things to resist fluctuating temperatures, human lives also seek care and comfort to rise through tough parts of their life towards a smooth transition to the next phase!
Snake And Realistic Rose Outline Stencil Rose Tattoo Drawing
Adding a bit of vicious energy to our list of gentle rose tattoos, the tattoo stencil above explores a darker illustration theme with its related symbolism, a snake. Illustrations featuring contrasting themes offer a fresh perspective on things. The artwork above manages to do the same, putting together the elegant beauty among flowers, roses, and the most vicious animal of the kingdom, snakes.
Besides the beautiful living components of the tattoo, the stencil also features an intricate vase which compels people to explore the aspects of this tattoo in-depth. The grainy texture of the tattoo stencil brings an old-world charm to the illustration, elevating the entire look of this tattoo.
Traditional Rose Tattoo Stencil With Snake
Traditional style tattoos never go out of trend, so why not get one to complete your tattoo collection! This stencil rose, and snake tattoo features a vicious combination of a cobra emerging out of a rose in bold, black color. While the artwork is a simple illustration of a snake and rose, the use of bold outline and black shades on the flower deliver an overall threatening vibe, a fresh change from the usual elegance of floral tattoos.
If you are looking for a simple yet unusual tattoo design, then add this to your tattoo collection and flaunt the stencil tattoo design among various other tattoos in your collection.
The intricate sleeve tattoo is dedicated to engineers and tech nerds who would love to adorn their sleeves with circuits, numbers, and gears. While the rose is not the main hero of this stencil tattoo, it enhances the beauty of the sleeve, siding with a skeleton surrounded by numbers and morse code-like dot work.
Tattoos like these are hard to find, so pin out elements that catch your eyes and incorporate them into your own collection. The sleeve stencil tattoo extends diverse ideas you can use for an exceptional personalized tattoo, so many sure you make efficient use of it.
Rose Tattoo Stencils With Snakes And Sword Tattoo Outlines
Rose stencil tattoo list is empty without a design spread across the span of your chest. This tattoo plays around with multiple elements, with a rose as its hero, surrounded by vicious snakes and swords protecting the delicate flower. You can switch the quote according to your preference and beliefs to make it more personal and relatable.
The tattoo artist has managed to create extremely precise symmetry amid different elements of the tattoo; therefore, trust a reliable tattoo artist if you are going for a similar pattern.
Rose stencil tattoos have the power to capture fresh and nostalgic vibes at the same time, so try and include one on your tattoo bucket list. Rose stencil outline tattoos will ensure the precision of your desired artwork, so ask your tattoo artist to consult with you regarding tattoo stencils and then proceed with the detailed tattoo process!
feature image from Pinterest – Want your tattoo to look brighter? Try "Tattoo Balm"