Hey there, tattoo enthusiasts! Are you on the hunt for a unique and meaningful tattoo that celebrates self-love? Look no further because we've got some awesome self-love tattoo ideas for you to explore!
Let's face it, loving ourselves isn't always easy in today's world. We face a constant barrage of negativity, from social pressures to hateful rhetoric, that can really take a toll on our mental health. That's why it's more important than ever to prioritize self-love and acceptance.
A self-love tattoo can be a powerful way to remind yourself to always stay positive and put your own well-being first. These tattoos are all about spreading a message of happiness, love, and positivity, and there are so many unique designs to choose from.
Whether you want a simple and subtle reminder or a bold and vibrant statement piece, there's a self-love tattoo out there that's perfect for you. And for those looking to share the love with a partner or friend, there are even matching tattoo ideas that celebrate the power of connection and healing.
So, don't hesitate to make a strong statement with a self-love tattoo that speaks to your values and personality. Check out the ideas below and get ready to fall in love with these inspiring designs!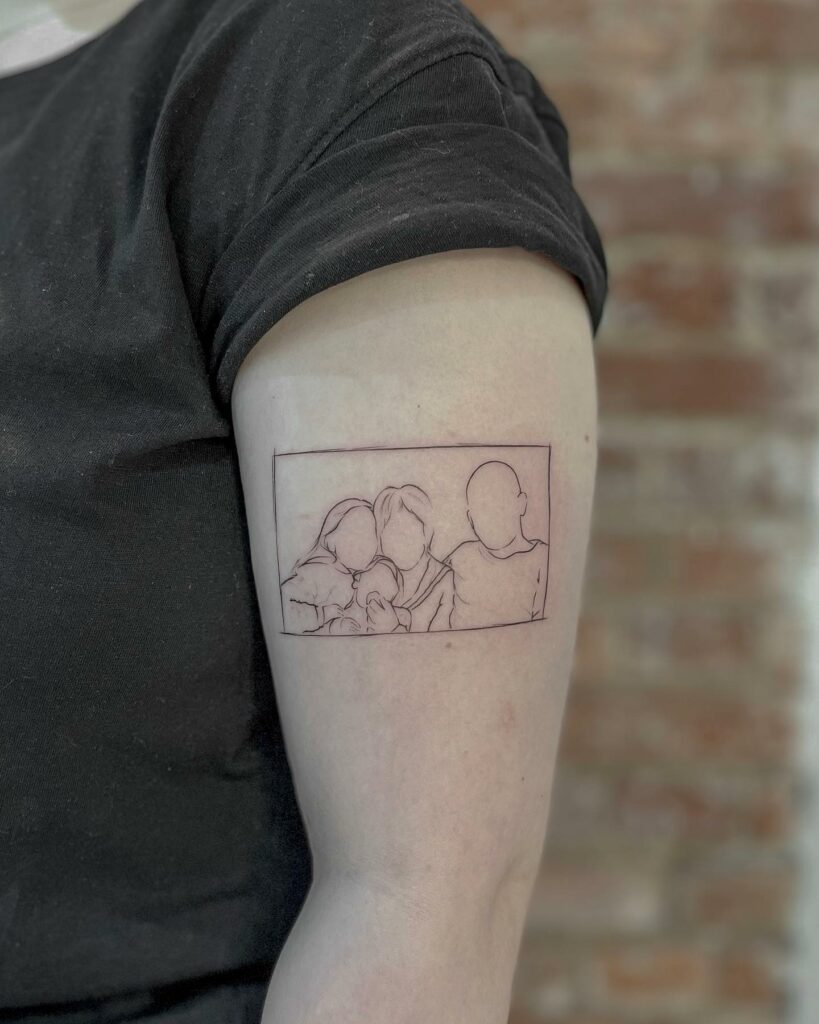 Body Outline Badass Easy Tattoo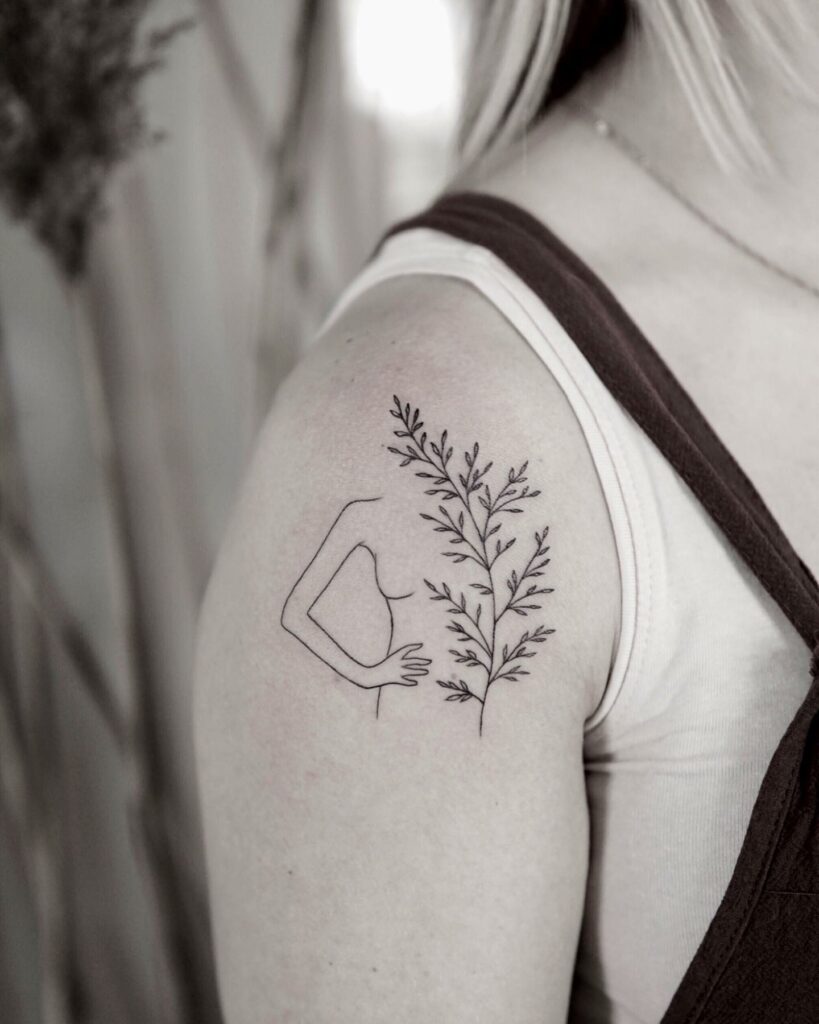 Looking for an edgy and straightforward tattoo design? Consider a body outline tattoo with a plant stem on the side! Not only are outline tattoos simple, but they also hold deep meanings. They are one of the most elegant, effortless, and beautiful tattoos that you can have. The great thing about outline tattoos is that you can get as creative as you want by adding as many items as you like to symbolize certain things. Plus, you can customize the tattoo to your liking and get it inked on your shoulders, back, or arms. This tattoo design is perfect for those who want a meaningful yet stylish tattoo that can be easily personalized.
Simple Camping Tattoo Stencil Idea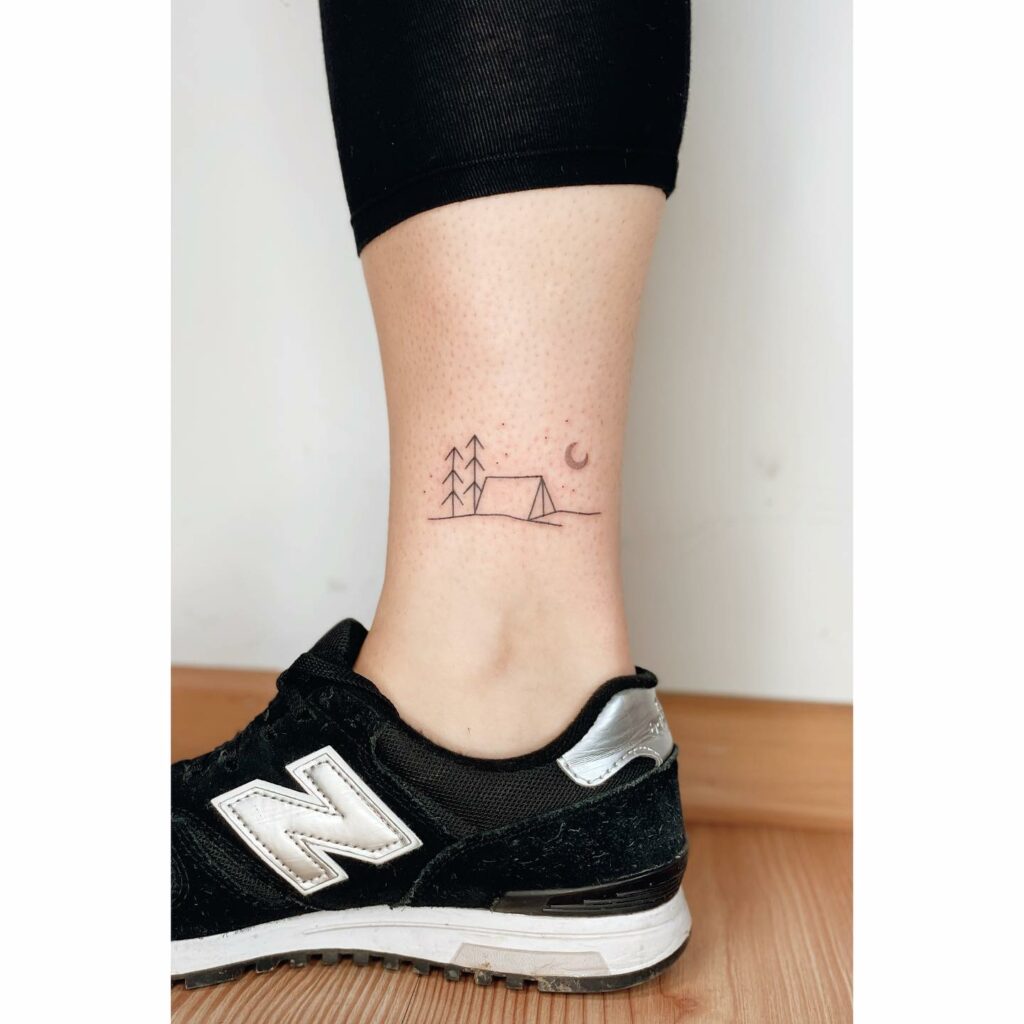 If you're new to the world of tattoos, intricate designs may seem intimidating. If you're looking for something simple yet meaningful to express yourself, this camping-themed outline tattoo is a great place to start. Featuring a serene campsite complete with tents, trees, and celestial bodies like the moon and stars, this design is perfect for nature lovers and camping enthusiasts alike.
Not only does this tattoo showcase your adventurous side, but it also represents your love for the great outdoors. The best part is that you can choose to have it inked anywhere on your body. Despite its simplicity, this tattoo is both meaningful and stylish and can be customized with other elements, such as adding color, to make it even more special.
Little Angels Outline Tattoo
If you are on the lookout for a tattoo that is simple yet captivating, then minimalistic designs on the thigh might pique your interest. This angel tattoo stencil portrays two angels and embodies the essence of joy, innocence, love, wrath, and playfulness. Angels are often associated with being messengers of God, making this tattoo a perfect choice for those with a spiritual inclination.
While angels hold different meanings, you can customize this tattoo to suit your preferences while still maintaining its symbolic representation. This design can be inked on various body parts, such as the arms, shoulders, or back, and will complement any style. Regardless of how you choose to wear it, this tattoo is sure to evoke a sense of peacefulness and serenity.
Cute Dog Stencil Tattoo
Love is often described as boundless and pure, and while it may be hard to define, it can certainly be expressed through art. Outline tattoos are a great way to showcase love in a simple yet impactful way, such as this tattoo stencil featuring a cute dog and their guardian. The tattoo is both detailed and straightforward, representing the pure bond between human and animal. The design also features a red heart at the center of their linked hands, adding a touch of love and affection to the overall look.
This heartwarming tattoo can be personalized to your liking, making it perfect for showcasing your love for your furry companion. Our pets hold a special place in our hearts, and this tattoo is a beautiful way to show just how much they mean to us. Whether you choose to get it inked on your arms, ankles, shoulders, or back, this tattoo is sure to make a statement and serve as a reminder of the bond you share with your pet.
Heart And Flowers Outline Tattoo
Tattoos have always been a unique and expressive way of showcasing one's individuality, and they hold deeper meanings that go beyond their physical form. This tattoo design represents the journey of self-healing and growth, which is an important aspect of our lives. The tattoo portrays a broken heart that is hugging itself, and through the cracks, flowers are blossoming, symbolizing the process of self-healing and the beauty that arises from it.
This tattoo is an excellent choice for anyone seeking a representation of self-love and growth. It's a beautiful and meaningful design that can be customised to your preference, whether you choose to keep it simple with black ink or add a pop of color to enhance its beauty. You can get this tattoo inked anywhere on your body, and it will look great with any style or aesthetic.
Angel Writing Outline Tattoo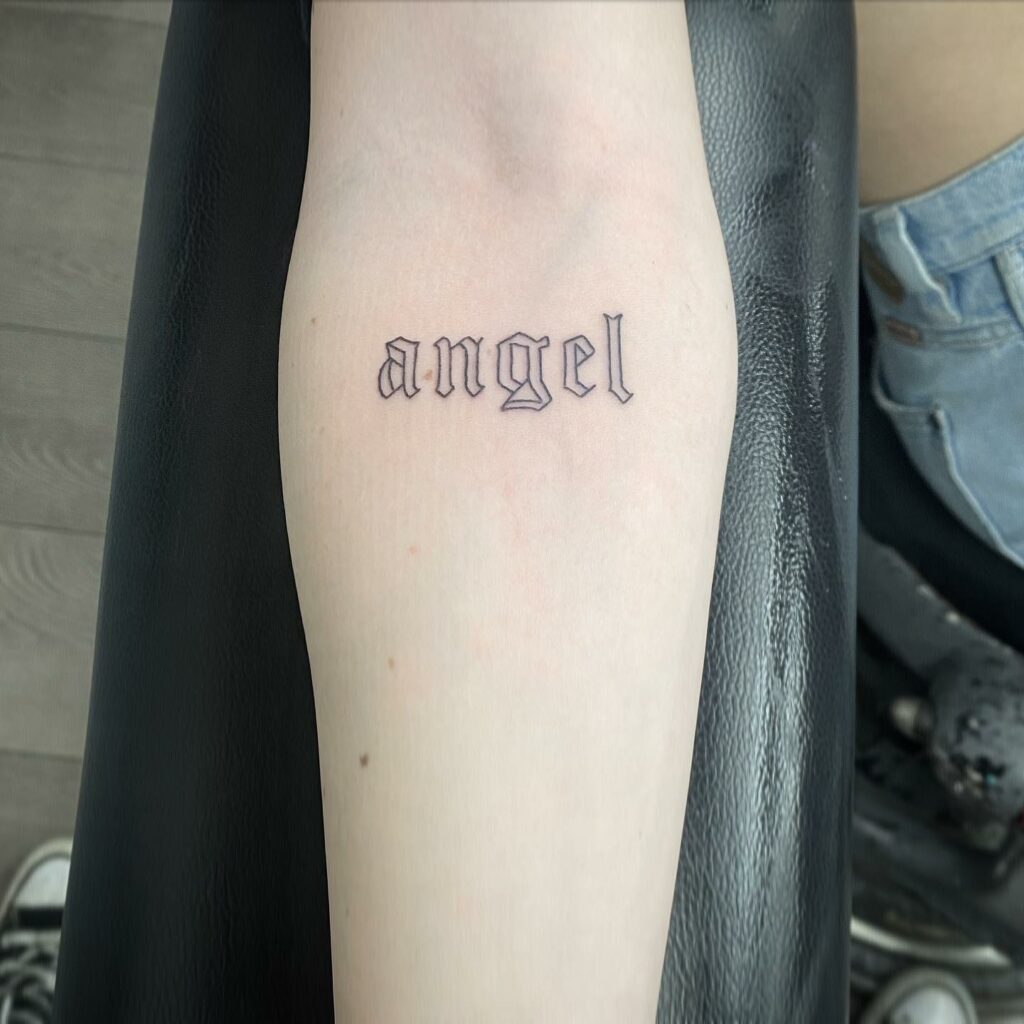 Classic and timeless tattoo designs have been popular for decades and never go out of style. This tattoo stencil features the word 'angel' in a vintage font. It's a simple yet elegant old-school tattoo that will look great no matter what aesthetic you choose. To achieve the desired look, ensure that your tattoo artist uses fine ink.
This easy tattoo stencil is perfect for those looking for something classic and simple. You can also customize this tattoo to your liking by selecting any word that holds significance in your life. You can get this tattoo inked on any part of your body, such as your arms, neck, ankles, shoulders, or back. This tattoo is a great way to express your personality, style, and uniqueness.
Father And Children Outline Tattoo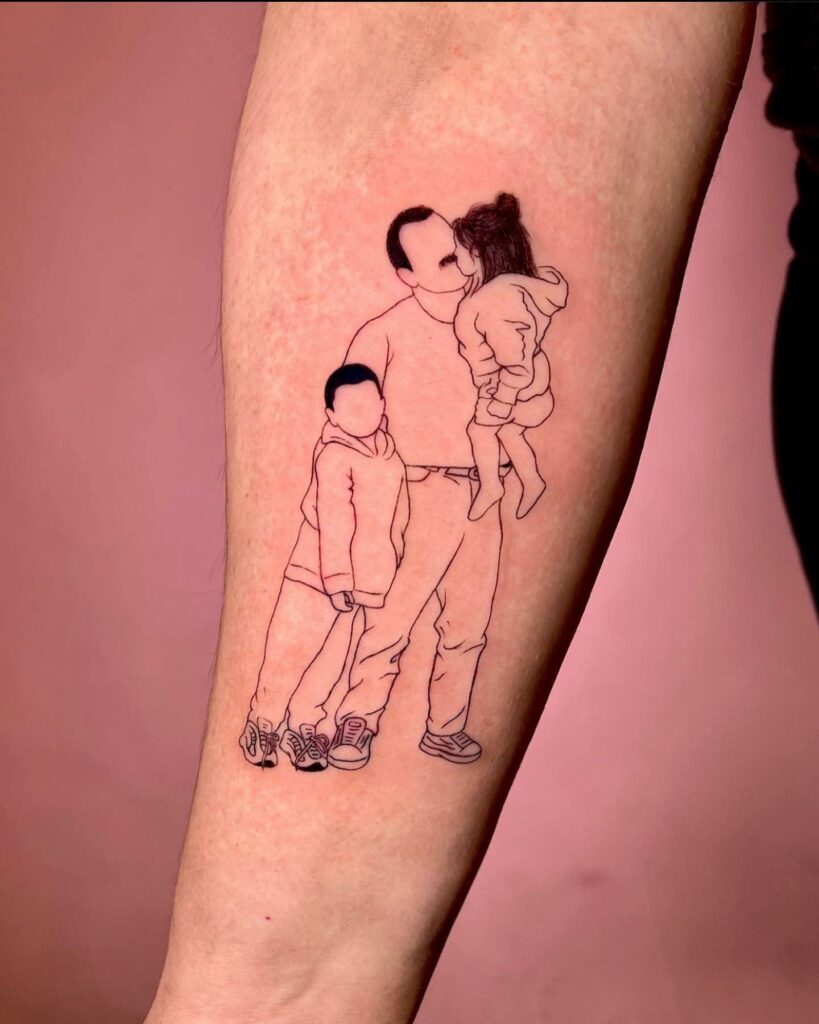 Expressing love and affection through tattoos is becoming increasingly popular, and the bond between a father and child is one of the most special ones to commemorate. Outline tattoos are a great way to do this, and they're incredibly trendy right now. Did you know that it's even possible to create an outline tattoo from a beloved photo? Skilled tattoo artists can use dark inks to elegantly draw out the image with precise lines and details. This traditional-style outline tattoo of a father and children is a unique and beautiful way to turn a special moment into wearable artwork. When it comes to placement, consider the waist, wrist, or ankle to ensure the proportions are just right.
Tinkerbell Inspired Outline Tattoo
These tattoos offer a unique and vibrant addition to your personality. Featuring a delicate black outline of Tinkerbell's body, with small details such as sparkling accents and tiny butterflies, this tattoo design is both elegant and playful.
For placement, the wrists, ankles, waist, and other small areas are perfect to show off this design while ensuring the proportions are just right. The wings are expertly shaded with soft shades of grey, adding depth and dimension to the tattoo. If you're an imaginative and spirited individual looking to express your unique personality, then the Tinkerbell outline tattoo is a great choice for you.
Stencil Rose Tattoo Outline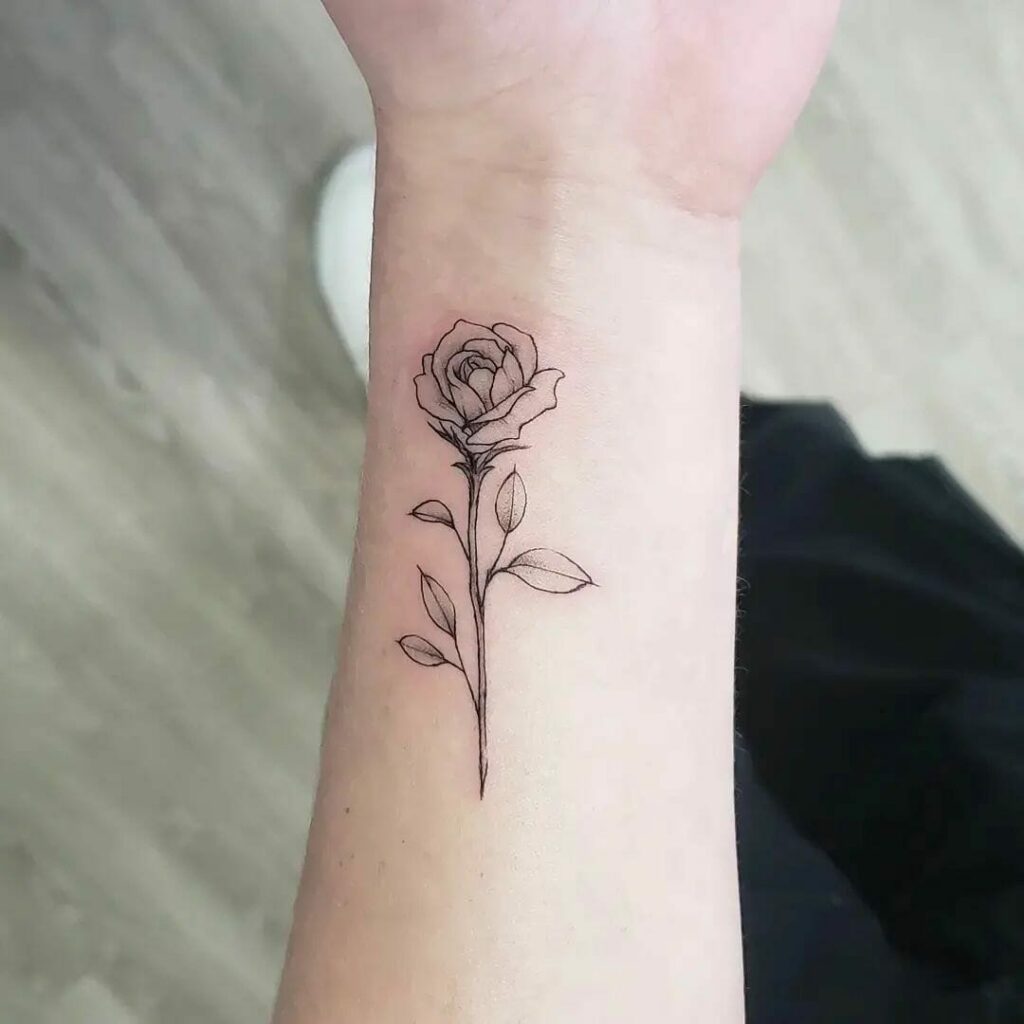 Flower tattoos have always held powerful symbolic meanings, making them an ideal choice for an outline stencil rose tattoo. These tattoos come in a wide range of colour options, allowing you to select the most delicate and elegant tattoo design. Rose tattoos, in particular, are beloved by women, and it's easy to see why. Roses are one of the most beautiful flowers out there! To achieve the best results with this tattoo, be sure to use fine ink.
The outline rose tattoo is beautifully done, with both the stem and petals intricately detailed. The essential grey hues are applied with precision, resulting in a stunning design. These rose tattoos are simply gorgeous! For placement, the wrist, arm, and ankle are the most suitable places to showcase your ink. Stencil tattoo rose outline tattoos make for amazing tattoo designs. Other ideal spots for an outline flower tattoo include the calf, arm, shoulder, and back.
Cute Elephant Outline Tattoo Idea
Consider an adorable silhouette or outline tattoo of a cute baby elephant! This design is perfect for fans of both cartoon and real-life elephants, who want to express their love for this majestic animal.
The elephant is depicted in a sitting posture, playing with a tiny leaf, creating a playful and heartwarming design. This outline tattoo is best suited for the ankles, wrists, or legs, in small dimensions. These tattoo designs are a great representation of the child within us, and if you're proud of your inner child, then these elephant-themed tattoos will enhance your appearance and showcase your personality.
Don't hesitate to get an outline tattoo that speaks to you and reflects the things that are meaningful in your life. Outline tattoos are effortlessly stylish and can complement any outfit. They are a great option for those who want a pretty and understated tattoo. So, go ahead and get the tattoo that you've always wanted!
Rose Outline Tattoo Stencil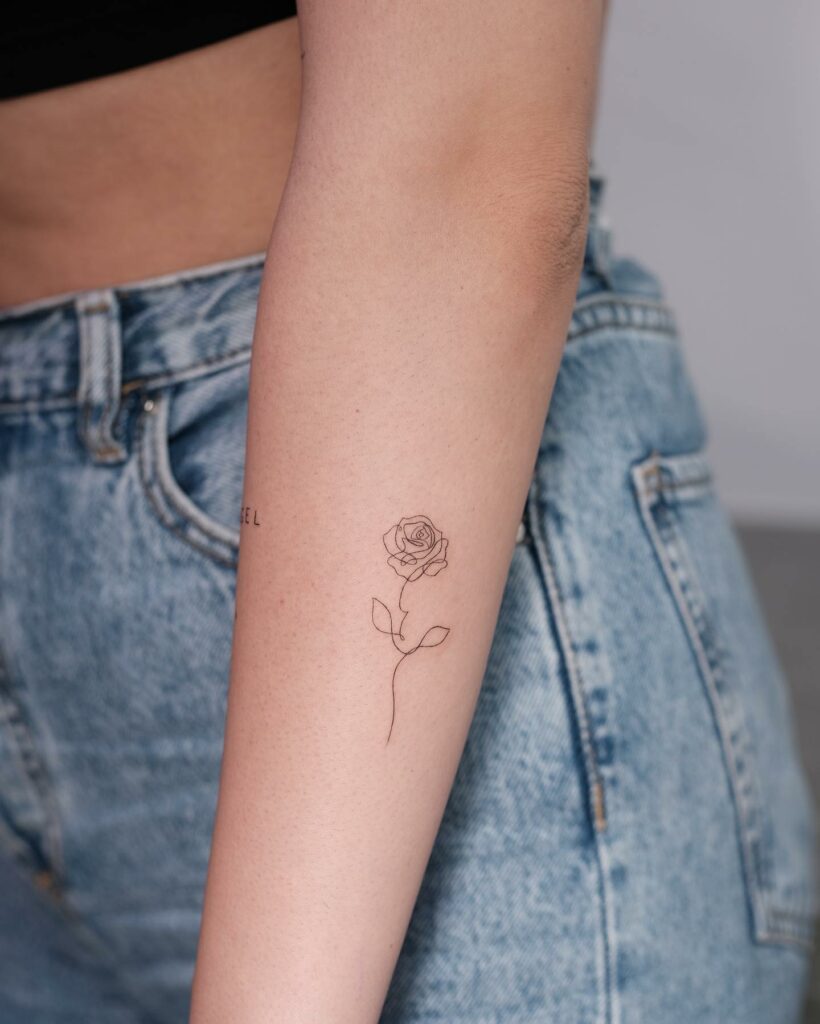 feature image from Pinterest – Want your tattoo to look brighter? Try "Tattoo Balm"