Unlike perfumes, a permanent perfume tattoo would last long, so why not try and get one? Keep reading and find the best perfume tattoo recommendations here!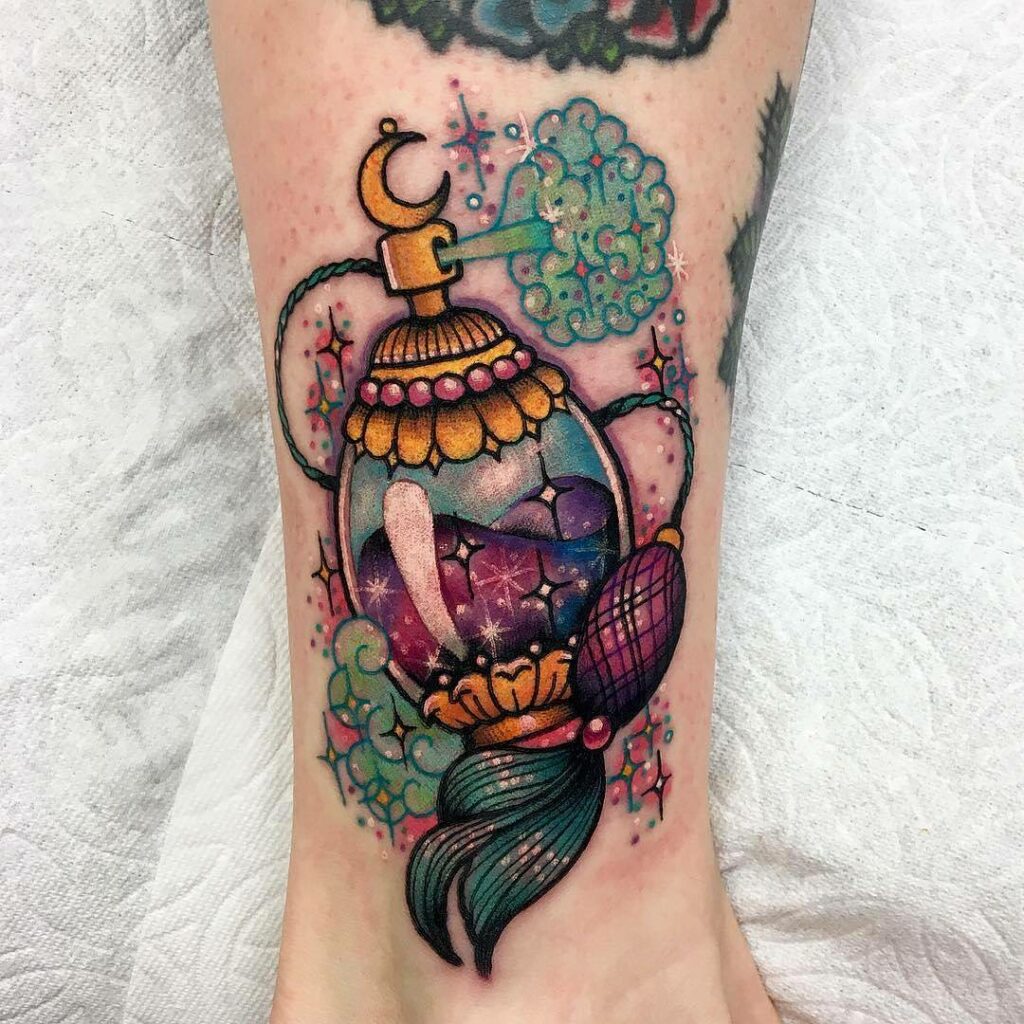 You can now carry beautiful bottles of your favorite perfume with you always, with an equally gorgeous tattoo replicating the bottle full of fragrance.
A perfume tattoo might not help to spread the fragrance, but it would surely work to grab the attention of people appreciating your amazing body art. But did you know you can create temporary tattoos using perfume?
As surreal as it sounds, people can get temporary tattoos using a bottle of perfume at home! This trending method of temporary tattoos has led people to explore creating tattoos using the alcohol present in perfumes. In order to make a temporary tattoo with perfume, first, you need printer paper to print the tattoo design of your choice. Mark the edges of the design with a sharpie and cut it using scissors. Coat the sheet using perfume, hairspray, or body spray and soak it completely in a cup of hot or boiling water. Take the wet tattoo paper out after a few minutes and apply it to your desired area using a warm towel. Hold the towel firmly and remove it after a few minutes to transfer the design. The trace and paste temporary perfume tattoo is ready and would last you for around 3-5 days.
Perfume tattoo is an excellent choice for indecisive people who would love to get tattooed but fear sticking to one for life. Instead of choosing generic tattoo designs, you can also check out excellent perfume tattoo ideas featuring actual perfume bottle tattoos as tattoo designs! These bottle-style tattoo inks your favorite perfume bottle on your skin, enabling people to see your exceptional choice of fragrance and body art. Keep reading to find the best perfume bottle tattoo designs to use as both permanent or temporary tattoo ideas!
Essential Traditional Temporary Tattoo Idea
Explore the richness of traditional tattoo designs with temporary tattoos using tracing paper! The illustrated tattoo features a vintage perfume bottle with a lady designed on its label. Although being very different from a practical perfume tattoo design, the illustration features a creative take on perfume bottles, referring to the beauty of women applying it, which many people can use as their temporary tattoo.
The best part about this tattoo is its color palette, brimming with a mixture of dull and vibrant primary colors. Using tracing paper to get such tattoos can ruin their quality if not paid attention to. Make sure to follow the right instructions while getting the print on the skin. Apply enough hair spray and sprinkle baby powder after getting it transferred to the desired space.
Skull Tattoo Design With Temporary Tattoo Paper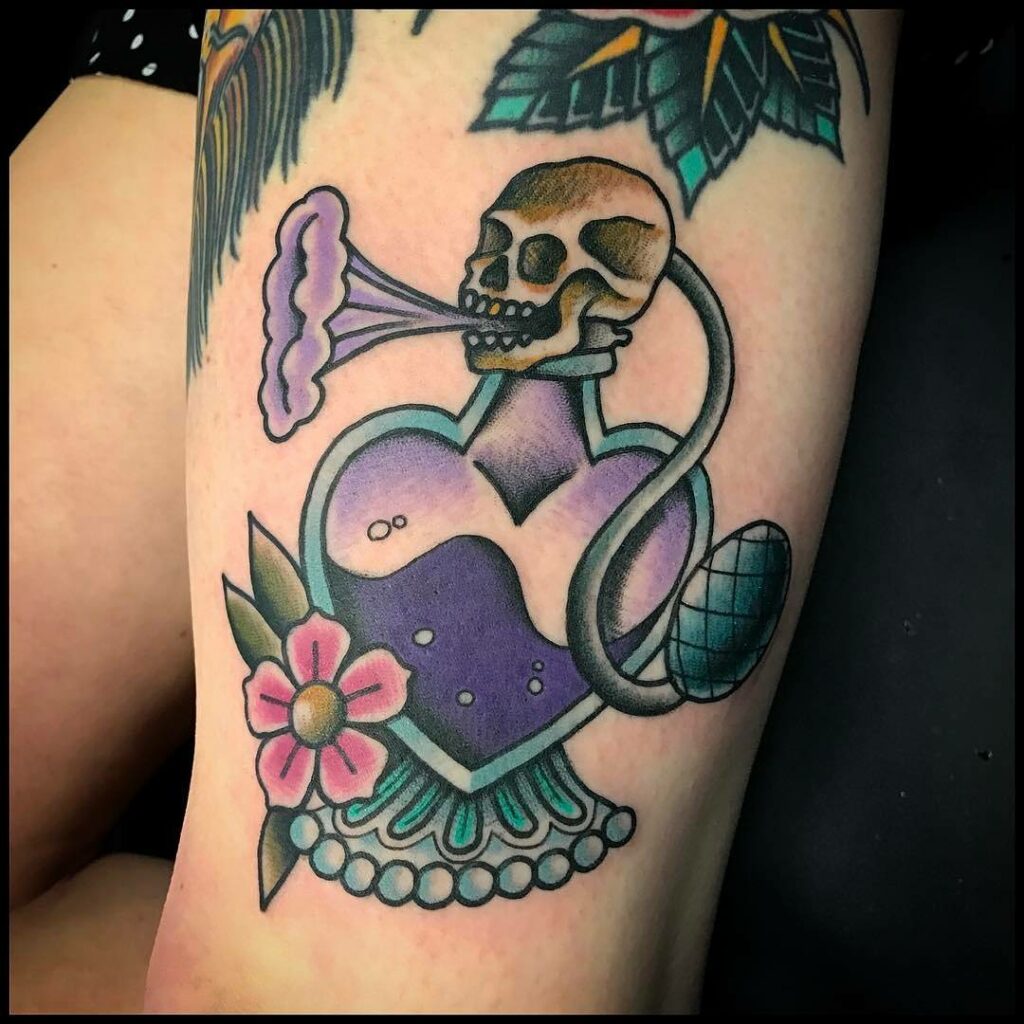 Skulls have been an imperative part of the tattoo world, extending comic or creepy vibes to any tattoo simply with changing art styles. The tattoo above incorporates the skull very creatively. The skull is used as the closing knob of the perfume bottle, which emits perfume spray when pressed on its head. Skull-inspired designs are pretty famous among perfume collectors as well, so don't fear collecting on your skin with a permanent or temporary tattoo with perfume.
The color palette can be experimented with easily if you're using printer paper. Make sure tracing paper is of high quality, and follow the step-by-step guide to ensure its neat transfer to the skin. The printer must also have the high print quality to create well-colored artwork. You can even edit colors on the print and create your very own customized design.
Realistic Perfume Bottle Design Tattoos
This tattoo design is not meant for tracing but would be best suited for people who are leveling up from a temporary tattoo to get a permanent perfume tattoo design. The tattoo features a contrasting tattoo bottle design filled with bright red perfume within an intricately drawn bottle. The artist has done an amazing job depicting highlights and shadows, which make the bottle appear straight out of a cabinet. However, realism is not what snatches attention in this art piece.
The striking contrast of the perfume's red and the surrounding black and white makes the tattoo far more impressive than it could be. The framing details illustrated as the tattoo sleeve uplift the perfume bottle's appearance, making it an exceptional piece to have.
Heart perfume Temporary Tattoos
Heart-shaped things are pretty popular among women and men, and also perfume brands create delicate vessels for their fragrances. Hence, using a heart-shaped perfume bottle as a tattoo can be a great idea and also work as a meaningful dedication with a simple change. Instead of using the printed label on the tattoo, edit the part with your loved one's name and make it a dedication to that special person. The black and white design is easy to play with, so use simple ink to print your drawing to make a temporary tattoo. Using high-quality hair spray and ink is important for the tattoo to work its magic on the skin; otherwise, the hot water can easily mix up your printer paper and ruin the print.
Neo-Traditional DIY Fake Tattoo Perfume Work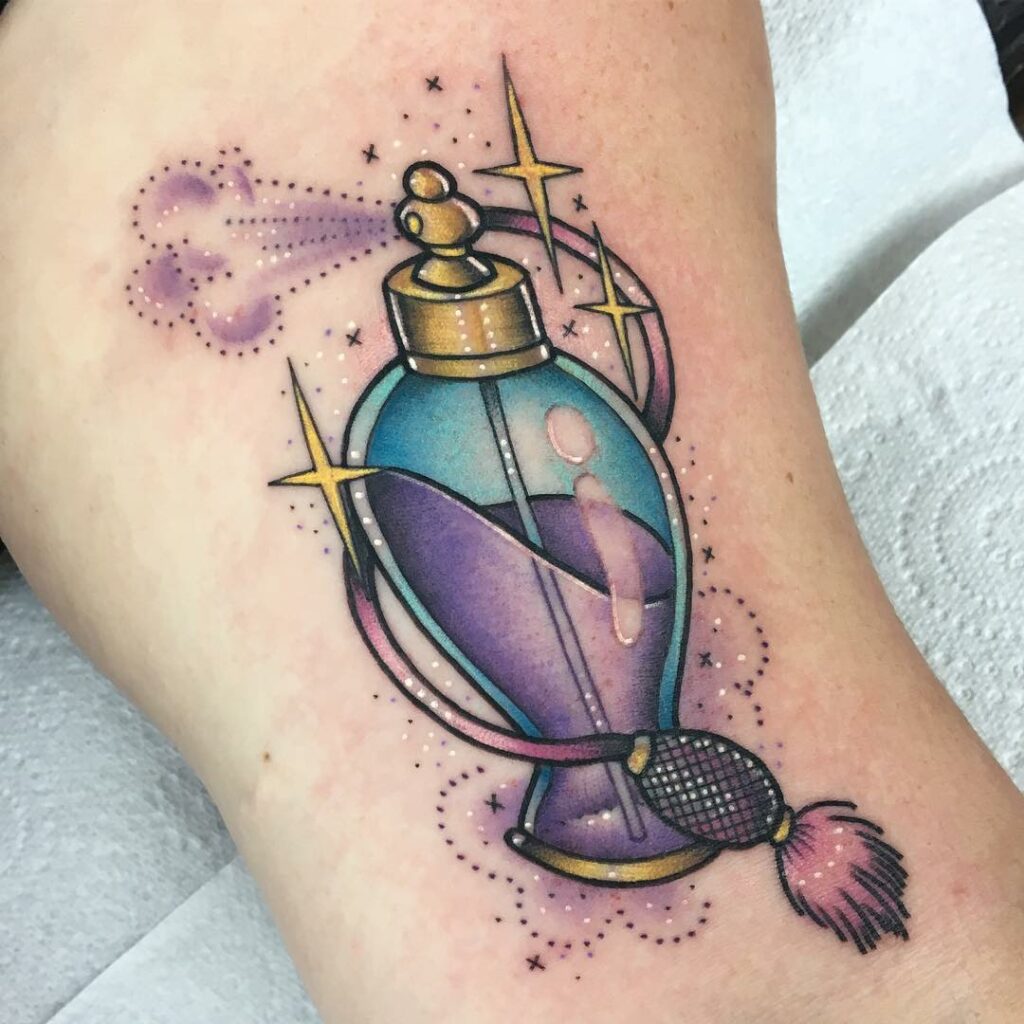 The neo-traditional tattoo design features an intricate work with a fragrance bottle, capturing in-depth detail of the bottle and containing alcohol. The purple and blue create a mysterious combination, adding an old-school charm to the perfume, while the golden highlights of the spray compile it together. The drawing further uses shades of purple around the tattoo to describe its influence which appears to last long, depicted by golden stars and other elements. The unique color combination existing together in this piece makes it special. Hence you must add it to your perfume tattoo bucket list!
Vintage Style Perfume Tattoo With Using Tracing Paper
Vintage perfume bottles are still collected by people, known for their eccentric shapes and gorgeous colors. If you are not able to get your hands on one of the original ones, play around to make a temporary tattoo out of them! Search through the web to find iconic vintage perfume bottle designs and get them printed. Make sure to follow the step-by-step guide to transfer it smoothly onto your skin, containing its full colors, shadows, and highlights. The tattoo design above is simple and easy to transfer; you can search for a similar tattoo for your skin to make the process hassle-free.
Novel-Inspired Perfume Tattoo Idea
Tattoos containing a deep backstory are highly valued by the wearer and the audience hoping to hear a fascinating story behind the tattoo. The tattoo piece above takes inspiration from an award-winning book, Tom Robbin's 'Jitterbug Perfume'. The perfume bottle designed above features an illustration directly inspired by the book, which depicts the limitless freedom a person possesses when they have a connection with themselves. The limitless freedom is reflected through the perfume bottle's enormous fragrance. The tattoo uses thin line work, which is perfect for depicting the intricate details of the tattoo.
Detailed Chemist Perfume Making Process Tattoo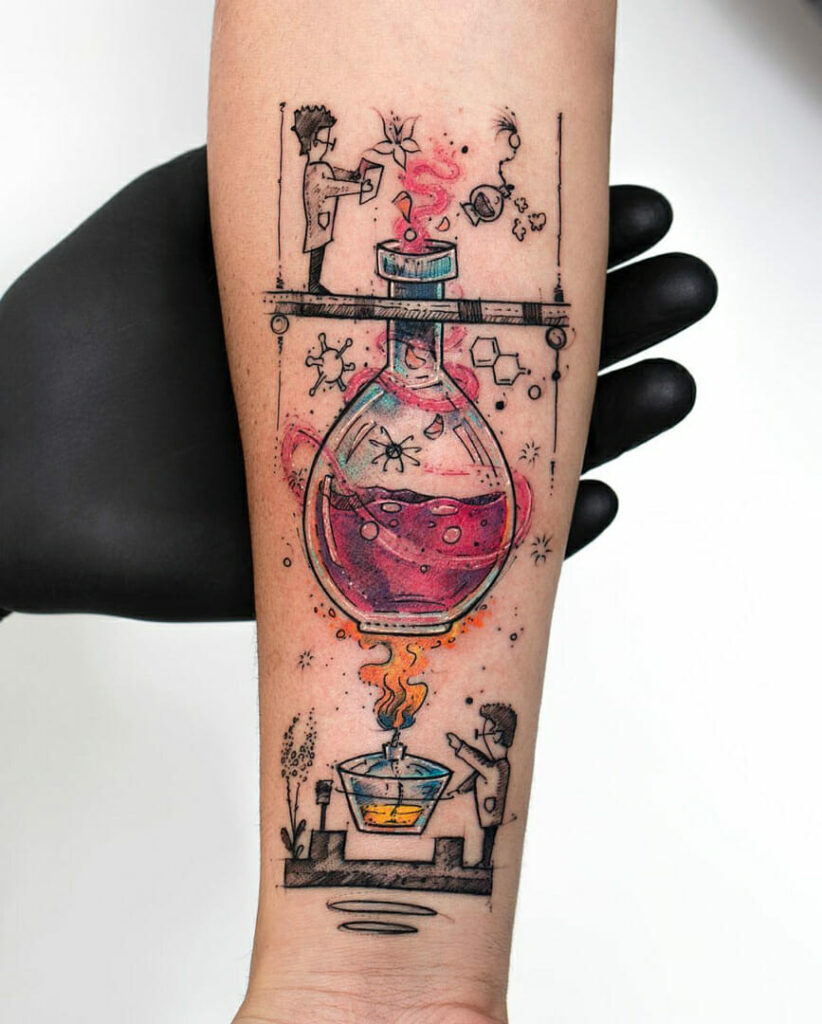 A fun tattoo to include on your bucket list, this perfume-making tattoo describes a scene straight out of a laboratory. The tattoo is a creative take on usually adopted perfume tattoo designs that generally stay restricted to bottles. This one takes a step ahead and narrates the creation process to make the tattoo more fascinating.
A temporary tattoo might not compliment this gorgeous tattoo with details elements. Hence, you can choose a permanent tattoo style or this particular design!
Traditional Temporary Tattoo With Perfume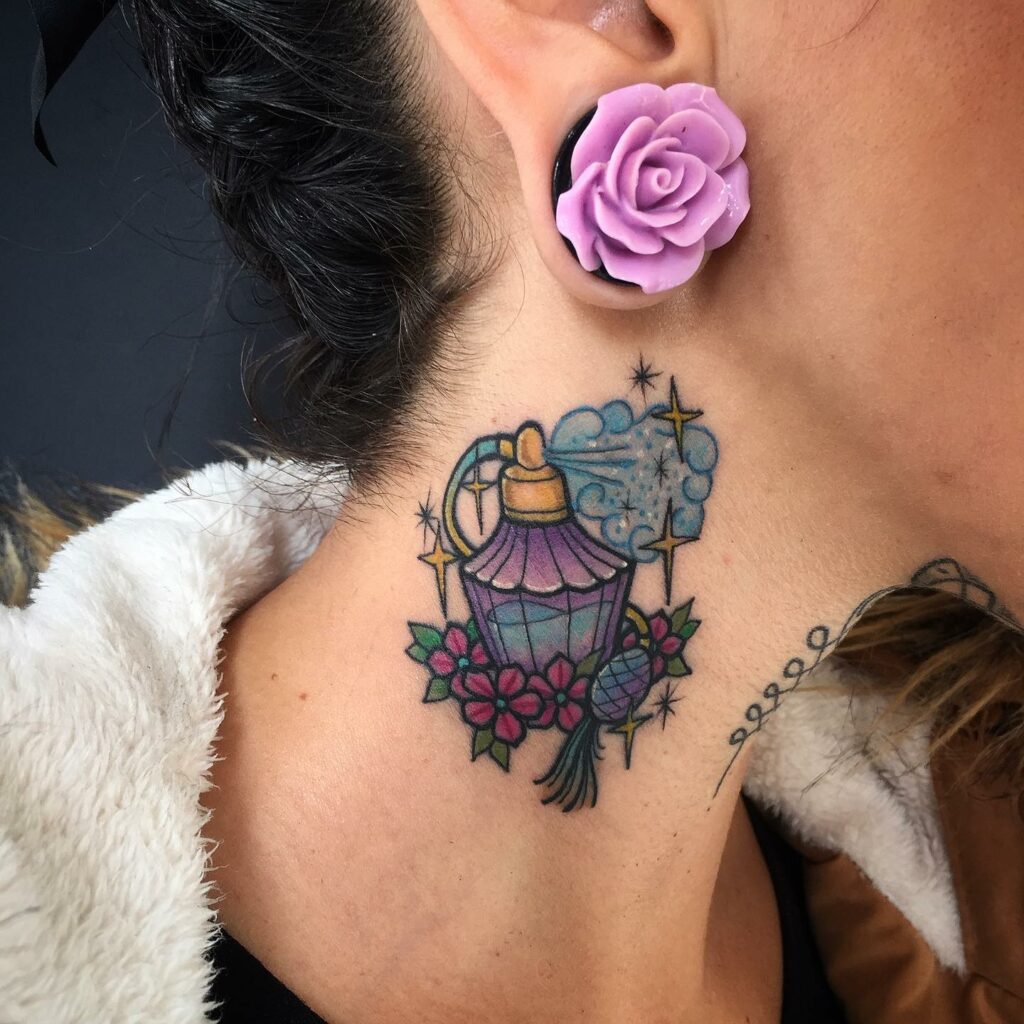 Adding another traditional tattoo piece to the list, this tattoo design depicts a small perfume bottle sprinkling a shiny concoction on the neck. The vibrant colors and bold outlines call for attention and also deem it perfect for making a temporary tattoo. If you wish to get the tattoo in its DIY version, the design is small, restricted, and does not require much trouble to transfer on the skin. It is the perfect choice to have as a temporary tattoo!
Watercolor Perfume Ink Design
The tattoo above does not uses bold outlines and solid colors but incorporates watercolor-like shades of pink and purple to create a delicate glass-like reflection. This beautiful glass bottle tattoo is perfect for people craving a sophisticated tattoo design. In order to experiment with the design, you can opt for any color combination. Just like pink and purple, colors like violet and yellow also make a beautiful contrasting combo to add to your design.
These are some of the best perfume tattoos available on the web! You can pick any tattoo of your choice to get on your skin, while you can also decide on picking individual elements from it to create a personalized design.
feature image from Pinterest – Want your tattoo to look brighter? Try "Tattoo Balm"