Are you fascinated by the Pharaoh tattoo stencil and planning to get it inked? Then you are on the right page! Keep reading to find the best Egyptian tattoos!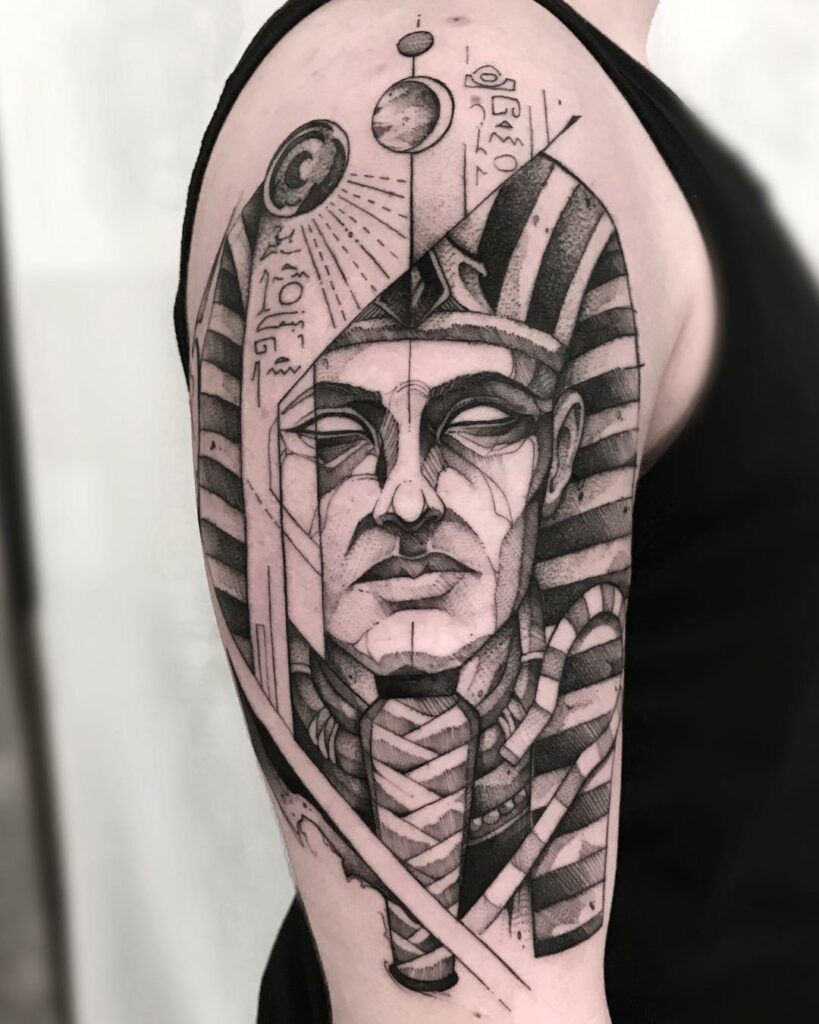 Ancient Egypt was home to rich cultural and religious symbolism that was found in the form of diverse hieroglyphics.
Being culturally rich, Egyptian tattoos and symbols gained great prominence among tattoo lovers as a popular tattoo choice, who are intrigued to dive deep into understanding Egyptian culture. Egyptian history has inspired countless tattoo artists to explore Egyptian symbols, from revered goddesses to Pharaohs.
Ancient Egypt is the face of cultural wealth and intriguing civilisation, carrying an entirely different world with itself through centuries. Ancient Egypt continues to be considered an enigmatic place full of mysteries relating to eternal life and an undiscovered underworld. Egypt's long-studied history covers details aspects of its cultural and religious views, which are full of influential queens, Pharaohs, gods and goddesses. As much as being a fascinating topic of discussion, the topic has inspired millions of people to explore the beauty of Egypt through Egyptian symbols and its assimilation into the tattoo world.
A perfect tattoo depicts stories through visuals and their influence on you by how you carry these symbols. Egyptian tattoo is one such way to explore and show acknowledgement to the revered ancient culture. Egyptian symbols contain holy symbols and highly respected aspects that people can get inked with on their skin as a sign of admiration, though knowing its details and the history is equally essential.
If you are interested in getting an Egyptian tattoo, this is the right place! Explore the Egyptian tattoo recommendations and find your best match to get inked in your next tattoo session!
Pharaoh Female Egyptian Tattoos
Take a break from generic Pharaoh tattoo ideas and choose a unique design that represents the glory and greatness of what Egyptian Pharaohs used to be. Pharaoh is the title given to the ruling figure of any Egyptian state back in ancient Egypt. Be it a woman or a man, the title Pharaoh was considered to be as auspicious as gods and was chosen to lead the people and nation towards prosperity. Pharaohs symbolise power, control, and honour, making them a perfect addition to your tattoo collection as a reminder to have things your way.
Although among famous Egyptian symbols, Pharaoh tattoos usually star male Pharaohs like King Tut. You can opt for a women Pharaoh tattoo for a fresh change, appearing equally fierce and charismatic. The tattoo above is an example of it, exhibiting fierce energy through the goddess's eyes. The surrounding jewels extend a wealthy look to the artwork, while the illustration of the queen's image is what adds life to the tattoo.
Ancient Egyptian Goddess Nefertiti Tattoo Designs
Among various significant personalities from Ancient Egypt, Queen Nefertiti is a prominent name related to the religious revolution in Egypt. Queen Nefertiti's brilliance is evident in the Egyptian art and cultural items, which are now influencing the artistic fields through paintings, jewellery and other art forms. Egyptian tattoo is one such space that redeems inspiration from Queen Nefertiti's depicted glory.
Queen Nefertiti's tattoo above exhibits a strong aura of femininity, power and beauty. Rather than simply illustrating the queen, the tattoo artist has included a snake surrounding the portrait of Nefertiti, which symbolises divinity in Egyptian tattoo designs. People can also look for a similar tattoo with another prominent Egyptian personality known as the winged goddess or Isis.
Ancient Egyptian God Sphinx Tattoo Designs
The guardian image of the sphinx or the sun god at Giza is the most popular place in Egypt. The revered structure features Ra-Horakhty, the powerful sun god who owned the head of a lion and the body of a human. Egyptians view it as a protecting spirit of the temple and their culture. Its reverence is what also makes it one of the most prominent structures in popular art. Besides using Pharaohs in Egyptian tattoos, many people prefer getting a sphinx inked on their skin to symbolise its auspiciousness.
While most of the sphinx images are identical, the tattoo above offers a creative take on the usual sphinx structure and combines it with the wearer's love for anime. The one of a kind tattoo can inspire you to respectfully create your own personalised versions of the sphinx as tattoos.
Ancient Egypt Goddess Cleopatra Tattoo
Renowned for her leadership skills, power, brilliance and unprecedented beauty, Egyptian Pharaoh Cleopatra is widely appreciated in the field of politics and art. Her prominence gained her the modern-day title of a feminist icon, whereas her beauty still persists through dedicated art pieces. Among different ancient tattoos relevant to Egyptian symbols and culture, the Cleopatra tattoo is most loved by tattoo enthusiasts.
The Cleopatra tattoo is a symbol of divine royalty and beauty, which many people aim to achieve or flaunt about themself. Creative art pieces following Cleopatra and her reign have inspired artists to recreate her in different forms hence influencing the tattoo culture as well. Cleopatra was supposedly the last ruling Pharaoh which also makes the tattoo auspicious.
Ancient Egyptians' Symbol Eye Of Horus
People often prefer going with smaller Egyptian symbols as tattoos which makes the holy Eye of Horus, a significant pick for many people. The Eye of Horus represents one of the most important Egyptian gods, the god of power and kingship called Horus. In supposedly arguable mythology about the life of Horus, the god lost his left eye due to a conflict with Seth. The eye was magically restored and later started being recognised as a symbol of healing and protection.
The Egyptian eye tattoo or Eye of Horus is now a widely used sign of protection. It is incorporated in many tattoo designs to deliver prosperity and healing to anyone wearing it. The significance of this tattoo is so deep that people also wear it as an amulet for protection against evil.
Scarab Ancient Symbol Of Sun God Tattoo Designs
Another divine symbol of protection in Egyptian symbols is the scarab. Scarab is a type of beetle which is present in a large number of Egyptian inscriptions as a revered sign. It has been used as a sign of transformation, immunity and protection. Its wide usage in amulets made its way to influence Egyptian tattoos, too, as many artists started inking the pattern for its auspicious meaning. Scarab tattoos are some of the most commonly asked ones among Egyptians.
As the tattoo is pretty common, the offered designs are common as well. However, this one creatively adds another aspect to the tattoo to make it more intriguing. Instead of keeping the scarab structure simple, the Egyptian tattoo portrays a woman's face on the scarab's back, and that too in a divided form, giving it a pretty uncommon scarab design.
King Tut Ancient Egyptian Tattoo Designs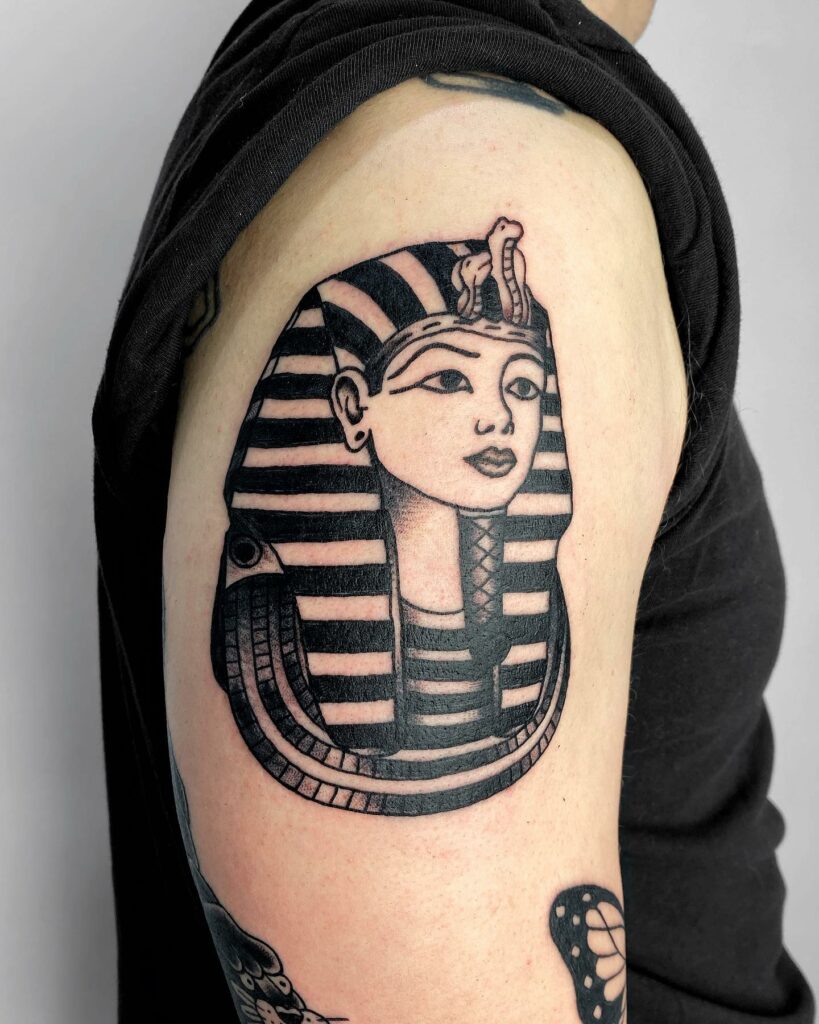 The great Tutankhamun, or King Tut, is the most prominently known Pharaoh of Egypt, known for his best-preserved tomb. King Tut's tomb discovery opened the mysterious doors to gain some insight into the unusual practice of preserving the corpse from ancient Egypt, which further led to many research and discoveries. King Tut, owning the throne at a young age, was also pretty young when he died, though his life was largely studied by researchers and is probably the reason why King Tut also gained prominence in art.
King Tut's tattoos are widely used to symbolise Egyptian culture. Many people opt for different replications of the tomb structure where King Tut was preserved. The tattoo above managed to do the same with the help of a traditional line art tattoo of King Tut, made out of bold lines.
Unique Sphinx Tattoo With Egyptian Symbols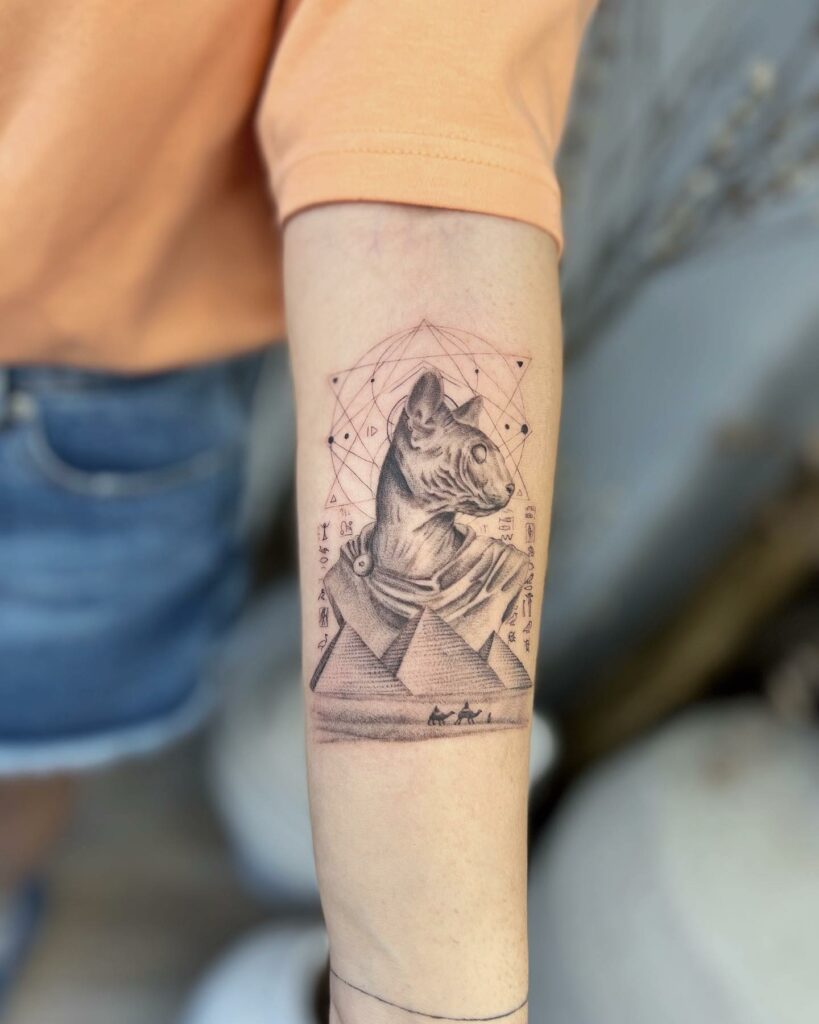 Egyptian tattoos are appreciated for their intricate designs and deeply believed cultural and religious symbolism. Sphinx, being a significant structure in Egyptian culture, is extensively used to depict Egypt and its related sites. One can even perceive the sphinx as an official emblem of Egypt besides the Pyramids. A sphinx is a perfect image to represent Egypt, and an Egyptian tattoo with a sphinx can be a great way to carry the Egyptian cultural heritage with you. Instead of searching for generic sphinx tattoo ideas, the tattoo above offers an intricate and realistic Egyptian tattoo, which you can use to create your own personalised tattoo design.
Scarab Symbol Ancient Egyptian Themed Tattoos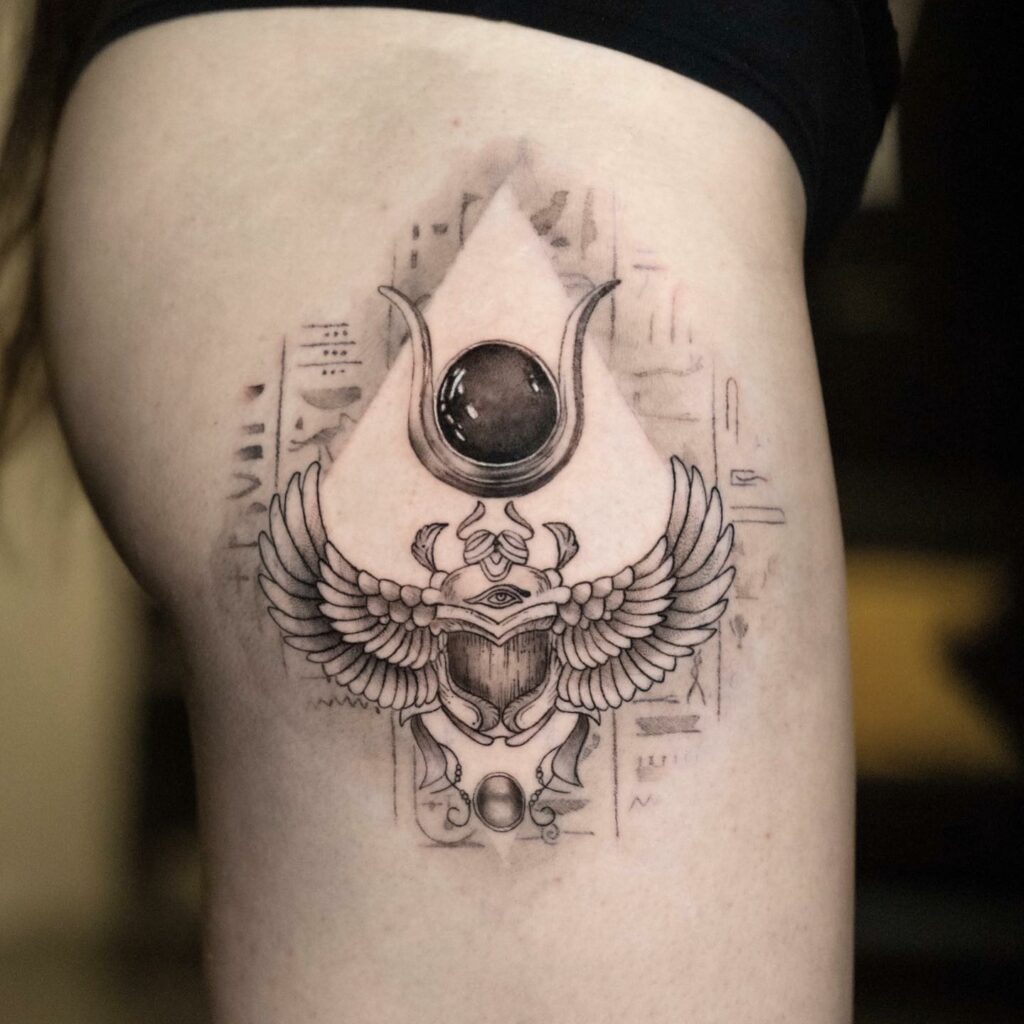 Another addition to smaller Egyptian tattoos is a combination of the holy eye tattoo and the scarab symbol. As scarab symbolises rebirth and transformation, the Eye of Horus supposedly provides protection from all evils. These two, when combined, hold great significance for people belonging to Egyptian culture. The Egyptian tattoo illustrated here combines both smartly to create an intricate design though another aspect steals the highlight of this tattoo. The hero design is surrounded by a dim wall of symbols which closely appears to be Egyptian hieroglyphics. The design extends a very mysterious vibe to the Egyptian tattoo and must be incorporated by other tattooists as well to enhance their illustration.
Unique Egyptian Gods And Great Pyramids Tattoo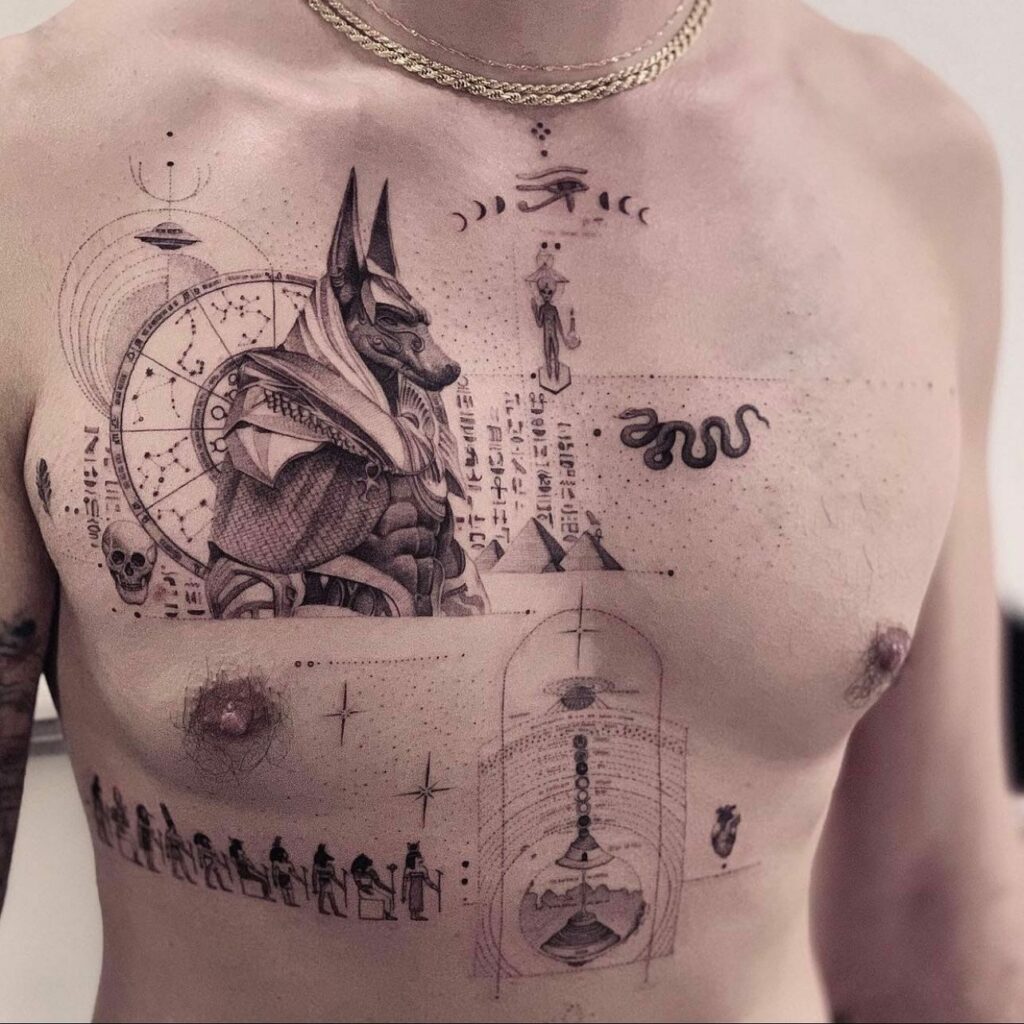 Saving the best for the last, we have an exceptional tattoo recommendation that captures Egypt's entire essence through scattered tattoo illustrations. If you are confused with all the diverse Egyptian tattoo ideas, take inspiration from this tattoo and add as many aspects as you like. Either uses your chest as a canvas or fill these illustrations up your sleeve; these tattoos combine ancient Egypt and a supposed future image of the place.
The Egyptian tattoo features the holy sphinx, Pyramids, hieroglyphics, Eye of Horus, phases of the moon, and other Egyptian god tattoos to create an entire canvas of Egypt-inspired illustrations.
The best part about Egypt is its diversity and historical and cultural wealth, which makes it profoundly rich in art as well, inspiring countless tattoo artists to replicate the exceptional symbols. Egyptian tattoos represent life and its end altogether within a few symbols making visuals stronger than words. So, go ahead and find your best Egyptian tattoo match to get inked at your next tattoo session!
feature image from Pinterest – Want your tattoo to look brighter? Try "Tattoo Balm"