If you are a DC fan, then Poison Ivy is no stranger to you. So this list of Poison Ivy designs can serve you some inspiration for your next tattoo. Feature image @boscolaynetattoo via Instagram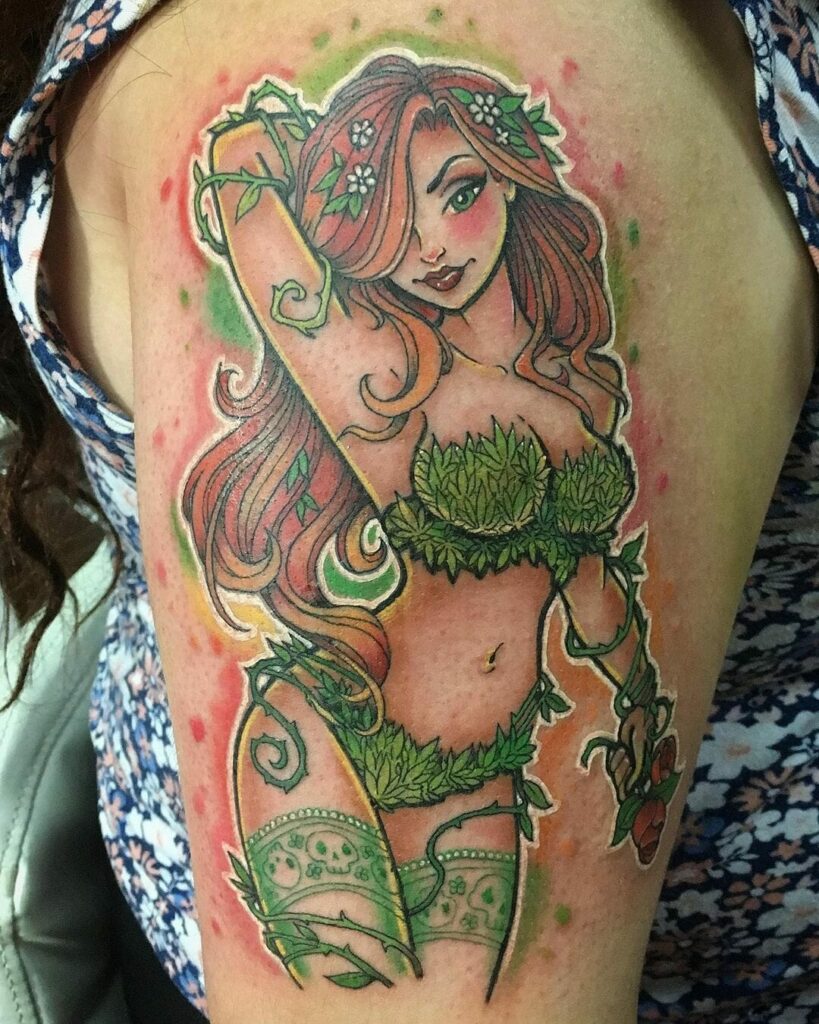 DC Universe consists of several superheroes and supervillains throughout the comic series.
The relevancy of DC as well as Marvel Universe Comics is no joke and is celebrated worldwide as per analytics. Batman is one of the popular DC heroes and series and Poison Ivy is part of the Batman universe.
Especially existing as the supervillain in Batman comic series, Pamela Lillian Isley mainly known for her supervillain pseudonym Poison Ivy was an antiheroine and lover for Batman and who even joined forces, for and against Batgirl and the Bird of the Prey. The character was officially created by Robert Kanigher and Sheldon Moldoff and made her debut in Batman #181. Poison Ivy was an antisocial botanist and biochemist who possessed a poisonous touch including intensified physical abilities similar to all the DC characters and had control over plant life, a supernatural power she utilized for ecoterrorism. Something that made her more iconic is the fact she used her powers mainly for her criminal activities related to the protection of the endangered species and the environment from the careless nature of humans. So technically her wrongdoings were for the right reasons, hence Poison Ivy was formerly known as a supervillain but later was placed in the antiheroine category.
She is known for her attire and is iconic as she remained barefooted and in a one-piece costume with leaves and vines decorating her whole suit. Keeping in mind her badass nature some part of her suit that included plants may have been tattoos. All her attributes are the result of all the love she receives worldwide. So if you are a fan of hers and are in search of Poison Ivy tattoos listed down below is a stock of Poison Ivy tattoo recommendations for you. Add to your bucket list if you love one of them.
Geometrical Poison Ivy DC Tattoo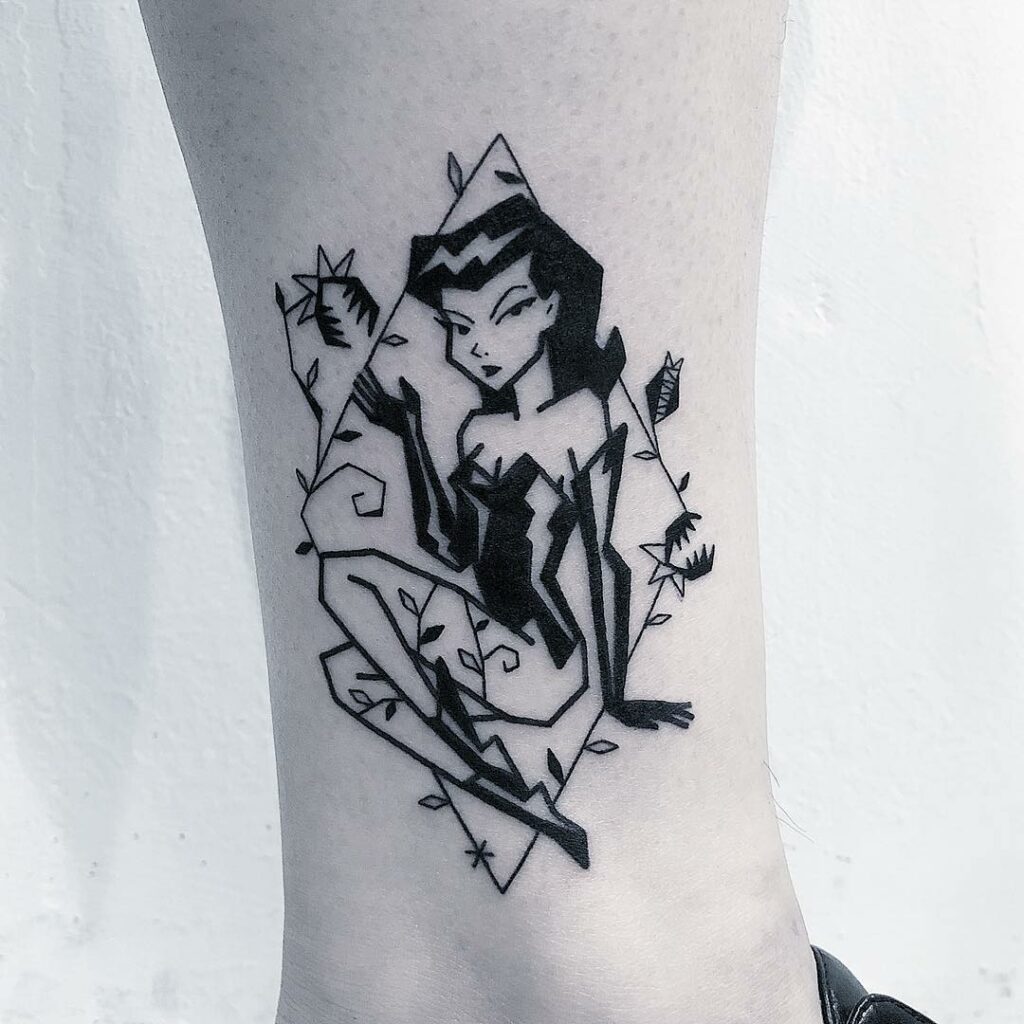 The beauty of this tattoo is the geometrical diamond design with Poison Ivy in the middle. This tattoo serves two purposes for those who are both geometrical design tattoos lovers as well as Poison Ivy fans. The vines and leaves out of which the outlines of the diamond in which Poison Ivy is sitting are made is an attractive concept for all geometrical design lovers. Drawn in the animation style of Batman: the animated series with black ink makes you fall in love and be obsessed with it. So if you are already willing to get this tattoo and your tattoo artist has all the right tools, then what are you waiting for?
Batman Animated Series Style Tattoo
Done with similar technologies like the previous tattoo with the same animated style, just the geometric design is gone, instead, vines are added surrounding Poison Ivy and the tattoo is added colours. All the colours are here to deliver the true essence of her character and the vines surrounding her reveal the true nature of her power and her as a botanist as well as her love for endangered species. The leaves add details to the design. The colour shading details of her top and her gloves making it look glossy is something to focus on to make the tattoo flawless.
Poison Ivy Realistic Tattoo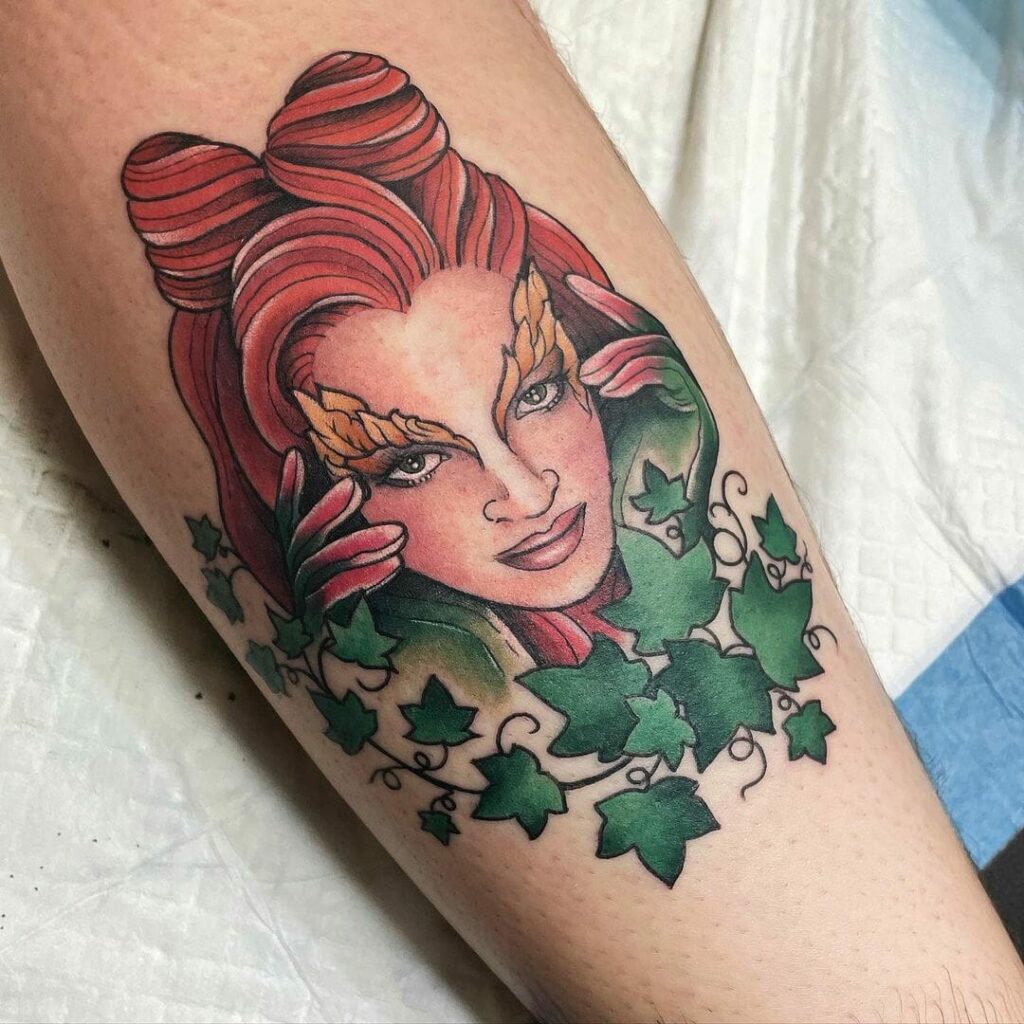 This Poison Ivy tattoo can be taken into account as a beginning of a tattoo sleeve by the customer due to its size. It absolutely will be the best way to start a DC tattoo sleeve or any tattoo sleeve as a matter of fact. But if you are not looking for a sleeve tattoo, individually it will look good too. The realistic-looking tattoo would look amazing if the shading and colour techniques are done perfectly. The leaves around her as well as the mischief look she has been given in her eyes in this tattoo manifests her quintessence. To find a professional tattoo artist who is equipped with the tools and experience to do such a premium project.
Mini Poison Ivy In A Circle Tattoo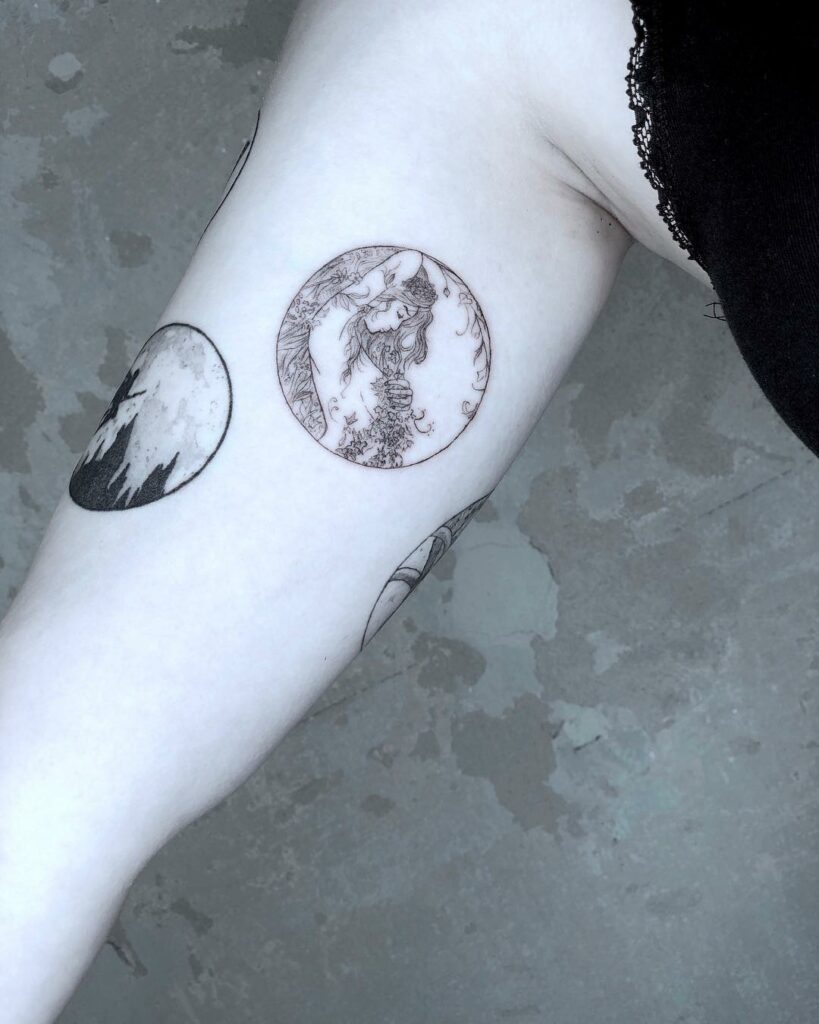 If you love tiny minimalistic tattoos in geometric circles and are in search of one especially related to the DC character Poison Ivy, then you should definitely take this tattoo into account because this could be the match for you. The form of the outline of this tattoo is absolutely perfect and satisfying to look at, especially if you are a perfectionist. This tattoo does justice to Poison Ivy's beauty delicately and portrays her in her natural habitat with nature with the brownish-black ink. The shading in the right places especially brings out the highlight of the tattoo.
Poison Ivy's Natural Habitat Tattoo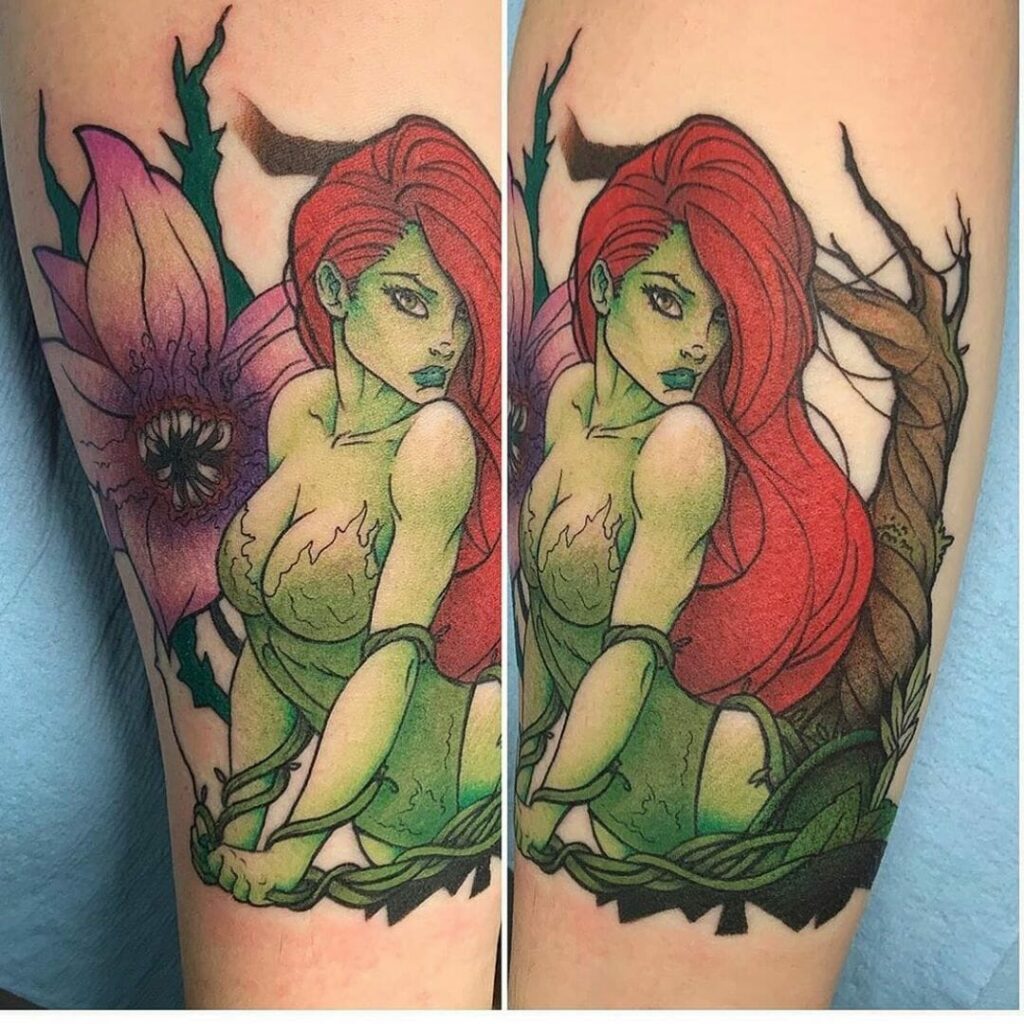 As fearless as she has been portrayed throughout the comic series, this tattoo represents exactly that. She does not care about the deadly flower beside her that wrapped its vine around her as it could be assumed as her natural habitat or home. The flower could also symbolize Poison Ivy herself who could trap you with her beauty but underneath she is dangerous and fearless. So if you believe she is your spiritual character and you want to be or believe you are brave and fearless like her, this tattoo design could be a representation of your individual self. You can change and add some of your own details to mould it into your style.
Poison Ivy Harley Quinn Tattoo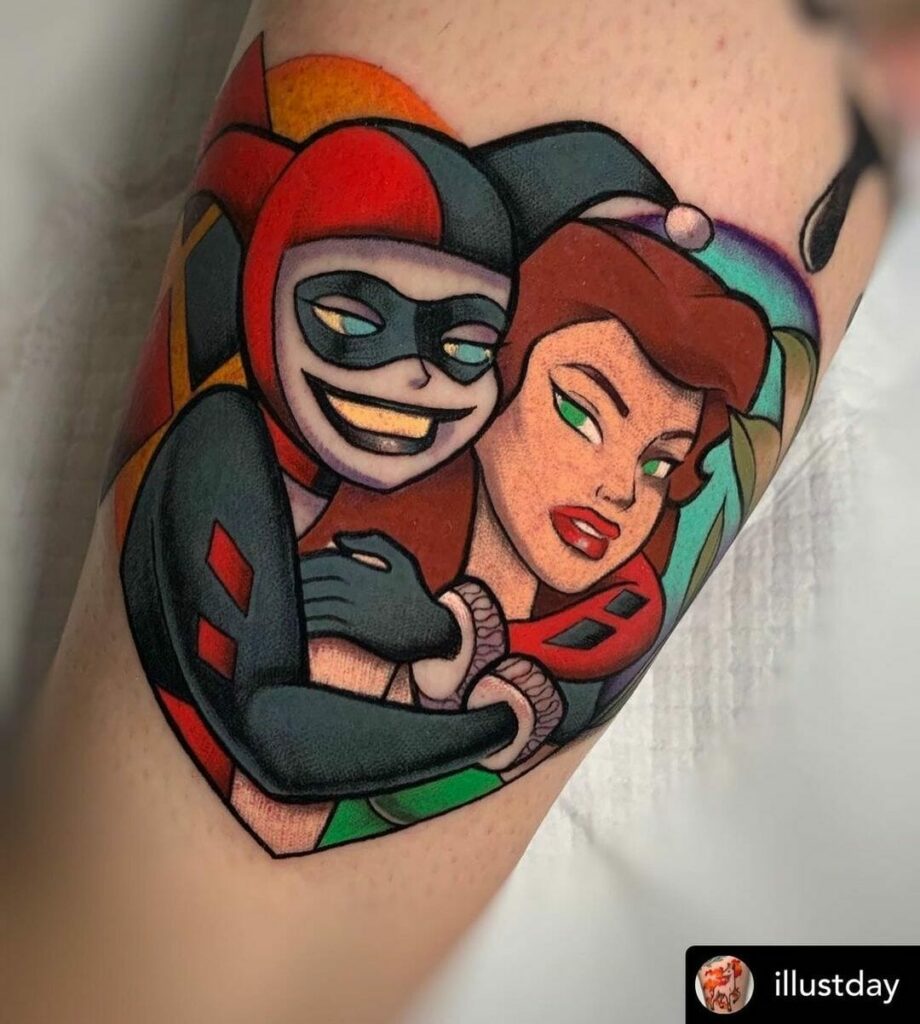 The iconic badass duo of the DC Universe Poison Ivy and Harley Quinn definitely deserved a spot in this list. Known for their friendship as well as their romantic love for each other, the relation between the two is considered to be one of the first bisexual relations throughout the DC Universe. It was revealed that Poison Ivy was romantically attached to Harley. So this tattoo establishes their beautiful relation full of mischief and could be a perfect tattoo idea which you can share with your partner, as this Harley Quinn and Poison Ivy tattoo would speak for itself representing your love.
Comic Style Designed Poison Ivy Tattoo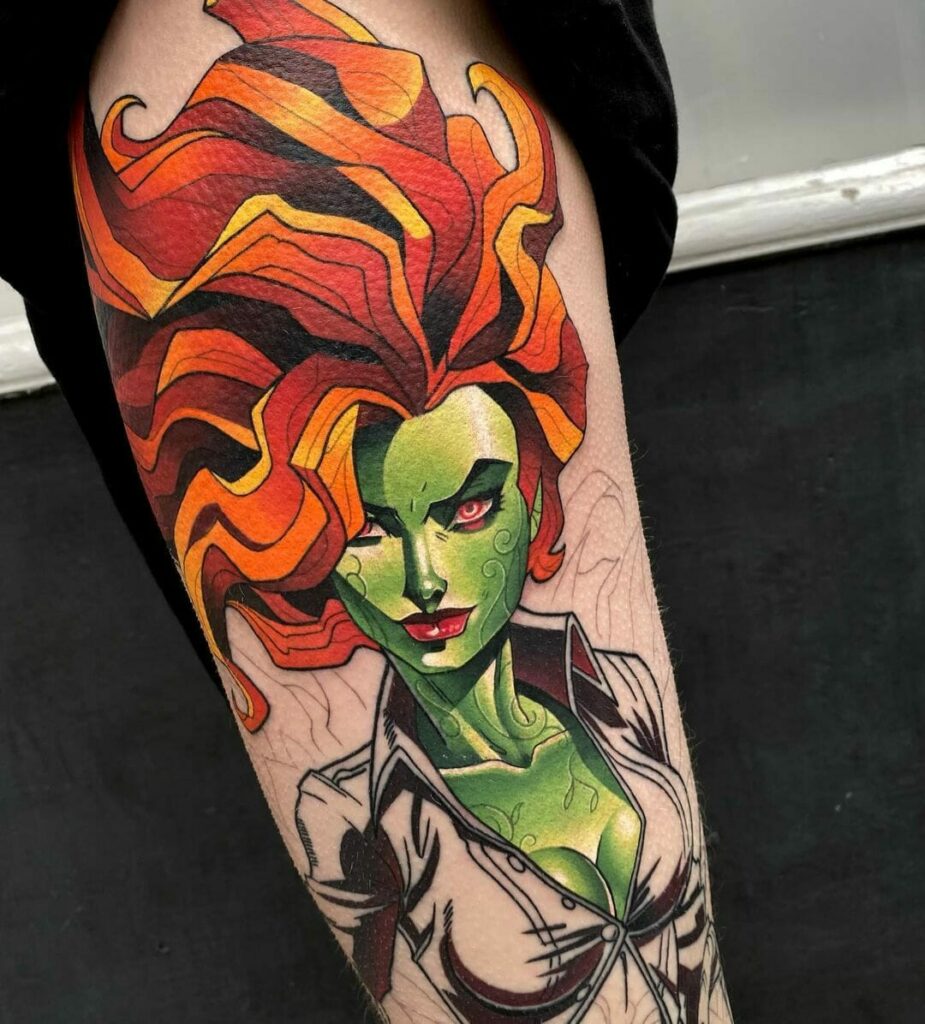 This design has an out-of-the-world element to it. The beauty of this tattoo is in the sharp outlines of every part of the art. This intricate design with deep and light colours separating each other to pursue the shadows and different ranges of light following on her figure. The eyes are drawn with red which oftentimes represents resentment and hence brings her fearless feelings and her badass nature into the light. The subtle background outline could simply depict her aura and makes the tattoo cool as a whole. If you are into comic design tattoos, you can always add this to your cart.
Mini Cartoon Poison Ivy Tattoo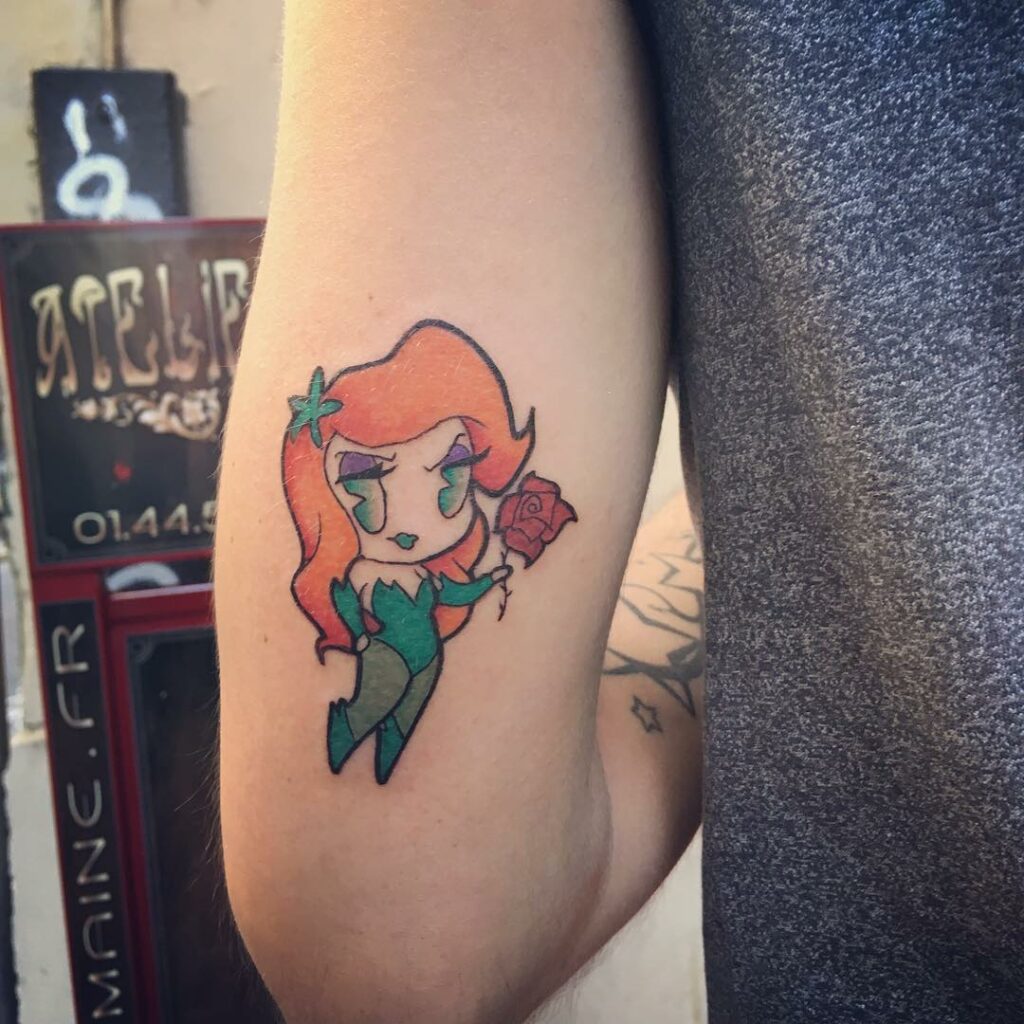 This little Poison Ivy cartoon design is the cutest one on the list. Drawn in the minimalistic style design with features visible makes it very difficult to draw on such a small surface. So if you are a cartoon fanatic as well as Poison Ivy fan, this tattoo is the one for you. This tattoo can also be used as a symbol for all the short yet badass women out there to portray the height does not determine anything. Little starfish clip on her hair detail and rose detail add a feminine side to it
Tim Burton Style Poison Ivy Tattoo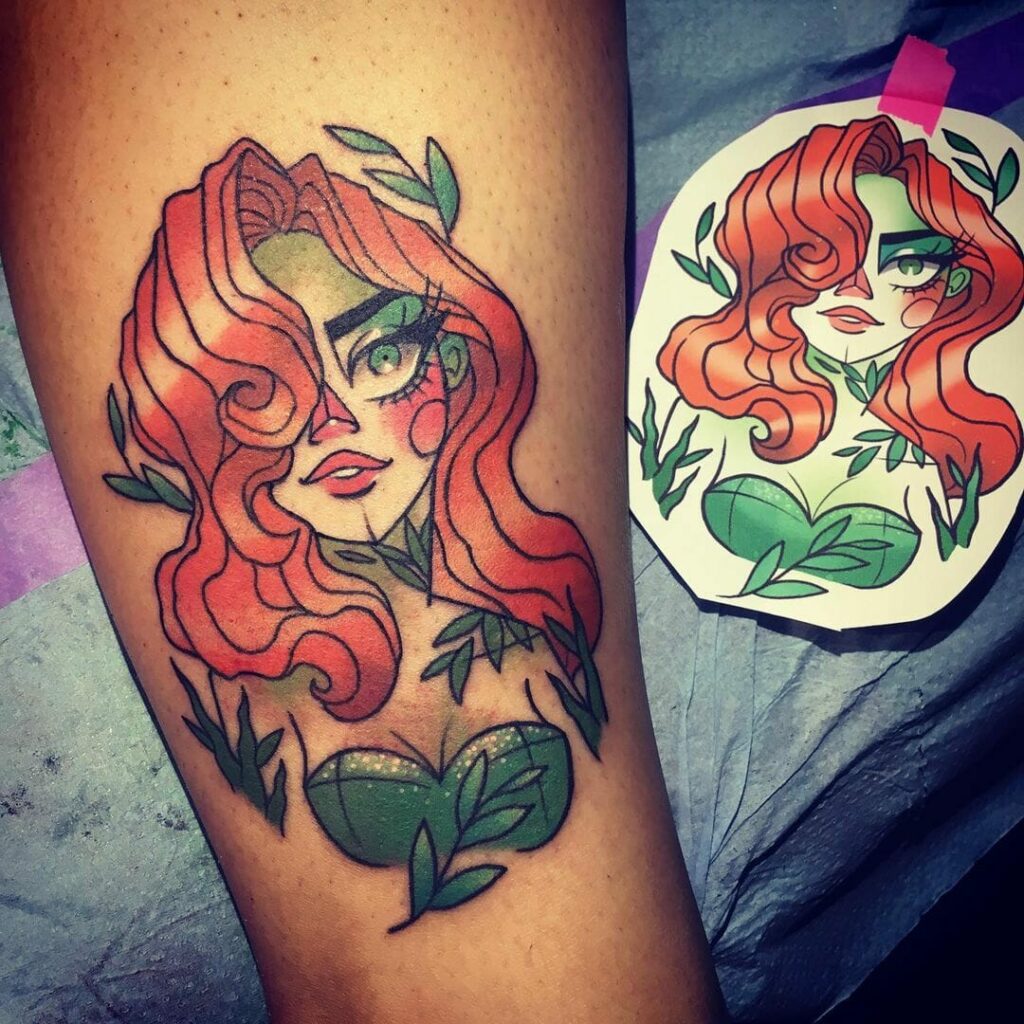 Tim Burton is famous for its anime style. Although not completely this tattoo contains a few attributes similar to Tim Burton with its long side lashes, sharp jawlines, big eyes and big lips. The hair is drawn like a wooden doll style. The whole concept is very unique if you think about it and could be an inspiration for you if you like both Poison Ivy and Tim Burton.
Poison Ivy Arm Tattoo
The extreme details in this tattoo are what makes it so beautiful. The Ivy plant wrapping around the arm of the customer with Poison Ivy on top is a beautiful concept as both share the same name. So if you are a plant lover as well as your idol is a Poison Ivy DC character, then it can be assumed that you have found your match.
Comic fans claim that Poison Ivy is one of the badass supervillains of all time and is an inspiration to many. If you are a part of the fandom, this list will provide recommendations for Poison Ivy tattoos. You can always improve the designs and add your own personalized style. Make sure to find a tattoo artist match who will be able to satisfy you without any error.
feature image from Pinterest – Want your tattoo to look brighter? Try "Tattoo Balm"