Looking for some beautiful tattoos to adorn your body with? We have created a list of the best pretty tattoo ideas that you will fall in love with.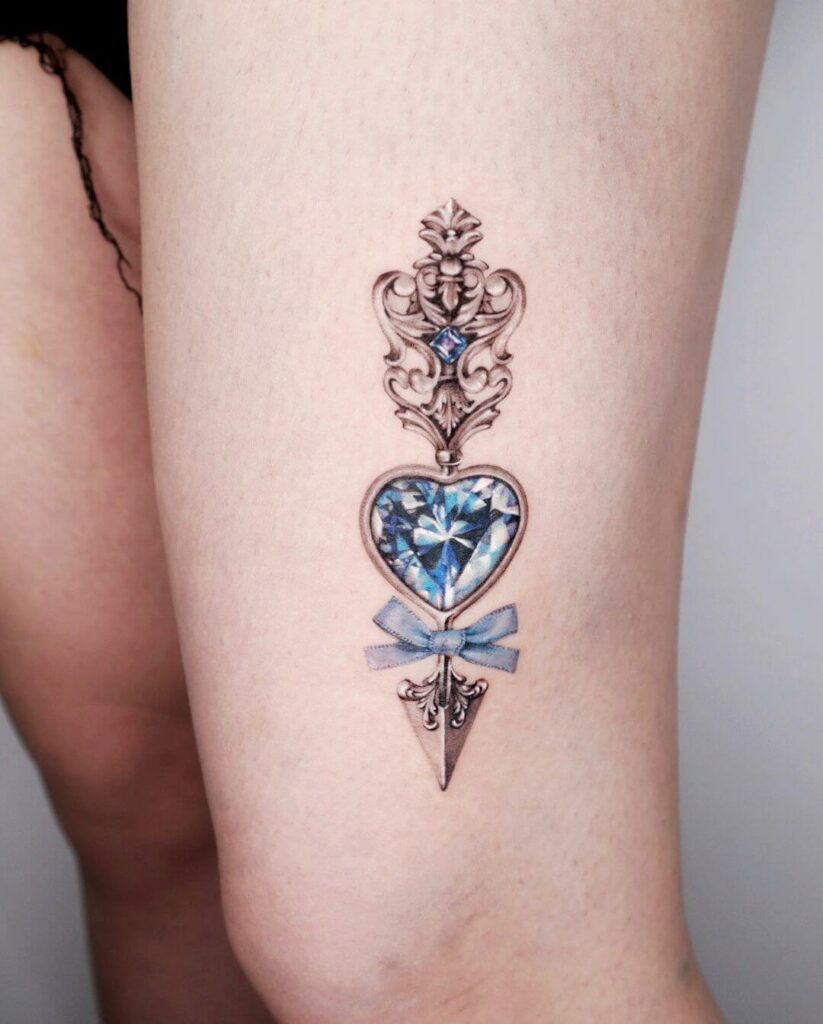 While searching for tattoos, a lot of people look for pretty ones.
It is understandable as pretty tattoos appeal to our sense of aesthetics. People want to look at their tattoos and think they are beautiful.
Of course, pretty tattoos do not define a single style or subject of tattoo. It can be a tattoo of anything. What makes a tattoo pretty instead of badass or edgy is how the tattoo artist draws it. Everyone can have a different definition of what pretty is. But usually, tattoos that have delicate and dainty designs and have a more feminine appeal to them are considered pretty. That does not mean these pretty tattoos with cute designs are only meant for women. If it appeals to their sense of aesthetics, a man can get any of the tattoos on our list on their body and it will look absolutely stunning. The beauty of this list is that it incorporates many different styles, subjects and sizes of tattoos. We have bigger and smaller tattoos, as well as tattoos done in a variety of styles. You can get tattoo that has a special meaning to you in any of these styles as well. The scopes are infinity. And here is a list of some of the best pretty tattoos we could gather for you.
Pretty Flower Tattoos for Women
Flowers are one of the prettiest things in nature, and everyone will agree with that. So when we are talking about pretty tattoos, we have to talk about floral tattoos. In this particular tattoo, we can see a gorgeous floral pattern on a person's both hands. The tattoo sits on the top part of their palms, which is usually a place where it hurts to get tattooed. This is a very cool tattoo that is edgy and pretty at the same time. If you are a fan of hand tattoos and have been looking for some cool designs to get your hands adorned with, then this black and grey floral piece is perfect for you.
Beautiful Sun and Moon Tattoo Ideas
Sun and moon tattoos are one of the most popular tattoo designs of all time. The sun and the moon are complimentary subjects as they both signify opposite things; like light and dark, day and night, etc. If you want to capture this duality in a tattoo, then this piece is perfect for you. The tattoo shows a sun and moon design on the shoulder of a person. The tattoo is pretty minimalistic and small in size. You can go for a bigger and more intricate design, but if small tattoos are your thing, you can definitely get this one. This design is versatile, so you can get it as a forearm or arm tattoo as well. You can also add other elements to the tattoo to make it more interesting.
Delicate Ornamental Chest Tattoos for Women in Black Ink
Ornamental tattoos are one of the most delicate and intricate tattoo designs of all time. These tattoos do not usually have a particular style or subject. They just follow the natural flow of the body part that they are on and create an ornamental design on it. In this picture, the tattoo starts from the woman's shoulders and continues downwards and inwards to the chest. The design is delicate and done in black ink. The tattoo also adorns the collar bone region and it looks absolutely beautiful. You can also get a cool design like this tattooed on you. Just find an artist that has mastered this delicate style and get the tattoo of your dreams. This is one of the best tattoo ideas for women.
Fantastic Tattoo of Angel Wings on Shoulder Blade
Angel wing tattoo ideas have a long and inexhaustive list. They can be minimalistic, detailed, large or small. Depending on what design you are looking for, you can get a very pretty angel wings tattoo on your body. This tattoo design is done on a person's upper back and the design sports two beautiful and detailed angel wings and also three swords in the middle. Lager angel wing tattoos also look really good on the chest region. This is one of the best Christian tattoos, so if you are a religious person, you can get this tattoo on your body. But even if you are not, this tattoo design will look cool nonetheless.
Eye Catching Forearm Skull Tattoos You Will Love
If you are looking for some pretty and stunning sleeve tattoo ideas, then we have just what you need. A skull is usually not a subject you see in a list that talks about pretty tattoos, but just because it's an edgy tattoo, does not mean it cannot be beautiful. This tattoo design that sits on the forearm of the person looks absolutely stunning. It is done in a neo-traditional style, which is a marriage of American traditional tattoos and modern techniques and colors. The tattoo has vibrant colors and an intricate design as well. If you are a fan of badass tattoos but want a beautiful piece of art on you, then this is one of the best forearm tattoos for you.
Pretty Butterfly Tattoo with Intricate Design Ideas
Butterflies are also one of the quintessentially pretty tattoo subjects. This is also one of the most popular tattoo subjects of all time. The butterfly is probably the most beloved insect of all time, with their stunning and vibrant wings. They also make for very beautiful ornamental tattoos. This tattoo, for example, is an upper arm tattoo, which shows an ornately done butterfly design. If you love butterfly tattoos but want a more unique tattoo on your body, then this design will be perfect for you.
Beautiful Arrow Tattoos Body Art Ideas
People love Bow and arrow tattoos. And you can get them in many styles. You can get smaller or bigger designs. You can make an arrow tattoo very simple or very intricate depending on your taste and the capabilities of your artist. But if you love ornamental tattoos and get beautiful body art from them, then you are going to love this one. The picture shows a very simple yet ornate tattoo design of a bow and arrow. You can also choose to add other details to this tattoo and make it more personal, or just customize it to fit your preferred style. You can get other subjects, like crown tattoos, done in the same style and it will look stunning.
Cute and Small Disney Tattoos You Will Love
If you are looking for cute little tattoos that remind you of your childhood, then Disney tattoos are the way to go. You can get Disney tattoos in any style and size. You can choose from a plethora of characters as well, so the options are truly endless. In this picture, we can see two fan-favorite Disney Princesses- Ariel and Mulan. The tattoos are done in a very adorable and kawaii style where they both look more like babies. You can also get cooler and badass tattoos of villains if that suits your style more. All in all, if you are looking for a way to carry the memories of your childhood on your skin through a very pretty and cute tattoo, then you cannot go wrong with a Disney tattoo.
Fantastic Bird Tattoos for Women
Birds are a very popular tattoo subject. People get tattoos of all kinds of birds in a variety of different styles. But this tattoo has a more unique design to it. It shows a bird in flight from the front. There is also an illusion of the bird flapping its wings to fly with the multiple wing designs. There are also some other elements that complete the tattoo and make it look stunning on the woman's back. If you want to get this tattoo in a smaller size, then you can also get it as an upper arm tattoo or a thigh tattoo as well. The tattoo creates an illusion of being in movement and looks absolutely gorgeous. But you can also get a smaller bird tattoo with a flower design if that is something you are looking for.
Beautiful Cherry Blossom Tattoo Designs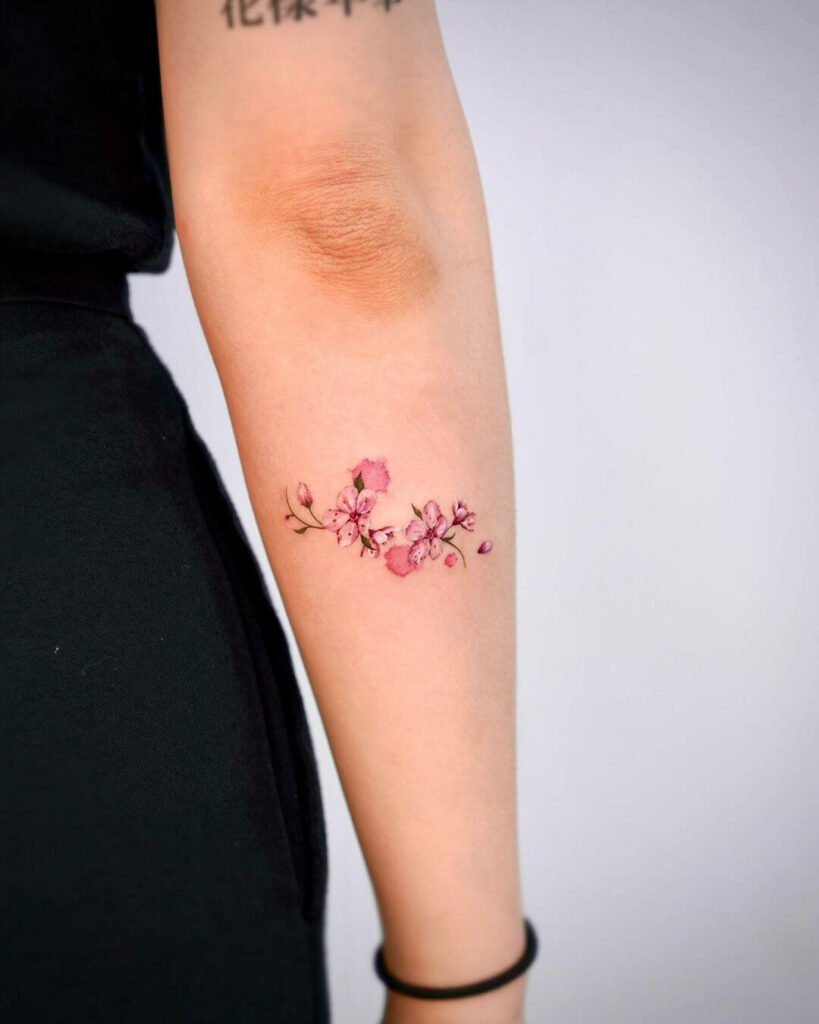 You can never go wrong with a beautiful Cherry Blossom tattoo. They are one of the most beloved flowers of all time and look really beautiful. If you like Japanese tattoo designs, then you can get a tattoo of Cherry Blossoms done in the Japanese style. In this picture, we can see that the Cherry Blossoms are done in a very realistic style. The colors are vibrant and look realistic enough to touch. You can also get tattoos of other floral designs, such as lotus flowers, roses, or other flowers done in a similar style. Just request your tattoo artist to draw up a design that you love and get it tattooed on your body.
Feature Image from Pinterest – Want your tattoo to look brighter? Try "tattoo balm"
Last reviewed and updated on March 9, 2023