Are you in search of incredible pug tattoo ideas? Look no further for we have you covered. Here are 10 unbelievable pug tattoos for you.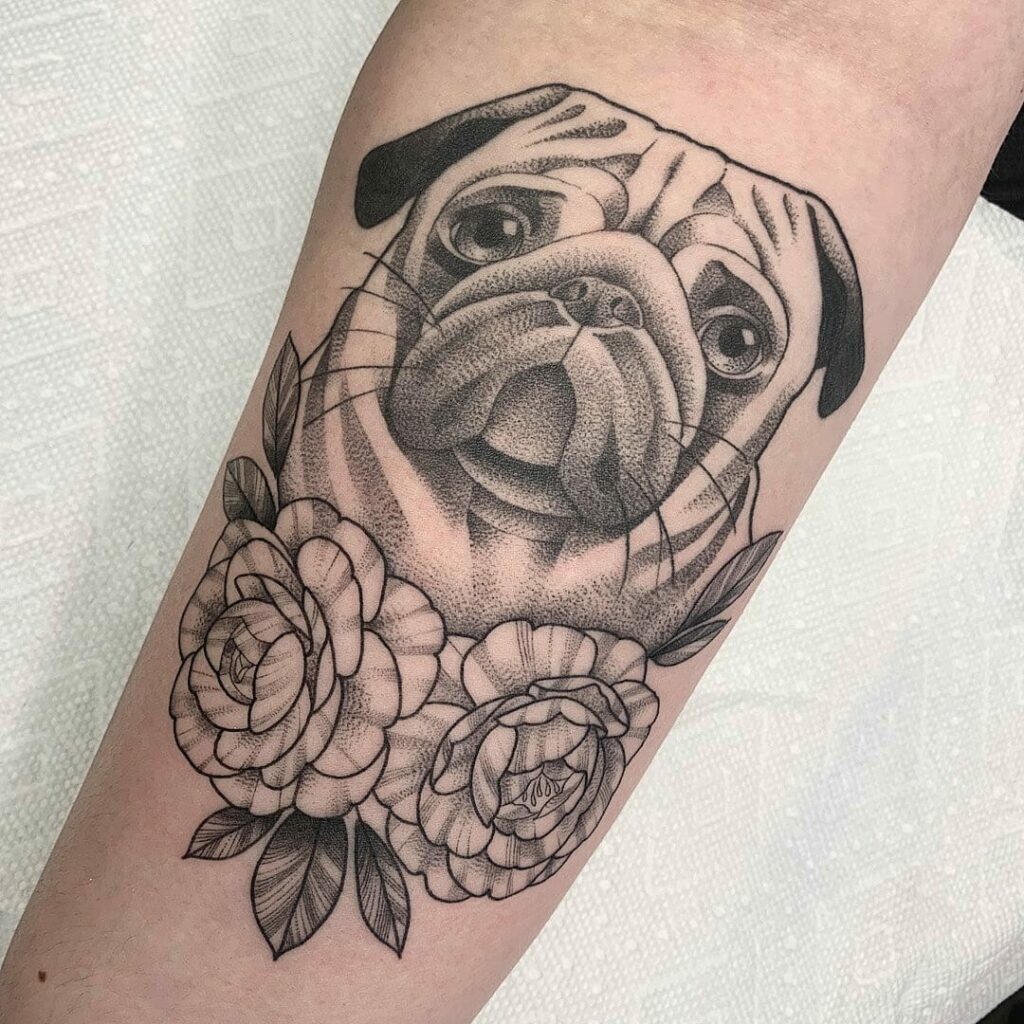 It's no surprise that pugs are one of the most popular breeds of dogs in the world.
Have you seen those eyes? Without a doubt, pugs are the most squishable dog breed.
Dog lovers and pet lovers across the world are enamoured by the cuteness and the friendly demeanour of pugs. They are known to bring light to the lives of the families they become a part of. They are a universal symbol of friendship, companionship, love, and joy.
For dog owners, dogs are much more than pets. They are often considered soulmates and an integral part of not only their families but also their existence. Dogs have an incredible reputation as loyal partners and faithful companions, much more than any other pet animal can ever claim to be. They are perhaps the only true friend one can think of having.
This is why among dog owners, it is a popular trend to get the faces of their dogs or general dog tattoos inked on their bodies. Whether it is to memorialize your pet pug or because you love pugs enough to wear a pug tattoo in their honour, here are 10 unbelievably fun and cute pug tattoo ideas for you to consider for your next tattoo session!
The Hawaiian Pug Tattoo To Give You Vacation Feels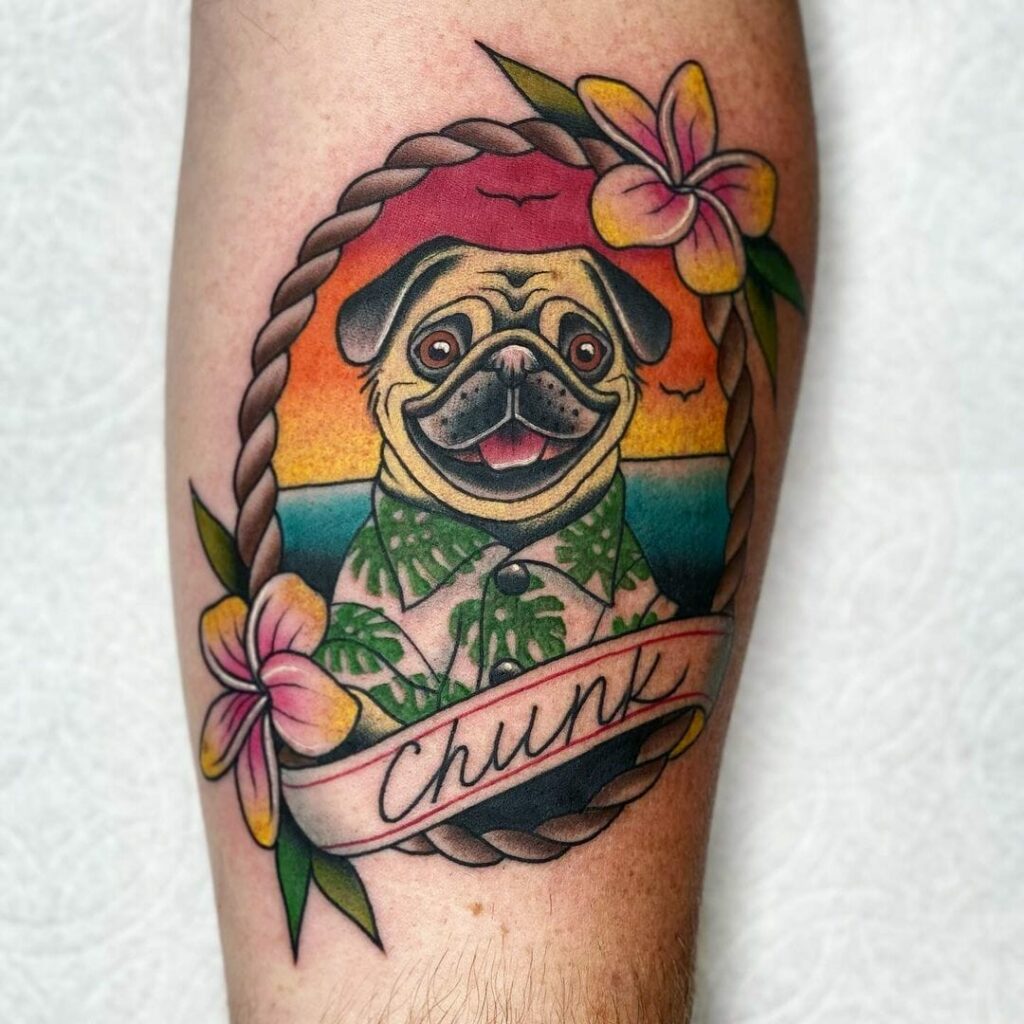 Pugs, with their tiny stature and uber-chill persona, are anyway considered the epitome of coolness when it comes to tattoos. This is perhaps the reason why they are the most popular breed of dogs. But what is cooler than a normal pug tattoo? Of course, it is a Hawaii-inspired pug. This pug tattoo is all the vacation feels you need in this pandemic era.
We must hand it to the tattoo artist for capturing the vacation vibe so brilliantly in the popular format of pug portrait tattoos. Inked in beachy and sunset colours, with a happy pug face in the centre of a Hawaiian flower basket, this pug tattoo is sure to bring joy to you every time you look at it. Extra brownie points to the tattoo artist for getting the Hawaiian floral shirt on point!
A pet portrait with cute attire and accessories is a very popular pug tattoo design. Even if you don't personally have a pug friend, this tattoo can be your new friend. If you are in search of a quirky pug portrait tattoo, then this is a must-have in your collection of body art!
The Floral Pug Tattoo To Bring In Positivity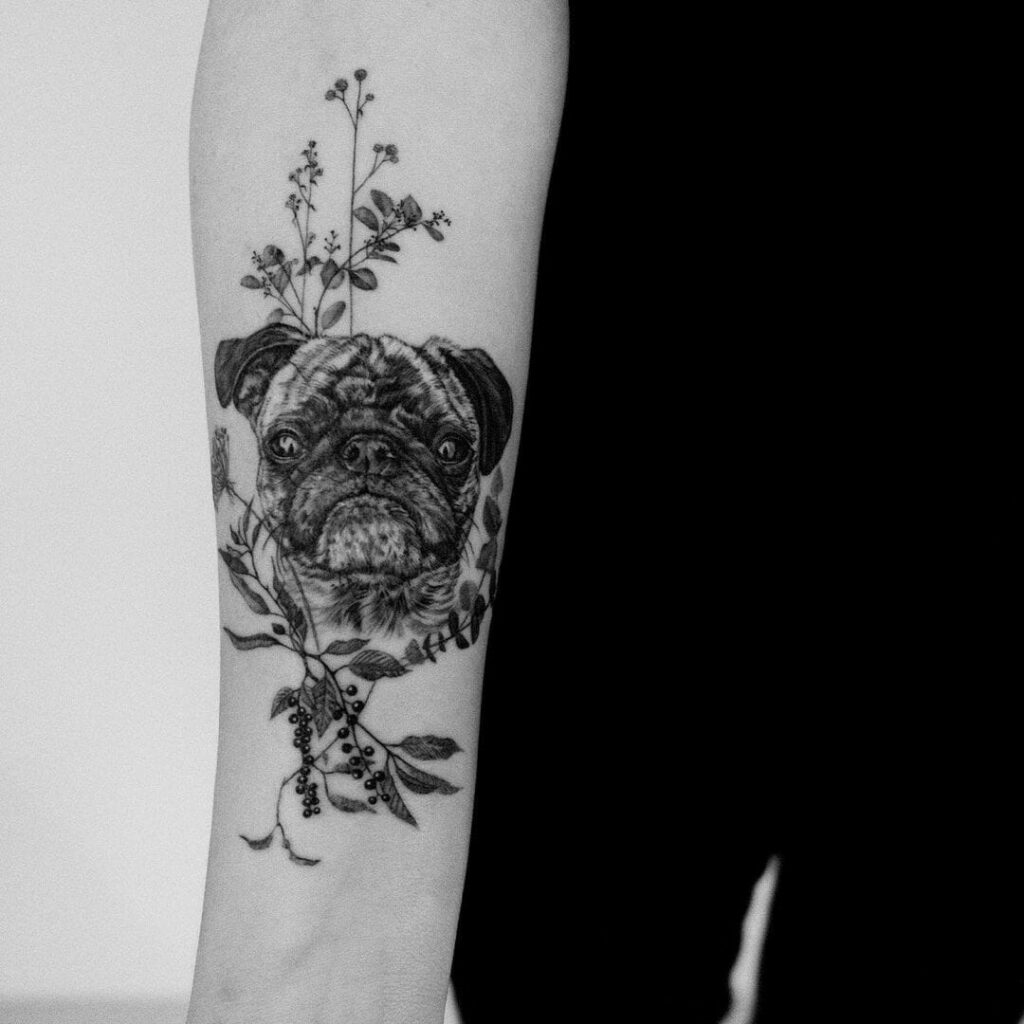 Nothing gives out positive vibes more than flowers and pugs. Combine them together and you gave a pug tattoo design that is on another league.
Flowers symbolize the love and bonds people share, in this case with their pets. This pug tattoo is a representation of the feelings of love and companionship you share with your pet pug or with dogs in general. Such tattoos are considered lucky tattoo designs. The beautiful artistic style of the tattoo artist sets this piece apart creating a visually stunning design that is extremely appealing to the eye. The cute pug mouth and the classic grumpy face adds a heartwarming touch.
The best part of this design is that it works well in any different placement on the body including the arm or legs. If you are interested in a classy, artistic design then look no further!
The Smoking Pug Tattoo For Your Daily Dose Of Sass
Pugs are known to harbour several character traits. While they are most often affectionate and playful, they can also be stubborn and not give a care in the world. This is probably the reason why their badass side is to live for!
This small but smart pug tattoo design captures the badass side of pugs perfectly. Pugs have extremely expressive faces, a character trait that works very well for portrait pug tattoos. The side cigarette touch makes the thug life, or rather the pug life, come to shine. This cool tattoo oozes style and charisma and is sure to make the party go "hell yeah" as you walk in!
The one thing that truly stands out in such pug tattoo designs is the craftsmanship of the tattoo artist. This pug tattoo for example has required a lot of patience and skills in shading and grading techniques to bring out this perfect finish. Even though it looks simple, it is anything but to make it!
If you are in search of a distinct and cool design that can work in multiple parts of the body like your legs, arm, or shoulders, then it's time to put the research down and head to the tattoo studio.
The Watercolor Pug Tattoo For An Artistic Touch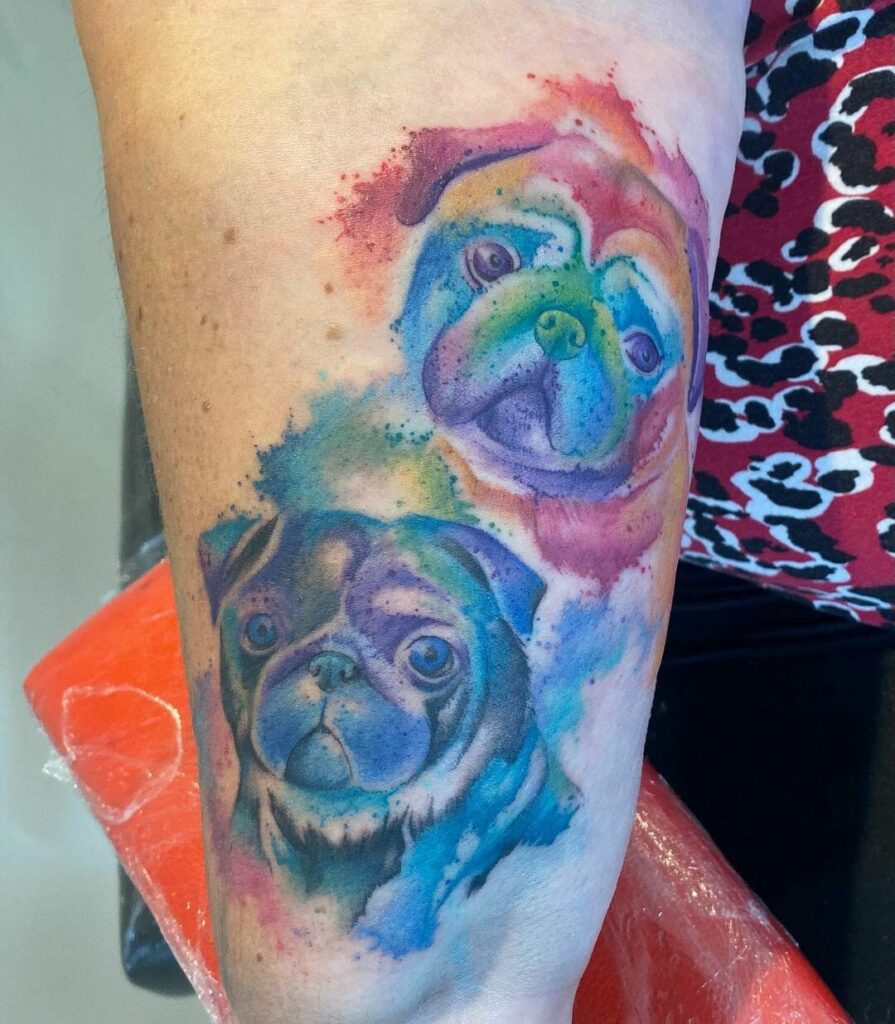 The watercolour technique is one of the most visually stunning styles of tattoos. It is an intricate and delicate technique that combines a lot of different skills such as dotting, shading, and colour grading to mimic a real watercolor artwork.
The watercolour technique works well in capturing the sensitive and charming side of these animals. The innocent pets look serene in the multicolour portrait. This tattoo is a great example of the range of design imagination that exists with pug tattoos.
If you are in search of a uniquely aesthetic pug tattoo design to calm the soul and memorialize your pets then this tattoo is perfect for you!
The Doughnut Pug Tattoo For Incredible Cuteness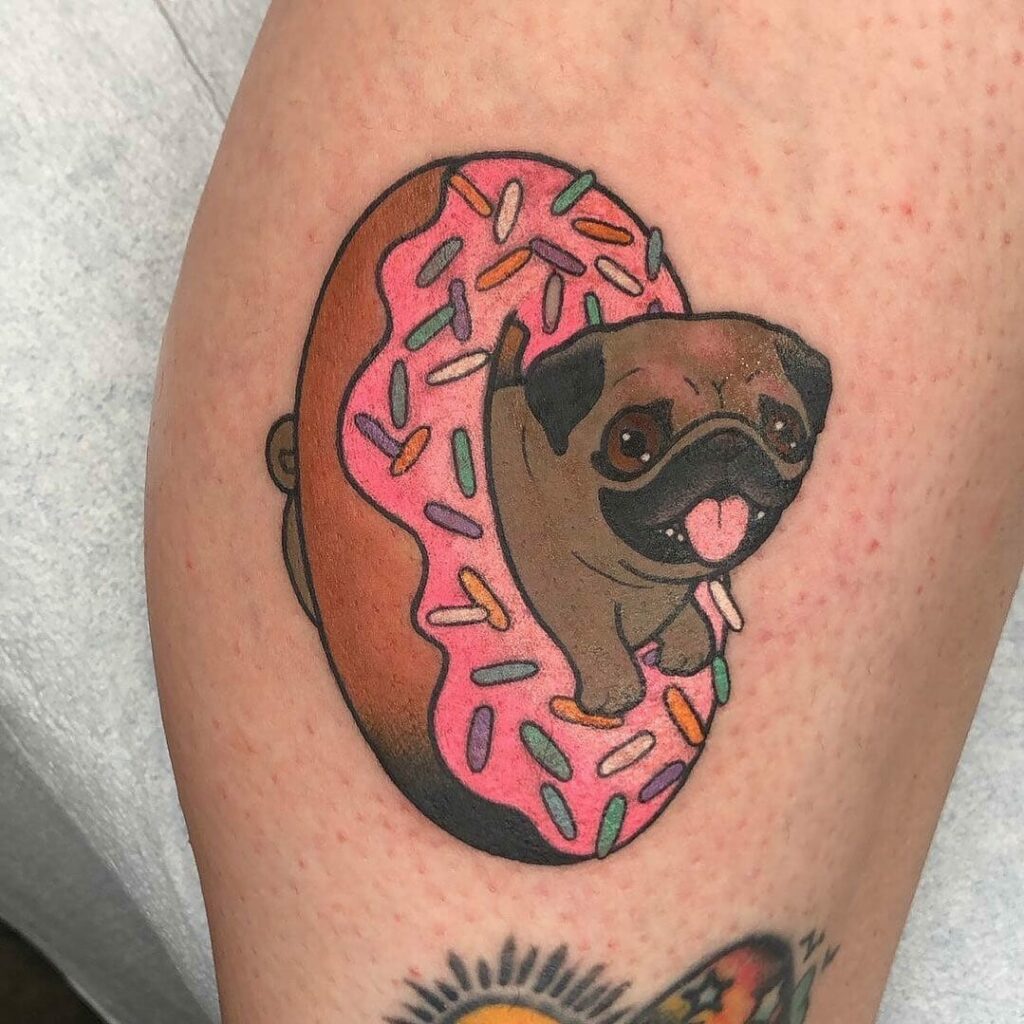 Your search for the ultimate cute pug tattoo ends here! This doughnut pug tattoo design has us swooning over how incredibly cute it is. Perfectly capturing the playful nature of a pug, this delectable piece of art also is a testament to the foodie attribute of these favorite pets. Shout out to the tattoo artist for blending in colours so remarkably as to make this pug tattoo pop in its simplicity.
Pugs are known to be fun-loving, cool, and playful pets. If you have a pug who is just like the pug in this pug tattoo, then this could be the perfect way to pay a super adorable tribute to them. What's more? There's a perfectly delicious-looking doughnut in this design and when has that ever gone wrong? Mind you, with this tattoo on your body you just might always be hungry!
Of all the things that are perfect about this pug tattoo, one thing is also the fact that its compact design makes it suitable for placement in any part of the body. You could have this created on your legs, your arm, shoulders, foot, or pretty much anywhere you please. This pug tattoo is the complete package of every quality a pug radiates. This needs to be collected and added to your oeuvre of body art now!
The Pug Paw Tattoo For Minimalist Satisfaction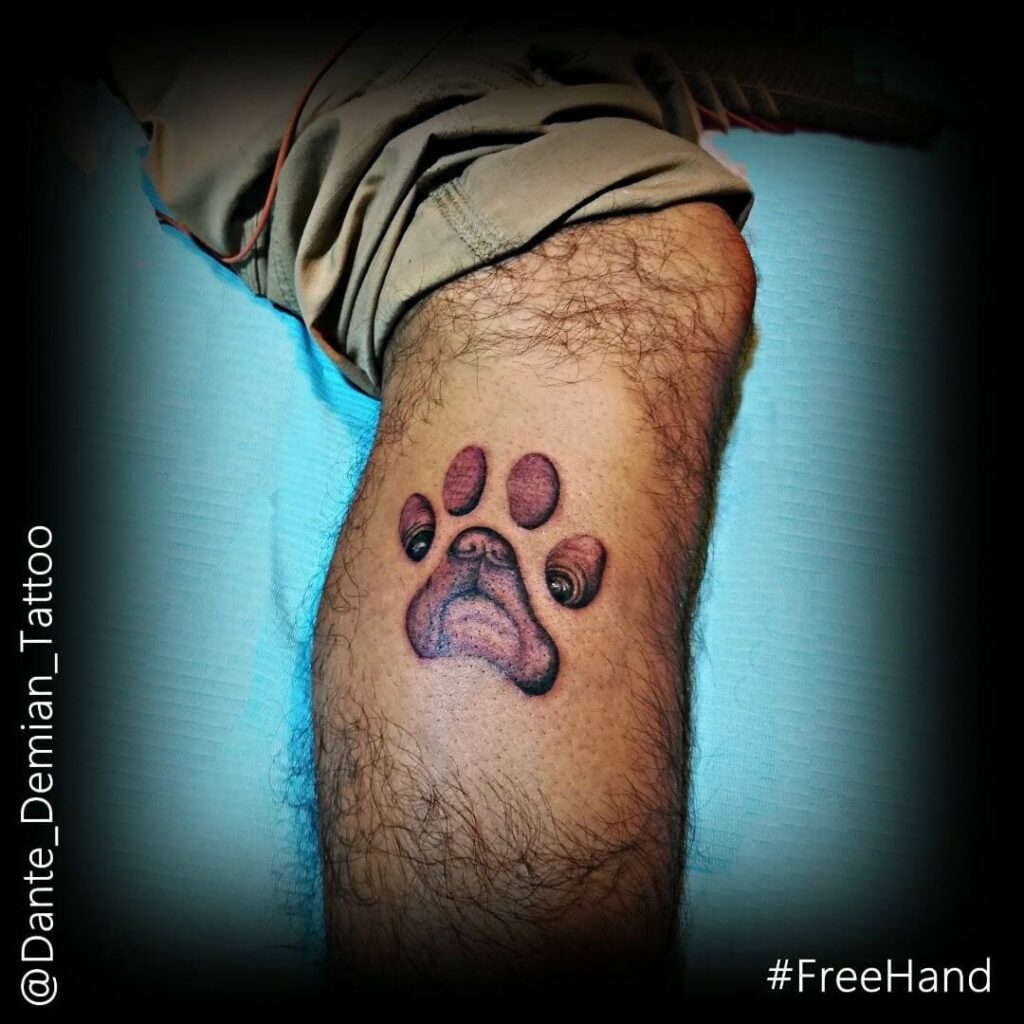 Paw tattoos are one of the most demanded categories of dog tattoos. A simple paw can go a long way in signifying one's undying love for their furry companion. A very common placement for such tattoos is the foot, to denote that your furry friend always walks with you, the chest, to denote that you hold your pet close to your heart, or the wrist to display a blood connection with your pets.
This unique pug tattoo is a slightly larger design in the paws tattoo category. The effort of the tattoo artists in such designs is evident in how they capture the pug's face within the paw. This is a unique homage of love to the pugs who add value to our lives.
'Puppy Eyes' Pug Tattoo To Melt Your Heart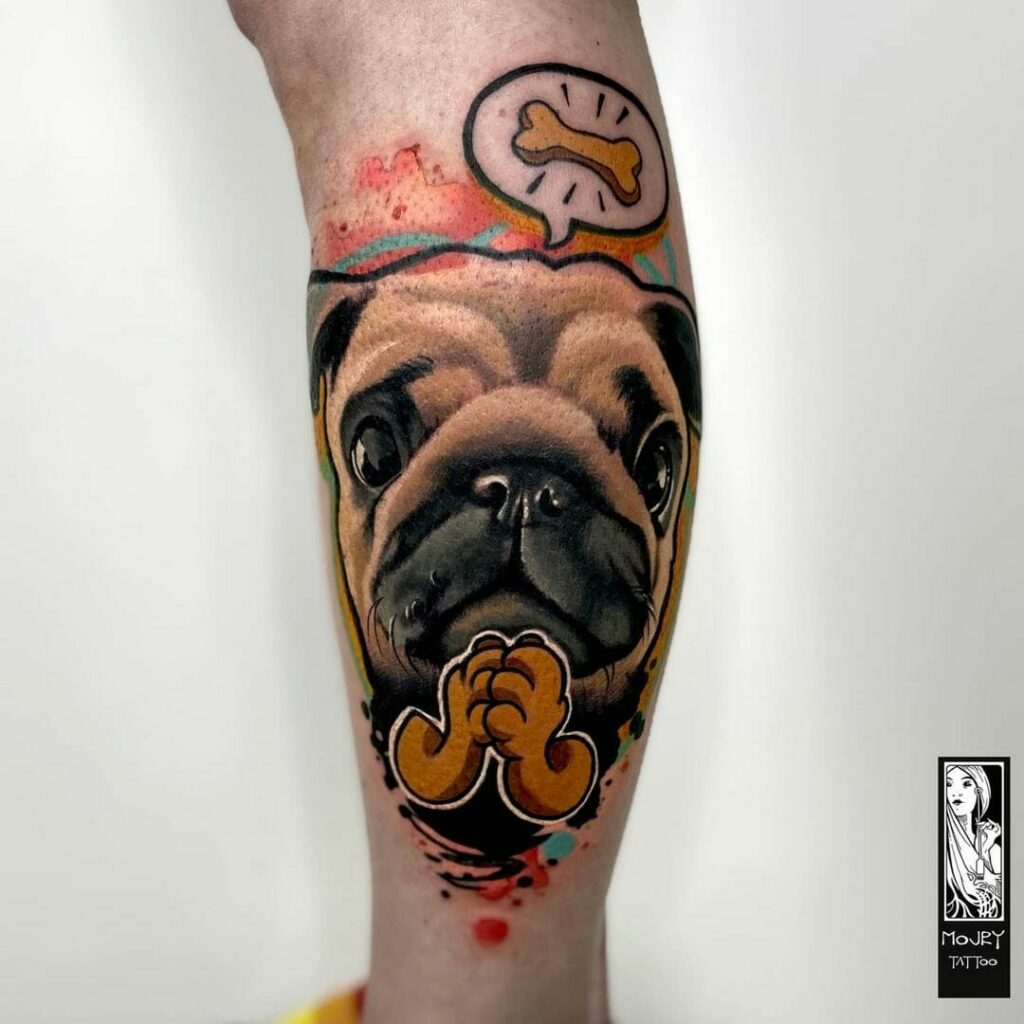 There's a reason why the saying "puppy eyes" is so popular. It is practically impossible to look into the cute innocent eyes of a pupper and refuse them what they want. Oh yes, dogs know how to get their way. And the pug perhaps has the strongest puppy eyes game in the entire dog world.
This unbelievable Pug tattoo is a representation of just how adorable and effective a pug's puppy eyes can be. Pugs are highly sensitive dogs who thrive in human companionship. And their endless appetite for treats is unparalleled. The adorable pug in this pug tattoo design is seen with folded hands with a treat on his mind! What an amazing imagination. It's hard not to smile when you look at this pug tattoo.
This pug life tattoo is a delightful reminder of every time you have faced a dilemma over giving a treat to your pet pug. Using the watercolour technique to create a graphic, pop-art kind of feel this tattoo is sure to be a unique addition to your body art collection.
Harry Potter Themed Pug Tattoo For The Book Nerds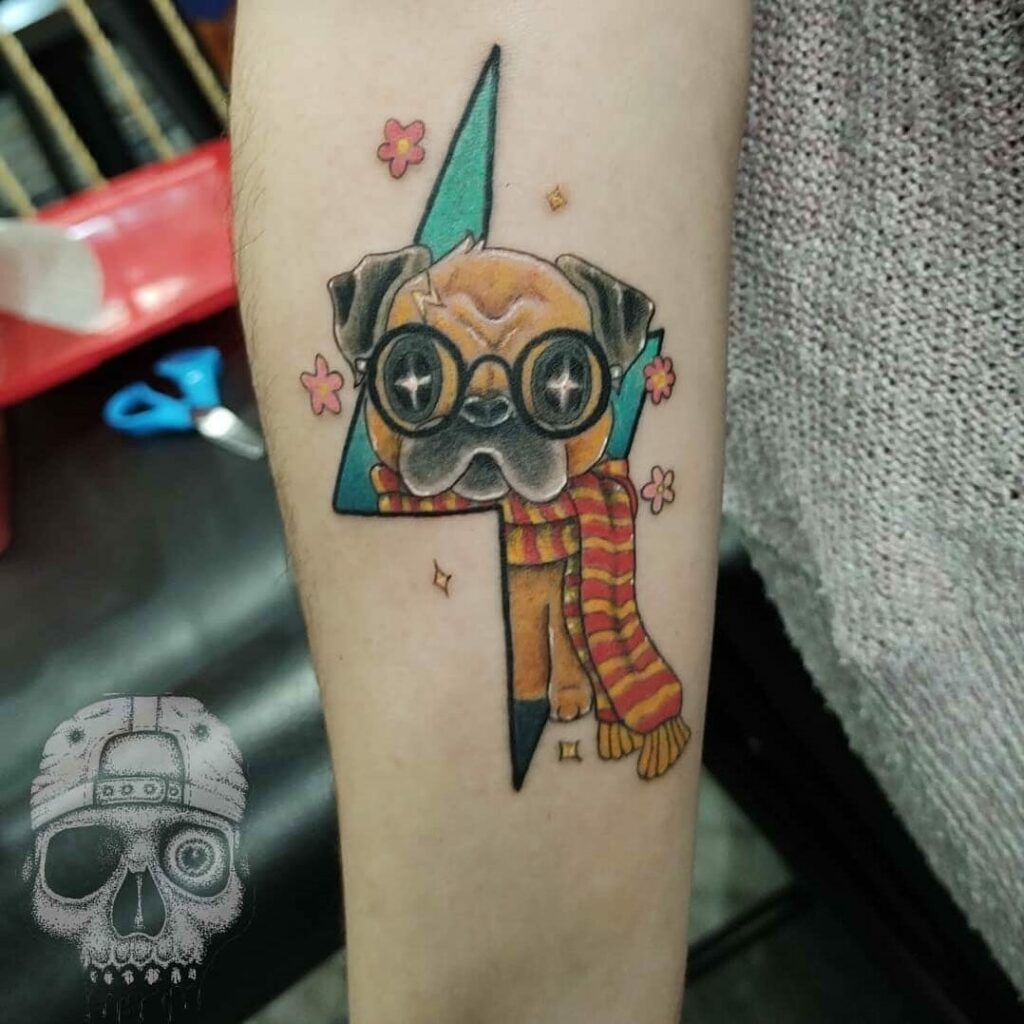 Harry Potter nerds in the house? Your search for the ultimate Harry Potter crossover ends here. Did you ever imagine coming across something more awesome than Harry Potter himself? Well, hold your hat! Pug Harry Potter is here and they are sure to Expecto Patronus their way into your hearts.
This ultimate Harry Potter pug tattoo is everything that Harry Potter stands for but infinite times cuter and doggier. Our Pug Potter wears the classic Gryffindor scarf along with Harry's signature spectacles. He even flaunts the famous scar on his forehead making for a wholesome art idea for lovers of the Harry Potter books and movies. Harry Potter tattoos are incredibly popular themselves because of the values of bravery, courage, and power that are imbibed in every character of the series. Perhaps your doggo shares traits with Harry, Hermione, or Ron, or perhaps this is just one of your fancies.
It's not every day that the perfect tattoo design comes along, so regardless of your motivation, adding this tattoo to your body art collection is sure to ante up your tattoo game by leaps and bounds.
A Funny Pug Tattoo To Tickle Your Senses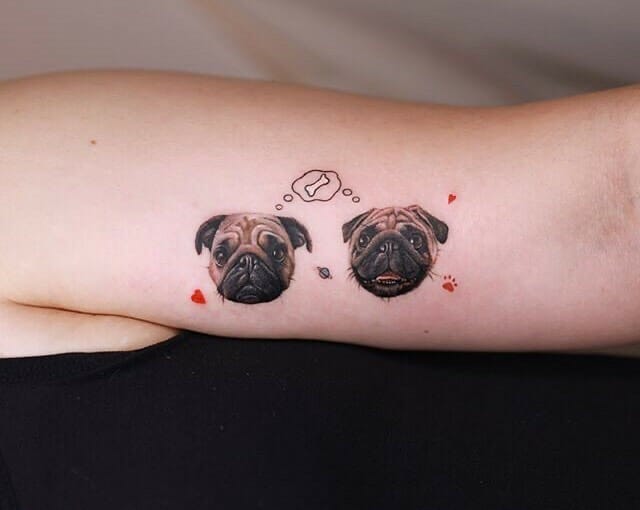 This incredible pug life tattoo is one of the best pug tattoo designs out there! Pugs are all about the chill life. Eat, Love your human, play, get love from your human, sleep, think about food, eat, sleep, and repeat. This pretty much sums up a pug's life.
A majority of a pug's, or rather any dog's, day is spent thinking about food. No matter how many treats you give them, they never seem to be satisfied. These incredibly cute pug tattoos are a testament to that fact. Using simple colours and a classic portrait style design, this tattoo combines elements to peak its creativity. The pug seems to be sad initially, but the moment it thinks about food, a bright smile breaks out on its face.
Pugs have the unparalleled power to brighten up your mood with just their silly smiles. A dog's smiling face brings love, hope, and light to anyone's life and as such is considered a lucky sign. These pug tattoos take that idea a notch higher by adding a funny element to it.
If you are in search of funny pug tattoo designs for your body, then rush to your nearest tattoo artists with this design today!
The Royal Pug Tattoo Because All Hail The King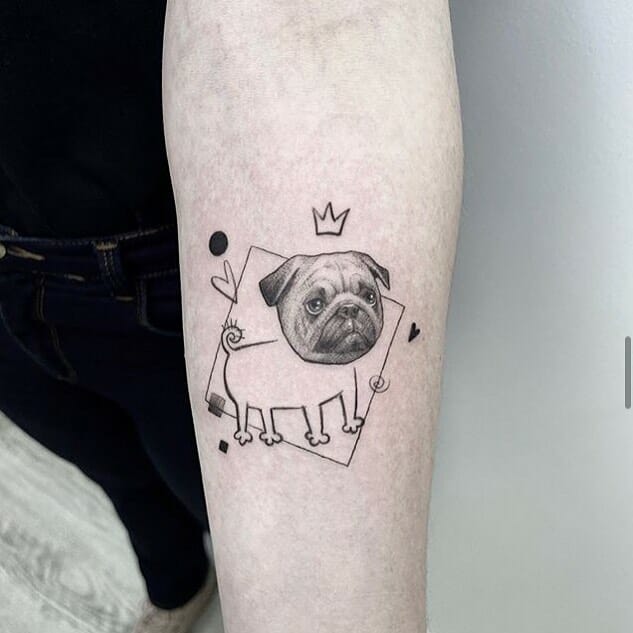 There are several pug tattoos in the market that display pugs as a king. And rightly so. In many ways, their attitude, nature, character, and just their existence, do make them kings… kings of our hearts!
This pug tattoo is an example of doodle-style pug tattoos. It combines the classic portray tattoos with simple doodling to create a contemporary and quirky design to please your soul. The lines are neat and simple. The classic grumpy pug face is combined with cute legs, heart, and crown to give the design a comic touch.
Sometimes minimalism wins, and this pug tattoo is the perfect example. If you are in search of pug tattoos, that is minimal yet perfectly capture your love for these animals, then your search ends here with this uniquely simple pug tattoo design.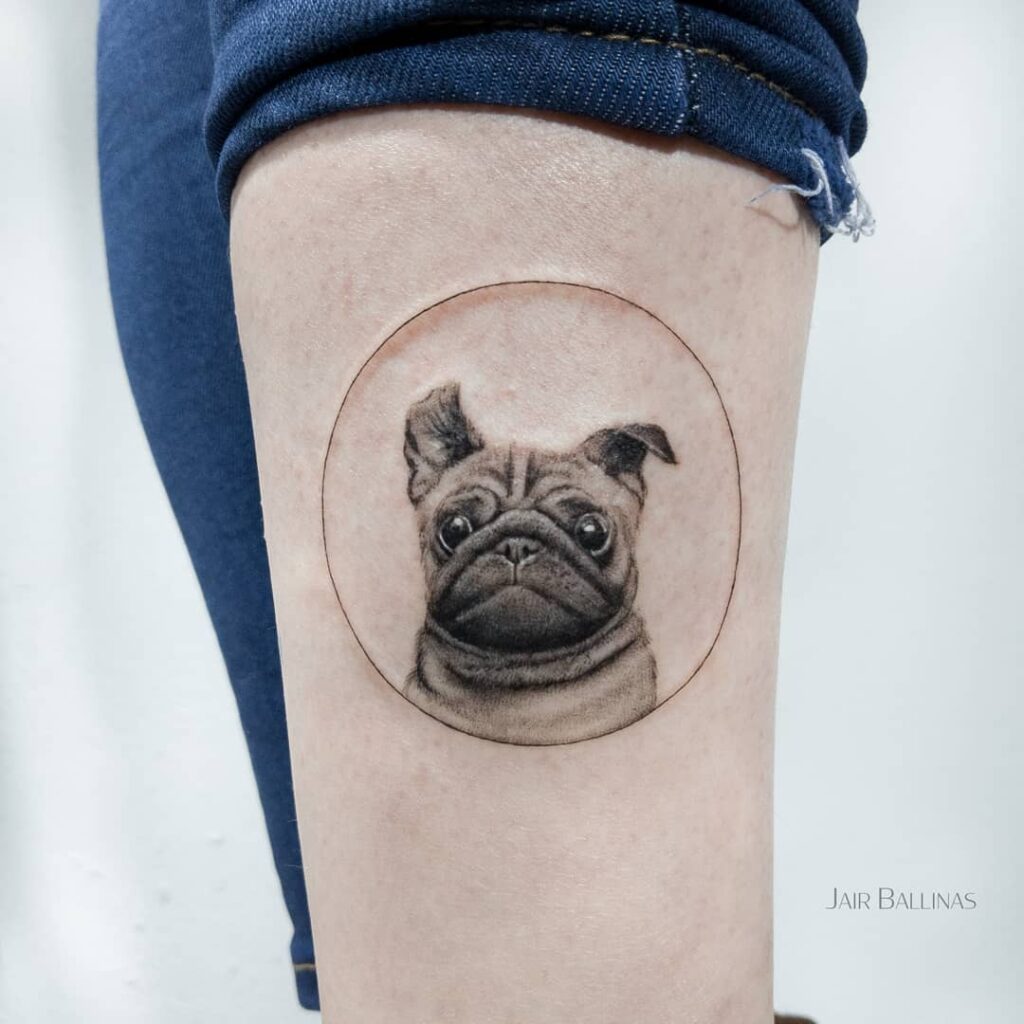 Dog tattoos in general are cool. However, pug tattoos stand out among dogs for their expressive faces and all the imaginative design that can be created around them.
Pug tattoos can mean several things for their wearers. It could be a tribute to their personal furry friends. Or emerge from a love for pugs in general. Pug tattoos signify love, happiness, joy, playfulness, and all things pure. There are several different types of pug tattoos to choose from – black and white, colour, watercolour, portrait, etc. The story behind your pug tattoos is for you to decide. We are here to aid your search for the best pug tattoo for you.
Before you decide to go for pug tattoos on your body, it is important to take into consideration a couple of factors such as the tattoo company, the price of the tattoos, the tattoo artists, the tools they have, and the site of placement. We recommend you do thorough research into your preferences, learn what a pug tattoo means, figure out your preferred categories and the site on your body that you want the tattoo on. Search for tattoo shops with the highest reviews and discuss your preferences in detail with your tattoo artist before getting started.
Feature image from Pinterest – Want your tattoo to look brighter? Try "Tattoo Balm"