Looking for a tattoo that combines artistic flair with spiritual depth? You're in luck! We've curated a stunning collection of queen bee tattoo designs that are both visually captivating and symbolically rich.
Bees are extraordinary creatures, often associated with vitality, industriousness, and even inspiration. In ancient Greek myths, they were referred to as "birds of the muses." Beyond their remarkable work ethic, bees are responsible for the essential task of pollination, which breathes life into our ecosystems.
When it comes to bees, honey often comes to mind, and in some mythologies, it's likened to 'ambrosia,' the nectar that grants immortality. Queen bees, in particular, hold a special place in symbolism, representing motherhood, leadership, power, feminine energy, growth, and fertility. These matriarchs are the beating heart of their colonies, ensuring the survival and prosperity of their buzzing brethren.
If you're searching for a tattoo that captures strength, resilience, and the power of feminine energy, look no further than the queen bee. This emblem of the ultimate girl boss is a beautiful reminder that you possess the strength and power to overcome any obstacles life throws your way. So, explore these incredible queen bee tattoo designs and let your inner queen shine!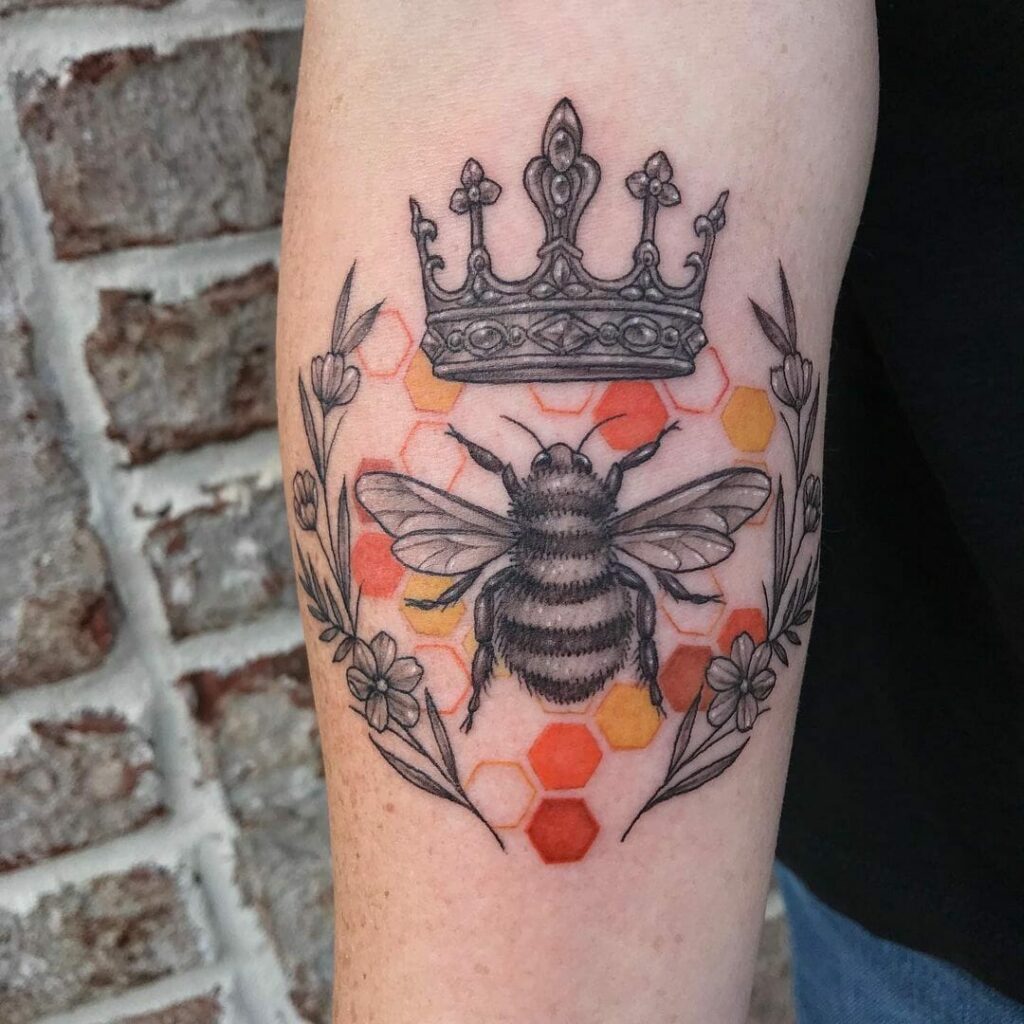 Colourful Queen Bee Tattoo With A Crown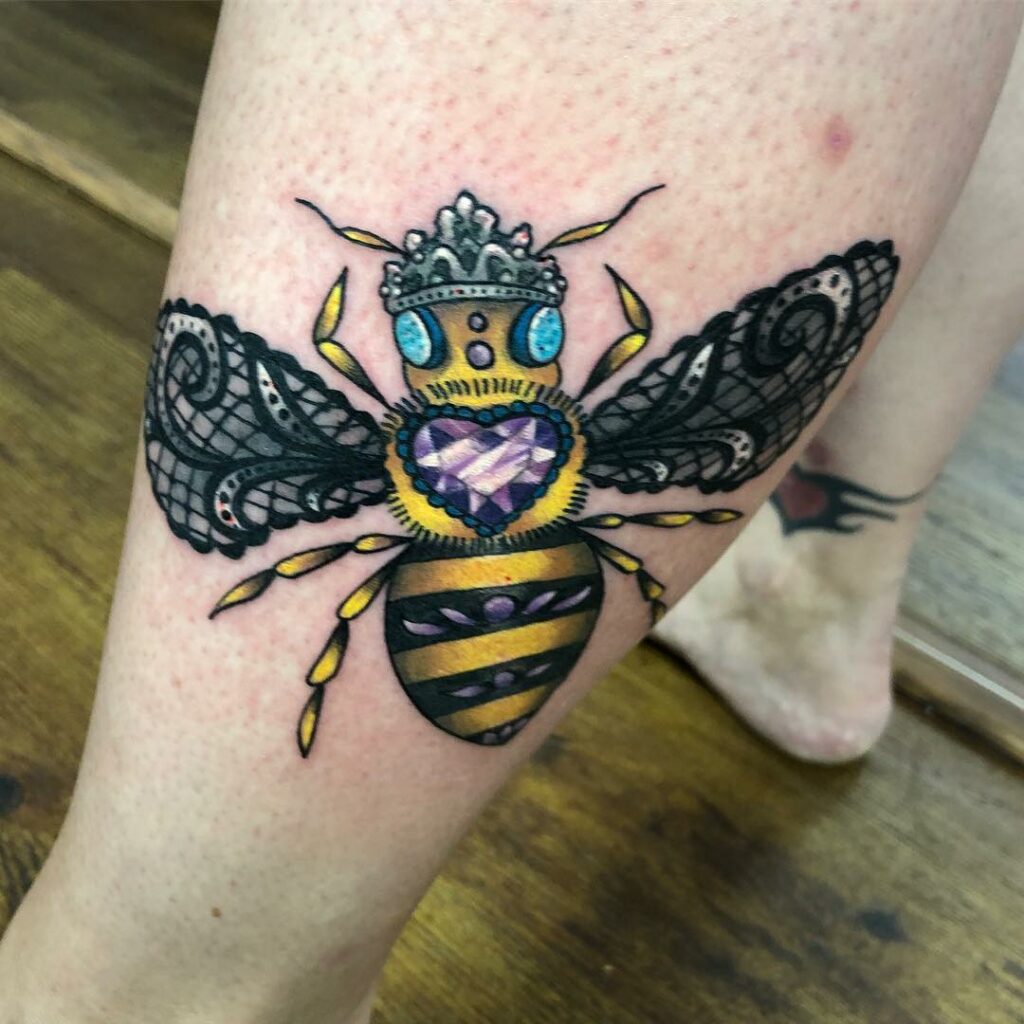 This stunning queen bee tattoo is a true masterpiece, crafted with intricate detail and bursting with vibrant colors. The heart of this majestic insect is adorned with a beautiful amethyst gemstone, and her eyes shimmer with the brilliance of aquamarine gems, making the tattoo shine even more. To complete her regal look, a beautiful crown is placed atop her head, showcasing her position as queen of the hive.
Penny-Size Queen Bee Micro Tattoo
This exquisite micro-tattoo showcases a graceful queen bee perched on a benzene ring, complete with a crown atop her head. For those with an existing love for organic chemistry and a benzene ring tattoo, this queen bee adds a unique and charming touch. Bees play a crucial role in the world of chemistry by acting as pollinators and creating a chain of chemical reactions between flowers. This queen bee on a benzene ring tattoo is a perfect representation of that chemistry, making it a fantastic choice for anyone with a passion for chemistry.
Monochrome Queen Bee Tattoo With Leafy Wings and A Vibrant Red Heart
The queen bee, a symbol of royalty and fecundity, is also regarded as a symbol of love by many. She is revered and adored by all the worker bees in her hive. This small and captivating blackwork queen bee tattoo features a bright red heart that represents love and is a subtle way to display this symbolism.
Bumble Bee Tattoo featuring A Queen Bee Amidst Flowers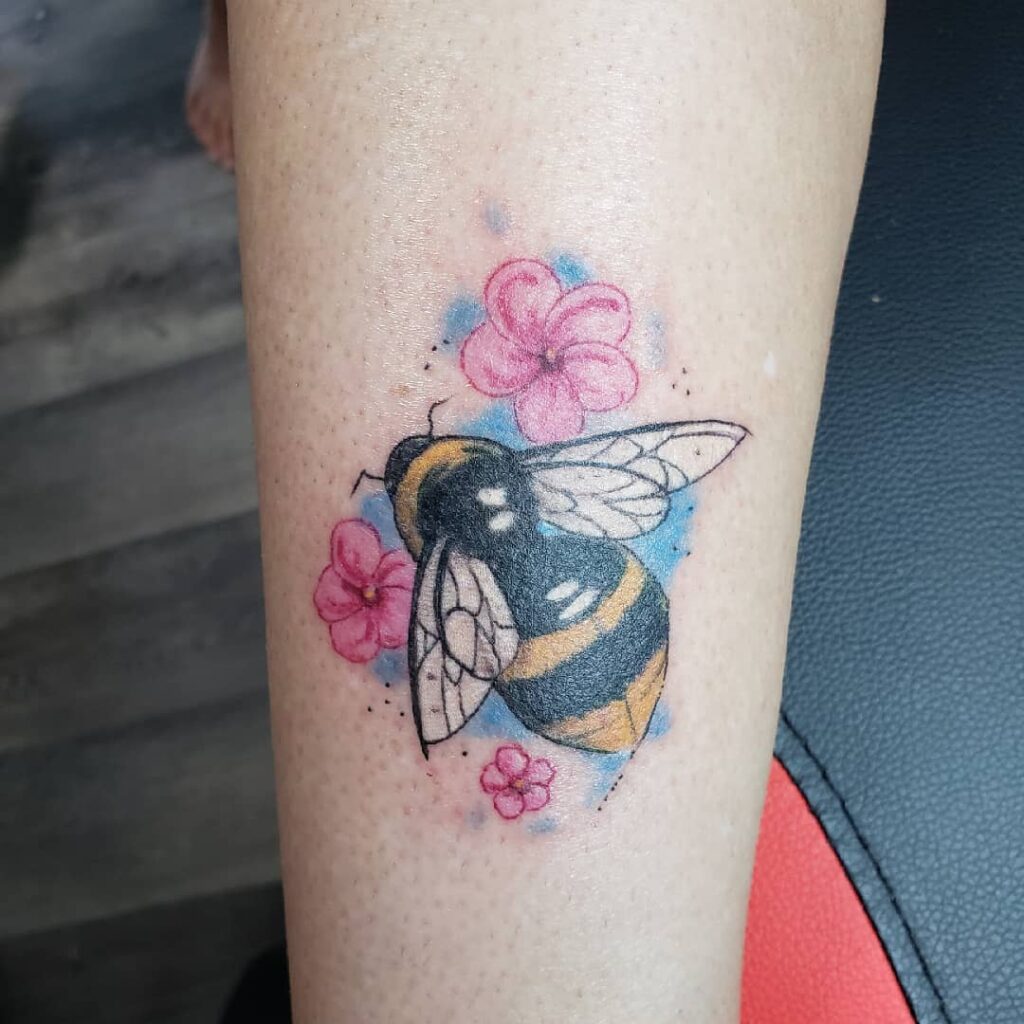 The bee and flower relationship is a match made in nature. The queen bee and flower tattoo is the perfect embodiment of this natural union, and it conveys an important message about relationships, commitment, and the circle of life. Bees have been pollinating flowers for over 60 million years, and in turn, flowers depend on bees to survive. This intricate tattoo is not only a celebration of the beauty of nature but also a symbol of the importance of mutualism in our lives. A perfect choice for anyone looking for a tattoo with a deep and profound meaning.
Dark Queen Bee Tattoo Emitting An Aura of Bold Regality
This queen bee tattoo, crafted with precise black ink, symbolizes the remarkable power of leadership and strength that bees embody. It is a perfect depiction of a strong and fearless queen bee. Bees are known for their dauntless nature, and this tattoo is the perfect way to represent that. If you feel like a true queen bee, this design is perfect for you, as it exudes confidence and strength.
Queen Honey Bee Tattoo In A Honeycomb
The honey bee tattoos or honeycomb tattoos are artistic tattoo designs that are full of energy and colour. This queen bee tattoo, in particular, radiates sophistication and elegance. The queen bee is seen sitting in her honeycomb abode adorned in her royal attire, with honey dripping from her hair. The tattoo has a tribal style and features the queen bee with her crown and sceptre, exuding power and leadership. The composition and colour scheme of the tattoo are perfectly balanced, making it an excellent choice for those who seek a tattoo that is both classy and lively.
Bohemian Queen Bee Tattoo Design
The queen bee tattoo is an exquisite design that is perfect for celebrating the beauty of femininity. This mesmerizing tattoo is full of mystery and allure, with dark green, turquoise, and black hues that give it an air of mystique. The queen bee's regal demeanor and powerful presence create a magnetic energy that captivates those around it. This stunning bohemian queen bee tattoo is the perfect choice for women who want to showcase their alluring feminine charm in a captivating and mysterious way.
Queen Bee Tattoo Circled By A Crown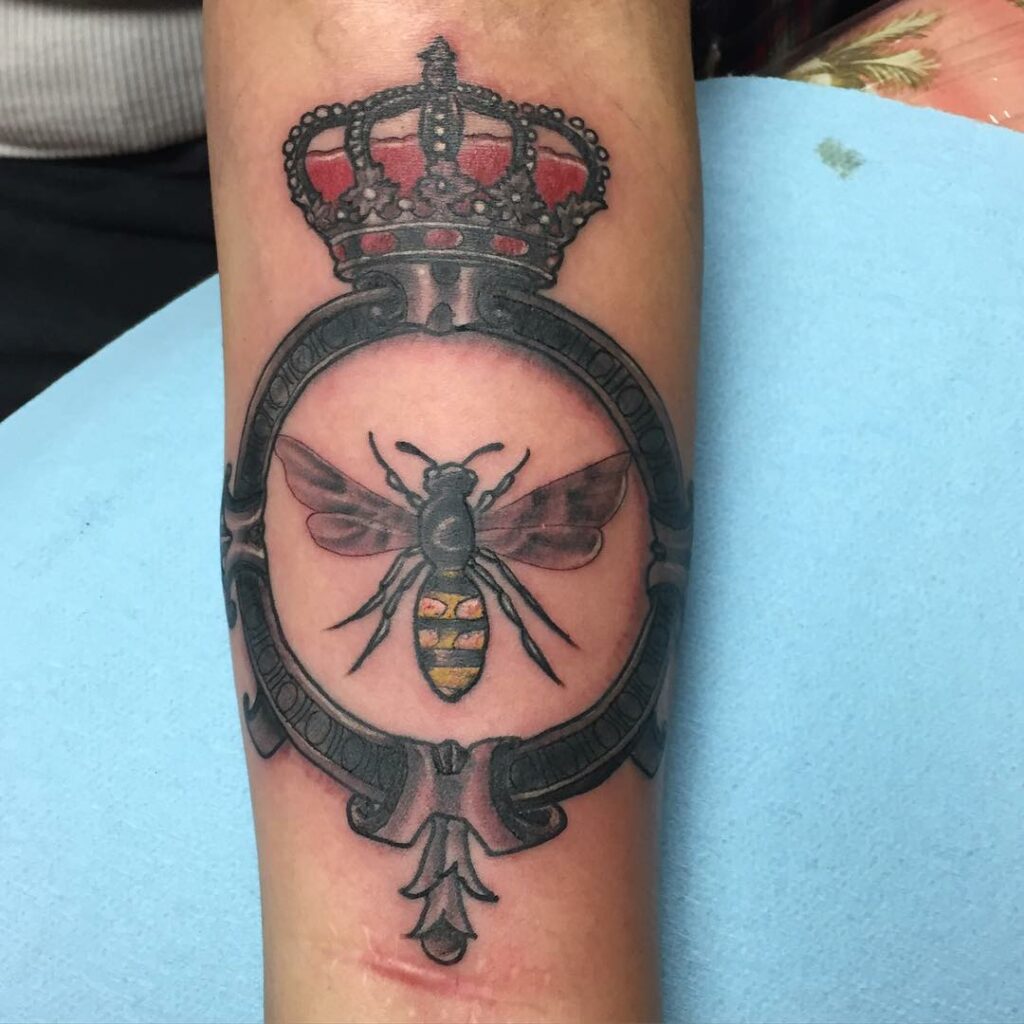 This queen bee arm tattoo is a stunning representation of the queen bee's royal status. Placed inside a crown with a closed ring, it adds an air of regality to the already alluring design. The queen bee tattoo is known for its captivating charm, and this particular design is no exception. The intricate details and delicate shading add depth to the design, making it a perfect choice for anyone looking to adorn their body with a unique and meaningful tattoo.
Simplistic Black And White Queen Bee Tattoo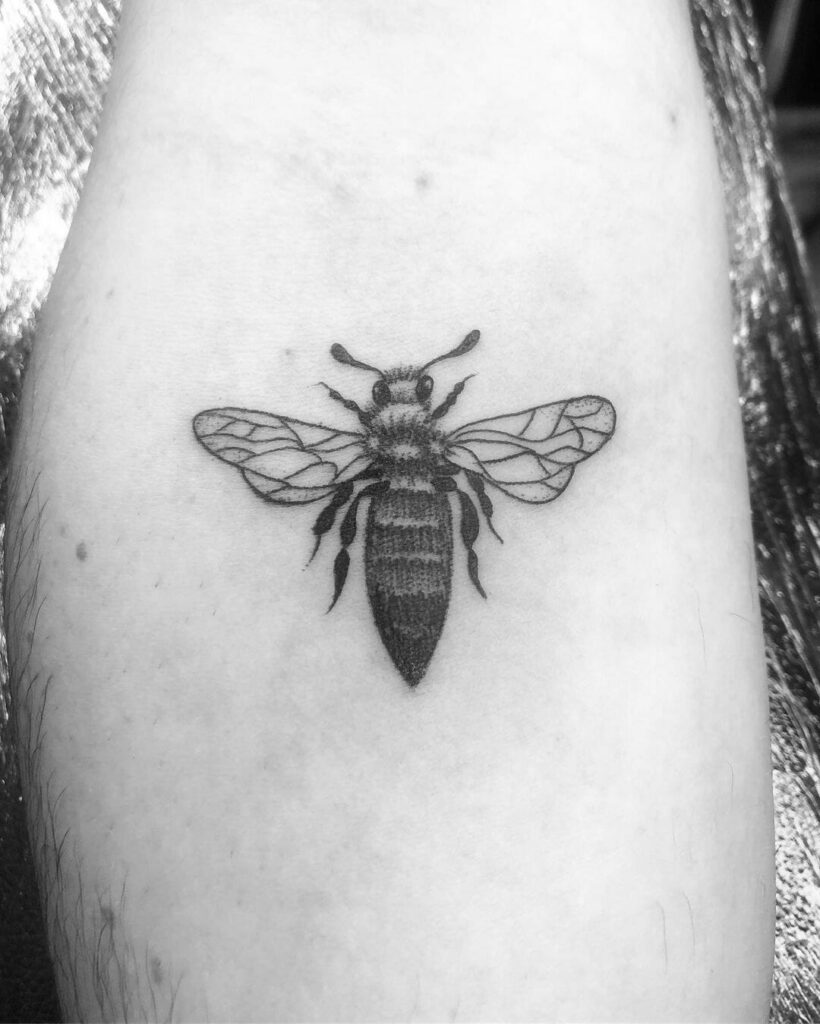 This minimalistic queen bee tattoo is perfect for those who prefer simplicity over extravagance. The design is small but still has a powerful impact, making it an ideal choice for those who want to keep their tattoos understated yet meaningful. The queen bee symbolizes strength, power, and leadership, and this tiny tattoo is a subtle but affirming representation of these traits.
Queen Bee Line Tattoo With Triangular Honeycomb
If you're looking for a queen bee tattoo that's a little different, consider this unique design with its layered wings and triangular honeycomb pattern. Queen bee tattoos come in many different styles and designs, each with their own unique meanings and symbolism. With so many options available, there's sure to be a bee tattoo that perfectly captures your individual style and personality. Whether you're looking for something bold and daring or more subtle and understated, a skilled tattoo artist can help you create the perfect design. Check out these Instagram posts and Pinterest boards for inspiration and let the queen bee inspire you to create a tattoo that is truly buzz-worthy.
Last reviewed and updated on June 19, 2023