Greetings, aficionados of body art!
Are you seeking to articulate a regal sense of self through the timeless language of tattoos? Allow us to deal you into the realm of chess piece tattoos, with a specific spotlight on the sovereign queen herself – an enduring symbol with renewed popularity in our chess-loving zeitgeist.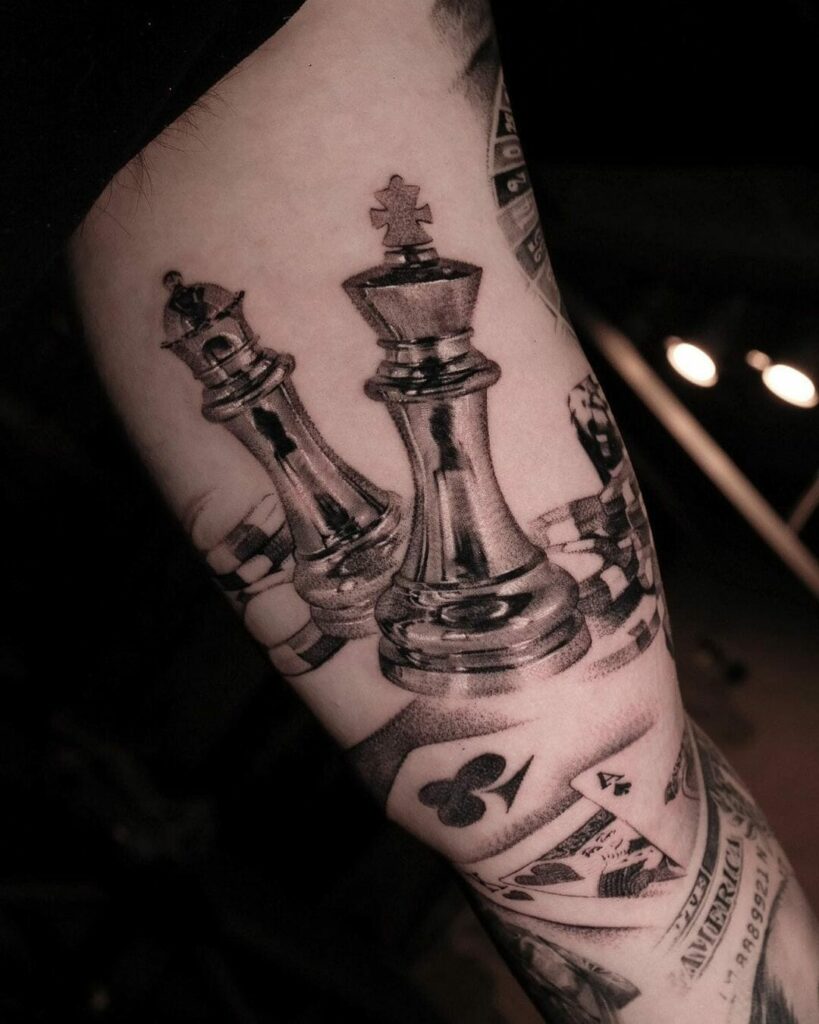 The ancient board game of chess, with its strategic complexity and imperial roots, is as perennial as the history of human ingenuity. As we journey into the intriguing world of chess-themed tattoos, you might find that the queen chess piece embodies the perfect blend of tradition and trendiness for your next piece of body art.
The appeal of queen piece tattoos has seen a significant rise, not merely as a fashionable choice, but more so as an homage to the compelling narrative and cultural influence of the Netflix series "The Queen's Gambit." This phenomenon highlights how art forms can effortlessly cross-pollinate and redefine each other in contemporary culture.
Chess, indeed, is not a product of recent centuries. Its roots trace back to Eastern India, where it was cherished by the noble and the royal as "Chaturanga," a game reflecting the tactical challenges of the battlefield. Through the ages, it traversed the Silk Road, reached Sassanid Persia, earned the title "Chatrang," and evolved into "Shatranj." This enchanting game of cunning and foresight has since found home and heart in various corners of the world.
Each piece on the chessboard, from the pawns to the commanding king and queen, embodies an integral division of an ancient army. These symbolic representations present a myriad of tattoo opportunities, each piece offering its unique narrative and personal resonance. From the humble pawn, the first soldier to face the fray, to the knight, bishop, or rook, your choice of chess piece could reflect your approach to the grand game of life.
So, for those enamored by this strategic ballet, the world of chess can prove to be a treasure trove of inspiration. It's a universe ripe with power plays and betrayals, mirroring the drama of human existence – and perhaps, the perfect muse for your next tattoo.
Queen Couple Chess Piece Tattoo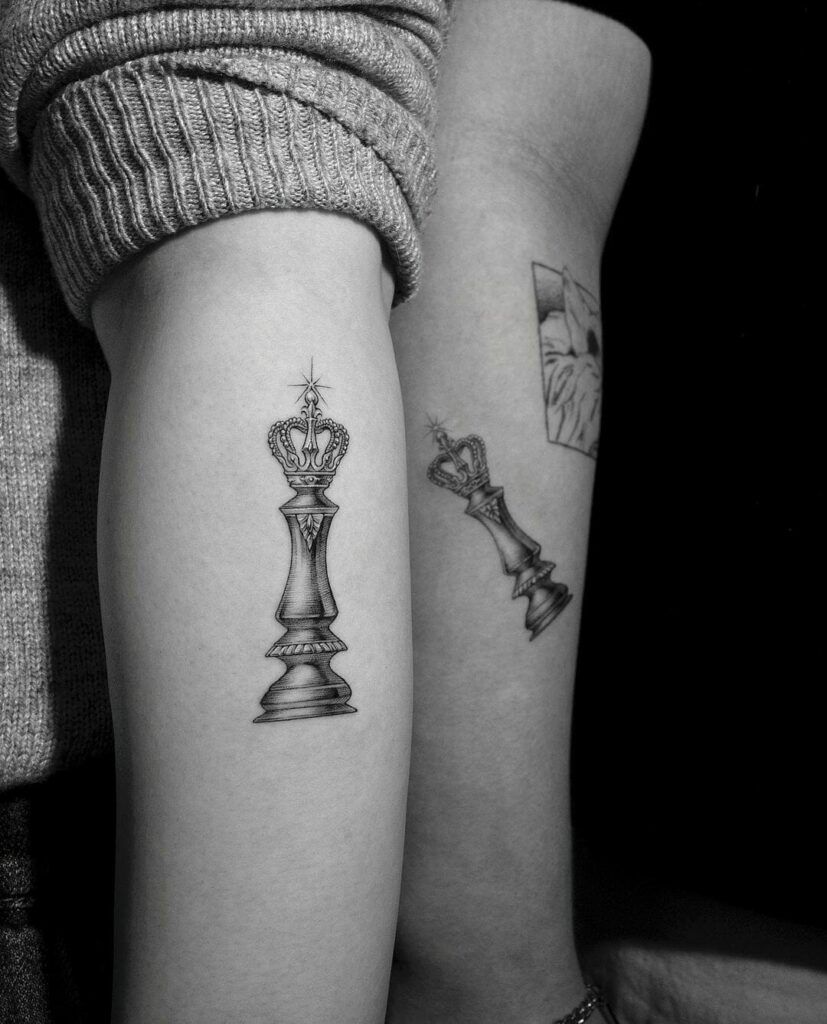 The strength of the modern woman resonates vibrantly in this twin queen piece tattoo, celebrating female camaraderie and leadership. This design breaks away from the traditional king and queen pair, substituting it with a powerful pair of queens, representing today's feminist zeitgeist. Its monochromatic palette is highlighted by immaculate shading and a jewelled crown, adding just the right amount of flamboyance.
King And Queen Chess Piece Tattoos
The king chess piece gains additional allure when paired with its queen, encapsulating the power dynamics within a partnership. This striking design weaves a narrative of two individuals steering their shared world, bound together by a thorny heart symbolizing the intricacies of their relationship.
Small Queen Chess Piece Tattoo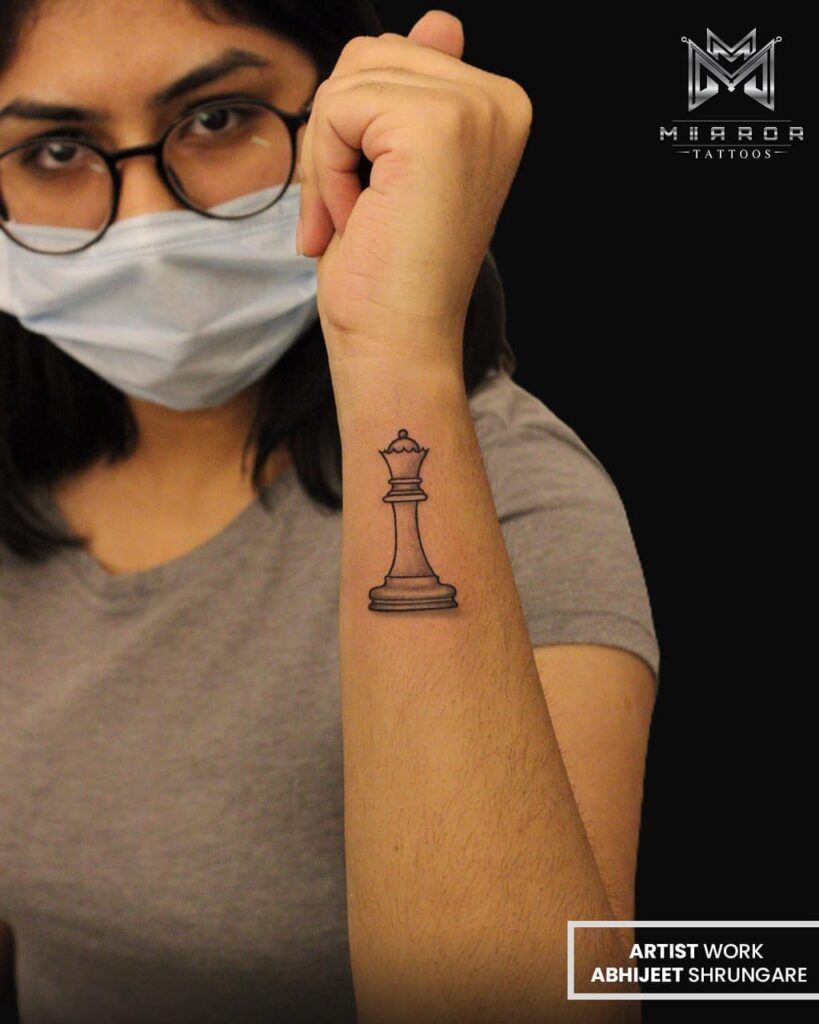 Elegance finds expression in simplicity with this petite queen piece tattoo. This design's stark black outline and minimal shading render it as an emblem of self-reliance and autonomy. It's a statement piece for women who lead their own lives with finesse.
Evil Queen Chess Tattoos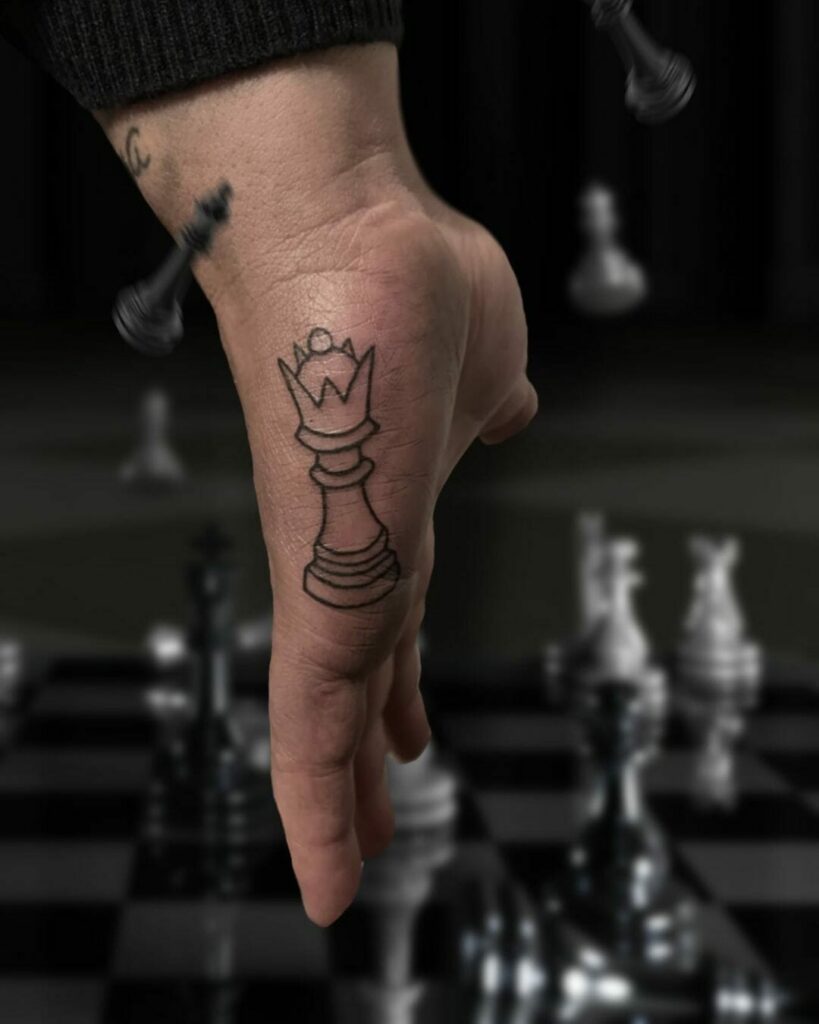 Not for the faint-hearted, this evocative chess piece tattoo symbolizes the strength and audacity of unapologetic queens. Its jagged edges echo the societal demonization of strong women, defiantly challenging outdated stereotypes.
Queen Pawn Chess Piece Tattoos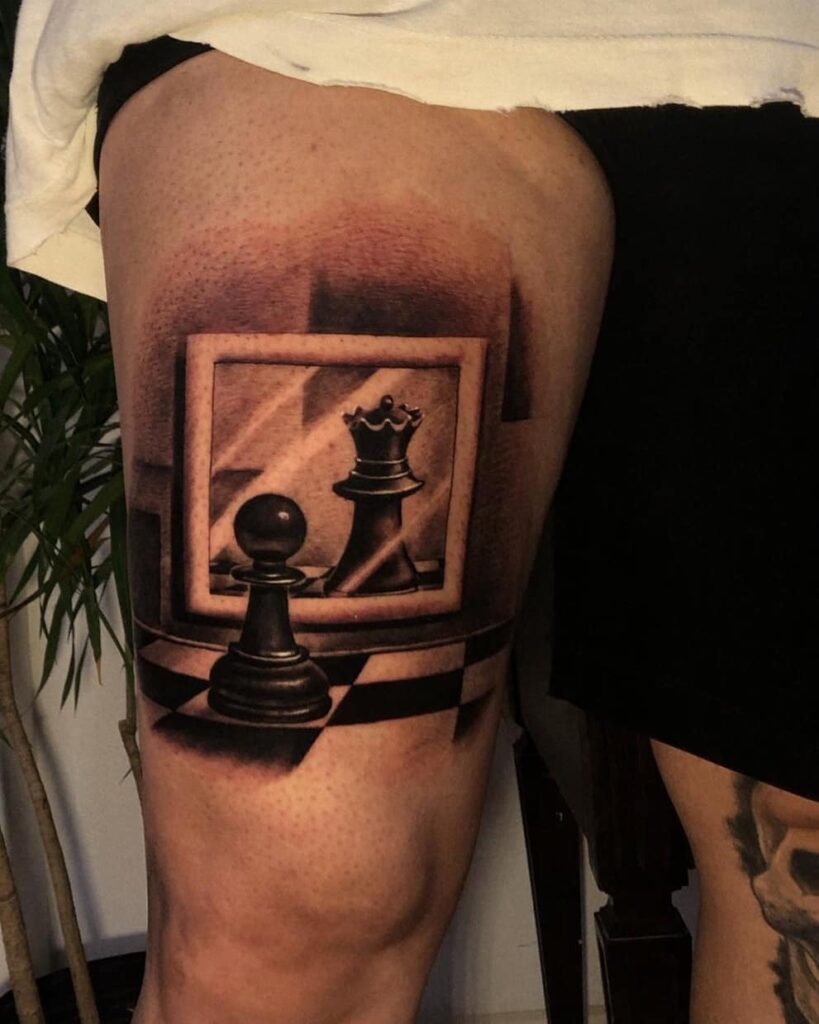 This thoughtful tattoo design traces the pawn's journey to queenhood, mirroring the resilience and perseverance of influential women. The tattoo's central concept, showcasing the pawn's reflection as a queen, is a potent commentary on overcoming adversity.
Queen X Knight Chess Tattoo Designs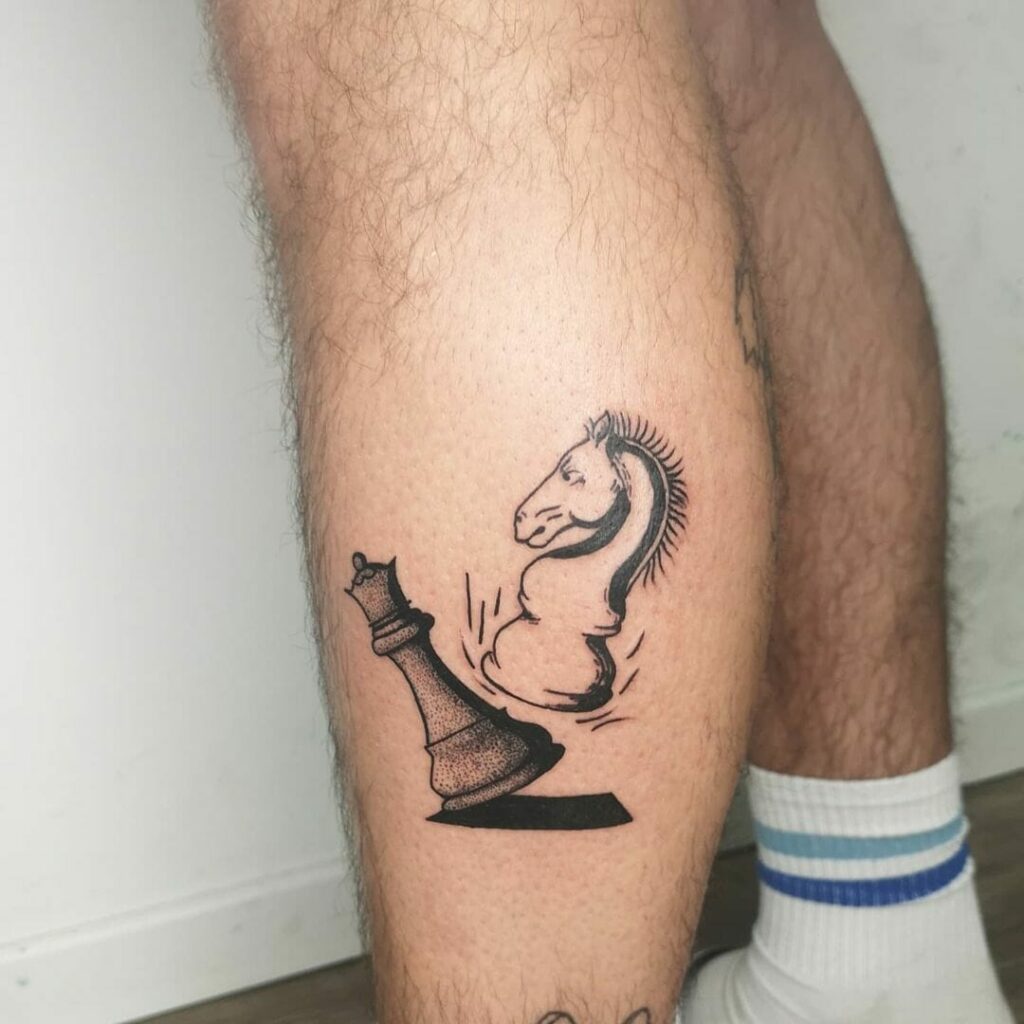 Drama leaps off the skin with this striking depiction of a knight's encounter with the queen. While the knight piece stands strong on its own, its confrontation with the queen piece adds intrigue and narrative depth, making it an absorbing tattoo choice.
Ornate Queen Chess Piece Tattoo Designs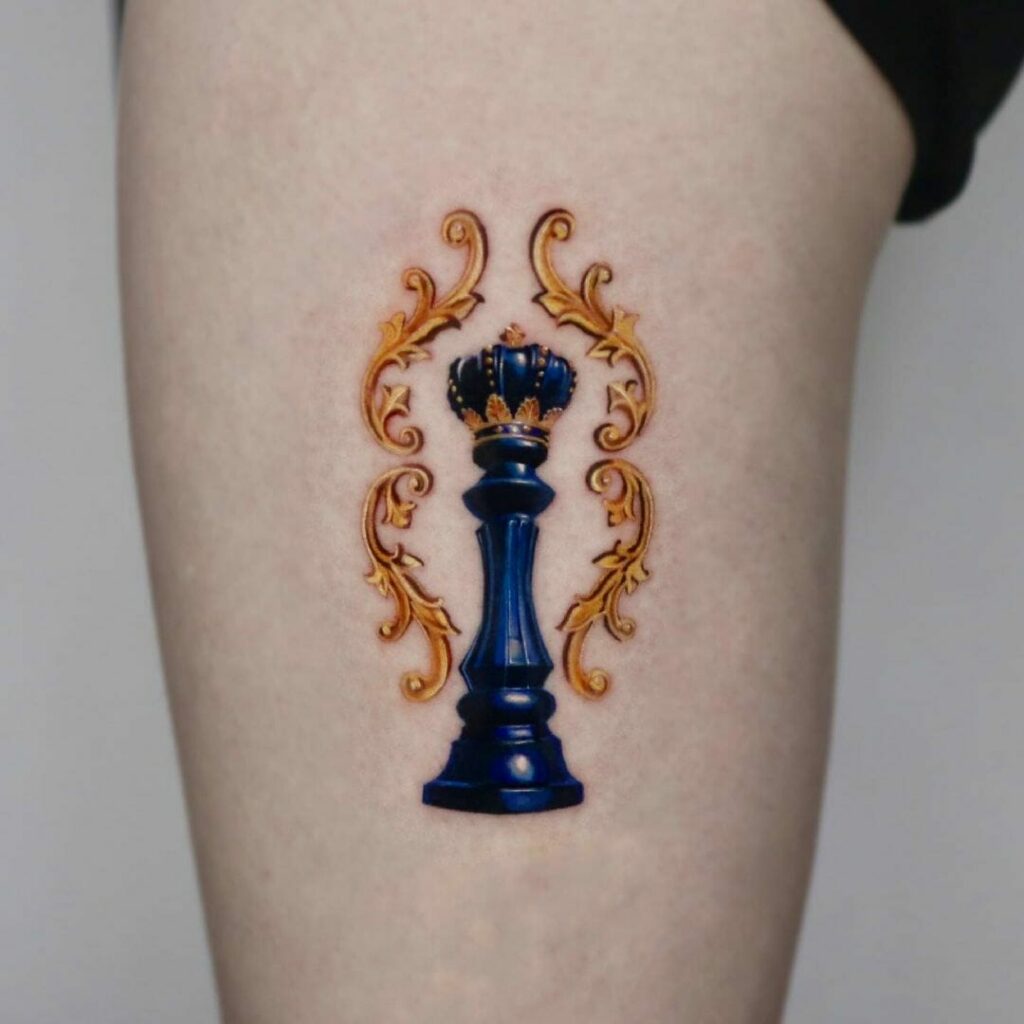 For those with a taste for the classic and the victorian, this enchanting chess piece tattoo captivates with its fairy tale allure. The regal blend of royal blue and gold imbues the design with an otherworldly charm, evoking a sense of timeless elegance.
Abstract Queen Tattoo Design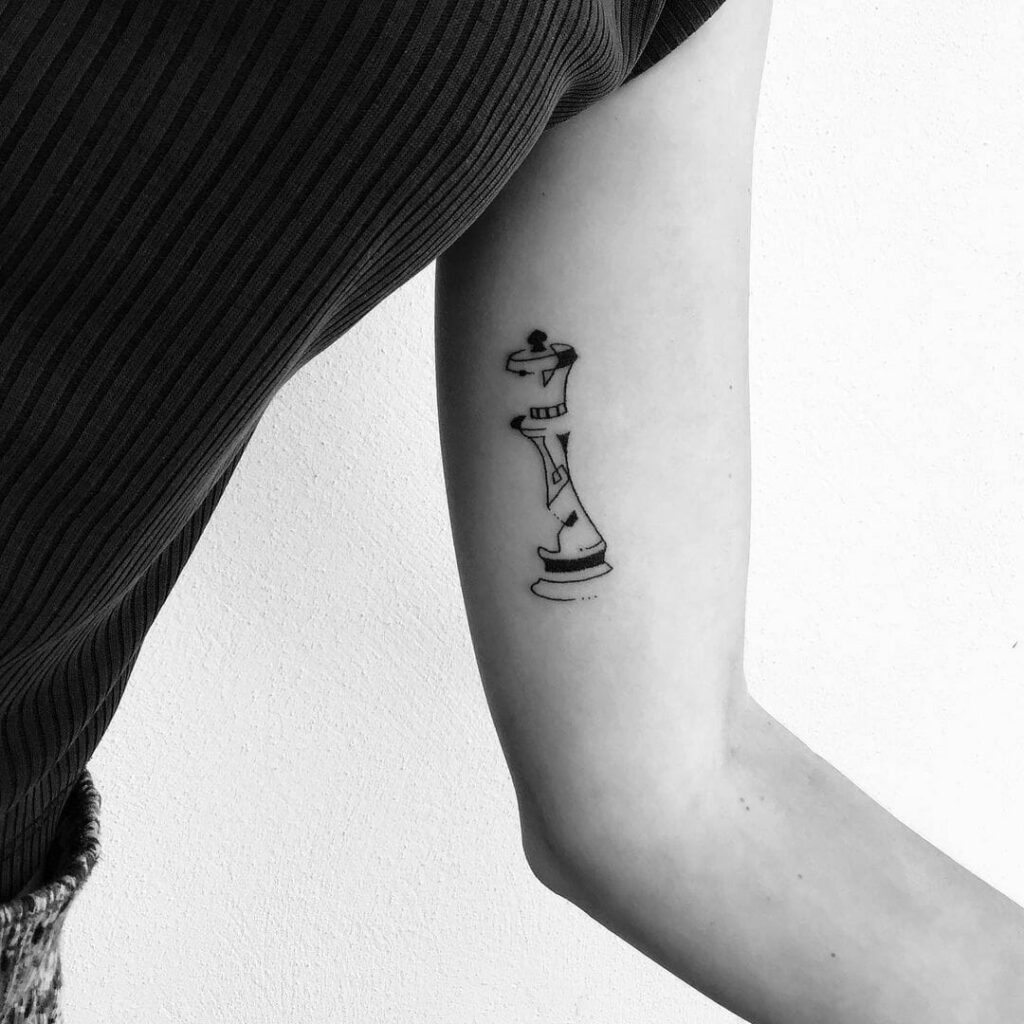 This understated design speaks to individuals who appreciate the power of subtlety. The abstract nature of this piece, marked by intentional gaps in its structure, requires a patient and skilled artist to capture its unique charm.
Rose Queen Tattoo Design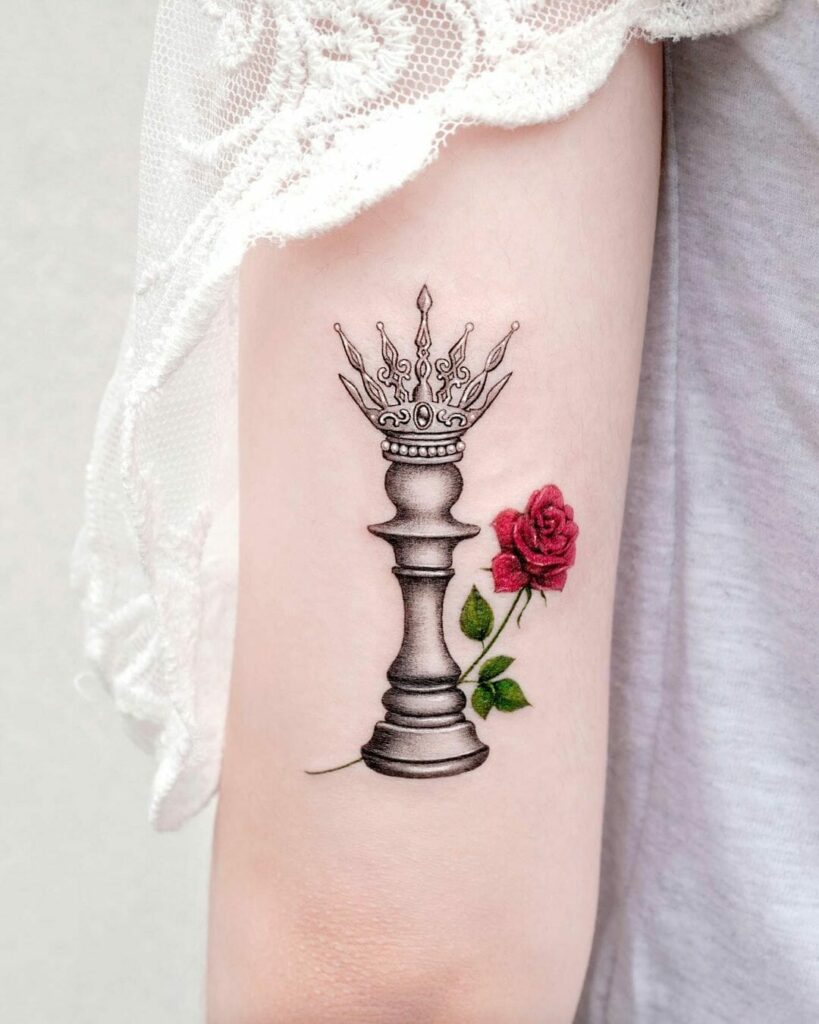 Breaking away from the prevalent black and grey tones, this design juxtaposes the queen chess piece against a vibrant red rose. The striking contrast illuminates the piece's potent symbolism, creating a memorable statement piece.
Queen's Gambit Tattoo Design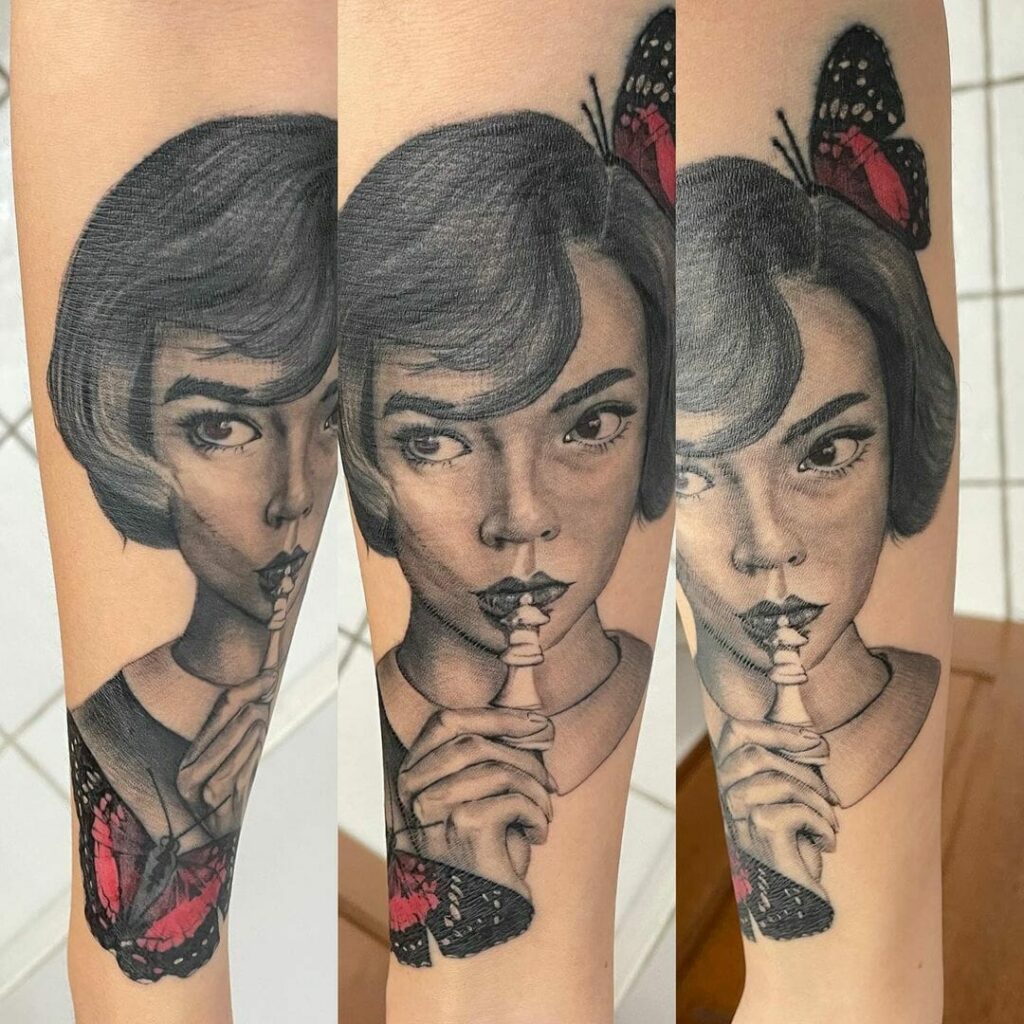 Lastly, for admirers of the popular Netflix series, "The Queen's Gambit," this design features a remarkably accurate portrayal of Anya Taylor Joy, clutching a queen chess piece. Complemented by dramatic crimson butterflies, this piece is a testament to the impactful role of the series in popular culture.
Conclusion
With their vibrant stories and deeply ingrained symbolism, chess piece tattoos serve as an indelible canvas, communicating a blend of tradition, resilience, strategy, and personal power. The artistry of these pieces shines when given ample space – the back, chest, or thighs providing an ideal canvas for larger, more intricate designs. Smaller, minimalistic designs, on the other hand, could take up residence on the wrist, ankle, or even discreetly behind the ear. The cost can vary widely based on size, complexity, color, and the expertise of your chosen artist, with prices ranging from the lower hundreds to a few thousand dollars.
Embarking on the journey of body art is not without potential pitfalls. Risks may include allergic reactions, infections, or skin irritation. To minimize these risks, it's crucial to seek a reputable, professional tattoo artist who adheres strictly to hygiene standards. Prior to sitting in the tattooist's chair, a detailed discussion about your skin type, any allergies, and the healing process will ensure your tattoo experience is as smooth as possible.
In essence, a chess piece tattoo weaves your narrative into a tapestry that is as old as civilization itself. Whether it's a reflection of your passion for the game, a nod to your favorite pop culture reference, or a personal emblem of strength, these tattoos are a celebration of the enduring human spirit. Just as the game of chess itself, your tattoo will remain a timeless testament to strategic thinking, resilience, and personal power.
feature image from Pinterest