Radiation tattoos are a distinctly unique form of body art that gives you a stylish and daring perspective on your body. Check out these radiation tattoo ideas.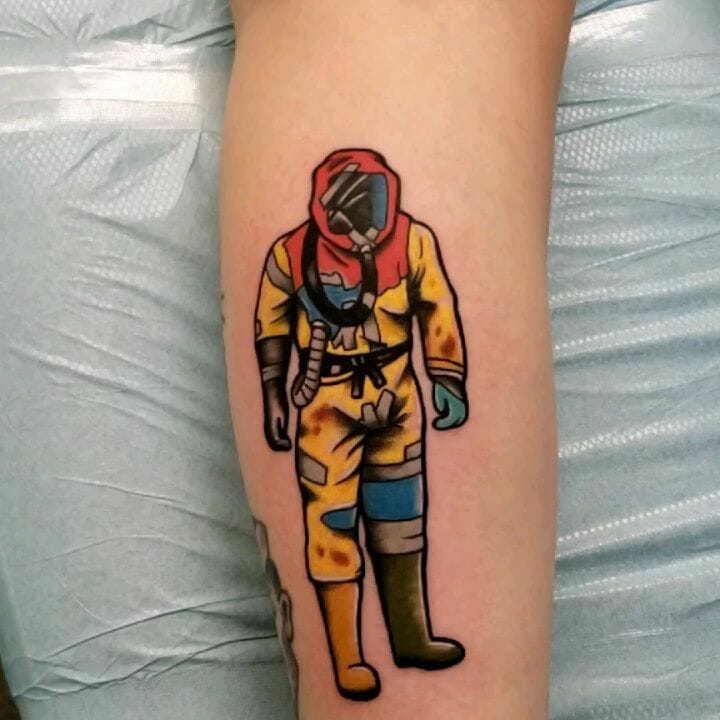 Radiation symbol tattoos can also be referred to as cancer tattoos because the people who get them are often cancer survivors.
There are many different colors and patterns available for radiation tattoo designs. Both temporary and permanent options are possible.
The majority of the time, radiation tattoos are utilized to position cancer patients' bodies around radioactive devices so that the potent therapy can be administered without any delay the next day. As permanent memories of what people diagnosed with cancer have gone through, radiation therapy tattoos endure long after the cancer has been treated. Small tattoos are created for skin marking methods required for receiving external radiotherapy for breast cancer. Once the cancer treatment is over, a radiotherapy tattoo is typically seen as a constant reminder of cancer.
Biohazard Symbol Tattoo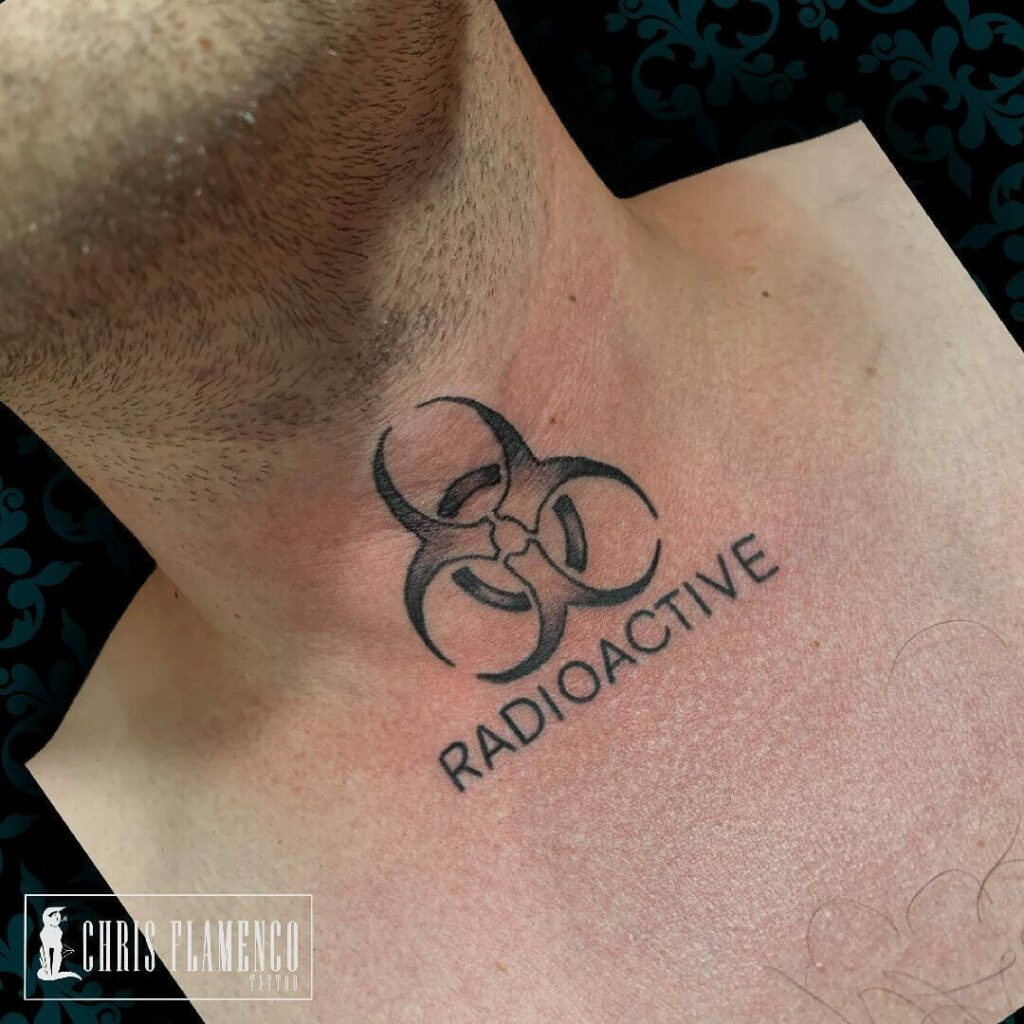 A little below the neck is where the radioactive symbol is inked. The tattoo placement is what makes this tattoo appear so very seductive and hot. For the creation of this tattoo, only black ink has been used. Just below the tattooed biohazard sign is the term "radioactive" written in pure black ink.
Among young people, the tattoo of the biohazard symbol is fairly common. Part of what makes it so well-liked is its fascinating graphic. People who get this tattoo consider it to have ironic significance. Getting this sign tattooed is a good idea if you want to appear distinctive and visible.
Radiation Symbol Face Tattoo
The tattoo is inked on the woman's right cheek. Black ink has been used to draw the outer line of the radioactive symbol, and red ink has been used to color its interior. Many young individuals sport this emblem with multiple tattoos. It is most likely because this symbol is well recognized as a signal to report toxic compounds that are extremely dangerous for human beings.
This sign enables persons who have dangerous viruses or other biologically poisonous chemicals in their human cells to alert the ones nearby. Typically, this is the meaning of this radioactive symbol. This trending tattoo will drastically alter the way people perceive your face. This tattoo design is undoubtedly something inquisitive people who want to try out incredibly unique tattoo designs should do!
Round-bottomed Flask Radioactive Symbol Tattoo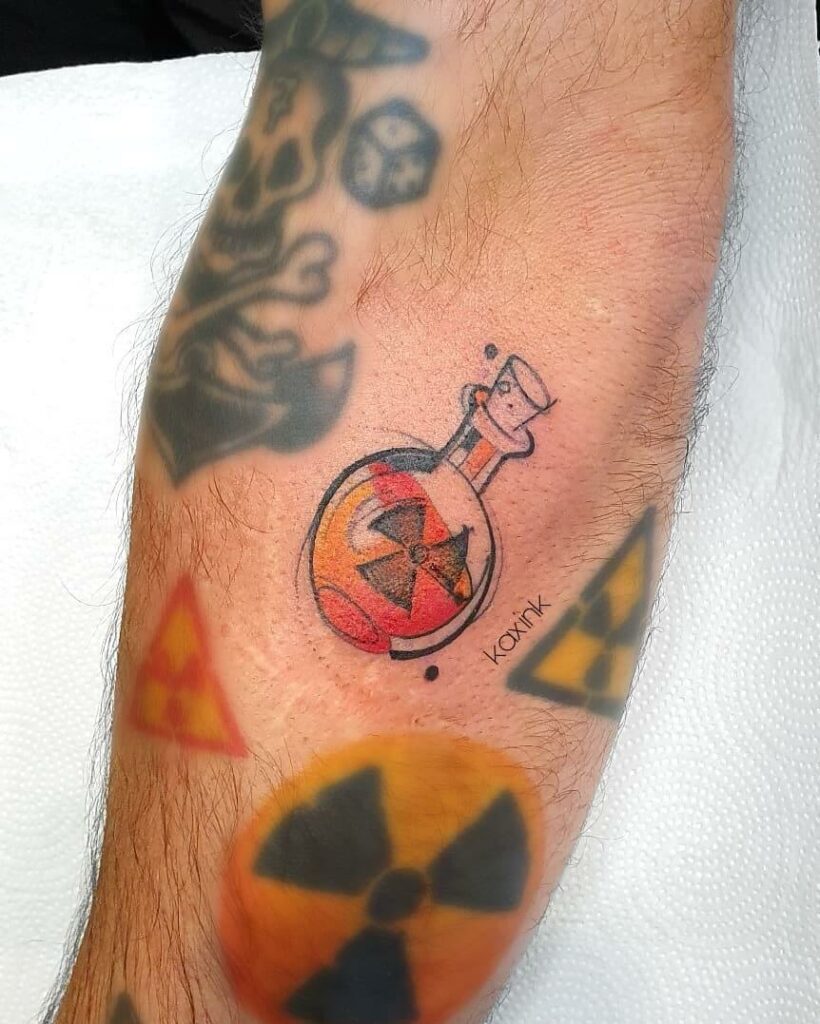 Inside a flask with a round bottom, a trefoil radiation symbol is drawn. This falls under the minimal tattoo category because it is much smaller than the conventional radiation tattoo designs. Both the radiation sign and the outline of the entire flask were drawn using only black ink. This tattoo design features a vibrant color combination of red and orange.
Three identically sized small triangles make up the symbol. Black ink has been used to lightly darken this radiation trefoil sign. A black dot can be seen if you look closely at the top and another at the bottom of the flask with a round bottom. This tattoo can be ideal for you if you enjoy tiny tattoos.
Radioactive Biohazard Tattoo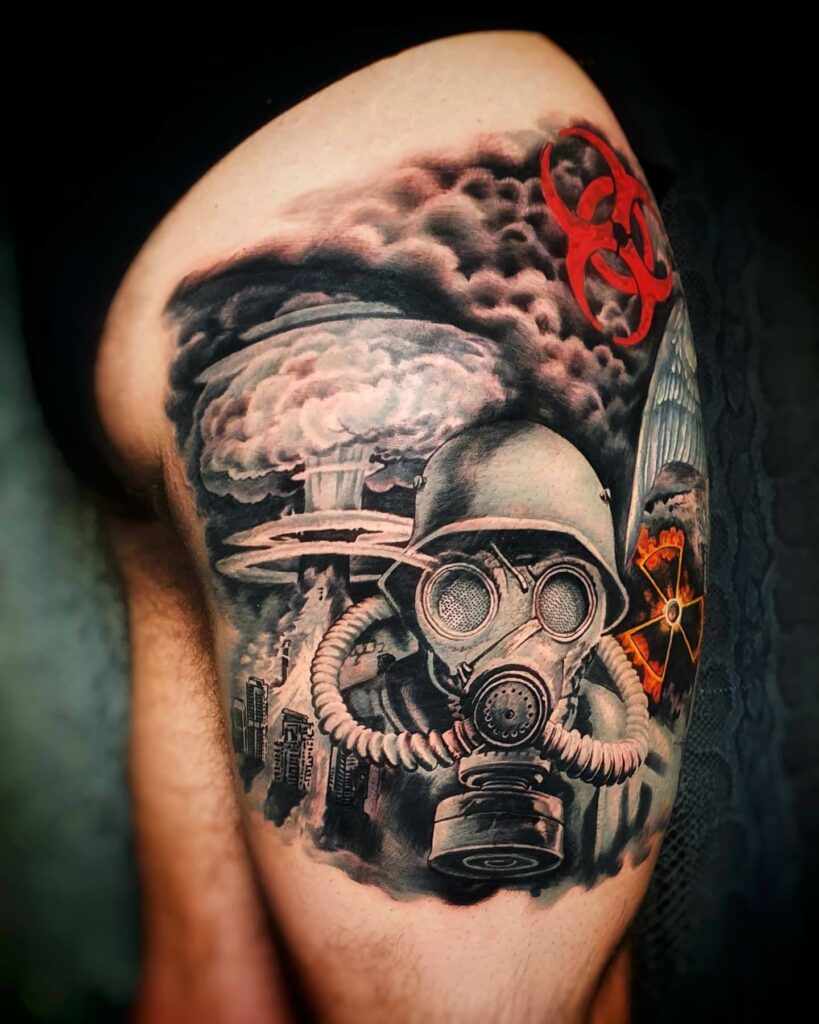 On the side of the right thigh, is where this tattoo is positioned. In this tattoo, both radiation emblems can be seen. With an incredible understanding of radiation, this tattoo is a one-of-a-kind work of art. You may notice several radiations in this image, including a gas mask-wearing person, a biohazard symbol, and the tri-foil emblem.
When tattooing the background onto the skin, the tattoo artist did an excellent job. In the background, one can see the polluted smoke, various tones of black, and a subtle blending of red ink. The reason the two symbols look so striking is that they are entirely written in red ink. The main message of this tattoo is to highlight the danger that pollution poses to human beings.
Gas Mask Tattoo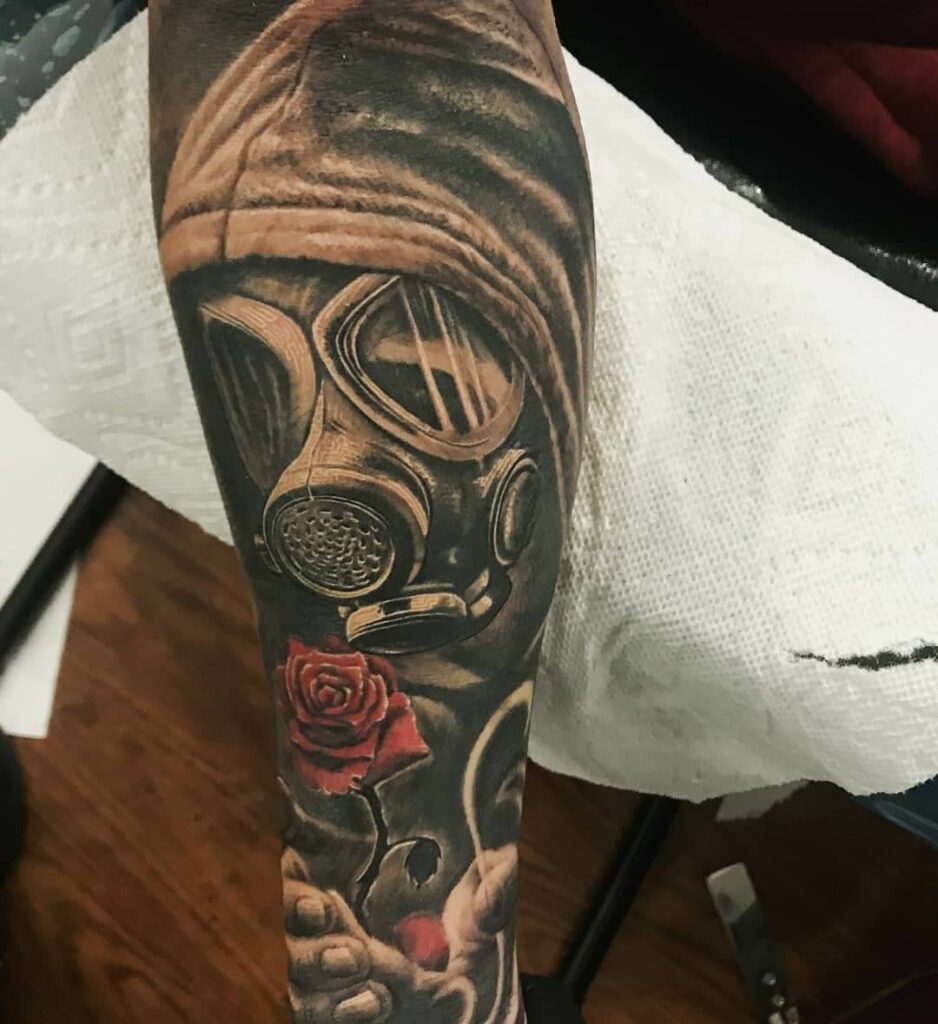 The tattoo elevated the meaning of the word "radioactive" significantly. As the image depicts they attempt to smell a crimson rose while donning a gas mask. This radioactive tattoo design has been placed in the correct position. Since it nearly completely covers the forearm, it can be regarded as an arm sleeve tattoo.
This body art is meticulously drawn, with not a single error, down to the slightest detail. Shades alone appear to have been used to create an actual artwork. The person's hands, sweatshirt, red rose, gas mask, and other details all appear to be quite real. One of the best arm sleeve tattoo designs, unquestionably.
Yellow Tre-Foil Symbol Tattoo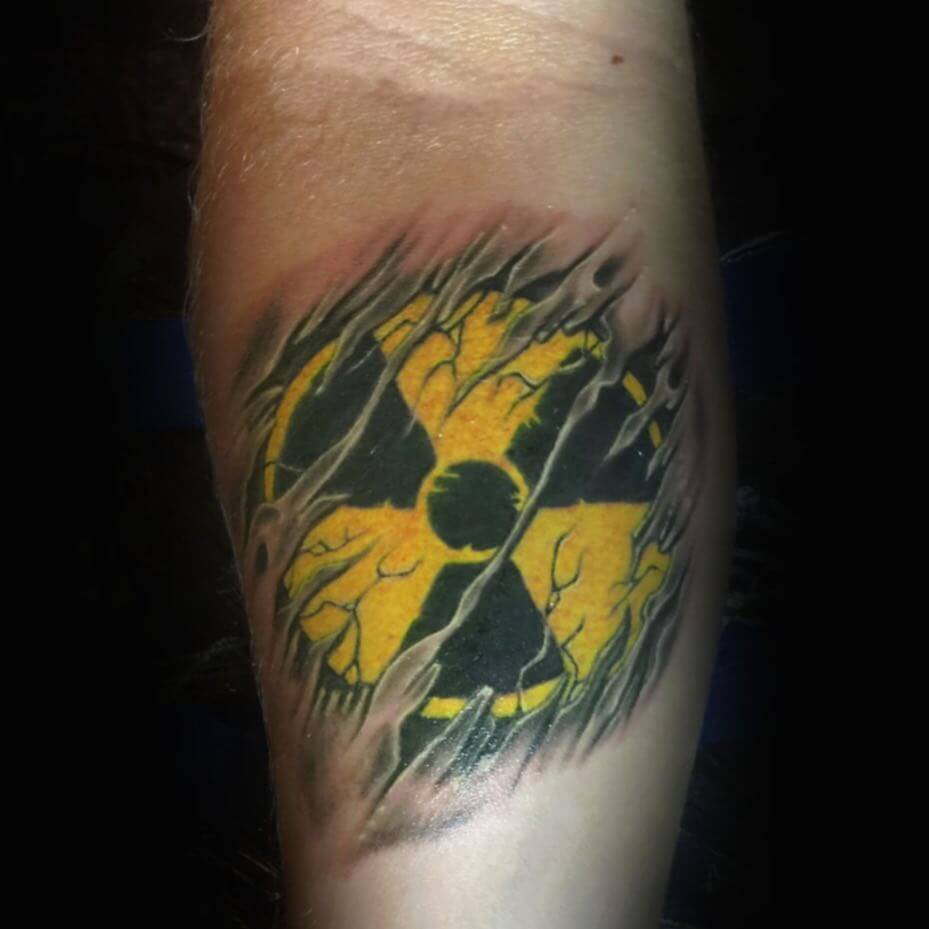 This permanent tattoo is a striking shade of yellow. Its fuzzy appearance sets it apart from other radiation tattoos in a significant way. A tattoo may result from receiving radiation treatment for cancer, serving as a permanent reminder of the battle for the rest of your life. So why not alter the angle and make it into a fresh, vibrant tattoo?
What is a radiation tattoo? Is it a sore reminder or a sign of bravery? When a breast cancer patient is getting ready for breast cancer radiotherapy, they get small dots tattooed on their bodies to aid the technicians in precisely aligning their body. This is simply the uniqueness of a radiation tattoo.
Green Skull Radioactive Tattoo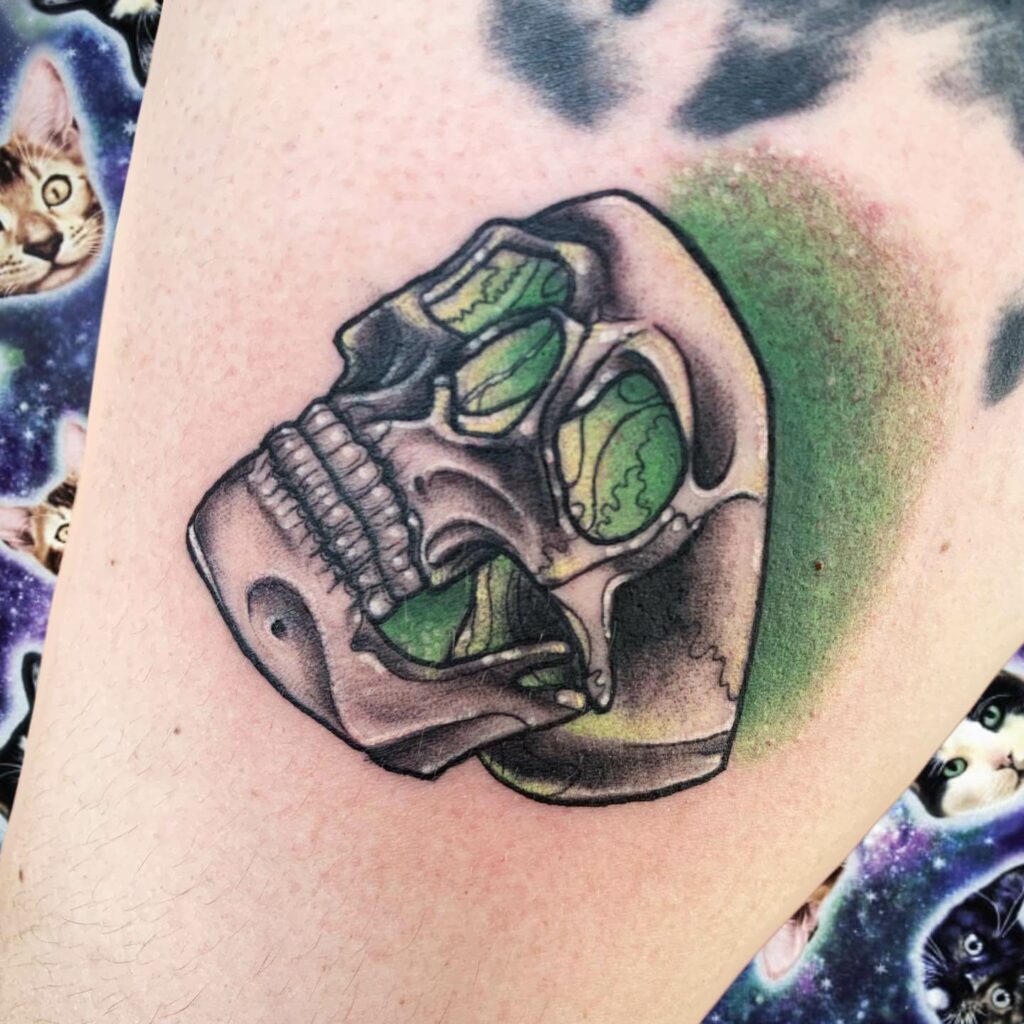 Green ink can be observed on the head and inside the eyes of a skull. Another radioactive emblem would be this one. To ensure that traditional radiation therapy is administered every time a patient with cancer receives treatment, skin markings such as tattooed dots produced with Indian ink are used. Following surgery, these tattoos leave permanent marks on the skin of breast cancer patients after the cancer treatment is over.
The head is green with some neon mixed in, as are the eyes, inside of the cheekbone, and the eyes. Black ink has been used to provide dark shading on some areas of the skeleton's face. The tattoo exudes an extremely seductive and daring appearance. This one is undoubtedly for you if you enjoy spooky stuff.
A Dying Man Tattoo
This cool radiation design depicts a dying person's face. Located on the leg, it merely serves to highlight how certain viruses have the power to wipe out humanity utterly. In this design, the face seems so realistic.
This person was killed by the red radiation sign, which is what is depicted. The face is open with the eyes facing skyward. For this design, black and red inks were used. Red ink is used exclusively for the radiation symbol, but it is only partially used for the dead person's face. Unquestionably, this tattoo is among the coolest ever created.
Crow Radiatioactive Symbol Tattoo
A crow sitting close to the radioactive symbol is vividly depicted in this tattoo design. It is located on the left bicep, just below the shoulder. It is completely blackened in black hues without any additional colors. The emblem is partially obscured by the crow's sideways gaze in this image.
Surface-guided radiation therapy for breast cancer improves accuracy without the need for skin marks. The patient's position is kept in such a way that it is easier to scan their skin to deliver proper cancer treatment. The pre-treatment setup for the radiation therapy includes three micro tattoos on the patient's skin surface just to ensure consistent alignment. Therefore, different types of radiation symbol tattoos such as this one commemorate that.
Radiation Colour Tattoo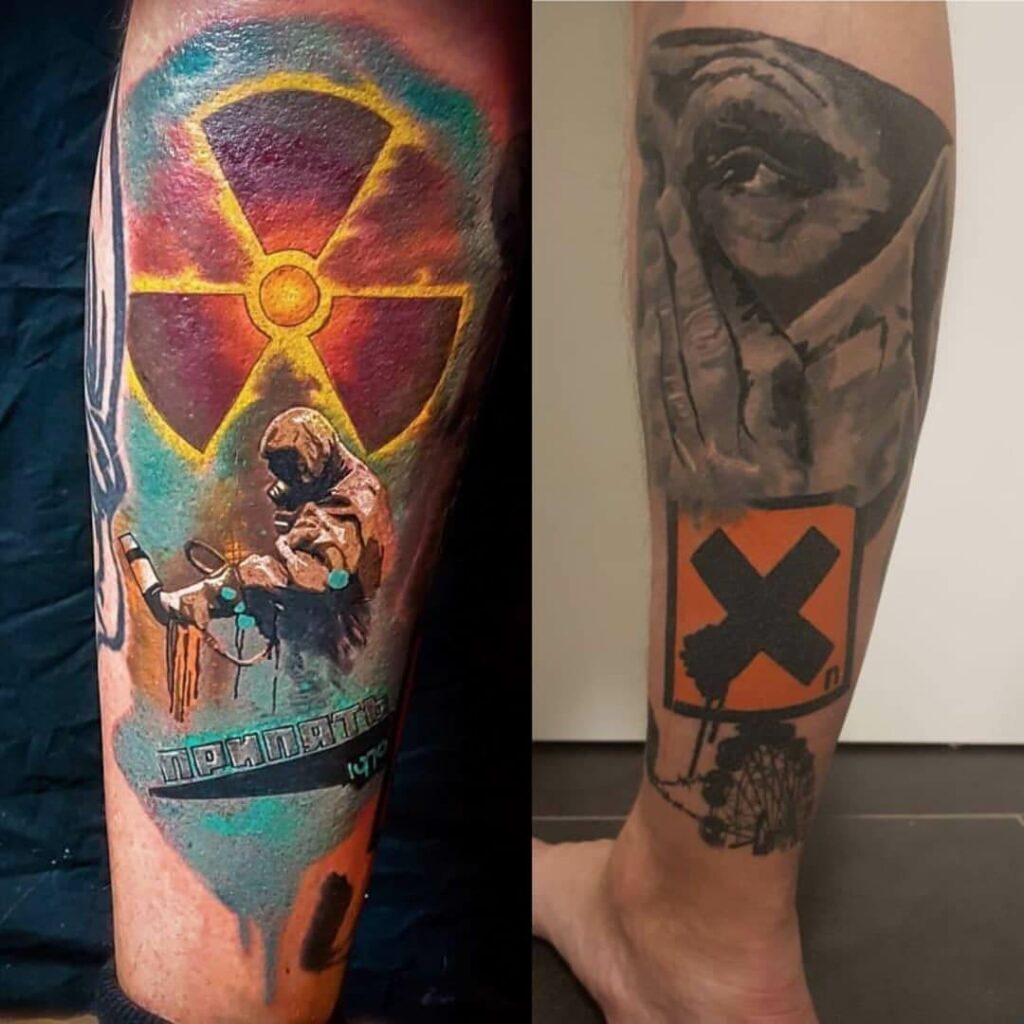 This tattoo depicts a full forearm tattoo with a plethora of blue shades tinted with a hint of red and yellow color, which shows radiation. A man in a radiation suit just appears under the circle of the symbol of radiation. It is a tattoo that can be inked by most people who have made contact with harmful radioactive elements or are in the business of it.
Skin falling off the bones just like the ice dripping when it melts, this is what happened to the persons who were in the Ukraine power plant accident and this tattoo is the perfect minimal tattoo of a radiation sign shaded black with hints of ink thawing in small parts on the upper forearm.
The border of the radioactive symbol has a fire sign drawn around it. The color scheme used here is outstanding. It has a very cool appearance because of the skillfully blended reddish brown and orange colors. A light blue color dominates the background, in contrast. Given the sparse use of black ink in this design, it is classified as a colored leg sleeve tattoo. This design is an excellent option if you are seeking a leg tattoo.
Stomach And Chest Radiation Tattoo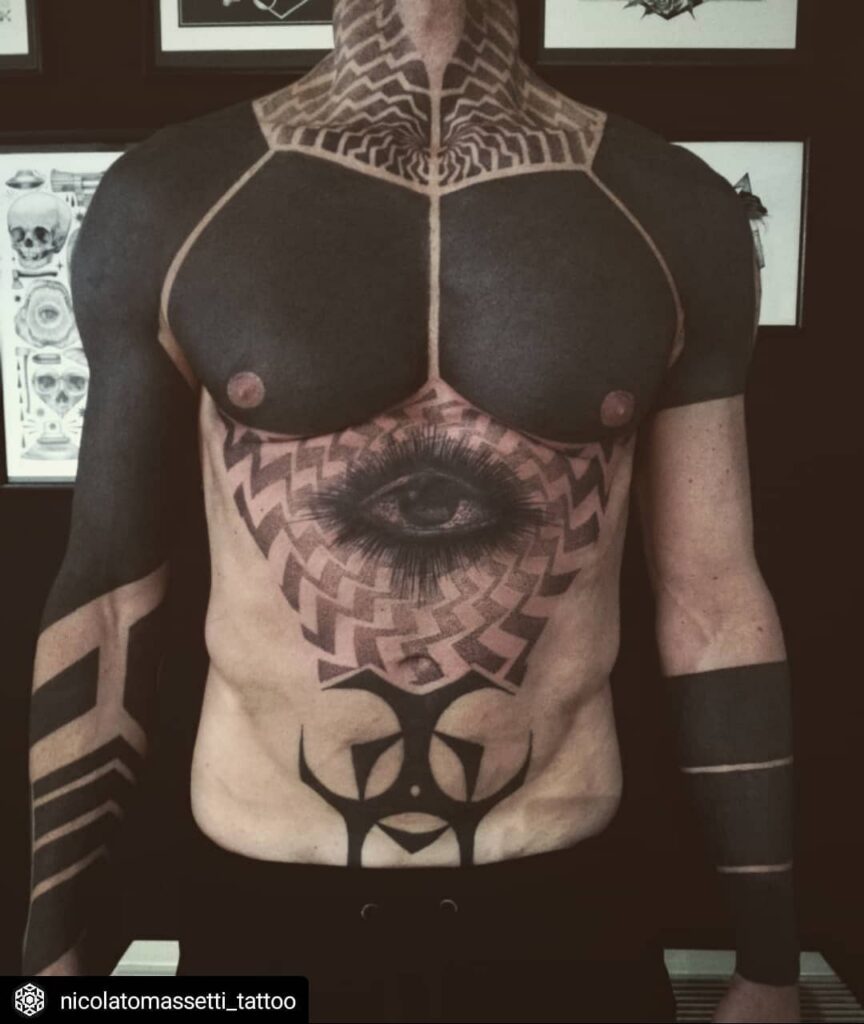 Black ink has been used to totally cover the chest region. It extends from the chest to the bottom of the stomach. Additionally, a drawn eye is depicted above the radiation indication. It is the most distinctive type of radioactive tattoo.
Before receiving radiation therapy, people with cancer must have their skin marked. This is done to guarantee that the radiation beams used to treat cancer are directed to the accurate treatment area during radiation oncology. Breast cancer tattoos typically aren't easy to remove because they are finished with Indian ink. To alter the perception of their cancer tattoo, they might have a new tattoo with a radioactive symbol.
Feature Image from Pinterest – Want your tattoo to look brighter? Try "Tattoo Balm"