You cannot go wrong with colourful and beautiful rainbow tattoos. Brighten up your day with some incredible suggestions for your tattoo design.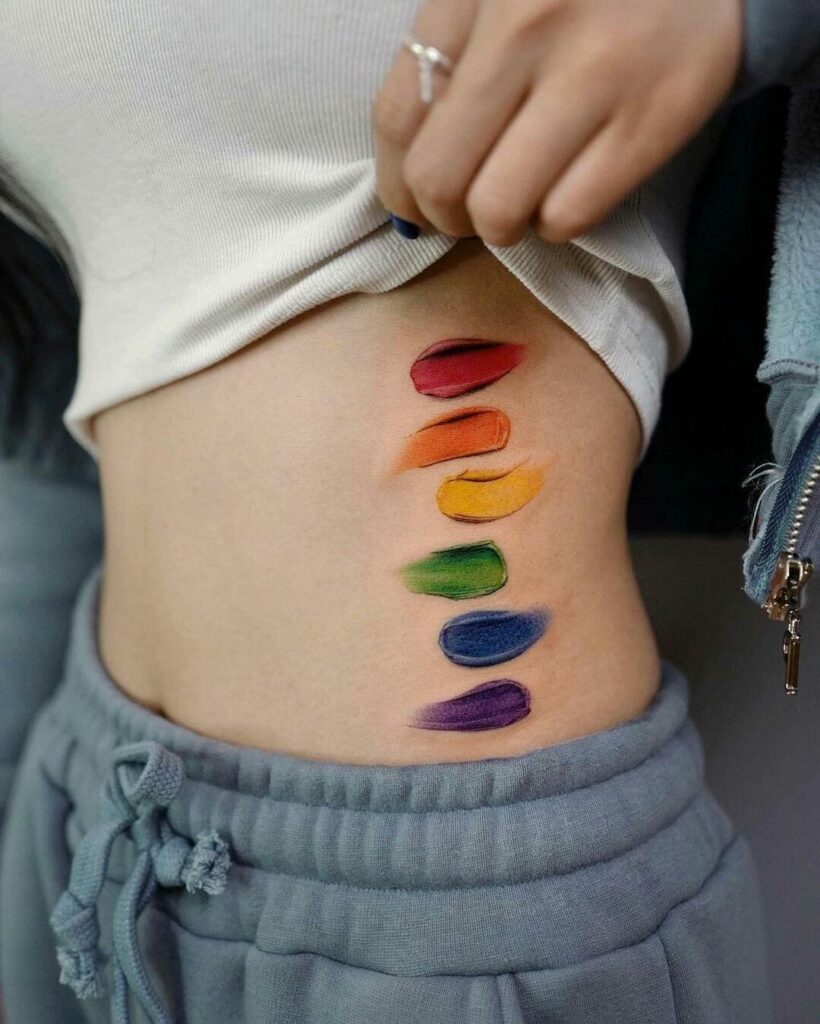 There is nothing better than using all the colours on the palette to create the best tattoo.
Rainbow Tattoo designs are the soul banner of 'pride'. Every design which is mixed with rainbow colours transforms into a beautiful creation.
Not only the people of the LGBTQ+ community are represented by a rainbow tattoo, but also many other artistic minds. A rainbow tattoo always challenges a good tattoo artist because it demands more precision, more detailing, more focus on the distribution of colours and so on.
In this theme, not just a rainbow tattoo but several other tattoos can be made by using the spectrum of colours. Every person has a different style in mind, however, the colour combination of an entire rainbow cannot be beaten. The brightness, the loud art, and the eye-catching appearance are loved by both men and women. These rainbow tattoos have different meanings however they are selected on the basis of popular posts. All the rainbow colours are a symbol of gay pride.
All the below mentioned rainbow tattoo design will blow your mind as it all contains different ways of rainbow tattooed in one's body. The rainbow flag hails high in the tattoo world.
Let's look into the colourful rainbow tattoo designs:
The Dancing Skeleton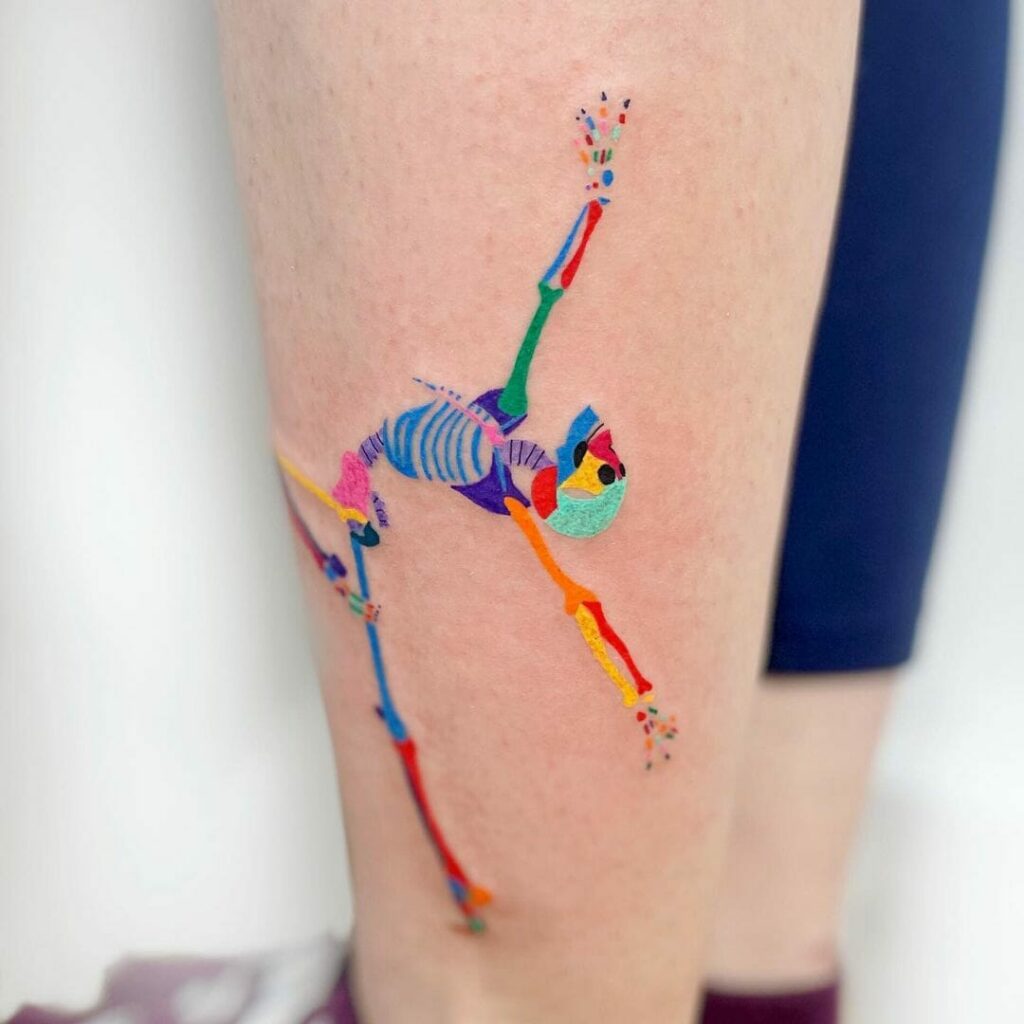 One of the most exciting tattoos of all time is the dancing skeleton. Not only is it one of the most cheerful tattoos loved by many tattoo lovers but also a vibrant body art. To achieve this art, various colours like blue, yellow, indigo, red, green, orange, violet etc are used proportionately to balance out the frame. It is highly used for leg tattoos due to its vibrance on the skin.
This tattoo effortlessly represents a very life-like appearance, which has much symbolism inside it. More than just being motivational and intellectual, it is visually very aesthetic. It defines people who are jolly and are unafraid of anything.
The colours bring out their free spirits. This is why tattoo lovers go for such a vibe. The thin lines and the shadings of every ink in every alternative space are commendable. The details of this tattoo are what makes it so unique. Each colour is complementing each other. A must try tattoo design, for sure.
The Prism Of Light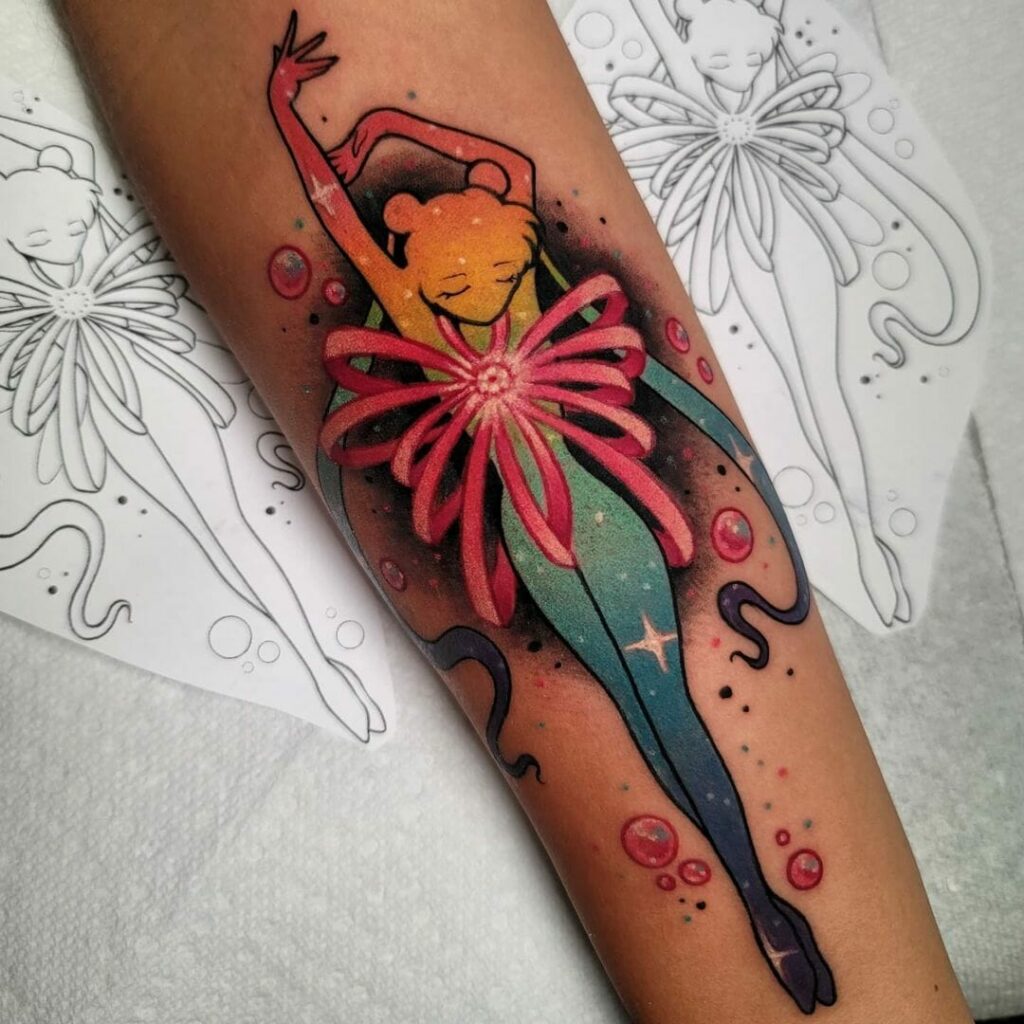 Many fun elements are exhibited in this tattoo. A world of passion, harmony, magic and light. An angel in shades of ombre colours is portrayed in the centre with waves of aura around her. The bling and bubbles are adding more depth to its angelic appearance.
The tattoo could have been left as just black and white but the addition of colours makes it special. A rainbow pattern of colours is followed while shading the body of the girl. The appearance of the tattoo seems as if the angel is rising above the ground. Despite the mystical style of the tattoo, it is quite loved by all.
The Splash Of Colours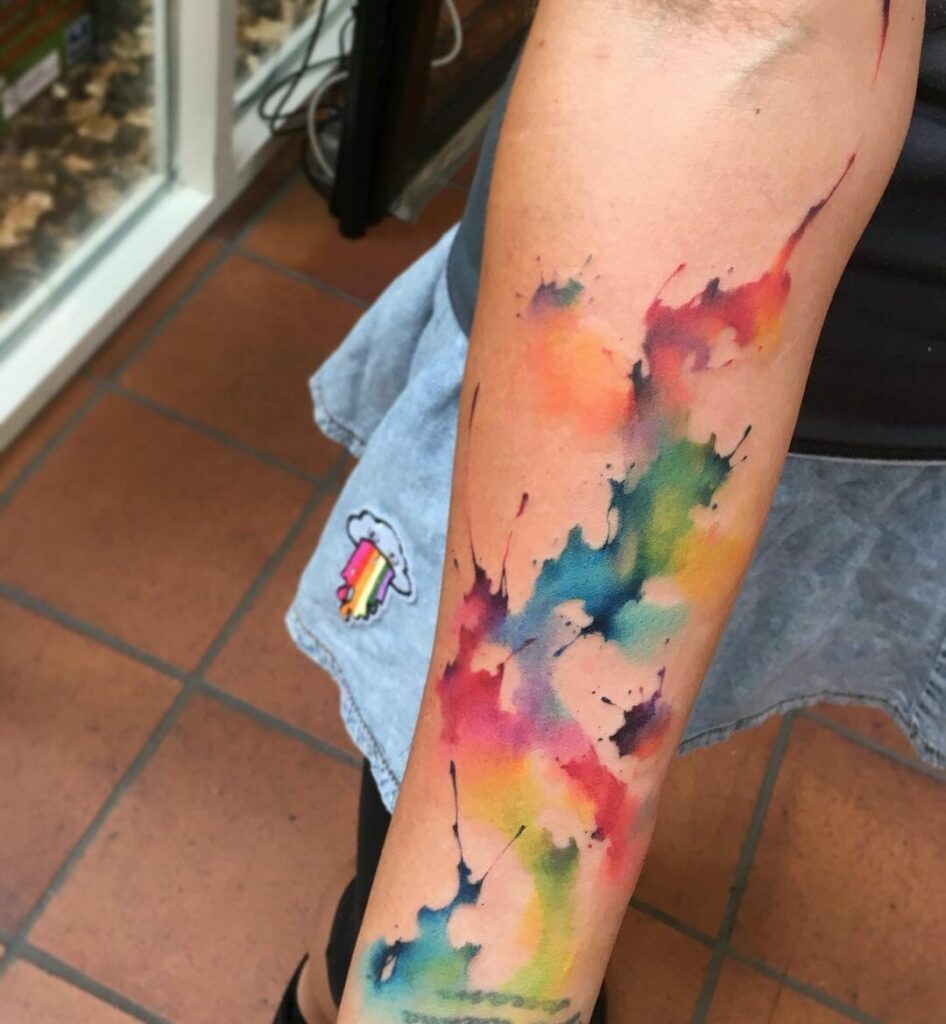 The portrayal of a colourful rainbow through a splash of paint is extremely creative. It is visually very appealing and looks amazing on a forearm. It screams festivity, joy, happy vibes. However, as easy and as awe-struck, it is a very complicated design.
Looks effortless, where different colours are splashed here and there; however, in reality, every colour is positioned beforehand and then the shading starts. For darker colours, the shading is light whereas, for lighter colours, the shading is dark so that it does not look absent; and that the different colours pop out more. A perfect tattoo fitting for a versatile crowd to showcase their originality. A must-have rainbow coloured tattoo.
The Mini-Tattoo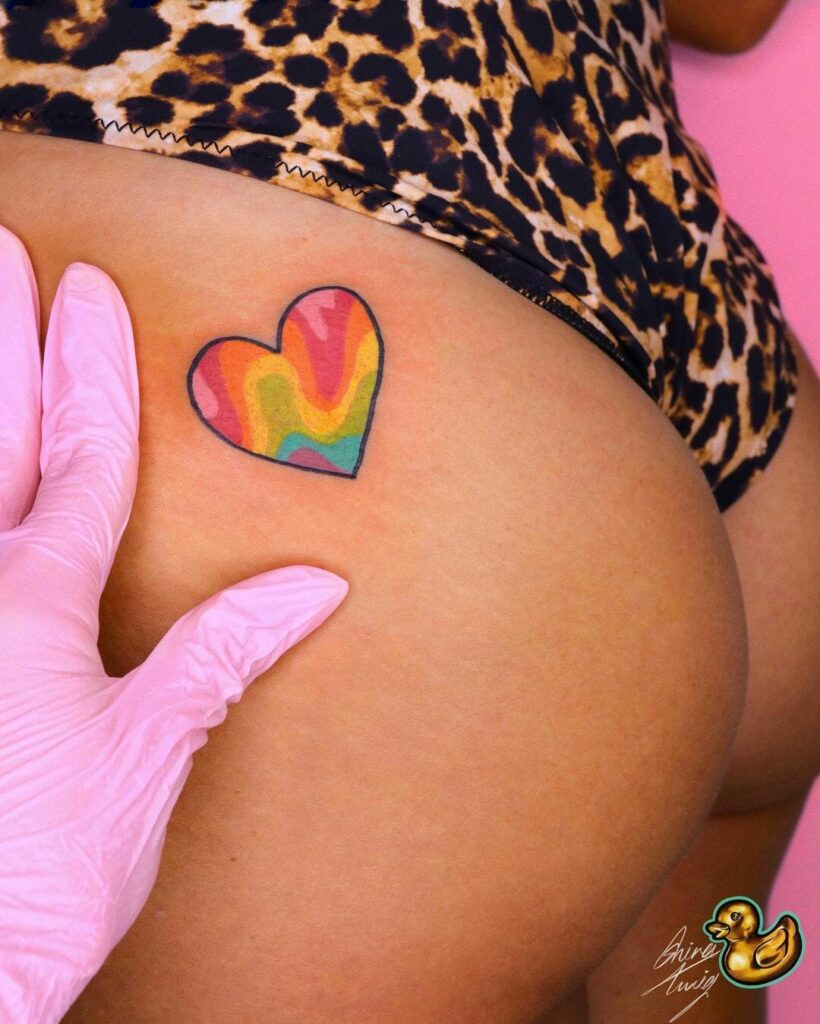 A very cheeky yet fun tattoo. This art is created to please the funky styled personalities. The heart is made by a black border, filled with a colourful rainbow tattoo. These kinds of rainbow hearts tattoo are very trendy and adds a punch to a boring tattoo.
The colours used inside as fillers are bright but not opaque. They are translucent to the skin, giving it a more natural effect. The brightness of the colour are well maintained and each shade of colour is well marginalised. Girls enjoy this tattoo style and it is created in the right mix.
The Gen Z Tattoo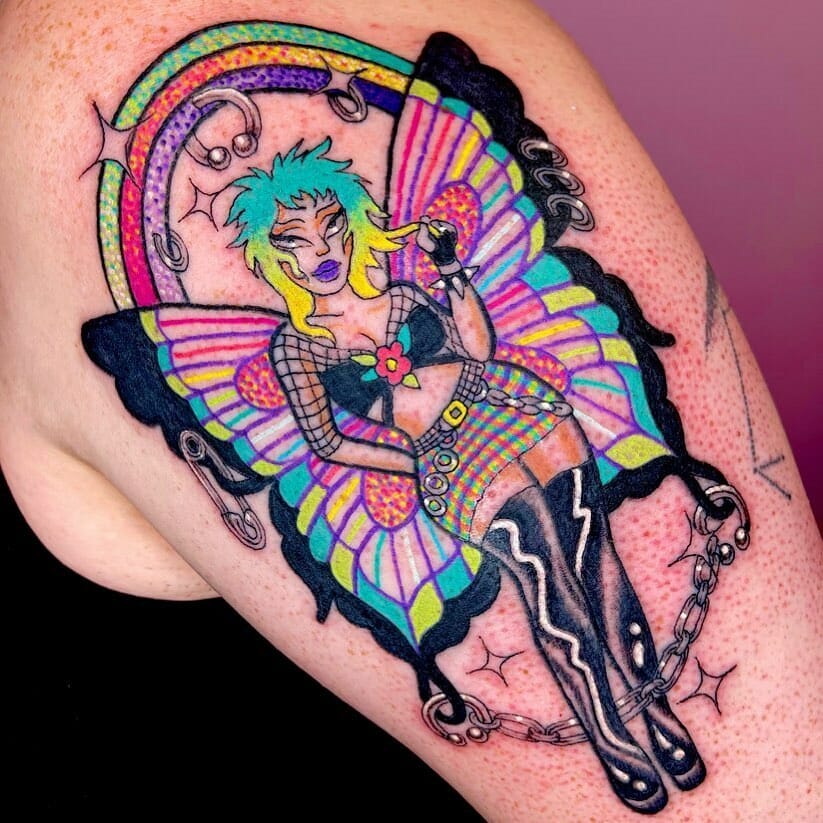 This particular ink style is a representation of the freedom of the gay community. Rather than a simple rainbow butterfly tattoo; this tattoo has a hip character who is wearing the pride wings. All the rainbow colours are showcased with a rainbow symbol.
This tattoo speaks individuality and authenticity. It is not a cliché portrait of a cute woman, rather, it hints at a specific community and aims to empower it. All the rainbow colours are at par with the use of bold black colour. A perfect balance between brightness and darkness has been formed. The tattoo shows an effortless symbolic sense; the creativity, details and execution make it unique.
The Fluid Art Tattoo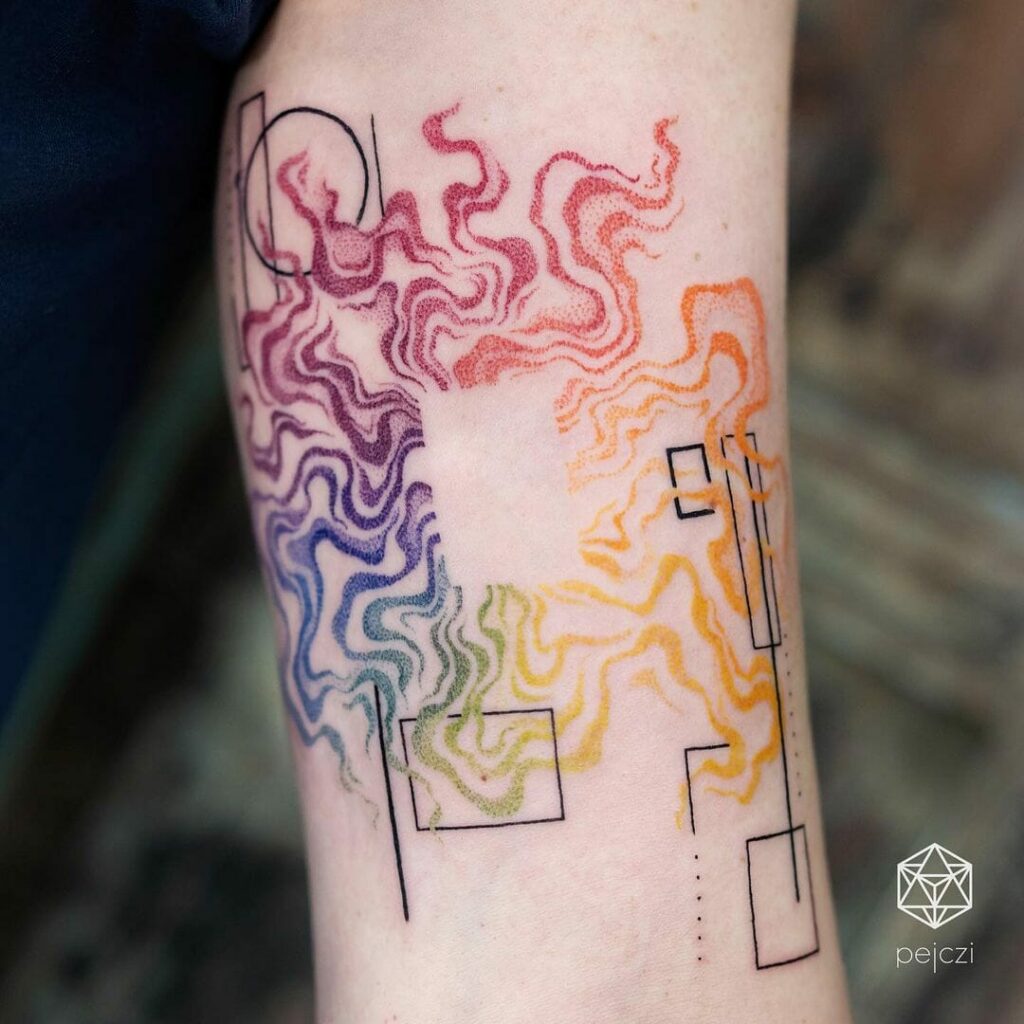 This is one of the best interpretations of a rainbow design. These kinds of abstract tattoo designs are so much harder to make than any other design. Not only do they express colours in all authenticity, but it is also so much more creative. This tattoo is a steep geometric tattoo where the same pattern is followed in various directions.
The colour of this tattoo is amazing as it is very bright and punchy. Red, blue, green, yellow, violet, orange, indigo, are all present in equal proportions. Not to forget, the pattern does not look clumsy, rather, each line is very well spaced out. Another thing to notice is that the famous technique of dotted ink is used here. Each colour is made by using dots and not just sliding and making a line.
The Kawaii Tattoo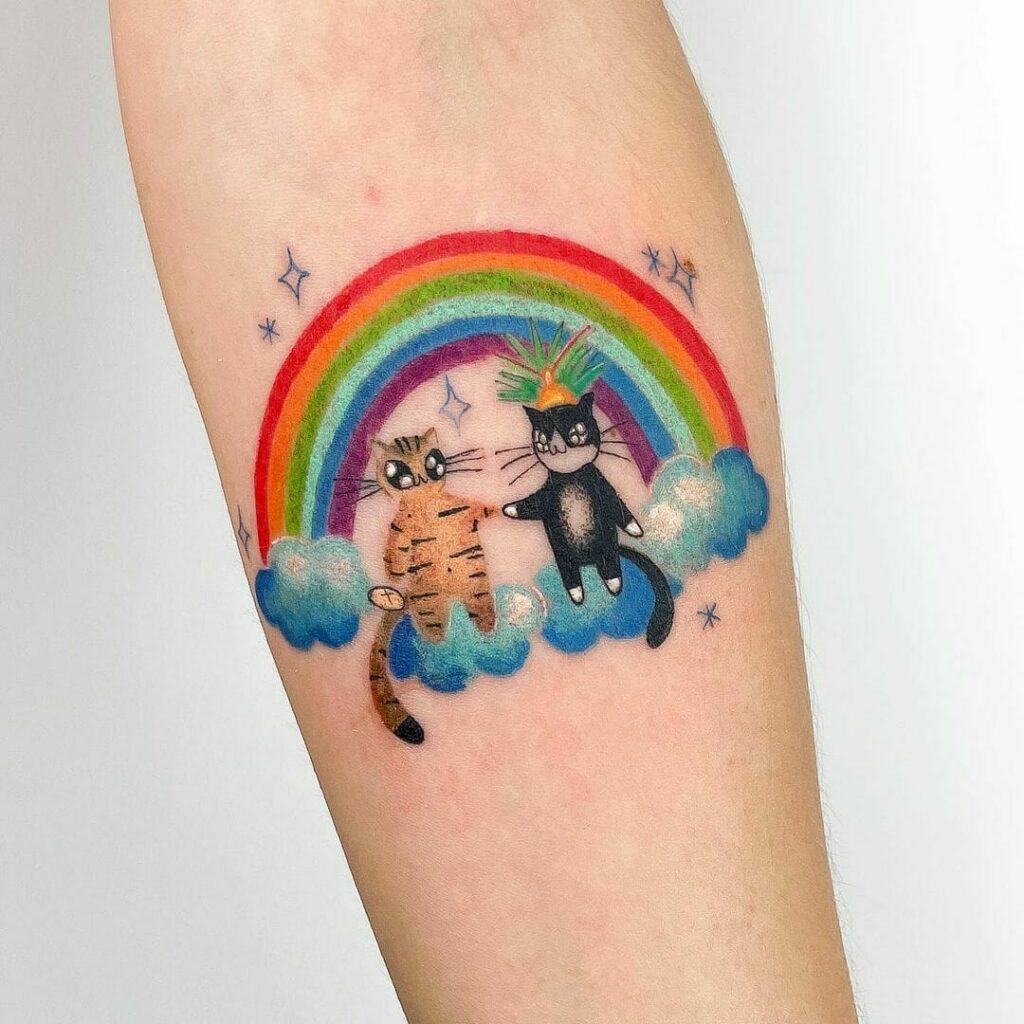 One of the most loved choices by people of the pride community is this representation; insanely adorable and cute. The tattoo itself is a Japanese inspired tattoo, known as the 'kawaii tattoo'. The name of the tattoo is given based on these cute animal figures. We have seen all sorts of tattoo designs, patterns, colours, etc.; however, this tattoo has a special place in the hearts of cat lovers.
It is a small rainbow tattoo where two cats are shown as holding hands in the sky, above the clouds; the execution of this tattoo is very dreamy yet very cartoon-like. The colours are vibrant and the shading used in the tattoo is commendable. The tattoo shading looks like real crayon shading; which is hard to achieve. A small tattoo yet very classy and detailed.
The Patch Tattoo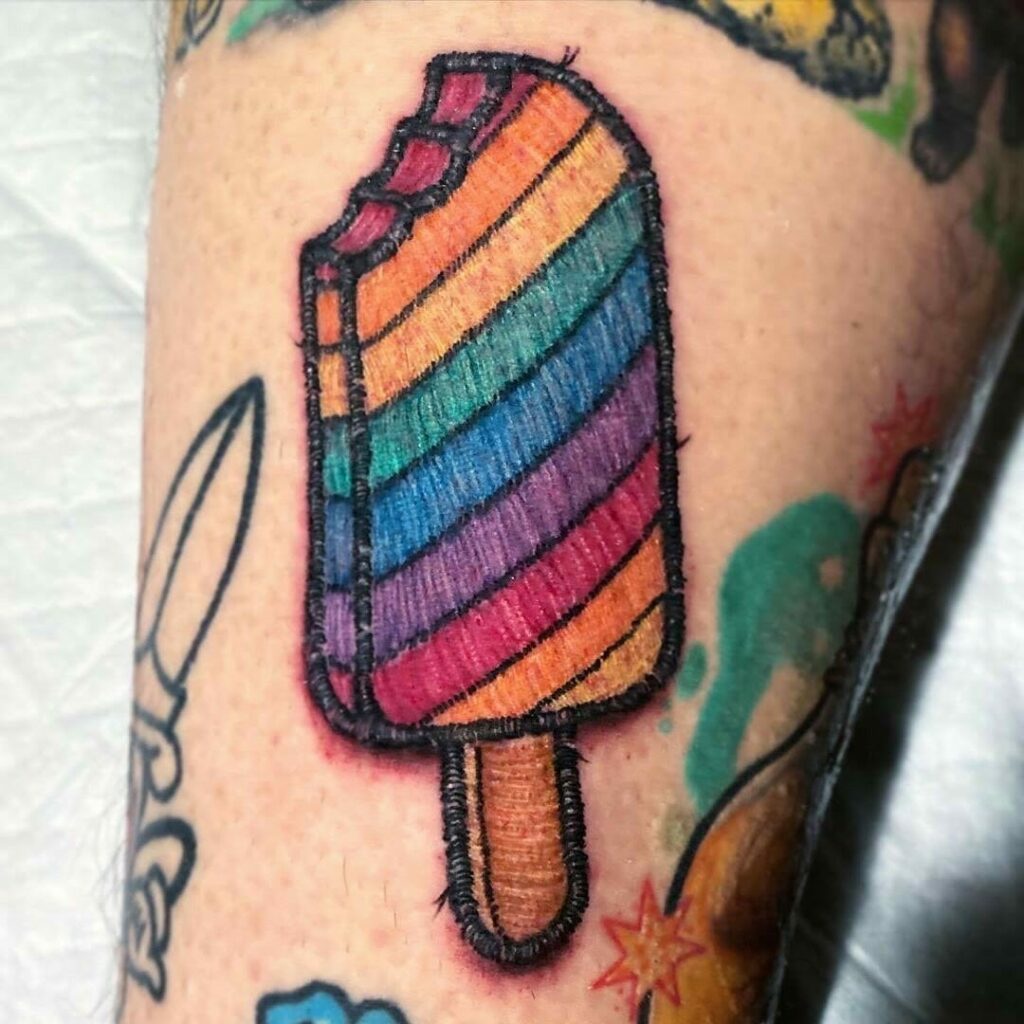 An unexpected yet artistically real tattoo. This tattoo is so popular in social media and also in tattoo booths. People of all styles give this tattoo a try and they always fall in love with it. It is a serious, dark, yet soulful tattoo, however, the fact that it's just an ice cream makes it less serious and more relaxing. The lines used to outline this ice cream is a coil-like technique where the straight line appears curved throughout. The shading inside is done in a clear manner; one direction motion which gives it an appearance of a pencil colour shading. A true creative artistic tattoo.
The appearance of this tattoo is more rugged than just simple. It's more rock and punk; typically ice-creams are supposed to be cute, cheerful, mellow and innocent; however the take on this tattoo is very different. The details are very crisp and proportioned yet it looks like it's very unorganised and rugged. The exterior of the tattoo is also shaded out with a mix of red and brown, appearing as if the tattoo is been very painful and that this ice cream is not just a random one. The shading is done very neatly and the choice of colour is commendable. A must try tattoo design for such punk tattoo lovers.
The Conjuring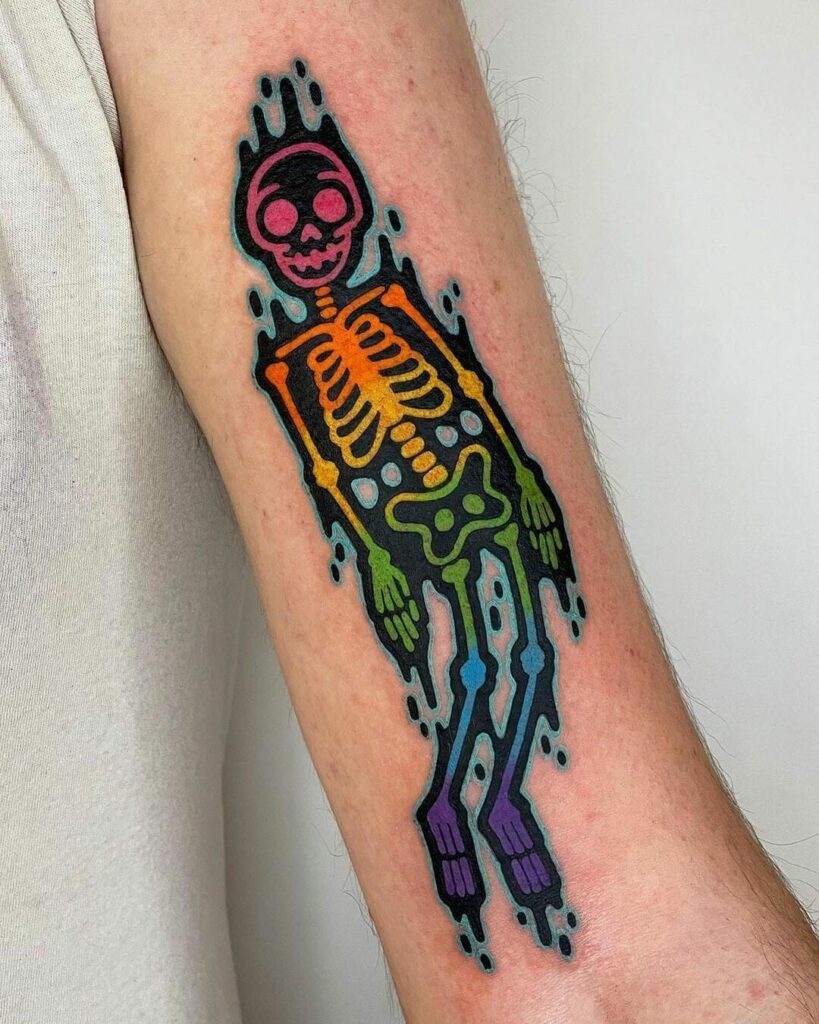 Skeletons can add a new life to rainbow tattoos even though they are dead. Not only does it look truly dead but it looks more alien-like. The fact that the use of colours in this tattoo is a lot; it still does not over-powers the darkness of the tattoo. The colours are filled inside the body of the skeleton.
The exterior however is made to look a little delusional. There is a blue line that keeps floating all around the skeleton. Looking closely, it seems as if the skeleton is melting from all sides or it can also be looked as it is being risen above, that is why its body is dismantling.
A very classic tattoo but the use of colours here is extraordinary. Also, the size of the tattoo is quite large which is perfect for making it look louder and punchier. This tattoo is more suited to be done on a bicep, forearm, thigh, or lower legs, where it can stand out at all times.
The Murakami Tattoo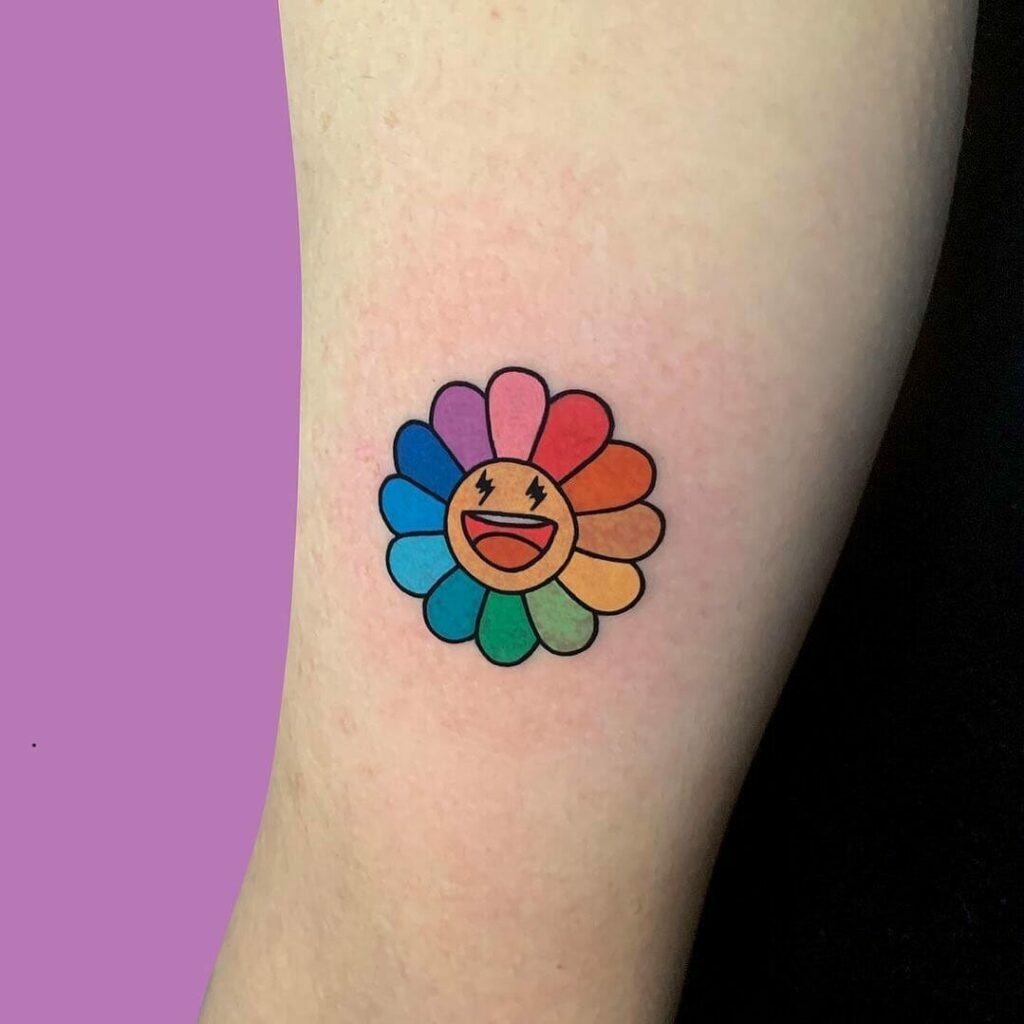 A deep thought tattoo is this Murakami tattoo. It is loved by most creative artists and intellectuals, for its innocence and simplicity, yet it contains deep meanings. This tattoo represents hope, joy, and innocence. People tend to get this tattoo in order to personify it as sarcasm. The tattoo contains a flower with several petals which has all the shades of colours needed. The colours are very opaque and not much skin is showing against them. If you are a fan of the psychedelic imagination presented in Murakami's writing, this tattoo is right up your alley.
The facial expression of this tattoo is very happy and jolly, but another idea that we have seen and would like to give you all is that you can change these expressions depending on your personality style. Some people do not like a jolly-looking tattoo, therefore they can opt for a sobbing flower or an angry flower. Therefore, this tattoo is open for customisation as per customers' choices.
Feature Image from Pinterest – Want your tattoo to look brighter? Try "Tattoo Balm"
Last reviewed and updated on September 15, 2023