Are you in the Navy squad and want to show your love for Rihanna? This is the page for you. Look at some amazing Riri tattoo designs for your next body art.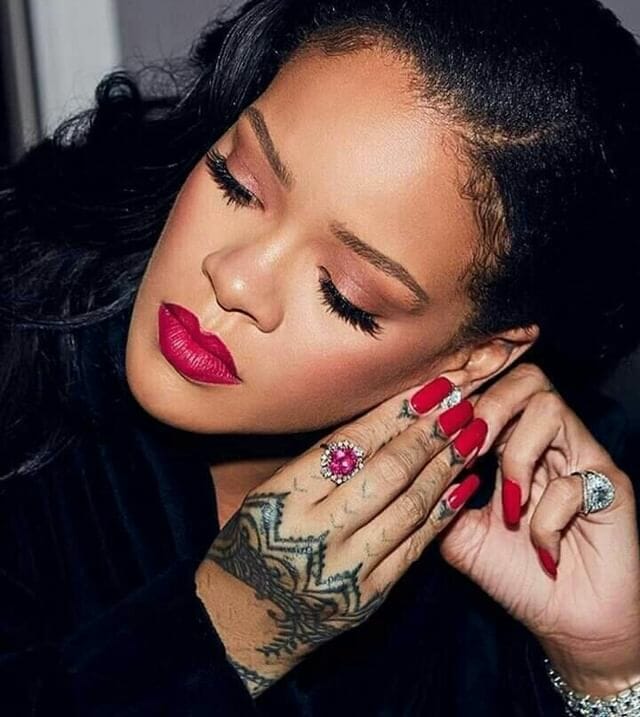 Rihanna is known for expressing her personal style through different tattoos on her body.
She has a total of 21 tattoos on her body starting from her head to her ankle. Not only does she have designs that have meaning to her, but she also created her own tattoo like a small umbrella on her arm.
Rihanna got her very first tattoo in 2006 which was a music notes tattoo. Her latest tattoo is right below her collarbone and is a mirror image of the phrase 'Never A Failure, Always A Lesson'. She is known to get her tattoos from the famous tattoo artist Bang Bang. Her henna tattoo on her right wrist. Is made by him. He is also famous for making the hand-gun and the 'shhh' on her finger. Most of Rihanna's statues have been made by Bang Bang. However, there are also some tattoos made by a famous Brazilian artist who takes booking 3 years in advance. Rihanna revealed that tattoos were an entire culture and she was so intrigued by them that she desires to study them.
Here are some amazing tattoos by Anne of Rihanna that could be the choice for your next body art.
Rihanna Cross Tattoo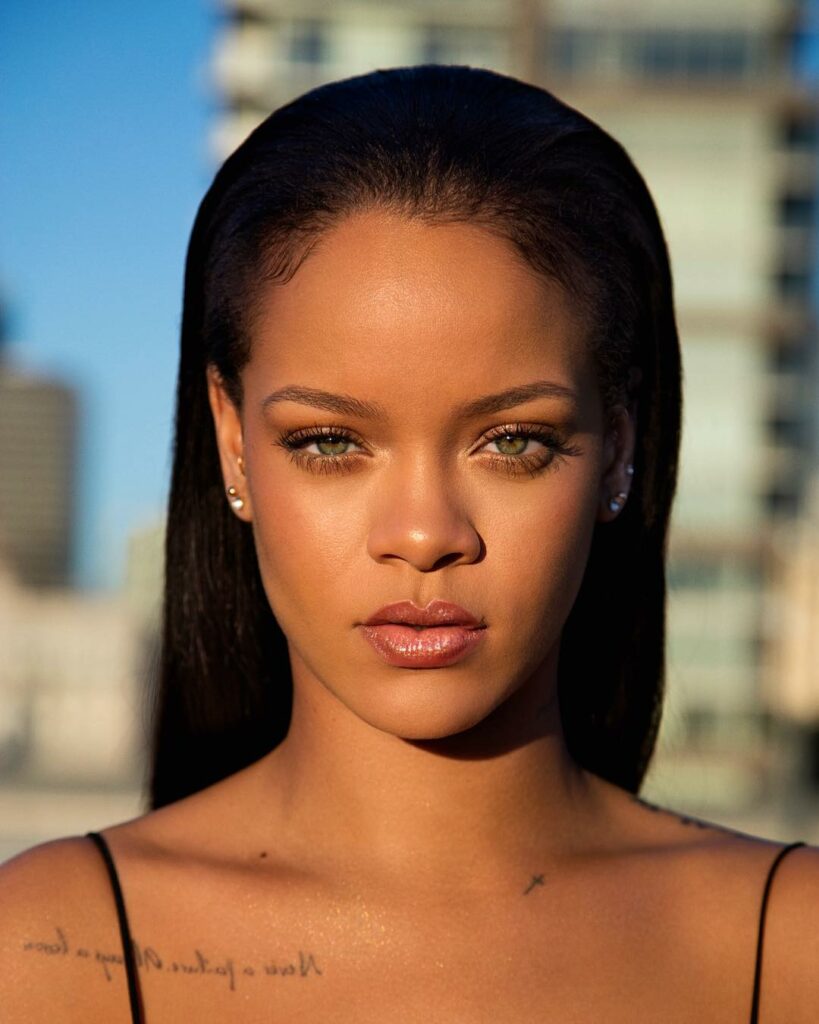 Rihanna believes in her religion and that shows from her cross tattoo placed on her collarbone on the left side. This tattoo was also made by tattoo artist Bang Bang. He used a unique technique to make this design, he cut the ink with water to make the design light on her skin. Just like her 'Rebelle Fleur' tattoo. She has smartly placed the tattoo on her collarbone so that she can show it off when she wants and hide it also. This is a very small and elegant design.
Not many people get such tattoos because religion is something very personal to every individual. This tattoo could hold deep meanings for some people.
Rihanna Gun Tattoo
Rihanna has a tattoo of a small handgun on the right side of her chest. She got this design inked in March 2009. Rihanna flew down her favorite tattoo artist Bang Bang from Los Angeles so that he could give a tattoo to her best friend. However, she decided to get a tattoo for herself at the same time. The idea to get a handgun tattoo was actually of artist Bang Bang. He said that he showed a picture of the handgun to Rihanna, but fails to understand why it resonated with her. He made the tattoo on the right side of Rihanna's ribcage, where it was not very prominent and would not take away from her face.
This is a very small tattoo made entirely with black ink. If required, you can make this tattoo in different colors as well.
Rihanna Quote Tattoo
Everyone should have a motto in life by which they should make every decision. Our favorite girl Rihanna also has a motto. It says 'Never A Failure, Always A Lesson'. It is tattooed under her right collarbone on the chest. The tattoo is written backward so that when she looks in the mirror, she can read it. She got this tattoo in December 2009 by her favorite tattoo artist, Bang Bang. This tattoo means that instead of thinking of things as a mistake, think of them as a lesson and move forward in life.
Since Rihanna wanted the look to be more subtle, she asked the artist to make it grey color rather than black so that it does not attract too much attention. This is something that can inspire everyone. If you have a personal motto in life, you can tattoo that, and if you are inspired by Rihanna, then consider this beautiful quote to be your next tattoo!
Rihanna Isis Tattoo
Rihanna got a beautiful tattoo of the Egyptian Goddess Isis tattooed on her ribcage in September 2012. The Egyptian Goddess Isis is seen as a figure of marriage, fertility, and motherhood. She is the ultimate symbol of feminity. This tattoo is generally inked by women who want to show off their femininity to the world showing that even though they believe in marriage and motherhood, they are strong and powerful. Apart from this, the Goddess also represents magic and healing. Her name literally translates to 'Queen Of The Throne'.
Rihanna posted a picture of this tattoo on her Instagram page with the belief that the Goddess is a model for future generations. This tattoo is made with black ink and there are shades of black and grey with the piece of body art to give it a sketch-like look.
Rihanna Date Tattoo
One of the most famous and visible tattoos of Rihanna is on her left shoulder. The tattoo consists of the date 11/4/86 written in Roman Numerals. This date is actually the birth date of her assistant and best friend, Melissa. Melissa also has Rihanna's birthday tattooed on her shoulder in Roman numerals. This design is both elegant and beautiful and makes for a meaningful tattoo. It is made in black ink with thick strokes. It is a versatile tattoo and can be placed on any part of the body like the wrist, the chest, or even the back of the neck. It is a perfect design to dedicate to your loved one.
Rihanna Chest Tattoo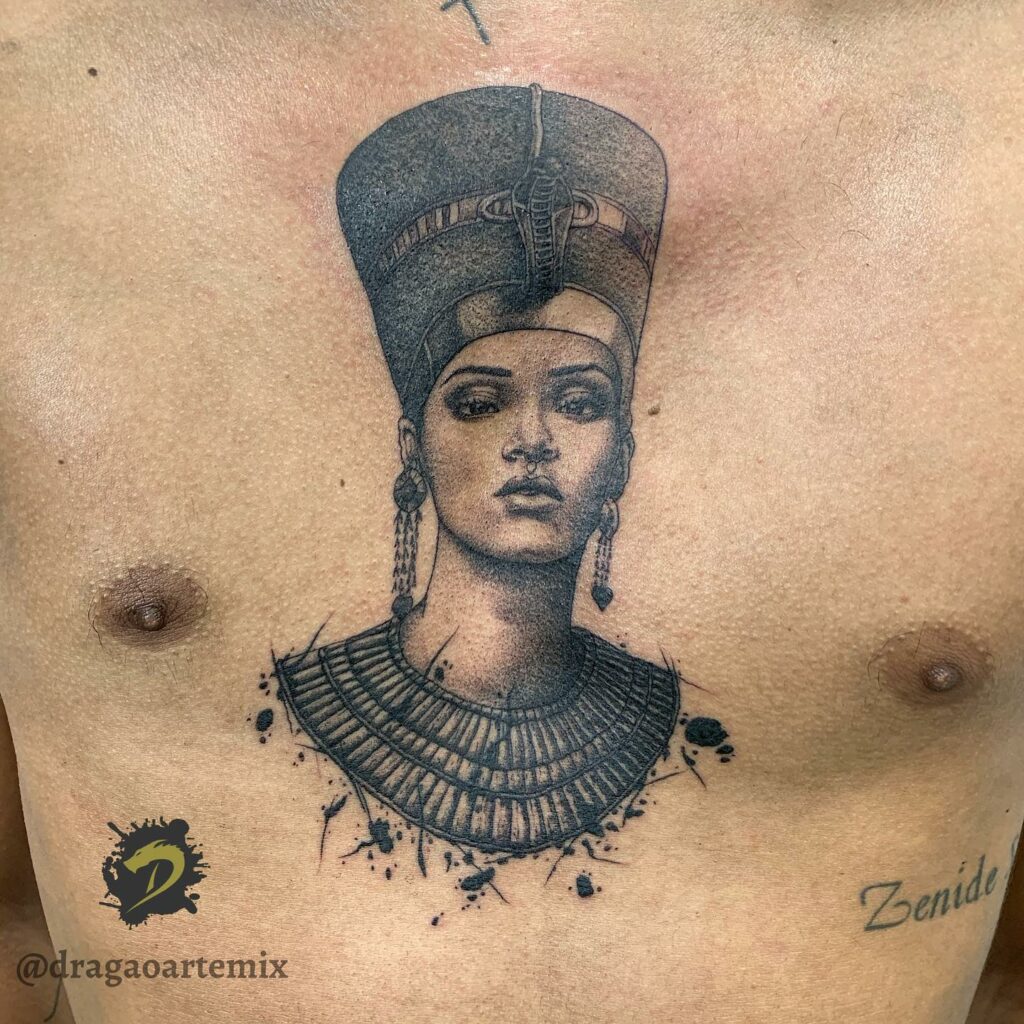 Rihanna has a cult following with millions of her fans listening to her songs over and over again. Her concerts are full of people that love her. There are people who want to show off their love to the world. One such expression is a tattoo. Rihanna fans are called Navy and they do not shy away from their love of our favorite star.
This tattoo is made on the chest of the wearer. It is similar to the Egyptian Queen Nefertiti tattoo that Rihanna has on the side of her chest. The difference is, in this tattoo instead of the Queen's face, it is Rihanna's face. This tattoo is made entirely in black ink with intricate work.
Rihanna Diamond Tattoo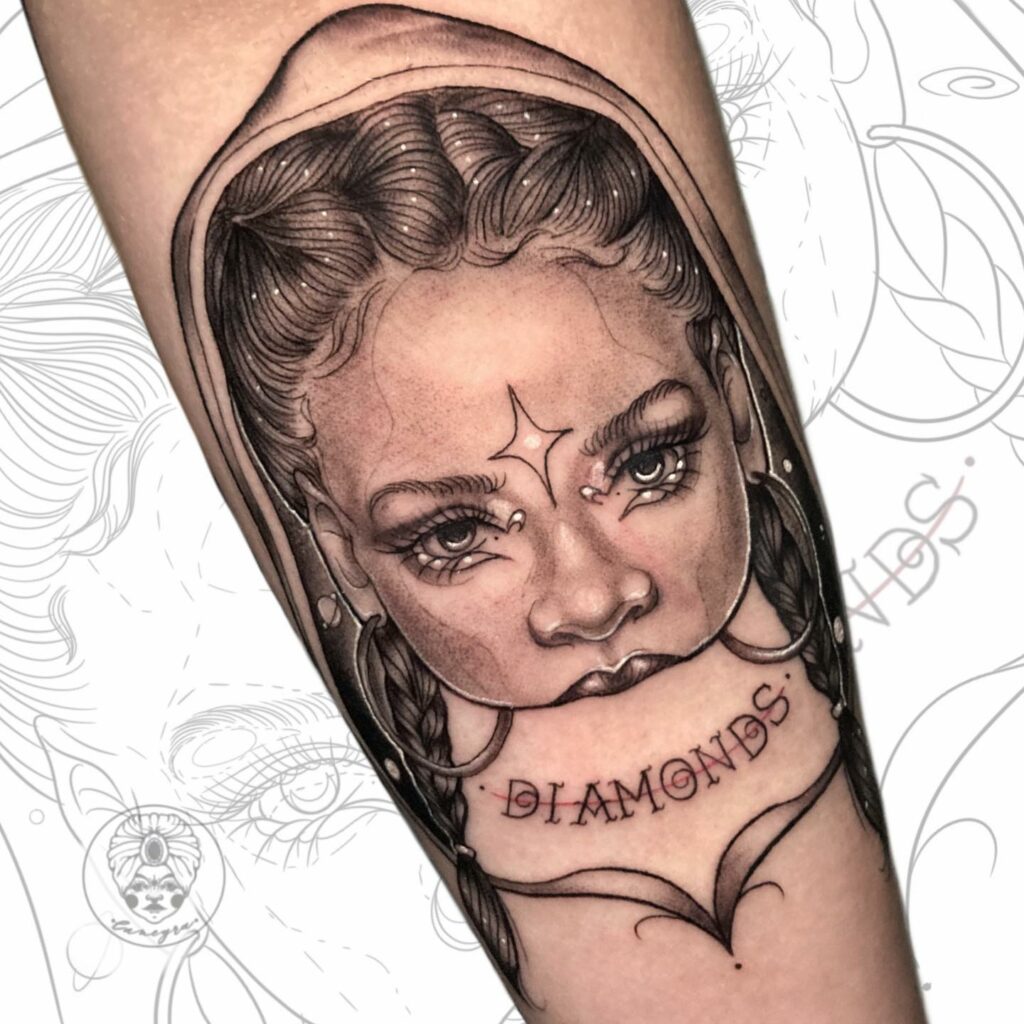 Diamonds is a song that is featured on the seventh album by Rihanna called 'Unapologetic'. The songwriter was Sia and the producers of the song were StarGate and Benny Bianco. This song became so popular that it was on the top of the charts across more than 20 countries. It stayed on top for a long time and was much appreciated by the audience for its deep meaningful lyrics. She performed this song at award functions and TV shows.
This tattoo is made on the forearm of the wearer with black ink. The tattoo artist has used semi-permanent white ink to mark the shine of the diamonds on her face and hair. The details of this design are impeccable. If you are a fan of 'Diamonds' then this tattoo is for you!
Rihanna Star Tattoo
Another very famous and controversial tattoo of Rihanna is the stars that were inked on the back of her neck. She got this tattoo in 2008 when she was dating her former boyfriend Chris Brown. This tattoo was made by a tattoo artist situated in LA. It was started by him and finished by another tattoo artist in New York known as Bang Bang. Chris Brown has a similar tattoo behind his ear. Star tattoos are actually very common among people. They are a symbol of hope, intuition, honor, and guidance. Many people like to get a cluster of stars tattooed on themselves. This tattoo is made with black ink and some of the stars are filled with black color inside as well. This is a great tattoo to get with a partner or even solo.
Rihanna Face Tattoo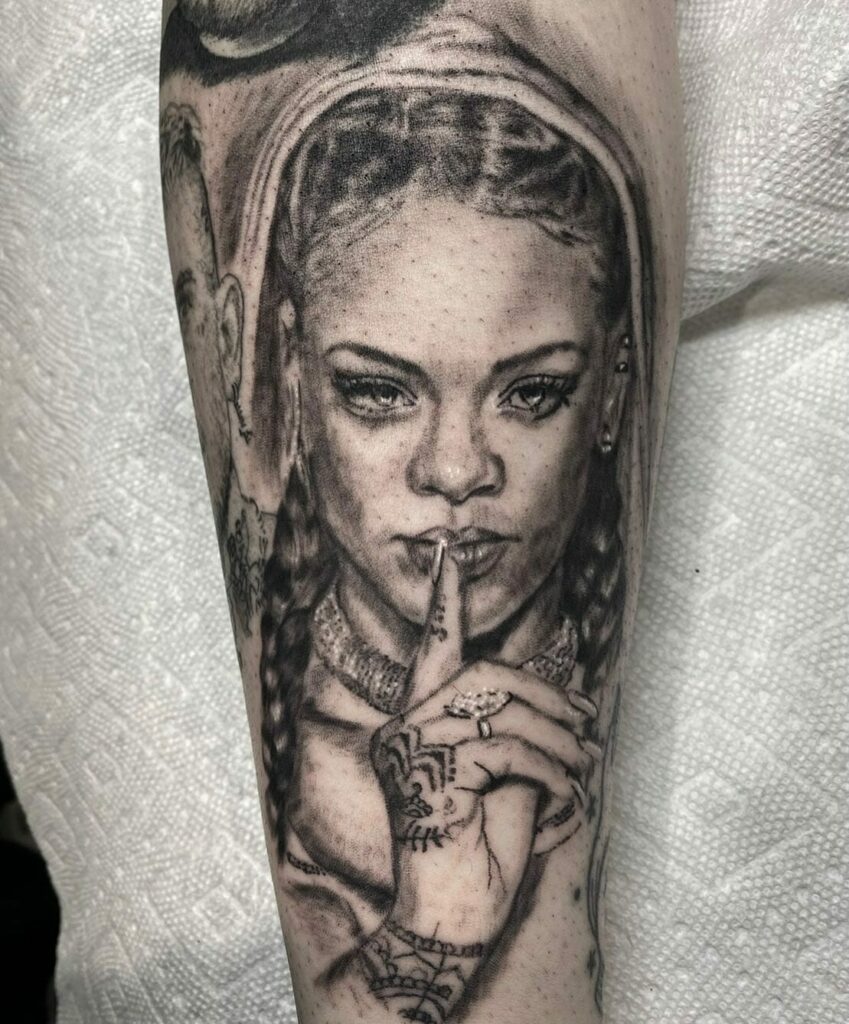 Rihanna is a famous celebrity that everybody admires. She is a role model for millions of people. Her personal and unapologetic style is an inspiration. She does not shy away from her true self and has shown immense talent over the years.
This tattoo is made with black ink with shades of grey within the design to give it a look of a sketch. The details are such that her henna tattoo and ring are very clearly visible. Each strand of her hair is made with perfection. If required, there can be colors added to this tattoo to give it a more realistic look.
Rihanna Back Tattoo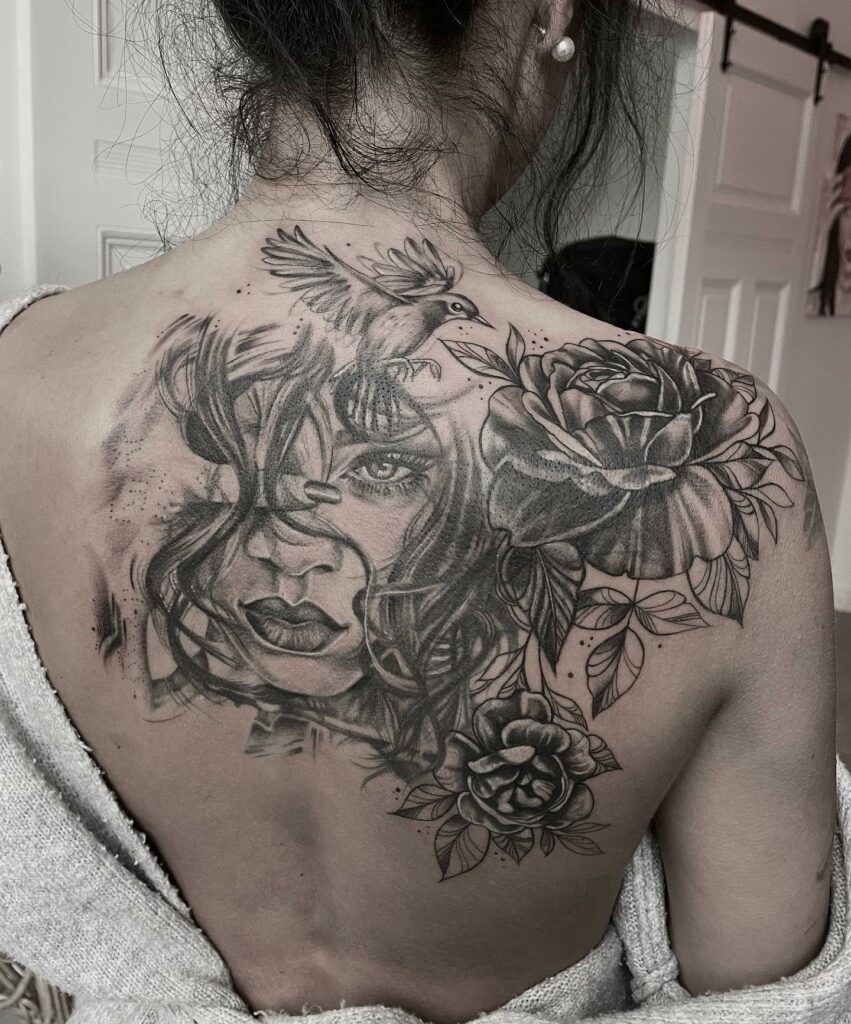 Rihanna is one of the world's most admired artists. Her fans are loyal to her and help her reach the top of the Billboards every time her single or album is released.
This fan has made a portrait of Rihanna on her back with her hair on her face. On the side, there are some beautiful rose tattoos that are a symbol of love and devotion. A dove on the top is a symbol of beauty and peace. This design is made with black ink, however, colors can be added if the wearer wants.
feature image from Pinterest – Want your tattoo to look brighter? Try "Tattoo Balm"