Nothing can beat a lion when it comes to strength and energy. That said, mentioned below are some of the best roaring lion tattoo ideas that you need to check out.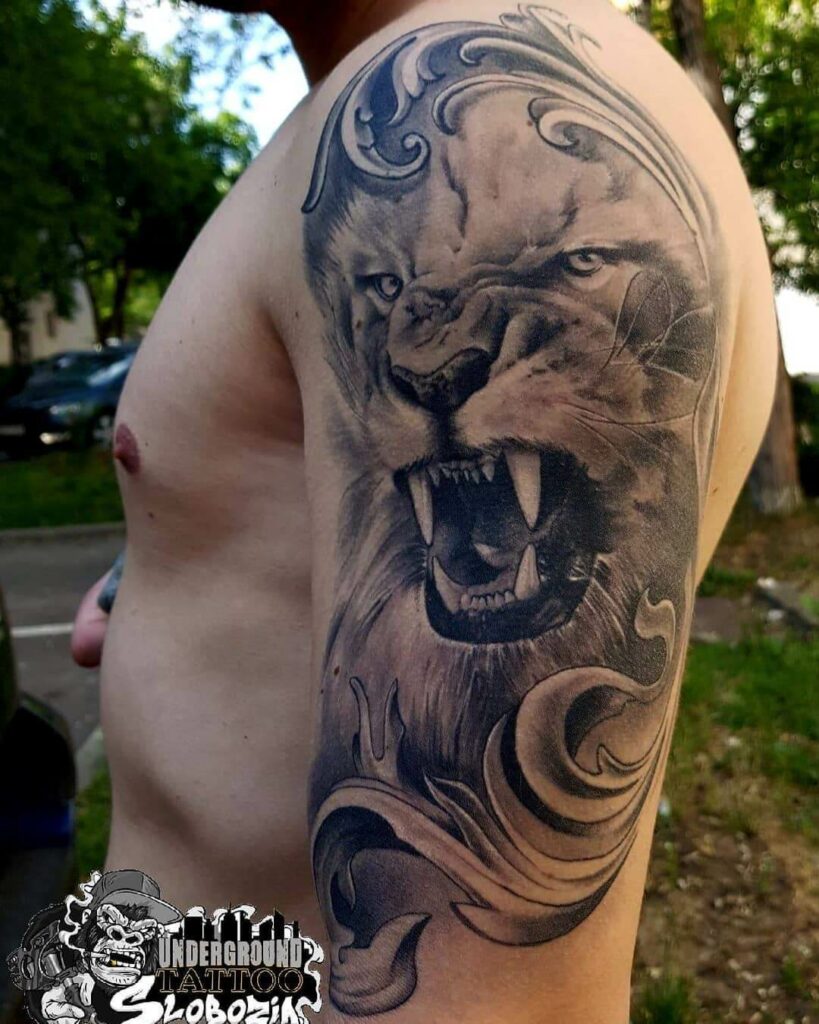 The lion is one of the most popular tattoo designs in today's world of tattooing.
It is the perfect epitome of strength, speed, and power. They also carry several other different meanings in various cultures.
As we all know, the lion is the king of the jungle. They are the apex predators, and when it comes to hunting down their prey, they show no mercy. In ancient African culture, the lion was viewed as a symbol of discipline and control, whereas the ancient Romans used to perceive this majestic beast with passionate love. Regardless, they have been a popular choice, especially among men, to display the undaunted and fierce side of their personalities. Now, let's take a look at some of the best lion tattoo designs that are mentioned in the list below.
Realistic Lion Tattoos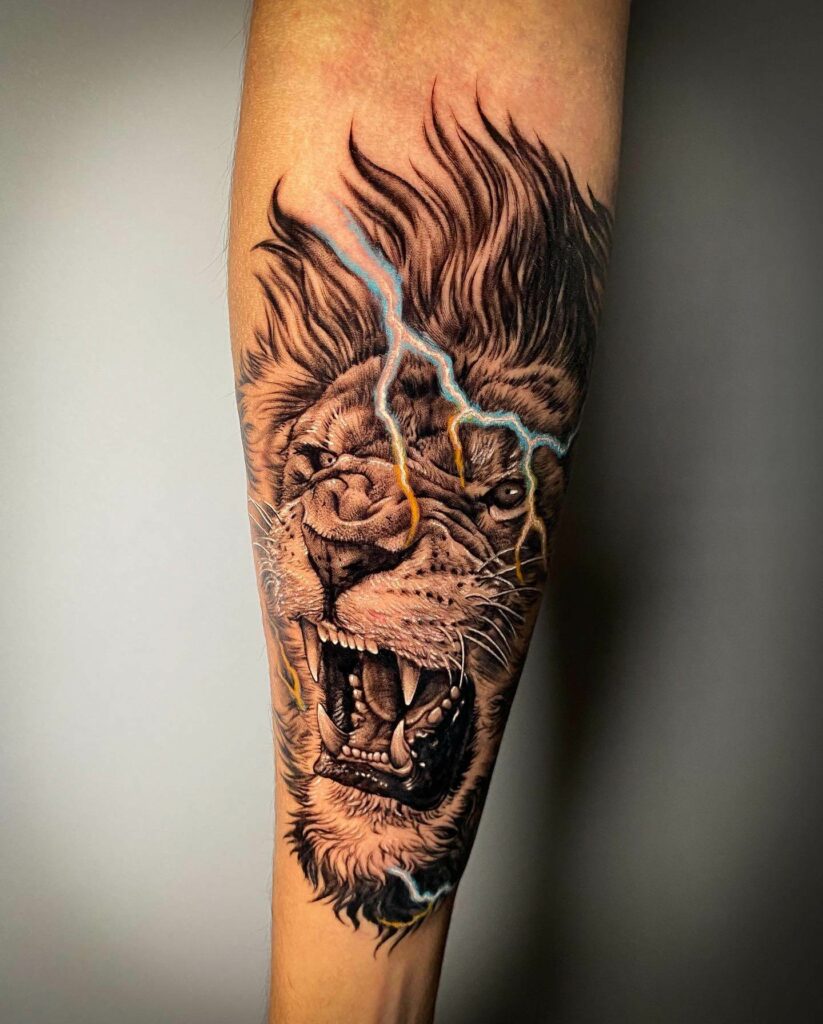 Here is a beautiful example of a lion tattoo design etched on the forearm of the individual. The piercing glance of the lion and its sharp teeth have been beautifully highlighted in this image. Furthermore, for the lion's mane, the artist has done some fine work of shading using black ink. Lion tattoos are the preferred choice of designs, especially among survivors of some horrific crime or trauma. For them, it is a representation of all the hardships they have had to endure and how they have successfully been able to triumph over all those adversities. Some of the best placements for a lion tattoo, such as this, might include your chest area, thigh, and forearm. Unlike other body parts, they provide a much larger canvas and therefore are the best way to highlight your lion tattoo's intricate detailing.
Geometric Lion Tattoo
For those new to the tattooing world, geometric tattoos refer to those designs that involve a lot of organic geometric shapes and patterns to create a meaningful and aesthetic design. They are not only stunning to look at but also carry several meanings. They represent harmony, balance, symmetry, and sometimes even mystery. You can design any element in geometric shapes, and it will definitely look great. In this image, we can see an example of a geometric lion tattoo etched on the individual's body. To give the tattoo a realistic touch, the artist has even highlighted the lion's eyes and teeth, using blue and red ink. The red colour near the mouth of the lion signifies blood, and the artist has very successfully tried to replicate the look of a hunting lion. Overall, this tattoo looks quite stunning, and if you are looking for similar ideas, you should definitely go for this one.
Tribal Lion Tattoos For Men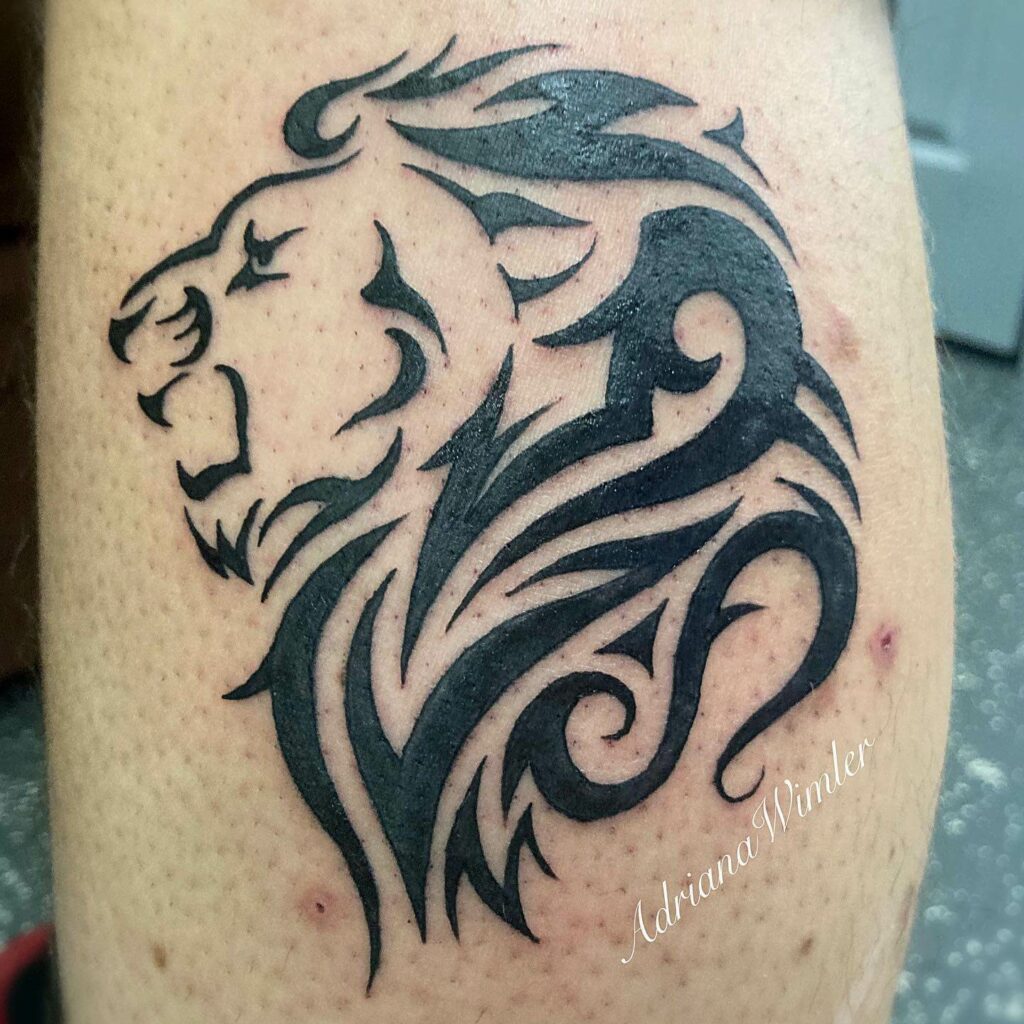 Tribal tattoos are yet another very popular style of tattooing in today's world. There is no one specific design in a tribal tattoo, and they vary across different cultures. Tribal tattoos are often seen as a unique way to pay tribute to one's own heritage and culture. They are usually designed with several unique patterns and elements. In this example, we can see a beautiful example of a roaring lion tattoo, designed in tribal style. The artist has created this whole look using plain black ink. One of the key highlights of this design is the detailing of the lion's mane and how creatively the artist has done the same with utmost precision. What's more, you can also customize this design by adding different elements to your tattoo to make them look more interesting and meaningful. They can include birds, flowers, or even arrows.
Traditional Lion Tattoo
The above-mentioned image contains a stunning design of a roaring lion tattoo etched on the leg of the individual. The tattoo has been designed in traditional styles, which makes it even more aesthetic. Traditional tattoos are generally done by using bold and black lines. There is usually very less shading and does not involve a lot of bright colours. As we can see, this roaring lion tattoo has also been created in the same manner. The artist has only used plain black ink to highlight the different aspects of the lion's face. It definitely looks quite powerful and sends out a message of fearlessness, royalty, and strength. In many cultures, the lion represents a balance between life and Nature. As mentioned earlier, they are the king of the wild and are, therefore, feared by other wild mammals and humans alike. If you like these kinds of strong meanings behind your tattoo design, you should definitely consider using this one as a reference for your next tattoo.
Small Lion Tattoos
Small and minimalist tattoos can be just as powerful as large and dramatic ones. The above-mentioned image is a rendition of the same. The tattoo artist has very creatively designed a roaring lion tattoo and placed it on the finger of the individual. From a distance, this tattoo style gives the illusion of a beautiful ornament. However, an important thing to remember before getting a finger tattoo is that they are not only extremely painful but can also fade away a lot quicker than other tattoo designs. The skin on our fingers tends to be very thin and has a lot of nerve endings. Therefore, when the needle penetrates this skin, it causes a lot of pain to some individuals. Since we use our fingers in everyday tasks, the design can also wear away a lot faster than those on other safe body parts like the wrist or ankle. So you might need to get frequent touch-ups done to retain the fresh and crisp look of your tattoo design. However, having said that, there is no other reason why you shouldn't get a finger tattoo. They are not only stunning to look at but also generate deep meanings. If you like these kinds of roaring lion tattoo ideas, this design is a must-have.
Lion Roaring Tattoo Designs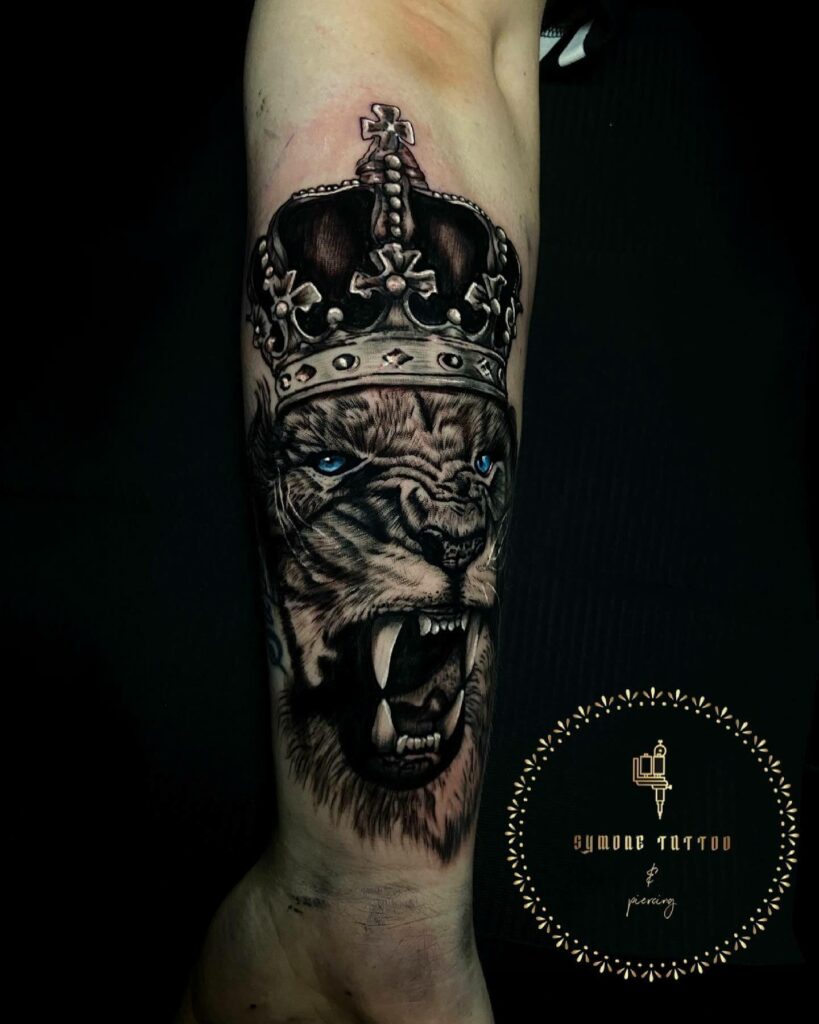 In Medieval Europe, the lion was perceived to be a royal symbol. What's more, they were even kept as courtly pets. They were the true epitome of royalty, elegance, and power. This image portrays one similar example of a stunning roaring lion tattoo paired with a crown design. The bright blue eyes and the sharp white teeth of the lion indeed look amazing. To give the crown tattoo a more realistic touch, the artist has even added some shading using black ink. If you are looking for something more feminine, you can also go for the design of a roaring lioness tattoo design. If the lion is the king of the jungle, that makes the lioness the queen. So why not use that in your tattoo design? It will definitely look incredible. Furthermore, if you want something more vibrant, you can also add any colour of your preference. Some of the best colours that will go perfectly with this design include gold, red and purple. All these colours represent royalty and, therefore, will be in perfect sync with your lion tattoo. Other similar tattoo ideas might include the roaring lion tattoo with a royal sceptre.
Best Roaring Lion Tattoo Designs
Instead of going for the full-face lion tattoo, the artist of this design has only highlighted the facial features of the lion. This is definitely one of the best ways to customize your tattoo design. Lion tattoos are not always easy to make since they involve a lot of detailing and shading to get the perfect piece. Therefore, if you have decided to get a lion tattoo, ensure that you choose your tattoo artist accordingly. You should definitely go to someone with proper knowledge and experience in his field, in order to avoid any kind of goof-ups to your design.
Roaring Lion Tattoo Drawing
Here is another unique example of a mighty lion tattoo drawing etched on the hand of the individual. Hand placement is perhaps one of the best for any kind of tattoo design. They are easily noticeable and look quite aesthetic even from a distance. The only downside of hand tattoos is that they might cause a lot more pain than other body parts. So if you think you have the required pain tolerance to get a hand tattoo, you should definitely go for one.
Lion Face And Butterfly Tattoos
This is one of the best examples of a feminine lion tattoo drawn on the individual's upper arm. The butterfly and the rose are two popular symbols that represent beauty, elegance, and grace. When you pair that with a lion tattoo, it enhances the meaning of your design further. One such example has been portrayed through this image.
Lion Chest Tattoos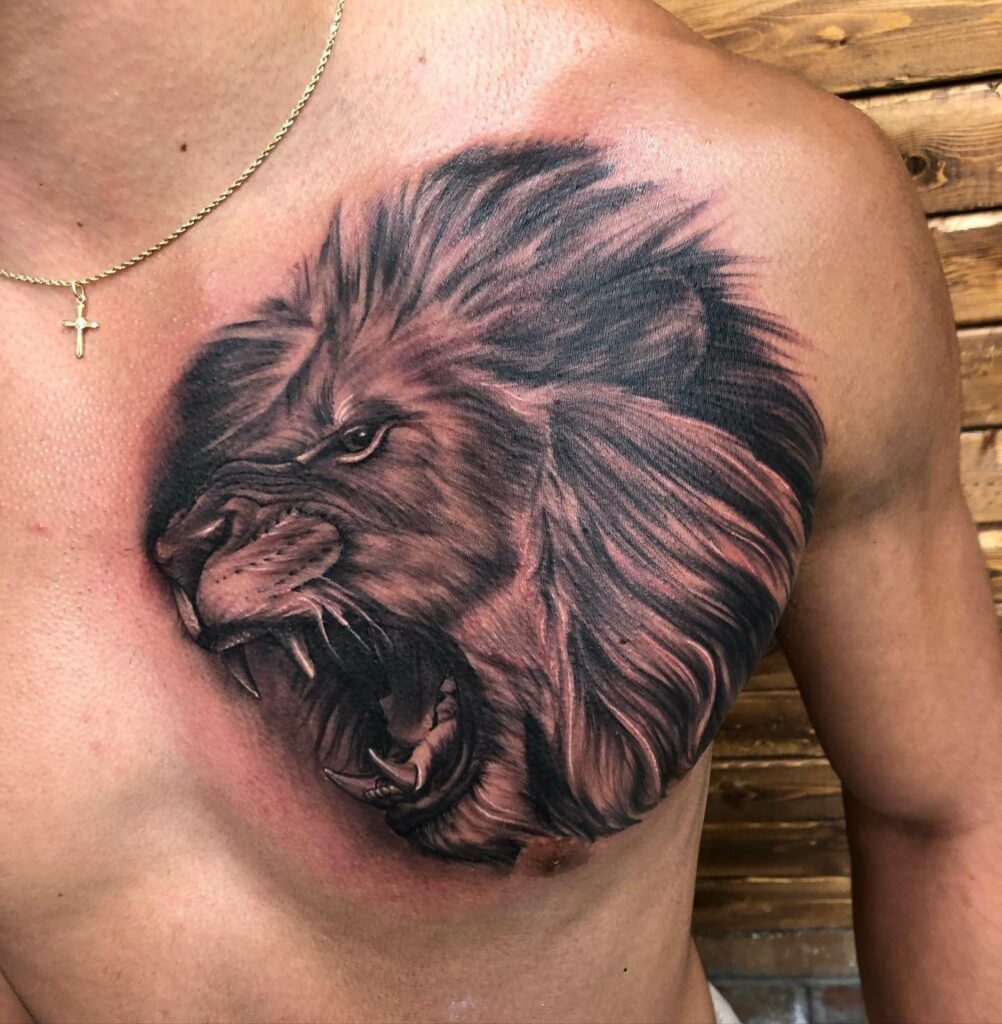 The chest is one of the perfect places for this kind of large lion tattoo design. It provides ample space to bring out the beautiful details of your tattoo, and you can cover them quite easily as well. In this image, we can see one such beautiful example of a side-face lion tattoo drawn on the chest of the individual.
This mighty beast of the animal kingdom is indeed one of the best designs to get tattooed on your body. Not only do they carry deep meanings, but they also look great on every individual.
Feature Image from Pinterest – Want your tattoo to look brighter? Try "Tattoo Balm"