Ever felt a mystical pull towards the celestial beings of ancient Rome, dreaming of the day their divine essence becomes a part of your own story, in the form of ink on skin? Look no further, my friends, because we've carefully curated an exquisite list of Roman God tattoo designs just for you!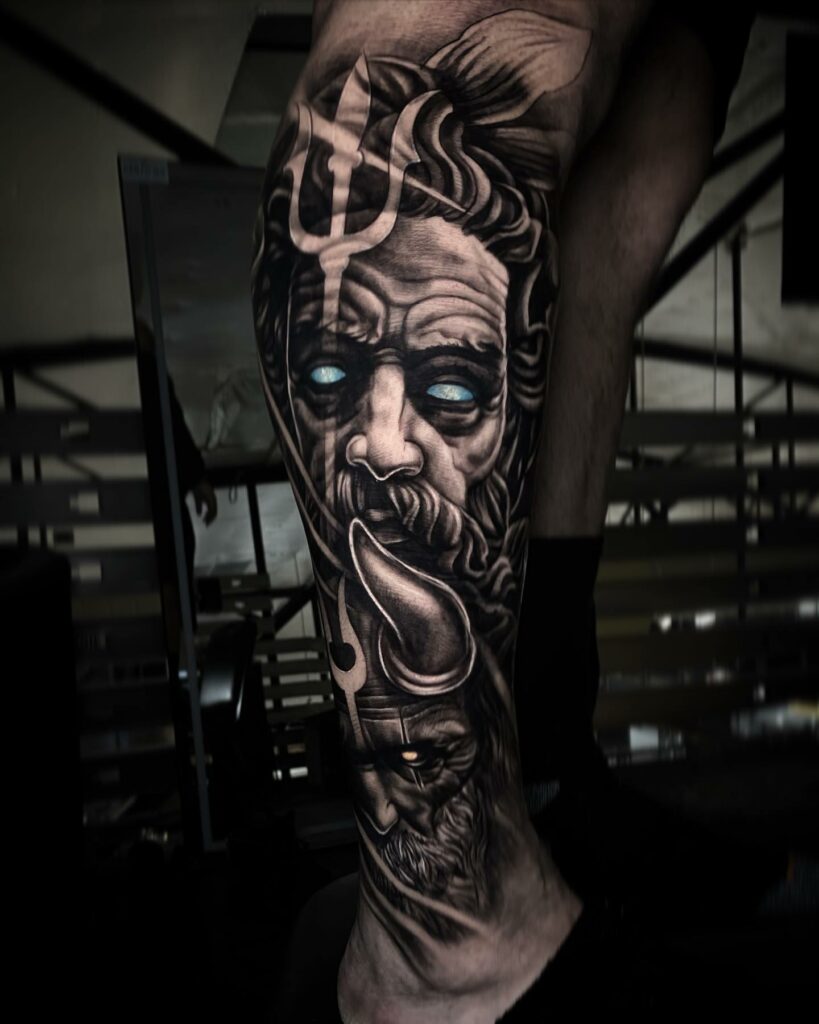 Roman mythology – a realm of rich stories and timeless legends, ranking among the world's oldest and most revered. It's fascinating how the Roman pantheon bears striking resemblances to their Greek counterparts, a testament to the shared narrative threads that link these ancient societies.
The Romans held a deep-seated belief that their Gods and Goddesses played integral roles in their everyday lives, with each deity governing an element of nature, a mirror to the harmonious co-existence between man and his environment. So, embarking on a journey to wear a Roman God tattoo design isn't just a celebration of striking body art, it's an intimate step closer to resonating with nature's wonders and immersing yourself in the rich tapestry of Roman culture. Ready to dive in? Let's begin!
Roman God Janus Tattoo
Ever pondered the profound symbolism of the Roman God Janus, the keeper of all beginnings and endings, and how it might look etched into your skin? This deity, celebrated for his dual-faced depiction, lords over gates, doorways, transitions, and time itself, even lending his name to the month of January. Imagine the skilled artisan's touch as black ink is masterfully drawn across the forearm, revealing Janus's two faces – a long, braided beard flowing beneath and a crown of laurel wreath poised atop his head. Yet, intriguingly, his eyes remain a stark white, a reminder of the relentless march of time, the cyclical dance of beginnings and endings that forms the rhythm of our lives.
Roman God Of War Tattoo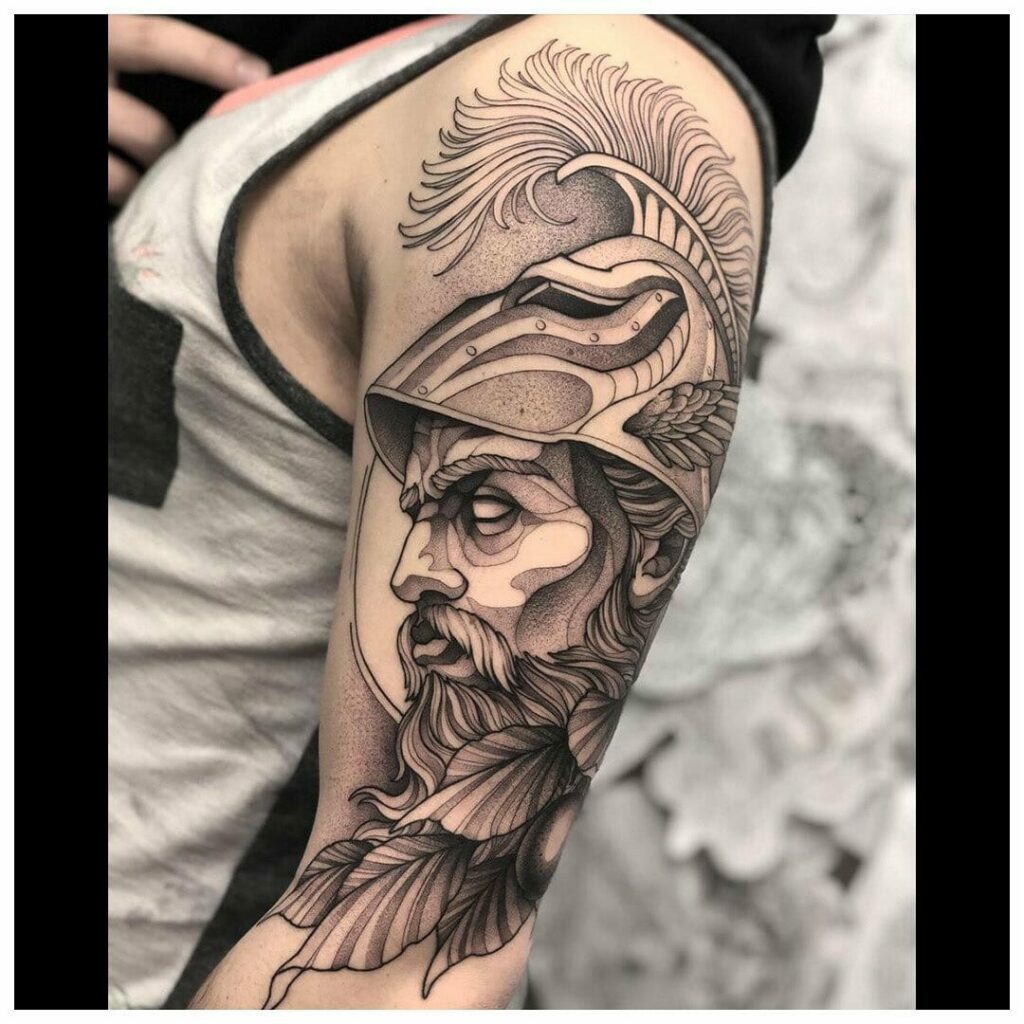 Esteemed offspring of Juno and Jupiter, Mars was a cornerstone of the Roman military, known for his chariot drawn by his two horse companions, Phobos and Deimos. In the rich tapestry of Roman mythology, he fathered not only Cupid, the God of love, but also the founders of Rome, Romulus and Remus. His martial prowess is forever etched in the chronicles of the Trojan War, making his likeness a fitting embodiment of peace, protection, power, and strength. An ink rendition of his fierce visage, adorned in a heart-arm, a Roman military's war gear, speaks volumes of these virtues.
Roman God Of Fire Tattoo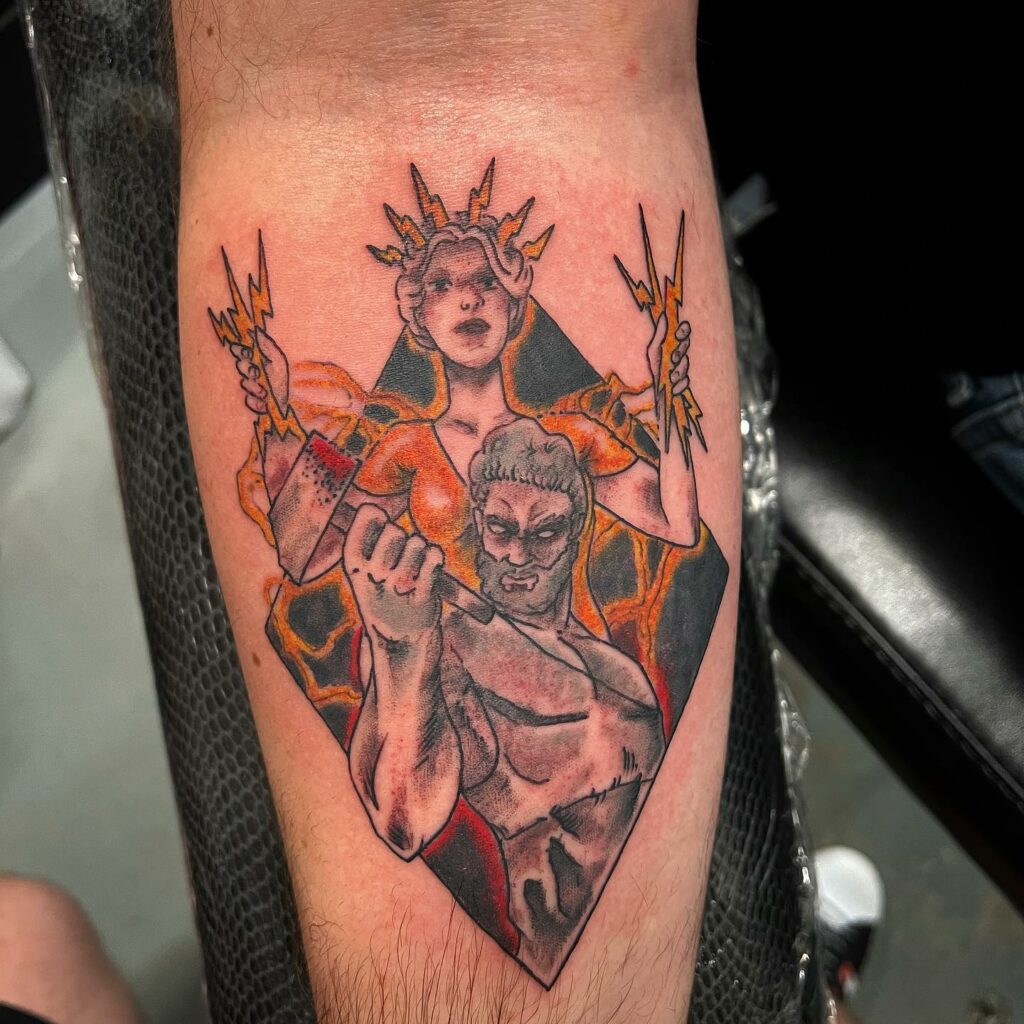 Delve deeper, and you meet Vulcan, the Roman God of Fire. His realm lies beneath the islands of volcanos, and he stands as the Roman equivalent of the Greek god Hephaestus. Famed for his wisdom and craftiness, a blacksmith's hammer becomes his symbol. Tattoo designs often depict him wielding his iconic hammer, with the electrifying presence of Electra, his wife, radiating in the background – a breathtaking composition indeed.
Roman God Jupiter Tattoo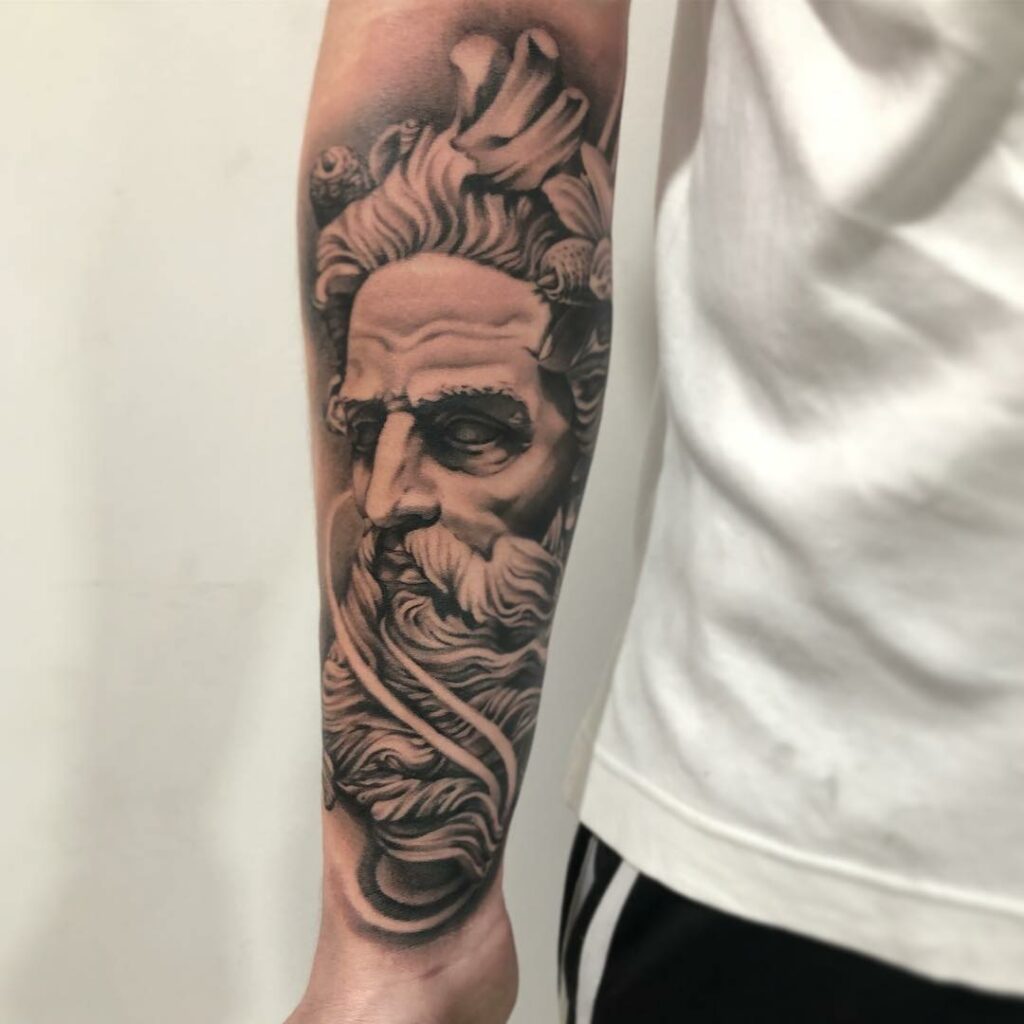 Jupiter, the ancient God, the most powerful among Roman pantheon, and the Roman equivalent of the Greek God Zeus, symbolizes protection, authority, good luck, and experience. Portraits of him, resplendent in his long beard and hair, rendered in nuanced shades of gray and black, emanate a sense of divine power and wisdom.
Apollo Tattoos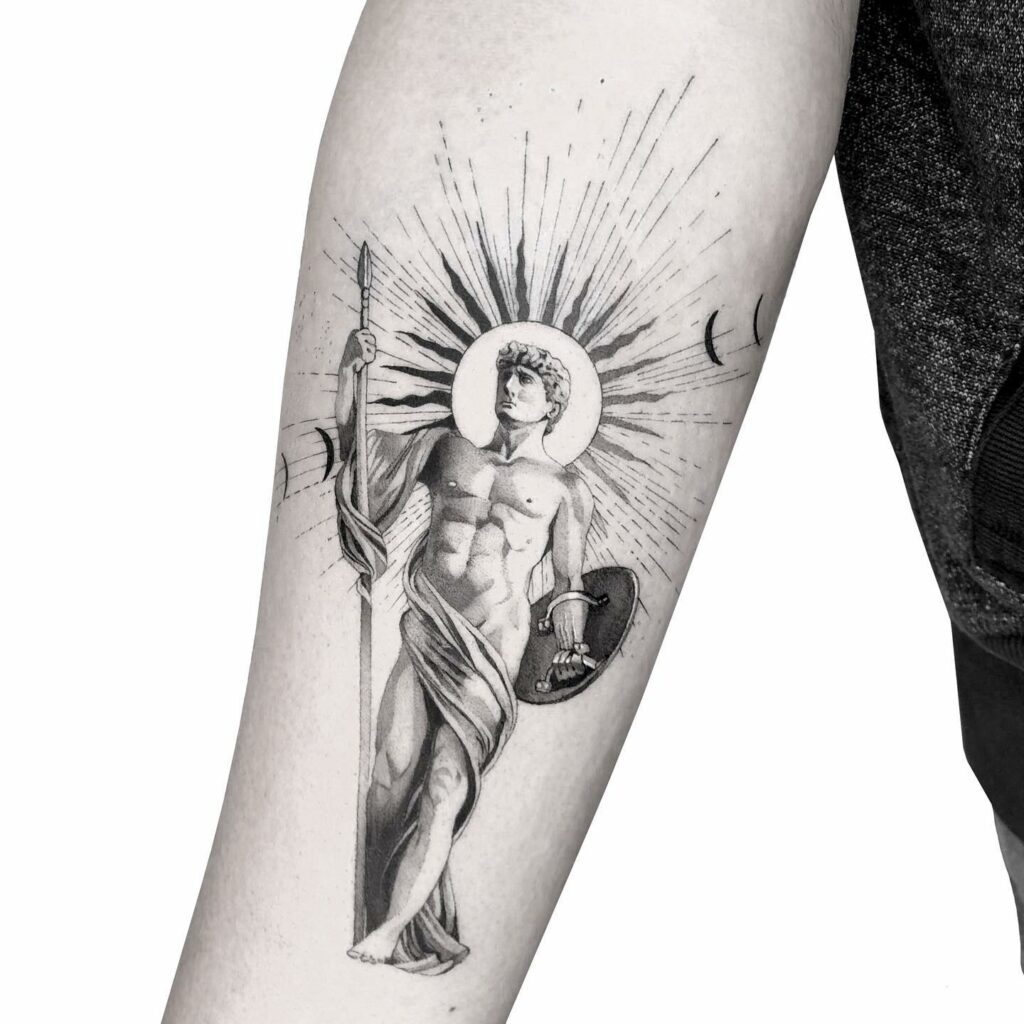 In the radiant presence of Apollo, the Roman Sun God, one finds a balance of arts and healing, light, and poetry. Imbued with youthful energy, Apollo's tattoo designs often capture him in full glory, the bright sun hovering behind, a shield in hand, and an arrow at his side.
Roman God Sleeve Tattoo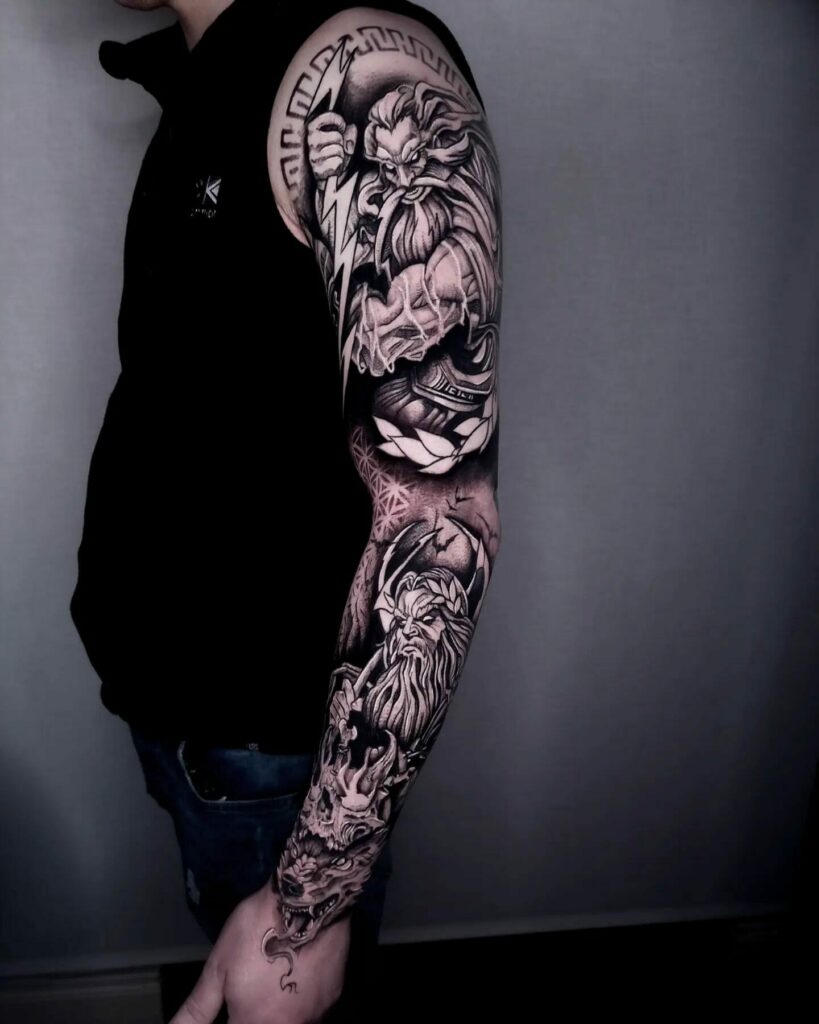 Tattoo sleeves bearing a pantheon of Roman gods, such as Jupiter with his thunderbolts and Pluto with Cerberus, his three-headed hound, make bold statements of courage and resolve.
Medusa Tattoos
The captivating Medusa, with her venomous snake-covered head, serves as an amulet against negative energy.
Roman God Mercury Tattoo
The swift-footed Mercury, the Roman God of travellers, thieves, tricksters, shopkeepers, and merchants, graces the skin with the caduceus in hand, signifying his dual role as a messenger god. Equally captivating is the likeness of Venus, the Goddess of beauty and luxury, a symbol of love and prosperity.
Roman God Of Death Tattoo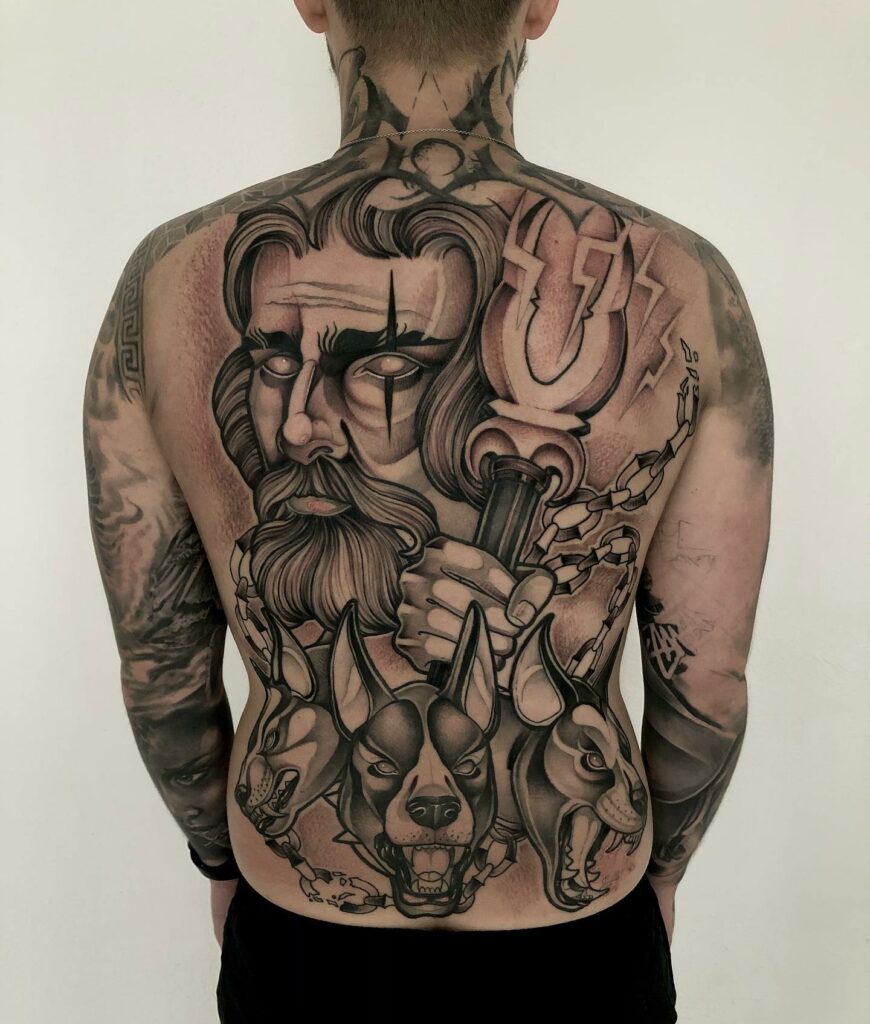 Pluto, the God of Death, with his pet, Cerberus, guarding the gates of the Underworld, adds an element of intrigue and mystery. His tattoos often evoke themes of the afterlife, an invitation to introspect and explore the cyclical nature of existence.
Roman Sea God Tattoo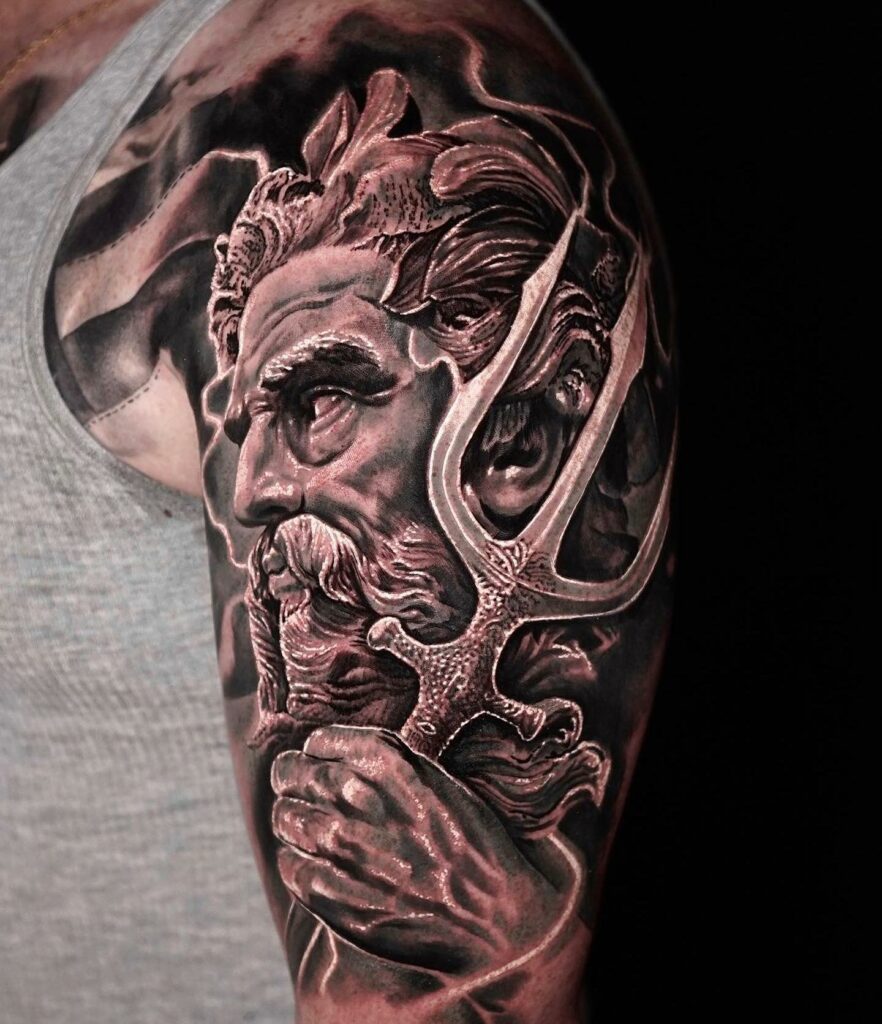 Lastly, let's plunge into the depths with Neptune, the Roman Sea God. His visage, etched alongside his symbolic trident, speaks of his domain – the vast and mysterious ocean. His locks and beard, fashioned like sea waves, underscore his authority as the ruler of the sea.
In the realm of tattoos, each design is a vibrant tale of antiquity, every stroke of the needle echoing stories from a time when gods and men moved in harmony. Choose your story, and let it shine through your skin – a testament to your personal connection to these fascinating Roman deities.
Conclusion
Choosing a Roman god as your tattoo muse, whether it's Janus, Mars, Vulcan, Jupiter, Apollo, or Neptune, offers you a unique connection to the timeless narratives and potent symbolism of ancient mythology. Just remember, the placement of your tattoo is a deeply personal decision. Consider your lifestyle, the visibility you desire, and your pain tolerance when selecting a spot – be it the arm, the back, or the leg. Costs can vary significantly based on size, complexity, and the artist's reputation, so be sure to budget wisely – and remember, a well-done tattoo is worth every penny. Like any procedure that breaks the skin, there are potential risks, such as allergic reactions or infections. Always ensure your artist maintains a clean workspace, uses sterile equipment, and provides proper aftercare instructions. In the end, the power of these iconic figures will reside not just in the annals of mythology, but in the living canvas of your skin, becoming a part of your story in a way that's profoundly personal and visually striking.
Still looking for inspiration, then checkout this blog post about god tattoo ideas
feature image from Pinterest
Last reviewed and updated on August 23, 2023