Hey there tattoo enthusiasts! Are you thinking about getting an important date tattooed on your body? Look no further because we've got some fantastic Roman numeral chest tattoo designs for you!
There's something truly elegant about ancient numbers like Roman numerals, and when they're boldly tattooed on the chest, the result is stunning. Roman numeral tattoos have become increasingly popular in recent years thanks to their unique and eye-catching designs.
The chest is a great location for a tattoo because of its large surface area, running from just below the collarbone down to the belly. However, if you're worried about a Roman numeral tattoo looking too monotonous, fear not! We've gathered some of the most unique and unconventional Roman numeral tattoo ideas that are sure to inspire you. Check out our list below and find the perfect design for you!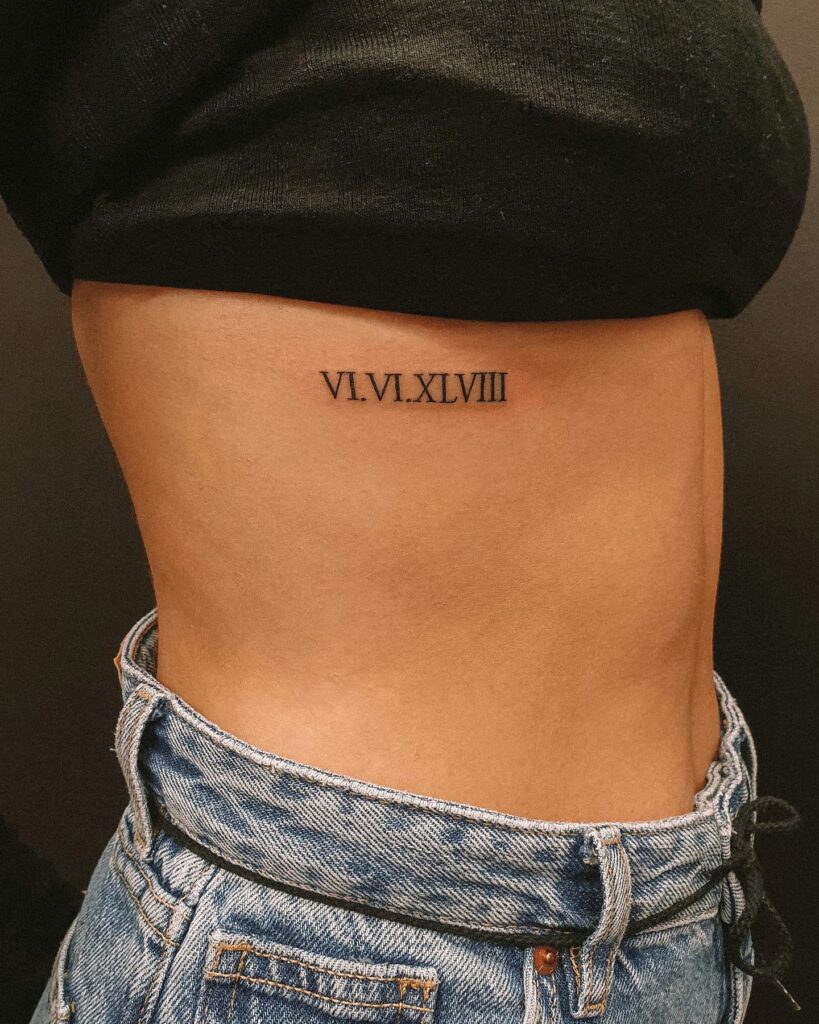 Small Roman Numeral Chest Tattoo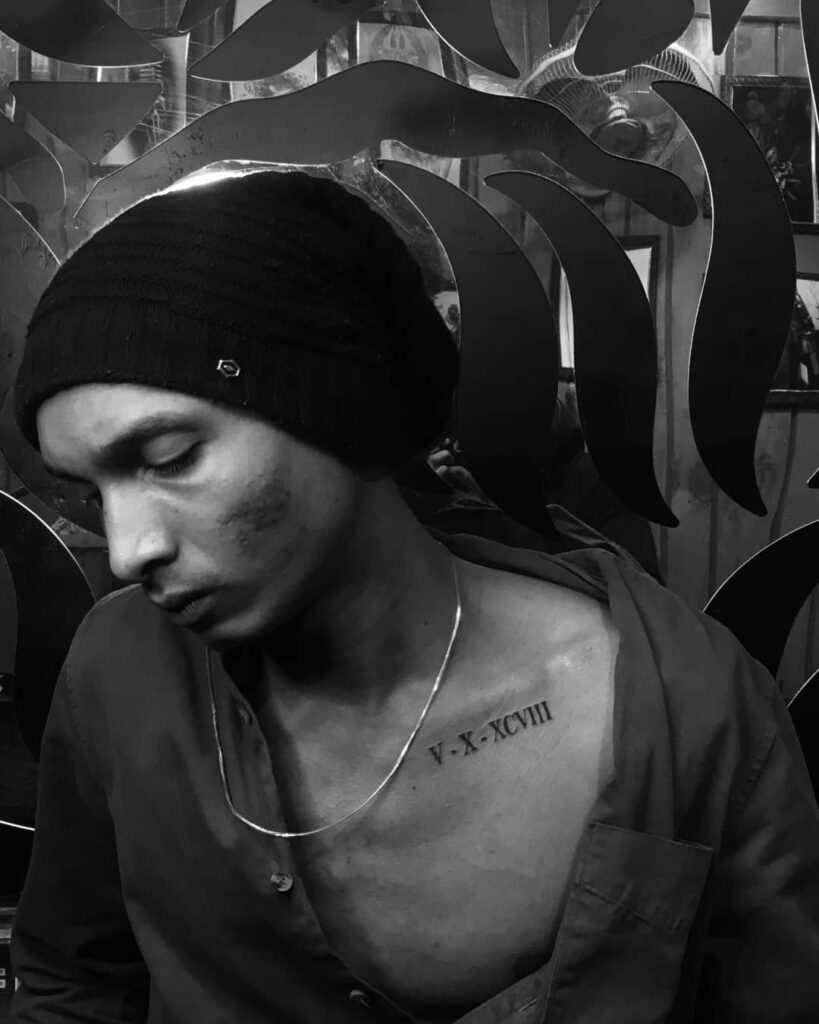 Small tattoos have gained immense popularity in the tattoo world and are highly sought after by many. Roman numeral designs, in particular, have become increasingly trendy and stylish. Despite their small size, these tattoos make a bold statement and are just as impactful as larger ones. A Roman numeral tattoo on the chest may not be flashy, but it is a symbol of the wearer's desire to keep the number a secret.
In the image above, you can see a small Roman numeral tattoo inked in a neat and precise way. The tattoo is placed on the upper portion of the chest, just below the collar bone. The Roman numerals are inked in a classic font, and the design is completed using only black ink. The chest area is an unusual location for a Roman numeral tattoo, and not everyone can tolerate the pain associated with this sensitive area. However, those who do opt for a chest tattoo are rewarded with a unique and eye-catching design.
Calligraphy Roman Numeral Tattoo On Chest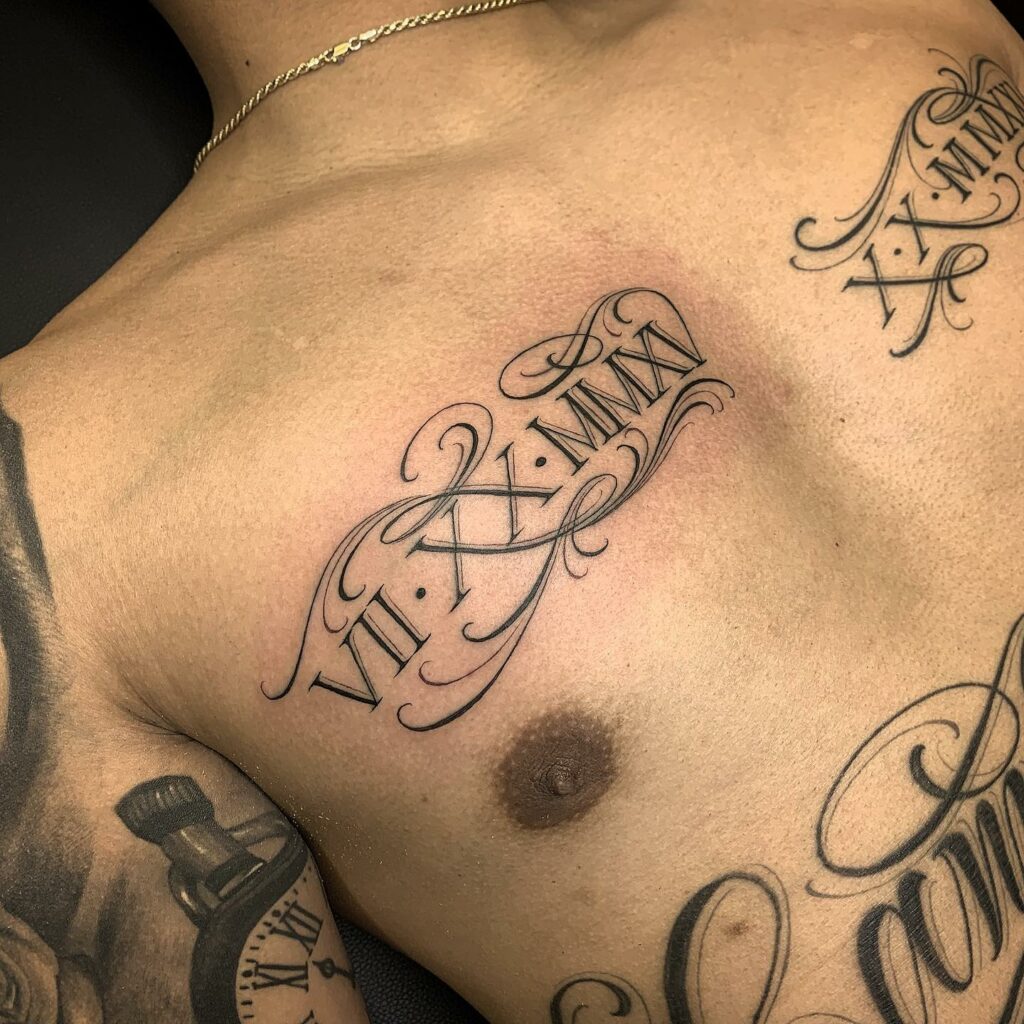 Roman numeral tattoos have been around for a while and are often seen as classic and traditional. However, they have been given a fresh and modern twist by tattoo artists who have introduced new and stylish ways of writing them. These designs have become very popular and are a fashion statement on their own. If you're interested in a cursive font for your Roman numeral tattoo, then look no further than this beautiful design for inspiration.
The tattoo features two dates inked on each side of the chest, but it's also possible to have a single, memorable date on just one side. What sets this tattoo apart is the unique style in which the dates are written. The artist has maintained the classical font of the Roman numerals, but has added details on top and below the tattoo to make it look like a beautiful calligraphic font. The result is a stunning fusion of classic Roman numerals with modern aesthetics, creating a truly unique piece.
Elongated Roman Numeral Tattoo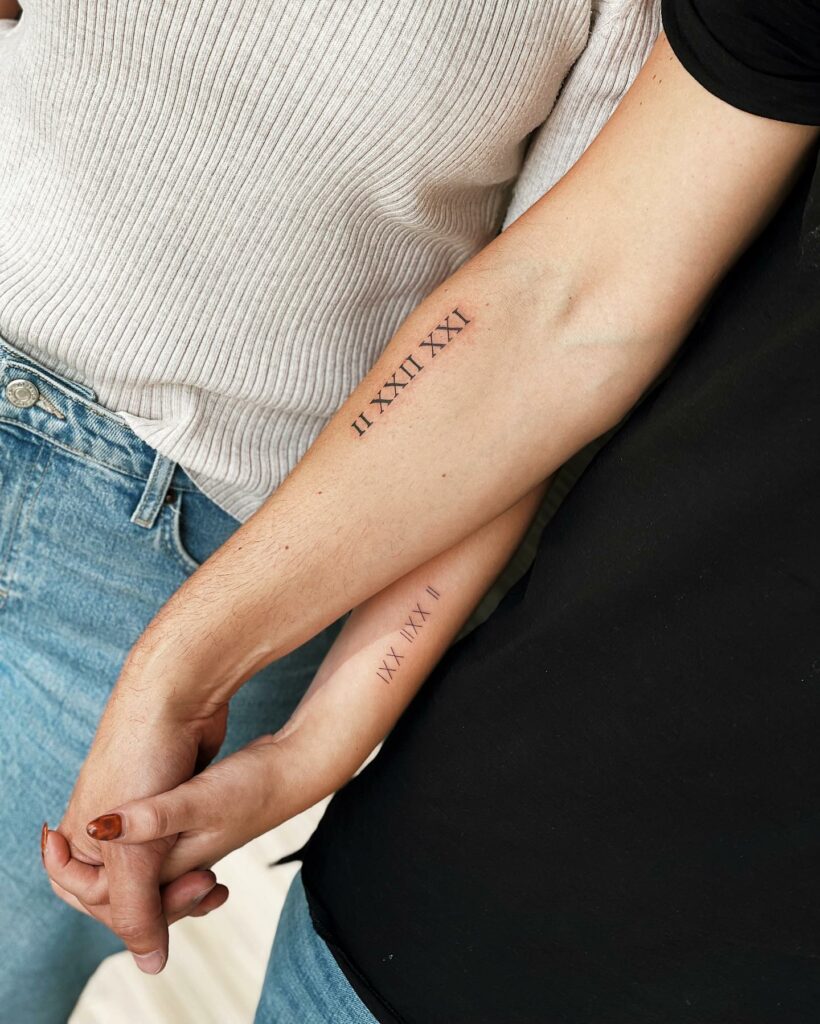 Chest tattoos are a popular choice for people who want a large area to showcase their artwork. Rib tattoos are also a part of chest tattoos, as they extend from the chest parallelly. In the image above, we can see a Roman numeral chest tattoo design that spans the entire length of the rib cage, giving it a bold and striking appearance. Although the design is simple, it stands out because of its size and placement.
The tattoo features a bold date inked on the side of the chest using black ink. The classical font of the numerals is emphasized by the boldness of the ink, creating a timeless and elegant look. The design likely represents an important date in the individual's life, making it a meaningful and personal tattoo. Overall, this tattoo is a great example of how simplicity can make a big statement when done right.
Feather Tattoo Roman Numerals On Chest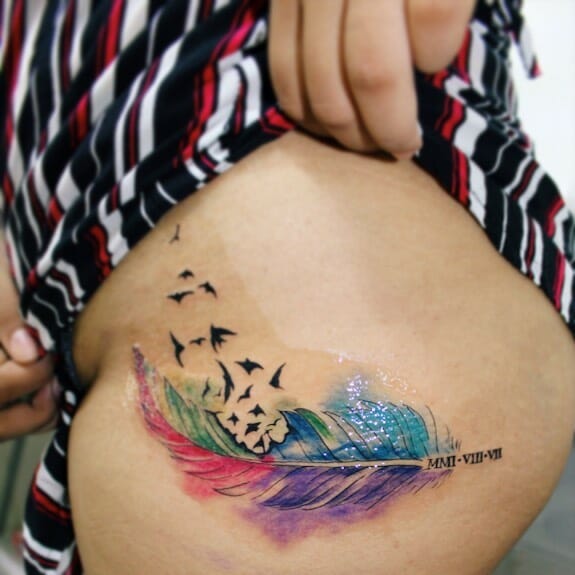 Roman numeral tattoos have gained popularity due to their increasing versatility. In the past, Roman numerals were mainly used to create plain date tattoos, but now they are combined with various motifs to make them more attractive. Feathers are a popular element that goes perfectly with Roman numerals. The tattoo in the image above is a unique design that features vibrant feathers and flying birds, adding depth and beauty to the design. The feather and birds symbolize freedom, and it's possible that the special date written in Roman numerals on the tattoo pays tribute to a day when the wearer felt free and independent. This design is perfect for someone looking for a meaningful and artistic tattoo.
Compass With Roman Numeral Tattoo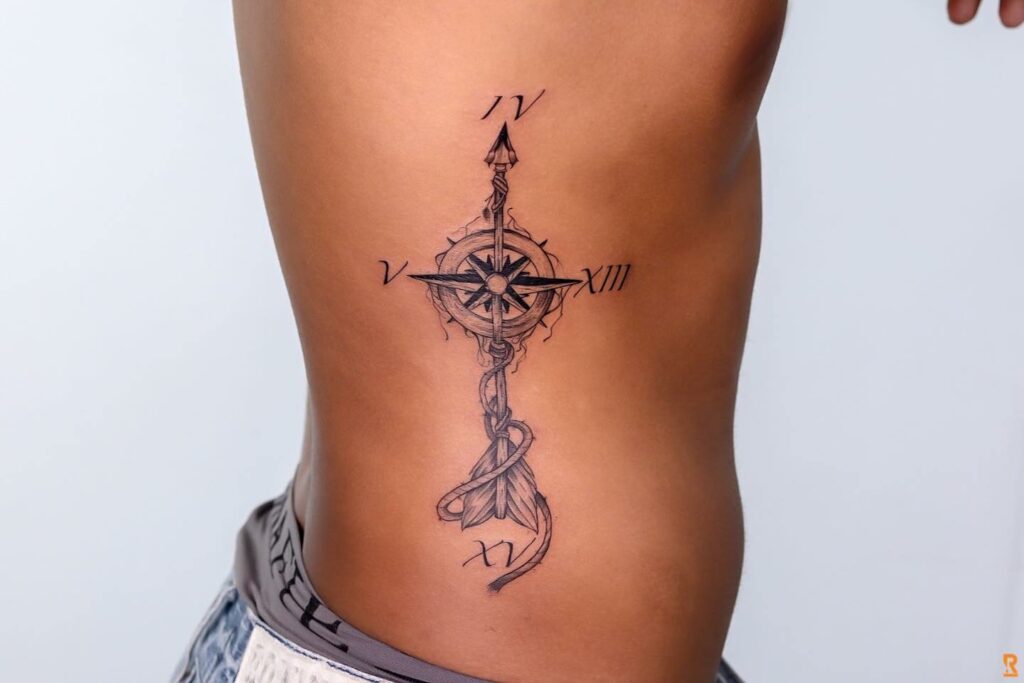 Roman numeral tattoos are a great way to add significance and complexity to any tattoo design. The tattoo in the above image is a perfect example of how Roman numerals can be incorporated into a design. The tattoo artist has created a stunning compass on the ribs of the person, with great attention to detail. Instead of the traditional directions on a compass, four Roman numerals are used which give it a unique twist. A compass tattoo represents guidance and protection, and the Roman numerals could represent important dates or directions in the person's life. This is a beautiful and meaningful tattoo that combines classic elements with a modern twist.
Colourful Roman Numeral Chest Tattoo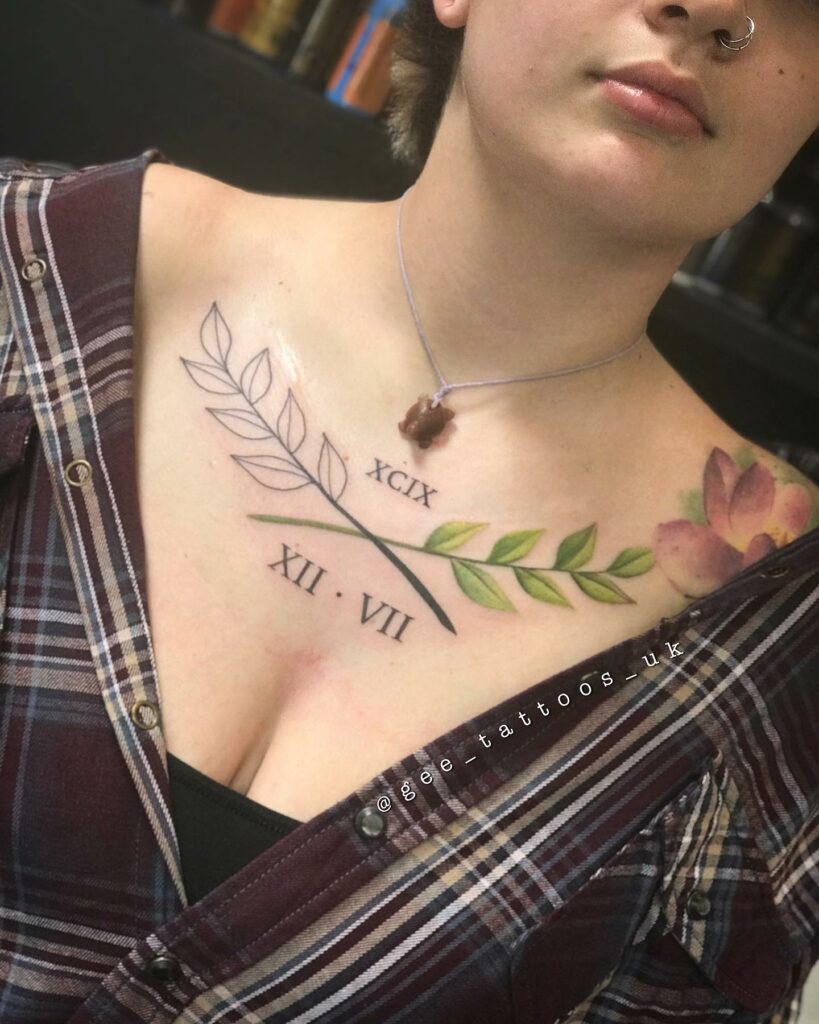 Roman numeral tattoos have become more versatile in recent years, as people find new ways to incorporate them into unique designs. While they are often associated with significant dates, these numbers can be used for a variety of purposes. In the tattoo above, we see three Roman numerals inked on the chest. It's possible that these numbers represent a lucky number or a significant number that holds personal meaning for the wearer.
What makes this tattoo stand out is the beautiful floral design that accompanies the Roman numerals. The colorful flower and leaves are an elegant addition that provides a vibrant contrast to the classic font of the numerals. Despite the lack of an obvious connection between the elements in the design, they come together to create a beautiful and eye-catching tattoo. The purple and green colors of the flower and leaves add depth and vibrancy to the tattoo, making it a unique and beautiful work of art.
Roman Numeral Side Chest Tattoo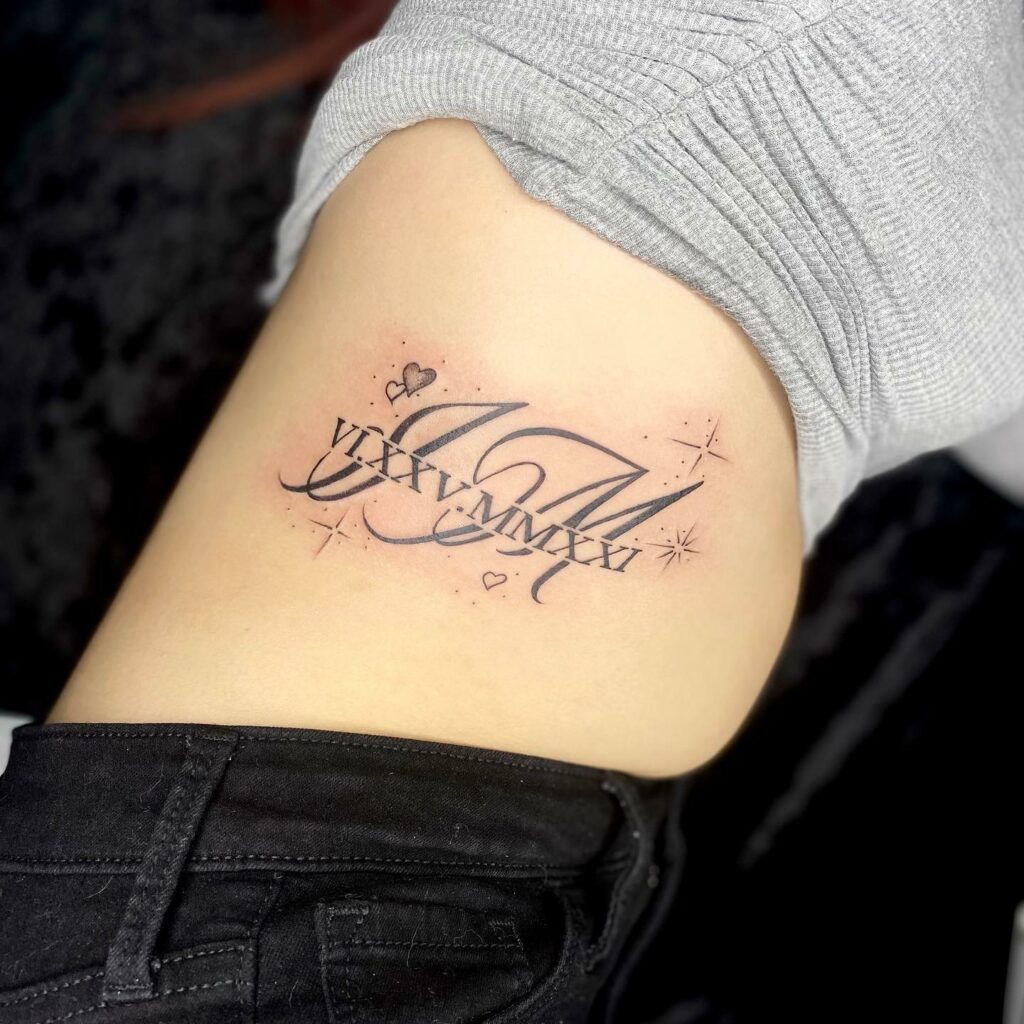 The side of the chest has become increasingly popular among those seeking ink, and with Roman numeral tattoos rising in popularity, it's no surprise that this area is a prime spot for such designs. The Roman numeral tattoo pictured above is not just limited to numbers; there are also two letters in the backdrop. It's likely that the initials belong to a person who shares a special connection with the date represented by the numerals. When it comes to chest tattoos, there is often a deeper meaning behind the design, especially if it's a personalised one. It's not uncommon to see important dates, written in Roman numerals, inked close to the heart as a symbol of their significance.
Couple's Roman Numeral Chest Tattoo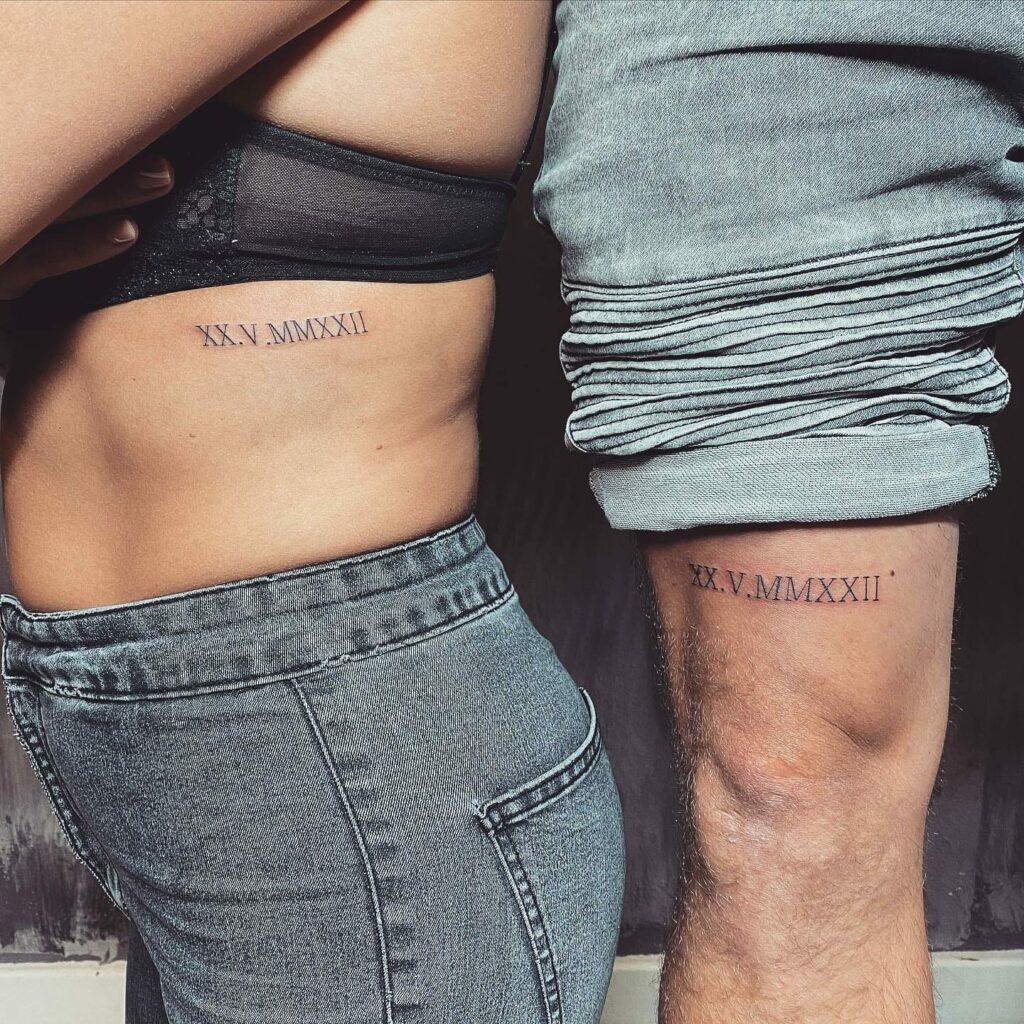 The world of romance has seen a new trend in the form of couple tattoos, and Roman numeral tattoos are at the top of the popularity list. Couples often get matching body art in Roman numerals, with a specific date that holds a special meaning for them. This may include their wedding date or the birth date of their child.
In the design above, we see a couple's matching tattoo where the date is inked on both partners, with the woman having it on her chest and the man on his thigh. The simplicity of the tattoo design with only the Roman numerals might seem plain on its own but when paired with its counterpart, it creates a beautiful Roman numeral design that is perfect for couples. This kind of tattoo design makes for a memorable and meaningful symbol of love and commitment.
Roman Numeral Chest Tattoo With A Butterfly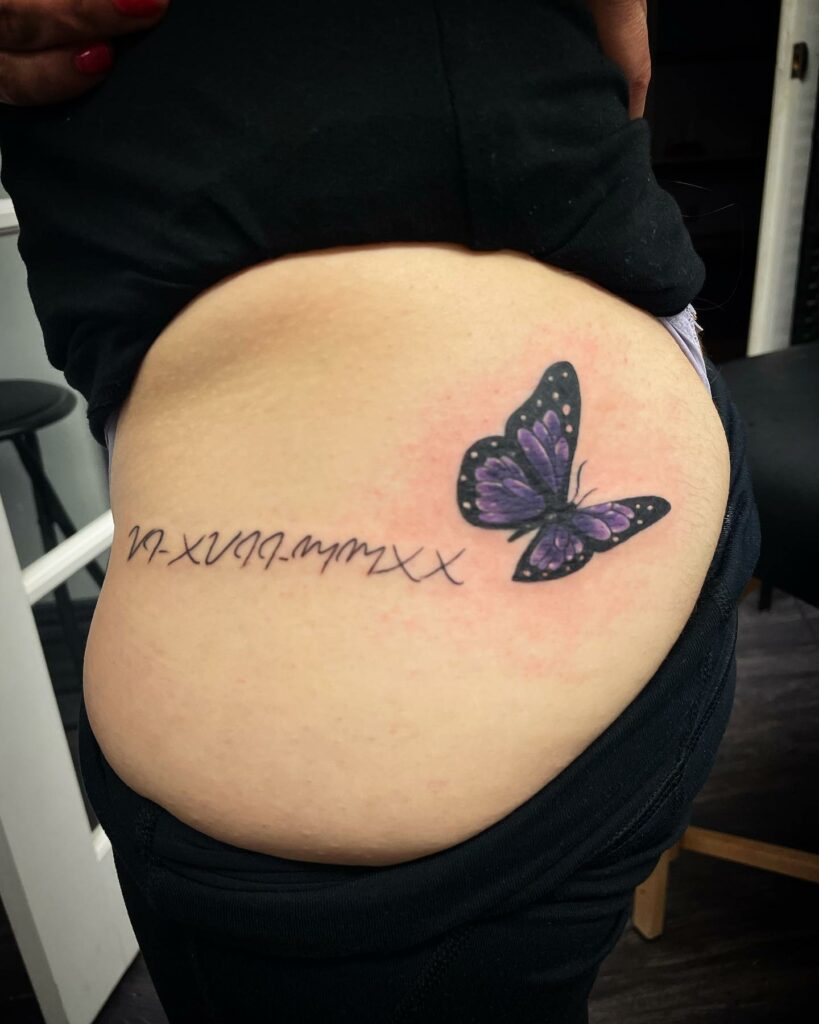 Butterfly tattoos are a popular tattoo choice due to their beauty and symbolism. When combined with a date in Roman numerals, they become a unique and meaningful design. The butterfly is often associated with love and represents change and transformation. In this particular tattoo, the butterfly is depicted in vivid colors, contrasting with the black ink used for the Roman numerals. The font of the numerals is also unique, giving the tattoo a distinctive look. This design is perfect for those looking for a creative way to commemorate a special date in their lives.
Cross Roman Numeral Chest Tattoo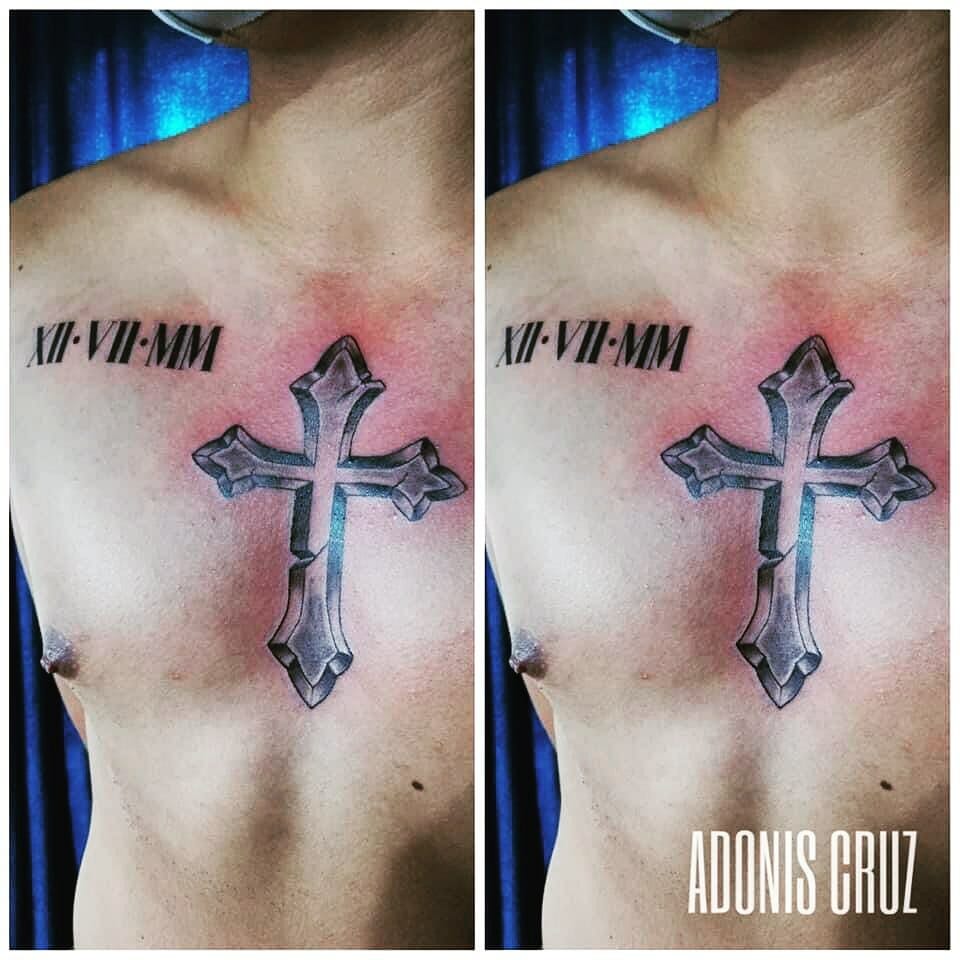 For Christians, the cross tattoo is a powerful symbol that represents Christ's ultimate sacrifice and is a popular tattoo choice among religious followers. This particular image depicts a stunning, intricate design that looks incredibly lifelike and realistic. While the majority of cross tattoos are done in black ink, they can also be customized to suit individual preferences.
The addition of Roman numerals to a cross tattoo adds a unique element to the design. These numerals may represent an important date with religious significance or a tribute to a lost loved one. Whatever the reason, this type of tattoo design is a beautiful way to express one's faith.
As you explore the world of Roman numeral tattoos, take some time to choose a design that reflects your personality and values. Remember, a tattoo is a permanent fixture, so it is important to choose something that you will cherish for years to come.
feature image from Pinterest – Want your tattoo to look brighter? Try "Tattoo Balm"