Hey, there tattoo lovers! If you're looking for a stunning butterfly and rose tattoo design, you're in the right place! Butterfly and rose tattoos have always been a top choice for those who appreciate the beauty of nature. These elements are not only visually stunning but also hold significant symbolic meaning. Roses symbolize love, passion, and affection, while butterflies represent freedom, growth, and transformation. When these two are combined in a tattoo design, they create a beautiful and meaningful masterpiece that is sure to catch everyone's eye. In this article, we've rounded up some amazing butterfly and rose tattoo ideas for you to explore. So, read on to find your perfect design!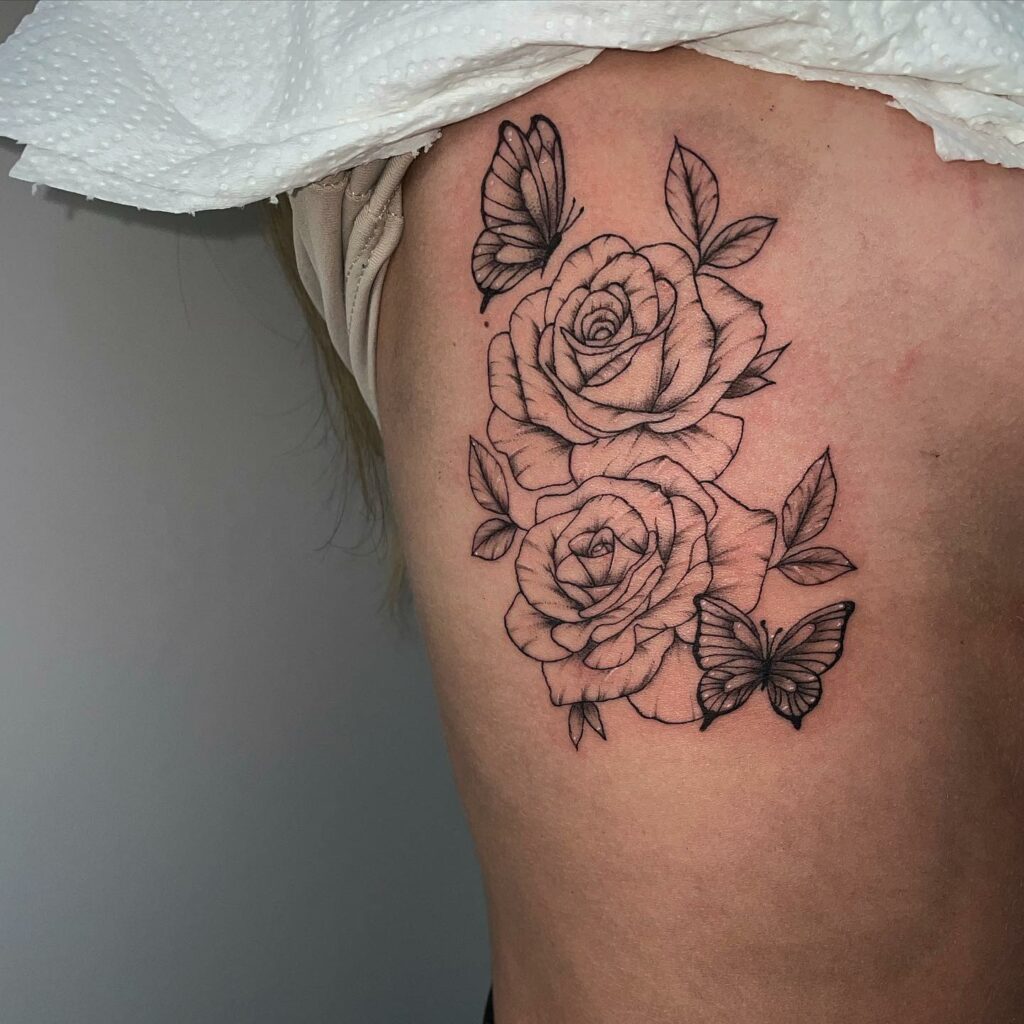 Small Butterfly X Rose Tattoo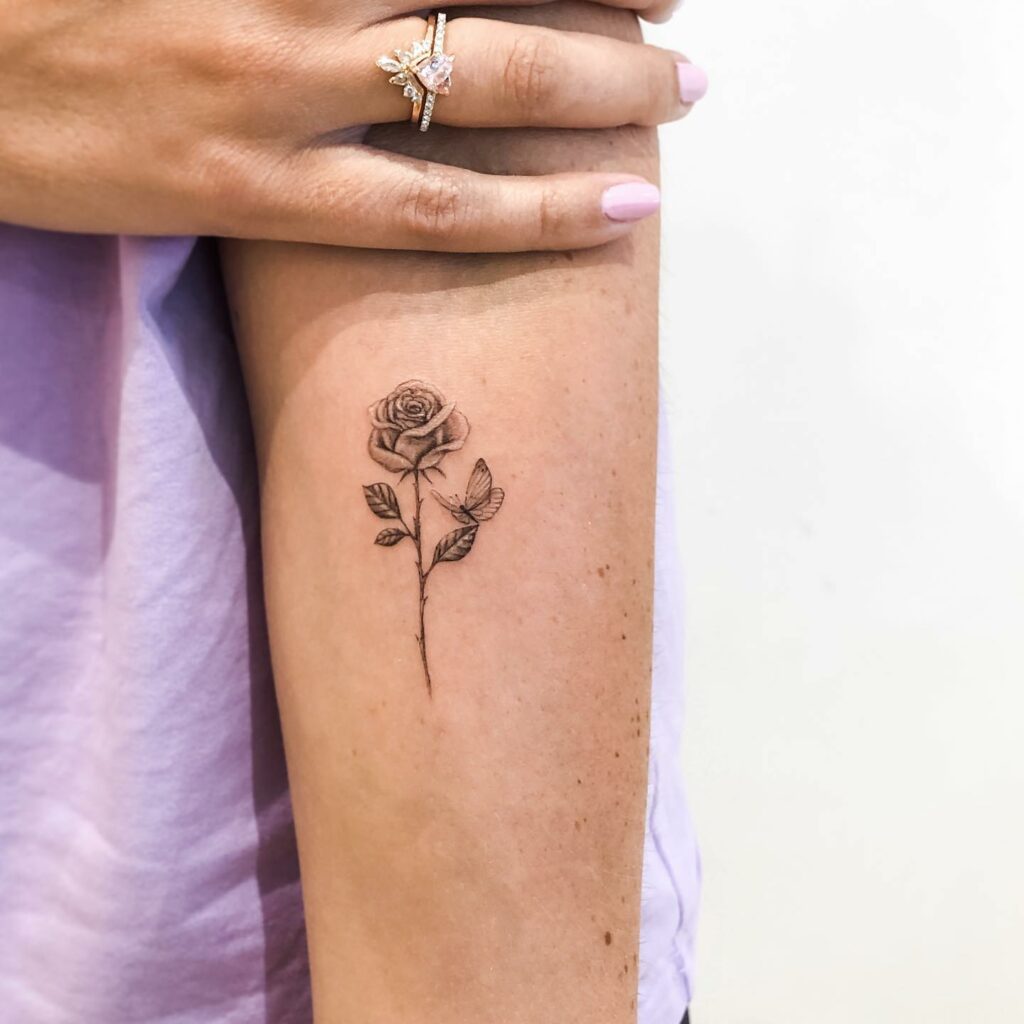 If you're on the hunt for a small, yet stunning butterfly and rose tattoo idea, look no further than this gorgeous design! Created using black ink, the tattoo artist has taken great care to add intricate details to this delicate rose and butterfly tattoo. The realistic rose is the centerpiece of this ink, and the artist has done an incredible job of capturing the delicate beauty of this flower. The tiny butterfly perched on a leaf adds a playful touch to the design.
The shading work on this tattoo is absolutely phenomenal, creating a breathtaking sense of depth and texture. The use of light and shadow makes the petals of the rose and the wings of the butterfly appear lifelike, while the black ink ensures the design remains subtle and tasteful. This rose and butterfly tattoo will complement any style and look great on any body part. Whether you want to show it off or keep it discreet, this tattoo is sure to impress!
Red Rose And Delicate Butterfly Tattoo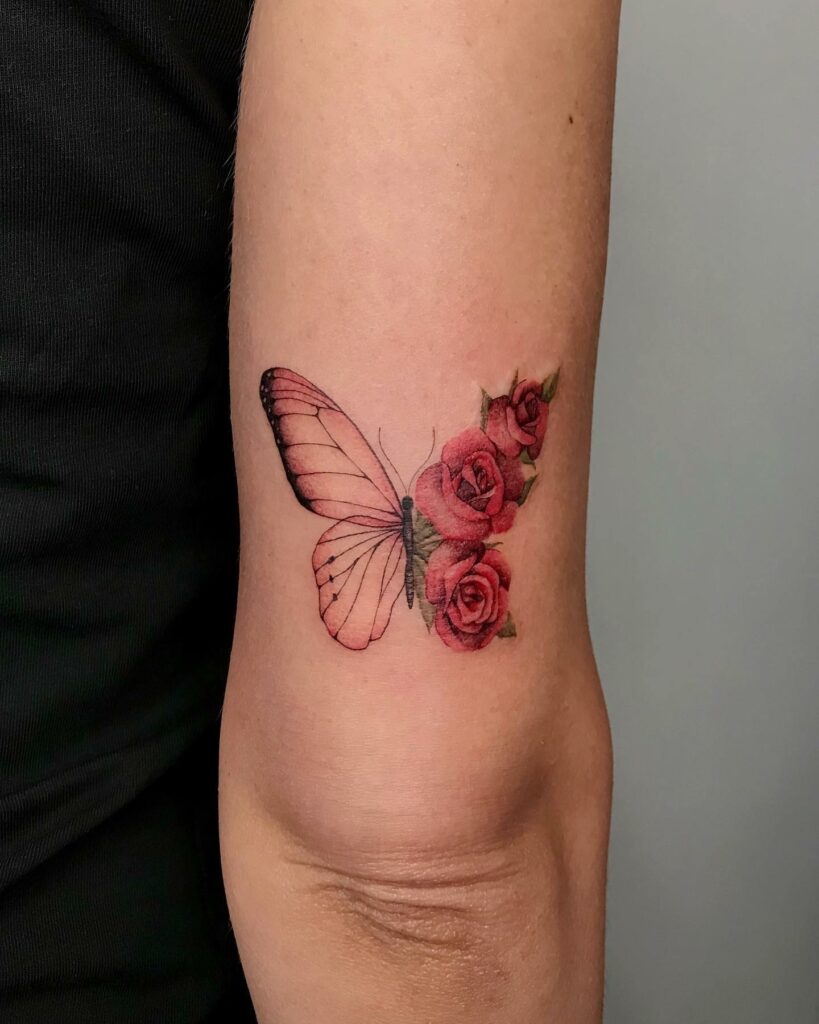 If you're looking for a stunning hand tattoo design, you might want to check out this butterfly and rose tattoo. This is a very aesthetically pleasing tattoo, and the realistic ink work done by the artist is absolutely gorgeous. The butterfly wings are divided into two parts, with one side having a stunning red rose tattoo, while the other remains untouched.
The rose tattoo is made with shades of red and black, giving it a natural and realistic look. The tattoo artist has done an excellent job with the shading, making it stand out and catch the attention of everyone who sees it. The wing of the butterfly tattoo gives a transparent look to the tribal rose tattoo, with black and red shading around the edges. The realistic butterfly tattoo looks almost like a print on the skin, making it a unique and visually stunning tattoo design.
It's important to choose a professional tattoo artist for this type of design to ensure flawless results. This butterfly and rose hand tattoo will undoubtedly make a statement, and you'll be proud to show it off.
Blue Rose And Butterfly Tattoo
This ink features two blue roses made using different shades of blue. The mixing of colors creates an eye-catching effect. You'll also notice some loose petals on the shoulder tattoo, which add depth and texture to the design. The tattoo also features a butterfly, whose wing has been divided into two halves. One half has some gorgeous blue roses, and the other half has beautiful shading, giving a transparent look to the wing.
If you're looking for a bolder piece, this tattoo could be the perfect choice for you. The intricate details, beautiful shading, and mix of colors make it a work of art that's sure to turn heads. When getting this tattoo, it's important to choose a professional tattoo artist to ensure a flawless look.
Half Butterfly And Half Rose Tattoo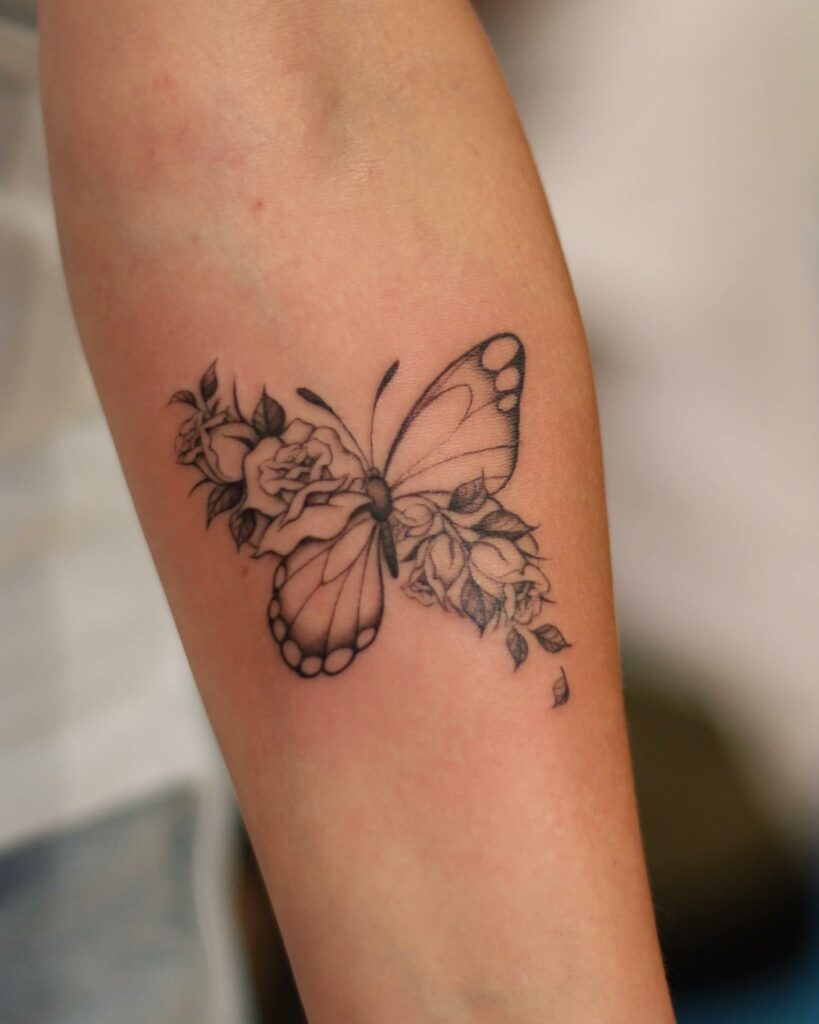 Created with black ink, this tattoo has a sleek and subtle appearance. The wings of the butterfly have been cleverly transformed into two delicate roses, with the other two sections of the wings remaining untouched.
The talented tattoo artist has added some beautiful shading to this piece, including some leaves and petals scattered throughout the design. The dotted detailing on the wings of the butterfly adds a unique and charming touch, making this tattoo stand out from the rest. The use of black ink gives the tattoo a sophisticated and elegant appearance that will look stunning on any part of the body.
Beautiful Girl Rose And Butterfly Tattoo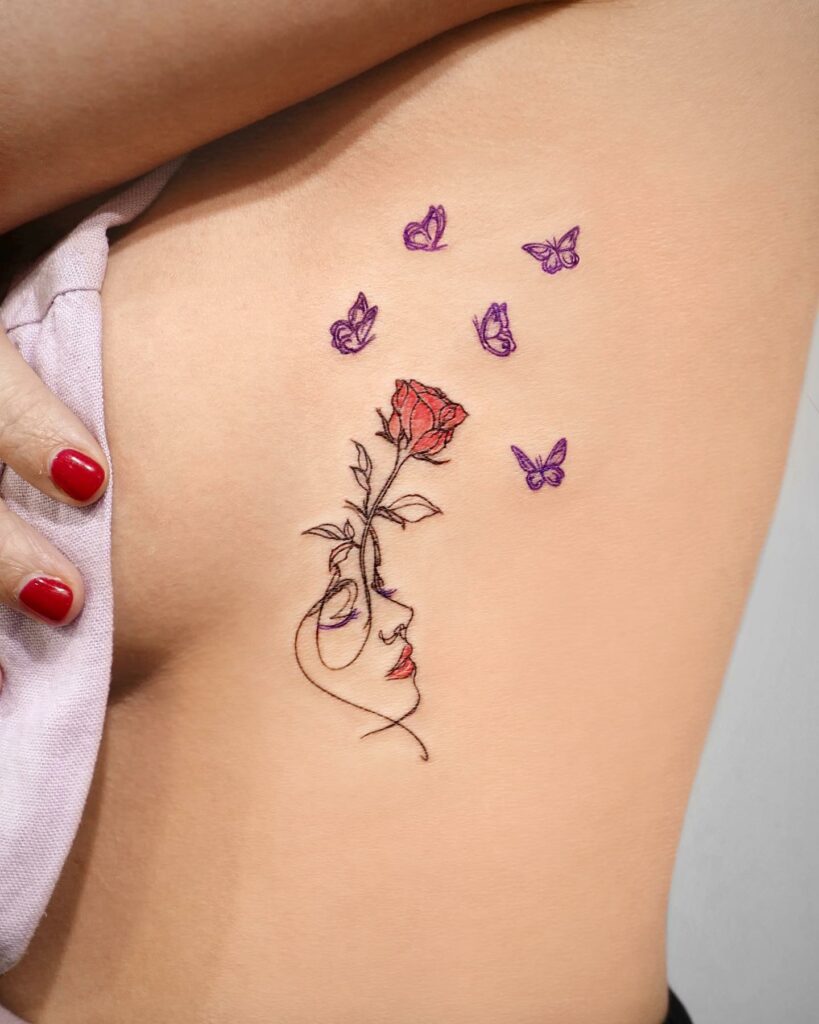 This rib tattoo features intricate line art that forms the shape of a female face, with a rose extending from it. The addition of purple butterflies adds a touch of whimsy to this already charming tattoo. This piece is truly original and perfect for those who want something different.
The level of detail in this tattoo is impressive. The fine needles used to create the lady's face make it look lifelike. What's great about this design is that you can customize it to your liking. If purple isn't your thing, you can easily swap it out for another color like yellow. This tattoo is versatile and can be executed in any style you prefer.
With this rib tattoo, you'll be sure to turn heads. It's a unique and eye-catching design that will enhance any outfit you wear.
Watercolor Rose And Small Butterfly Tattoo
This design features a beautifully rendered rose with a watercolor effect, and a delicate butterfly inked in shades of blue and black. It's a subtle, understated design that still manages to be incredibly eye-catching.
To ensure that you get the perfect watercolor effect in your tattoo, it's essential to choose a professional tattoo artist with plenty of experience in this style. As for the meaning behind this tattoo, it symbolizes both royalty and delicacy, making it an ideal choice for anyone who wants to express their feminine side. Best of all, this design can be easily customized to suit your individual taste, with different color options and placement choices available.
Women's Rose And Butterfly Tattoo
The arm is a popular spot for tattoo enthusiasts, and if you're in the market for a rose and butterfly outline tattoo on your arm, we've got just the design for you. This tattoo features a striking butterfly design paired with a classic rose tattoo, all created with bold black ink. While rose tattoos come in many styles, this one has a particularly edgy feel.
The talented artist has expertly used line art to create the illusion of depth and shadow in just the right places. The leaves have been carefully shaded to add to the visual appeal of the tattoo. The butterfly design is simple yet eye-catching, drawing attention to the art without being too complicated. If you're feeling bold, consider adding a pop of color to your design with shades like yellow or red. This tattoo is sure to make a statement and be a timeless addition to your ink collection.
Rose And Butterfly Beautiful Statement Piece Tattoo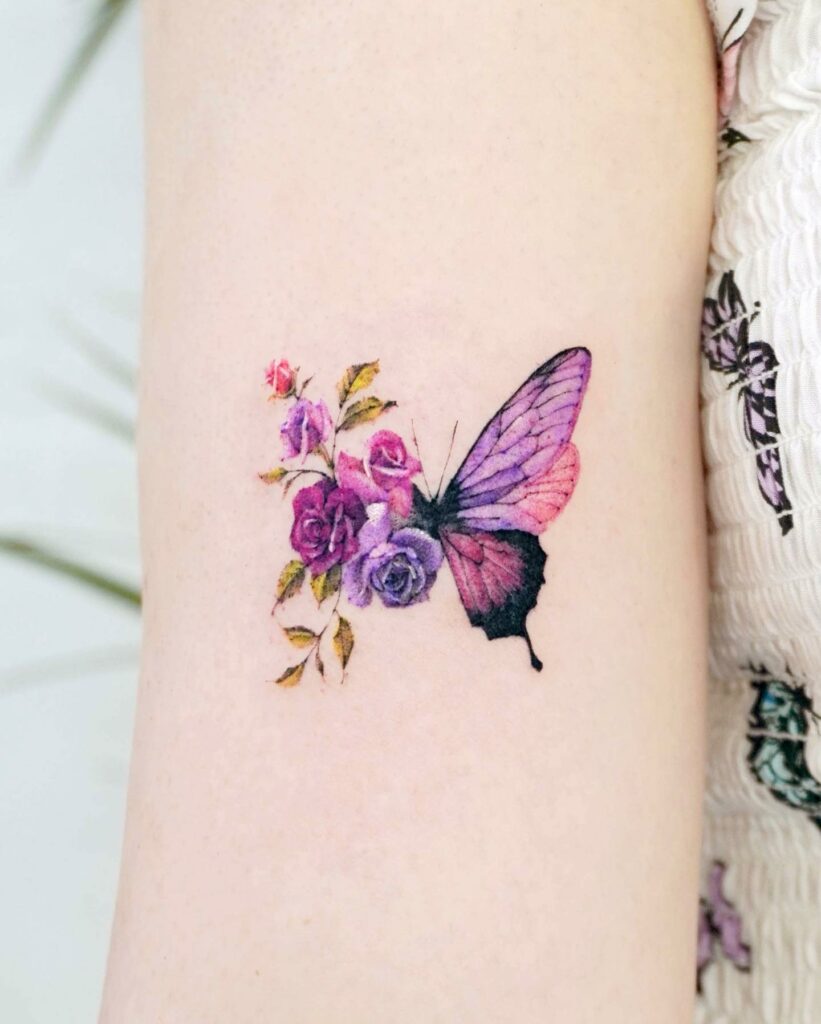 When it comes to rose and butterfly tattoos, adding some color can take the design to the next level. Check out this stunning example! The combination of pink, purple, and black creates a breathtaking effect that's sure to turn heads. The leaves in this tattoo are equally gorgeous, with different shades of green giving them a realistic and natural look.
The butterfly in this tattoo has been carefully crafted, with its wings divided into two parts. While one wing has been left untouched, the other has been turned into a stunning rose. The coloring work in this tattoo is so skillful that it's hard to believe it's not real. The artist has used great precision to create the butterfly's wings, which have a transparent and almost delicate look to them. Overall, this tattoo has a soothing and calming vibe that's sure to impress.
Gorgeous Realistic Rose And Butterfly Tattoo
Feast your eyes on this delicate and beautiful butterfly and rose tattoo design. The artist has created a gorgeous composition of two fluttering butterflies dancing around a branch of roses. The red roses have been skillfully shaded with different hues of pink, red and black to create a shadow effect, while the leaves have been given depth and texture with various shades of green.
In addition to the roses, the branch also features tiny, adorable flowers. The butterflies have been colored in shades of pink and purple, with a stunning gradient effect that adds to the overall beauty of the tattoo. This design is versatile and can be inked on any part of your body. It's the perfect tattoo for anyone who wants a subtle yet stunning piece of body art. Make sure to get this masterpiece done by a skilled tattoo artist to achieve the perfect results.
Delicate Bright Colors Butterfly X Rose Tattoo
The butterfly with a rose tattoo is a popular choice for women looking for a stunning and subtle tattoo. The artist has skillfully created the butterfly outline with black ink, giving it a delicate appearance. The rose tattoo has been incorporated into one wing of the butterfly, with darker shades of red and black used to create depth and the appearance of dead flowers.
The meaning of this tattoo is deep and symbolic. The rose symbolizes love, passion, and attraction, while the butterfly represents change and evolution in life. The rose's growth from a seed represents triumph over death, while the butterfly's transformation from a caterpillar represents growth and change.
This tattoo is not only visually stunning but also carries a profound message. It can be placed on any part of the body and can be personalized with different color choices. Overall, a butterfly with a rose tattoo is a beautiful and meaningful addition to anyone's body art collection.
feature image from Pinterest – Want your tattoo to look brighter? Try "Tattoo Balm"