Are you searching for a rose hand tattoo idea? Then here we brought the list of the best rose hand tattoo designs to choose from for your next tattoo.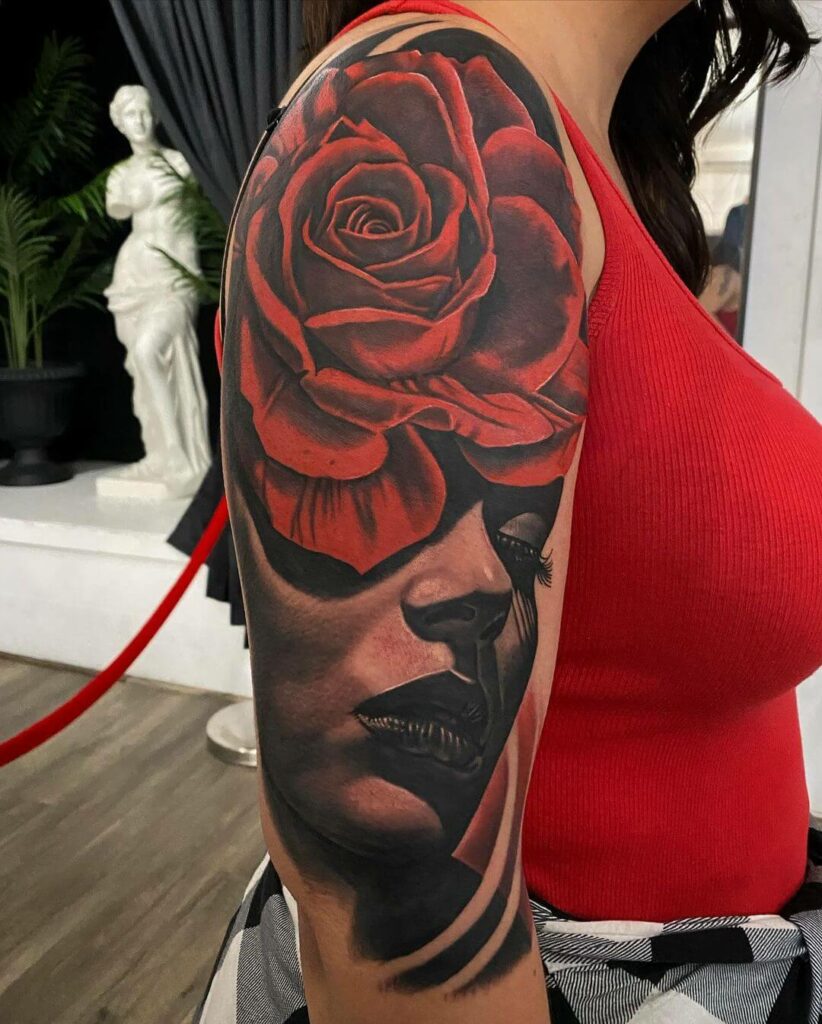 Rose tattoos are one of the most popular tattoos of the tattoo industry around the world.
There are many different ways a tattoo artist can draw up a rose. Artists get the freedom to design a great tattoo with this beautiful flower.
If you show a rose to even a child, they will know what flower it is. Roses are instantly recognizable and hold a lot of symbolism, so it makes sense that they are one of the most popular tattoo choices. If you're wondering what does a rose tattoo on the hand mean, then the answer lies in the colour and design of the roses. If the tattoo is of a bouquet of many-coloured rose flowers, then that might symbolize love, which the wearer has for the beauty of roses. Check out the amazing rose tattoo ideas in the list below.
Small Rose On Hand Tattoo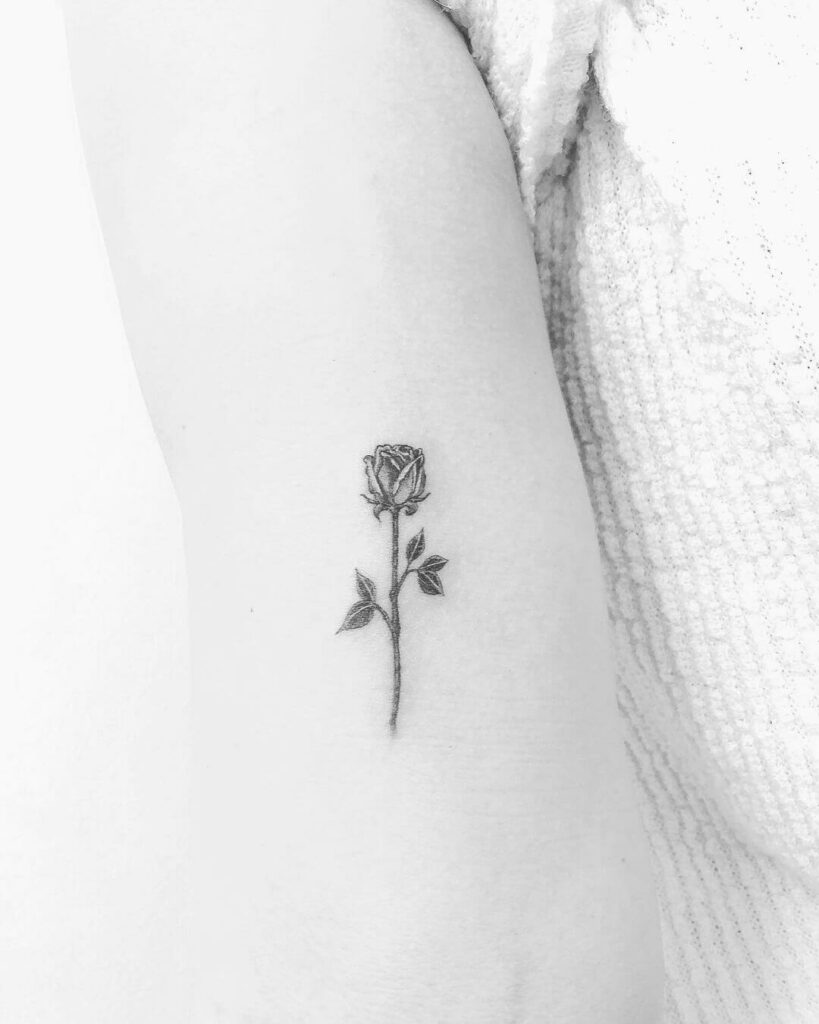 Small tattoos are quite famous worldwide. Not all people want to get a large part of their skin covered in ink. Most people want simple enough and small tattoos that will still make them stand in a crowd. Small tattoos can be detailed with a lot, but intricate shading work, whereas some can be just the outline tattoos of some particular designs.
The picture above is of a small rose tattoo hand with a stem and a few leaves. The intricate shading work on the design is making the tattoo art come alive. The picture below is of complex tattoo art of small red coloured rose with stems and leaves designed in a way that it's taking the shape of a treble clef symbol. It's a no-border tattoo design, but the phenomenal shading work is making it stand out.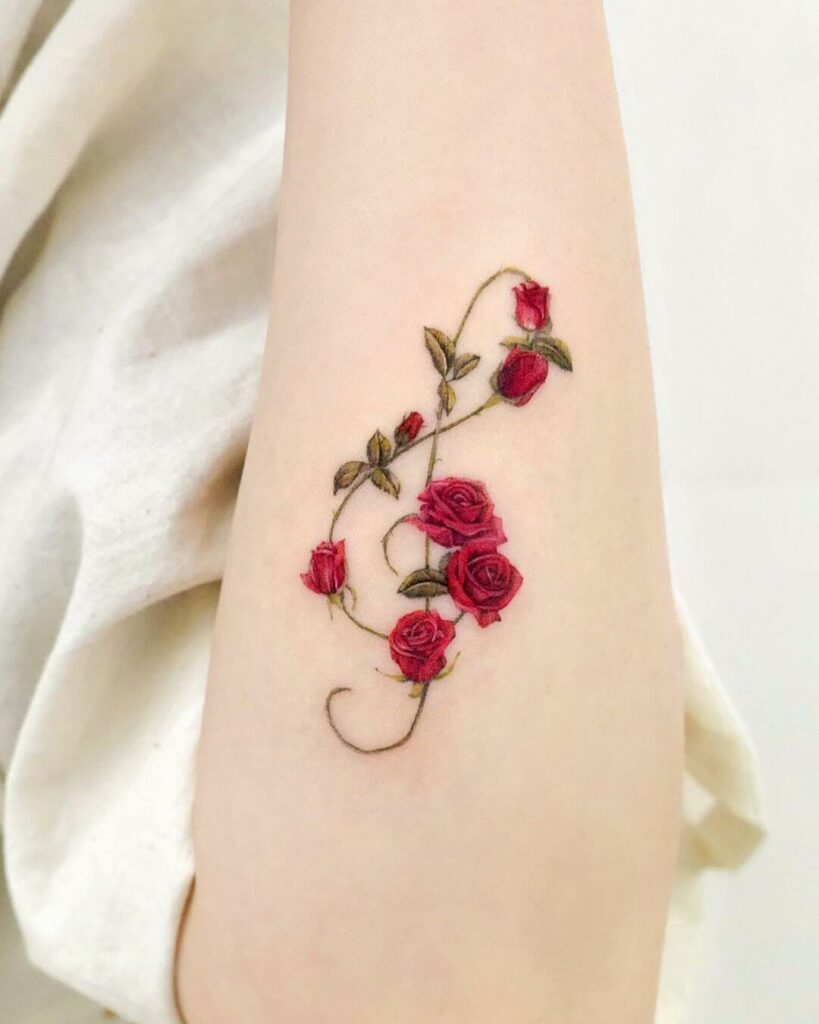 You can create a minimalistic rose outline tattoo art design of a rose or a simple no border design of just a rose flower with no stems or leaves.
Old School Rose Hand Tattoo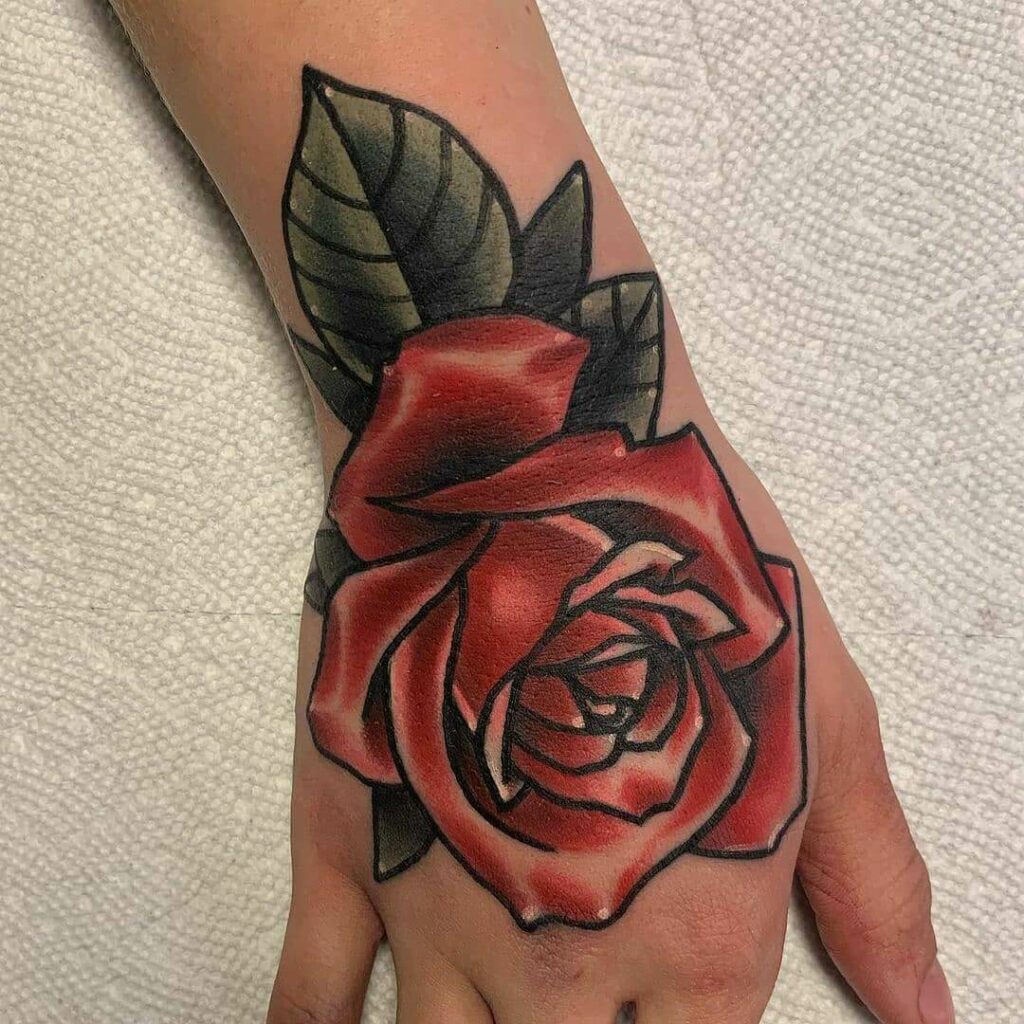 All kinds of old-school tattoos around the world have their own stories and traditional rose tattoo arts are popular in all those styles. Especially in the American traditional tattoo style, there are a lot of traditional rose tattoo arts already available. The American traditional style is steeped in the history of the country where they became a symbol for the rebelled people.
The old-school hand rose tattoo design in the picture above is on the back of the wearer's hand. Although the traditional rose tattoo has the bold lines of an old school tattoo, it also contains intricate shading work which is not usually seen in old school tattoos. The half sleeve traditional rose tattoo design in the picture below is of red coloured roses. The wearer's forearm is full of American traditional roses and leaves done in bold colours and lines and they look gorgeous.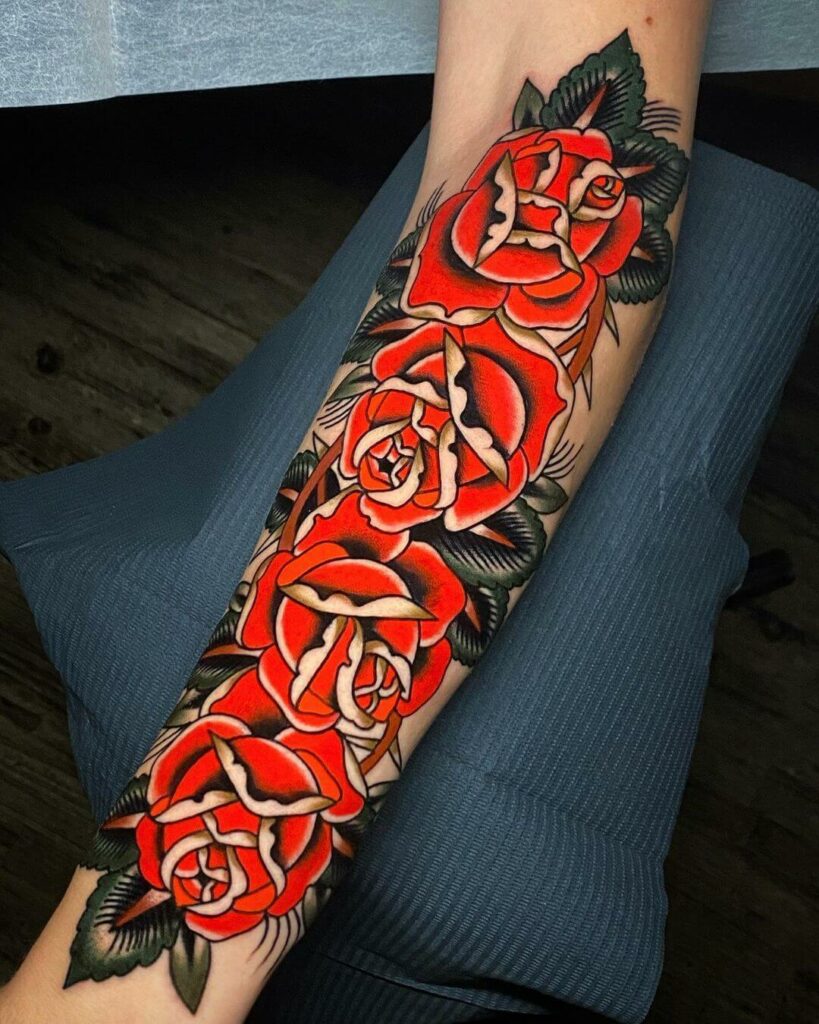 You can choose other old-school rose tattoos, like the designs of praying hands holding a rose flower, a dagger through a rose flower, and more.
Watercolour Rose Hand Tattoo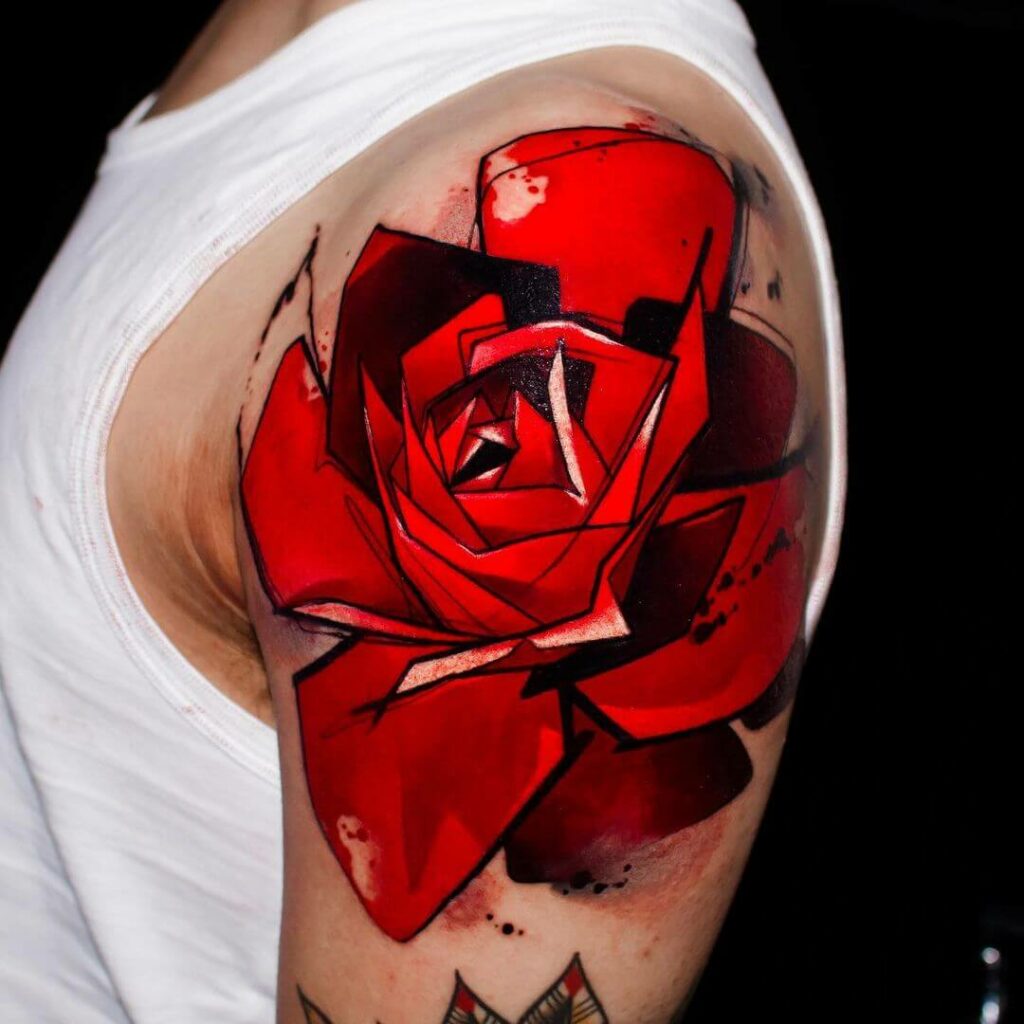 Watercolour tattoos are a relatively trendy tattoo style, but in a very short time, this style has taken the world by storm. The shading work and the fading technique of the colours in watercolour tattoos are done so beautifully that they look like watercolour paintings. However, remember that watercolour tattoos fade a little quicker than black and grey tattoos.
The picture above is of a large single rose tattoo on the wearer's upper arm. The rose petals are filled with red watercolour. The picture below is of a forearm tattoo of a white rose and two butterflies above the rose and below the rose and date in Roman numerals. The entire tattoo is adorned with blue, purple, and pink watercolour and intricate detailing.
You can put two or more watercolours in one rose for your rose tattoo to increase the beauty. You can also fill a rose tattoo design in an abstract or geometric pattern to give your tattoo that little extra modern touch.
Red Rose Hand Tattoo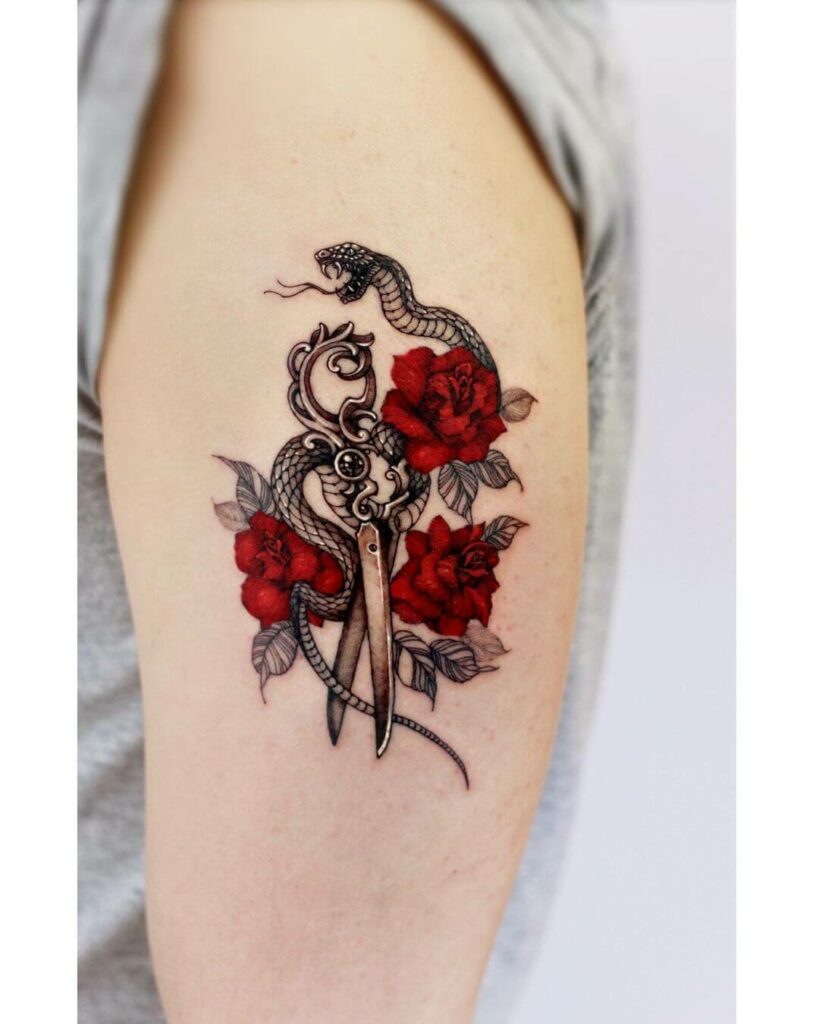 Red coloured roses are the most popular rose tattoo designs that people opt to ink. The meaning of red rose tattoos is deep love, romance, and passion for a loved one or something of value. In popular culture, red roses are a symbol of love in a person's life. People give their partners red roses as a gift when they are expressing love on anniversaries, Valentine's day, dates, or any other special day. The influence of red roses when expressing love has been shown on TV shows and movies countless times.
The picture above shows a tattoo of three roses in deep red colour with no borders, a few leaves, a scissor, and a snake in black ink. The picture below shows a tattoo of two red coloured roses, two buds, a few leaves, and stems bound together near the end by a beautiful ribbon and a similar coloured butterfly hovering around.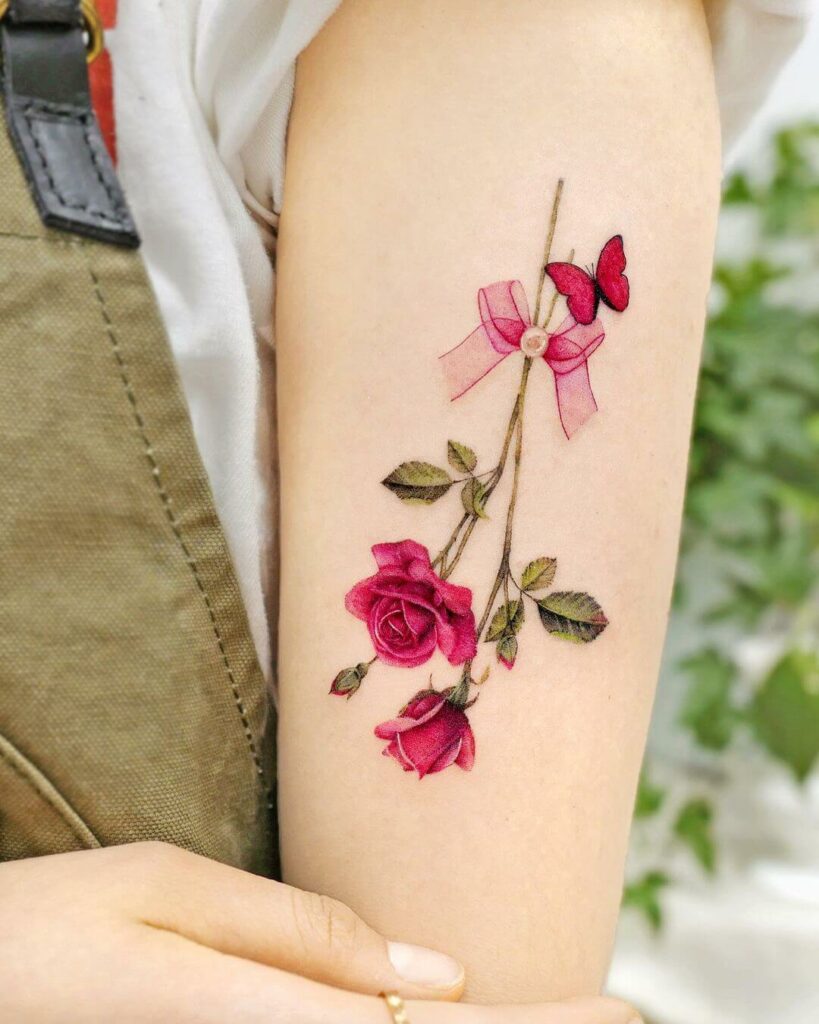 You can add a heart, a cupid, or other things that represent love or something that symbolizes the love between you and your partner to your red rose tattoo.
Blue Rose Hand Tattoo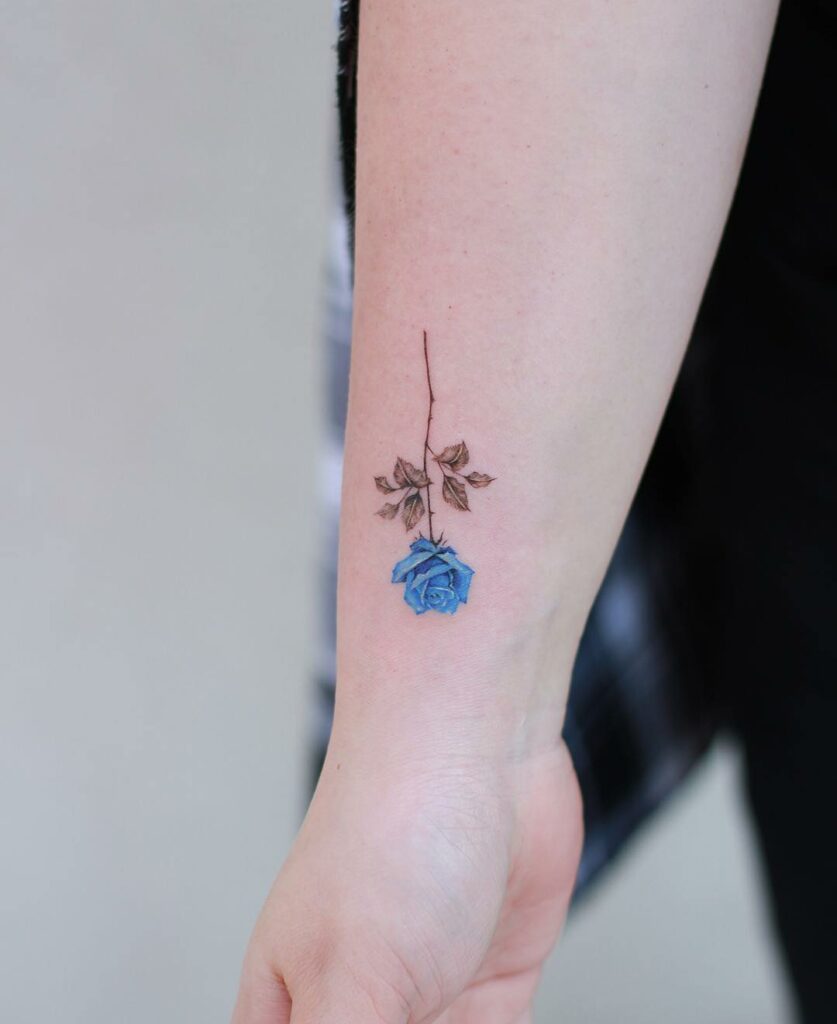 Blue roses do not bloom naturally in the wild. However, that has not stopped people from trying to grow them artificially. Florists have tried to put roses in dye to grow blue roses. That's why blue roses primarily symbolize the impossible or the unattainable. Many people wish for a miracle after they have gone through something difficult. Some people will never give up on their quest to achieve the impossible. The blue rose tattoos can be a perfect choice for these people to express their emotions.
The picture above is of a small blue rose tattoo with a few leaves and a stem with no borders. The picture below is of another small tattoo of two blue roses with a few leaves and two stems with no borders.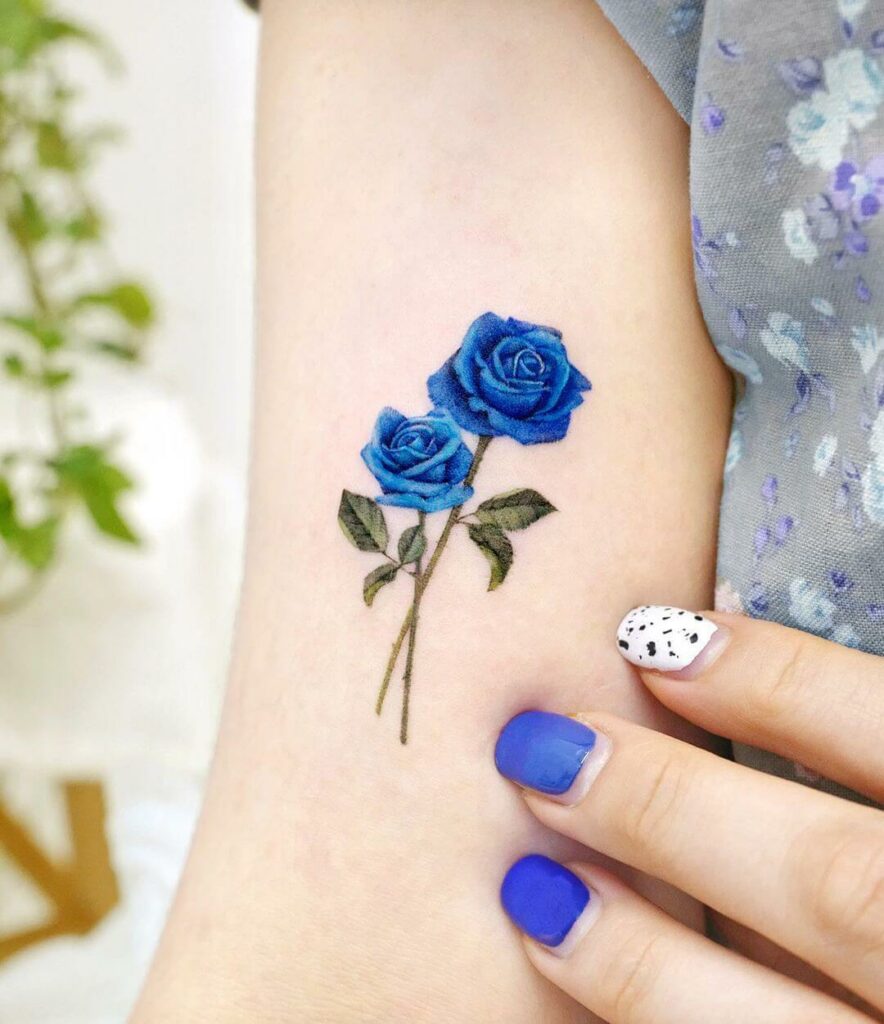 You can add a little mist, a few religious tattoo designs to your blue rose tattoo to express your wish for a miracle or love for mystery.
Yellow Rose Hand Tattoo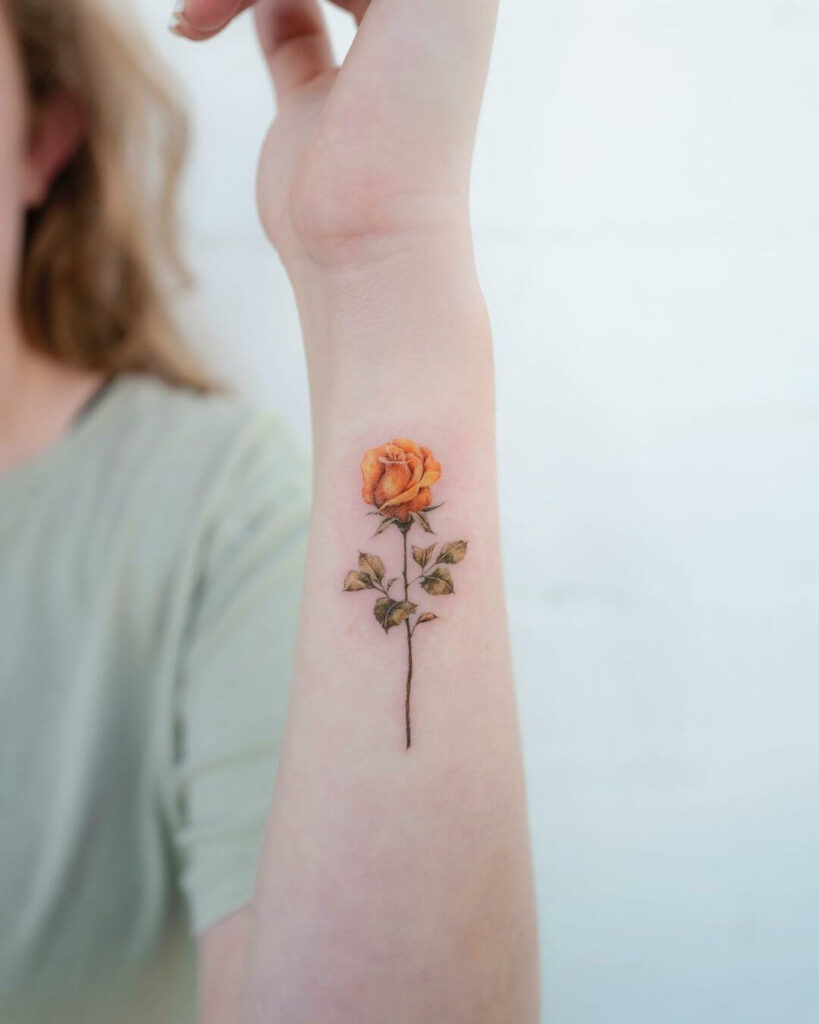 Yellow roses generally represent friendship, joy, and good luck. They have even been shown as a gift to be given to friends in popular culture. Many people have a happy, extroverted, or joyful nature. People of this nature can express themselves through yellow rose tattoos. Many people might get these tattoos as a wish to attain more happiness or joy in life. Two or a group of friends can get the same designs of yellow roses at the same time in order to express that they will cherish their born for life.
The tattoo of the yellow rose, a few leaves, and a stem on the picture above is done entirely by shading work and no borders. The tattoo of a beautiful large yellow rose, a few leaves, an old building with a block of the red circle on the picture below has beautiful bold lines.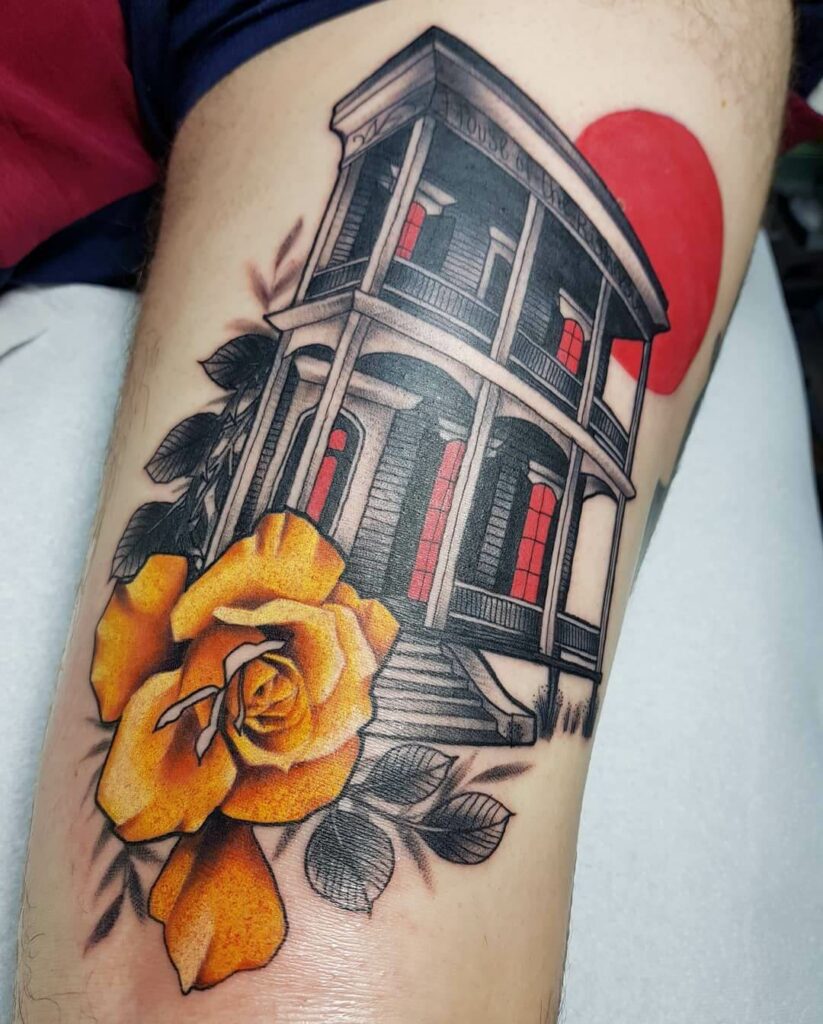 You can add other elements to your yellow rose tattoo that represent friendship, that expresses your extrovert happy nature, or help you show your wish for joy in life.
Purple Rose Hand Tattoo
Purple roses are rare, but they do occur naturally in the wild. However, different shades of purple are grown by cross-hybridization. The popular meaning of purple roses is eternal true love which lasts forever. People at times use these flowers during anniversary programs. They also symbolize braveness, love, royalty, sacrifice, beauty, and enchantment. Many people wish to express the importance of love, braveness, and beauty for them or the majesty of royalty and sacrifice through their tattoos. Purple rose tattoos can be absolutely perfect for these people.
The little purple rose tattoo in the picture above shows three designs showing the blooming of the flower from a small bud. The large purple rose tattoo in the picture below is an old-school purple rose design with a few leaves around.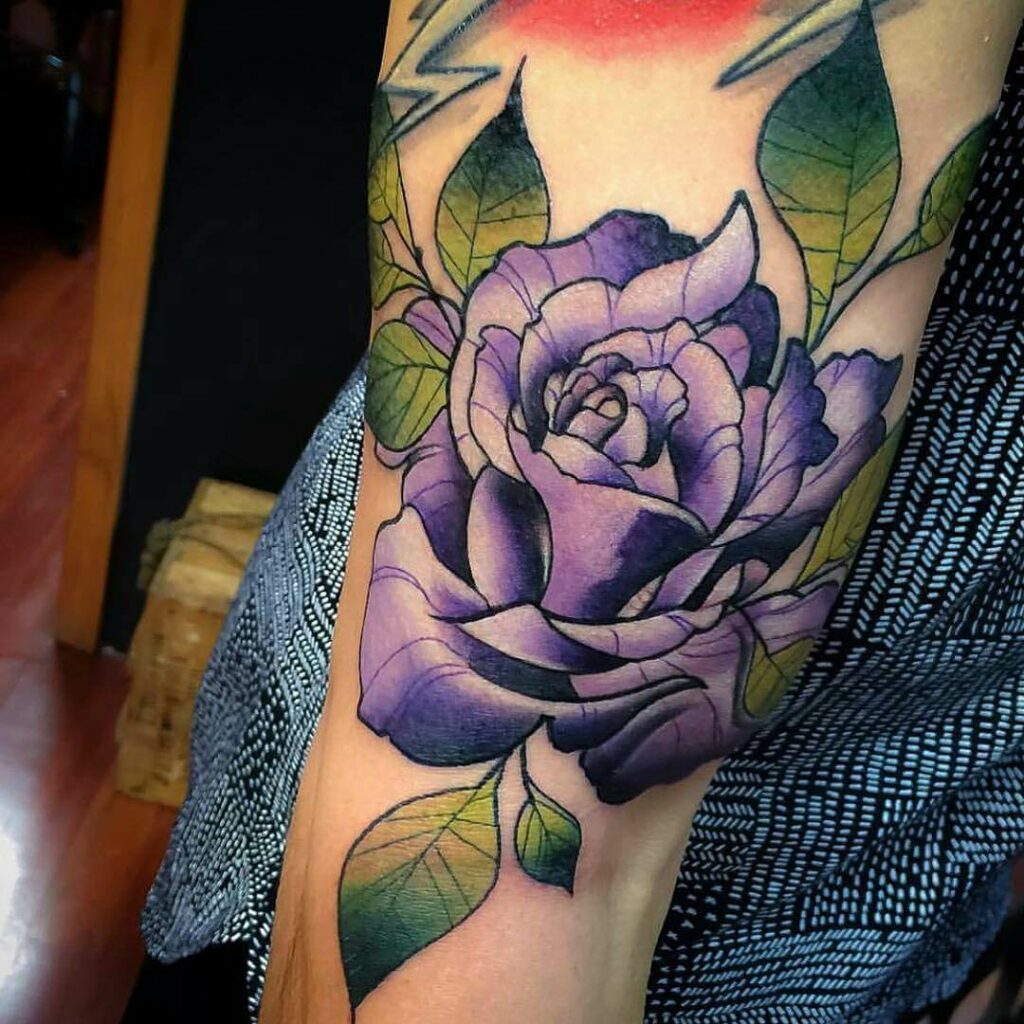 You can add an element to your purple rose design from the first time you and your partner met, something that represents your love at first sight.
White Rose Tattoo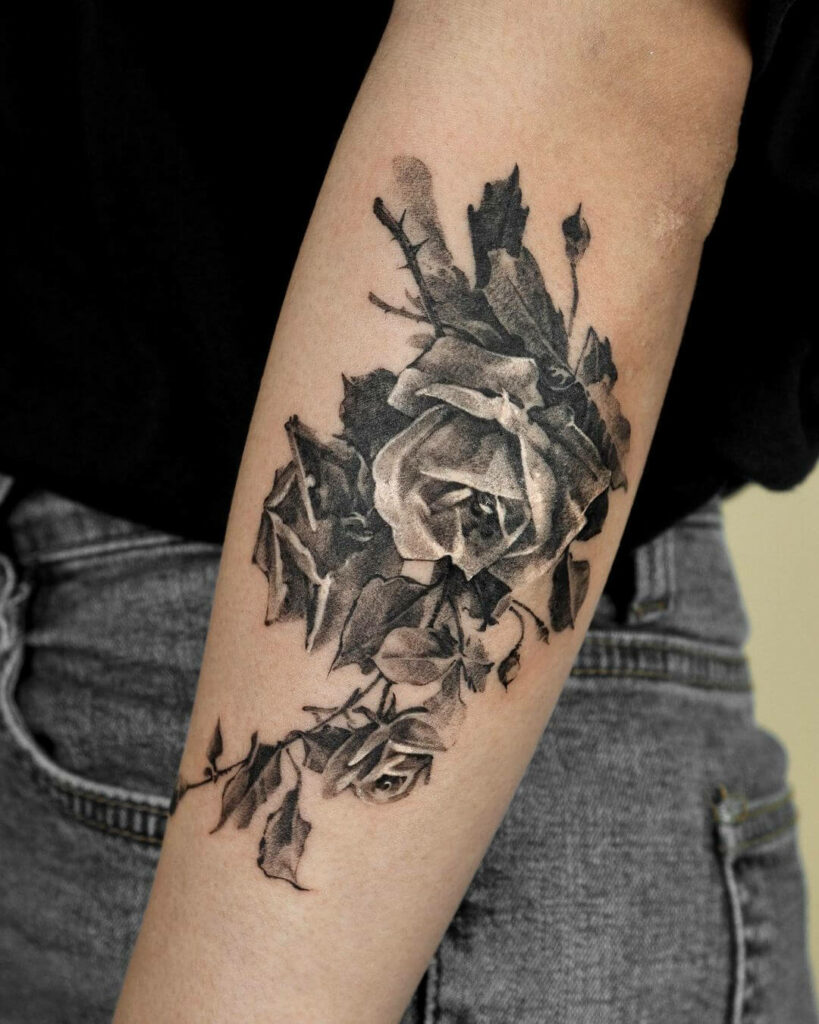 You will find most white coloured roses have a tint of pink or cream in them, but pure white roses also exist. White rose tattoos usually symbolize mysticism, purity, innocence, spiritualism, and at times, a secret admirer. White roses hold a mystery, and their spiritual meaning gives you an opportunity to draw up a mist around your white rose design to give it that little extra allure. White rose tattoos will also give you a chance to work with white tattoo ink. Get the shading work done or the full tattoo in white ink.
The picture above is a tattoo of a beautiful white rose, some leaves, and stems drawn with black, grey, and white ink. The picture below is an extremely simple outline tattoo of a small white single rose, some leaves, and a stem. The petals along with everything else are drawn with white ink in the design.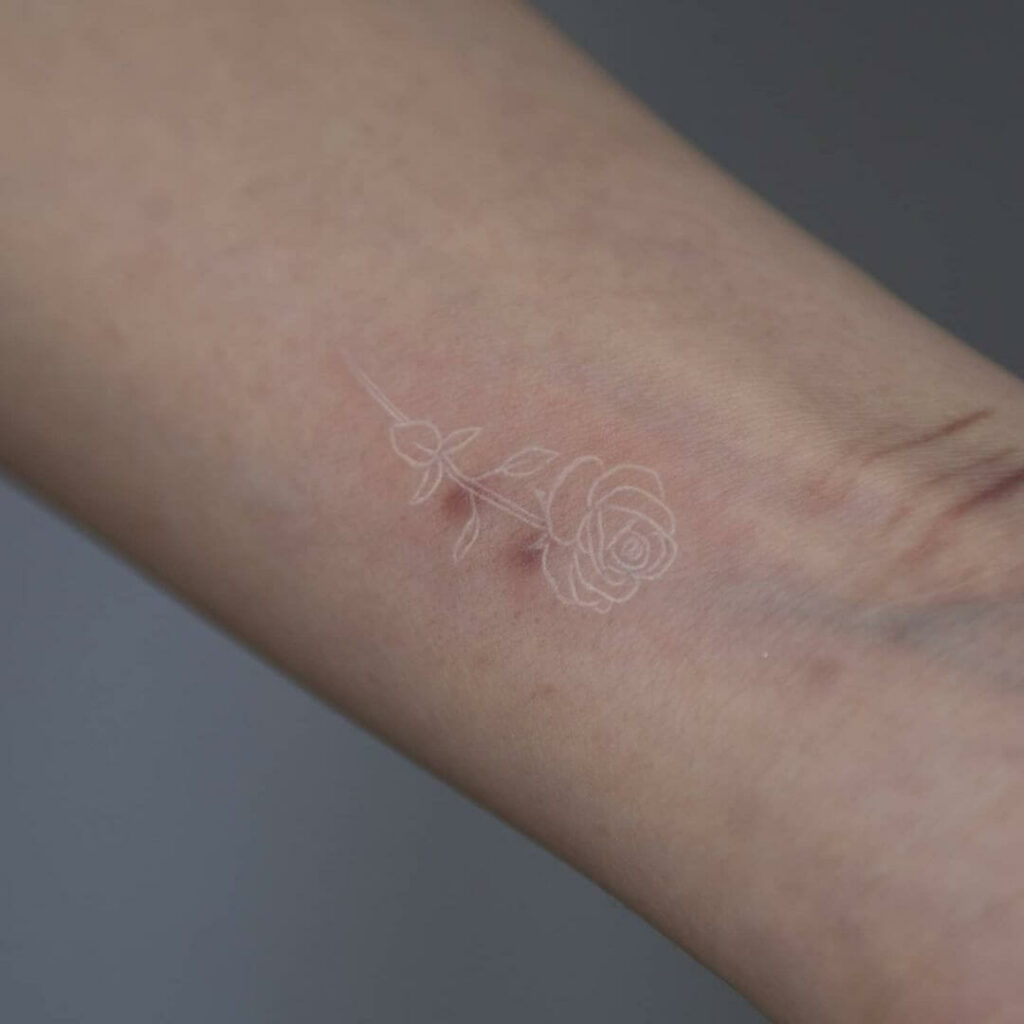 You can add more flowers that represent purity, like daisies or lotus to your white rose tattoo and draw up a bouquet.
Black Rose Tattoo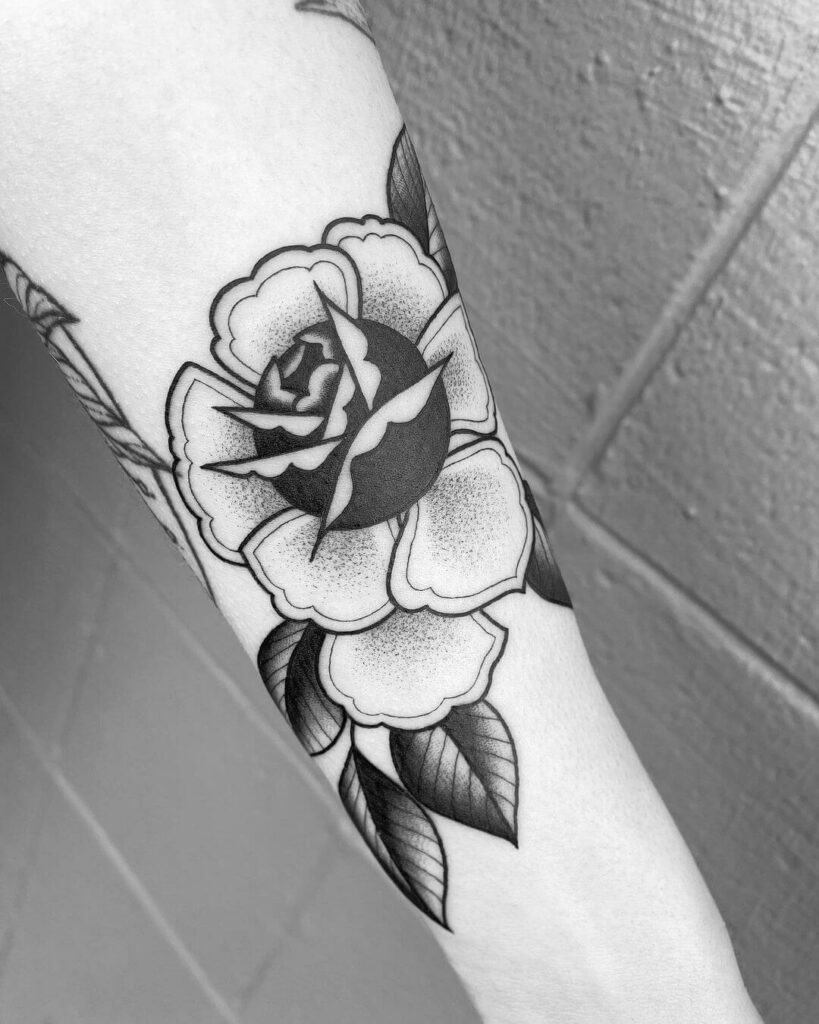 Pure black roses do not occur naturally in the wild. The ones that people consider as black roses are actually a very dark and deep shade of burgundy, maroon, or purple. Black rose tattoos are generally a symbolism of death, grief, mourning, and everything else associated with death. However, the symbolism is not all bleak. They are mostly tattooed in honour of loved ones, who the wearers have lost. While some may ink a black rose tattoo for its aesthetic appeal, most people ink them as memorial tattoos for their lost loved ones.
The beautiful large American traditional tattoo in the picture above is of a black rose and leaves with dot work shading. The small thin line bordered black rose tattoo in traditional black ink on the picture below is of another black rose, some leaves, and a stem.
You can add the name, the dates of their birth or death, or some element related to the person you're honouring in your black rose tattoo.
Money Rose Hand Tattoo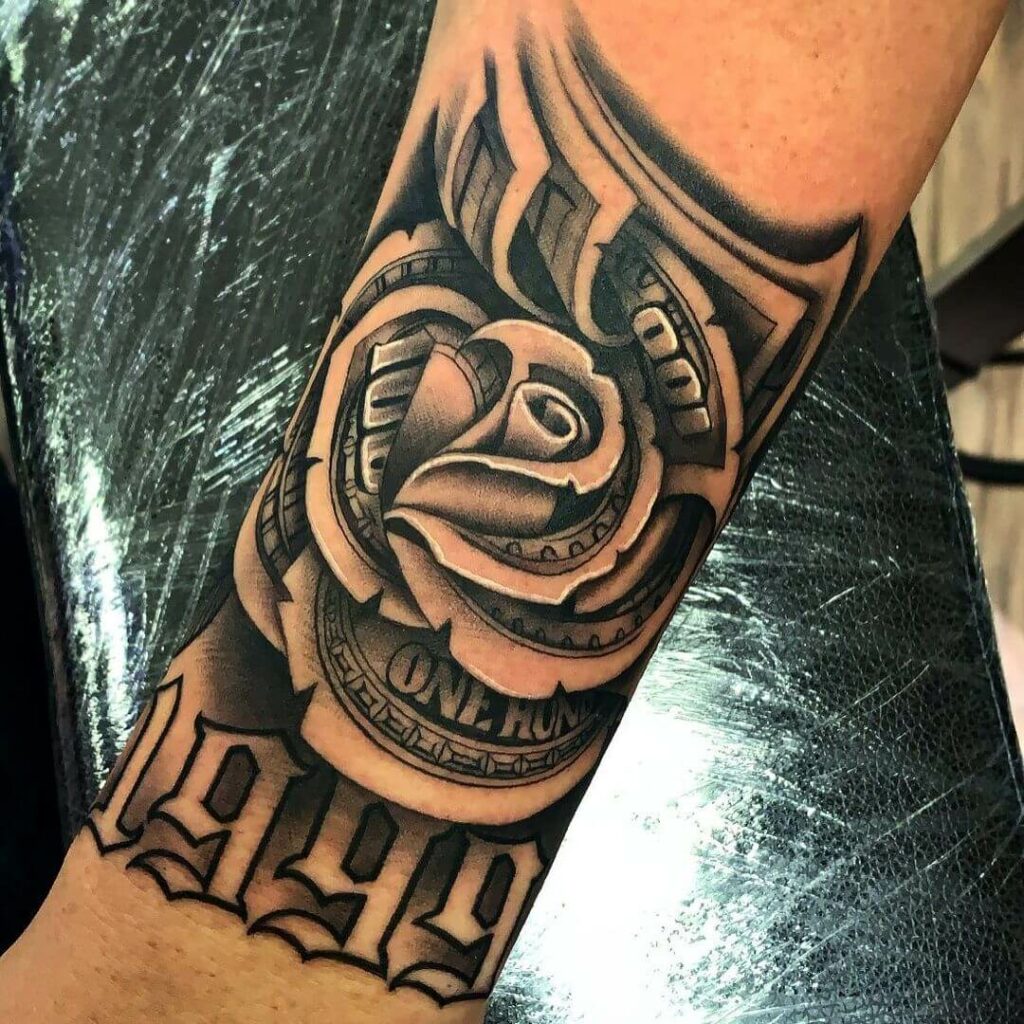 If you think that money rose tattoo actually represents love for money, then you are partially right. The symbolism of rose tattoos, in general, are beauty, passion, hope, and love while money tattoos represent wealth, riches, and power. Hence, people usually intend to express their struggle and hustle in order to achieve success. Many people also ink these tattoos in order to express their passion for their wealth and its importance in their lives. You will find that most people ink money rose tattoos in Chicano tattoo style, probably because they look the best in this style.
The picture above is of a simple yet large rose tattoo with a petal of money drawn in black and grey ink with 1999 written below in large font as well in Chicano style. The picture below is of another money rose sleeve tattoo with a Chicano style Catrina tattoo above the rose which has petals of money.
You can create a design by adding words, like 'hustle', 'success', or 'struggle' with your money rose tattoo to express the hardships you've overcome.
You already know what a rose tattoo on your hand means. If you're wondering how much would a tattoo of a rose on my hand cost, then that depends on the colour, size, and style of the tattoo you're opting for.
Feature Image from Pinterest – Want your tattoo to look brighter? Try "Tattoo Balm"