Is rose your favorite flower and do you want to spike it up with some creativity? Here are some amazing rose stem tattoo ideas that will perk up your style!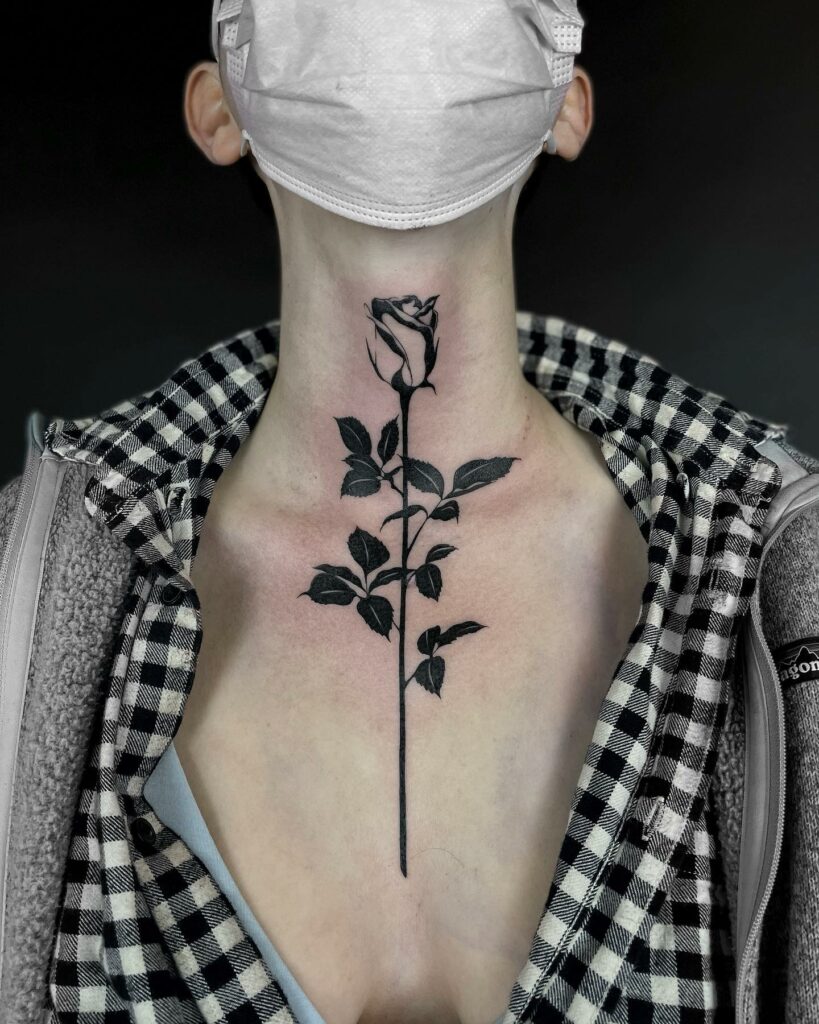 Rose stem tattoos are a traditional form of body art that has been very prevalent among both men and women.
Rose tattoos hold historical significance as a whole. It talks about an internal battle that the wearer has been fighting within themselves.
Rose tattoos are also considered to be the flag bearers of the highest level of passion. Rose tattoos with a stem mainly signify a passion that is involved with one's romantic escapades. It can also symbolize the loss of love or the sacrifices the wearer has made for love. Rose tattoos have different meanings with colors and shapes and sizes. A geometric rose tattoo talks about how the wearer is detail-oriented and likes to do things accordingly with meticulous attention.
Tiny rose tattoos signify that the wearer likes minimalistic and dainty fashion statements which will escalate your style of body art. American traditional style tattoos determine the old principles and sophistication which has been engraved in them since the dawn of time. A heart shape rose tattoo determines the immense passion the wearer possesses inside their heart.
Rose tattoos are really beautiful and can be made on any part of the body. The most common places to get a rose tattoo are with a stem area on the forearm, shoulders, fingers, and wrist. It specifically symbolizes love and beauty and really leaves people mesmerized. If you want to impress your special one, keep reading to get amazing inspirations for your next tattoo.
Under The Chest Rose Stem Tattoo Designs
Under the chest, tattoos are considered to have rebellious symbolism. This tattoo is no exception to that. Chest tattoos are often associated with men only. However, in this aspect, the tattoo is also associated with women as well. This tattoo is made with black ink. However, the detailing that has been made over here is really mesmerizing and gives it a very gothic look.
The tattoo consists of a rose with a black stem where a skeleton hand is gripping it as a support. The tattoo symbolizes that the wearer has struggled with love for a long time and has made immense sacrifices for love. This tattoo holds a deep meaning. You can customize the tattoo as per your own preference if you are not much into Gothic styles of tattoos. Otherwise, this tattoo looks a class apart and makes it look one of a kind!
Minimalistic Classic Rose Stem Tattoo Ideas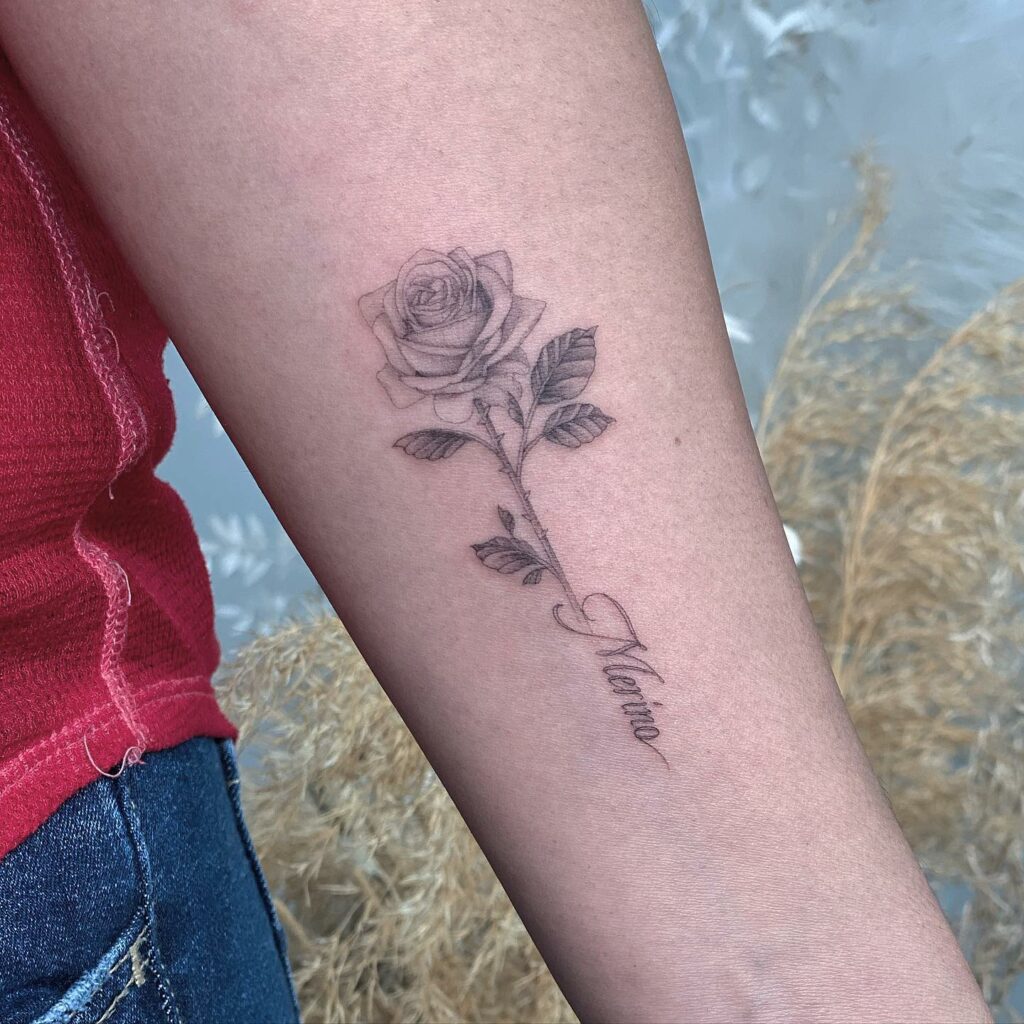 If minimalistic tattoos fall under your style statement, this is an absolutely amazing inspiration for you. This is a minimalistic rose tattoo with a stem which has been done with a hint of American traditional tattoo style. This falls under the category of a perfect rose tattoo and it looks absolutely stunning.
The tattoo artist has really done a commendable job to bring this tattoo to life and it really looks absolutely gorgeous. It has a name inscribed as well which signifies that it probably is the name of the wearer, or someone very close to the wearer. The tattoo art which can be depicted here is made immaculately and there is no visible inflammation on it.
Classic Rose Tattoo With Stem On The Back
This tattoo looks absolutely stunning and is a class apart. Back tattoos are pretty common among people because it is known to hurt less than other tattoos. This tattoo is done in a typical generic rose tattoo idea which vogues up the look of the wearer.
The rose is perfectly shaded with black ink which gives it very grunge and gothic look. Rose tattoos are known to err on the soft side, however, this is edged towards a Gothic look. The stem looks really detailed along with the leaves. It looks absolutely mesmerizing and makes the tattoo look one of a kind. If you want a tattoo that looks traditional yet the most beautiful work of art, this is a perfect example for you.
Small Rose Tattoos With Stem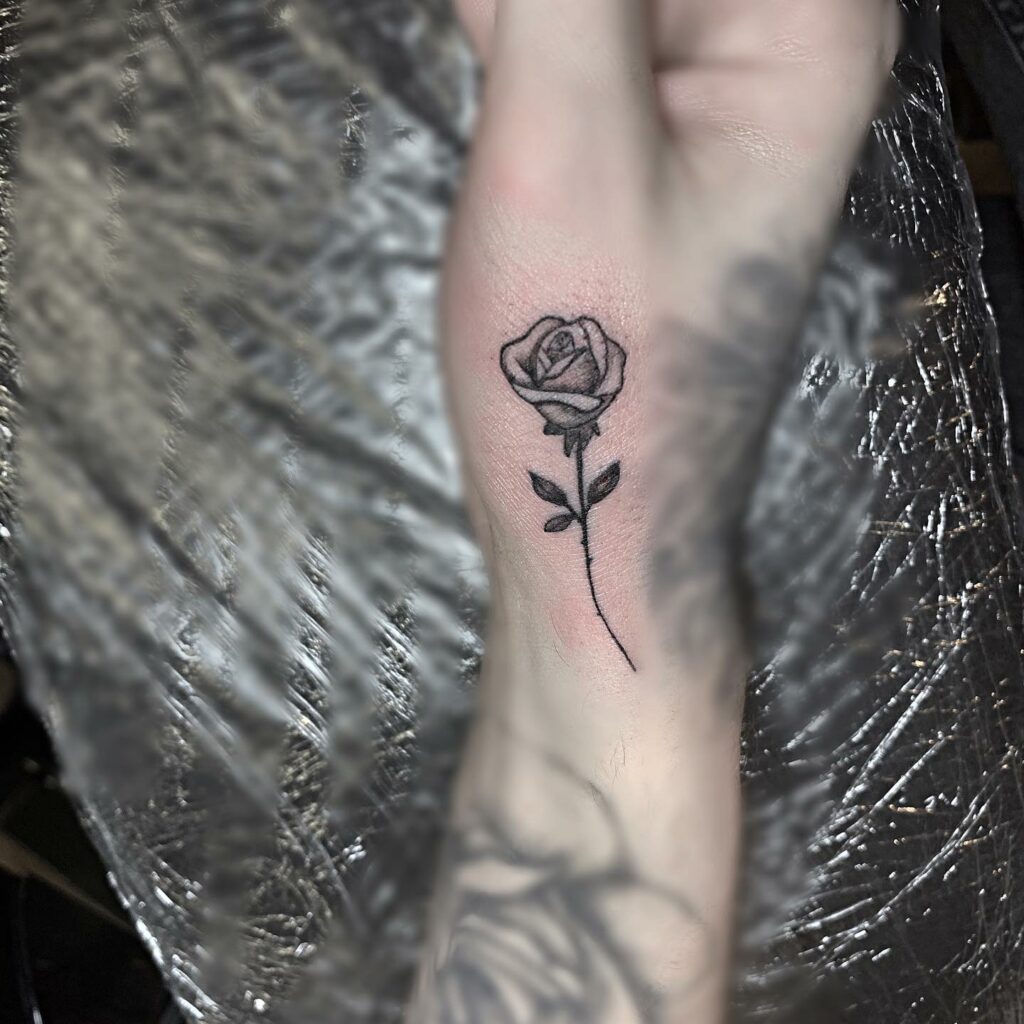 Small and dainty tattoos never go out of style. This tattoo is a fine example of that. The tattoo looks really simple yet beautiful. The tattoo artist has really outdone themselves and has made the tattoo look really beautiful and mesmerizing. The shades of the petals look really nice and the leaves have given exceptional detailing.
Finger tattoos hold a distinctive meaning. It means, the wearer is trying to send a positive message to people and wants to start and rekindle their life with spiritual adventures. This is a fine work of body art and really enhances the look of the wearer. There is also no visible inflammation of this tattoo which means it has been healed completely.
Line Art Rose With Stem Tattoo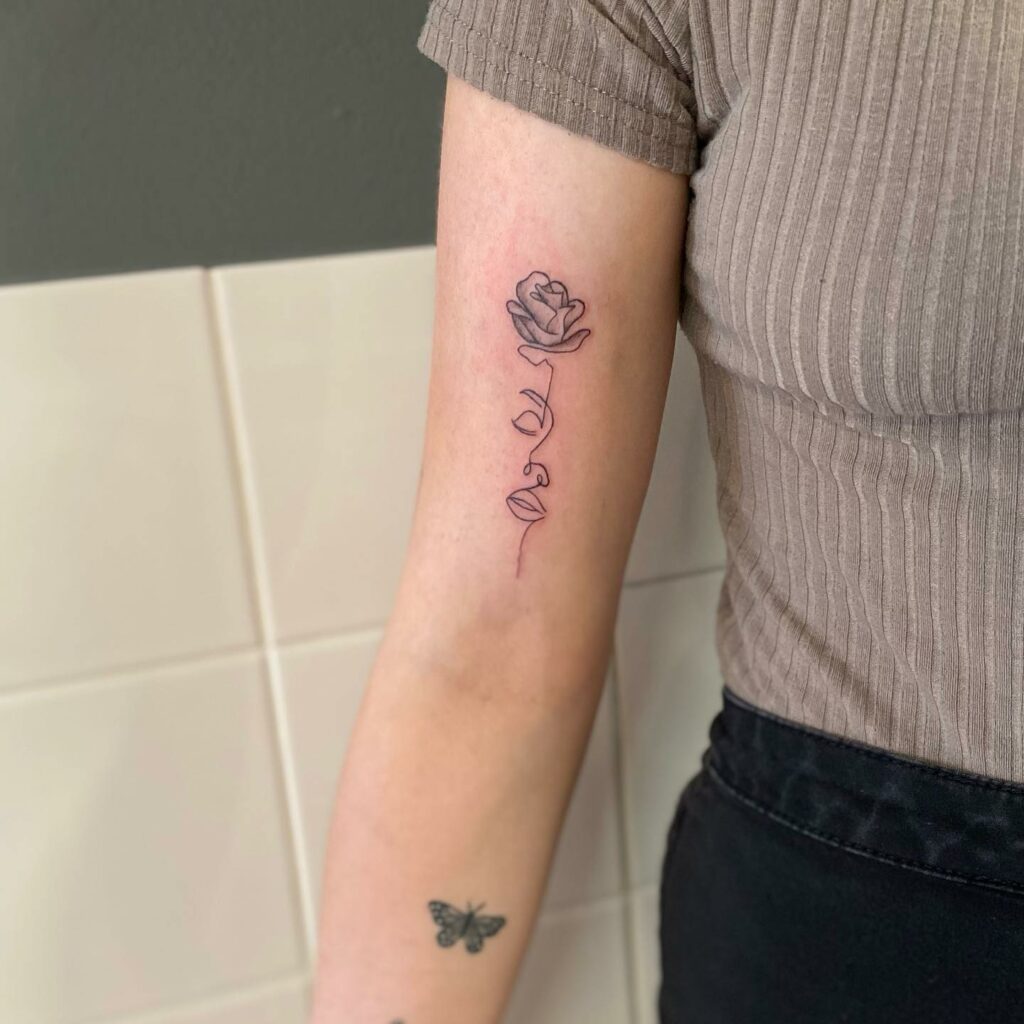 This tattoo is one of the best of this lot. The tattoo is minimalistic and beautiful. The rose is made with Fineline art and it looks really phenomenal. The stem is streaming down as an abstract art that takes the shape of a face.
The tattoo symbolizes that the wearer is trying to compose their life with love and passion so that they can turn into a new 'leaf.' It can also symbolize a romantic escapade that the wearer is longing for a while. The forearm is the choice of tattoo placement here which means that the wearer is also ready to make some confrontations and changes in their life. If you are searching for a quirky yet meaningful tattoo, this is the correct inspiration for you.
Traditional Rose Tattoo With Detailed Petals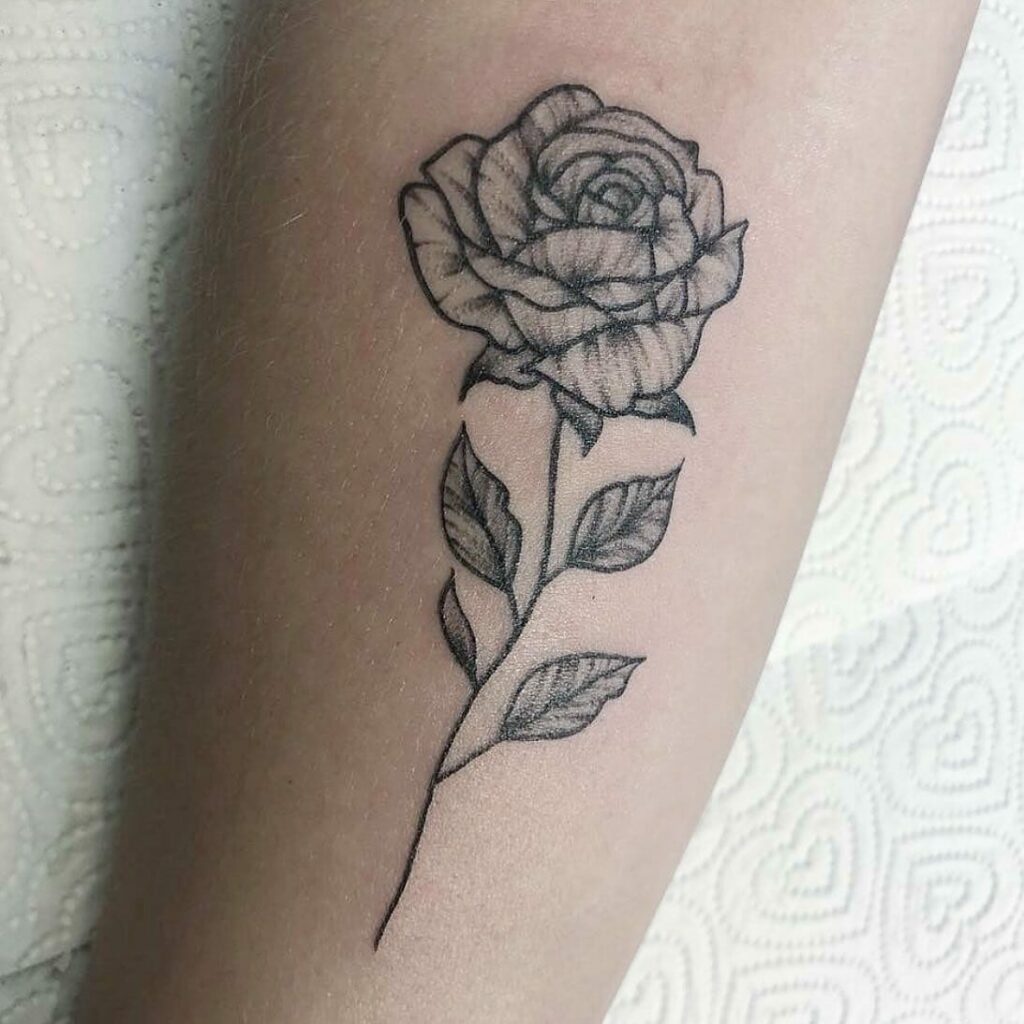 Rose petals pose a different meaning than the flower itself. A rose tattoo generally is connected with a romantic quotient of life or a romantic escapade. This is a traditional rose tattoo that symbolizes love and passion. It can also mean that the wearer holds a special affection, grace, and attitude for a particular person whom they want to commemorate with a tattoo.
The petals are made with black ink and the insides are made with grey ink. The leaves of the rose are also properly embellished and given fine detailing. The stem is, however, simply made which signifies that the stem is the only thing that has been holding the wearer up from emotional damage. It is a very meaningful tattoo. You can get this done and improvise it as per your own choice.
Simple Rose Tattoo On Thigh With Stems Getting Cut
This tattoo can be considered to be an outcast tattoo among the people. This tattoo is often considered to be attracting negative attention from people and can be considered to have a foul meaning. The tattoo is made on the thigh, which is a painful place to get a tattoo. This means that the wearer likes to inflict pain on them.
The tattoo is of a detailed rose with a stem where the stem is getting cut from the middle. The tattoo is symbolized that the wearer has lost or sacrificed love for something grave and better. The wearer is still recovering from that trauma. The number 13 in between can be considered a lucky number for the wearer. This will help the wearer to stand up again and fight back. The tattoo is very meaningful and looks absolutely stunning.
Black Rose Tattoo With Intricate Detailing
This tattoo is the best tattoo of the lot and it looks really mesmerizing. Black rose tattoos are something that everyone likes to pursue. It has its own beautiful and distinctive meaning which makes it different from other tattoos. Black rose tattoos generally symbolize ideas of despair, hate, and death.
However, now it has been considered to be a proper style statement. In some cultures, the black rose is considered to be a good omen. It symbolizes rebirth and new beginnings of life or passion. This tattoo is made with utmost care and it looks really amazing. The rose is the highlight of the tattoo more than the stem or the leaves. The leaves are also black in color and look one of a kind. The stem replicates an original stem of a rose. This is an amazing work of art. You should definitely get this done on your body. You can improvise this with a snake or a skull as per your choice!
Colorful Red Rose Stem Tattoo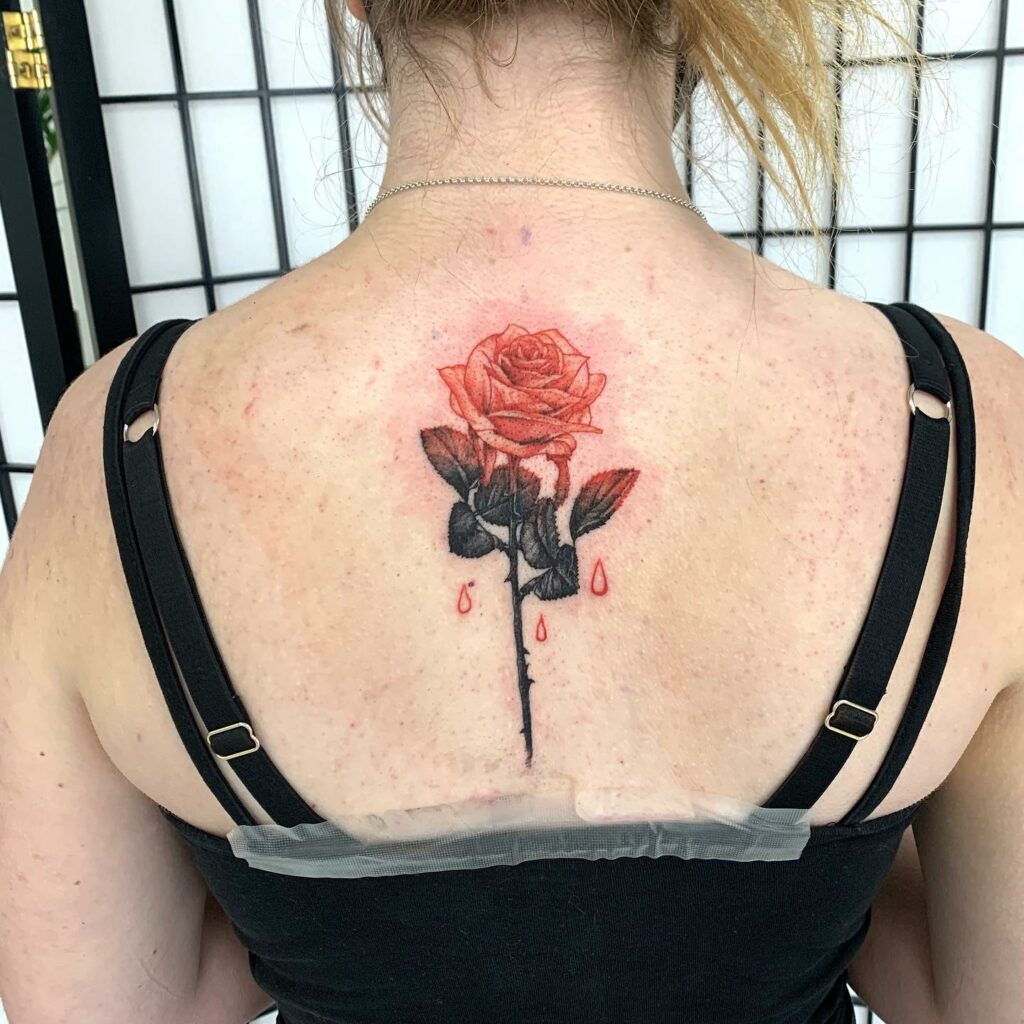 Colorful red roses hold a very cheerful meaning and make the tattoo look one of a kind. However, this tattoo is a bit of an exception. The tattoo is made with an ombre work of red and black ink. There are teardrops made with red ink which represents blood drops.
The red and black ombre work of the rose symbolizes a rebirth of love, passion, and sensuality. The tattoo is made on the back and the wearer looks absolutely beautiful in this tattoo. The rose stem is completely black in color. This represents stubbornness and confrontations. The tattoo is gorgeous and will look amazing on anyone. You can improvise the colors according to your choice and let your creativity shine!
Geometric Rose Tattoos For Men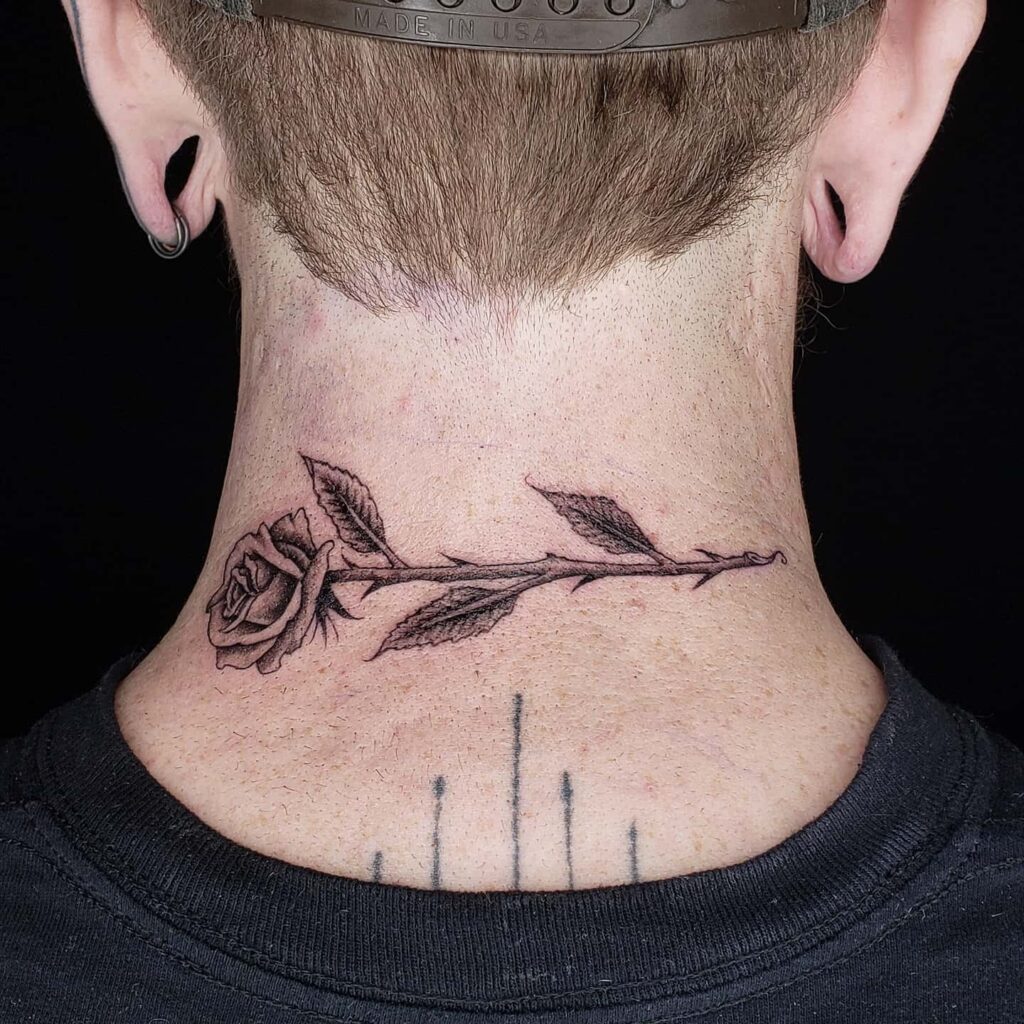 Rose tattoos are not only very common among women, but also create a style statement for men as well. This particular tattoo is made on the neck of the wearer in s geometric patterns. The rose looks really nice with nice shades of black ink. The leaves are also detailed properly and look really good. The rose stems also looks really good with thorns and gives it an accurate replication of a real rose. This tattoo is absolutely adorable.
feature image from Pinterest – Want your tattoo to look brighter? Try "Tattoo Balm"