Hello there! If you're a hopeless romantic with a soft spot for all things love-related, then the rose chest tattoo is the perfect design for you!
Flowers have been cherished for their natural beauty and symbolic meanings for centuries. Each flower has its own distinct significance, and this can vary from culture to culture. The rose, in particular, has always been linked to passion and love, making it a popular choice across different cultures and time periods.
The rose's usage dates back to the Roman Empire, where the flower's petals and fragrances were symbols of wealth and royalty. In fact, rose petals were even used in dishes as an edible garnish due to their beauty and fragrance. Even tribal cultures, who were followers of paganism, used roses for various purposes.
As tattoo culture became more popular in the twentieth century, rose tattoos became one of the most sought-after designs due to their versatility and timeless appeal.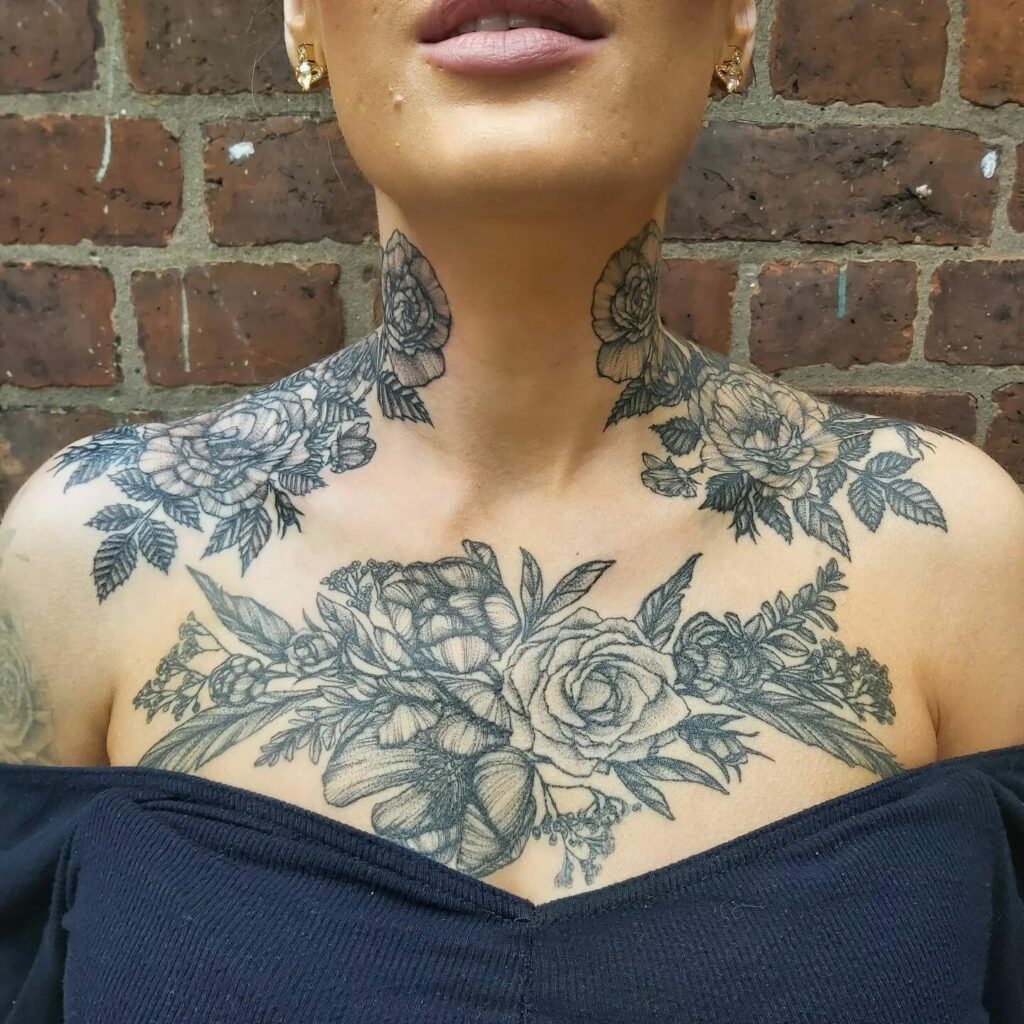 Simple Chest Rose Tattoo
A rose tattoo might just be the perfect fit for you. These elegant and timeless tattoos can be designed in a variety of ways, from simple black or red outlines to colorful variations in yellow, pink, or white. The size of the tattoo is customizable and depends on your preference. When it comes to the color of the rose, it's important to note that each hue carries its own significance. Generally, a rose tattoo symbolizes love, passion, grace, royalty, and affection. To add to the beauty of the rose, many designs also include thorns and leaves. Whether you're a man or a woman, a simple rose tattoo on your chest is sure to make a statement.
Chest Red Rose Tattoo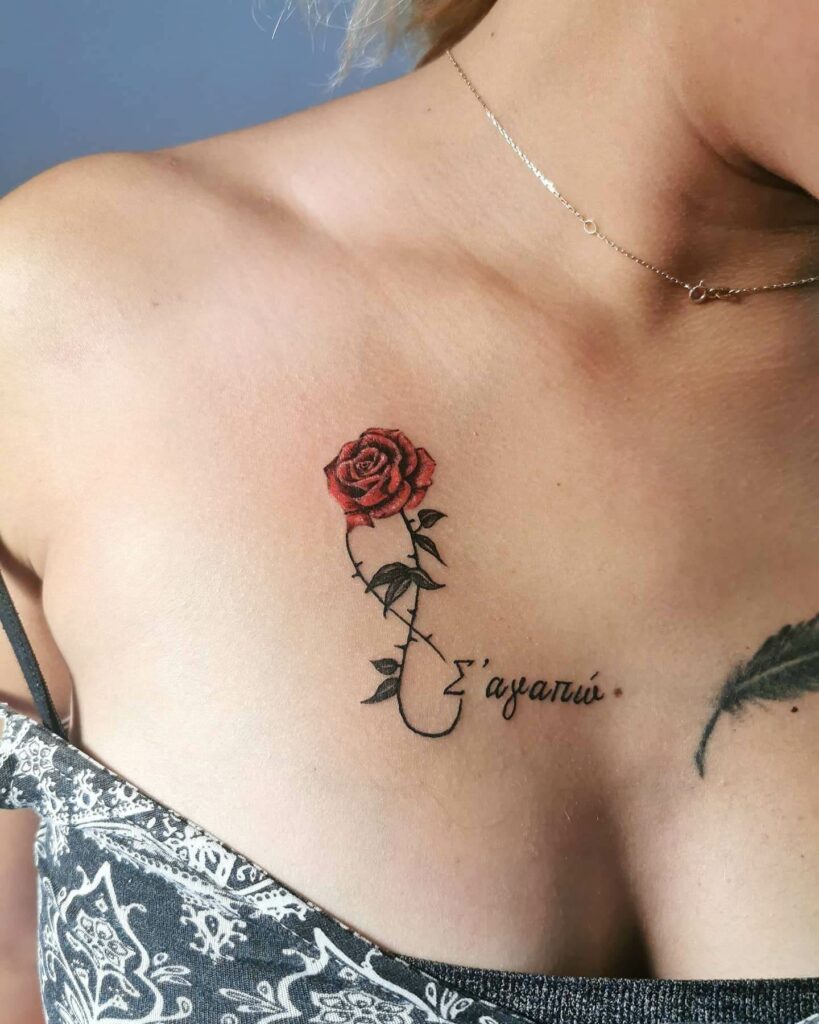 If you're looking for a tattoo design that represents love, passion, or new beginnings, then the red rose tattoo may be the perfect choice for you. This timeless tattoo design has been popular for centuries, and it's easy to see why. The red rose is a symbol of love that is recognized all over the world. However, the meaning of the red rose goes beyond love and passion, as it can also symbolize hope, fire, and new beginnings. This versatile design can be inked in many different places, including the chest, upper arm, hip bone, shoulder, wrist, ankle, and shin.
The beauty of the traditional red rose tattoo is that there are many variations that can be incorporated into the design to make it more unique and personal. Couples can get matching tattoos of two red roses to signify their unity, while others may choose to add an infinity sign to represent eternal love. A red rose tattoo with a cross can be a powerful tribute to someone who has passed away, and there are many more creative ideas that can be incorporated into this classic tattoo design.
Rose On Chest Tattoo With Thorns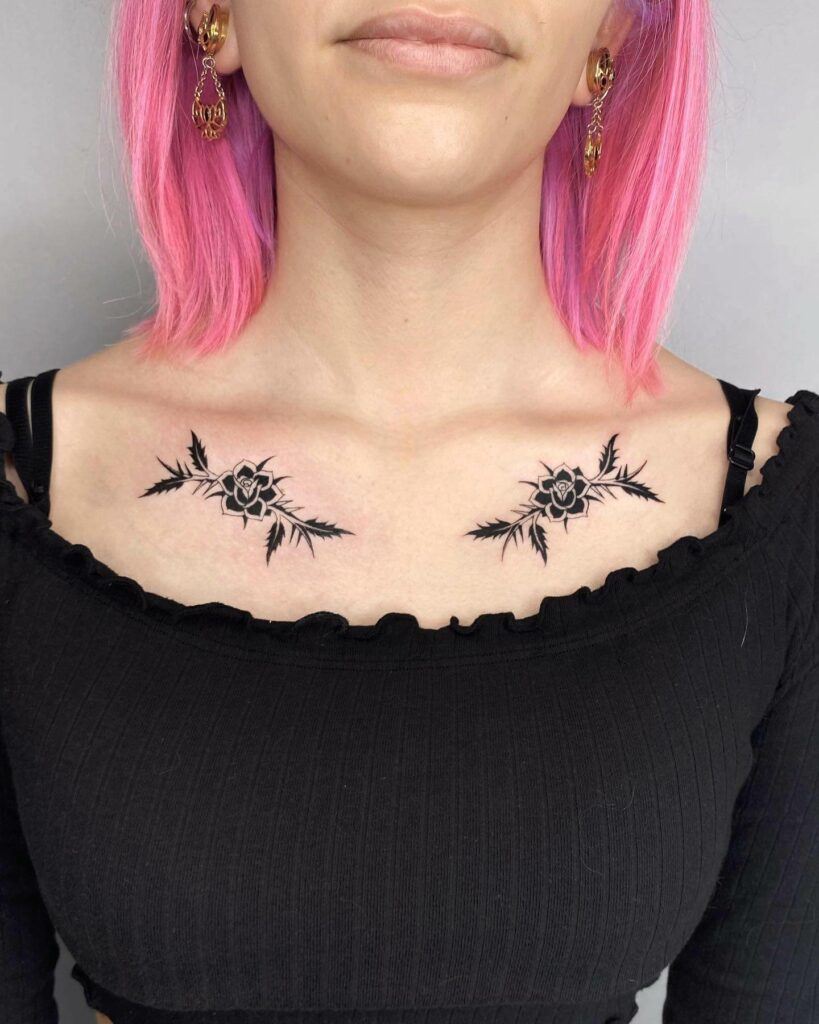 It's true that rose tattoos are often associated with love and passion, but did you know that these beautiful designs can also have a deeper meaning? Many rose tattoos feature thorns, which symbolize the potential danger that can come with love, such as heartbreak or betrayal. The rose stem is often adorned with leaves to make the tattoo look more realistic and demonstrate the idea that love can also bring growth and renewal. These versatile designs are popular among both women and men and can be done in traditional black ink or any color of your choice. So, whether you're looking for a beautiful symbol of love or a deeper representation of the complexities of the heart, a rose tattoo might just be the perfect choice for you.
Chest Black Rose Tattoo
The black rose tattoo design is a powerful symbol that can represent feelings of grief and loss. This tattoo is usually done with bold black ink, and it's popular among both men and women. It can range in size from tiny to moderate and is often accompanied by ornate details like leaves, thorns, dates, and names.
Many people choose to get a black rose tattoo in memory of a loved one who has passed away. The beauty of the rose represents comfort and compassion, while the black color symbolizes death, decay, and sadness. These rose tattoos show a balance between loss and love and can serve as a touching tribute to those we have lost.
Chest Men Rose Tattoo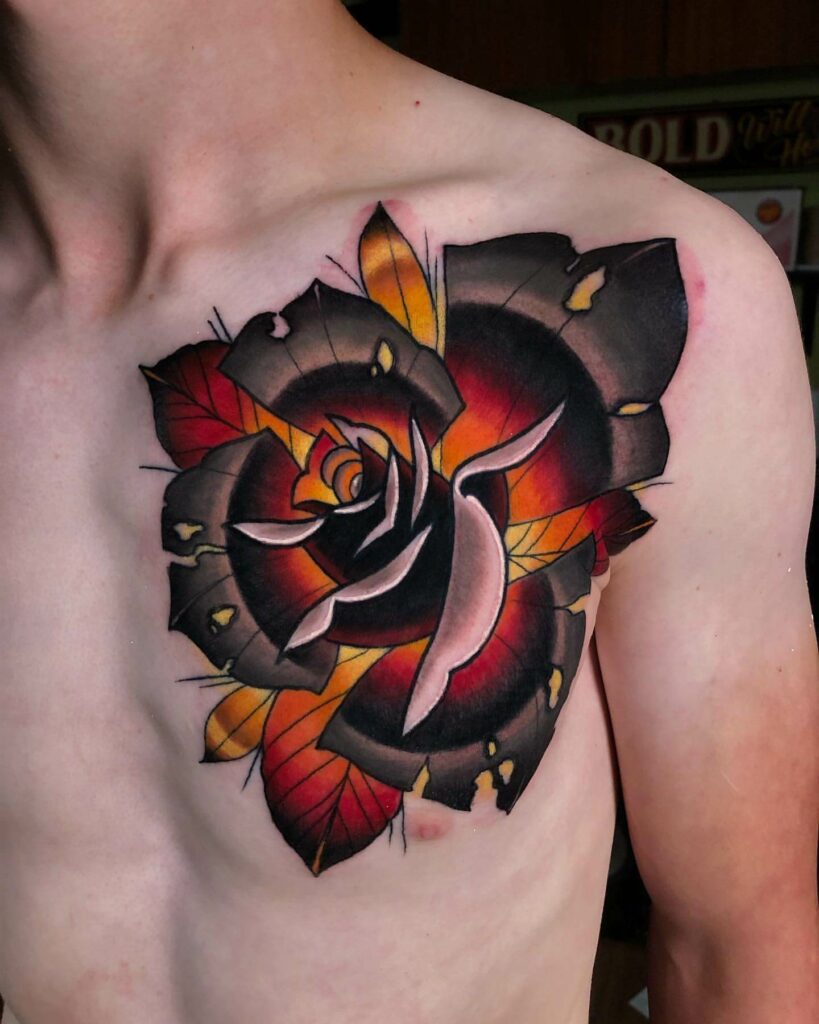 Flower tattoos are often thought to be a feminine choice, but don't be fooled! Rose tattoos, in particular, have become a popular design for men who want to express their love and affection through body art. The chest, being close to the heart, is a favored location for these tattoos, which serve as a symbol of eternal love.
It's important to choose the right color for your rose tattoo, as each hue carries a unique meaning. Red roses symbolize passion and unconditional love, making them a popular choice among couples. Black roses, on the other hand, are a tribute to a lost loved one. Yellow roses signify friendship and are a great option for those looking to honor a special friend. With so many color options available, the possibilities for meaningful rose tattoos are endless.
Realistic Rose Tattoo On Chest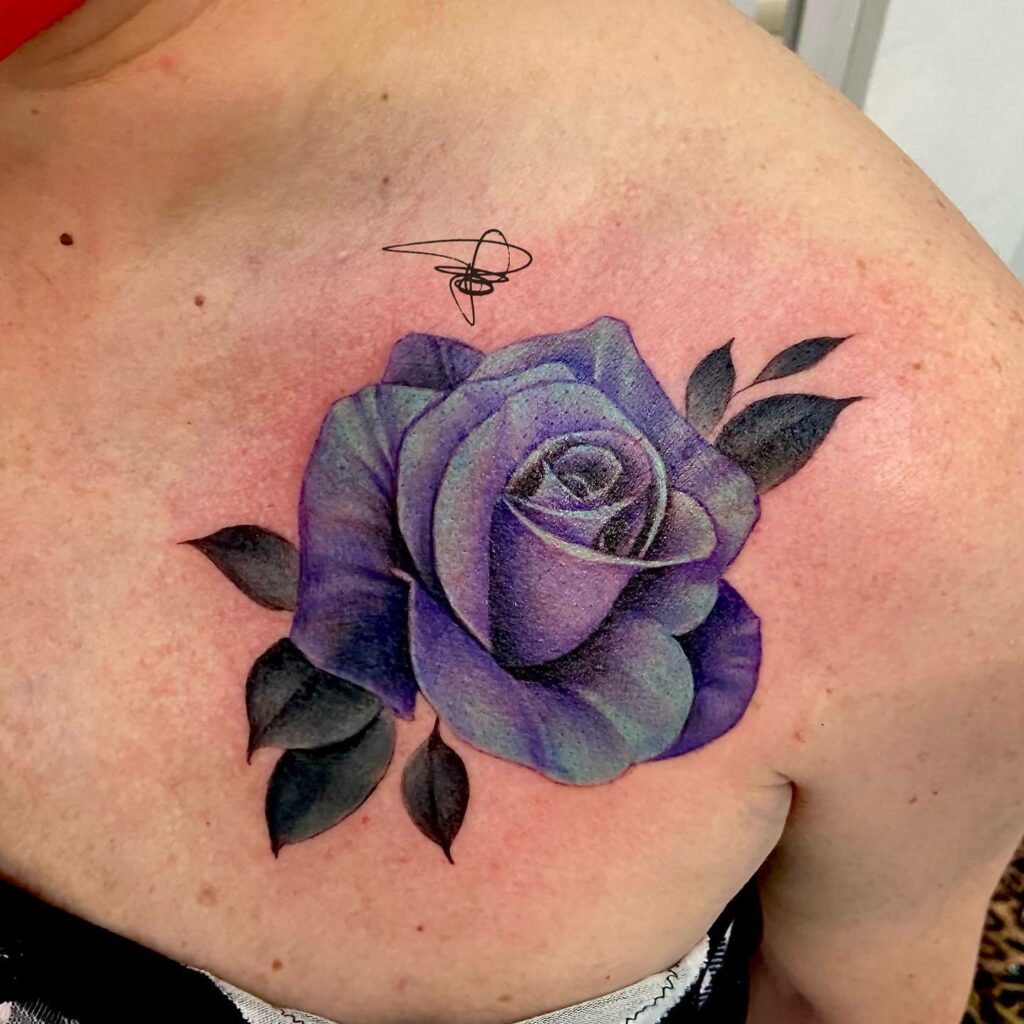 Realism in art has been around for centuries, but when it comes to tattoos, it takes on a whole new level of meaning. Realistic tattoos bring the everyday world to life with intricate details and vivid colors that can make you do a double-take. Among the most sought-after realistic tattoos are roses, which have a special place in the hearts of men and women alike. These tattoos capture the beauty and passion of love, whether it's found or lost. They can be done in a variety of colors and styles, and often feature thorns and leaves to show the complex nature of relationships. When done right, a realistic rose tattoo can be a true work of art.
Chest Yellow Rose Tattoo
Yellow roses aren't just for romantic partners! In fact, they're the perfect way to symbolize a strong bond of friendship. This design is popular among both men and women, and can be done in either bright or dark shades of yellow ink. For a unique twist, some people choose to add additional elements like birds, ribbons, or clocks to their yellow rose tattoos.
Beyond friendship, yellow rose tattoos also carry meanings of joy, mature love, protection, and comfort. When you see someone with a vibrant yellow rose tattoo, you can assume that their friendship is flourishing. On the other hand, a wilting rose may indicate that they're experiencing some trouble in their friendship, or may have lost a friend altogether.
Chest White Rose Tattoo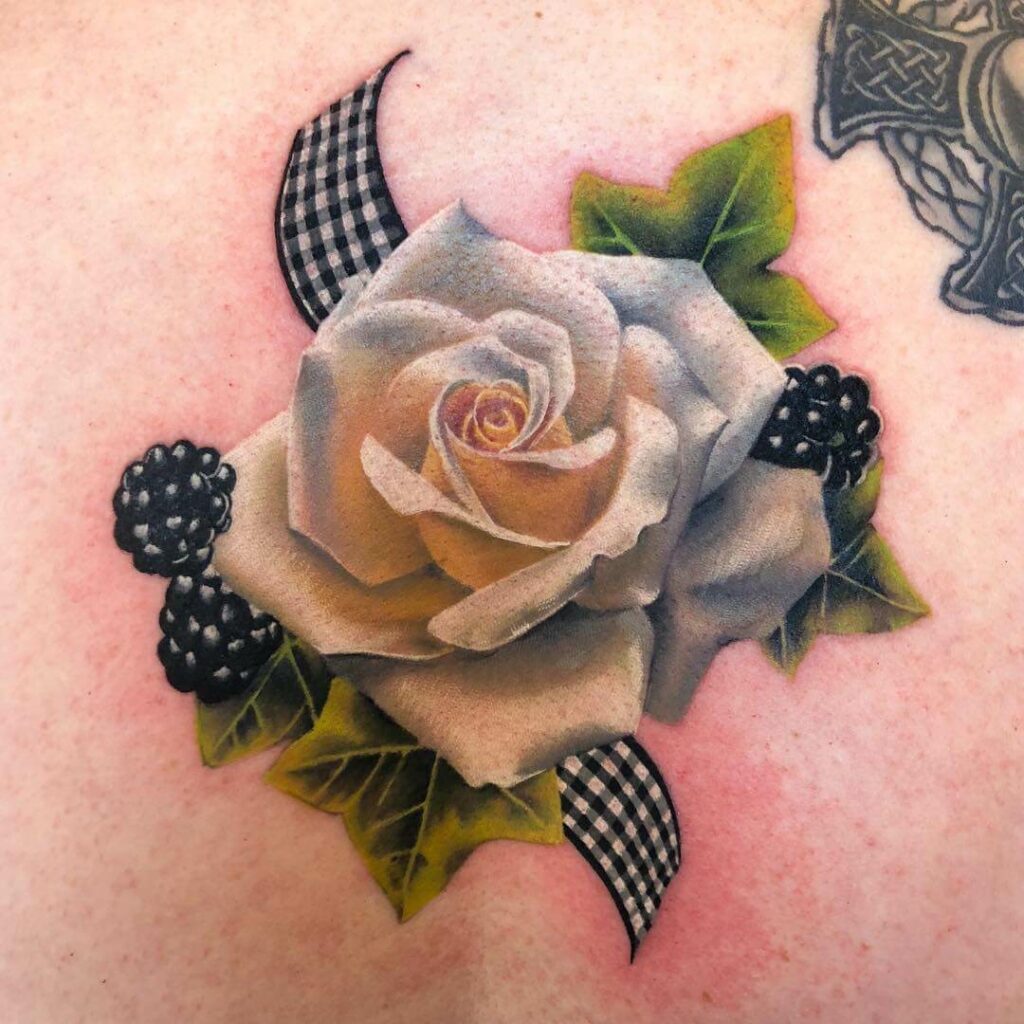 These tattoos are often done with incredible realism and are especially beloved by women. They can be inked in a range of sizes, from medium to large, and are popular on the arms, shoulders, legs, and back.
In ancient times, white rosebuds were considered the symbol of young maidens, known for their purity and beauty. Today, white rose tattoos are often seen at marriage ceremonies, representing new beginnings. Those who choose white roses as their tattoo symbolize traits of loyalty, youthfulness, and innocence. Whether you're seeking a symbol of purity or just love the look of white roses, this tattoo is a beautiful and meaningful choice.
Chest Small Rose Tattoo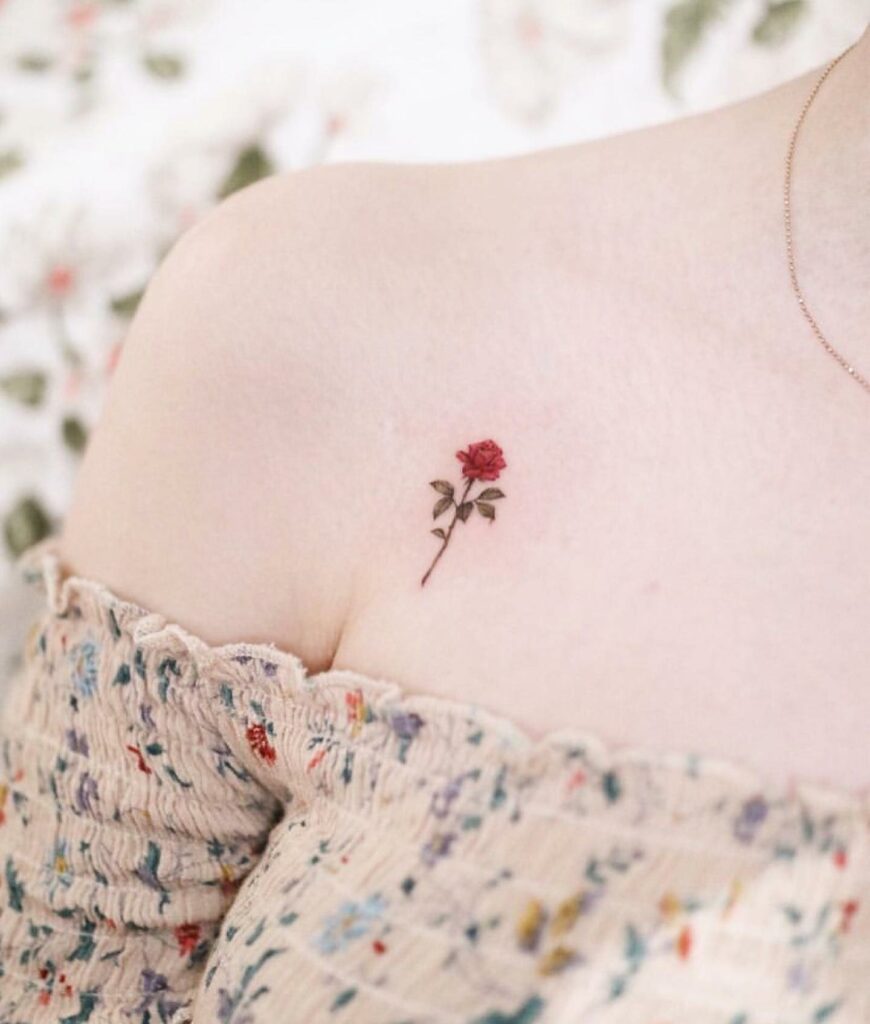 In the world of tattoos, the phrase "less is more" has taken on new meaning with the rising popularity of small rose tattoos. These dainty designs, often consisting of a single rose or a small bouquet, can pack a big punch despite their diminutive size. While beloved by both men and women, these cool rose tattoo designs are especially favored by those who are more introverted or reserved. Typically associated with love and passion, the meaning behind these tiny rose tattoos can be quite personal and intimate, just like the tattoo itself.
Chest Rose And Skull Tattoo
The combination of skull and rose tattoos can create a stunning effect, particularly when inked onto the chest. This style of tattoo typically ranges in size from medium to large, with the skull done in black ink and the roses in pink or red. The design reflects the duality of life, with the rose representing the beauty and vitality of nature, and the skull symbolizing death and decay. In Mexican style tattoos, the skull and rose combination takes on a different meaning, representing the Day of the Dead and serving as a way to honor those who have passed away.
Whether you opt for a realistic or an outline rose tattoo, the chest is an excellent placement choice. However, chest tattoos can be time-consuming and challenging to execute, and they may be painful if the skin in that area is thin. So, if you're considering a rose and skull chest tattoo, be prepared for a bit of discomfort and plenty of patience during the inking process.
Still looking for inspiration, then checkout this blog post about broken heart tattoos
Feature Image from Pinterest – Want your tattoo to look brighter? Try "Tattoo Balm"
Last reviewed and updated on April 19, 2023