Looking for high-quality Rosie tattoo designs? Don't worry. You're at the right place! Check out these amazing tattoo ideas selected for you!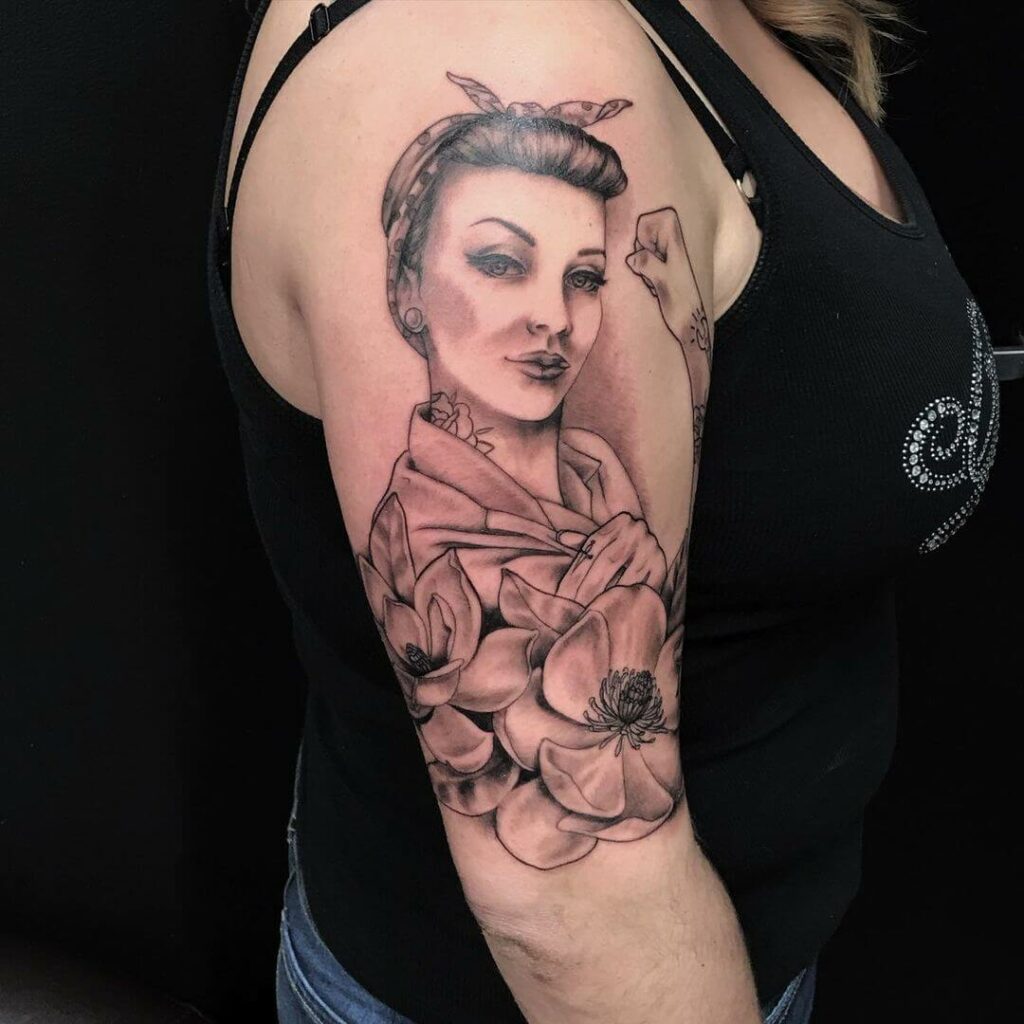 Rosie tattoos are well-known for their popular female figure of an American woman.
Rosie the Riveter was originally coined during World War II. During this time, women started to replace the male workers in the factory and other working positions in society.
The figurine links working ethics in women from every social position. The popular pose of the lady showing her biceps is a direct indication of the fact that she is on par with their male counterparts. The appealing image and the nomenclature gained popularity after the 1944 Hollywood film "Rosie the Riveter".
You will find the American woman with a headband, and posing sidewise, she shows her bices in the tattoos. You might come across catchy quotations with few variations, and often the lady is equipped with tools that one would find in a factory, like a drilling machine. Another important observation is that the lady in the tattoo is without any ornament to reduce the feminine aspect of her sex.
Go through this little gallery of Rosie tattoos to collect some ideas for your very own tattoo!
Vibrant Rosie Tattoo In Yellow And Blue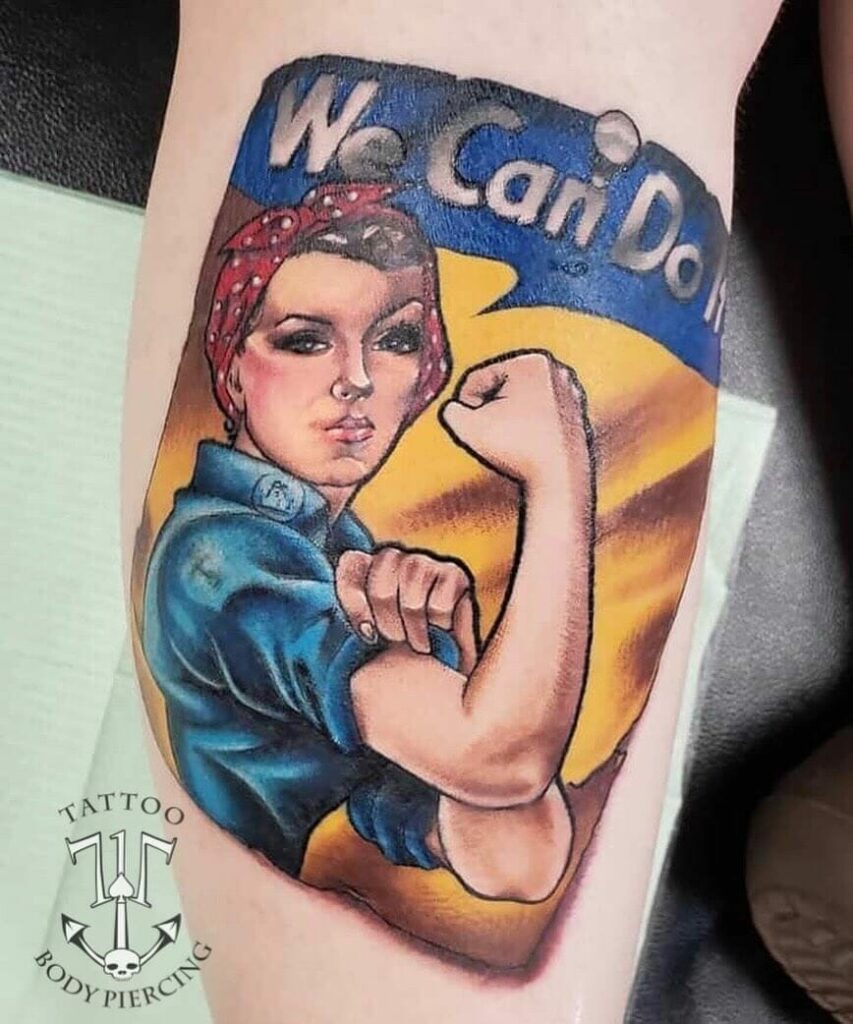 Certain features of this Rosie the Riveter tattoo is that it offers a very clean-looking, colorful one out of the various Rosie tattoos available in the tattoo market. You will get clean color shades along with the female Riveter wearing a blue shirt and a red headband in polka white dots. The unique quotation is "We Can Do It" in an indigo blue speech bubble.
If you are looking for a pleasant-looking tattoo, then get yourself inked today! It links your personality as a confident being. Generally, women go with this specific tattoo design since it proves a body of statement in favor of the women folk. This tattoo will be a good choice for the wrist. There are other possible variations with this Rosie tattoo which depend on the advertising and measurement services of the tattoo parlor you are visiting.
Barbie Vibes Rosie Tattoo
If you want a different image style with the same concept of Rosie tattoos, this can be a good choice for you! It is barbie styled Rosie tattoo with a black cat around the biceps. The colors are very vibrant with shades of skin tone color. The color contrast makes it look attractive. The unique characteristic of this tattoo is that the girl is wearing a T-shirt, unlike the popular image of the woman wearing a shirt.
This Rosie tattoo links the ethics of animal rescue and one's love for pets and animals. If you are an animal adorer, then you can express your sentiments through this Rosie tattoo. Only a girl will find this tattoo appropriate for their arms.
Cute Cat Styled Rosie Tattoo
This tattoo comes with certain features that you will not find easily in others! Anthropomorphic cat has replaced Rosie the Riveter, and it produces a surreal effect with the juxtaposition of cat, headband, Rosie's blue shirt, and sunflowers around. The most aesthetically pleasing combination of blue and yellow has been used.
The simplistic image carries a beauty of its own, and the very smile of the cat will make you happy! If you are a cat adorer and want to reflect on working ethics which stands for solidarity that the American culture had produced in the 40s and 50s through long struggles of feminist movements and all. This tattoo is gender specific. Girls can ink this Rosie tattoo on their wrists.
Pastel Shade Rosie Tattoo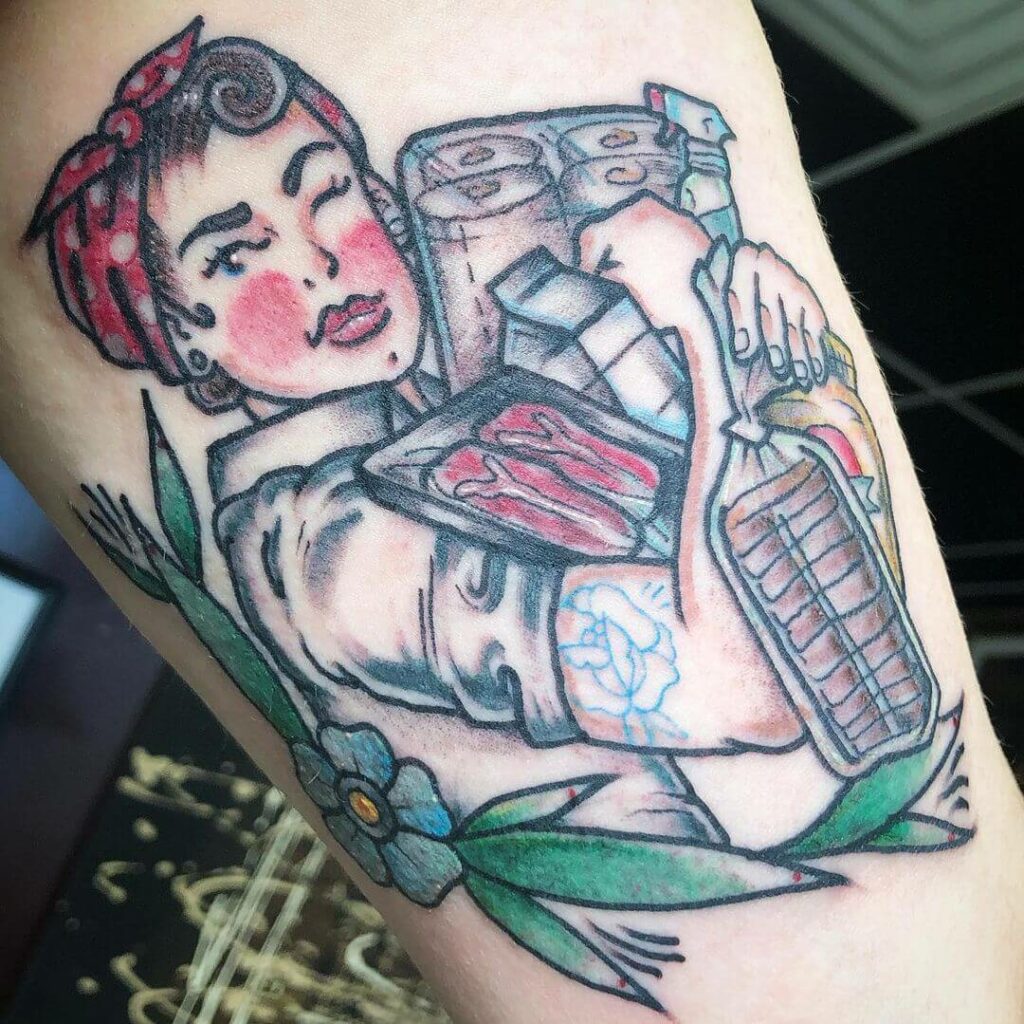 Unlike the stereotypic Rosie tattoos that depict the American woman as a factory worker, this tattoo breaks away from the stereotype. It addresses the stigma that developed in the contemporary white American women of the 40s and 50s who wanted to have equal rights with their male counterparts while giving up household chores.
The above Rosie the Riveter tattoo is for girls who take care of their household along with their jobs elsewhere and would find this pastel-shaded tattoo a pleasing one. You will find a smudgy texture on the colors that provides a blending tone which is common to the pastel color mixing shades. The blue flowers and the leaves of the tattoo provide it with a professional look. It shows what true art tattoos can be! More options are not available with this design.
Rosie Tattoo With Red Rose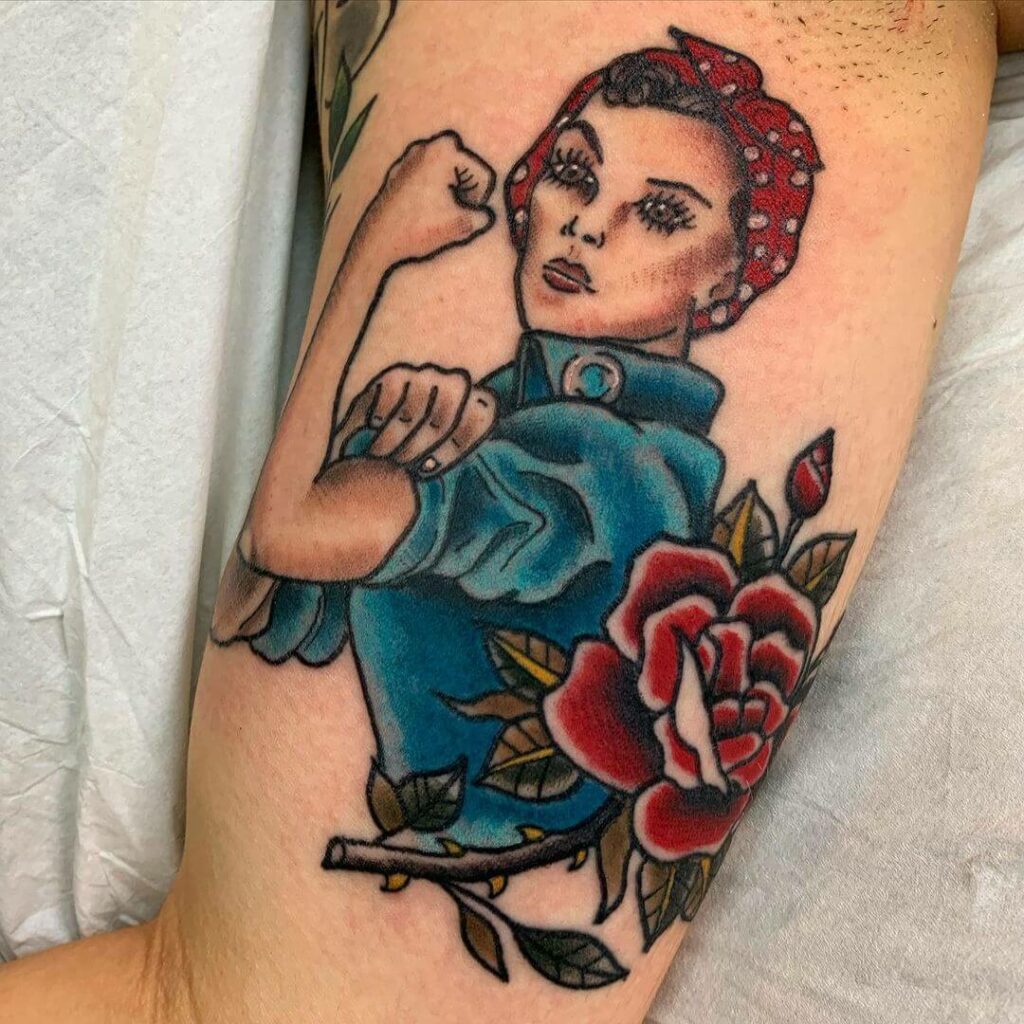 If you want to go with the regular Rosie tattoo design, then this one can be a good one for you! You will find all the original aspects of the Rosie tattoo within it. But what makes it more prominent is the red rose to juxtapose its blue shirt of Rosie. Another important factor that can probe you into thinking about this tattoo before going for it is that this figurine is laterally inverted from the original one.
This Rosie tattoo will provide you with a strong force of positivity, one can also hint at the freedom in the workspace along with female empowerment. The proportions of the Rosie tattoo might make it challenging for the tattoo artist if the tattoo is drawn anywhere other than the forearm. Try the best tattoo shop in your locality for a safer experience.
Minimalist Rosie The Riveter Tattoo
Not always is a vibrant colorful tattoo a cool thing to go for; there are other ways one can think of. The minimalist Rosie tattoos are also stunning and awesome if inked properly. The simplicity of the design can refer to your passion for simple things in life, which gives us refreshment. Art with such perspectives controls essential features of a product. This tattoo links a person with aesthetics.
It is not a large tattoo, and most importantly, if you want to retain the proportions, you should get it inked on your wrist only. The simplicity of the tattoo is intended for a gender-neutral audience. Don't forget to check in at your nearby sites about this tattoo on one of your walk-ins today! You might land up on more options to choose from!
Rosie Tattoo With Unicorn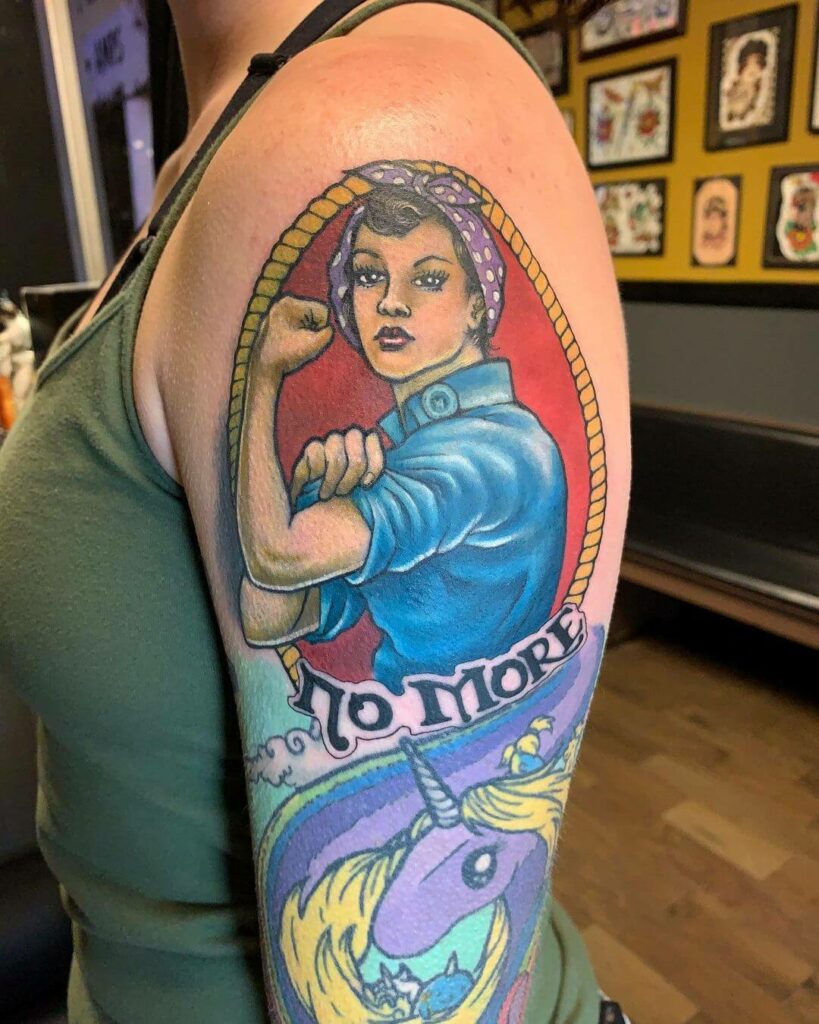 The essential element of this Rosie tattoo is that it has got companies! A unicorn in a rainbow shade is floating below Rosie the Riveter, and interestingly Rosie got no tools; she only shows her biceps. A ring made of rope encircles the subject of the tattoo. A nice text has been added to it that says "NO MORE".
This tattoo is really a masterpiece and should be added to a tattoo gallery. Rosie stands without tools, but with a unicorn, it extends the symbolism from working ethics to freedom of joy. If you are inking this tattoo, make sure that the artist goes with proper measurement, services vary from town to town. And provide a good review to your tattoo artist.
Cute Robotic Rosie Tattoo 404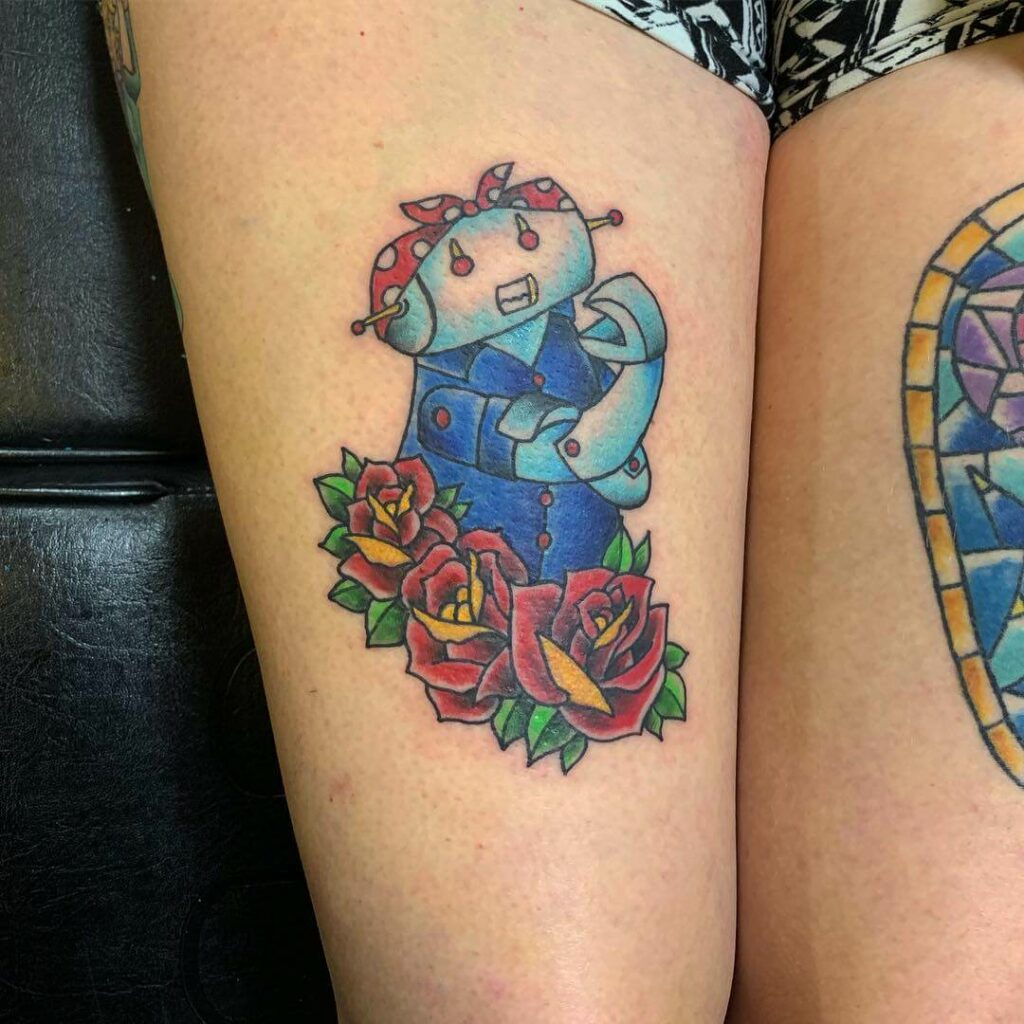 Rosie has been turned into a robot in this tattoo. If you are both a robot fan or an enthusiast of futurism and want to get a Rosie tattoo, then this can be a good choice. It harbors the same passion for a Rosie tattoo along with a few extras for the robotic vibes.
This can be a good tattoo for girls to get inked on the thigh or shoulder. Not that it is a large tattoo, but a medium-sized one that will also get fit onto your arm. And a review is very important for tattoo artists for the introspection of their art, so don't forget to pay tribute to their services if you like their art innovations.
Skeletal Rosie Tattoo
Another new innovation of the Rosie tattoos would be this one! Rosie is neither a human nor a robot. You will find a skeleton in its place.
If you want a caricature of the iconic figurine, then you are good to go with this tattoo. The skeleton wears a shirt and flexes its muscle just like Rosie! It is a black tattoo and is suitable for women. You can get this peculiar art inked on your arm muscles.
Macho Rosie Tattoo In Black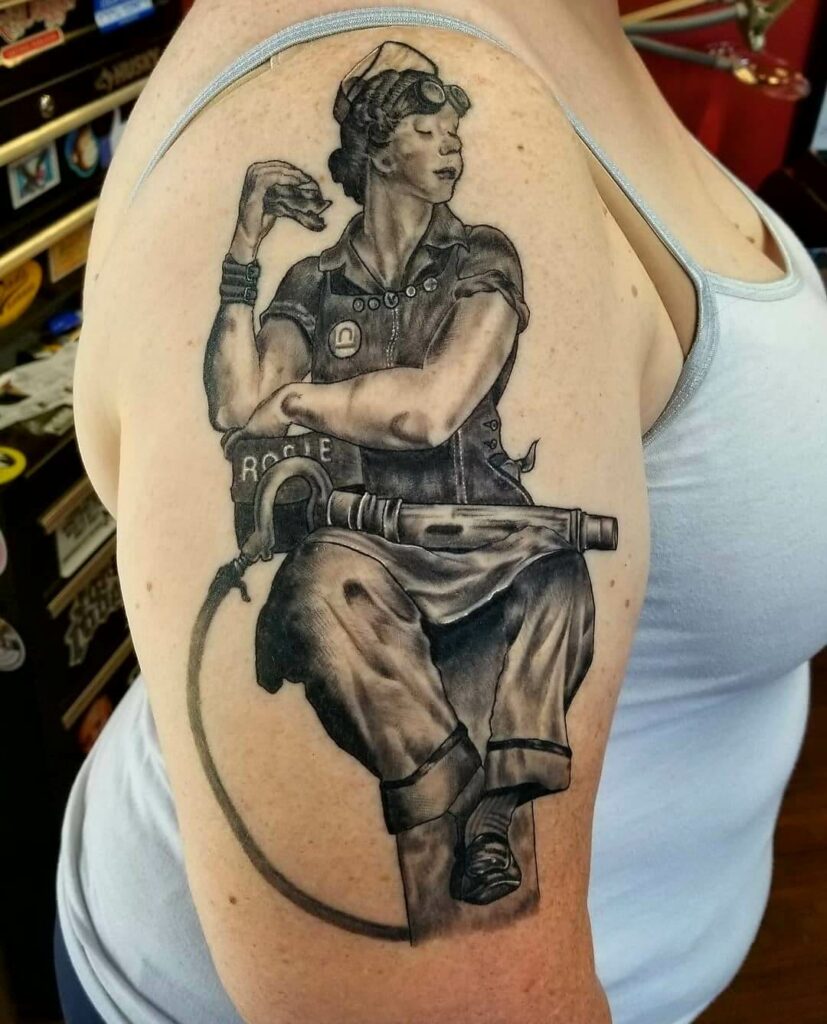 This is the only full-sized Rosie tattoo you would come across in any Rosie tattoo gallery. Rosie is wearing her traditional shirt with folded sleeves sitting in a condescending posture. She also carries her tool along with her, which is kept on her lap while she is sitting. Interestingly, no ornament has been used to add to her beauty, rather, she wears male outfits that give it a macho appeal.
If you are a bossy girl with a dominating nature who likes to take charge of her duties all the time, then this tattoo can be a good choice for you. It's suitable for women and girls with fairly large arm muscles since the tattoo is large in size.
Rosie the Riveter is a popular symbol for women, so it is natural that most of the tattoos are for girls. You can search "cover up tattoo artist near me" on the internet to find nearby tattoo stores. Tattoo shops in Knoxville Tn and Tennessee tattoo are good places to check in, improve Facebook products, and post as many tattoos as possible. A Rosie tattoo can cost anywhere between $50 to $200.
Feature Image from Pinterest – Want your tattoo to look brighter? Try "tattoo balm"
Last reviewed and updated on March 9, 2023