Are you looking to get yourself inked with a samurai head tattoo? Here is a list of some awesome samurai tattoos that represent the best of Japanese culture.
In Japanese culture, samurai tattoos are pretty popular.
Even though it is not a popular tattoo in America, it has a following, particularly among Japanese admirers. Their designs are incredibly intricate and vibrant.
Even though they exist in a range of sizes and styles, most designs are larger, owing to the level of detail in this tattoo. These warriors are one of the most popular Japanese tattoos.
Traditionally, their style generally symbolizes the samurai's characteristics and features. It may represent various things, including strength, respect, and courage. With numerous motifs and symbols that might accompany their topic, the designs are pretty gorgeous and excellent for a sleeve tattoo. Traditional Japanese tattoos for samurais can include elements such as cherry blossoms, koi fish, and houses. These samurais represent the culture. Japanese Samurai head tattoo design is very versatile.
So because samurai lived each day as if it were their last, your tattoo might represent the same thing. It may be present to remind you of how fleeting life is. It can serve as a reminder to live each moment as if it were your last because no one knows what tomorrow holds. Those who respect the samurai and their culture may also choose it. People chose to ink these samurai class tattoos on skin sites such as the chest, leg, forearm, or shoulder. The meanings of all tattoos are different, and they all are unique.
The Female Samurai Tattoo
This is a beautiful traditional Japanese tattoo that has been inked in different colours by the tattoo artist. Since samurai tattoos are connected with Japanese culture, they are frequently created with Japanese symbols. They are usually depicted with their katana, which is a sort of sword. They are linked to cherry blossom, a traditional Japanese warrior emblem. The samurai mask has also been linked with great details. Their styles change a lot, and here we see a female samurai instead of a male one. You can get this tattoo on any part of your body, such as the chest or back. If you want to honour these female warriors, this is a great samurai mask tattoo.
The Cherry Blossoms Tattoo
Japanese samurais and cherry blossoms go a long way; these warriors have been associated with them in Japanese culture for thousands of years. Birth and death, beauty and violence are all represented by cherry blossoms. They are a major image in Japanese nature worship, but they have also traditionally represented the samurai's brief but colourful existence. They have deep roots and meaning in the culture. If you want to complete with tattoo design further, you can include severed heads, skulls, a samurai helmet, and a rising sun tattoo as well. This samurai tattoo design can also look good as an upper arm, shoulder, and hand tattoo.
The Black Namakubi Tattoo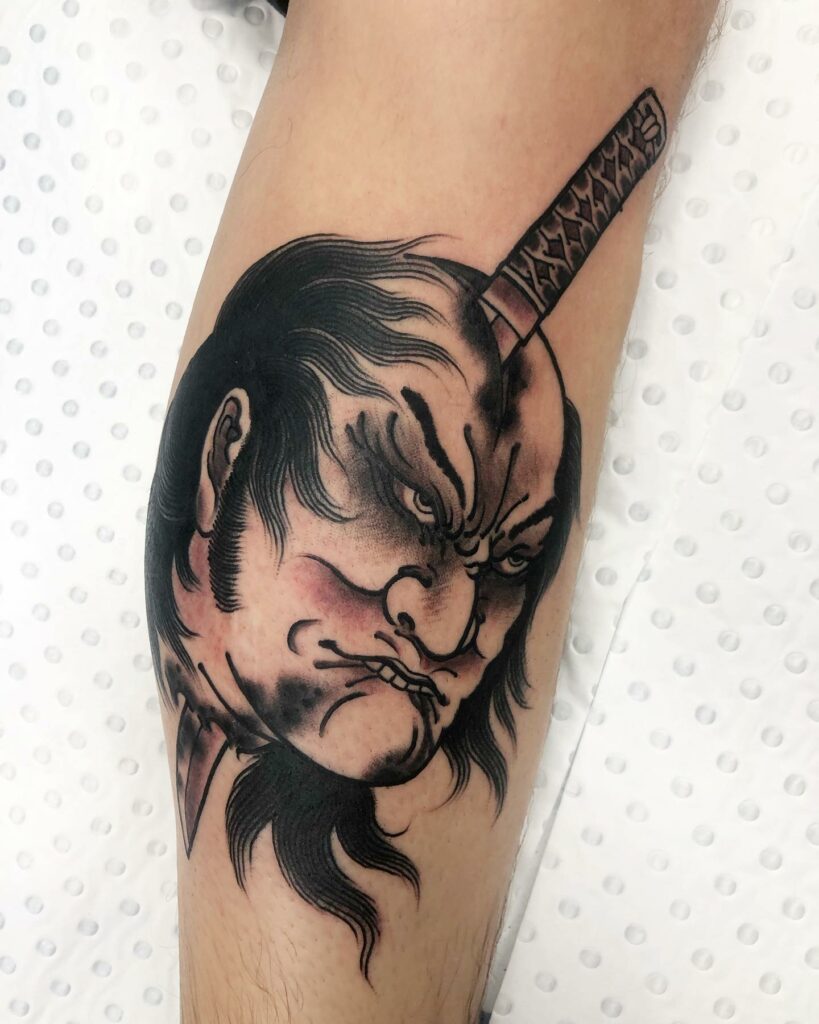 A Namakubi tattoo can represent morality, power, dignity, and courage. Namakubi tattoos typically depict the most extreme aspects of warrior ethics, such as dying at the hands of your adversary for the honour of being a genuine soldier. For many people, a Namakubi tattoo design may be a constant reminder of their commitment to higher principles, such as those held by the nobility class. Namakubi tattoos like these have great symbolism. You can stick to this Namakubi tattoo design or include another form of samurai head tattoo design.
The Arrow Head Tattoo
A Namakubi leg tattoo like the one above can be used as a filler or the focal point. Since there is so much wrapping involved with legs compared to a region like the chest, designs like a Namakubi are ideal for putting on more later or as a stand-alone tattoo. Due to the obvious variations in size and add-on embellishments, they fit extremely well with the body's natural contours. You can include a skull, severed head, and other samurai class elements.
The Koi Fish Tattoo Ideas
Koi fish tattoos are found in many different samurai head tattoo designs. Perseverance is the most popular meaning of koi fish tattoos. They are frequently used to represent personal problems that one has conquered or is conquering. Other meanings can be added depending on the tattoo's colours and design. You can integrate this koi fish tattoo into a samurai sword through its head tattoo or traditional samurai head cut-off tattoo.
Burning Samurai Skull Tattoo
Japanese skull tattoos have profound meanings. Life, death and the shift in your life following the loss of someone significant to you are all represented by Japanese samurai skull tattoos like the one shown above. The Japanese skull tattoo's overarching motif changes. Since death is one of the most significant points of transition in one's life, an event with finality, the skull motif is employed in connection with its symbolism of change. You can also add a tattoo sword next to the skull in this design.
The Warriors Tattoo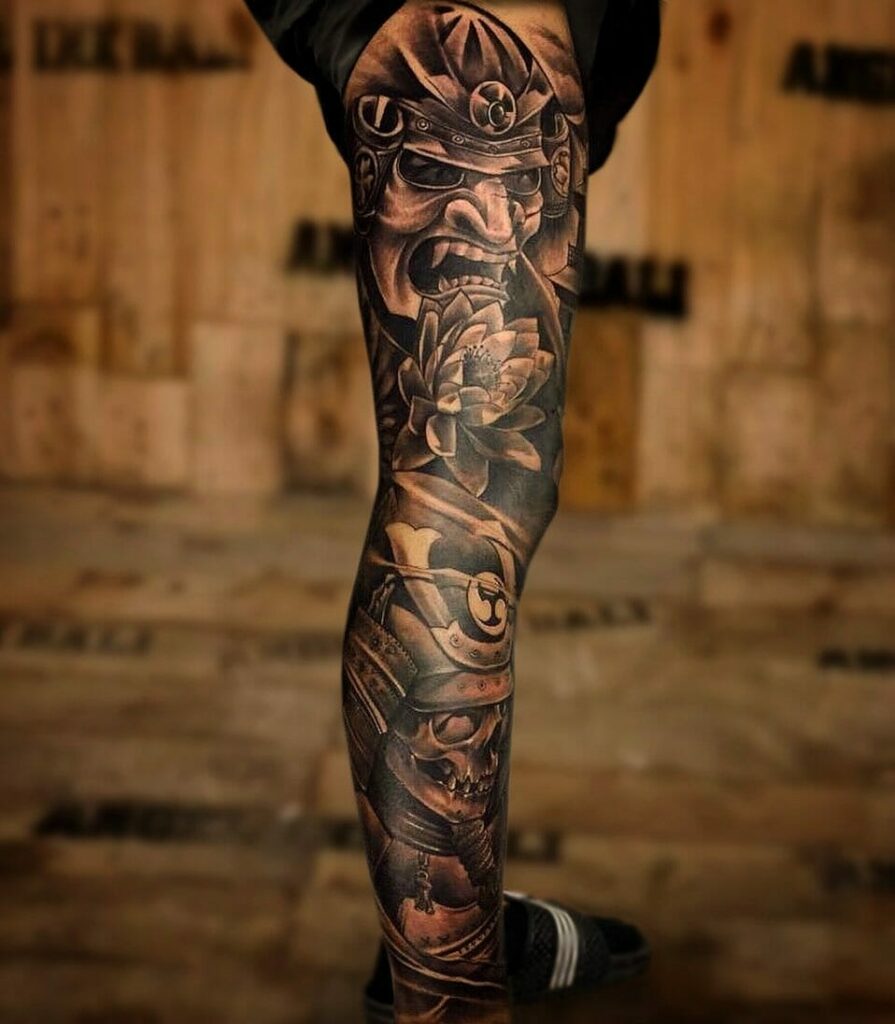 Samurais are not only respected in Japanese culture but also in the form of Japanese tattoo art, with particular motifs honouring the Samurais' dignity and valour. These unique tattoos have grown in popularity not just in Japan but also across Asia and other areas of the world, where people admire the Samurai designs for their elegance and respect. Tattoo designs like the one in the link are suitable for a shoulder or sleeve tattoo.
The Battle Warrior Tattoo
Samurais are depicted wearing stunning helmets and masks, as well as skulls, to signify that they were brave in the face of death in a battle. These designs also include their weapons and represent courage, strength, and power. These tattoos are manly and depict the samurai's purpose of serving and protecting the nobles and upper class. A warrior tattoo like deserves a place on your chest or the back.
The Female Samurai and Sword Tattoo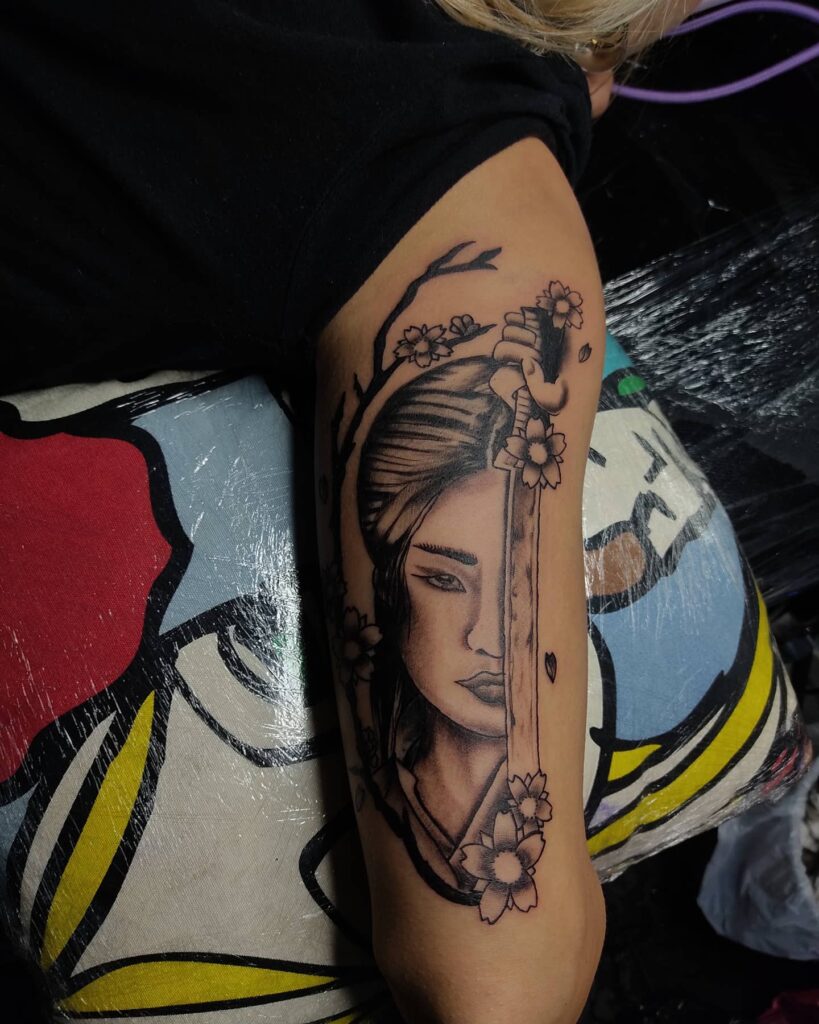 Female samurai tattoos are another popular category of traditional Japanese tattoos. Here, the tattoo artist has inked the tattoo in black ink and shows a half face with a sword. You can get this tattoo design on your chest, leg, or back. You can also include elements from a lady samurai holding head tattoo as it is one of the most popular ones for lady samurais.
The War Ready Tattoo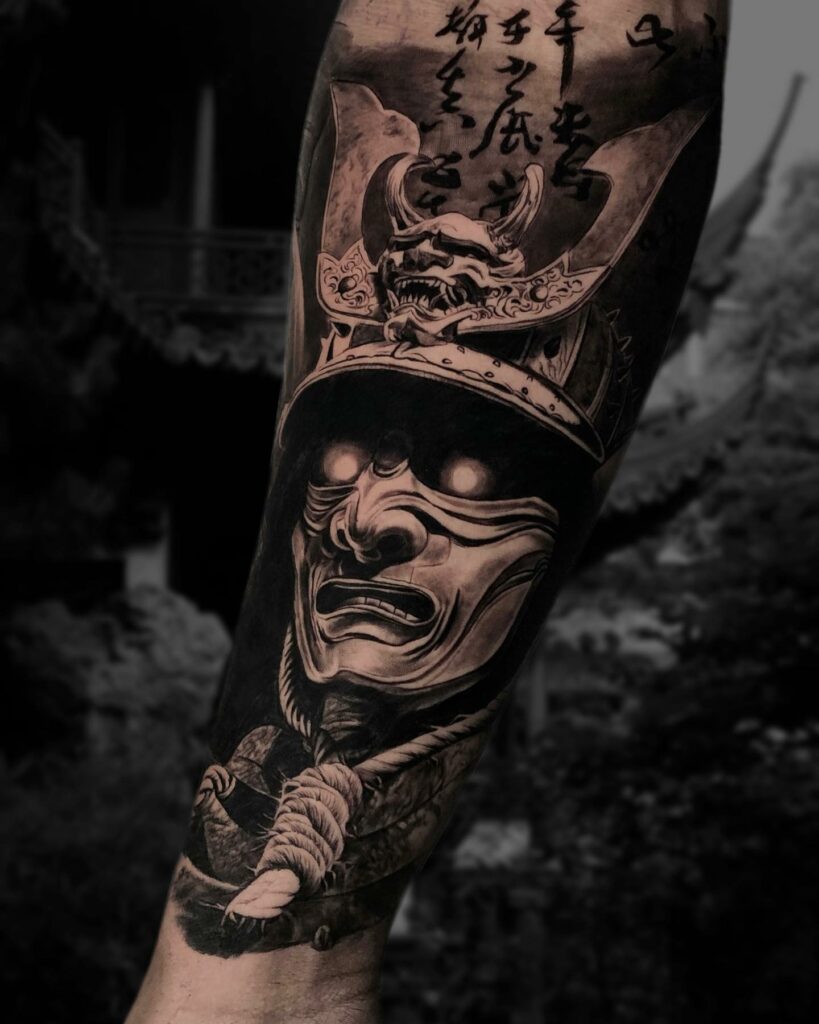 This is another classic Japanese samurai tattoo done entirely in black ink. The tattoo artist has tried to add an element of realism to the tattoo design, which makes it different from most of the common samurai head tattoo designs. You can get this tattoo inked on your chest as well. Japanese samurai mask tattoos are among the best types of samurai tattoos.
Still looking for inspiration, then checkout this blog post about head tattoo ideas.
feature image from Pinterest – Want your tattoo to look brighter? Try "Tattoo Balm"