Are you captivated by the playful charm of sea otters? If so, you're in for a treat with our delightful collection of sea otter tattoos that are sure to enchant and inspire you!
Sea otters, the heaviest marine mammals in their native eastern North Pacific habitat, are undeniably adorable. With their thick fur, inquisitive nature, and excellent swimming abilities, it's no wonder they've captured so many hearts. In the world of tattoos, animal-inspired designs are popular for their symbolism and intricate details, and sea otters are no exception.
Otters are known for their fierce protectiveness, making them symbols of resilience, strength, and courage. While many people choose otter tattoos for their undeniable cuteness, it's essential to ensure the design aligns with your personality and ideals. When selecting an otter tattoo, consider a realistic style rather than a cartoonish one, and ask your tattoo artist to avoid pastel shades.
With an appreciation for the symbolism and allure of sea otters, you're ready to explore our curated selection of enchanting otter tattoo designs. As you browse, pay attention to the design and quality to find the perfect otter tattoo that resonates with you. Let's dive into the world of sea otter tattoos!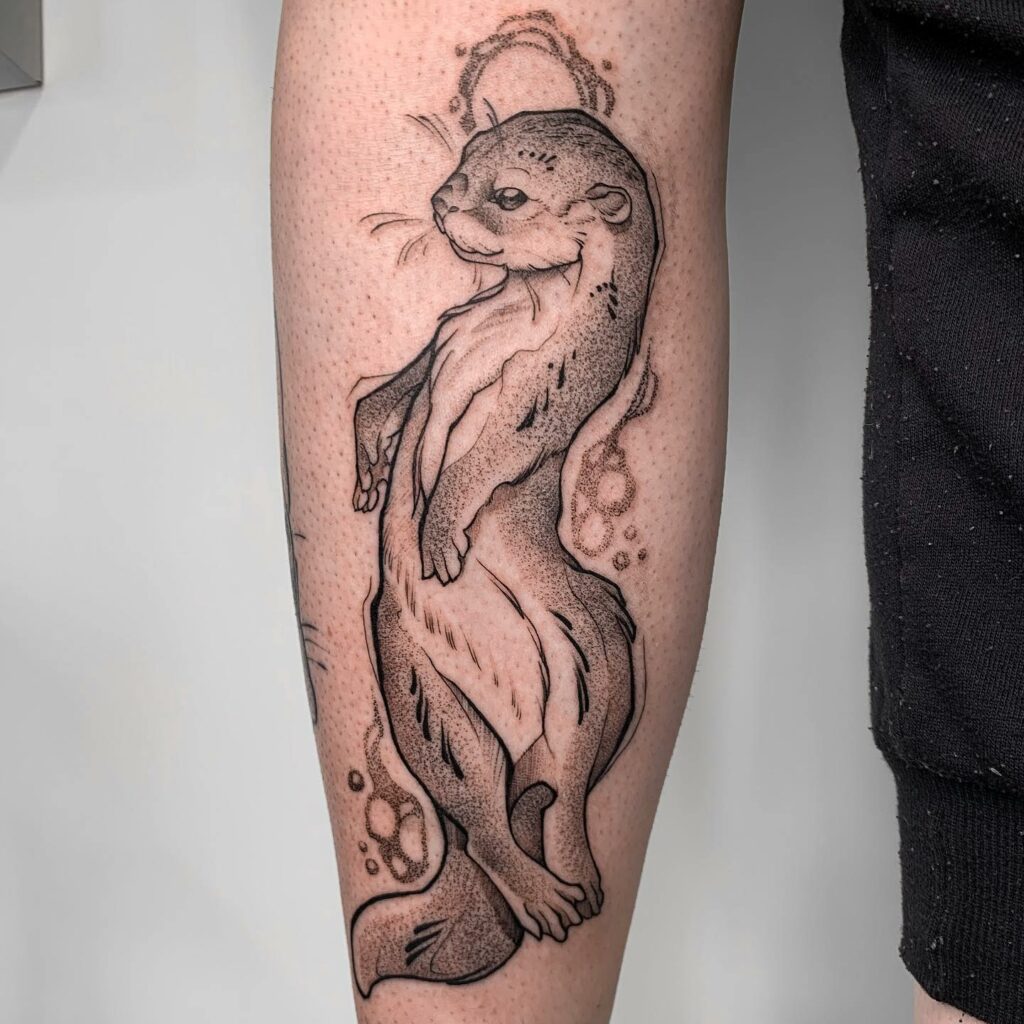 Black And Grey Twin Otter Tattoo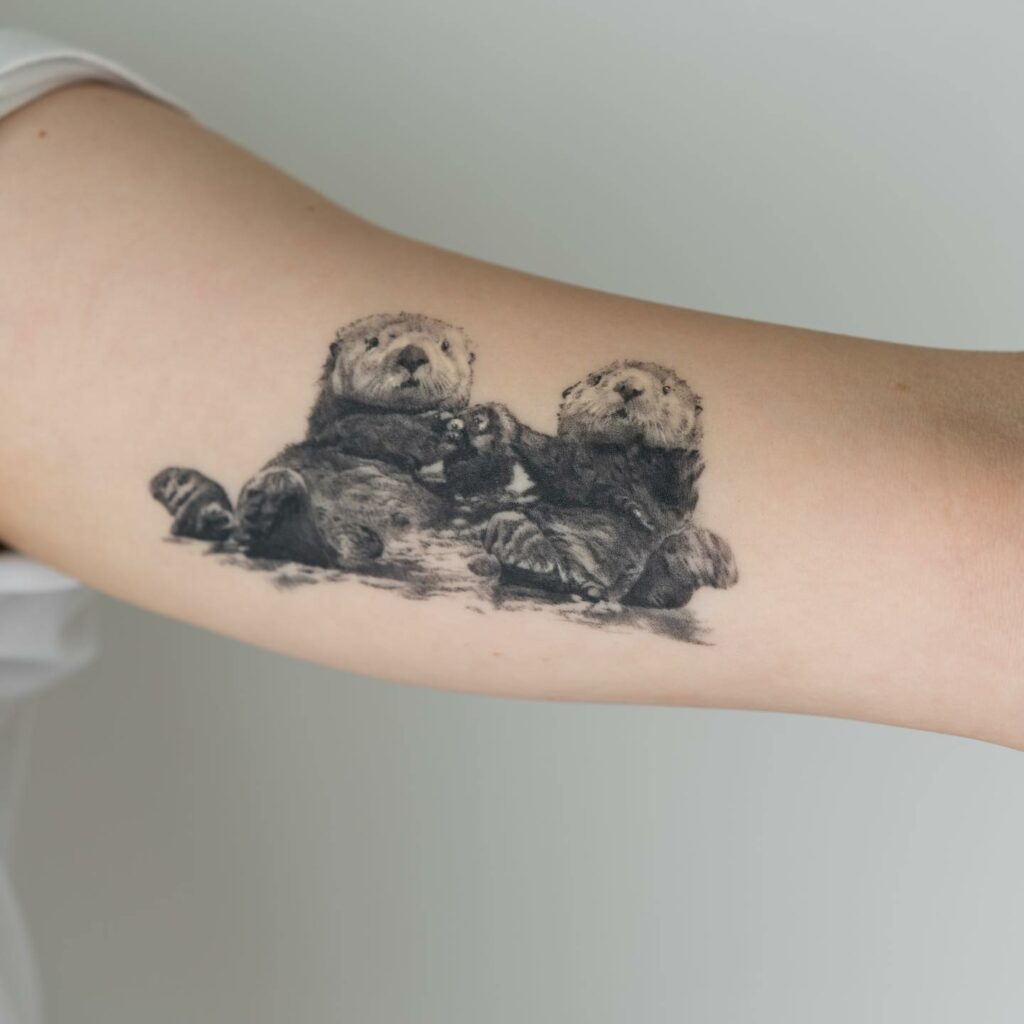 If you're a fan of otter tattoos, you'll love this particular design. The style of the tattoo is characterized by detailed shading in black and grey ink, which adds depth and texture to the design. It's important for the artist to be skilled in shading techniques to ensure the quality of the tattoo. This particular tattoo features two sea otters, which symbolize strength and power, and is best suited for placement on larger areas of the body, such as the arms or thighs. The realistic techniques used in this tattoo make it look almost like a photograph, which is sure to impress anyone who sees it.
Dot Work Otter Tattoo With Universe
Otter tattoos are highly popular for their unique and adorable appearance, and this dot work design takes it to the next level. The dot work technique used in this tattoo is highly sought after as it requires immense skill and precision to execute. What sets this otter tattoo apart is the incorporation of various elements within the body of the otter, including the universe and a cell phone. The otter is a symbol of strength, while the cosmic universe adds a touch of mysticism to the tattoo. The cell phone could be interpreted as a symbol of the connection we have with the world or with loved ones. This design is perfect for those who want a unique and meaningful tattoo that stands out from the rest.
Otter Tattoo in Water With Flowers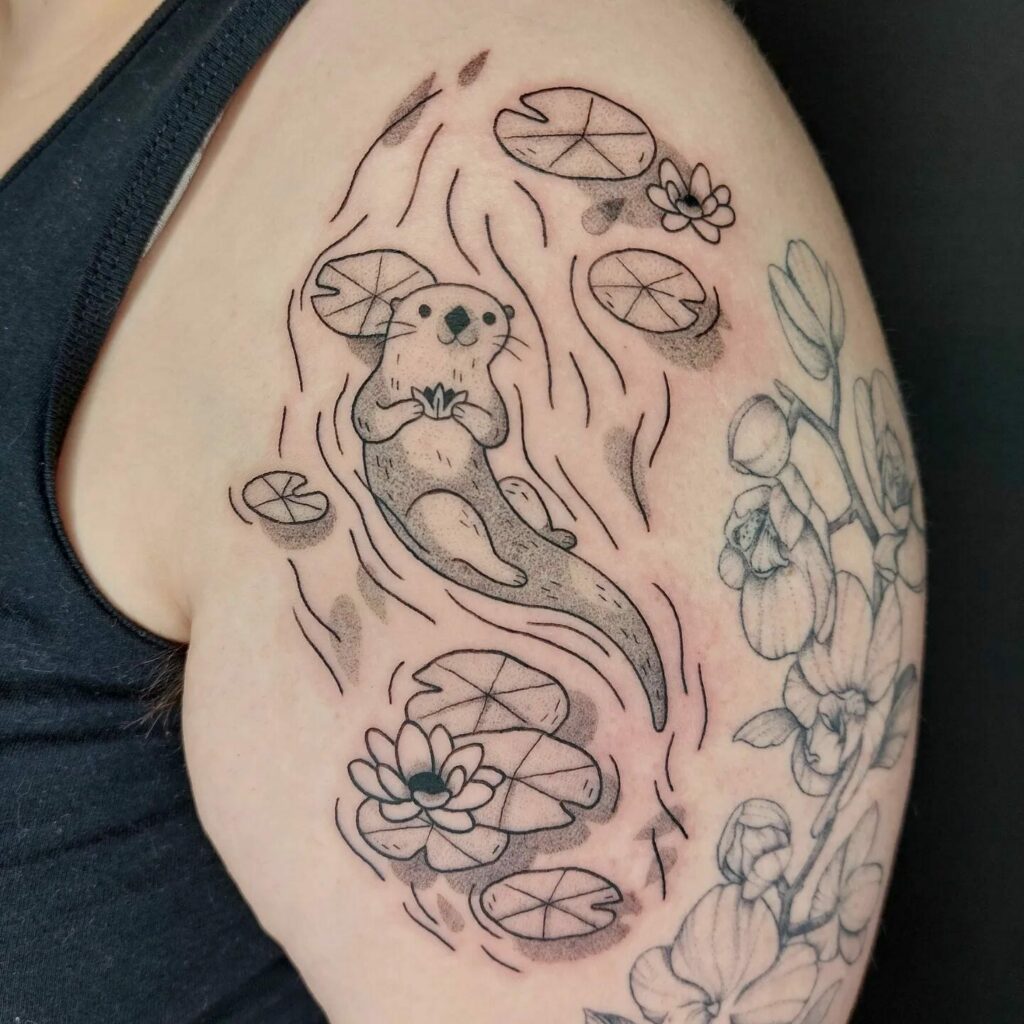 Looking for a floral tattoo design that incorporates an otter? Look no further! This otter tattoo is a stunning option for both men and women. What makes it unique is its design, which is sure to catch everyone's attention. The artist recommends using only black ink to make the otter stand out. However, you can add a variety of colors to make the tattoo more vibrant. The water in this tattoo represents healing, purity, and protection, and the flowers used can be customized according to your preferences. This sea otter tattoo is small and can be inked on any part of your body, making it a versatile option for those looking to add some flair to their ink collection.
Colorful Captain Otter Tattoo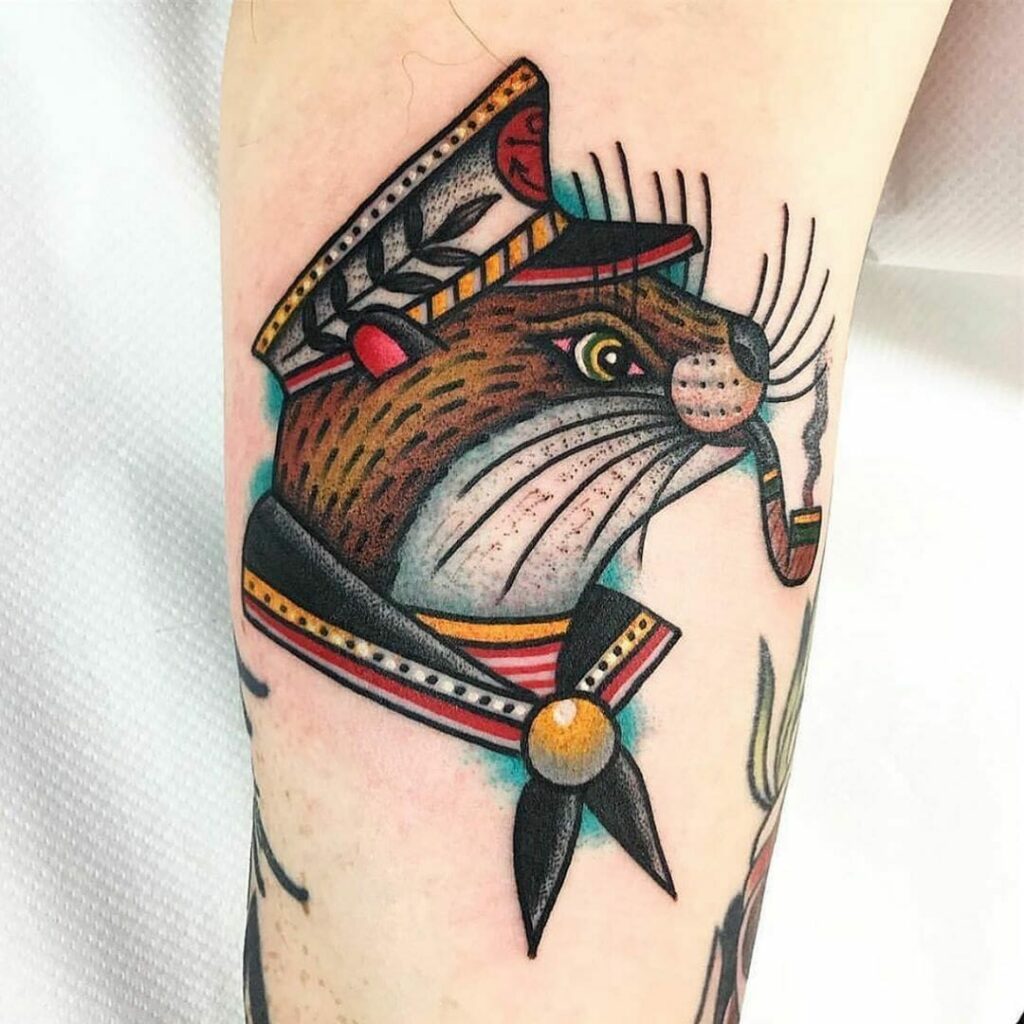 Many tattoo lovers are always on the lookout for something unique and colorful. If you are one of them, then this captain otter tattoo might be your next favorite. This tattoo features a colorful otter that looks more like a ship's captain. It's an excellent way to pay homage to a sailor or captain who has left a lasting impact on your life. The artist has done an incredible job of personalizing this tattoo, which showcases your love and respect for the person you are honoring. With its vivid colors and intricate details, this otter tattoo is sure to grab everyone's attention. It's a one-of-a-kind tattoo that will look great on any part of your body.
Forearm Otter Tattoo With Flowers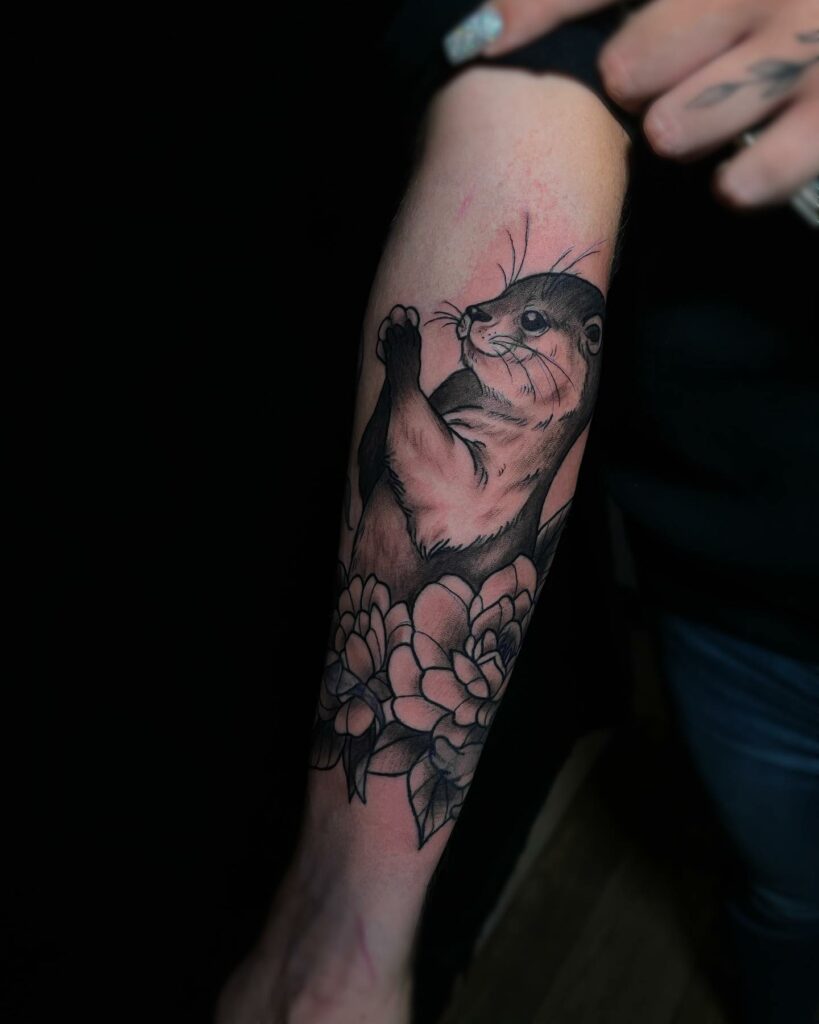 This neo traditional otter tattoo design is perfect for those who love simplicity and elegance. The black and grey color scheme is enhanced with beautifully shaded flowers and ferns. The bold outlines of the otter and the floral elements make the tattoo stand out, and the overall design is both timeless and modern. If you're looking to ink this design, you can consider placing it on your calf muscles to make it look more elongated. It's important to select an experienced tattoo artist with a steady hand to create such intricate designs, so take your time to research and choose the right one.
Victorian Twin Otters on Mirrors
The two otters are beautifully inked as mirror images, and the colors used in the design make them appear lifelike. The Victorian-style mirror in the tattoo adds an elegant touch to the overall design. These matching tattoos are a great choice for your biceps and will surely catch the eye of anyone who sees them. If you take a closer look at the tattoo, you will notice the courage and valor that it represents. So, if you want a tattoo that exudes bravery, the twin otter tattoo is an excellent option to consider.
Small Otter Tattoo In Water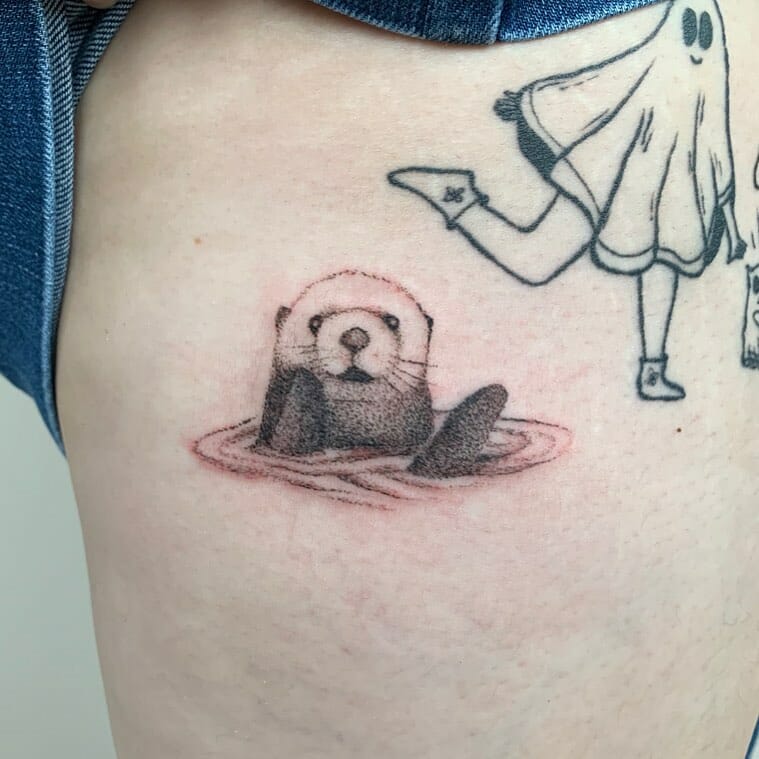 This tattoo depicts an otter relaxing and soaking half of its body in water, signifying calmness and tranquility. If you are someone who enjoys the same level of peace and relaxation, this otter in water tattoo could be the perfect option for you. The artist has skillfully inked the details of the water, bringing to life the unity, renewal, and vitality that it represents. This tattoo can be a great reminder to take a moment and find serenity in the chaos of daily life.
Full Arm Twin Clawed Otter Tattoo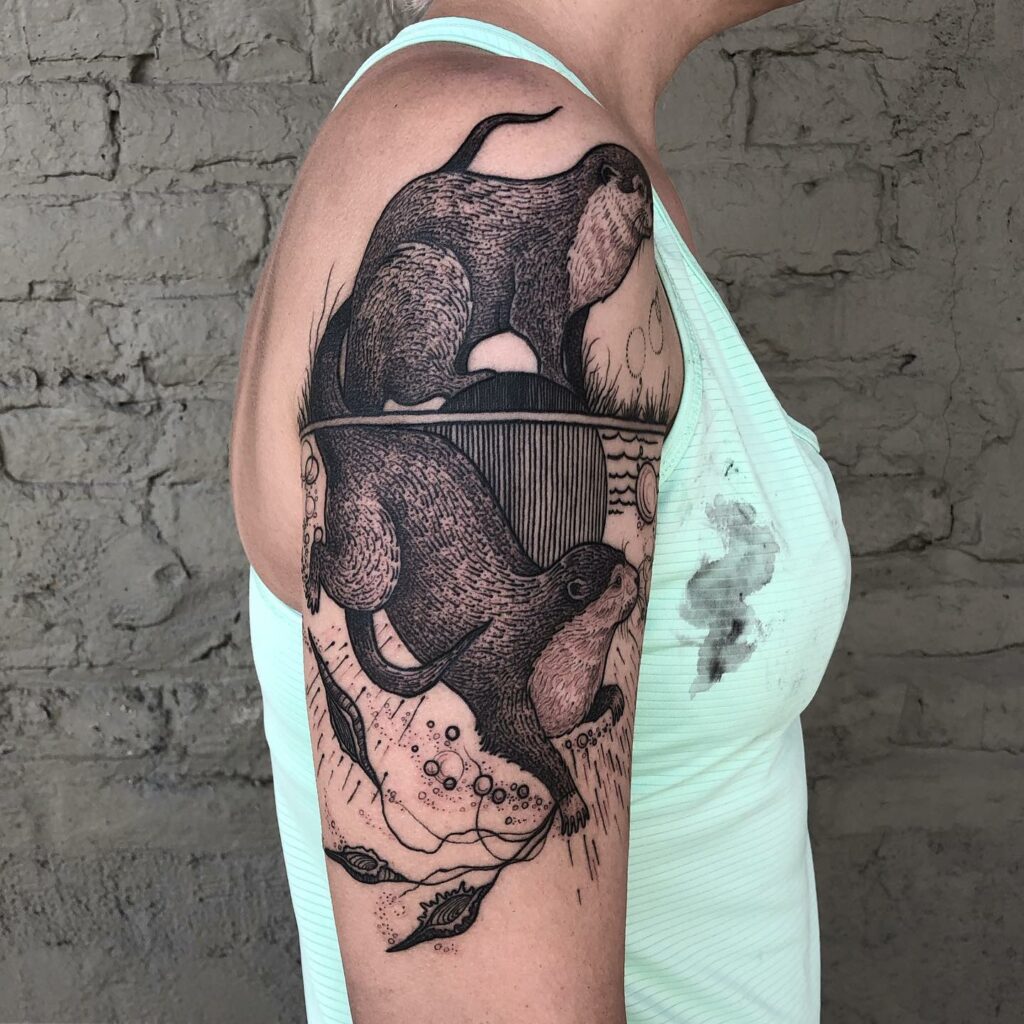 Twin-clawed otter tattoos are perfect for those who want to create a bold statement. This tattoo design is not only dramatic but also captures the essence of life's ups and downs. In this tattoo, one of the otters is seen above the water level, while the other is below, symbolizing the highs and lows of life. The intricate details of the tattoo, including the claws, make it stand out and showcase the artist's skill. This sea otter couple tattoo is perfect for anyone who wants to make a statement with their tattoo.
Baby Otter Sleeping On Mother Otter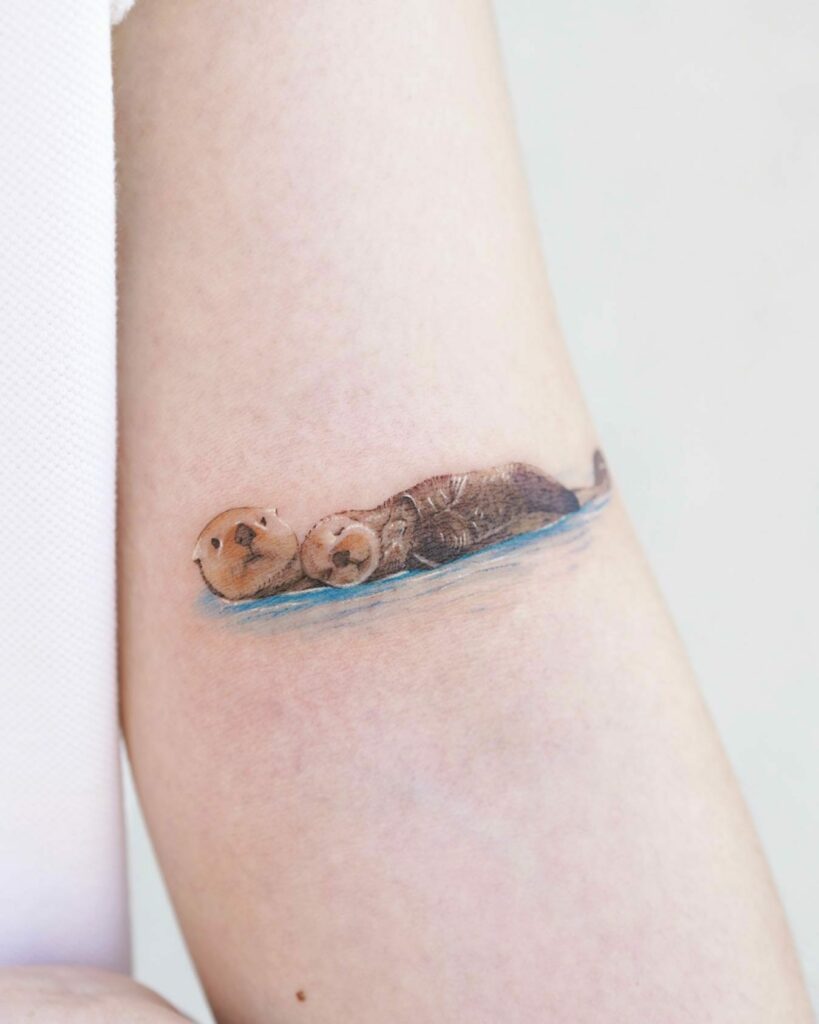 This tattoo design features a mother and baby otter, showcasing the special relationship between a mother and her offspring. The baby otter is depicted sleeping peacefully on top of its mother, symbolizing the love and protection a mother offers to her child. The intricate details of this tattoo make it a stunning piece of art, with the mother and baby otters realistically depicted in their natural habitat. This tattoo is a great choice for those who want to celebrate the strength and beauty of the maternal bond.
Whole Otter Leg Tattoo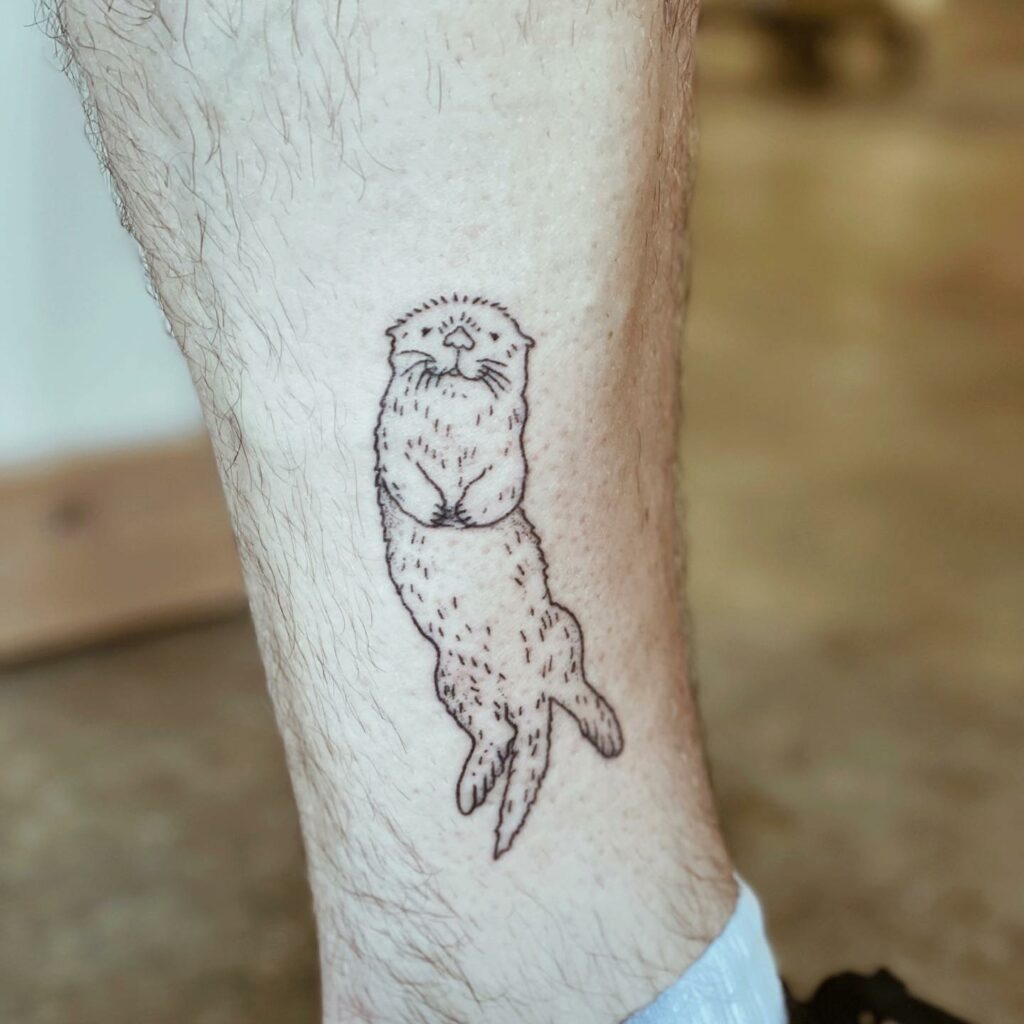 Otter tattoos are not just cute, but they can also be lively and meaningful. If you're someone who wants a tattoo but also needs to maintain a professional appearance, a small otter tattoo on the leg can be the perfect design for you. This simple tattoo can even be turned into a sea otter tribal tattoo by incorporating some tribal elements.
When getting a tattoo, it's important to consider factors like the size of the tattoo, its placement, and the type of ink and needles that will be used. It's also crucial to find a reputable tattoo parlor with skilled artists who can bring your design to life. With all these factors in mind, you're ready to take the first step towards getting an otter tattoo that is unique and meaningful to you.
feature image from Pinterest