Rose can be in different colors, and with each color comes a different meaning. Let's have a look at stunning shoulder rose tattoo ideas!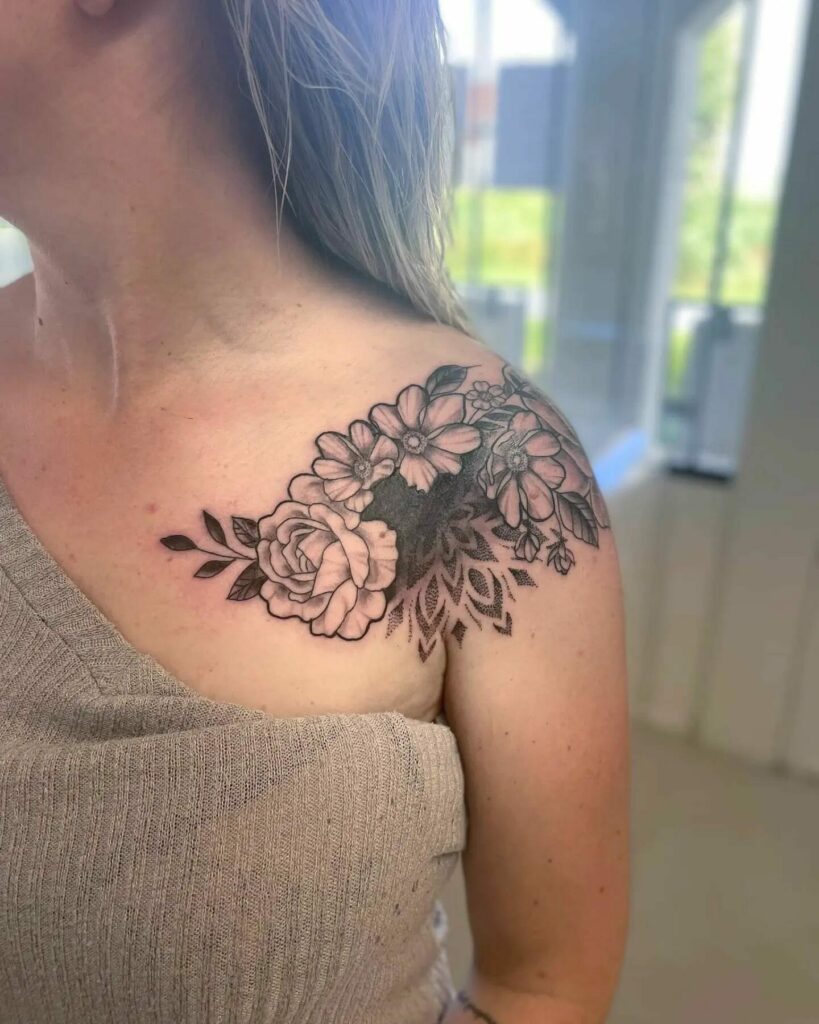 The rose's symbolism is one rooted in love and passion.
It is a prickly flower that gives us a glimpse of what we consider love and devotion, whether as dispersed petals or bound up in a bouquet. This flower has long been associated with love, abundance, and passion, as well as significant cultural respect across the world.
The rose is widely recognized as a critical, widespread flower with hidden meaning and respect. Because the flower requires attention and cultivation throughout the seasons, the Romans used rose incense and petals to display their wealth. The Romans invented the phrase "sub rosa," which literally means "under the rose," as a phrase of privacy and security.
Conversations in banquet halls were supposed to be private and kept under wraps, whereas the roses were "present." Because its petals were eatable, many emperors added the flower to a variety of dishes for a splash of red color and bountiful beauty. In addition, modern interpretations of the rose's symbolism include the perseverance of kindness and care throughout one's life. Another strong emotion affiliated with this flower is hope, whether it is the hope of love or any other zealous starting to feel that someone may have in their life.
Rose On Shoulder Tattoo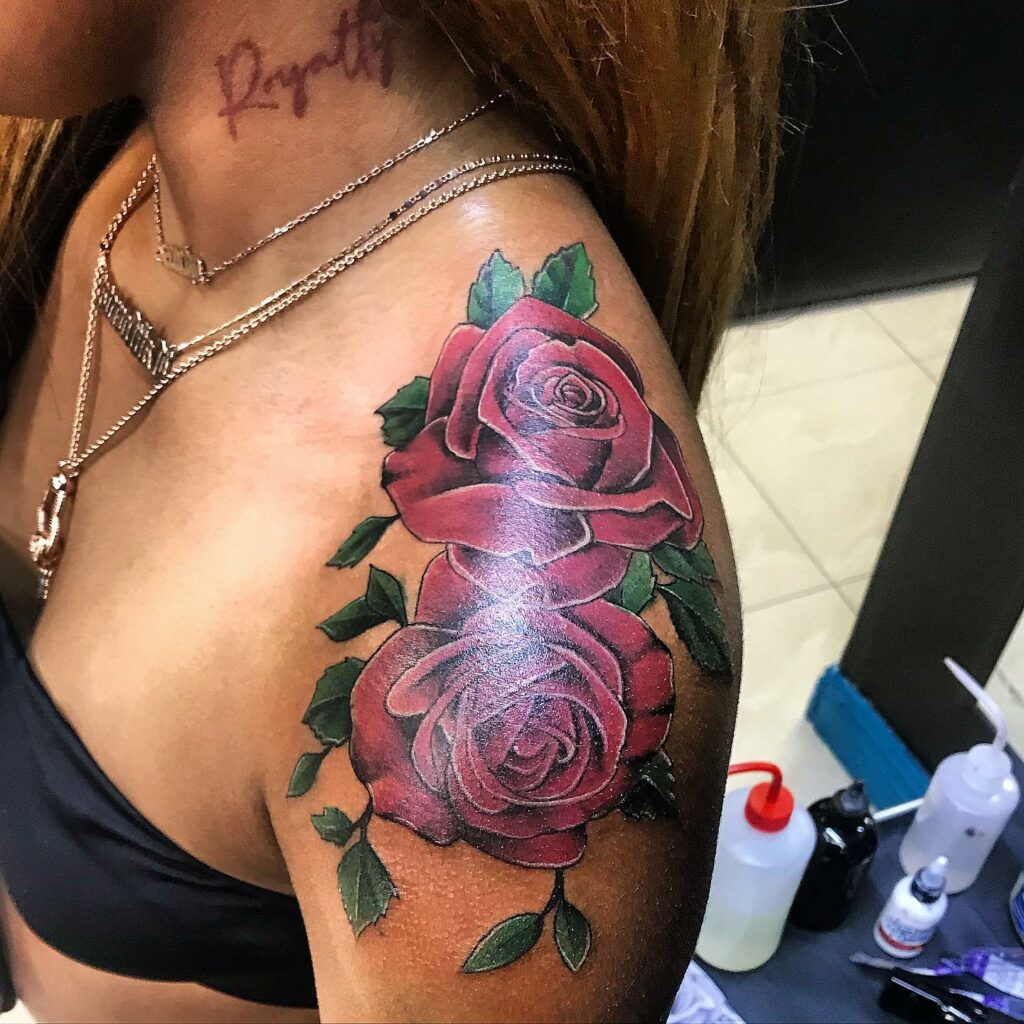 The design of rosettes has changed over time and has traditionally provided a glimpse into the individual passions of the wearer. A rose tattoo on the shoulder can be a bold and "in charge" way to display your talent and enthusiasm without literally wearing it on your sleeve. Regardless of where you place them, roses were intended to be admired and discussed like any other flower while sharing the tale of how they did come to be in full bloom.
The way this beautiful tattoo is made is worth adoring. The detailing that can be seen in the tattoo shows the professional work of the tattoo artist. The red color used to make the red rose gives a realistic image. This tattoo can also be made as a sleeve tattoo. There can be added more elements like a climber or a vine swirled around the roses. The entire artwork is worth admiring.
Traditional Rose Tattoo On Shoulder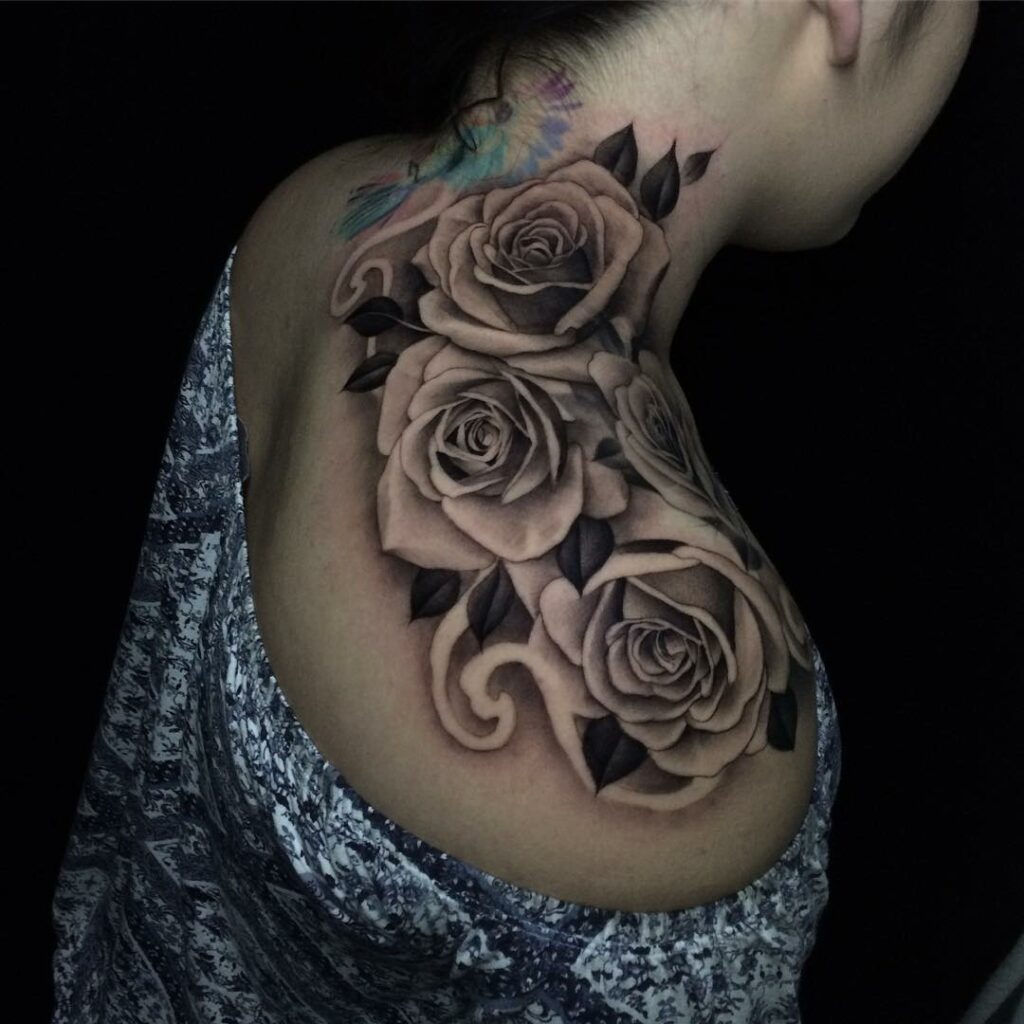 The rose is one of the most elegant floral tattoo designs to construct and draw for tattoo artists because of its complexity. The most intense level of passion has been symbolized throughout history by a rose tattoo, which can mean either love won or lost. With this floral, beauty and emotion are in perfect balance, and no other flora can match its beauty and historical importance.
This tattoo is completely made with black and grey ink leaving a bold impression on the body. The idea that is used to create the tattoo is splendid. But it would look more attractive if colored ink were used in it. This tattoo leaves a lot of room to add our own element and the color of our choice accordingly. One can even make this rose tattoo design into a yellow rose tattoo or red rose tattoo as per one's personal choice.
Rose Tattoo On Shoulder With Name
The color of a rose indicates its meaning, so you can look up all the different ways it has been interpreted throughout history. Of all the emotive flowers, black and red roses are the most well-liked and potent, and they make up a sizable portion of what designers typically create for their clients. Although not always as somber as a memorial, a black rose tattoo can signify the loss of a loved one in a way that symbolizes the flower's compassion and the dark bleakness as well as a reminder of death.
This tattoo is just made in such a way that only the outline of the tattoo can be seen. The tattoo leaves enough room for people to either make it completely black or any other color. This rose shoulder tattoo is made in such a way that it works as an ornament on the body. The writing that can be seen along with the rose body art can be changed accordingly a quotation or a name can be mentioned for whom you want to dedicate the tattoo.
Rose Shoulder Tattoo Ideas For Women
"Roman mythology carried on the creation story of the red rose by substituting Venus for Aphrodite. Rich Romans reportedly stuffed their bed chambers full of rose bouquets to create a plush, fragrant surface for their passionate encounters. It was a representation of beauty and love associated with the deity, but after Cupid offered a rose to a God of Silence to keep Venus's affairs quiet, it also came to represent secrecy.
In fact, Roman dining rooms had rose-decorated ceilings to encourage diners to keep their conversations private, and the phrase "sub rosa" (or "under the rose") still means "confidentially" in modern English." This tattoo also shows the feministic view if made by women. The shadings that have been used to make the tattoo are worth admiring.
Realistic Rose Tattoos For Men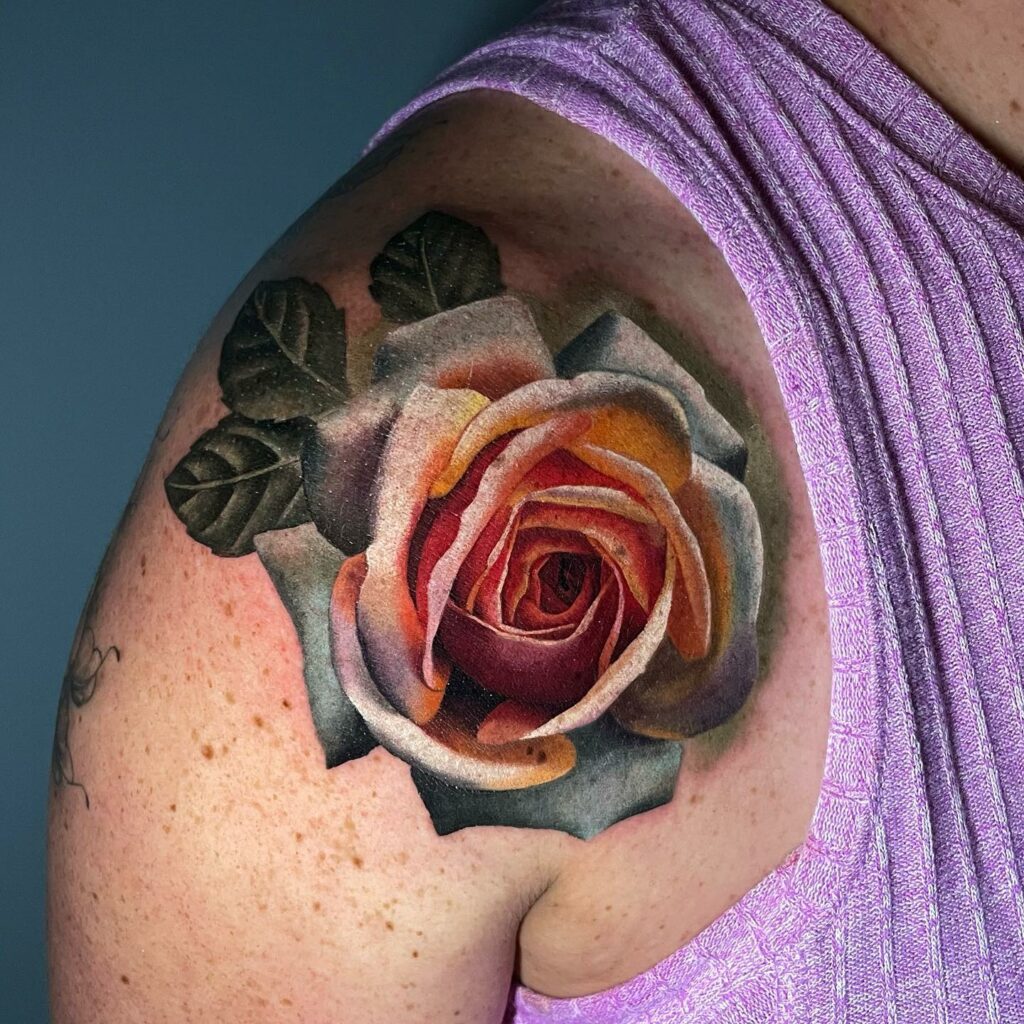 A nightingale and a white rose allegedly fell in love, according to legend. Overwhelmed by his love, the nightingale pushed itself to the rose, a thorn piercing its heart, turning the flower red with its blood. The love was so strong that it induced the nightingale to sing for the first time. A lasting connection was made between the blood of the heart and extreme feelings of love and romance when the nightingale gave up its life in order to save the rose.
These myths have a very long history, going back to some of the oldest civilizations. Not to mention Shakespeare and a large number of other authors and poets who have written sonnets about their love for roses. This tattoo is beautifully made with bright white and orange colors that can be seen to make it more attractive. The shading that is used makes the tattoo look even more gorgeous.
Traditional Rose Shoulder Tattoos For Women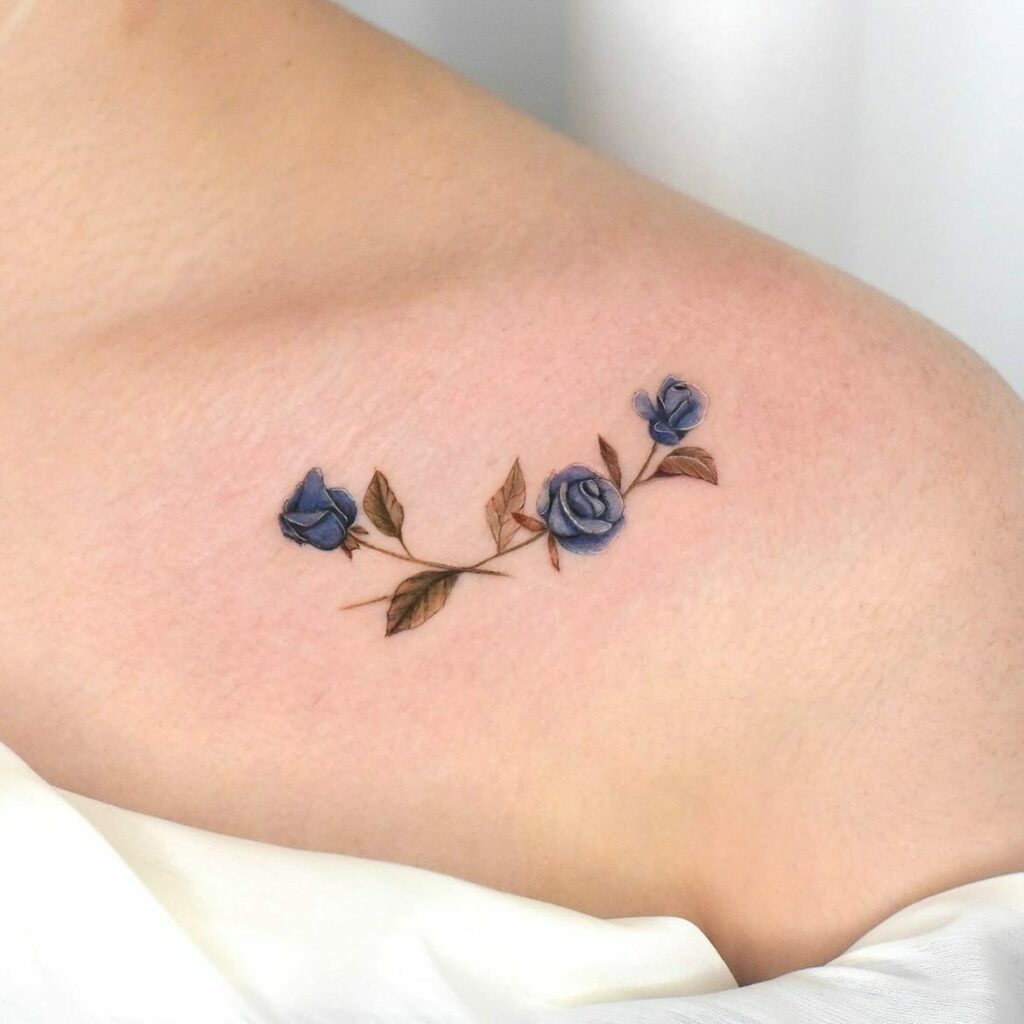 If one has a question as to what a rose tattoo on your shoulder means, then this tattoo image is the answer to it. The blue rose tattoo shows a blossom that is uncommon in nature, so it could stand in for the unreachable or impossibly difficult. The wistful, imaginative, and free pieces of the mind were fragmented to create Blue Rose. Many florists are still engaged in the quest, which has been ongoing for centuries.
The blue rose is compared to the Holy Grail (the jug used by Christ at the Last Supper) in some cultures and is therefore regarded as being identical in the world of roses. The blue rose represents impossibility due to its absence and the yearning for it to exist in the world of flora. It stands for a wish or a dream that will always remain a wish but never come true. Some people consider the blue rose to be a manifestation of first-sight love at its deepest level. As a synonym for an unattainable or unrequited love, it is also used. Additionally, the blue rose is linked in some cultures to royalty, majesty, and splendor.
Rose Gorgeous Tattoo
Based on what the rose is supplemented by, the meaning varies. Combining various flowers with different hues, connotations, and details can result in a rose tattoo that is specially personalized for you. The presence of a skull or dagger, which are frequently signs of impending death, could transform a rose tattoo from a simple reminder that life must end at some point, no matter how lovely, into an object of memento mori.
It is also paramount to keep in focus that the numerological significance of a rose's petal count and its state—open or closed—can vary. These kinds of particulars are what make tattoos so unique. It's not just because of the aesthetic strength but also because of the strength of their symbolism.
Gorgeous Rose Tattoos On Shoulder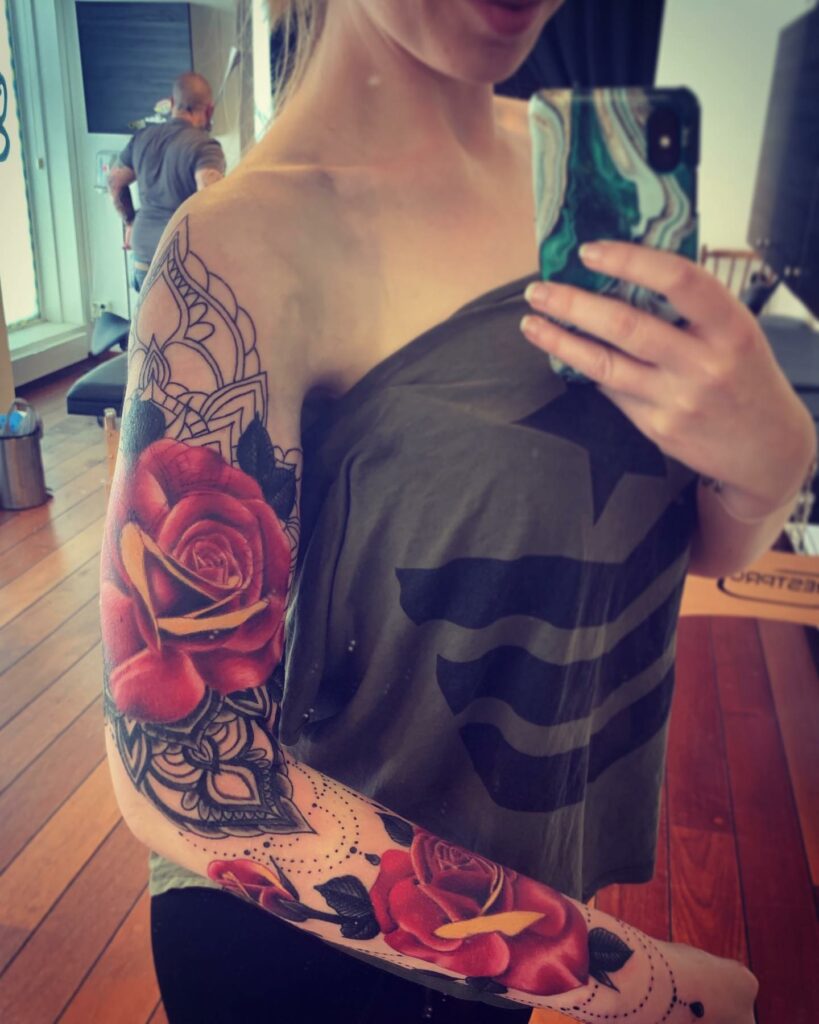 There are so many different rose tattoo designs that many people desire to get on their arms. One can use these flowers as the centerpiece of their design or as a supporting element in a larger idea. And because an arm piece or sleeve occupies such a big, long space, it's best to design your tattoo using a few extremely potent elements, like roses.
Since the flower's petals may be shaped to be precisely spherical or to gently drape onto your shoulder or upper back, this makes it incredibly simple to work with. It can also be observed that rose shoulder tattoo ideas work so well in that location due to the flower's natural shape.
Beautiful Roses Shoulder Tattoo
Pink roses are a feminine emblem of grace, elegance, sweetness, and refinement. They may also signify contentment, happiness, and happiness in your life and relationship. Along with comfort, tenderness, and an openness to new experiences, love, and happiness, pink flowers represent intensity, love, and passion.
Pink roses are frequently said to represent admiration and sympathy. However, the exact meaning depends on the pink color. This tattoo can be made by women on any part of the body they wish.
Beautiful Flower Tattoo
The tattoo of yellow roses represents all the happiness, celebration, fun times, sunshine, and optimism in our lives. Yellow roses can stand for luck, warmth, and happiness, and coupled with red roses, even for good luck in romance and relationships.
These roses can also represent our relationship with ourselves, our self-care, and how well we are able to take care of ourselves and others.
feature image from Pinterest – Want your tattoo to look brighter? Try "Tattoo Balm"