Hey there, fellow tattoo lovers! If you're looking for a tattoo that truly reflects your sunny and positive personality, a shoulder sunflower tattoo might be just what you need! But with so many incredible designs out there, choosing the perfect sunflower tattoo can be a challenge.
Did you know that sunflowers have a variety of cultural and religious meanings? They're often seen as symbols of optimism, worship, and faithfulness. And because shoulder tattoos are so popular, they offer the perfect canvas for a stunning sunflower design.
Whether you prefer a bold, expansive sunflower or something more delicate and subtle, there's a perfect sunflower tattoo out there for you. And if you're looking for a design that adds an extra layer of meaning, you might consider pairing your sunflower with a butterfly tattoo, which can symbolize hope and faith.
So, are you ready to find the perfect sunflower tattoo for your shoulder? Check out our list of the best sunflower tattoo designs below, and let's get started on creating a work of art that truly reflects your sunny spirit!
Realistic Sunflower Tattoo On Shoulder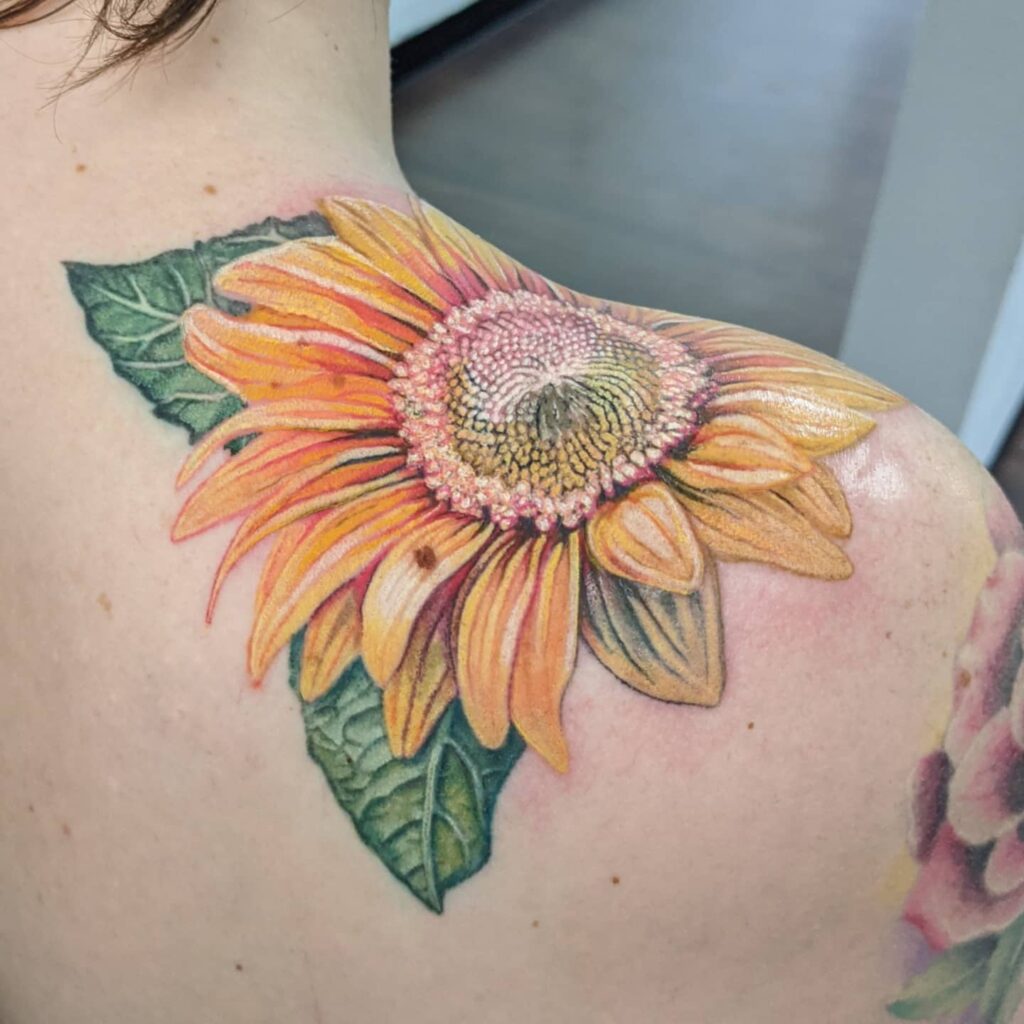 If you're searching for a subtle yet meaningful best friend tattoo, a flower tattoo might be the perfect fit for you and your friend. Not as obvious as the typical sun and moon tattoos, this tattoo design can hold a deep significance between the two of you. Matching tattoos are a great way to share something special and unique, and a flower tattoo design can offer just that. It's a subtle way to represent your bond without drawing too much attention.
Best friend tattoos come in all shapes and sizes, and they're becoming increasingly popular in today's world. As people move away for jobs and other life events, a tattoo can be a lasting reminder of your friendship. Best friends often choose to get matching tattoos to commemorate important events like birthdays and friendship anniversaries. You can also choose to create your own unique tattoo designs together by visiting a tattoo parlor. It's an experience that you'll both remember for a lifetime.
Wild Arm Sunflower Tattoo Ideas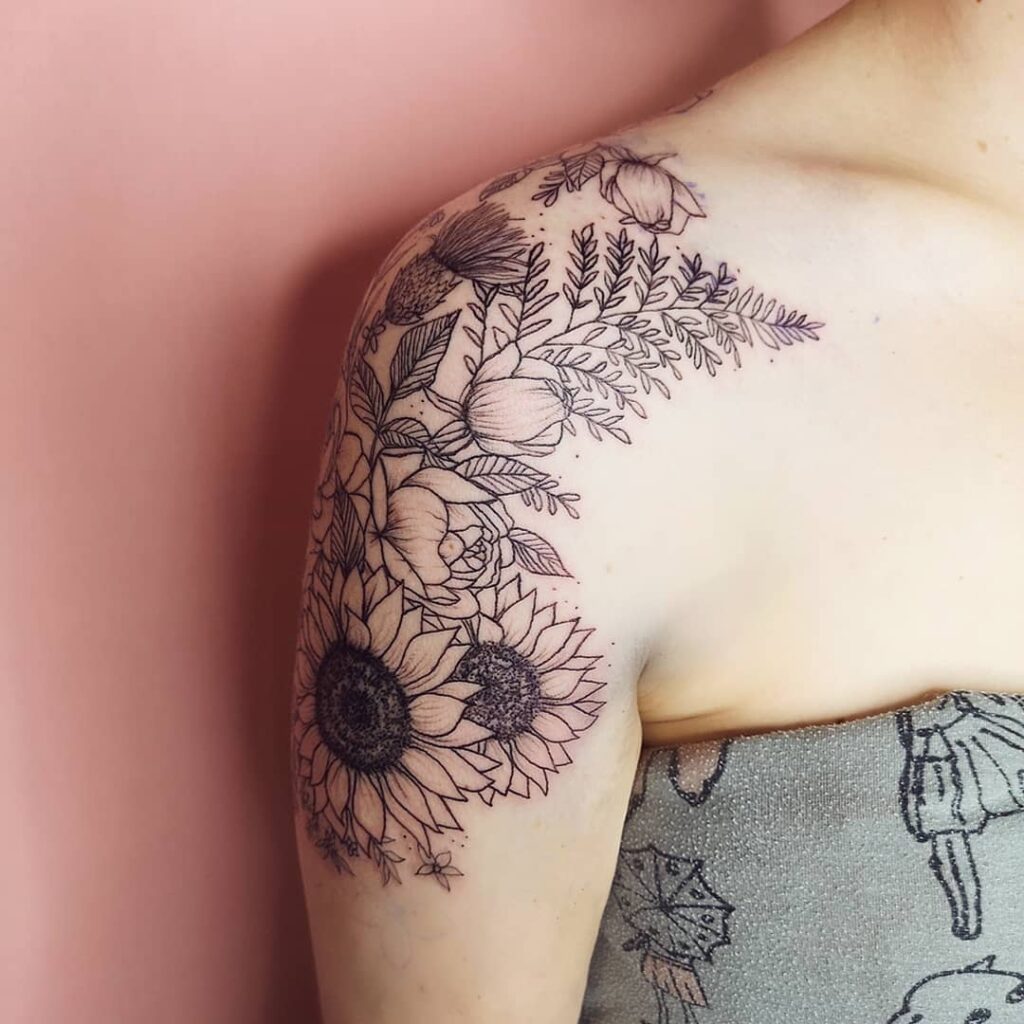 With its striking appearance, it stands out among other flowers, making it a popular choice for tattoos. This sunflower tattoo on the shoulder features a beautiful arrangement of wildflowers with sunflowers at the bottom, showcasing the flower's unmistakable large petals and dark center. The design is rendered in a stunning line art format, creating an authentic and crisp appearance. The use of black and white ink adds a touch of elegance, while still maintaining the flower's natural vibrancy. This shoulder sunflower tattoo can also be easily extended into a full-sleeve sunflower tattoo for those looking to expand their ink collection.
Vibrant And Realistic Sunflower Tattoos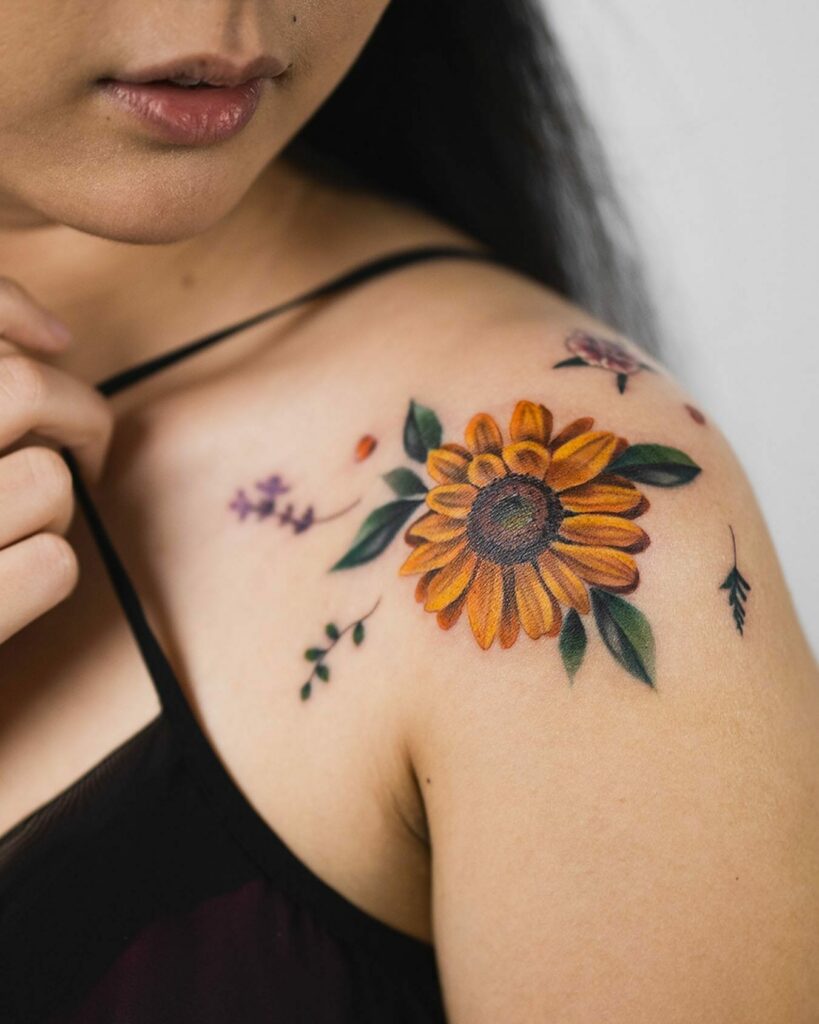 Mandala tattoos are beautiful and culturally significant designs that represent the harmony between body and mind. The use of floral motifs in mandala tattoos adds an element of nature to the design, as seen in this stunning sunflower mandala tattoo. The sunflower florets serve as the perfect base for the intricate mandala design, which is filled with beautiful shades and dot work. The smaller designs within the florets can be further detailed to create a more intricate mandala design. When getting a mandala tattoo on your shoulder, it is important to consider the design's details, as they are the key to creating a truly beautiful and meaningful mandala tattoo. The sunflower mandala tattoo is a great option for those who want a unique and artistic tattoo that symbolizes balance and harmony.
Sunflower Mandala Tattoo On Shoulder
Mandala tattoos are not just a beautiful piece of art but also carry a deep cultural and religious significance, symbolizing the importance of balance between body and mind. Adding floral elements to mandala tattoos is a popular trend and can create stunning and intricate designs, just like the one featuring sunflowers above.
The sunflower florets in this tattoo create a beautiful and natural frame for the mandala design, which is filled with stunning details created using shading and dot work. For an even more intricate and detailed design, smaller designs can be added within the florets. When getting a mandala tattoo on your shoulder, it's important to incorporate the tip of adding details. This is because the beauty of a mandala tattoo lies in its intricacy and depth, which can be enhanced by incorporating more details.
Minimalistic Women's Sunflower Shoulder Tattoo
Sunflowers are a favorite among tattoo enthusiasts because of their versatility and vibrance, making them an ideal choice for tattoos of all sizes. Whether big or small, the unique characteristics of sunflowers manage to capture attention and exhibit their signature appearance in all its beauty, just like the tattoo featured above. The small sunflower tattoo on the shoulder is perfect for women who prefer a minimalist approach to tattoos. The absence of outlines in the tattoo design showcases the delicate colors inside, which is a fresh take on depicting sunflowers.
Despite its small size, the tattoo captures the depth and curve of each petal using light and deep shades, resulting in a perfect style for those who prefer dainty tattoo designs. It's amazing how even the smallest sunflower tattoo can be so meaningful and aesthetically pleasing, a testament to the flower's enduring popularity.
Black And White Sunflower Tattoo Shoulder
The arm sunflower tattoo is a stunning piece of art that starts from the shoulder and extends across the entire arm, creating a captivating visual. Unlike traditional and realistic sunflower tattoos, this design depicts the flower swaying in the wind, giving it a flowy and dynamic look. The intricate line work and dot work provide stunning details and shades, creating a realistic appearance that captures the eye.
This unique and rare tattoo design is a must-have for any tattoo enthusiast. It requires a broad canvas to showcase its majesty, and areas such as the shoulder blades, arms, thighs, or back are perfect for displaying its width. Add it to your tattoo bucket list and give it the space it deserves to shine.
Art-Inspired Sunflower Tattoo Designs
Sunflowers have been an inspiration to artists for centuries, from post-impressionism to modern art movements. It's no surprise that sunflowers have made their way into tattoo designs as well. The tattoo above is a stunning example of the emerging art form, Curvism, which incorporates flowing curves to create an organic and dynamic look.
This back tattoo is a masterpiece in its own right, with a large and detailed floral mural that showcases the beauty and charm of sunflowers. The colors used in the design are rich and deep, adding a level of dimension that makes the artwork pop. It's truly a one-of-a-kind tattoo that is sure to turn heads.
Whether you're a fan of sunflowers or just appreciate a beautiful tattoo, this design is a must-see. It's a great example of how tattoos can be used as a form of art, and it's sure to inspire other artists and tattoo enthusiasts alike.
Blooming Phases Of Black And White Sunflower Tattoo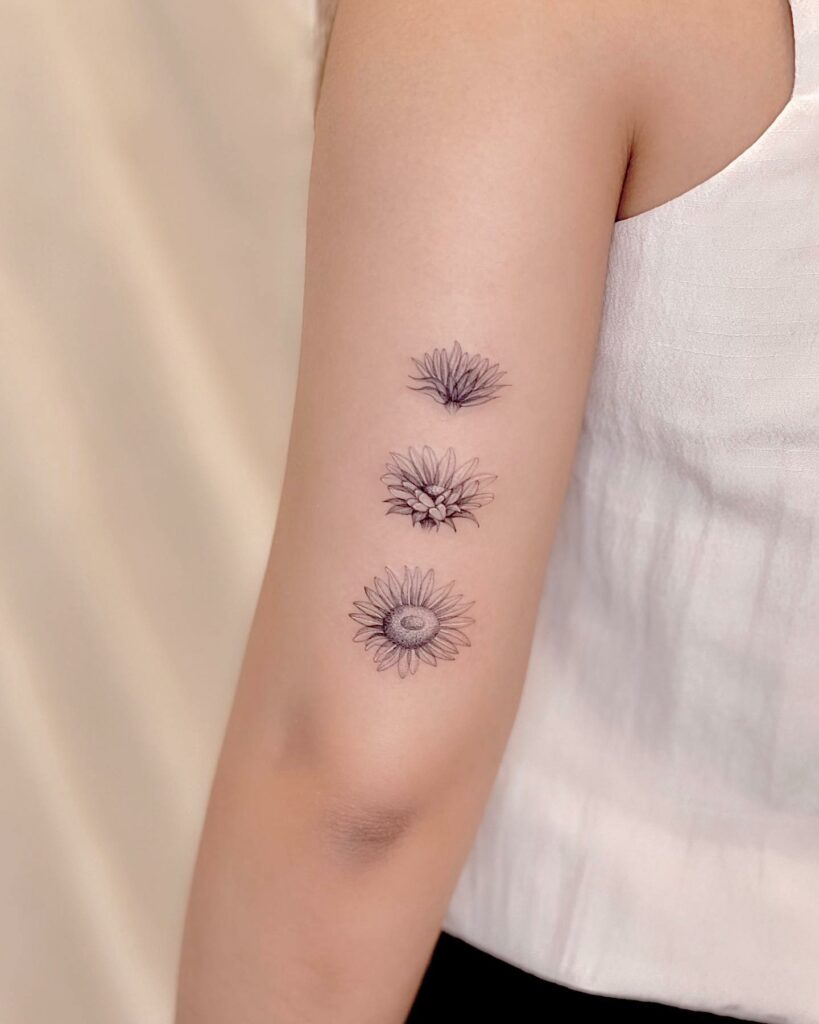 Sunflowers are a popular choice in the tattoo world, and just like the phases of the moon, the blooming stages of sunflowers are equally stunning to capture on your skin. The tattoo above showcases the different phases of a sunflower's bloom through simple line work, highlighting the gradual process of opening and expanding of the petals. Each phase of the sunflower's growth is delicately captured, creating a visual masterpiece on the skin that symbolizes personal growth and transformation. The tattoo serves as a powerful reminder to trust the journey of life, even if it takes small steps to reach your full potential.
Dainty Sunflower Tattoo Designs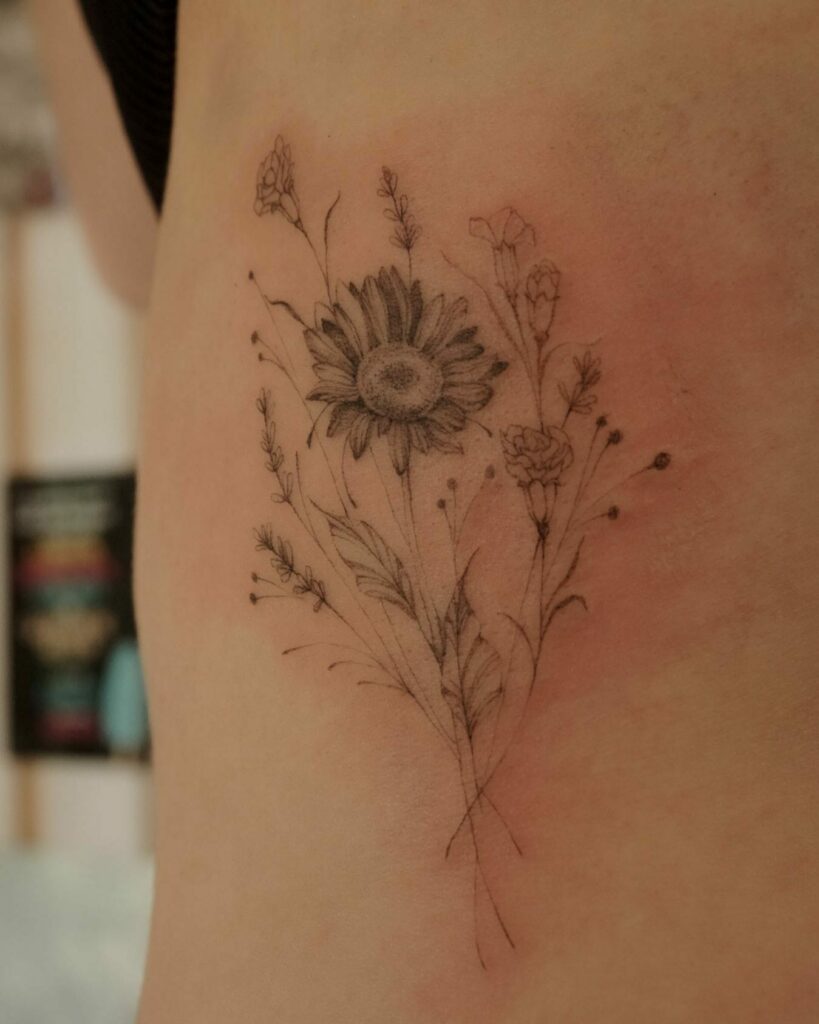 The rising trend of minimalist tattoos has brought forth the popularity of single needle tattoos. This particular design is a perfect representation of the summer season, featuring an exquisite bouquet of wildflowers and a beautiful sunflower. Single needle tattoos allow for intricate details to be captured, making them an ideal choice for creating intricate floral designs. The sunflower, with its intricate petal structure, demands careful portrayal, and this tattoo artist has managed to execute it perfectly with a single needle. This design is a great option for those who appreciate delicate yet beautiful tattoos.
Small Sunflower Tattoo On Shoulder With Line Art
Sunflowers have been gaining popularity among young adults and teens who are new to the tattoo world. The small and cute sunflower tattoo designs are perfect for showcasing the bright and sunny appeal of sunflowers. Even though these tattoos lack colors, they still manage to convey optimism and happiness through their cute and compact structure. One interesting feature of this tattoo design is the presence of a specific number, which can represent an important date or event in the wearer's life. These numbers can be cryptic and hidden, adding an extra layer of personalization to the tattoo. This style of tattoo works well on the shoulder, arm, wrist, and even as an ear sunflower tattoo! You can choose from the classic designs on this list or combine different features to create your unique and perfect tattoo
feature image from Pinterest – Want your tattoo to look brighter? Try "Tattoo Balm"