How often do you desire something innovative and unusual in your life? If you want something out of the ordinary, get a side boob flower tattoo today.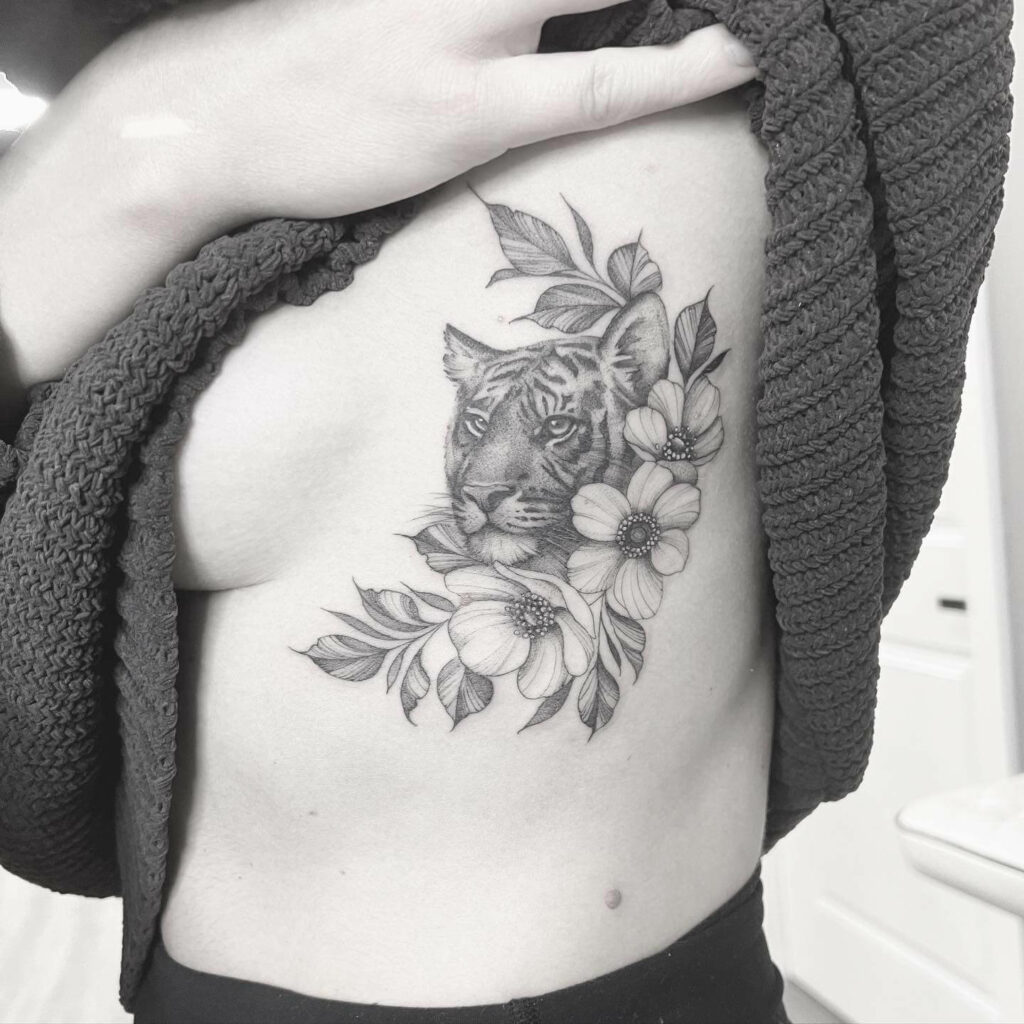 When it comes to tattoo placement, you have your classic spots like legs and arms, but if you want something tucked away, consider side boob tattoos.
They are also known as rib cage tats and are perfect for anyone who wants the freedom to shield or reveal — perhaps from beneath a bikini strap. Because they are usually hidden, they are rarely exposed to direct sunlight, which means they will last longer.
Sun exposure is the primary cause of tattoo fading, according to Roman. And there are numerous design and style options. Small, delicate tats, such as florals or script done in fine linework, are common, but Roman says the side boob area can also hold larger pieces that extend to the ribs if discretion is not your style. Flowers have multiple meanings in myths and legends, ranging from new life to death, purity to passion. Flowers, which bloom from tender bud to full bloom, are associated with youth, beauty, and pleasure.
Blue Flower Side Boob Tattoos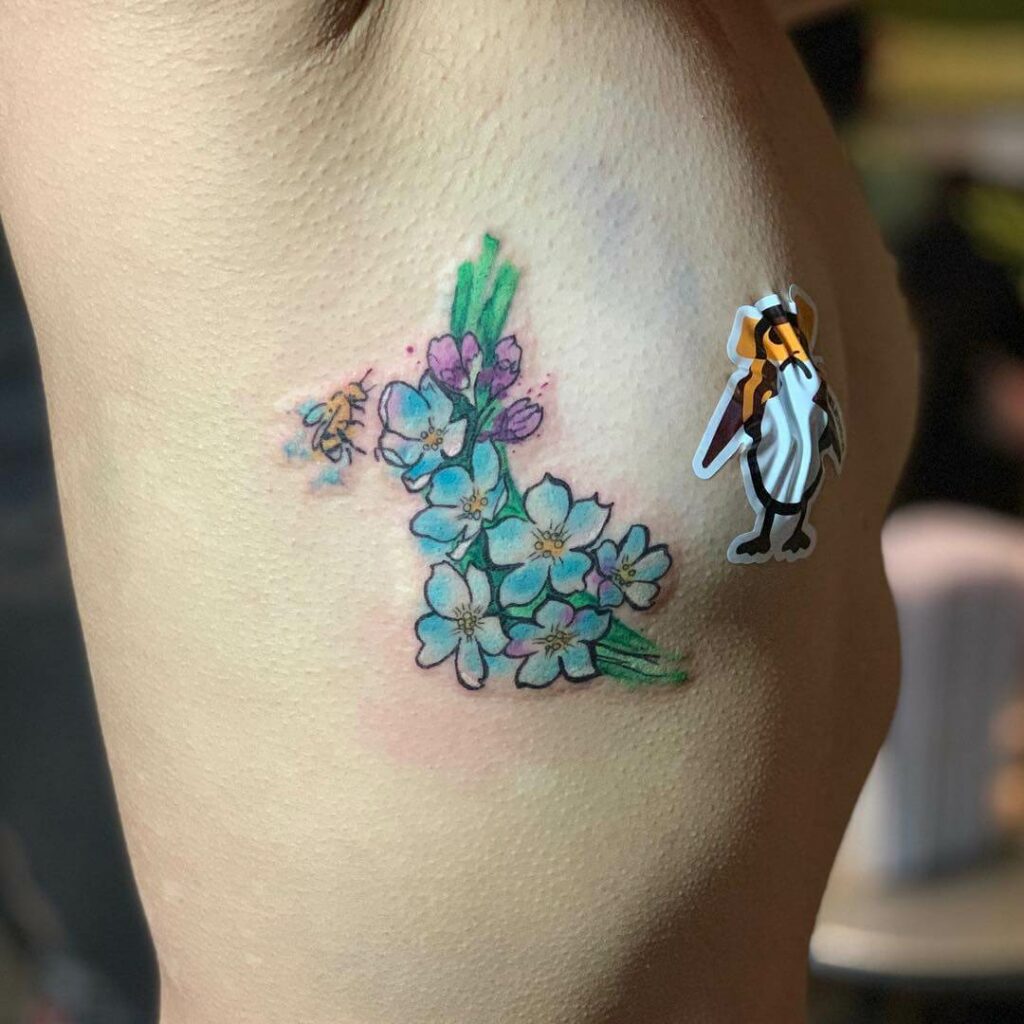 In Scotland, the bluebell flower, which means humility, is also known as harebells because witches are said to transform into hares and hide among the petals. Bluebells are also connected with eternal love and fidelity, as well as thankfulness. This colorful body art with detailed information gives a pretty popular sexy look.
Because a lot of movement is there in this area, and the size and shape of your boobs might change. Fleur Noire Tattoo artist Juan Martinez prefers organic patterns that will age beautifully and flow with the natural motion and curve of the body. "I always encourage plants – they go with everything," adds the New York-based artist.
Rose Flower Side Boob Tattoos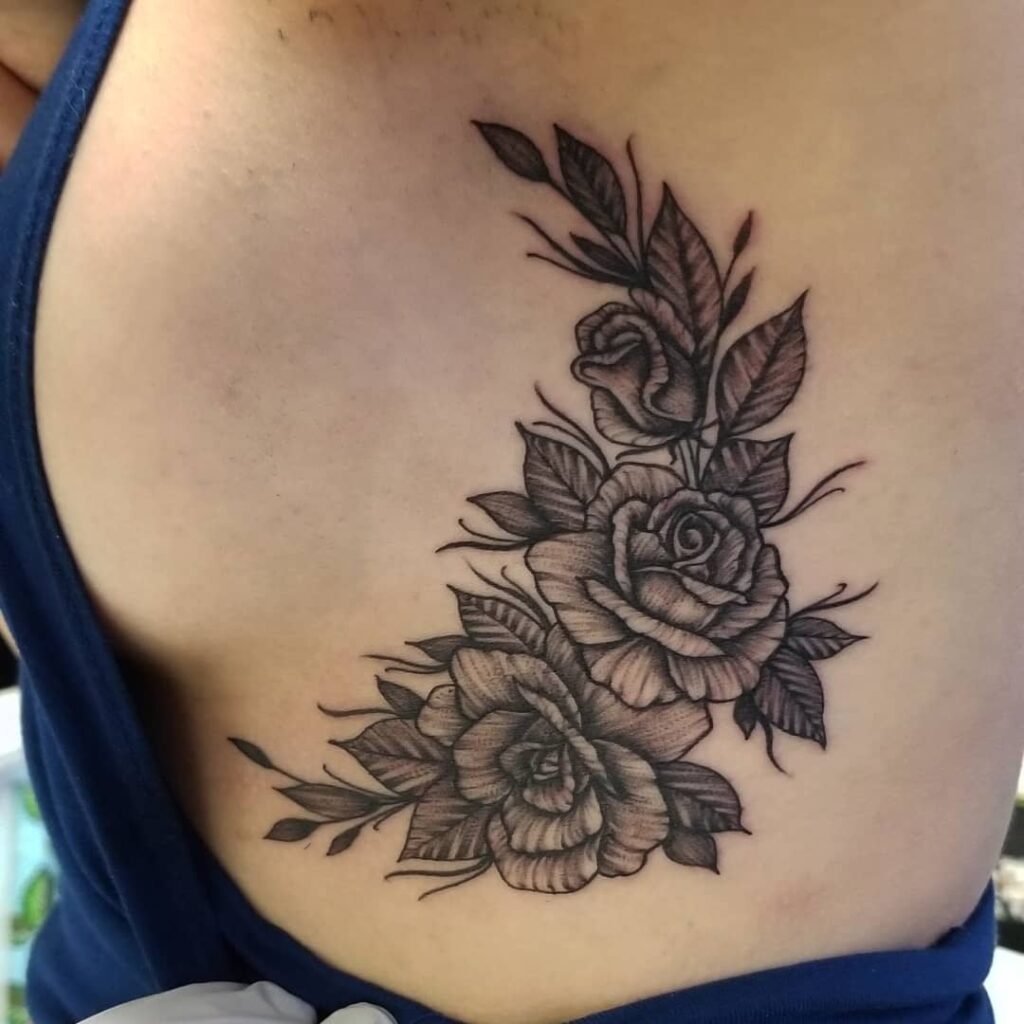 A rose tattoo that depicts love, whether acquired or lost and has been used for a long as a symbol of the greatest level of attachment. This flower blends beauty and desire, whereas no other flower can match its historical importance and attractiveness. This is a side boob tattoo that can also be inked on the chest.
We think that everyone should be proud of their ink, but we also recognize that some people choose to conceal their body art and foster mystery by revealing it to a select few. Because the area is usually covered by clothing, side-boob tattoos are rarely seen. But all you have to do is wear a blouse with low-hanging sides, skip the under-layers, and let your tats shine.
Simple And Soft Flower Side Boob Tattoos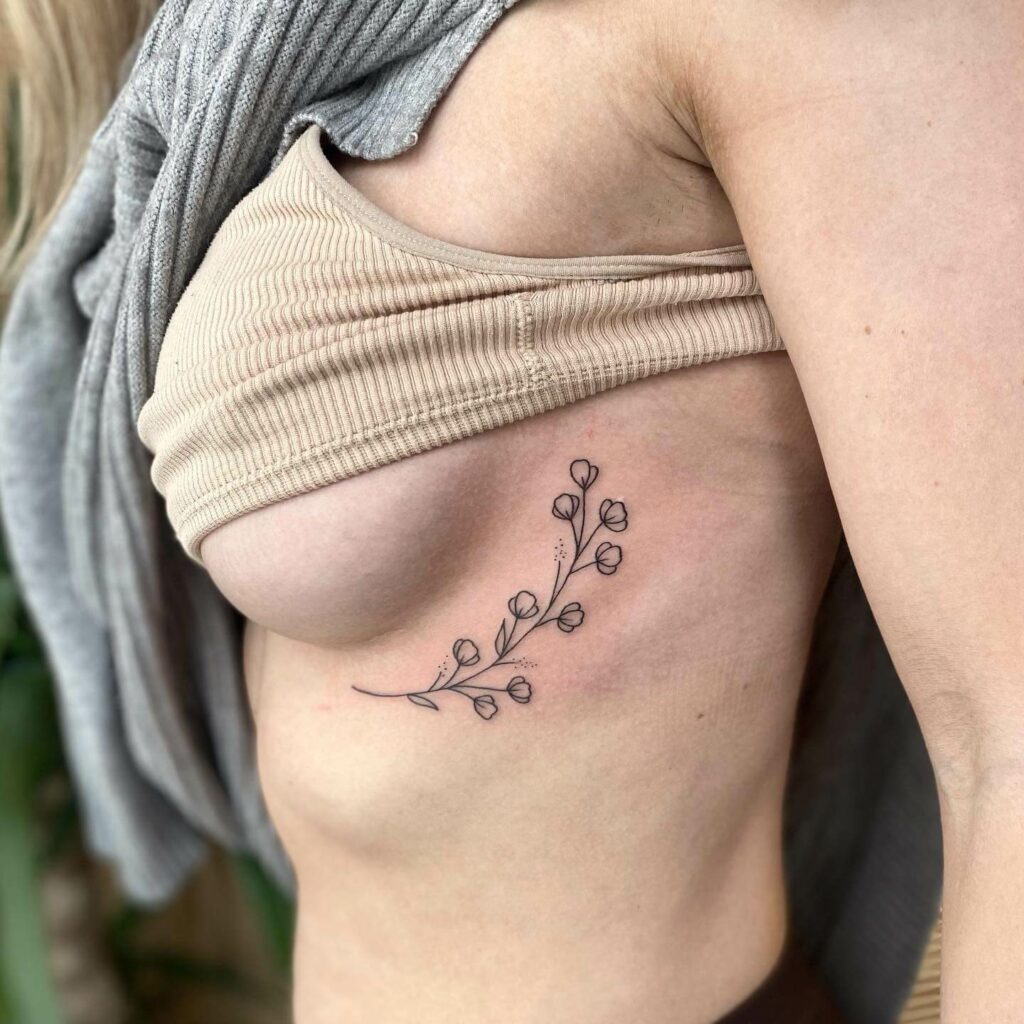 This is a simple flower-side boob tattoo idea that expresses feelings. If you're thinking of a relatively new style, such as a side breast tattoo. Choosing the best location for your tattoo might be difficult at times.
However, when it comes to the sides of the breasts, it's difficult to conceive of a tattoo design that doesn't look good. Getting tattooed on the side-boob is a terrific way to show off your playful side, give off a sensual feeling, or just adorn this portion of your body. It may also be used as an ink inspiration just because of its soft and simple look.
Fine Line Flower Side Boob Tattoos Ideas
Flowers have been used to represent several things throughout human history. Flowers, for centuries, have been used as a way to express sentiments appearing in hieroglyphics, paintings, poetry, and literature.
For a playful take on nature, choose side boob ink like these funkadelic flowers. This side boob tattoo design style is also very simple and gives a sexy look to a person.
Long And Lean Flower Side Boob Tattoos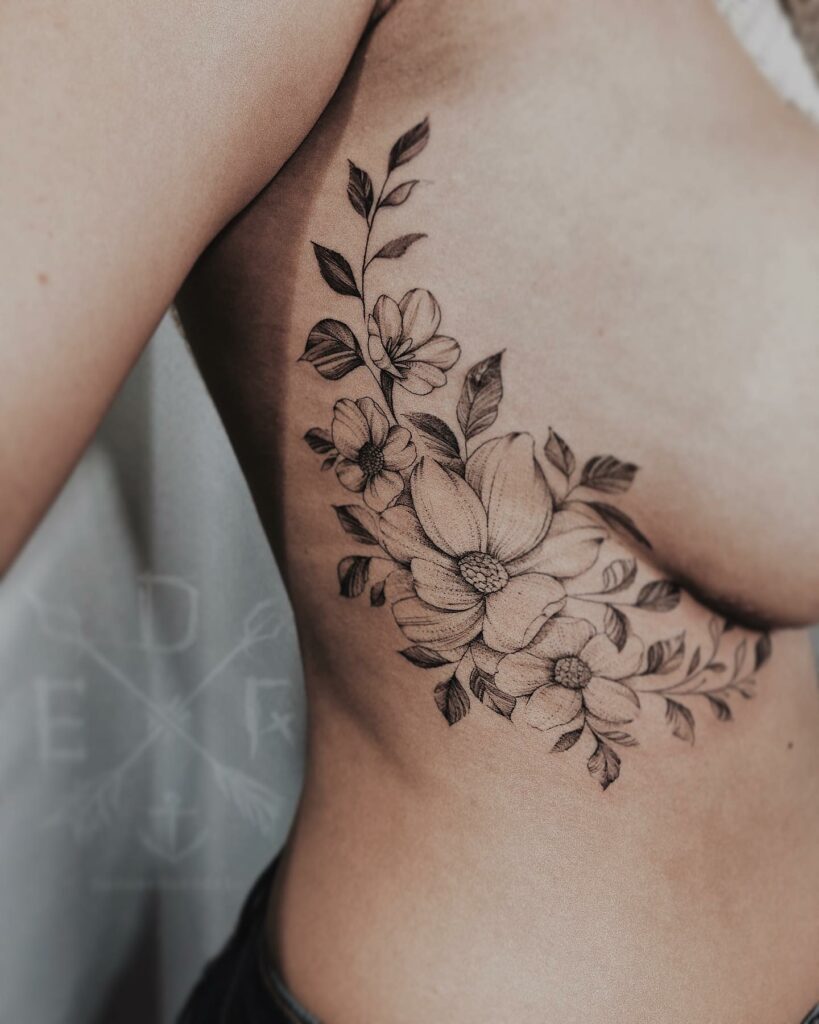 The benefit of a side boob tattoo is that you may choose how apparent it is. Side boob tattoos have a mysterious edge to them, courtesy of their placement.
Because the area is usually covered by clothes, side boob tattoos are rarely seen. However, all you need to do is wear a shirt with low-hanging sides and skip the under-layers. They're flirty by nature and ideal for anyone who wants the option to shield or display — maybe a peek from behind a backless dress cut deep on the sides.
Flower And Leaf Side Boob Tattoo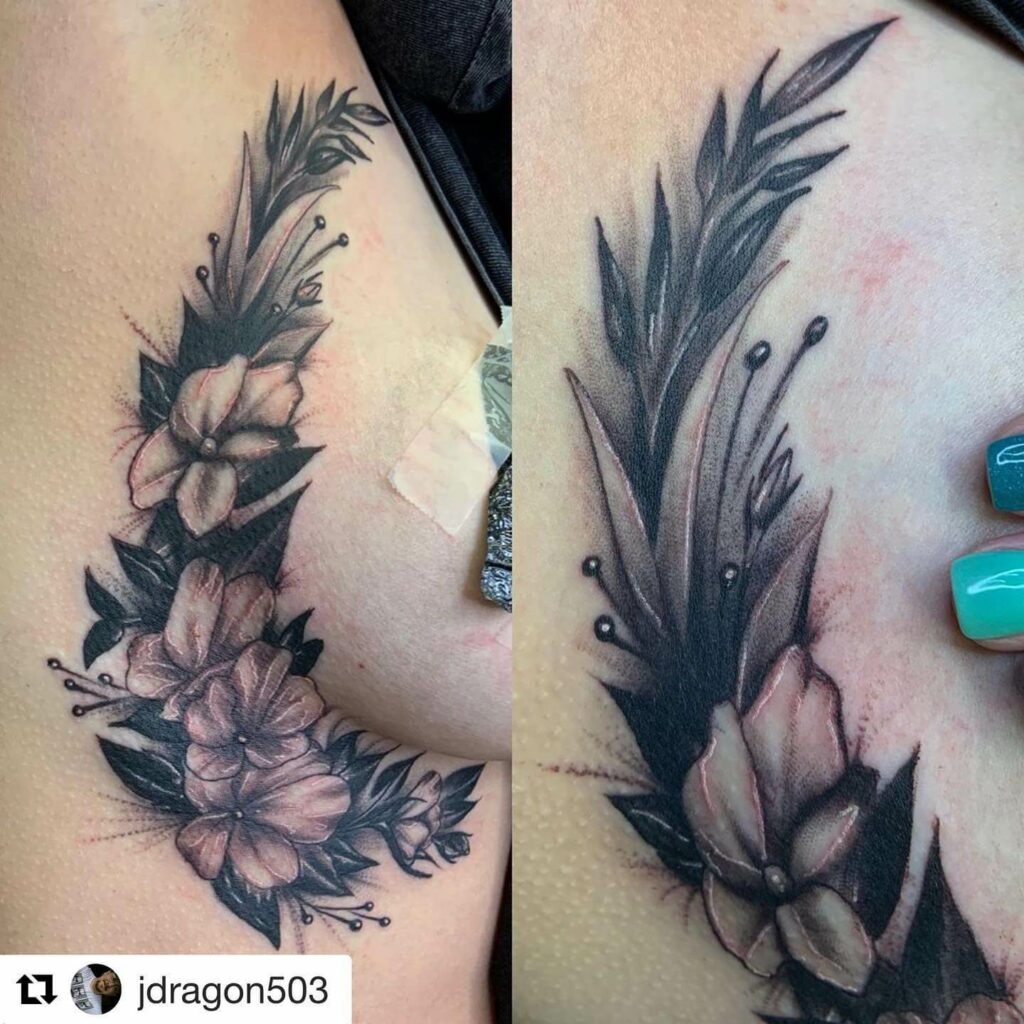 The elegance of these black and white patterns lends another sense of eroticism to these flower-side boob tattoos. Because the side boob area is so delicate, tattooing here could be extremely painful.
The skin is thin, and the ribs are one of the hottest tattoo locations. You can't go too hard over it since the ink may blast out under the skin, creating the appearance of a bruise. Getting this style of tattoo by skilled artists is highly recommended.
Side Boob Tattoo With Flowers And Quote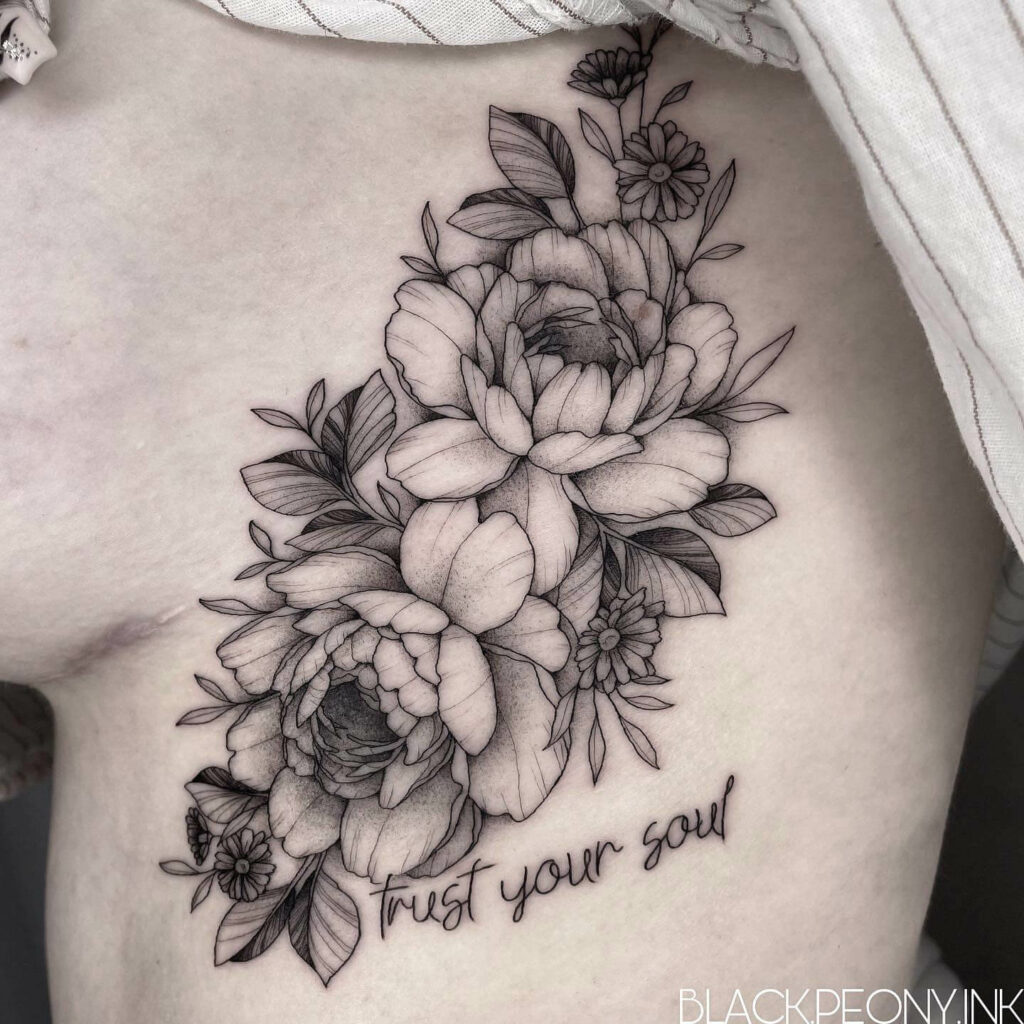 Side boob tattoos are officially inked on your upper ribs and may extend to your under-boob, sternum, and back, all of which are considered sensitive places. If you want a piece on the side of your breast but are concerned about discomfort, a basic tattoo of dots or a few lines may be a nice compromise.
This side boob tattoo comes with a good quote. This can also be used as an example of fun. You can get this type of tattoo inked by a good artist. Meaningful phrases may be added to your body and fit into a little area on your side breast. You could get your spouse's name tattooed somewhere only they can see it, or you could add a little flower on your side breast.
Bundle Of Flowers Side Boob Tattoo
Breast tattoos can be an expression of femininity, a way to cover scars or a way to create a meaningful symbol for some women. Many women who get breast tattoos do so to mark a watershed moment in their lives. Side breast tattoos are becoming increasingly popular, and when paired with another of our favorite tattoo ideas, flowers, we have a full list of favorites.
From one-of-a-kind designs with phrases and elegant typefaces to black and white seductive designs with whimsical flashes of color. This is a bundle of flowers' side boob tattoo, which also represents joy.
Pretty Flower Side Boob Tattoos
Some women get them to celebrate their sexuality, to enhance and draw attention to an already attractive body part. Depending on the color of the flower, hyacinth can represent sorrow, sincerity, or even jealousy. If you're looking for something unique, their beautiful shape makes them an excellent candidate for a tattoo.
Choosing the best location for your tattoo might be challenging at times. However, when it comes to the sides of the breasts, it's difficult to conceive of a tattoo design that doesn't look good. This is one of the side boob tattoos that looks good.
Lavender Flower Side Boob Tattoos
According to tattoo artists, the most common motive for tattoos on women's side boob is a desire to seem more appealing and sexy to males. This is a colorful lavender flower tattoo beautifully inked on the side boob.
Lavender represents purity, dedication, and love in tattoo art. The lavender color, a soft shade of purple, has a strong feminine feel. A lavender tattoo denotes elegance, richness, and refinement because purple is also the color of royalty. Flowers, however, represent fragility and the quick passage from life to death as they wilt and die. Flower tattoos, on the other hand, can also represent beauty, femininity, and love in general. They also look lovely, which can be reason enough to invest in some floral ink. The rose is the most commonly tattooed flower. It represents love and beauty.
Some ladies want to get a side boob tattoo that is only visible when they are wearing a bikini or a loose tank top. Some ladies prefer that their tattoos must be seen only when they are naked, this is the reason why size is important. Meaningful quotes can be added to your skin which will fit on your side boob in a small space.
All of the other tattoos on your body play a role in your decision to get inked for a side boob tattoo. You could desire a tattoo that corresponds to anything on your ribs or something in the back of your ear. Some ladies may like to put a little mark or possibly a number if that signifies anything to them. A side boob tattoo might depict butterflies, flowers, or birds. You can get a side boob tattoo that will appear as a sunscreen tattoo which you get inked on your hip at the time of summer.
If you get a side boob tattoo on one side, you should also get another side boob tattoo on the opposite boob. You would like to seem balanced, and if the differences aren't too great, you may have it both done on the same day. Contemplate how frequently it will be seen, or keep the tattoo position high enough so that it can be seen even when a light bra is worn. The side breast tattoo's power resides in its cryptic and inaccessible placement.
Feature Image from Pinterest – Want your tattoo to look brighter? Try "Tattoo Balm"