Hello, fellow tattoo enthusiasts! Are you on the hunt for a meaningful and unique flower tattoo that symbolizes love and admiration? Look no further than the beautiful, simple carnation tattoo ideas we've gathered for you!
You might be wondering about the carnation flower's meaning – it's actually quite simple. Carnations are often used to express love and respect for someone, and they also happen to be the birth flower for January. But that's not all – these flowers have a rich history dating back to ancient Greece, where they were considered the "Flower of the Gods" and used for medicinal purposes.
Carnations have since become associated with Mother's Day and even have Christian connotations attached to them. In fact, the founder of Mother's Day, Ann Jarvis, chose carnations as the official flower for the day since they were her own mother's favorite. With such a meaningful history, it's no wonder why carnation tattoos have become a popular alternative to the classic rose design.
So, if you're looking for a flower tattoo that's both beautiful and distinctive, take a peek at our collection of pretty carnation tattoos. We guarantee you'll find inspiration for your next stunning ink masterpiece!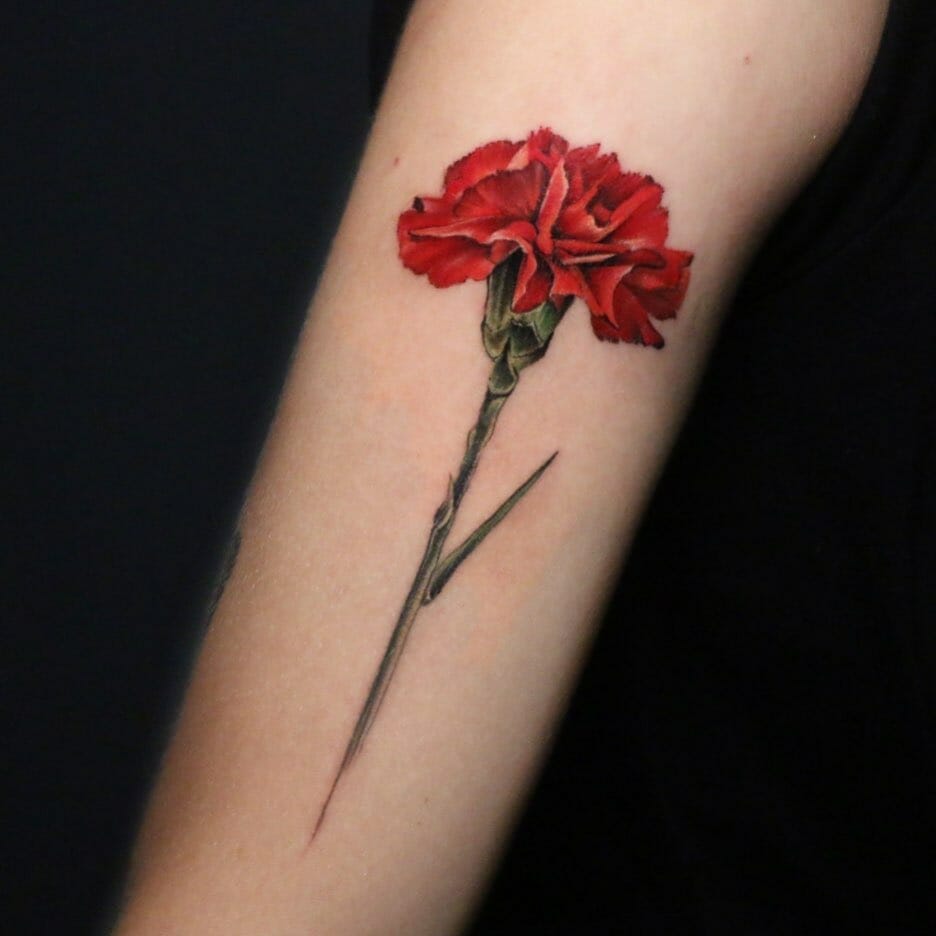 Tiny And Adorable Carnation Flower Tattoos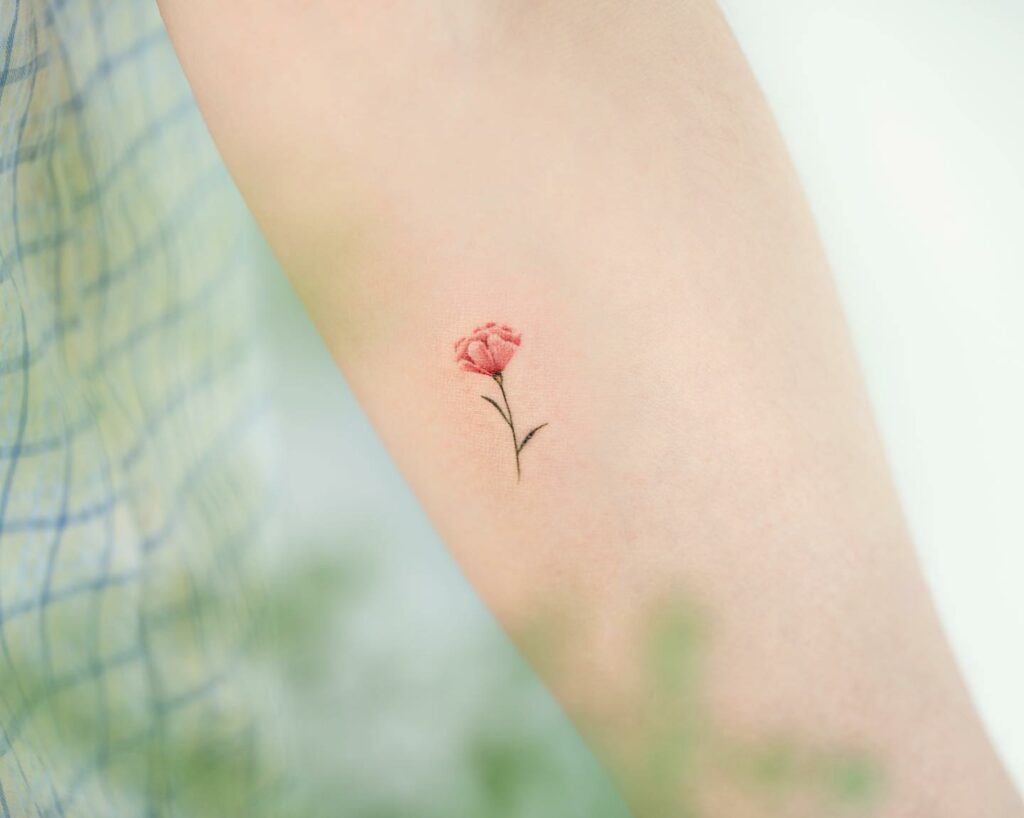 Carnations are known for their versatility in symbolism, such as representing undying love and fascination with someone. It is also a common gift to express uniqueness and distinctiveness from others. If this flower holds a significant meaning for you, then getting a carnation tattoo is a great idea. If you prefer a more minimalistic and aesthetic design, a minimalist carnation tattoo would be a perfect choice. These simple yet beautiful designs can still catch attention even from afar.
Awesome Birth Month Flower Tattoo Ideas For January-Born People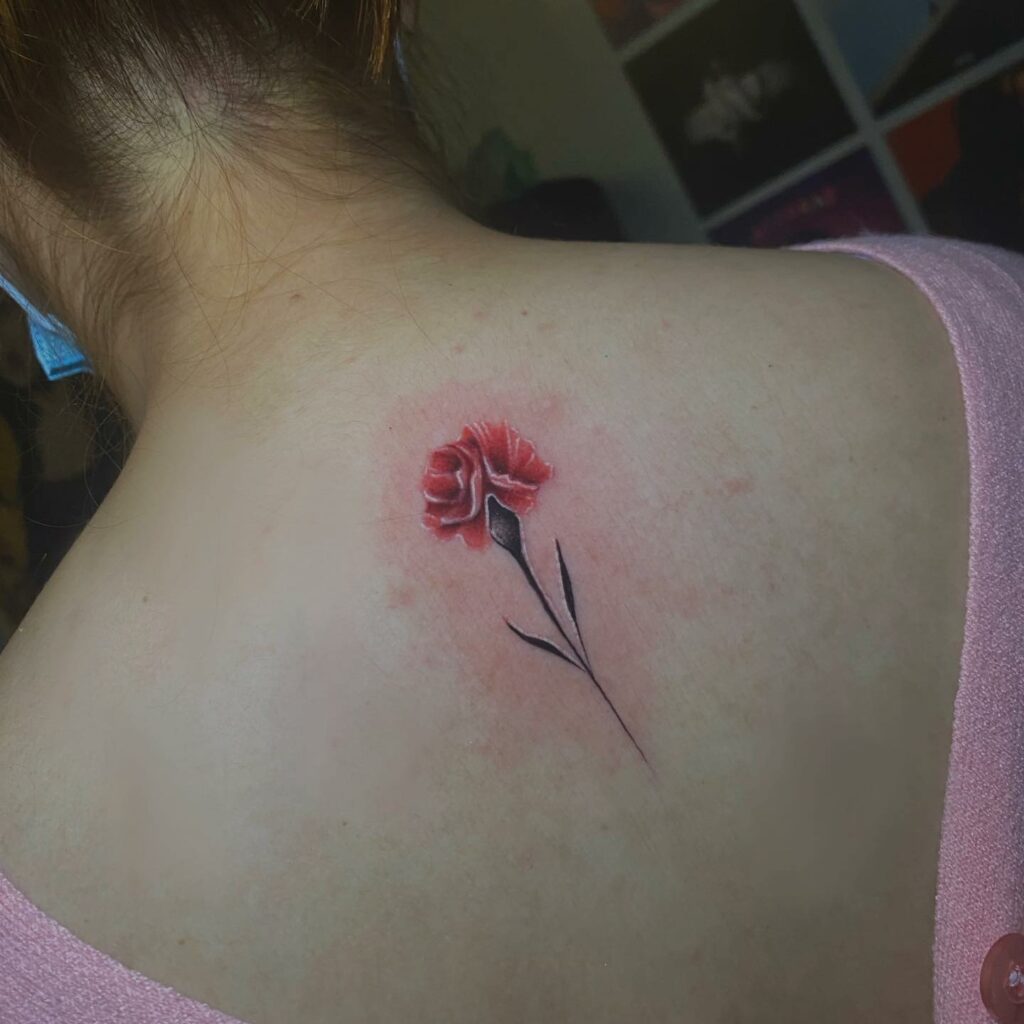 Carnations have been revered for centuries for their meaning and beauty. They're a symbol of love, admiration, and affection, as well as a sign of fascination with someone special. Did you know that carnations are also the birth month flower for January? If you're a proud Aquarian born in January, a carnation tattoo would be the perfect way to showcase your birth month. Even if you're not a January baby, a simple and elegant carnation flower tattoo can still be a great way to express your love and admiration for someone special.
Beautiful Carnation Flower Bouquet Tattoo Designs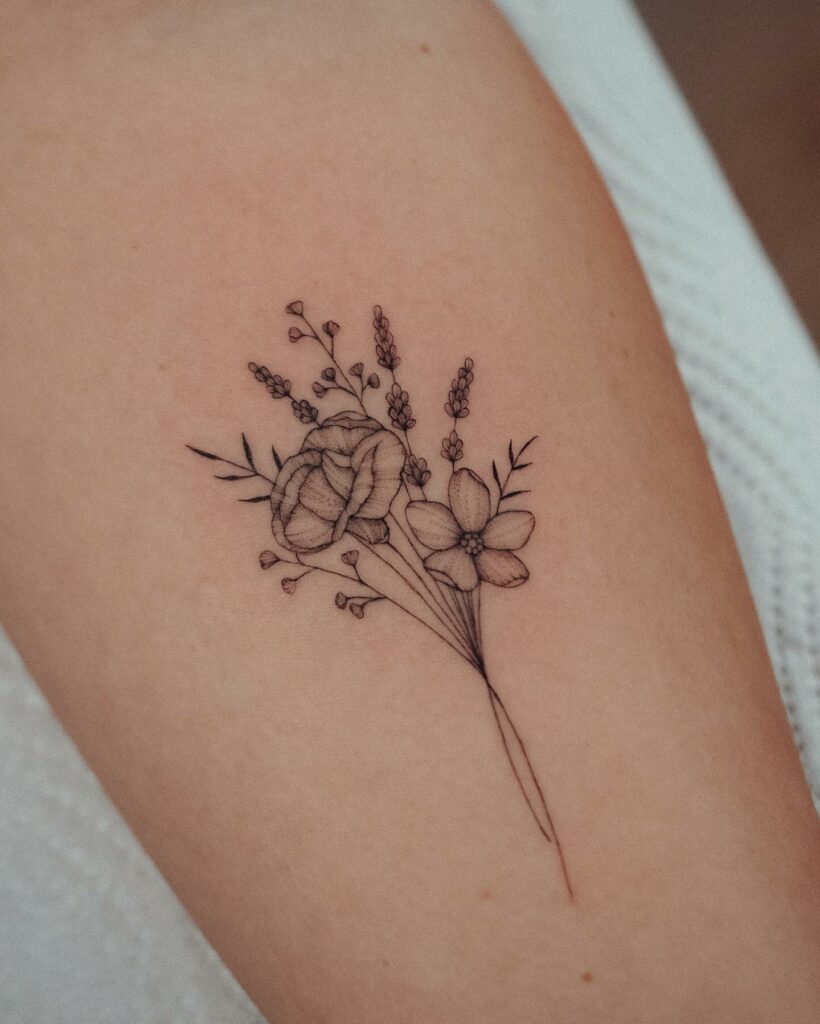 Carnation flowers come in various colors and each shade symbolizes different emotions. For example, red carnations are usually used to represent love and admiration towards someone special. They can also indicate new beginnings and affection for a friend or family member. If you are considering a carnation tattoo, you can choose different colors for the flowers to represent different emotions. Another option is to get a bouquet of carnation flowers as part of your tattoo design. A flower bouquet tattoo can enhance the beauty of your tattoo and add to the overall aesthetic appeal.
Pretty Carnation Flower Outline Tattoo Ideas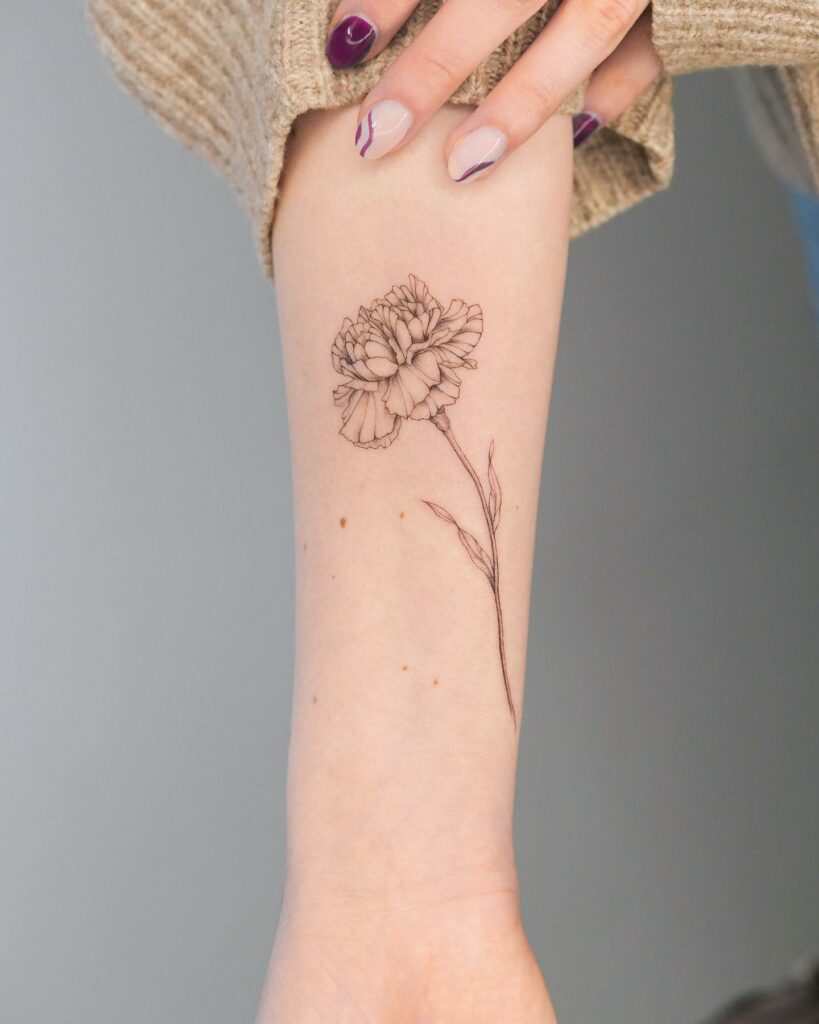 Carnations are beautiful flowers that symbolize pure love and respect, and they make for a great tattoo design. For those looking for a simple and minimalistic carnation tattoo, an outline design is a great option. An outline tattoo is created by drawing only the outline of the figure with black ink, leaving the rest empty. An outline carnation tattoo would look stunning with all the intricate detailing of the flower petals. To ensure that your tattoo turns out perfectly, it's important to find a skilled tattoo artist who works well with black ink. Be sure to do your research and choose an artist who has experience creating beautiful outline tattoos.
Simple Carnation Tattoos That Can Be Easily Placed Anywhere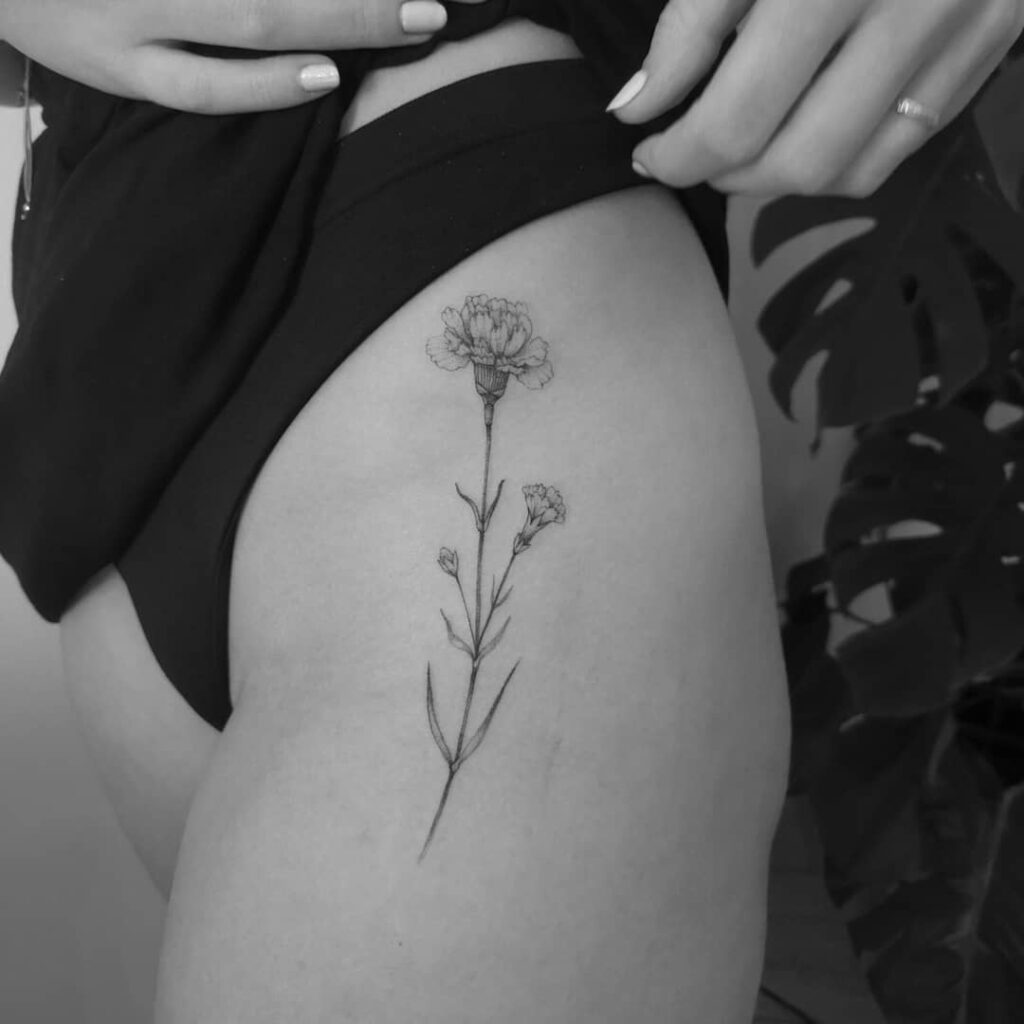 One of the best things about floral tattoos is that they can be placed almost anywhere on your body, depending on the size and shape of the design. Whether you choose a purple carnation, white carnation, or pink carnation tattoo, you can get it inked on your forearm, chest, collarbone, rib cage, thigh, or even above your ankle. A rose tattoo is another popular option that can be placed anywhere on your body. If you prefer a minimalistic rose tattoo, you might want to check out some small and simple rose tattoo designs. Regardless of where you choose to get your floral tattoo, it is sure to look stunning!
Lovely Carnation Tattoo Ideas To Express Your Love For Your Mom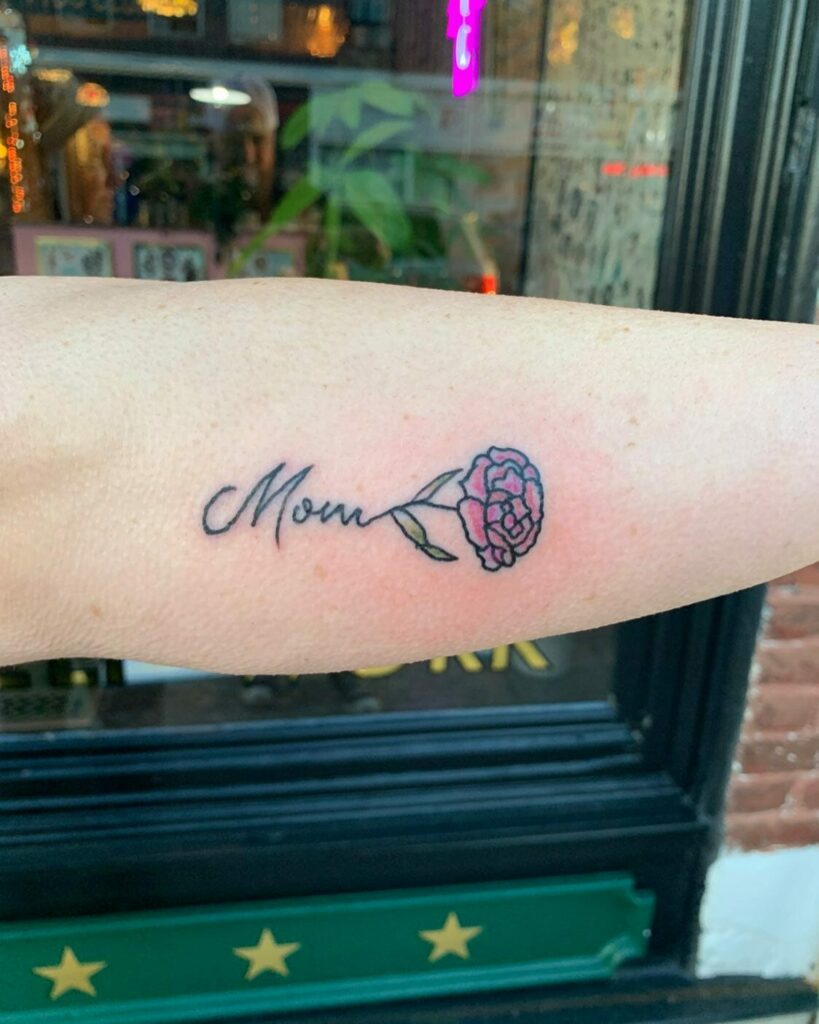 Carnation tattoos are a popular choice for people who want to honor their mothers and show appreciation for their love. The significance of carnations for Mother's Day is well-known, as a red or pink carnation is a perfect way to express your admiration for your mom. If you're considering a tattoo to celebrate your mother's love, a traditional carnation tattoo design is an excellent idea. The red carnation flower tattoo symbolizes love in all its forms, making it a perfect tribute to a mother's unwavering affection.
Aesthetic And Colorful Carnation Flower Tattoo Designs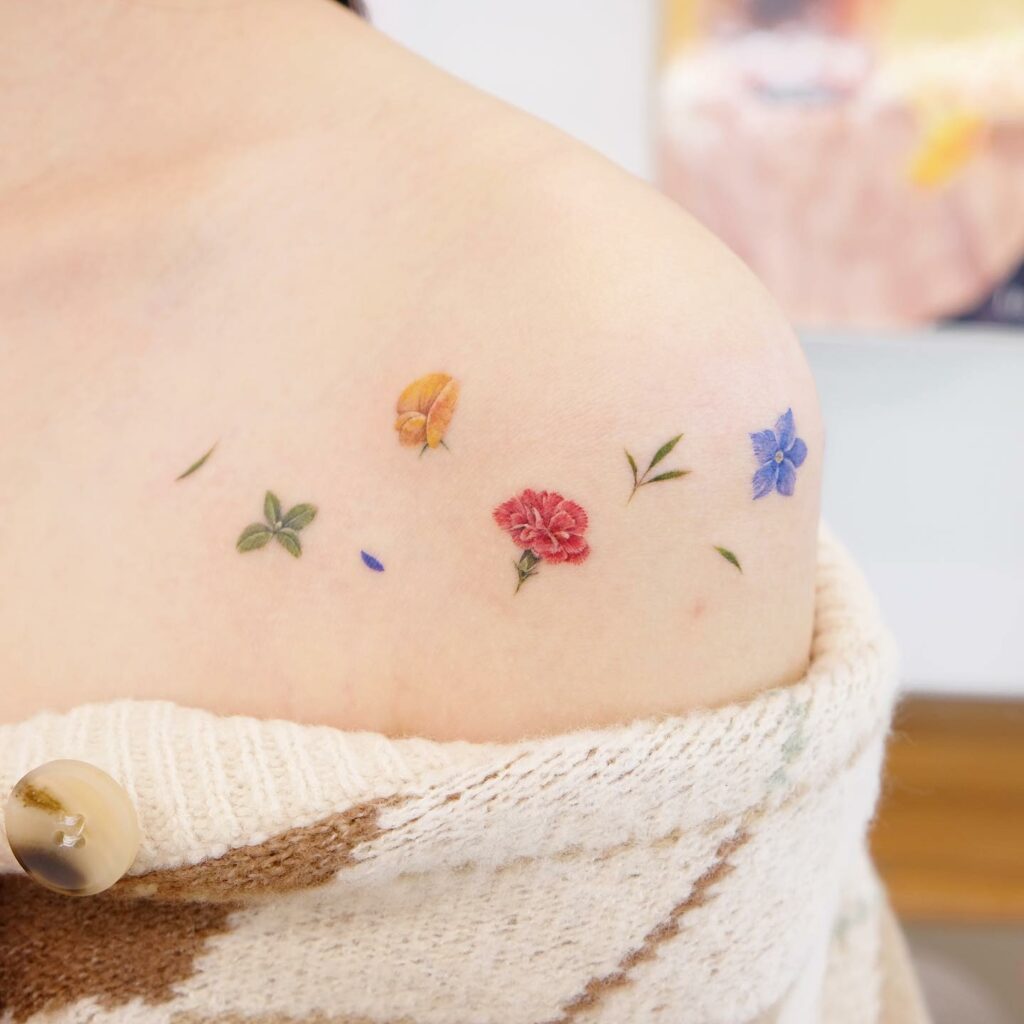 Carnations are a versatile flower that comes in a variety of colors, including pink, purple, yellow, red, and even blue. While the red carnation is the most common variation, each color has its own symbolism, representing love, admiration, respect, attraction, and passion. To make your carnation tattoo stand out, it's best to opt for a colorful design instead of a monochromatic one. You can request your tattoo artist to create a white carnation tattoo, purple carnation tattoo, yellow carnation tattoo, red carnation tattoo, or pink carnation tattoo, depending on your preferences.
If you love colorful floral tattoos, you can also mix and match your carnation tattoo with other flower tattoos. As seen in the photo above, the wearer has a gorgeous bunch of flower tattoos on her chest area, using a lovely pastel color palette that looks incredibly pleasing to the eye.
Cute Carnation Tattoo With The Heart Motif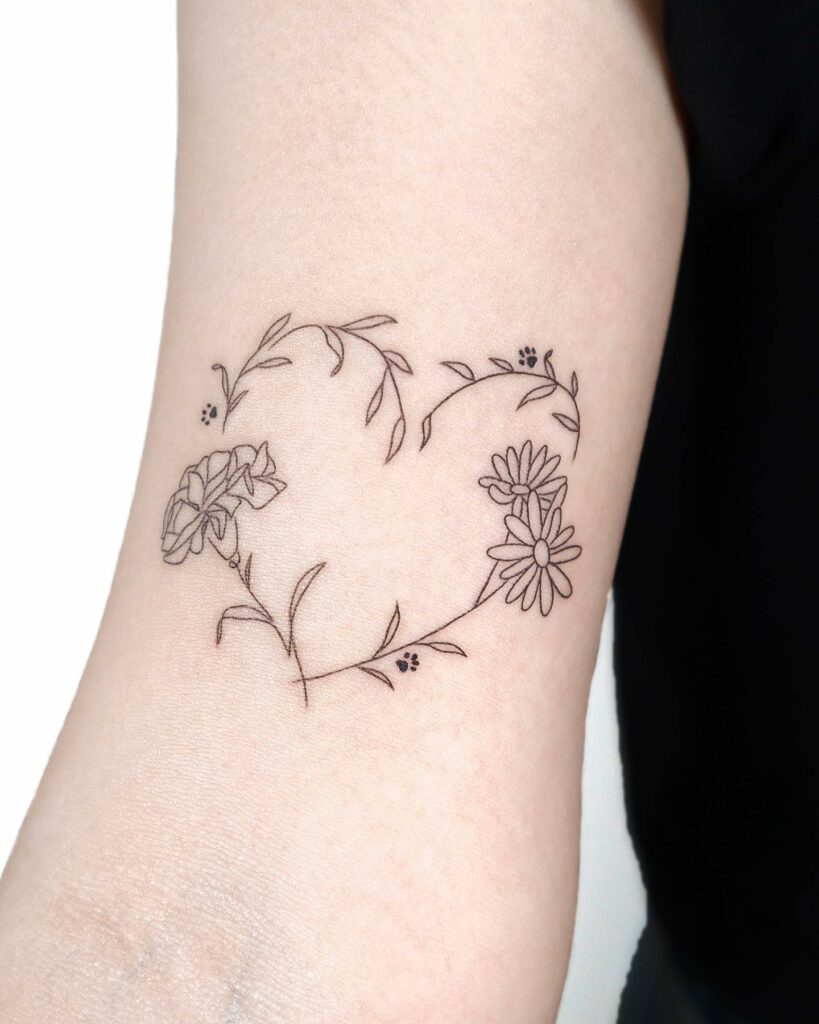 Carnations are not only beautiful but also have a deep symbolic meaning. They represent love and admiration and are the official birth month flower for January. During Valentine's Day, carnations are also popular among those who want to express their love but with something different than a rose. A great idea for a lovely carnation tattoo is to get it in the shape of a heart. Combining a heart motif with a red, pink, white, purple, or even yellow carnation flower tattoo will make it even more charming and cute.
If you're looking for other cute flower tattoo ideas, the Japanese cherry blossom is a great option. Check out some of the best cherry blossom tattoo designs to get inspired!
Simple Carnation Tattoo Ideas With Other Flowers
Flower tattoos have always been a popular choice for both men and women around the world, as they look stunning on all skin tones. If you've decided to get a carnation tattoo, why not mix and match it with other flower tattoos? You can add a daffodil, daisy, rose, or even a lotus flower tattoo to go along with your purple, white, or pink carnation tattoo. Each of these flowers has its own unique meanings and symbolizes positive human qualities such as love and affection. By combining different floral tattoos, you can create a personalized and meaningful design that represents your personality and style.
Quirky And Unique Carnation Tattoo Designs
Floral tattoos are a timeless classic that continue to captivate men and women worldwide. Carnation tattoos, in particular, offer a unique opportunity to showcase individuality and creativity. Instead of settling for popular designs, you can think outside the box and create a truly one-of-a-kind carnation tattoo. Take inspiration from the photo above, where the wearer has combined a carnation flower with a skeleton hand for a truly unique design. A snake and carnation tattoo is also an excellent option that symbolizes love but has its own meanings.
Flower tattoos have held significant meaning throughout history, and carnations are no exception. A simple carnation tattoo can represent feelings of admiration, love, and respect. If you're looking for something different from the classic rose tattoo, consider a beautiful and simple carnation flower tattoo to express your individuality.
feature image from Pinterest – Want your tattoo to look brighter? Try "Tattoo Balm"