Hey there, it's time to treat yourself with a little extra love! We've put together a list of simple yet meaningful self-love tattoo ideas to help you celebrate and appreciate who you are.
You know what they say: self-love is essential, but your self-love tattoos can be subtle and sweet!
Learning to love and embrace ourselves is one of the most important lessons in life. When we recognize our own awesomeness, we attract positivity and build the foundation for a happy, healthy existence.
We often celebrate romantic love, but how much do we really honor self-love? Self-love means accepting and cherishing ourselves, nurturing our well-being, and striving to feel good each day.
It's not always an easy task, but that's where self-love tattoos come in! These motivational body art pieces serve as a beautiful reminder to honor our souls and bodies, expressing gratitude for our unique selves. And when your self-esteem needs a boost, a self-love tattoo can be a powerful source of inspiration. So, are you ready to embark on a journey of self-discovery and appreciation? Check out these stunning self-love tattoos that'll help you focus on the most important person in your life – you!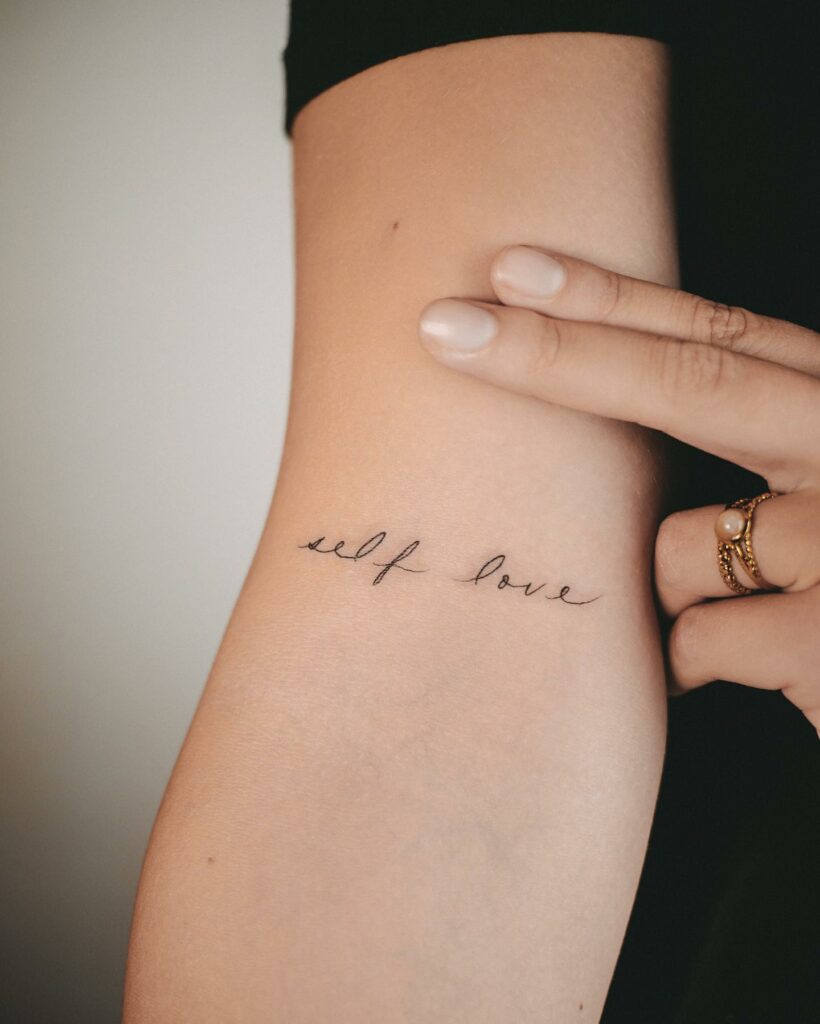 Self Love Tattoos With Floral Motif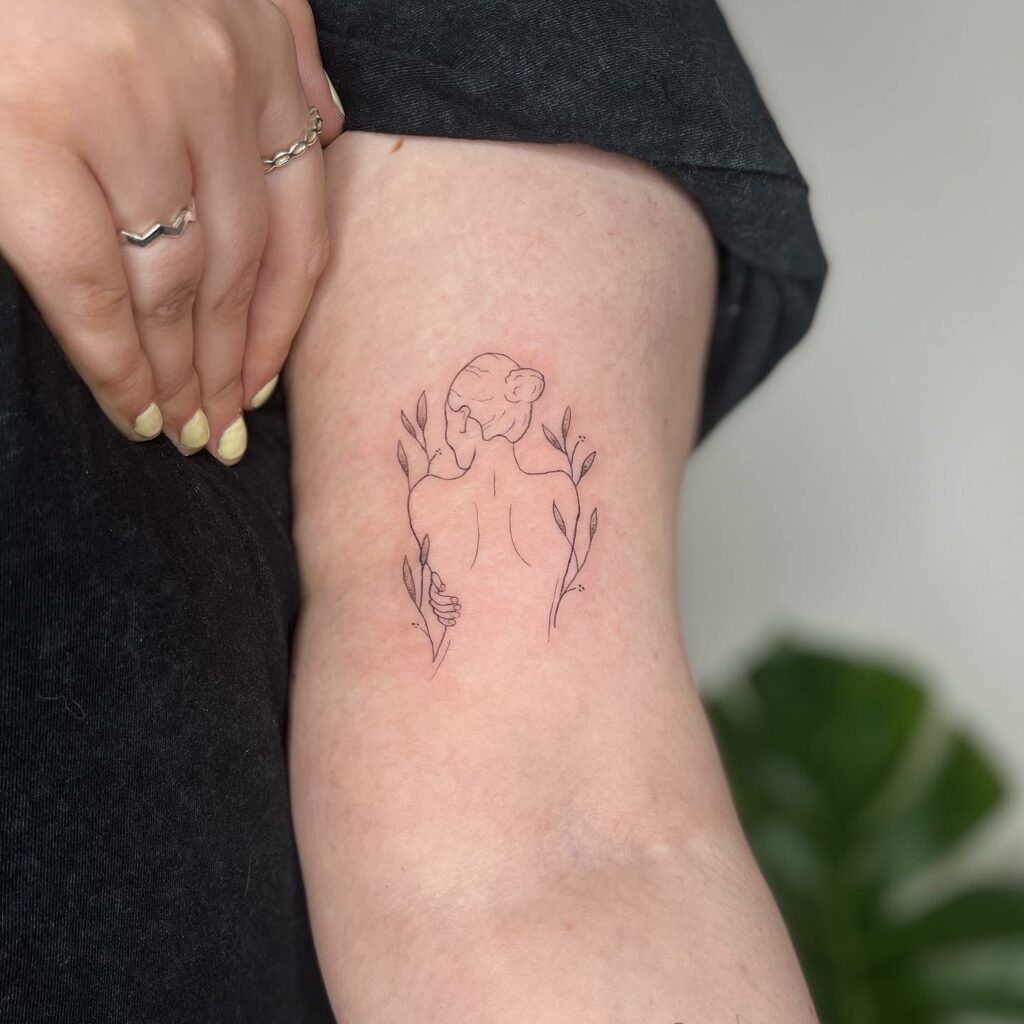 This "self-love" tattoo is a powerful reminder that no matter what life throws at us, we have ourselves to rely on.
Now, let's talk about the design. It's simple yet elegant, featuring delicate lines and subtle shading on the leaves to cater to those who prefer a minimalist aesthetic. The imagery of the leaves also adds an organic touch to the tattoo, representing growth and renewal.
This tattoo design is not just a piece of art but a daily reminder to take care of yourself and cherish the unique individual that you are. So, why not wear this symbol of self-love on your skin and radiate positivity wherever you go? Remember, the most important relationship you have is with yourself, and this tattoo design is the perfect way to honor it.
This tattoo design features a figure with a flower head, and it represents a hug that's full of admiration and respect. The details of the flower patterns are intricate and striking, creating a beautiful contrast against the minimalist figure. This design can be inked on your forearm or above the elbow, and it will provide you with a heartwarming reminder of the importance of showing appreciation and love to those around you.
Unique Self-Love Tattoo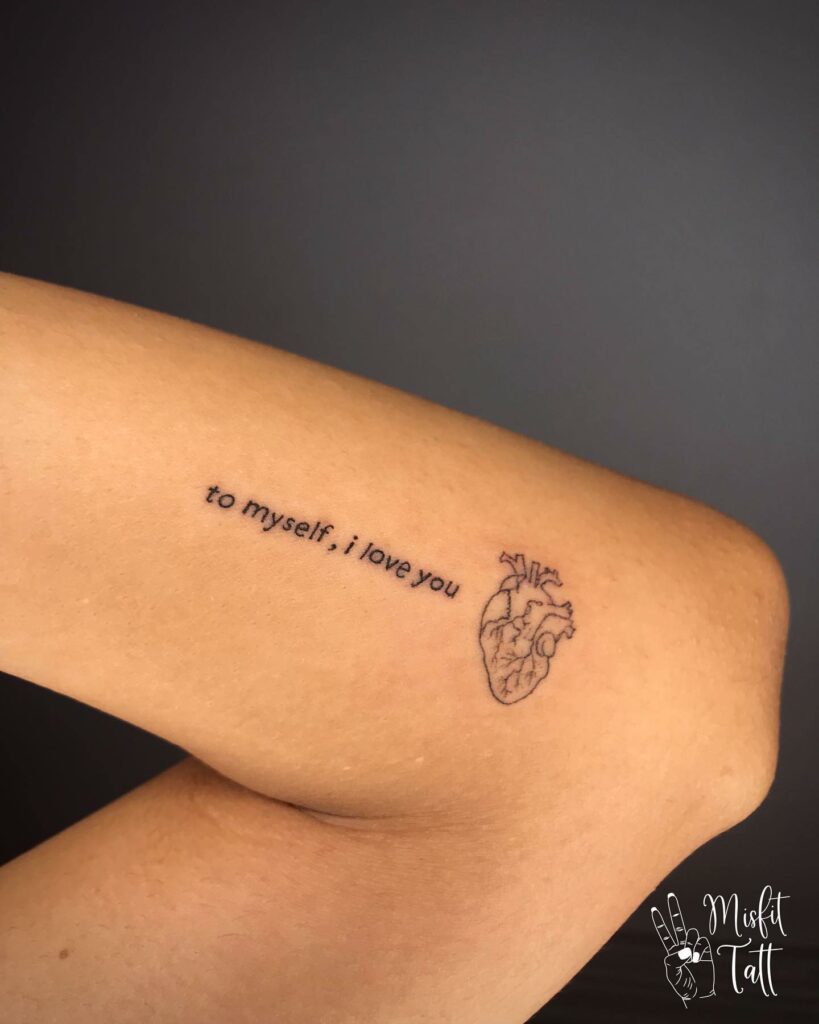 Self-love tattoos are a beautiful way to remind yourself to love and care for yourself. Usually, these tattoos incorporate inspiring quotes or meaningful designs. This self-love tattoo features a delicate lettering style, encouraging you to cultivate love and compassion for yourself. The design is minimalistic yet powerful, making a statement with a petite font. If you're looking for a more subtle tattoo, you can opt for a simple outline of a heart instead of a complex design. This tattoo is perfect for anyone who wants to carry a daily reminder of self-love with them.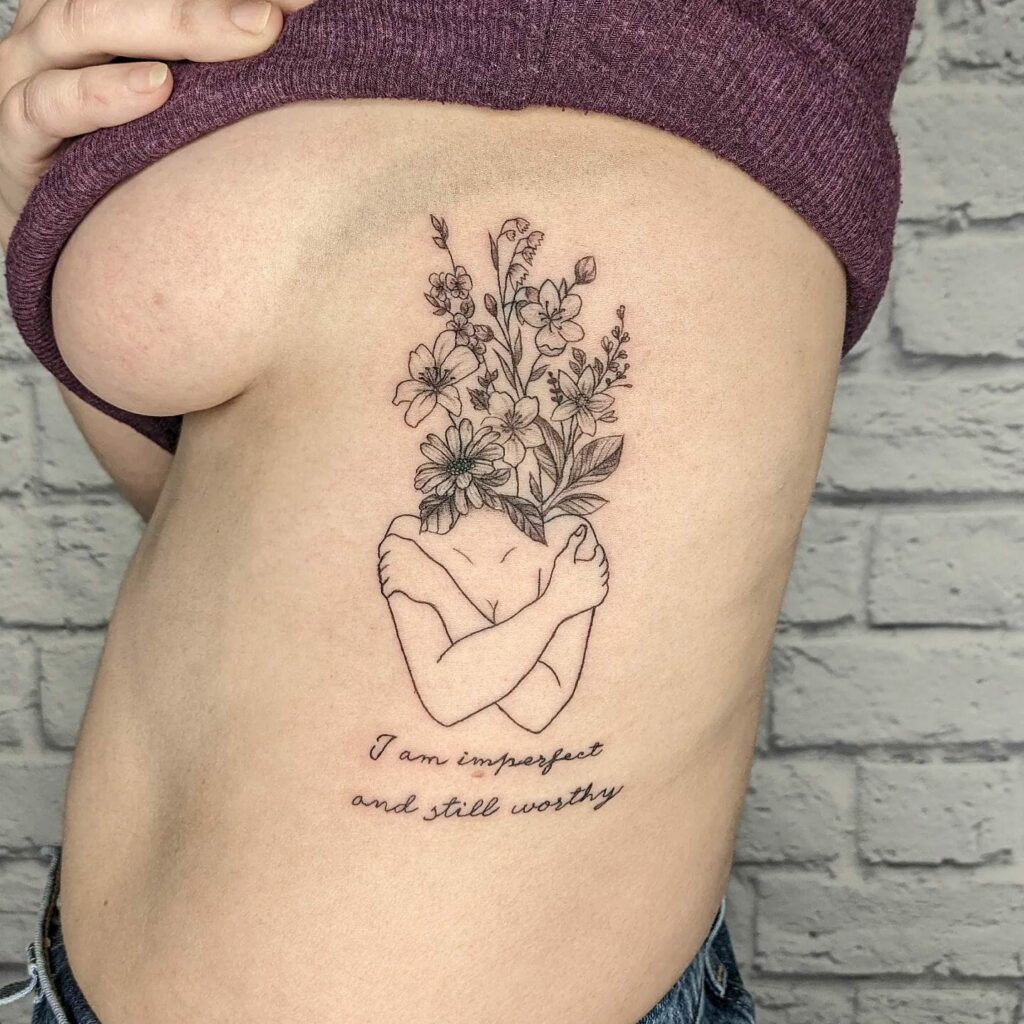 Self-love and positive affirmations can do wonders for your mental health. So why not incorporate them into your body art? This self-love tattoo is a gentle reminder that you should always treat yourself with kindness and compassion. The intricate flower patterns add a touch of beauty and vibrancy to the tattoo, making it a true work of art. Whenever you feel down, this tattoo will speak the truth and remind you to love and appreciate yourself.
Inspiring Self Love Tattoos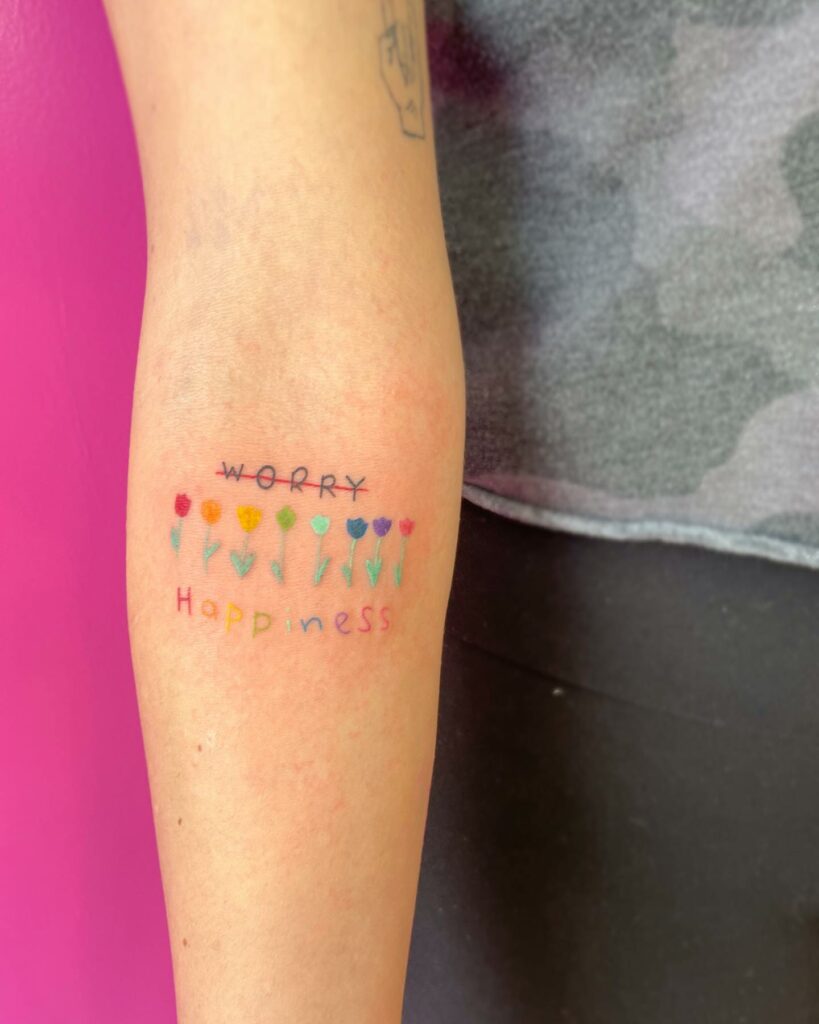 A tiny, colorful tattoo like this can speak volumes about self-love without the need for a quote. This rainbow tattoo features delicate flowers and a tiny sun, all of which come together to represent hope, happiness, and a sense of calm. The artist has used fine lines and a careful hand to create this dainty design, while the generous use of color adds a pop of vibrancy.
This self-love tattoo is more than just a pretty design. It serves as a reminder to let go of worries and cut ties with anxiety, in order to prioritize your mental health. Whether you find solace in meditation or nature, this tattoo is a symbol of the importance of rejecting tension in your life. The addition of the tiny sun serves as a reminder to have faith in yourself and to approach each day with a fresh, positive outlook.
Love Yourself Tattoo For A Positive Mindset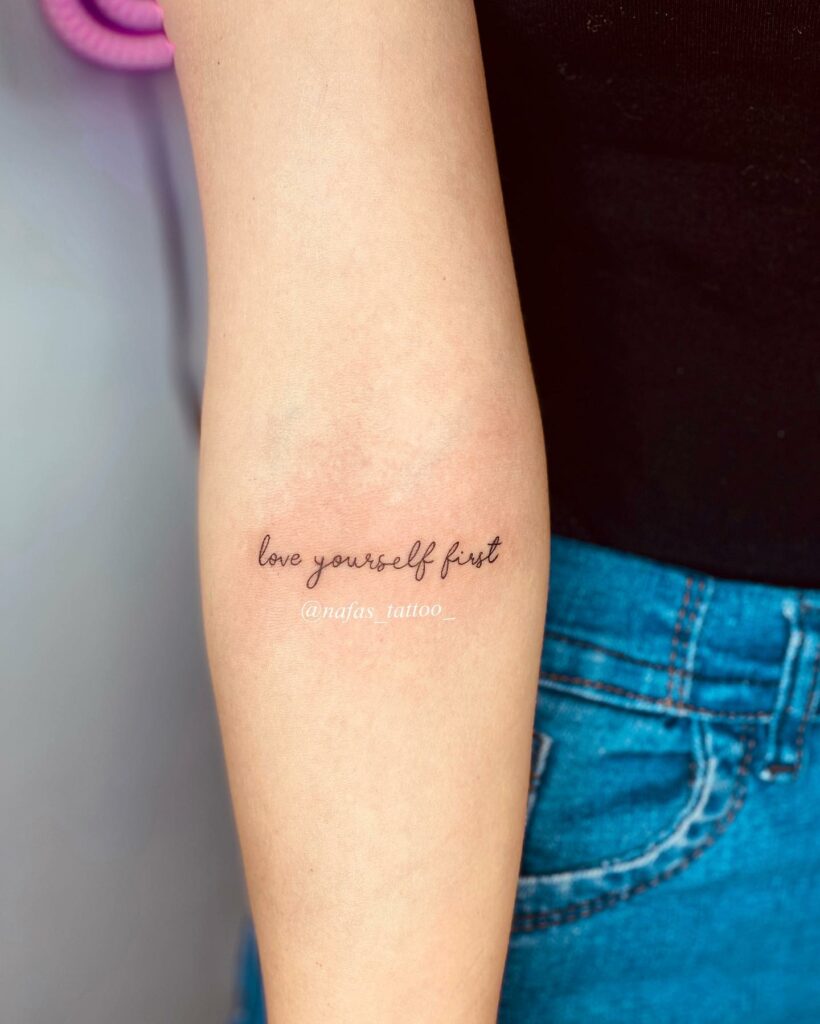 This quote tattoo emphasizes an important message that we often forget – to love ourselves first. In the midst of our busy lives, we tend to shower love and care for those around us, but forget to take care of ourselves. This simple yet powerful lettering tattoo reminds you to prioritize your own needs and well-being before focusing on others. The plain black ink design keeps it minimalistic and uncluttered, allowing you to express yourself effortlessly through body art. Take a step towards self-love and adorn yourself with this inspiring tattoo!
Love Yourself Heart Tattoos For Women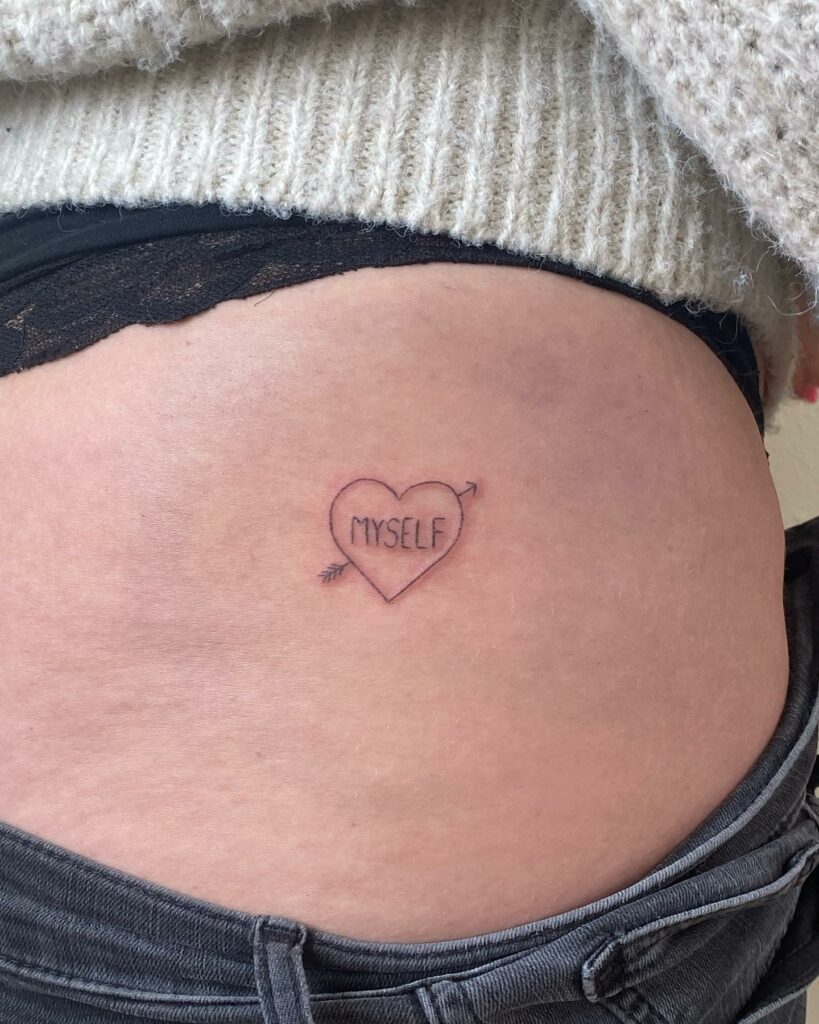 A heart tattoo is a perfect way to express self-love. The beauty of this tattoo lies in its deep meaning. When inked on your skin, this delicate design will serve as a constant reminder to shower love onto yourself, instead of giving it all away to others. It's a wonderful way to appreciate your heart for the incredible job it does, and to remind yourself to prioritize your own well-being.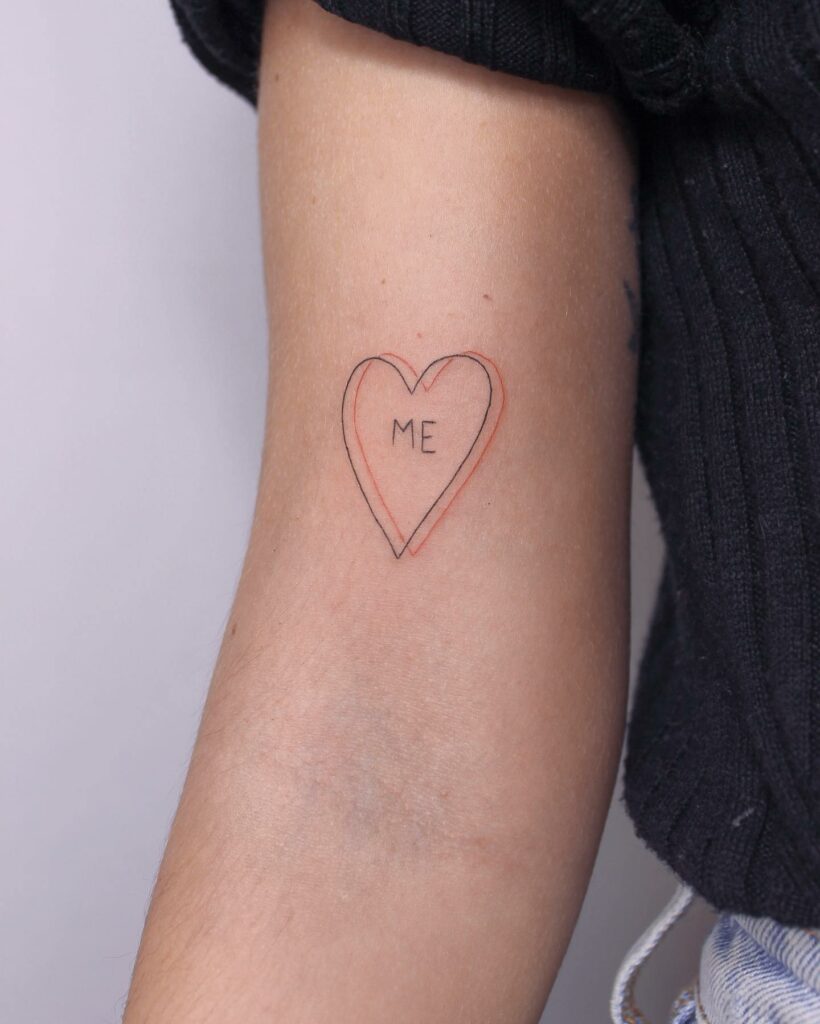 In addition to the classic black ink, you can opt for the powerful combination of black and red for your self-love tattoo. This interplay of colors enhances the meaning of the design, adding depth and dimension to the final result. These potent reminders of hope can be placed in a spot where you can easily see them, so they can inspire you every day. Whether you choose to get it on your wrist or on the back of your neck, this type of tattoo is a constant reminder to practice self-love and self-care.
Decorative Self Love Tattoos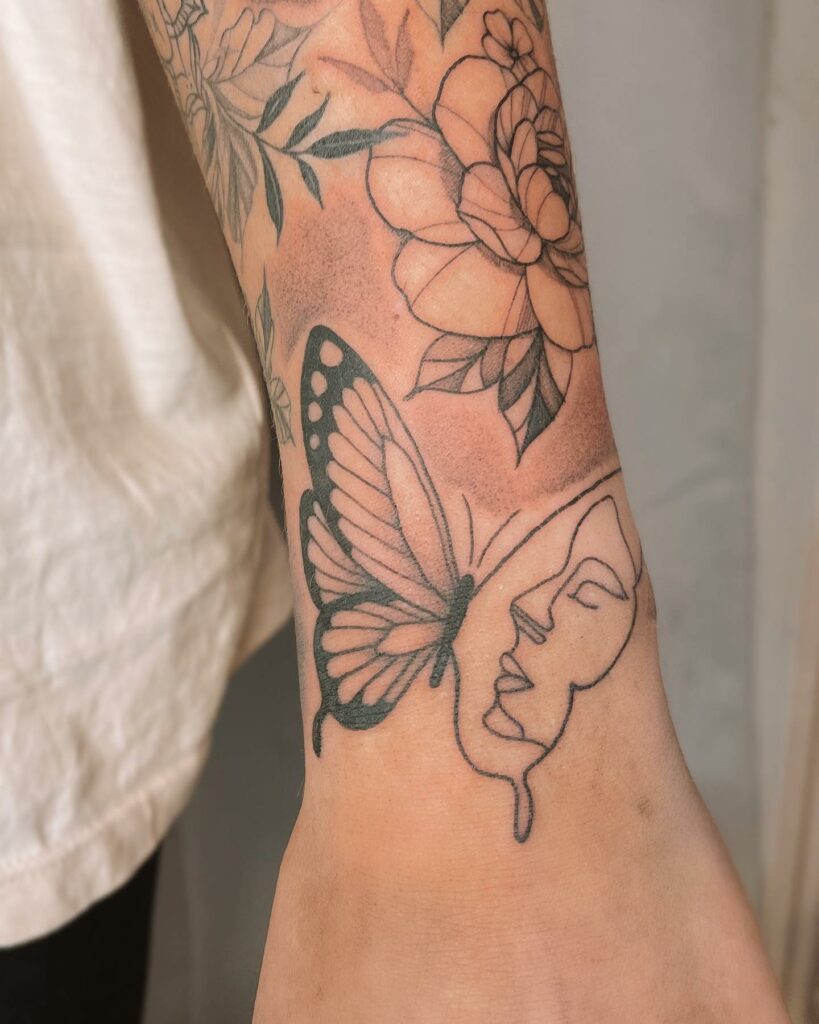 Elevate your self-love tattoo game with a beautifully embellished tattoo that holds deep meaning. This design showcases a half-profile of a human face merging into butterfly wings, drawn entirely in black ink for a minimalist effect.
The fusion of a butterfly and a human is particularly significant for the symbolic associations attached to the insect. Butterflies are creatures of transformation that conquer life's obstacles and embrace their bodies as they are. You can place these tattoos near your wrist or just above the elbow for maximum visibility and inspiration.
Creative Self Love Tattoos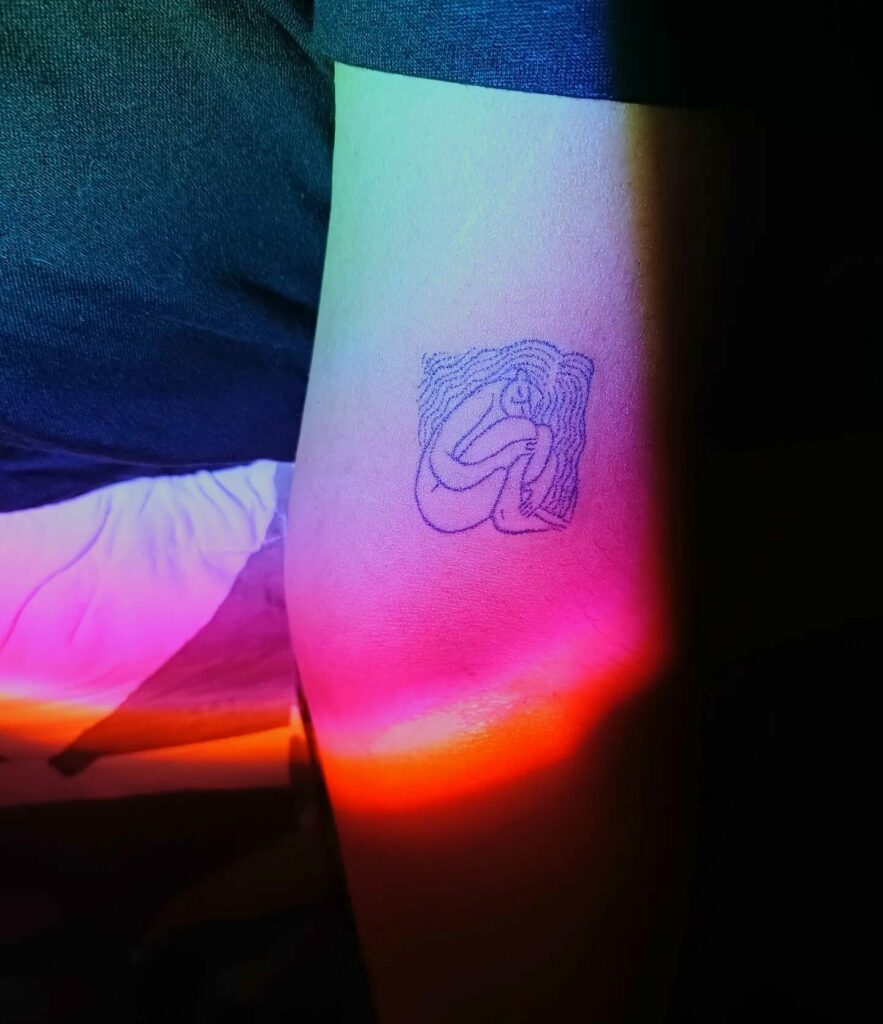 Self-love tattoos are often portrayed as delicate, but this design takes it to the next level with the hand-poked tattoo technique. The female figure is shown in a curled up position, with her hair framing the piece beautifully. The minimalist design leaves space for interpretation, and some may see it as an homage to the moments we take to recharge and reconnect with ourselves. This piece is perfect for those who prefer a subtle, yet meaningful tattoo.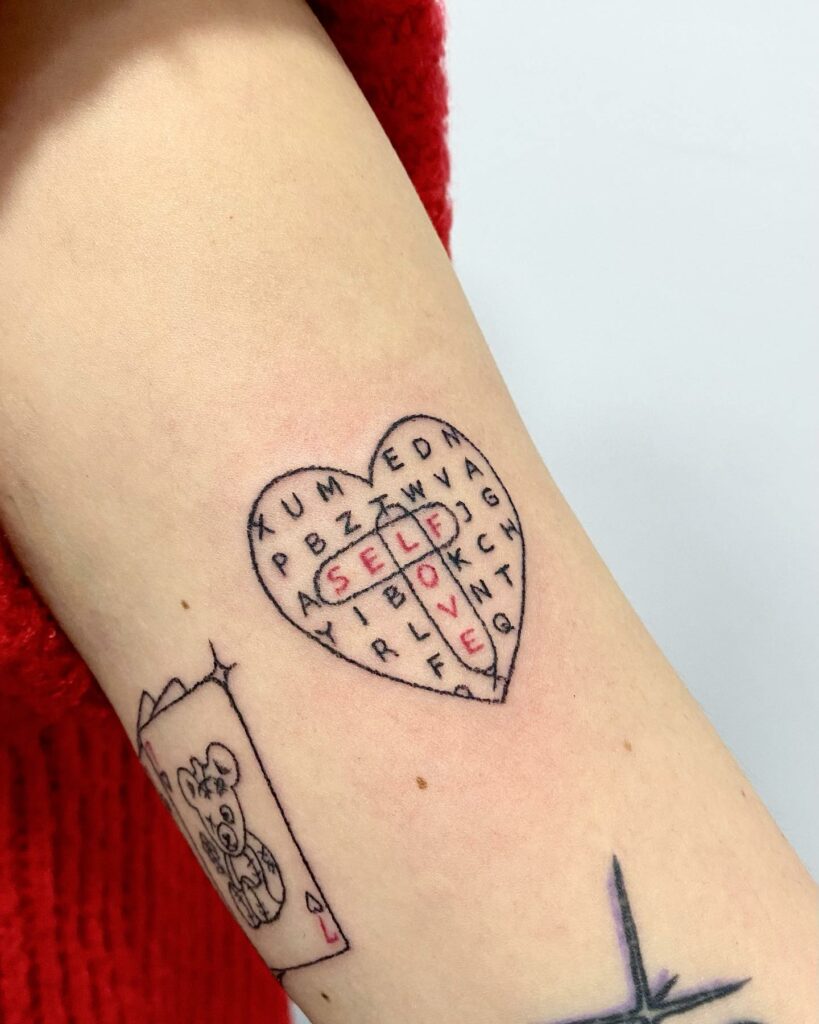 The design features a crossword puzzle where the keyword is highlighted with a different color or font. These tattoos are perfect for those who are looking for a fun and creative way to express their self-love. The crossword design adds a touch of whimsy to the tattoo, making it a cool and off-beat addition to any collection. The black ink used for the puzzle adds simplicity to the design, while the colored keyword helps it to stand out. Whether you're a crossword fan or just looking for something different, these tattoos are a great choice!
Self Love Matching Tattoos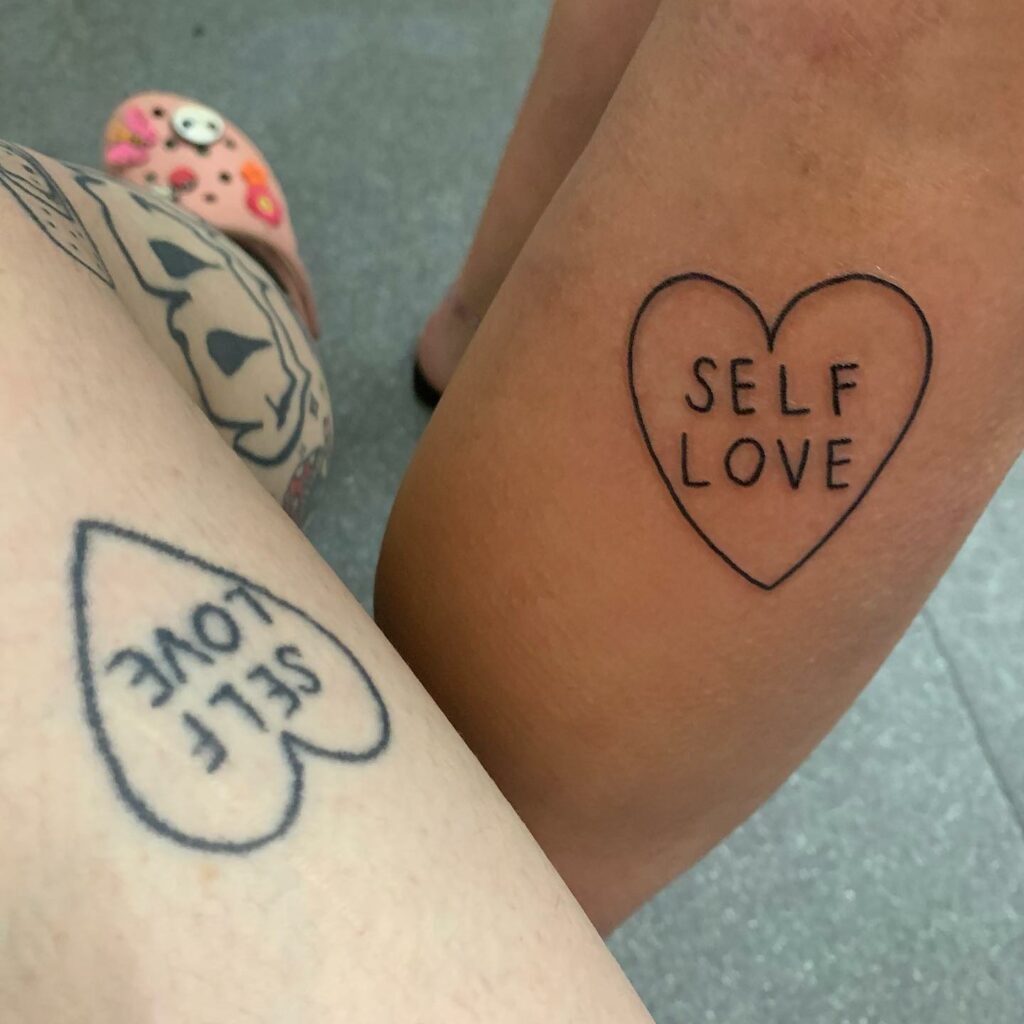 Matching self-love tattoos are a great option if you and your bestie are looking for some tattoo inspiration! The design is simple yet powerful, featuring a black outline with the words "self-love" in a heart shape.
This tattoo is not only a symbol of your friendship, but it also serves as a reminder to love and appreciate yourselves. It may seem ironic to get matching tattoos about self-love, but it shows that you both recognize the importance of valuing yourselves first. Self-love is a journey, and this tattoo is a beautiful way to celebrate that journey with someone you care about.
Self Love Tattoos On Hand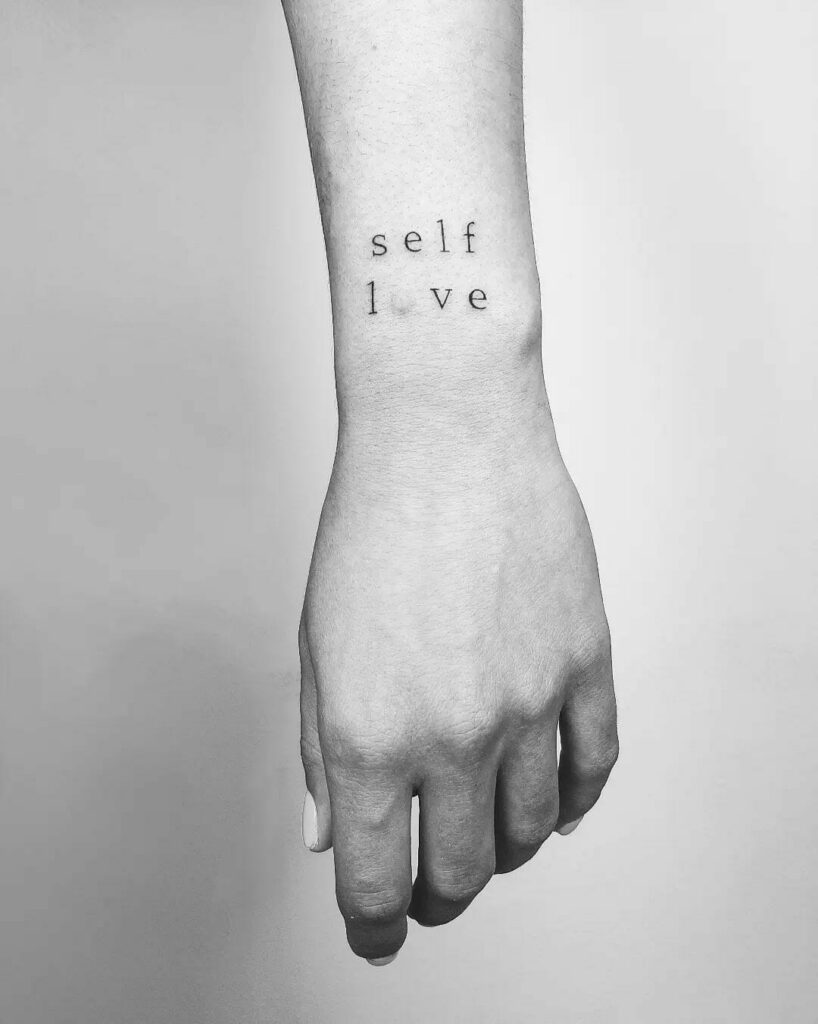 Tattoos are not just about decoration, they are also about embracing and loving yourself in all your unique glory! This self-love tattoo is designed to be inked on an area of the body that has circular tissue growth. The quote tattoo acts as a powerful reminder of your self-worth and the fact that you embrace your body, scars and all. This tattoo is a beautiful tribute to the strength and resilience of the human spirit. It's also customizable to your individual needs, so you can create a design that speaks directly to you. Just be sure to place it somewhere visible, so you can see it every day and be reminded of the importance of self-love.
Self Love Tattoos For Guys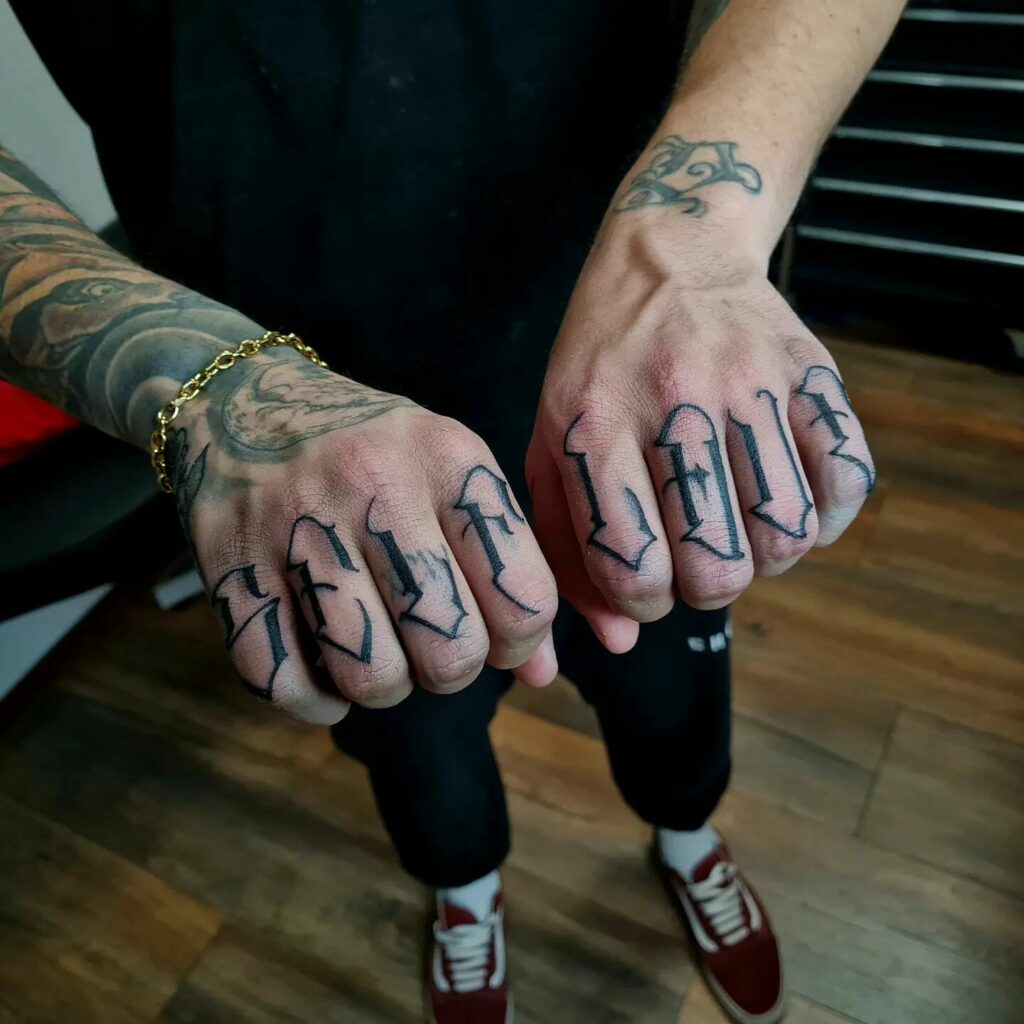 Self-love tattoos are a universal symbol of acceptance, and they are not confined to any particular gender. This finger tattoo is a perfect example of how to embrace your vulnerability while still staying true to your masculine side. The design is simple yet powerful, with the words "self-love" inked on the fingers. Finger tattoos are a great way to express yourself in a discreet yet impactful way, making them perfect for those who want to keep their tattoos hidden in certain situations.
Tattoos Self Love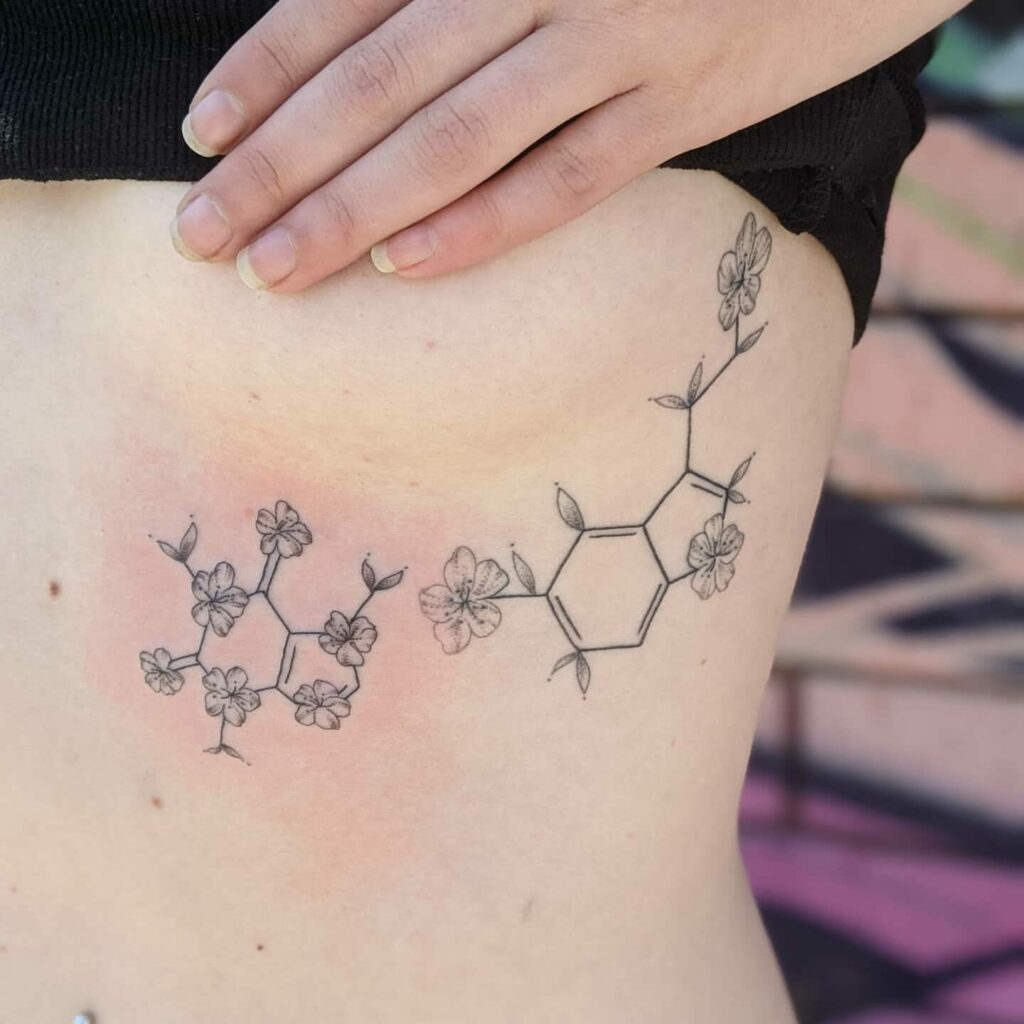 Self-love tattoos come in all shapes, sizes, and styles, catering to people of all ages and gender. This is an essential reminder that loving ourselves comes first before showering love on others. The tattoo design above features a dangerous-looking, elongated, and sharp font followed by a smoky appearance that caters to the need for self-care, without having to choose from a conventionally feminine design. With a plethora of options available, it is easy to find the perfect self-love tattoo to suit your personality and style.
Tattoos Selflove Tattoo Ideas Featuring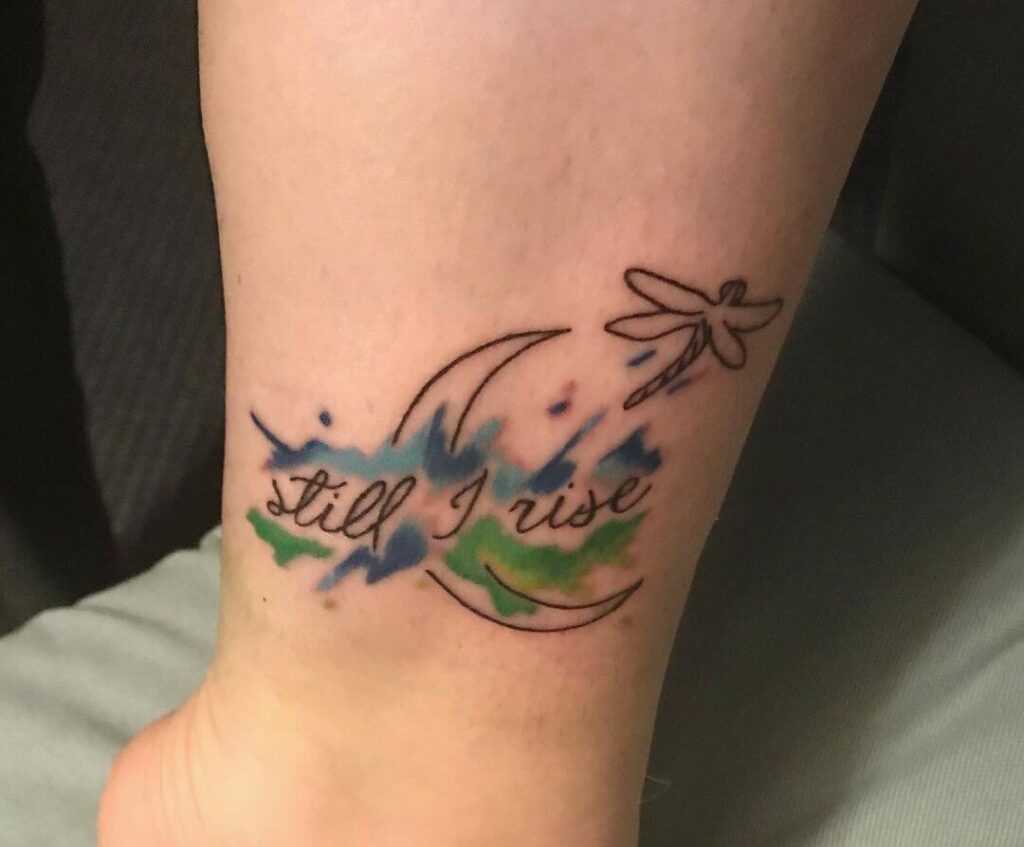 Selflove Tattoos Tattoo Ideas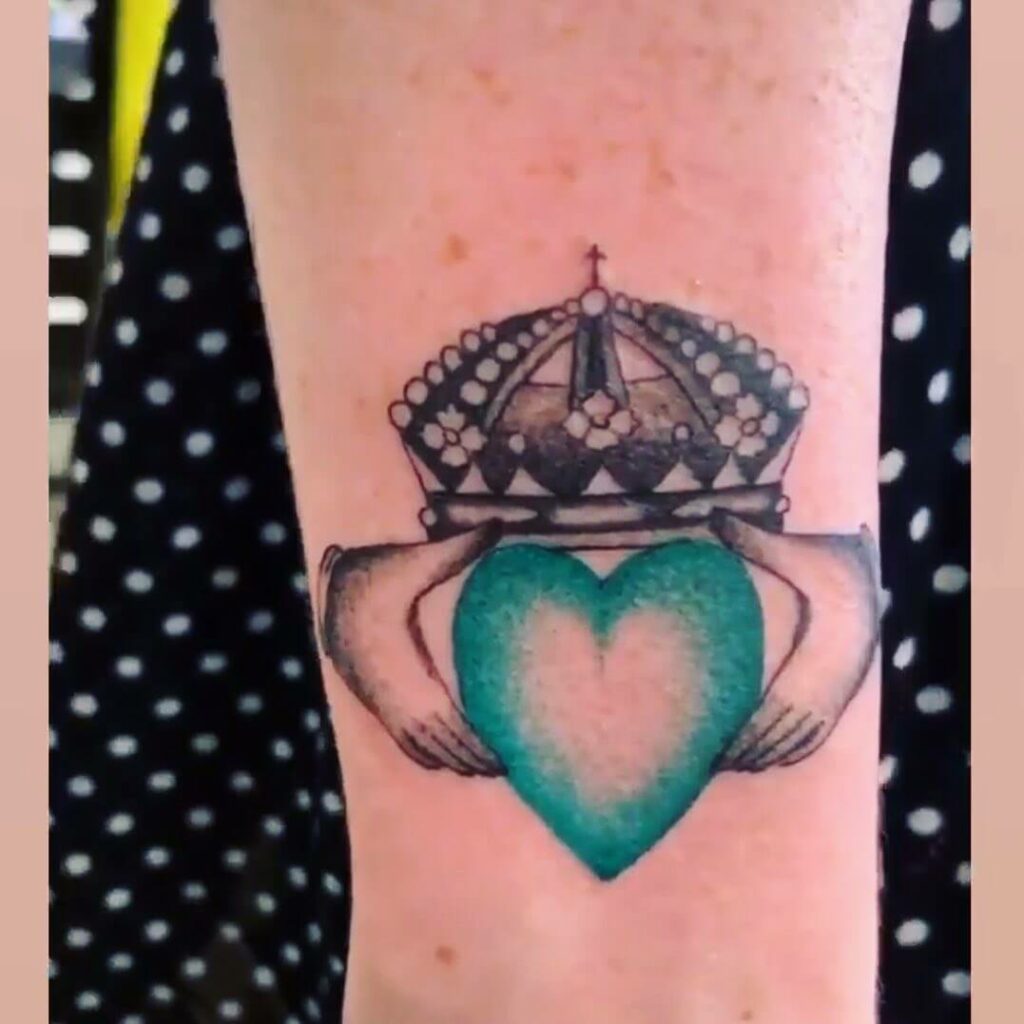 Love Yourself First Tattoo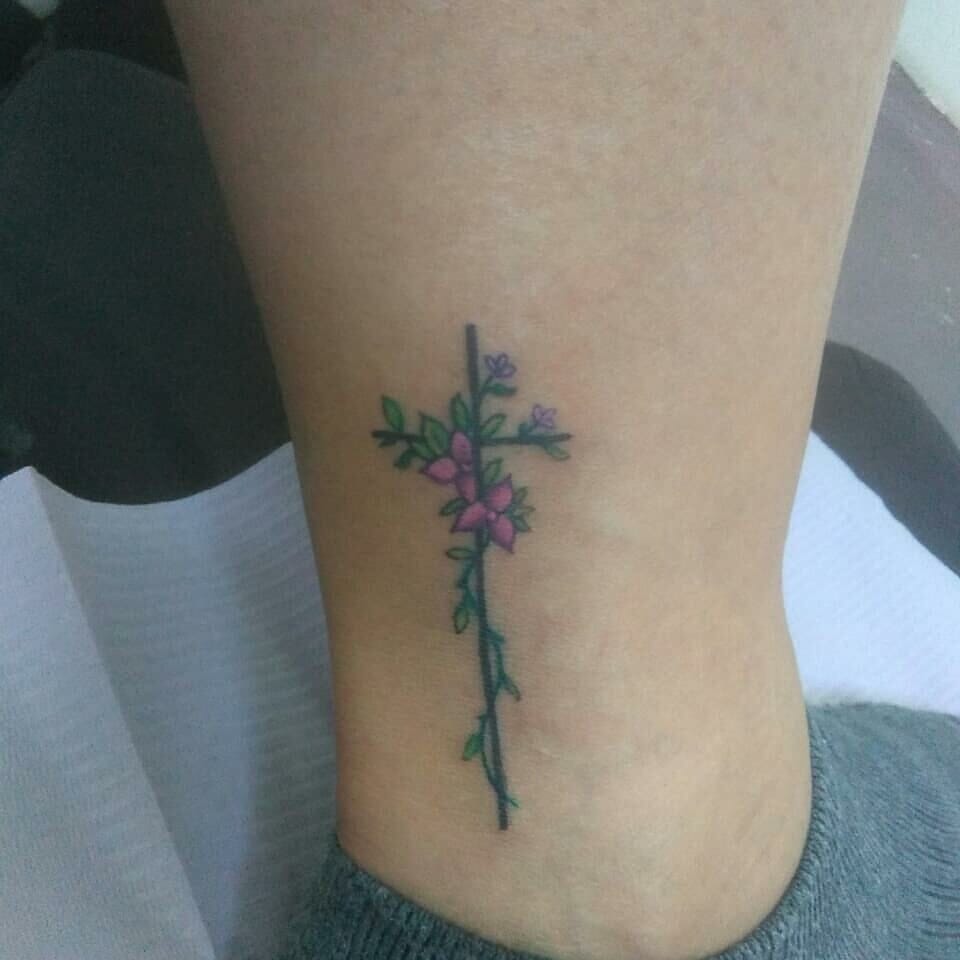 feature image from Pinterest