A skeleton tattoo is surely a bold choice. Waiting right around the corner are some cool skeleton face hand tattoo ideas for your next inking session!
Although they look horrific, skeleton hand tattoos definitely illustrate perceptive creations accompanied by killer expressions.
Perfectly showcased gnashing teeth along with the skeleton bones impart an awe-inspiring look to the tattoo. These are certainly not worn by those who like to blend in with the crowd.
As scary as they look, the skeleton faces tattoo on hand come with a powerful message. They represent death, impermanence, and intrepidity. Both the positive interpretation and negative elucidation can be portrayed through the skeleton hand face tattoo. These tattoos can also symbolize new beginnings, adversities of life, the power and courage to overcome daily struggles, and significant changes in lifestyle. However, each and every design is unique and so is its meaning. The wearer is the one responsible for giving meaning to the design.
Skeleton face or skull is derived from 'Skalli', an Old Norse word. It means bald and is used to represent death for many centuries now. The practice of using skull images to denote death can be traced to its origin in Spanish culture. The entrances of Spanish cemeteries were marked with skull images or crossbones, a tradition that quickly spread across countries. Crossbones or skeleton face images were also used by pirates of the 17th and 18th centuries on their Jolly Roger flags to terrorize their victims. The skeleton face in Germany is called 'Totenkopf'. In a picture from 1744, the Hussars of Frederick the Great are seen to be wearing 'Totenkopf' symbols on their hat along with black uniforms. These eye-catching skull-hand motifs rose to prominence in New York in 1829, when containers carrying toxic substances were labeled with them.
From making it highly visible to a minimalist skeleton hand tattoo, the wearer's interpretation comes out undaunted with every skeleton design. It's certainly an excellent choice to embrace the dark side of life dashingly with bold black lines. So here are a ton of unique skeleton face hand tattoo ideas for you to choose from.
Realistic Skeleton Clock Hand Tattoo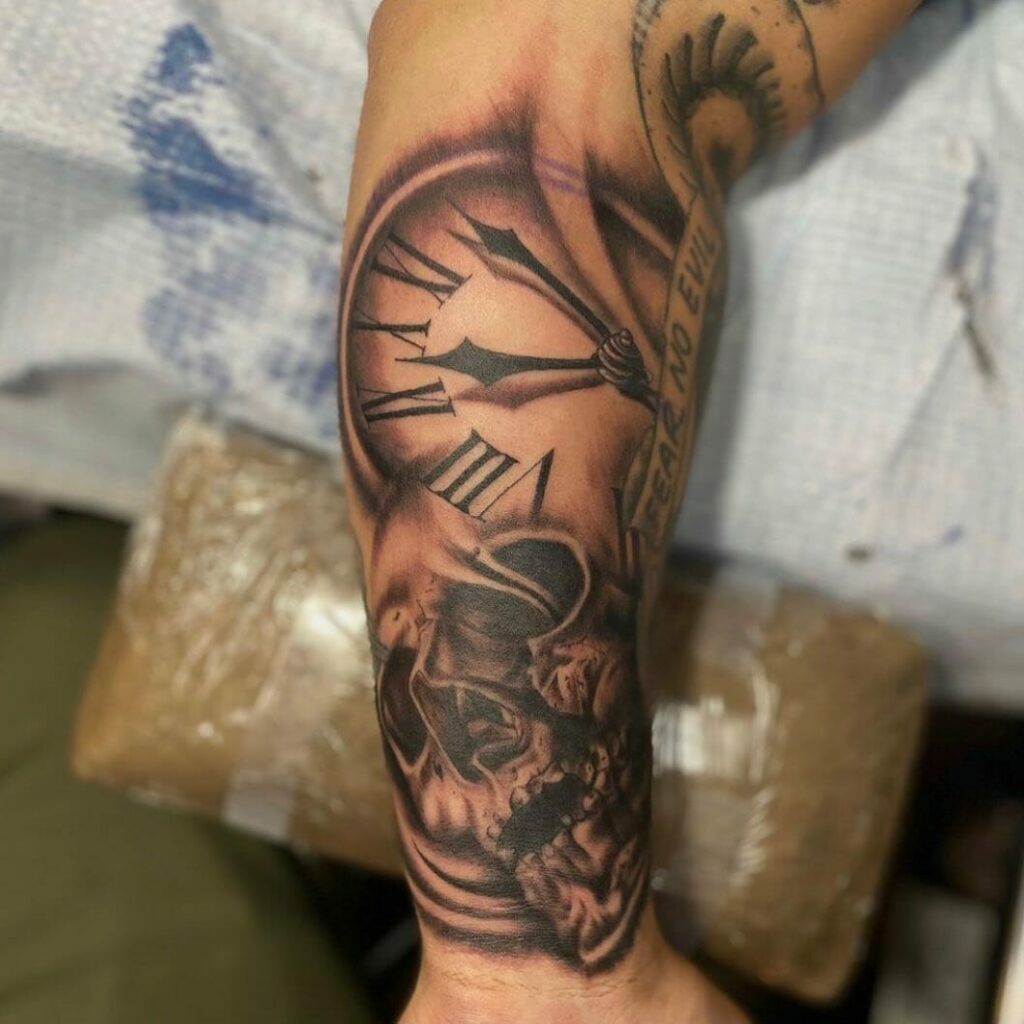 The transient nature of life is represented by the clock. It is also symbolic of new beginnings. The mortality of human beings and the fact that nothing is permanent, are well reminded by the clock. In this world of competition and constant struggle, time is perhaps the most valuable resource that one might utilize to build a bright future ahead. It is symbolic of the different phases of life; from birth to death.
A skeleton clock hand tattoo can be the perfect way to remind oneself of the fleeting existence of human beings. The combination of a clock and a skull interprets new opportunities as well as the pressure of running out of time. This unique body art is quite compelling to look at and engages the wearers to contemplate their actions. With this reflective and inspiring skeleton clock hand tattoo inked, you can surely put forth all your bold shades in the face of bitterness alongside your distinctive flair.
Skeleton and Rose Hand Tattoo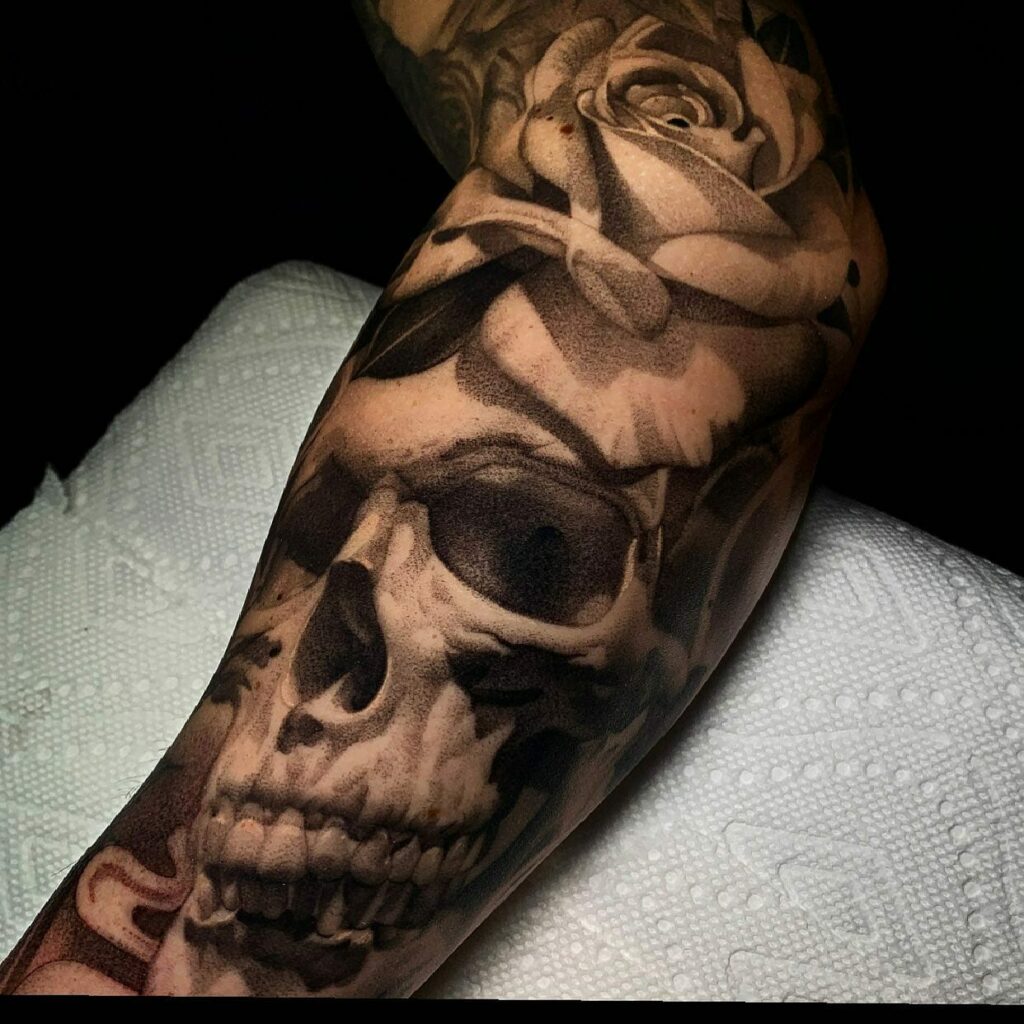 A skeleton and a rose may seem to be an odd combination, however, the duo brings out the eternal struggle of love versus death, which are the two main aspects of life. The bloom usually signifies the balance between pain and passion. A skeleton face, on the other hand, denotes impermanence and decadence. The skull hand tattoo designed with a rose simply sketches out the struggle between light and darkness.
Roses are symbolic of love and hope. Along with hope, comes the brutal truth of mortality. Hence, a skeleton face hand tattoo with a rose delicately resonates with the love and all the good memories left with the decaying skull. It compels one to accept fate. The heavy shading of the rose with a bright color palette surely imparts a powerful symbolism. This hand ink can come in various forms along with different other elements, each beholding its own meaningful design. Make sure to elaborate on every detail to your chosen tattoo artist!
Skeleton Face Hand Tattoo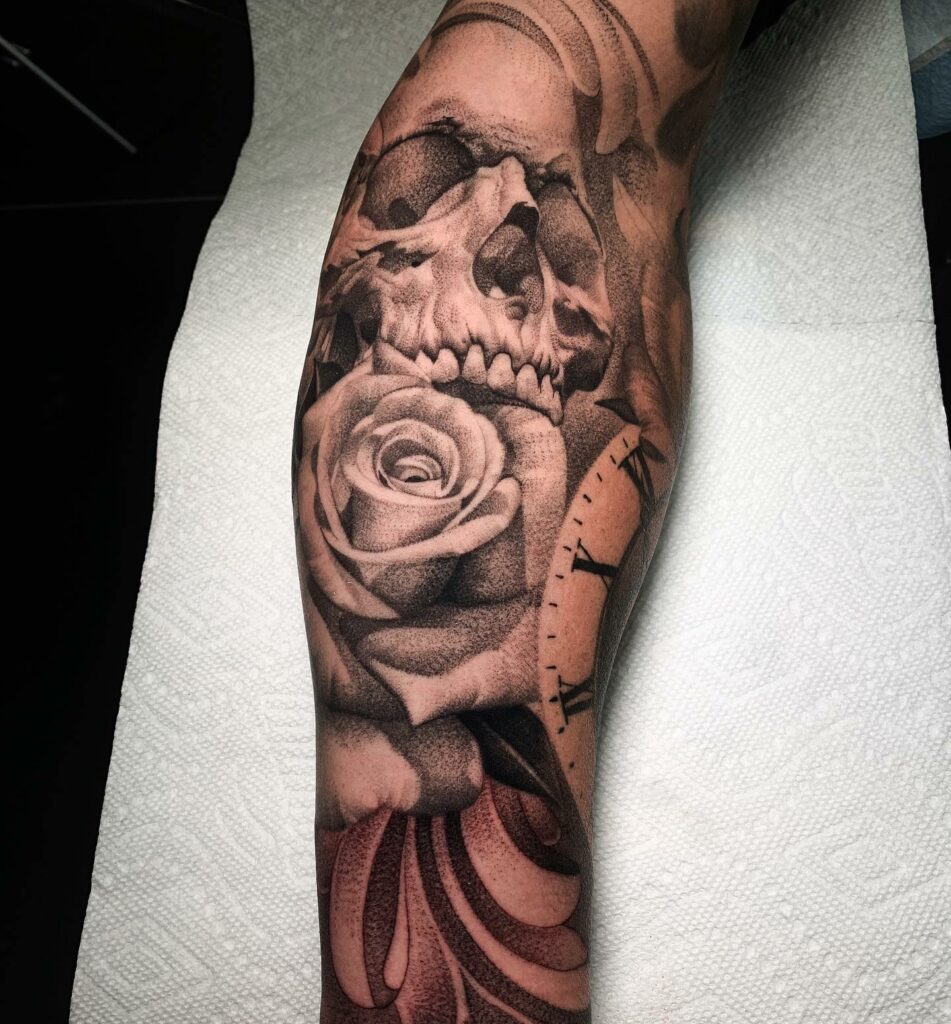 If you are looking for a more elementary design of the skeleton tattoo, then go for the skeleton face hand tattoo. While it denotes death, it also represents the urge to live life to the fullest. The skeleton face ink goes with the trend and is in fact, a popular choice nowadays.
The eye-catching skull hand tattoo can also be blended with a human face to enhance the realistic representation of the human anatomy. The two images provide a double-take of the art with its hyper-realistic technique. To accentuate the look more, you can also opt for the detailed art of bones and muscles, along with various techniques to reveal the idea of transience in a cool way.
Minimalist Skeleton Face Hand Tattoo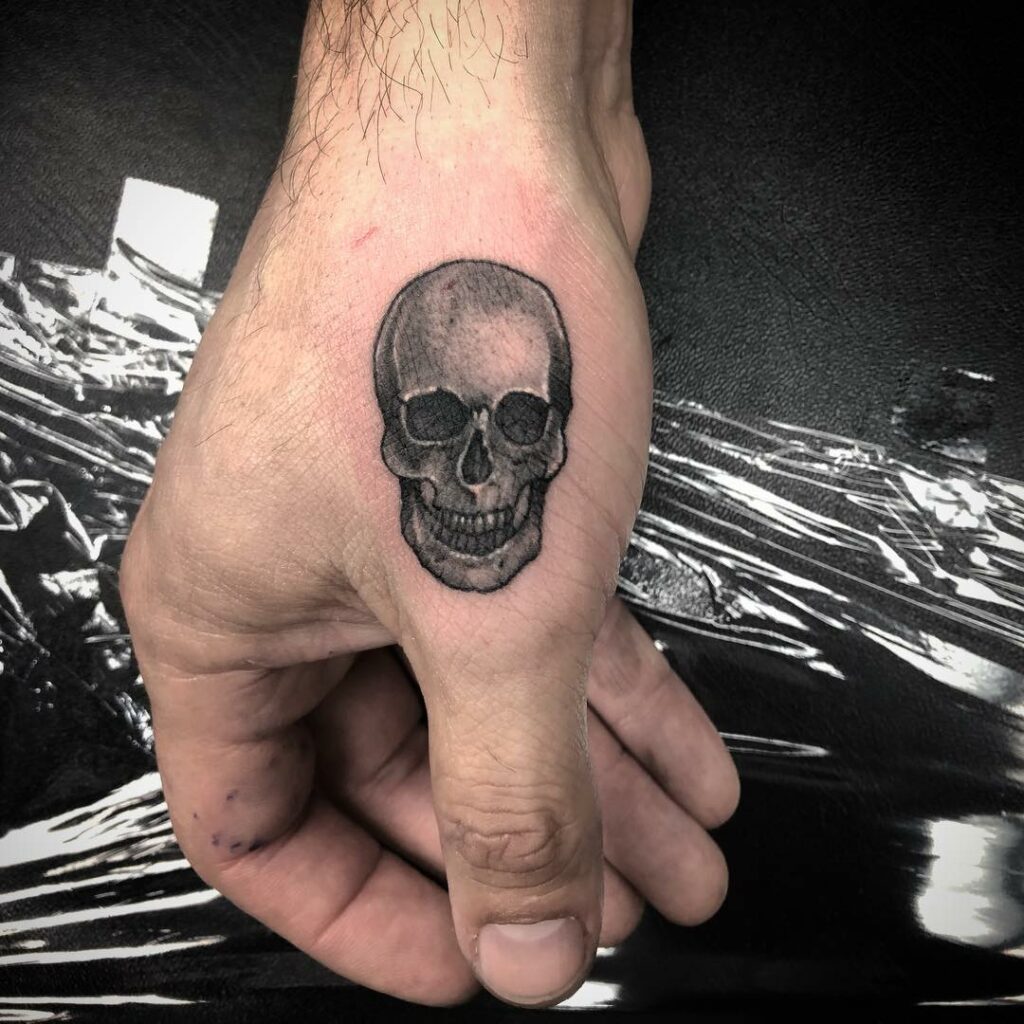 Simple skeleton face tattoos on hand are the ones to opt for if you are more focused on the basics. If not a dramatic statement, a skull face with line art and bold contours will surely highlight the same meaning as that of a detailed skull ink. It's an easy way to portray strength and power.
A minimalist skeleton bone tattoo design can also serve as a remembrance in bad times, that can help recall the good memories associated with the loved ones, who are lost in the circle of life. Set forth your thoughts with this simple yet bold art of a small skeleton hand tattoo, that also comes at a minimum price.
Couple Skeleton Face Hand Tattoo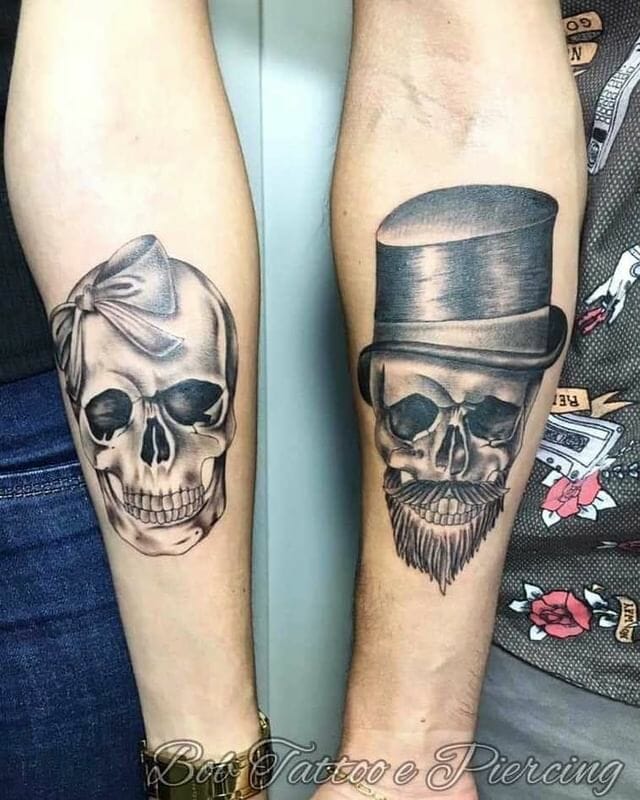 A couple skeleton face hand tattoo is surely an interesting choice and quite popular among couples. These cute hand tattoos symbolize everlasting love and commitment, just like the saying "Till death do us part". They come in different trendy styles with significant meanings, depending upon the wearer's rendition.
The hand is the perfect place to showcase your tattoo design along with the thoughts associated with it. There is nothing more delightful to see a lovely couple showing off their love for each other fearlessly through a common tattoo. Rings, flowers, and chocolates are old school, why not opt for a couple skeleton face hand tattoo instead?
Traditional Skeleton Face Hand Tattoo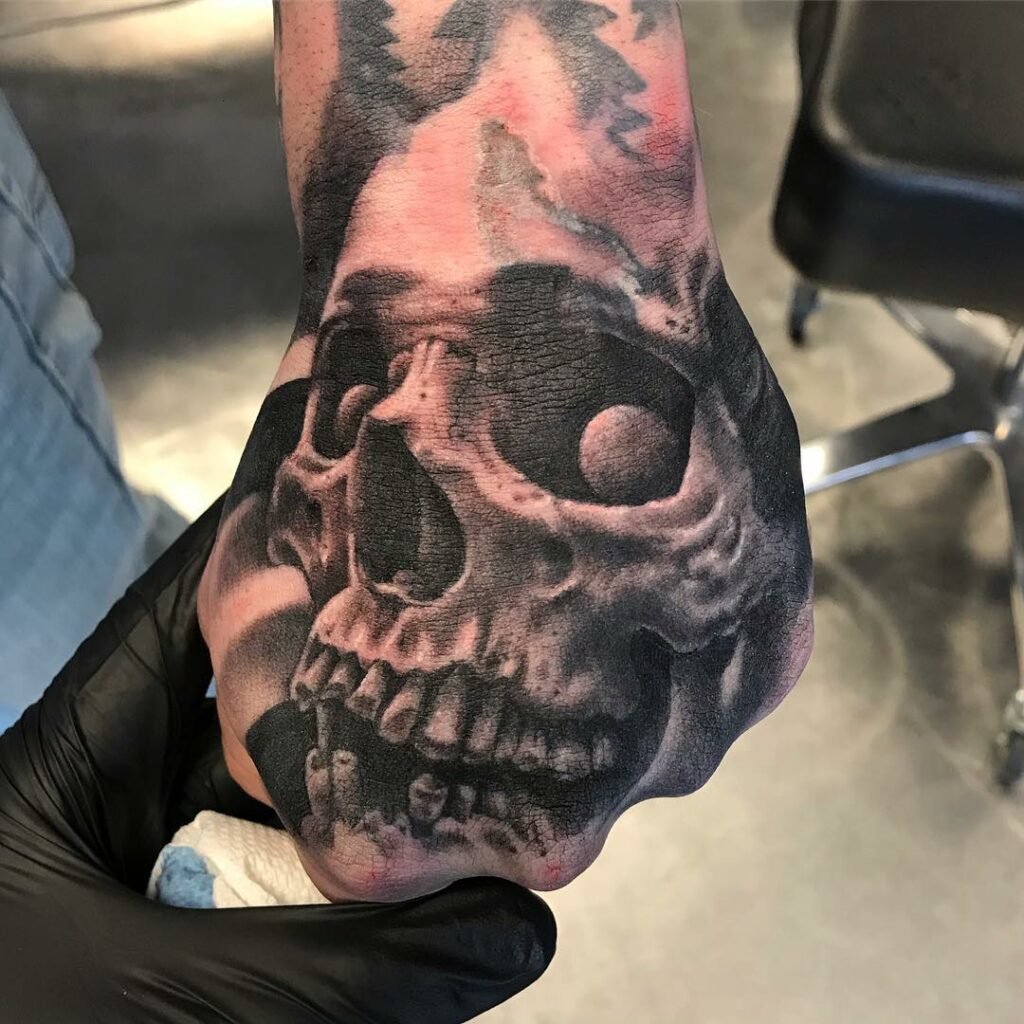 Skeleton tattoos of a hand have become a popular traditional technique of inking since the 1930s. Sailors, band members, and people from diverse cultures and societies used to get inked with the traditional skeleton hand tattoo. The face of the skeleton, that is the skull, has been the most sought-after ink design.
This tattoo design is most commonly accentuated with exaggerated teeth and perfectly curved eyeball sockets, that captivate the beholder. The skeleton mouth is definitely a piece of body art to flaunt in style along with added elements of phrases, colorful shades, vibrant imageries, and dates. Bring out your creative side with the traditional skeleton tattoos!
Skeleton Of Face Hand Tattoo with Snakes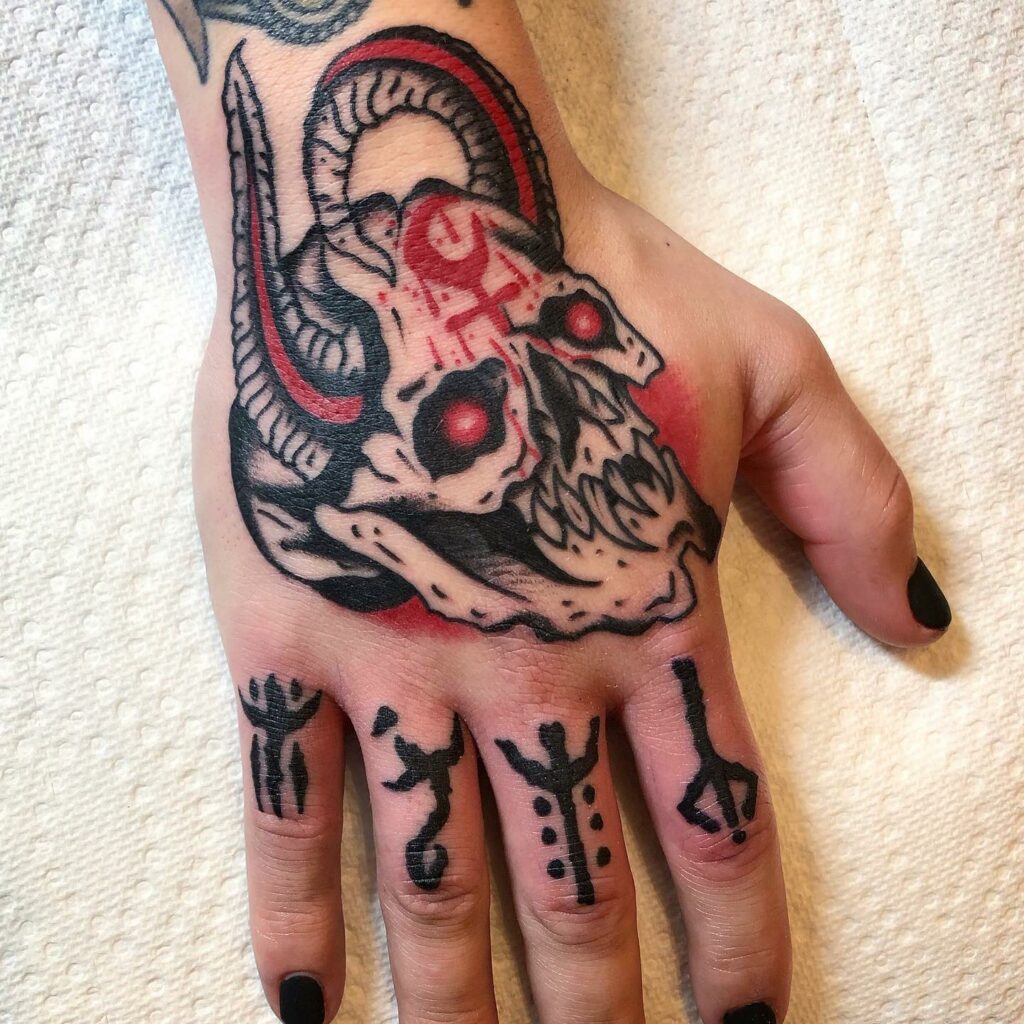 Both the skull and snake tattoo designs represent death and demolition. The cycle of life along with the concept of rebirth is established by this sublime piece of body art. However, it is upon the wearer to point out the positive aspects associated with these skull hand tattoos.
Whether finding out new opportunities or overcoming hardships with power, the combination of snakes and skeleton face surely relays optimism and hope. The wearer finds the courage to fight back and grows the capability of overseeing the darker sides, which eventually helps them to come out stronger in the battle of life.
Native Chief Skeleton Face Hand Tattoo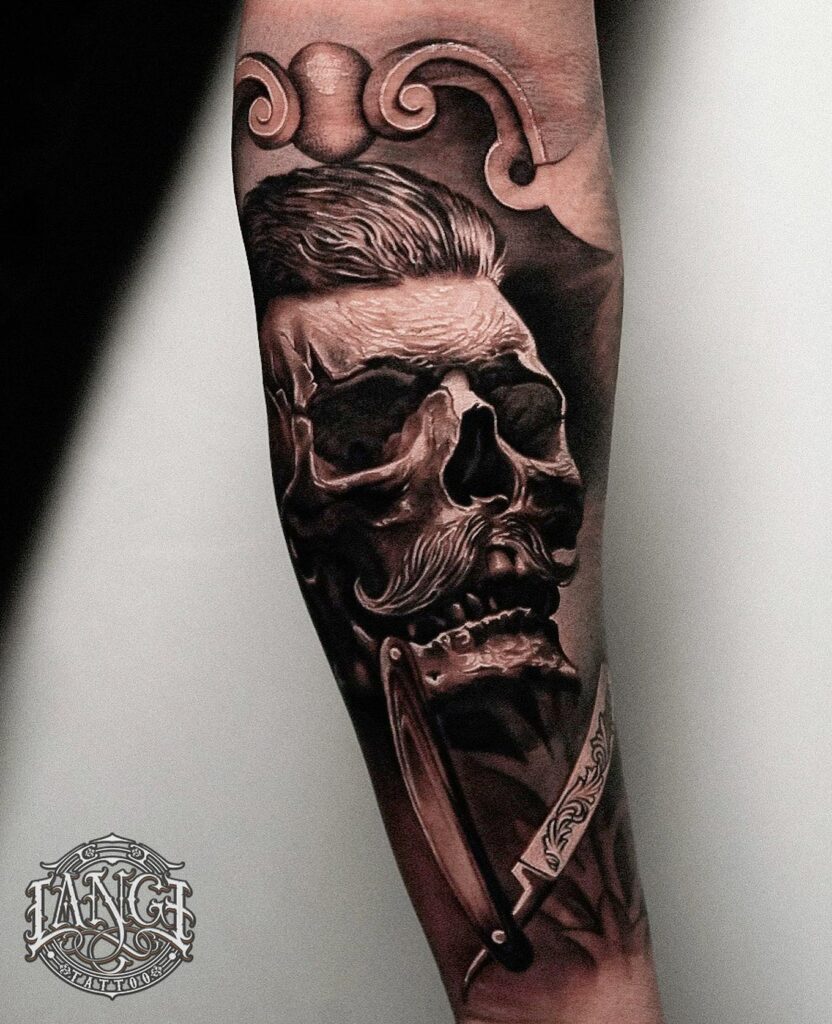 A great way of honoring one's culture is by getting inked with a native emblem or a popular cultural design. A chief is the protector of his tribe and makes his people feel safe and secure.
A human skeleton tattoo with the face of a chief represents the pragmatic and confident connotations seen in a leader. It serves as a reminder to stay strong and incorporate leadership qualities in life. This skeleton face tattoo also reminds the wearer to protect the loved ones and stand by them in their hour of need.
Skeleton Hand Cover Face Tattoo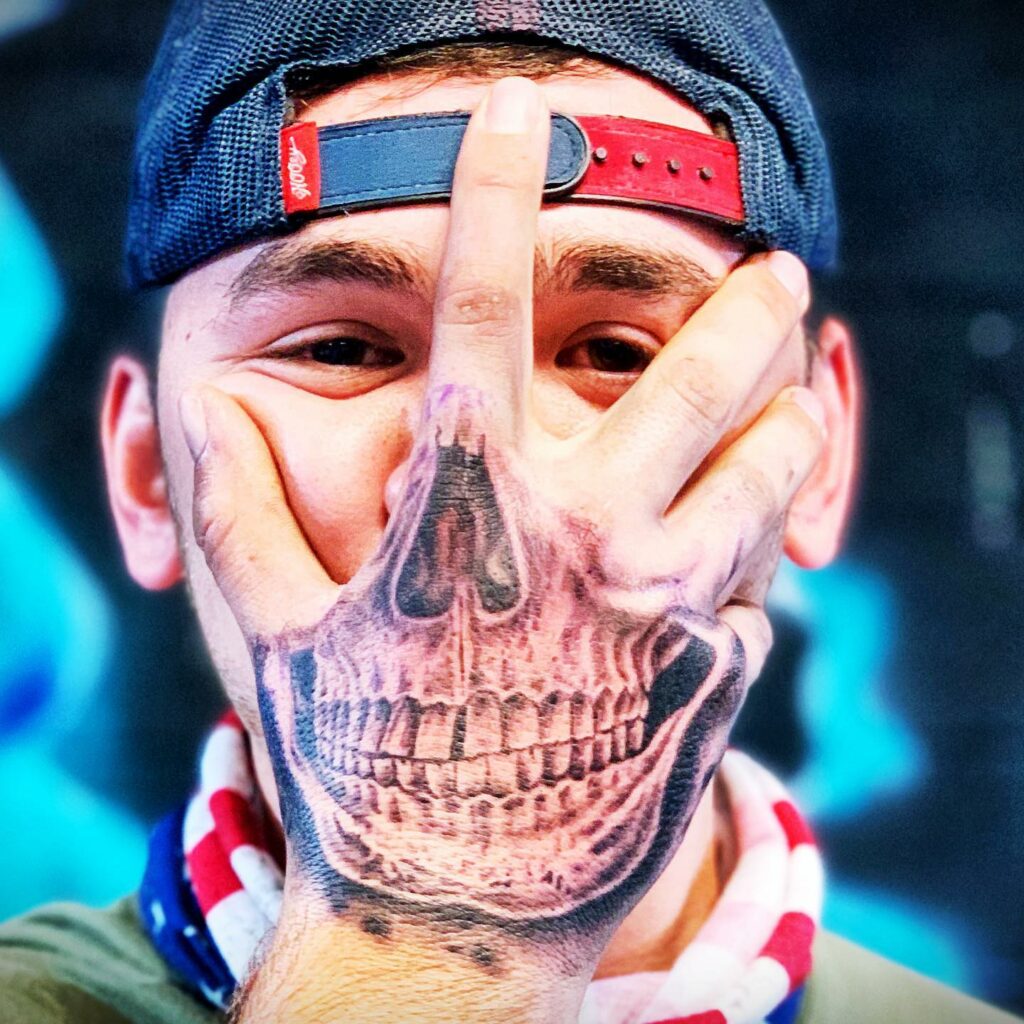 A hand covering the face, with the details of the bottom half face of the skeleton is quite intriguing to look at.
The eyes of the wearer along with the lower part of the skeleton skull make an incredible body art combination. The same tattoo design can also consist of the skeleton hands and other elements to make it look more lively. After all, each tattoo design is unique, which helps to express the wearer's thoughts. If you have a creative fling, then the amazing bottom half skeleton face hand tattoo is the right option for you. Confident poses with this tattoo design will certainly be Instagram-worthy and will surely boost your social media presence.
Day of the Dead Skeleton Face Hand Tattoo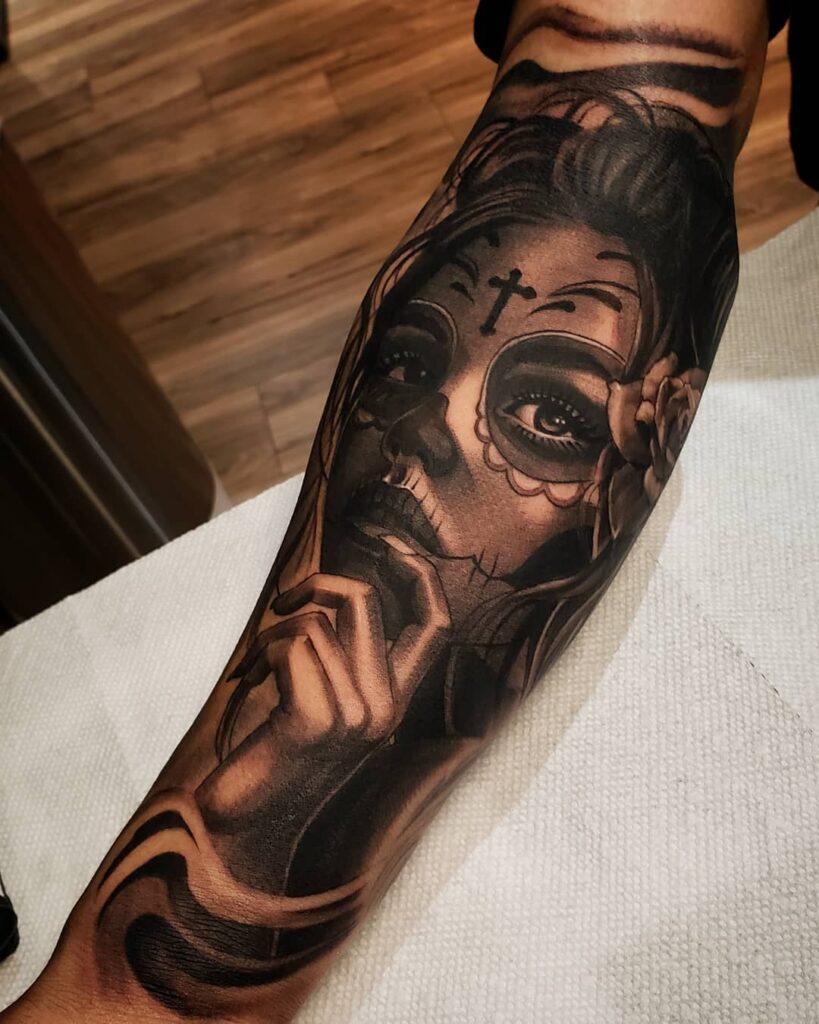 Are you aware of the Mexican celebration, Dia de los muertos? It's a celebration to honor and remember the dear ones who passed away. With Mexican music playing, decorations with skulls and skeletons all around, and candles lit everywhere, the Day of the Dead is celebrated beautifully by the Mexicans every year. Along with these decorations, the sugar skull hand tattoo became popularized, which has an intricate design.
Although the skull hand tattoos are creepy to look at, the sugar skull hand tattoo is an exception. It serves as a remembrance of the loved ones, and are often delicately designed with vibrant hues. This body art is quite commonly chosen by ladies as the design depicts feminine qualities.
A tattoo with perfectly ornate details will surely take a significant amount of time. Hence, it's always better to put yourself in the do not disturb mode and cooperate with your tattoo artist with patience. A skeleton face's hand tattoo design can be nailed with perfection by a well-experienced tattoo artist, and therefore, don't forget to check their work background before selecting them.
Skulls, bones, and every other part of a skeleton can be inked with a lot of creativity and incorporation of unique elements to give them a significant meaning and sign. Or, you can simply ink one minimalist hand skeleton face tattoo to go with the trend and showcase your boldness with some cool posts. You can also check out some other skull hand tattoo ideas that might fascinate you as well:
Feature Image from Pinterest – Want your tattoo to look brighter? Try "Tattoo Balm"