Looking for skeleton tattoo sleeve but not able to find the right pick? Go through this list to do away with the confusion and choose the best skeleton tattoo.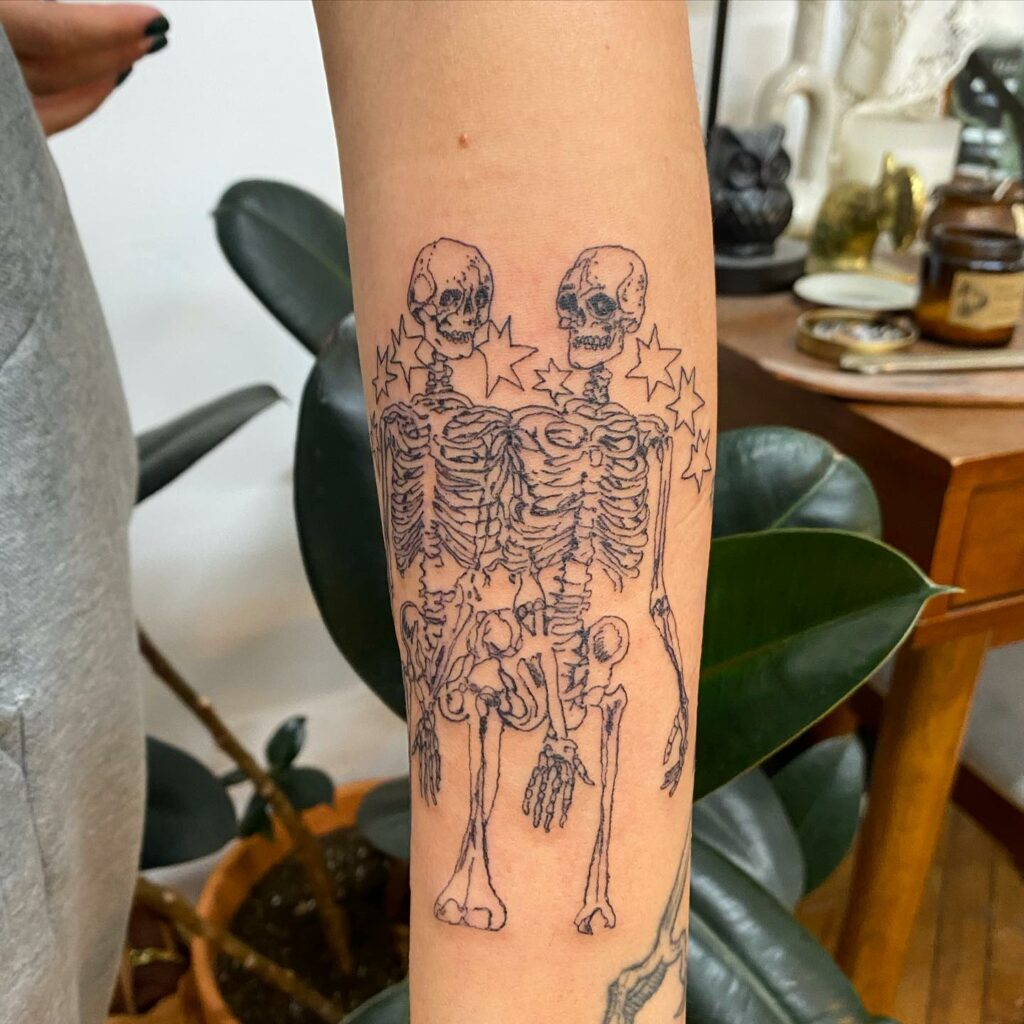 A skeleton tattoo is more often associated with death and it can be drawn with various representations of the concept and with different designs where the skeleton remains constant.
Although demise can be considered the major aspect of skeleton tattoos, apart from that, there are also other meanings that the skeleton tattoos deliver as a message. Each skeleton tattoo sends out a different message with it even if they are drawn in different patterns.
Skeleton tattoos are an extremely popular form of symbolism in both cultures as well as tattoos. The tattoos may be representative of both the positive and negative, good and evil, and also life and demise and the skull chest tattoo ideas with skull and crossbones symbol suit this concept very perfectly with distinctive curved horns.
Dancing Skull Tattoo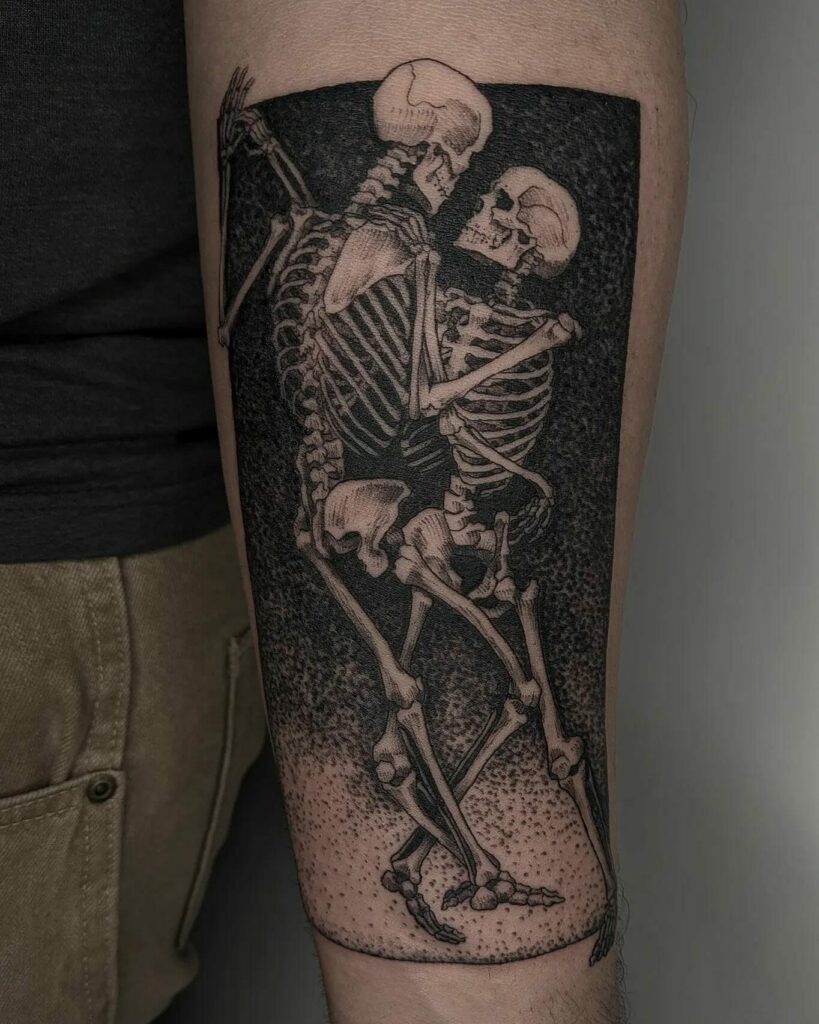 It is a dancing skull tattoo that is drawn on the forearm of a person and hence can also be called a sleeve tattoo and it suits best when the tattoo is drawn with jet black ink. Well, these skeletons seem to be very happy and they are dancing in their own way which symbolizes the happiness and the positive aspect of life.
It also seems that both of them are in love with each other and they are dancing to the tune of their love. therefore, this tattoo is a symbol that shows the positive side of skull tattoos whereas skull tattoos are always generalized as a negative one. This particular tattoo design brings out positivity and negates the negativity of skull tattoos.
Skull And Rose Tattoo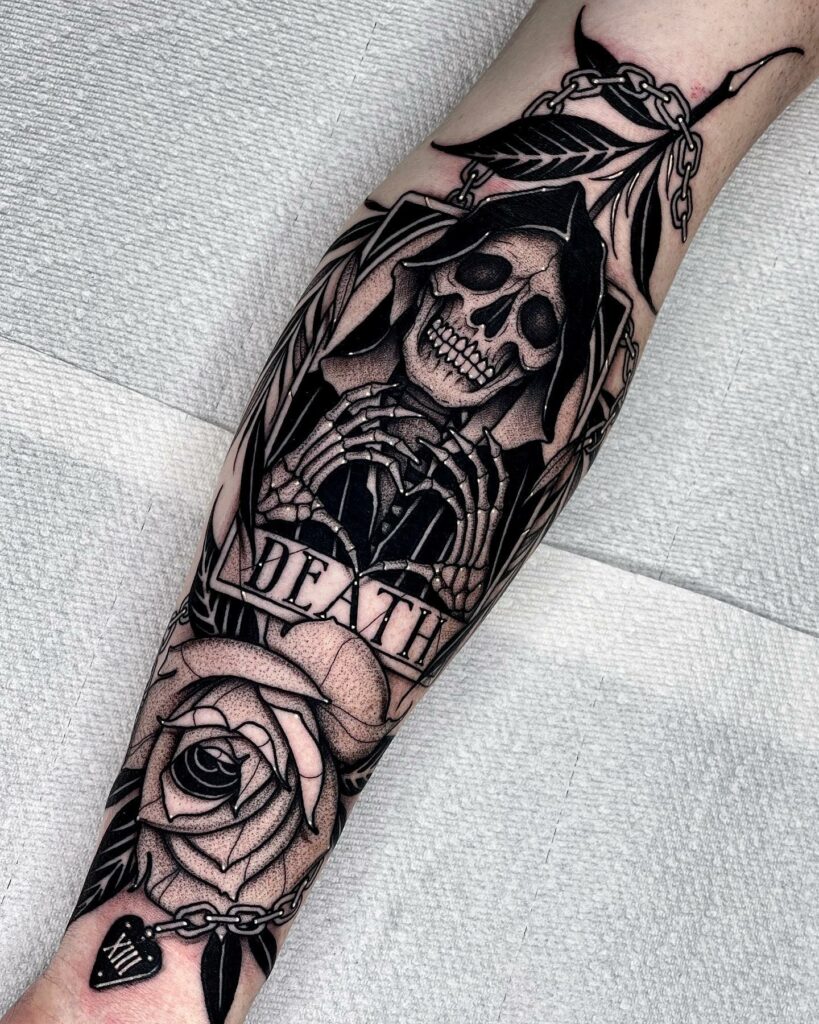 The skull and rose tattoo is a unique one that symbolizes two different things. While the skull represents death and life, the rose is a symbol of love and beauty. The skull and rose tattoo represent a struggle between the beautiful and the ugly in times of evil versus good. But this tattoo is predominant by the death card as the tattoo itself has death written on it. This tattoo design focuses on the non-existential part of a being.
Also, the leaves around the started design signify that it binds the thought of negativity and positivity together and brings out a balance in life. this balance is indeed a very important aspect for everyone and that is the inner meaning of this skull tattoo idea. It is a big tattoo that includes the full sleeve of your arm to be drawn with black ink only source to take out the meaning of darkness and death in this skull tattoo idea.
Wolf Skull Tattoo
The wolf is considered to be a guiding path for anything and the combination of the skull tattoo and the wolf means the understanding of the concept of passing away and the afterlife. So if you are someone who is interested in knowing about the afterlife then this wolf skull tattoo is the best choice for you to get tattoed. Besides, the wolf skull is a great skull tattoo to get inked and is one of the best skull tattoos for men.
It is best drawn as a skull chest tattoo because a chest tattoo is something which needs a wide range and a chest tattoo is visible with more meaning. The wolf skull chest tattoo is one such chest tattoo that will be more specific with its meaning and the skull chest tattoo is one of the more popular ones in the tattoo industry.
The Lovers Skull Tattoo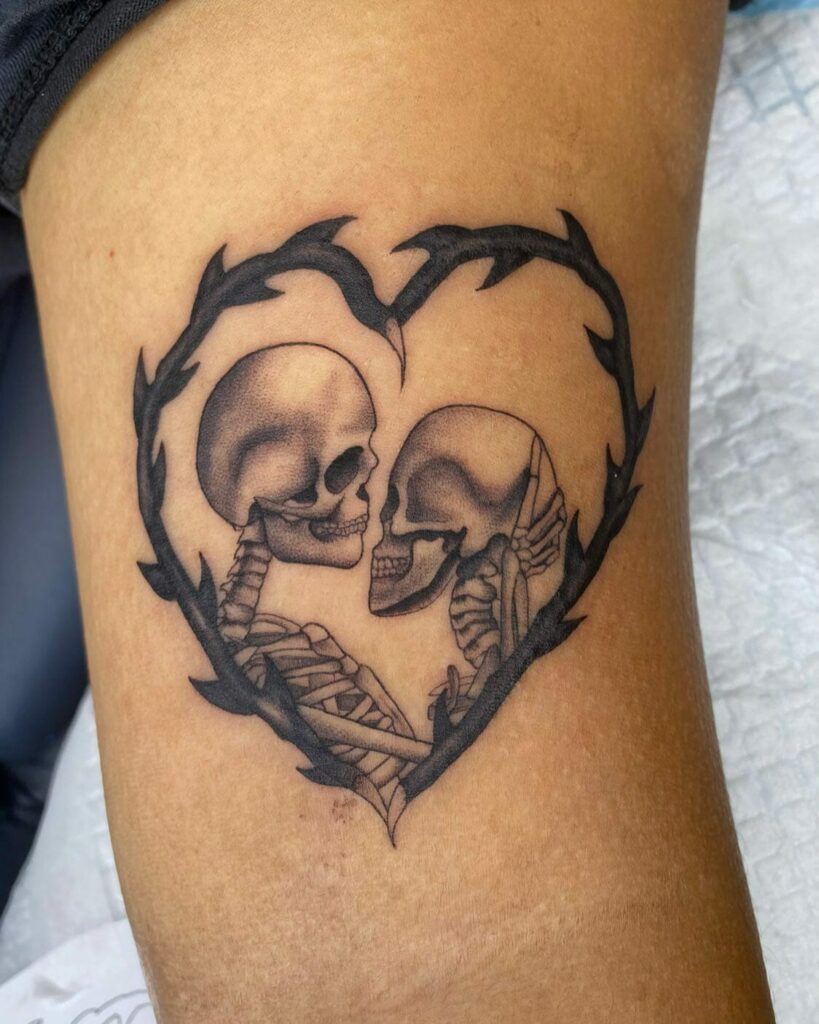 This tattoo design is a total representation of the idea and the importance of love in the lives of people. This skull tattoo is dedicated to the lovers of the world. It emphasizes on the meaning that if your loved ones are no more then how to hold on to them or keep them alive. the only way to keep your loved ones alive even after they are dead is to always keep them in your memories and heart.
If the people are stolen from you, the only way to have them live on forever is to never stop loving them because buildings burn, people die, and time passes, but real love is forever and constant. This is a small skull tattoo which can be drawn on your neck or your wrist area of your body and hence can be called a neck tattoo as well. This skull tattoo will look amazing if it is drawn with black ink only.
Sugar Skull Tattoo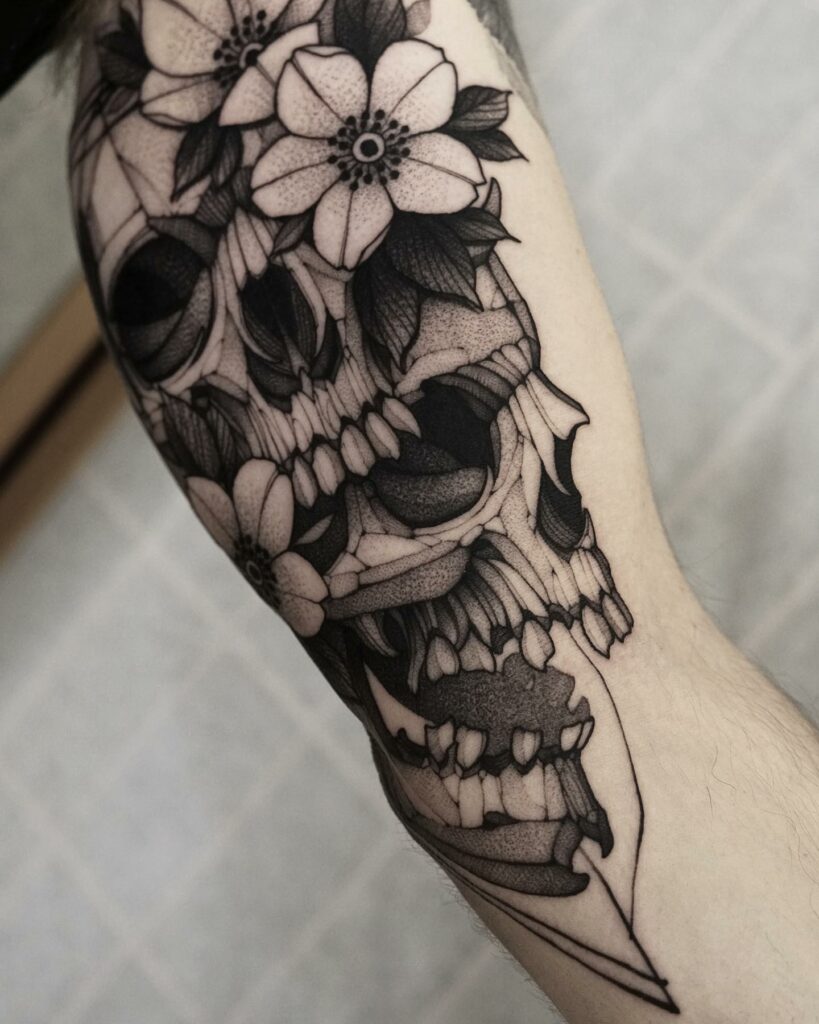 A sugar skull tattoo has originated from the Mexican culture which represents the day of the dead. This type of skull tattoo design is made to celebrate a ritual where the Mexican families make beautiful skull candies with flowers and butterflies surrounding them to make an offering to the dead members of their family, making it the Day of the Dead.
This specific skull tattoo is often more popular in females as sugar skull tattoos are usually colourful and quite vibrant, often being perceived as more feminine. As this skull tattoo is decorated with butterflies and flowers, it can be more personalized than many other skull tattoos as each element has a deeper meaning around the skull and can be changed to suit any style, taste or preference.
The speciality of sugar skull tattoos is that they can be drawn on any part of your body and it will always suit wherever it is drawn and you can use whatever colours you want to as these tattoos are always perceived to be colourful and are considered to be one of the best skull tattoos.
Owl Skull Tattoo
Owls are symbolic of wisdom and intelligence and that is what the owl skull tattoo signifies as well. This particular skull tattoo is a meaningful tattoo that holds the representation of wisdom in it. The idiom "wise as an owl" has been around for a long time in society, and is a common symbol found in classic literature. It has been so famous that we use this idiom in our daily life as well.
Hence, wisdom is the key feature of this and as it is drawn in the forearm region of your body, it can also be called a forearm skull tattoo. This skull tattoo is considered to be one of the best skull tattoos for men as the imagery of owls is more masculine in nature. The Aztec culture also upholds the same point as the American culture proving it to be in majority and that is why it is also considered to be the native American skull tattoo.
Life And Death Skull Tattoo
This particular tattoo design symbolize death. It can be seen in the skull tattoo design that the skeleton is sitting on a lavender colour chest and is holding a skull in its hand. It means that the skeleton is contemplating the concept of existence and non-existence. That means that it is not able to understand whether it wants to die or live life. This idea of confusion also comes with the cycle of the zodiac sign. This is a skeleton sleeve tattoo that is contemplating the idea of life and death.
Skull Crown Tattoo
Crown tattoo is famous all over the world because it represents power authority and luck. It enjoys the privileges of an emperor or a king. In modern times, the crown represents the power of one person upon the other. This skull hand tattoo along with the crown is a very unique one. It is also associated with the ram skull tattoo as both are very symbolic with similarities to each other and bring out the same meaning of power and authority.
As this particular skull tattoo is drawn in the hand, that is why it is also considered to be a great hand tattoo and one of the best skull tattoos for men. the skull hand tattoo is very much in demand nowadays as skull hand tattoos are considered to be fashionable.
Pirate Skull Tattoo
Pirates are people who prefer to live by their own rules and do not like to follow others. They possess a sign of rebellion, strength and intimidation. The pirate flags are a representation of their own meaning of demise that is they're prone to get killed. The pirate flag is something which will constantly remind you of the dangers and if you are someone who feels free and endures life on their own, then this skeleton pirate tattoo sleeve is the best pick for you.
Smoke Skull Tattoo
One of the classic and most famous skull tattoos is that of the smoking skull. Smoking skull tattoos feature a skull smoking a cigarette and here a more detailed window is also present. A symbol of the working class and humble beginnings, a smoking skull tattoo is a great choice for anyone who is after an evergreen skull tattoo.
feature image from Pinterest – Want your tattoo to look brighter? Try "Tattoo Balm"
Last reviewed and updated on May 25, 2023