If you love owl and skull tattoos, then we have just what you need. See this list of skull and owl tattoo ideas to find the one that suits you best!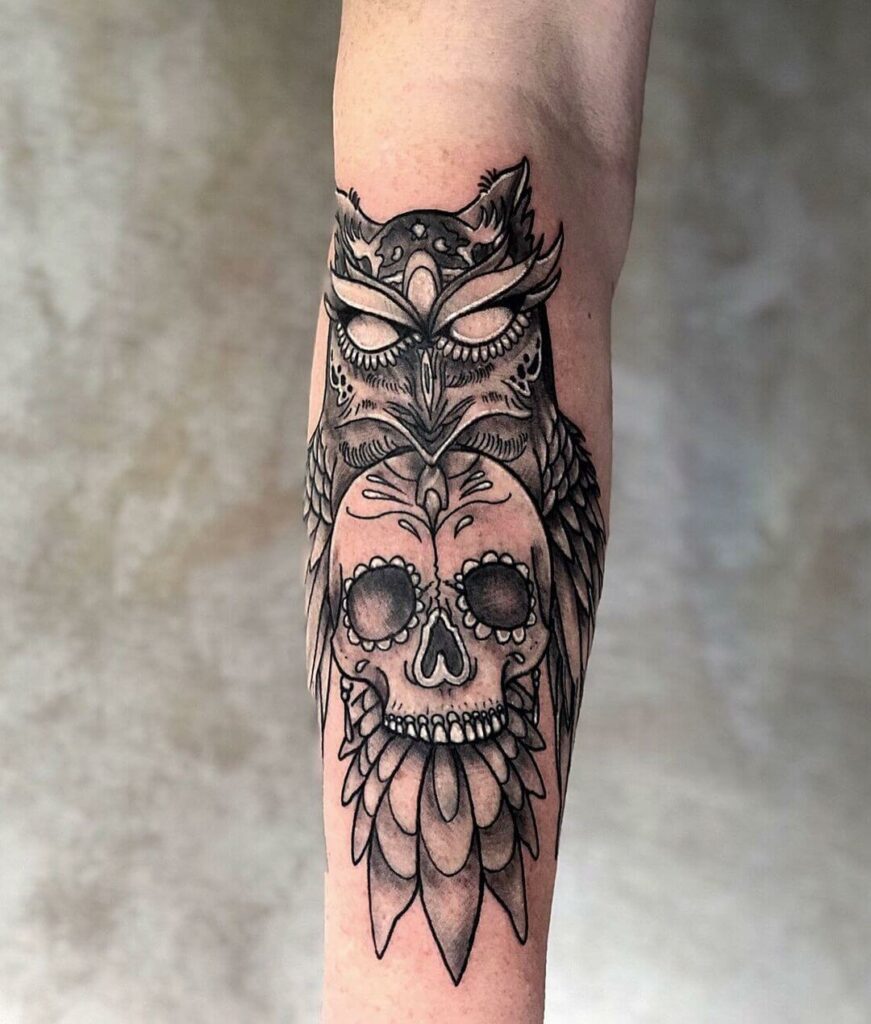 There is something special about nocturnal animals – they are very intriguing in nature.
Tattoo artists from around the world love inking owl tattoos. The owl ranks among the top ten popular bird tattoo designs for all the right reasons.
The owl is a symbol of wisdom and knowledge in several cultures. Skull tattoos are also considered to be a symbol of death and the afterlife. Combining both these tattoo ideas makes them a very popular tattoo choice. If you are someone who loves challenges and wants to show the world your vigor, a skull and owl tattoo can be the best fit. What does an owl and skull tattoo mean? Why should you get a tattoo inspired by birds and skulls? Here are the ten best owl and skull tattoo designs for you.
Owl And Skull Tattoo Designs With A Spiritual Meaning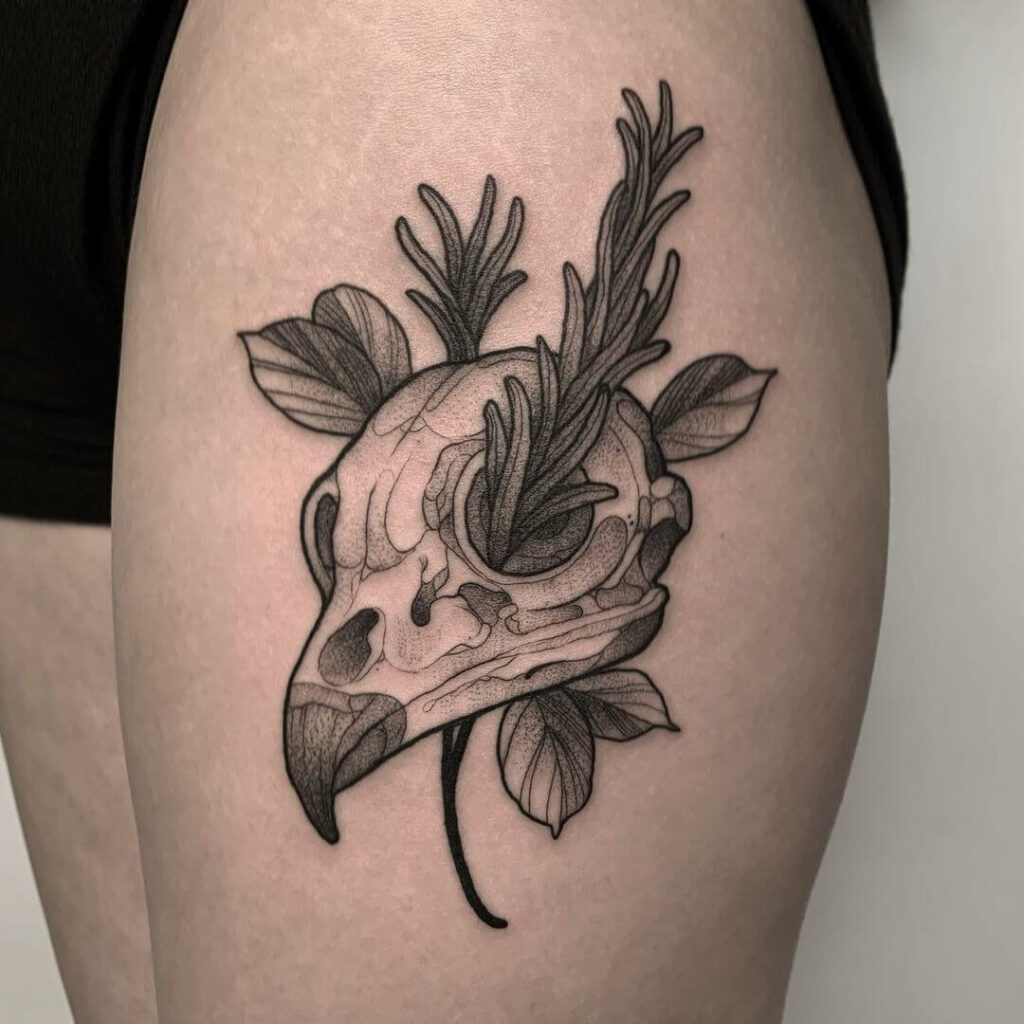 Are you fascinated by the spiritual world and the afterlife? Then an owl and skull tattoo might be perfect for you as they represent the afterlife.
This owl skull tattoo can be the perfect choice for you. Owls have supernatural power and exceptionally well observant listening capacity. You can tattoo an owl skull and highlight the beak to make it look more fascinating. Death and dark keep you engaged, so accentuating it with bold black outlines and shading the skull can create magic on your skin. You can also get a winged skull tattoo in the same style.
Winged Owl and Skull Tattoos With Clock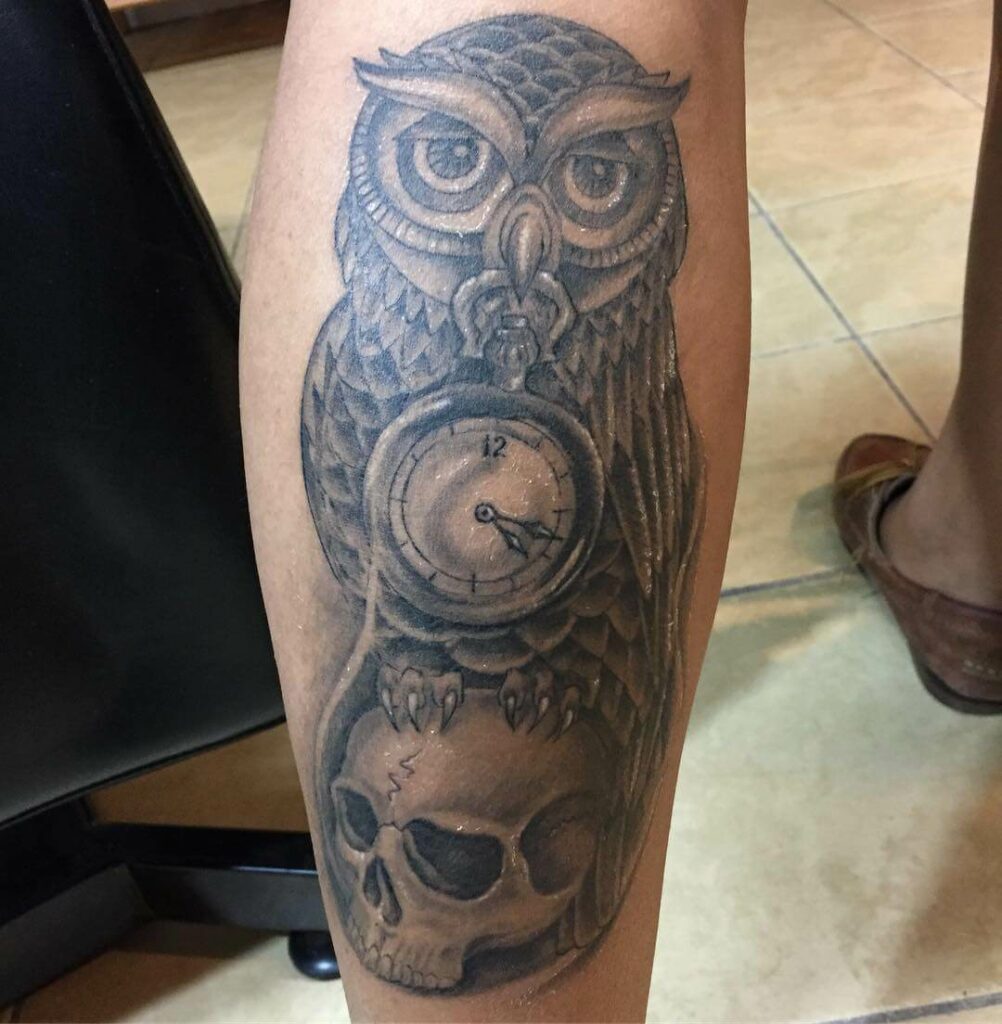 Owls are synonymous with clairvoyance. You might be passing through a rough phase in your life, and you might be battling one tough obstacle. You might want to gift yourself this tattoo to honor your hustle and show that better days are coming.
Owls are known to ring rays of hope amidst the darkness. This owl tattoo design has been very popular since ancient times. Flying owl tattoos are the epitome of hope. With the talons spread, and the wings, this owl tattoo is sure to turn heads. You can go for a highly detailed owl tattoo with different styles and shades. This owl tattoo design will be the tattoo of your dreams.
Colorful Leg Tattoo Ideas With Owl skulls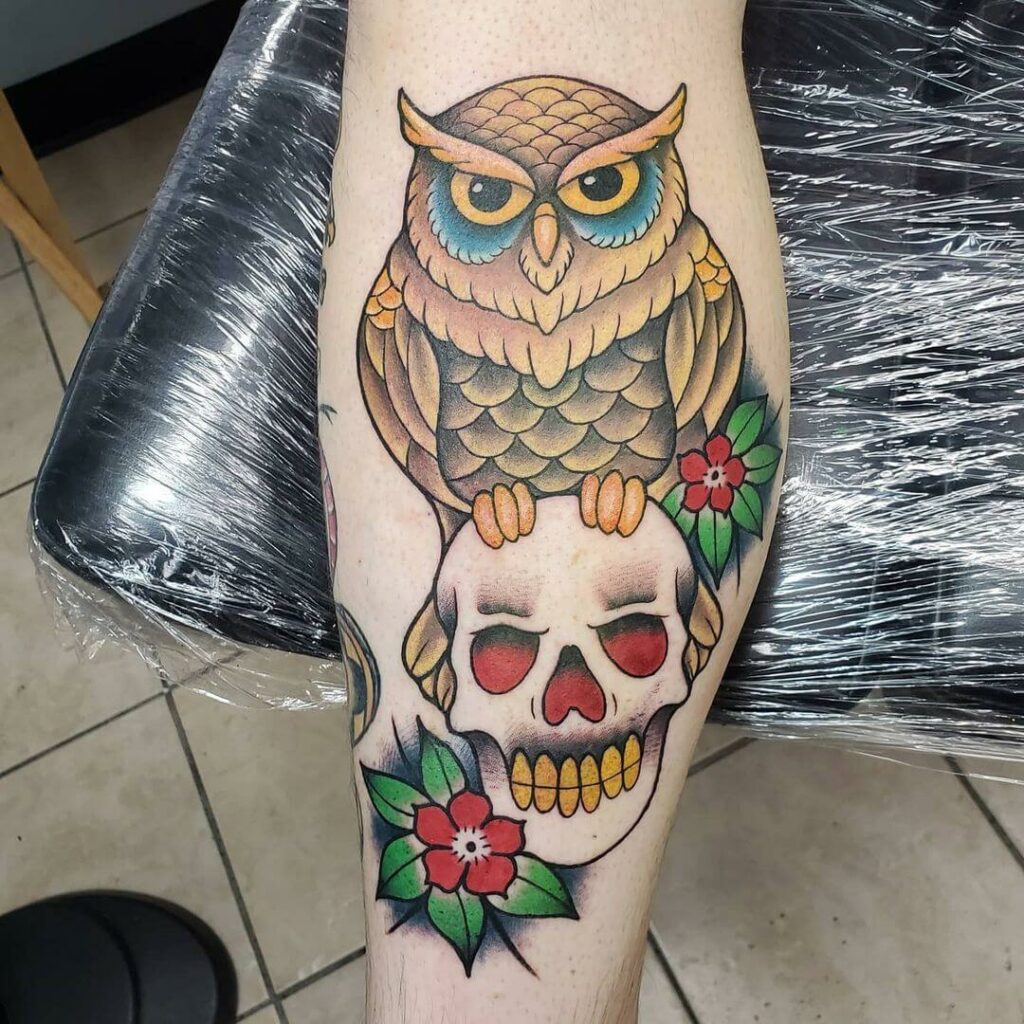 A wise man is sure enough to ink skull and owl tattoo designs to make his leg look like a piece of art. This particular tattoo has many different meanings. The symbolism of the owl, when incorporated with a skull, becomes even more exciting.
Many cultures believe that this nocturnal bird helps the soul reach the gateway of hell without any bad omen. You can channel your secret knowledge about the mysterious birds into special owl tattoos and look cool, all at once. These colorful owl skull tattoos are customizable, but if you highlight the owl's eyes, it changes the look of the tattoo entirely. Forearm tattoo ideas look very cool with owls and skull elements. They evoke a spiritual meaning even after adding a modern feel to them.
Cool Owl And Sugar Skull Tattoo Ideas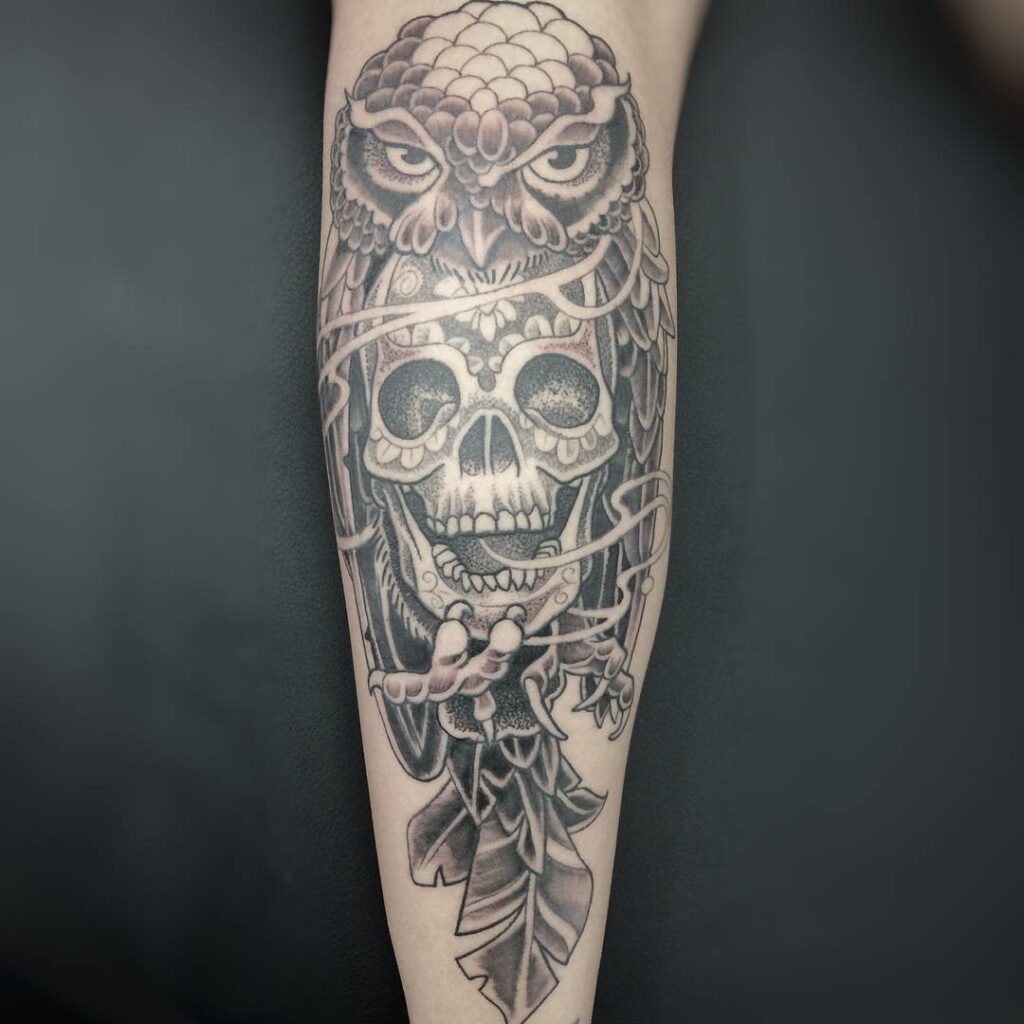 Mexicans used to celebrate the Day Of The Dead by inking these sugar skull designs on their face. If bravery, strength, and some mysterious wisdom build up your personality, a sugar skull owl tattoo is a must. Tell your tattoo artist to paint the sugar skull following ancient myths and then add modern touches to add some edge to it.
You will always be the pioneer in these sorts of owl tattoo designs and be protected against every bad luck. Celebrate life with sugar skull owl tattoos. In this tattoo, an owl sits stop a skull that has sugar skull designs. You can also go for a colorful option for this tattoo.
Owl Skull Tattoos Tribal Design
Tribal owl and skull tattoo designs have a very distinctive style and come with a strong meaning. The owl skull can be very intricate or have lesser details. If you love the greek goddess, you can add Greek elements; if you like the spiritual world, add synonymous tattoo designs that the cultures believed appropriate.
Owl tattoos have several meanings, but you can add various additions to make them alluring. You can ink an owl skull and moon tattoo by adding night elements, elements of nocturnal life, zodiacs, galaxies, and death to make the owl tattoo more attractive. These skull tattoo ideas represent wisdom and inclusivity. The owl element adds life to the tattoo.
Black and Grey Neo-Traditional Owl Skull Tattoo
This neo-traditional owl skull tattoo design is perfect for someone with a little bit of an edge. The tattoo is at once morbid and yet beautiful. It shows that life after death can be beautiful as well, and we should not fear it.
The darker shades of this tattoo bring out the skull's design. You can get a skull and owl tattoo in this style as well. The dark background of the tattoo, along with the floral designs, makes for a perfectly highlighted design. You can also get other bird skull tattoos in the same style. It will make for a perfect forearm tattoo.
Floral Skull Owl Tattoo Designs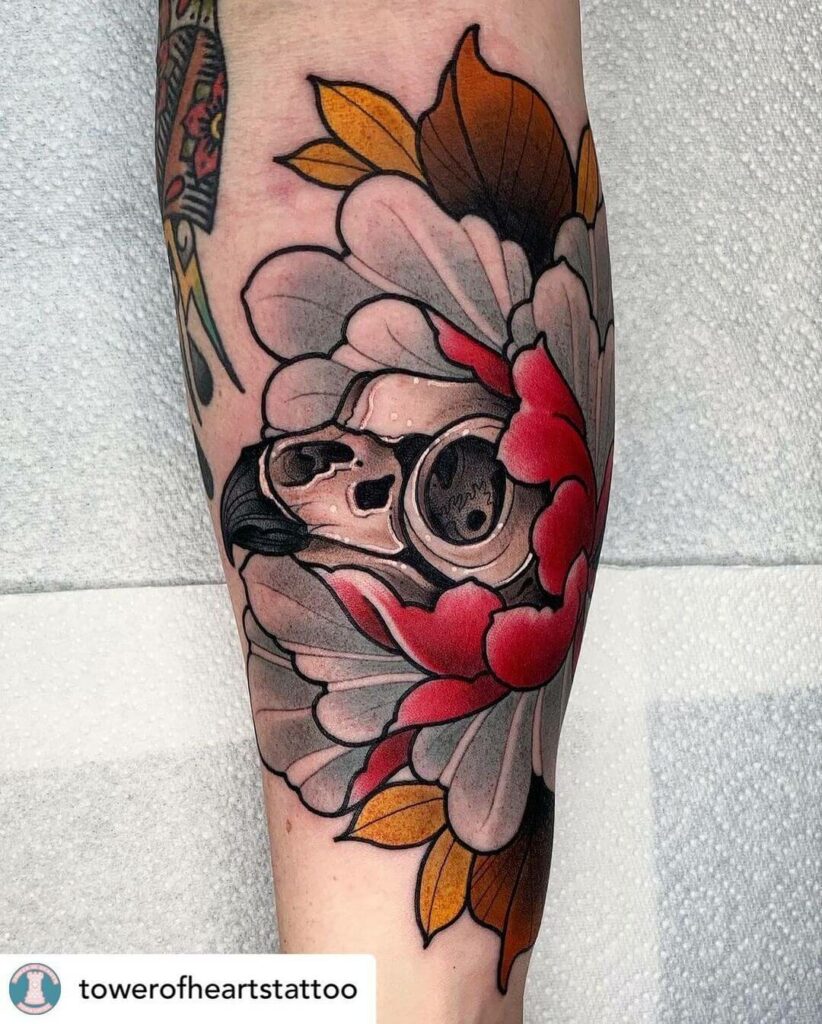 Owls are synonymous with wisdom. An owl skull tattoo will look awesome when adorned with flowers. Certain body parts demand intricate tattoos. You can get an owl and skull tattoo and add roses, tulips, or other flowers which bloom at night to give it a more modern look. These skull tattoo designs make excellent wrist, torso, or handpieces. An owl's skull with bulging sockets and gaping eyes makes a rebellious statement. This owl skull tattoo looks good on women and is a great option for your first ink experience.
Skull Tattoo Designs Winged Owls Edition
A winged owl and skull tattoo is everything a tattoo lover needs. Widespread wings on your arm or leg will add dimension to the body, making it look even more sculpted. You can add black and grey gradients for the aesthetics like it is done in this picture. A skull tattoo is always a good idea if you want to show your resilience and willpower through a piece of art. Get this owl skull tattoo done, and turn heads wherever you go.
Cool Owl Skull Tattoos For The Chest Area
The chest area is a sensitive area to ink something this lavish. Make sure you add the correct styles to it, as this owl skull tattoo might define your personality for the rest of your life. It will show that you are not afraid of the dead or anything that can make others brittle. These tattoos are generally very pompous, and only do it if you have the urge to flaunt your tattoo everywhere. These tattoos are unique because whatever you wear, people will surely get a sneak peek of them. Owl skull tattoos like this are surely a conversation starter. Make sure you know the maintenance procedures because some extra care is always required for tattoos like this.
Owl And Skull Tattoo Designs To Showcase Boldness
This tattoo idea is especially to express your bold nature. Gone are those days when such tattoos were ignored. Owl tattoos like this look extremely passionate and are for the ones who want to go stand out in the crowd. A token to etch a candid moment, a memory or to remember a deceased loved one, this realistic owl tattoo goes a long way. Ink this tattoo from an experienced tattoo artist because of the intricacies and minute observational details.
Now that you have an idea about everything, the owl and skull; do not waste any more time. Owl skull tattoo designs will never go out of style and always look on point. Discuss your tattoo pointers with your artist and get the job done.
Feature Image from Pinterest – Want your tattoo to look brighter? Try "Tattoo Balm"
Last reviewed and updated on May 5, 2023