Check out these amazing skull-drawing tattoo ideas given below. You can also use them as a reference for your next tattoo.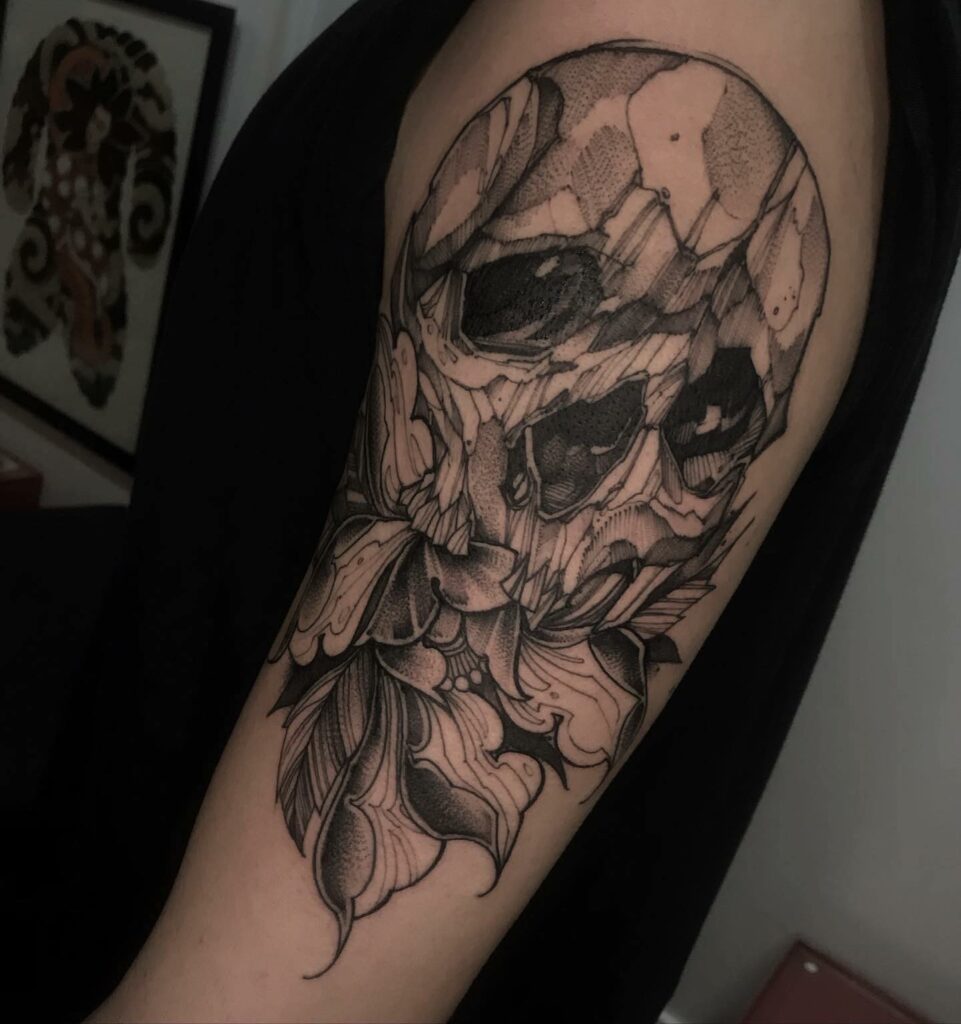 The skull tattoo has always been represented as a symbol of death and mortality.
However, something that very few people know, is that it can also be designed as a symbol of courage and strength. Especially, when you pair it up with other elements, like rose, or butterflies, it can alter the whole meaning.
Skull tattoos are a very popular choice among the men and women of today's world. They are the perfect representation of the idea, that life is short and you should live your life to the fullest. In some cultures, like the Celtic culture, for example, the skull is visualized as a seat of the soul. Others interpret it as a symbol of death and decay. Nonetheless, they are a unique design and can be a great way to reveal that wild and bold side of your personality. On that note, let's take a look at some of the excellent skull tattoo drawing designs, that you will absolutely love.
Skull and Moon Tattoo
The skull is the perfect depiction of the idea that death is inevitable. When you add other elements that highlight the same meaning, it will make your tattoo more prominent and meaningful. For example, let's take a look at this picture. The tattoo here consists of two subjects, a skull, and the moon, both facing each other. The moon is often referred to as the dying Sun. It is a symbol of mystery and dying light. Together, with the skull, it enforces the idea of death and decay in a much more meaningful manner. The artist here has created a very simple representation of this idea, using nothing but plain black ink.
Memento Mori Skull Tattoo
Do you know what memento mori means? It is a Latin phrase for, 'remember you must die'. This particular phrase has been used in many Christain paintings and remains a popular design even now, in the world of tattooing. It represents the idea, that everyone has to die eventually. Therefore, instead of fearing death so much, you should embrace it instead. The tattoo artist for this design has created a beautiful body art piece using this phrase, and the skull symbol. The shadings of the hollow nose and the eyes of the skull look incredible. Overall, this image generates a very somber and gloomy vibe. If you are a fan of such similar tattoo looks, then you can refer to this one for your next design.
Rose and Skull Tattoo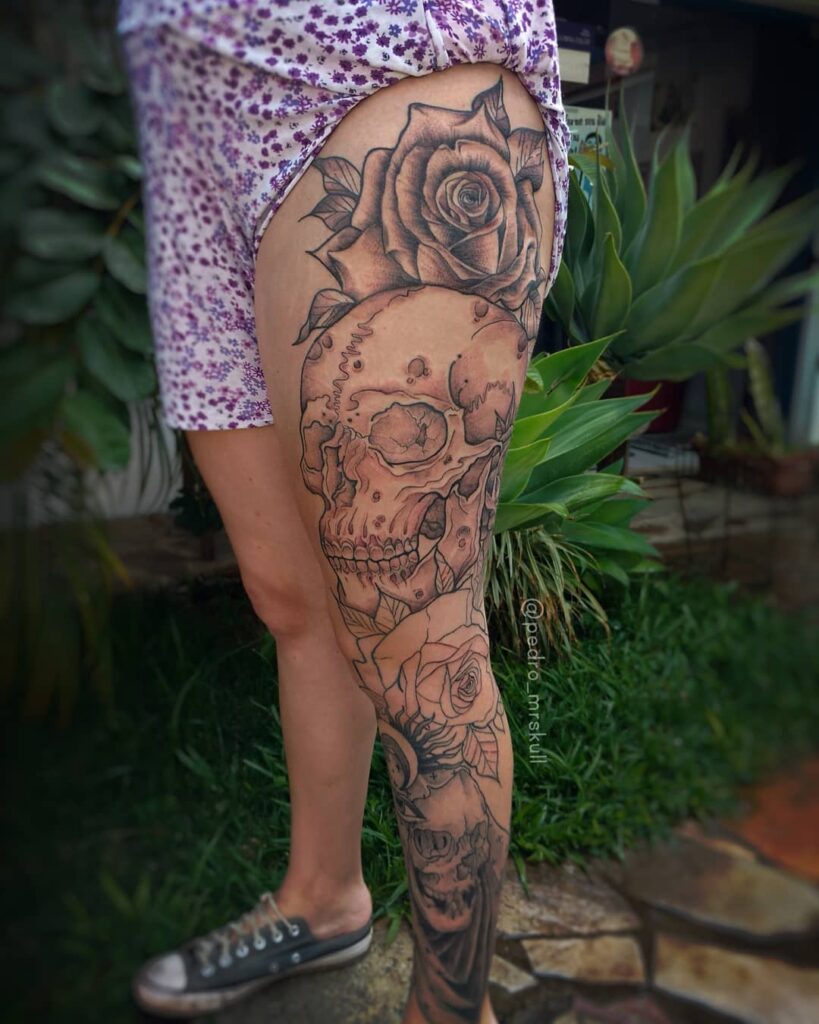 These kinds of full leg skulls and rose tattoo drawings are not for everyone. They attract a very niche audience, and if you are one of them, then this right here is a must-have. The artist here has beautifully created the design of the rose and skull on the leg of this individual. It looks very prominent and can be the perfect way to highlight those delicate curves on your legs. An important thing to remember about such large-shaped tattoo drawings is that they require a lot of time and patience, for the tattoo artist to complete one single design. Furthermore, they also tend to be costlier than the simple skull tattoo drawings.
Skull Butterfly Tattoo Drawing
The butterfly, unlike a skull, is an embodiment of new beginnings, hope, warmth, and happiness. When paired with a scary skull tattoo, it can provide a deep meaning to the circle of life, and the close proximity between life and death. The above-mentioned picture is a rendition of the same. We can see a beautiful design of a butterfly and within it is engraved a skull tattoo. If you look closely, then you can see that the artist has used yellow color to highlight the design of the skull and a shade of black and gray ink for the wings of the butterflies. These kinds of optical illusion tattoo drawings are not at all easy to make, and in fact, require a lot of precision and experience for a tattoo artist. Nevertheless, the tattoo artist has pulled off this design in a very successful manner.
Half Sleeve Skull Tattoo Drawing
These kinds of tattoo drawings are more common among men. The artist here has first created a traditional skull tattoo, and in the background, he has added an aesthetic tribal pattern. Also if you look closely, you will see that only the upper jaw of the skull is visible. These kinds of tattoo drawings are not only fun to look at, but also provide a very bold statement about the wearer. It presents the idea of a person, who lives by his own rules and does not care about the opinion of others. If you can relate to any of these above-mentioned qualities, then this design right here is a must-have.
Skull Flower Tattoo
If you want to add that feminine touch to your skull tattoo design, then this one right here is the most creative way to do so. Unlike the bold and scary skull tattoos that we have seen so far, the artist here has created a very simple and cute design of a skull tattoo. Do you see, how just by adding certain elements, you can change the whole outlook of a tattoo design? One of the key highlights of this design is the use of pitch-black ink to mark the hollow eyes of the skull. When presented with the beautiful designs of the flowers, it reveals a vivid contrast. While the flowers, represents all the positive energies of life, like happiness, purity, and innocence, the skull is used to represent the darker sides of life, like death and decay. The tattoo in this image is etched on the forearm of the individual. Some of the most common places for these kinds of designs include the thigh, leg, wrist, and chest.
Small Skull Tattoo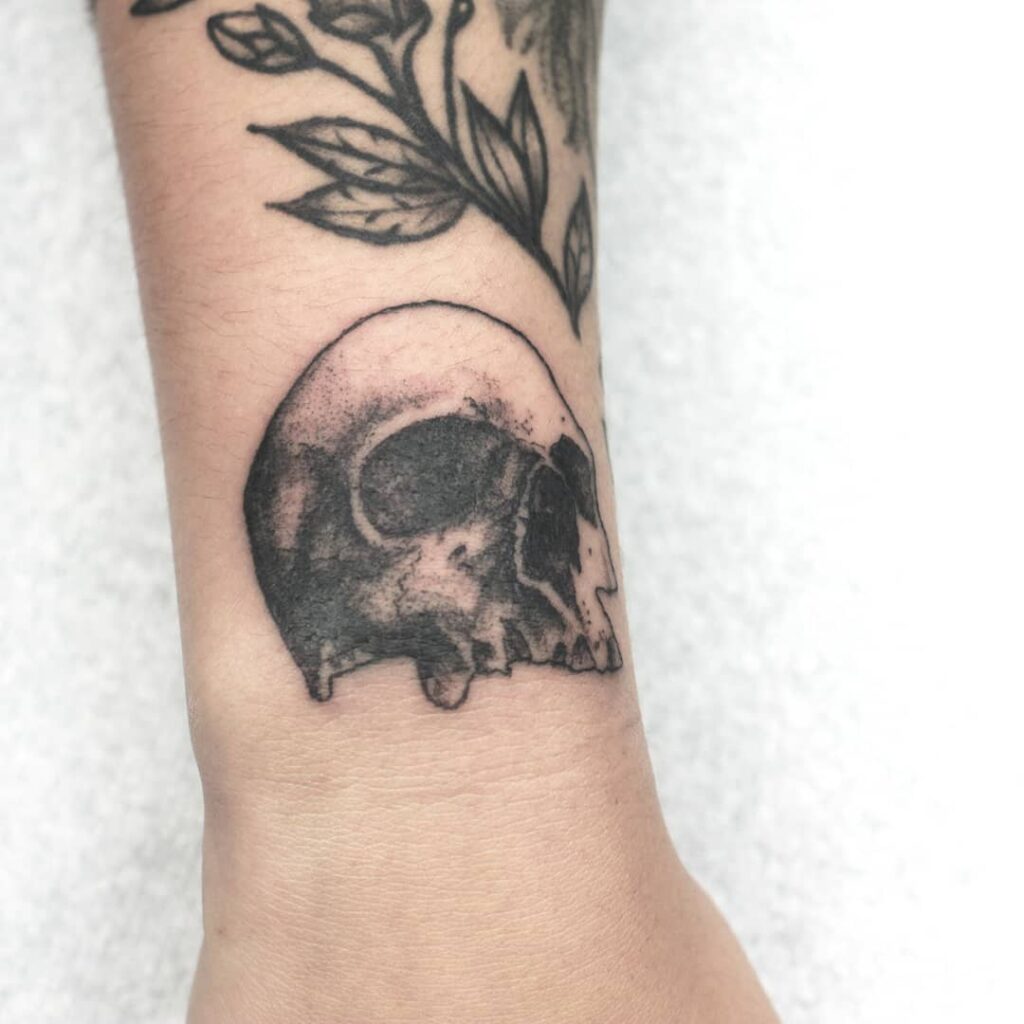 If you like a more minimalistic approach to your tattoo design, then this oe]ne right here can be a great choice for you. Instead of going for a large and dramatic tattoo drawing, the artist has created a tiny skull tattoo on the wrist of the individual. Small skull tattoos are just as meaningful as the larger ones. Especially, for newbies to the world of tattooing, this can be a great design. They are very easy to make and do not cause much discomfort. Furthermore, they are also very affordable and can be done within a very short span of time.
Blue Skull Tattoo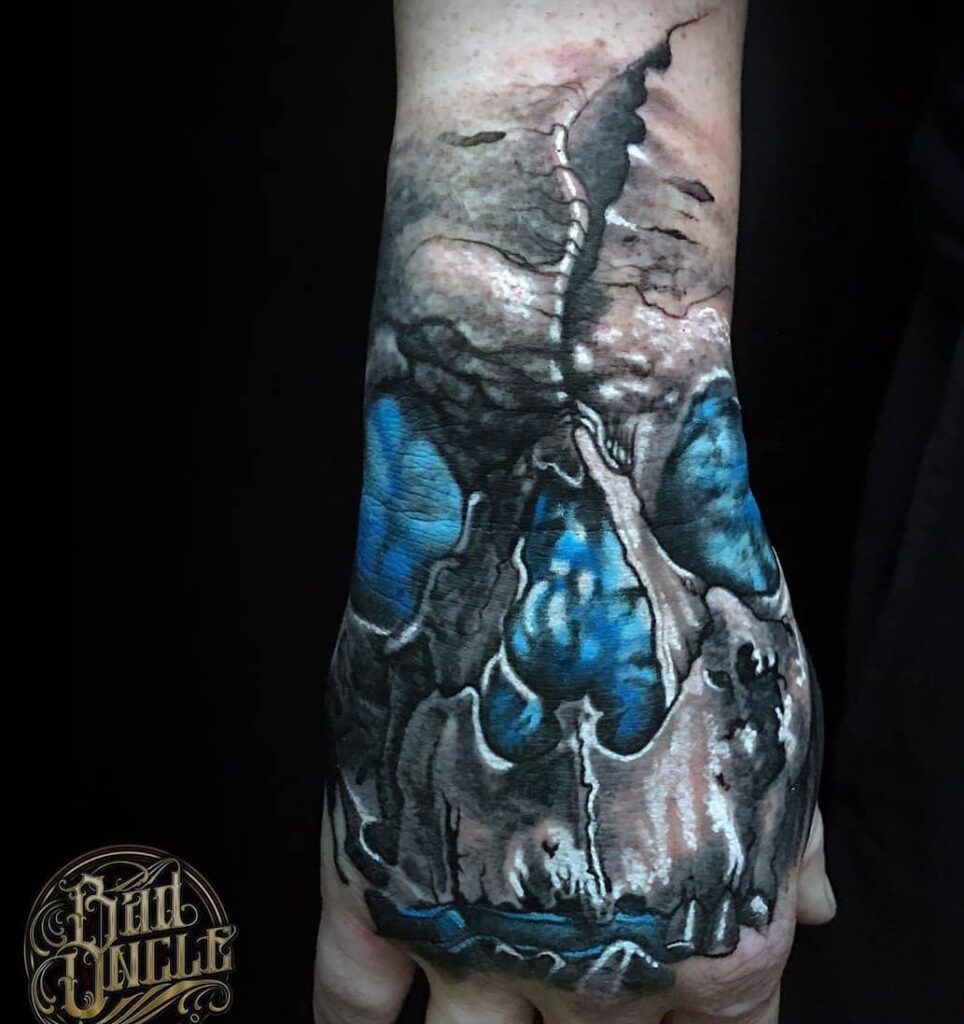 If you like your tattoos to be easily noticeable and prominent, then adding bright colors to the design, can help you achieve the desired look. The above-mentioned image is a rendition of the same. Instead of using plain black ink, to color the hollow eyes and nose of the skull, the artist here has chosen a bright shade of blue ink. The whole tattoo is etched on the wrist of the individual and it looks exceedingly beautiful. You can also add other colors like red or green, for these kinds of designs.
Funny Skull Tattoo Drawing
Skull tattoos do not always necessarily have to be dark and gloomy. By making certain changes to the design, you can also generate a fun and cute outlook for this tattoo design. The above-mentioned picture is an example of the same. The funny expressions of the three skulls etched on the forearm of the individual look very adorable. As mentioned earlier, skulls do not always represent the negative forces of life. They can also be a symbol of positive energies. These kinds of tattoo drawings are more feminine. If you like such cute tattoo ideas, then you should go for this one.
Skull and Scorpion Tattoo Drawings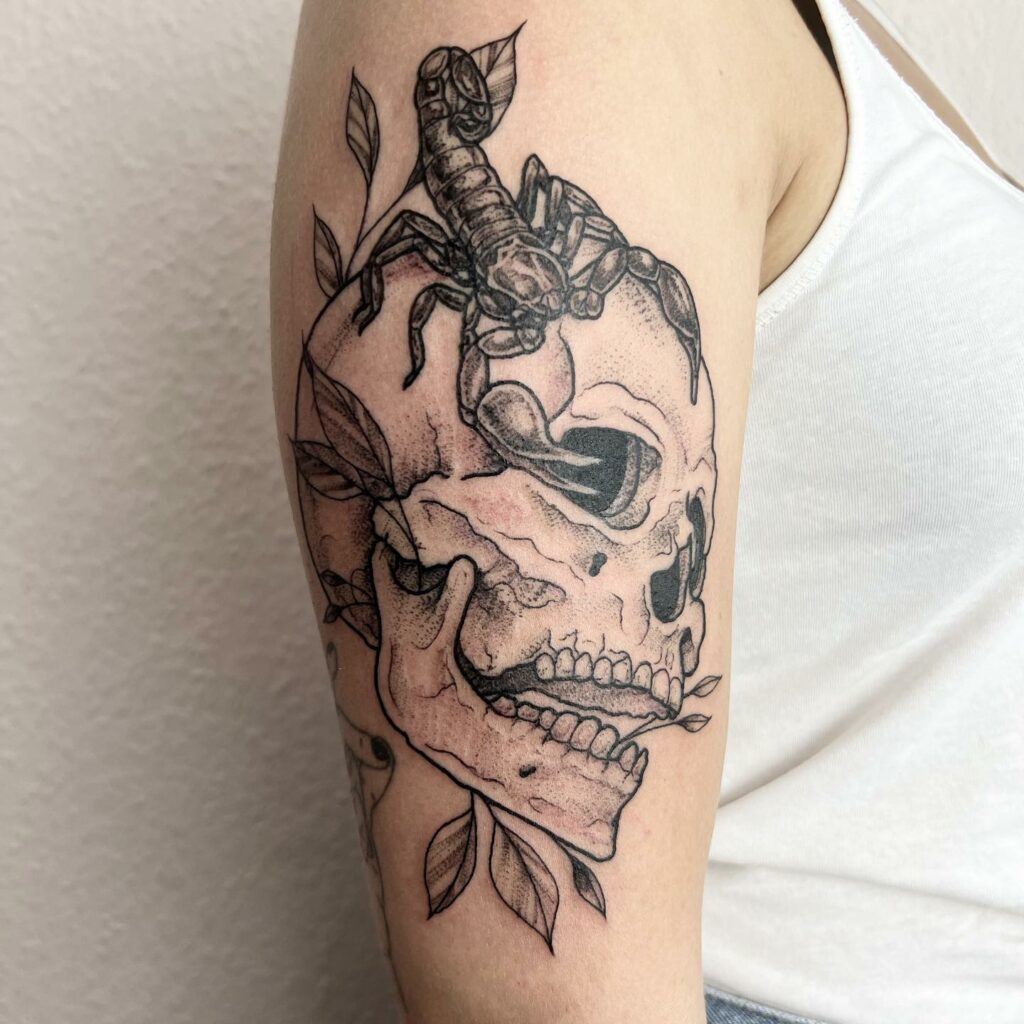 The scorpion is one of the deadliest creatures in the world. Although they may look very small, their venom is powerful enough to even kill a human being. For this reason, they are one of the most popular elements to include in a skull or skeleton tattoo. They both represent death and danger. In this image, we can see a similar design, where the artist has created a beautiful skull tattoo and paired it up with the scorpion. The artist has used shades of black to highlight the body of the scorpion, giving the design a crisp look. If you like these kinds of meanings behind your tattoos, then this one can be the perfect one for you.
Skull tattoos are not just bold and badass to look at, but also equally meaningful. They represent different emotions to different individuals. It serves as a reminder that death is inevitable, and therefore you should always try to live your life to the fullest. Here are some more examples of skull drawing tattoo designs that you can check out.
feature image from Pinterest – Want your tattoo to look brighter? Try "Tattoo Balm"
Last reviewed and updated on March 16, 2023