Are you searching for a tattoo that can perfectly depict your personality and thoughts? Look no further! We've curated a list of amazing small shin tattoos for you, exploring diverse themes to help you express yourself visually.
Shins are the perfect canvas to grab attention with a single glance, and small shin tattoos have become increasingly popular among younger people. The trend has caught on among athletes and celebrities, and it's not difficult to see why. Leg sleeve tattoos are gaining popularity, and shin tattoos are becoming as famous as arm sleeve tattoos, offering plenty of space to extend designs. Plus, leg tattoos are appreciated because they allow for better space and even skin tone.
While some say that shin tattoos are painful, many take it as a challenge and artists make the process as pain-free as possible while keeping creativity in mind. We have collected some great designs to inspire you and help you choose the perfect shin tattoo that expresses your individuality.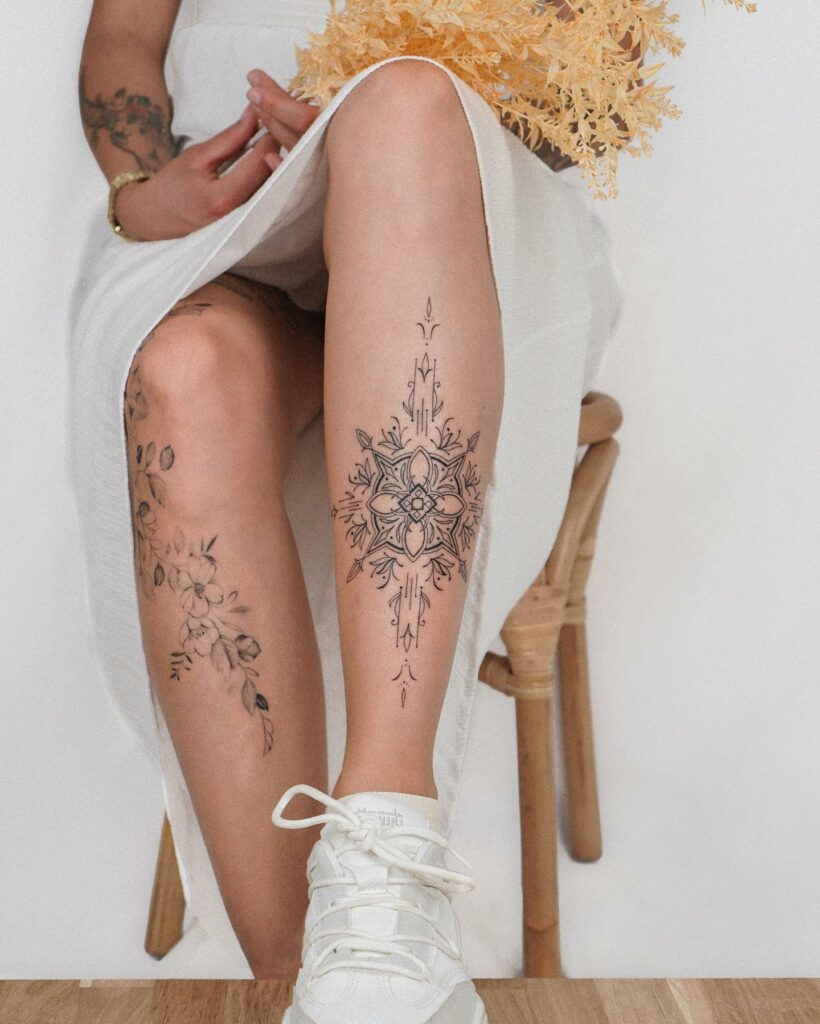 Butterfly Small Shin Tattoos For Females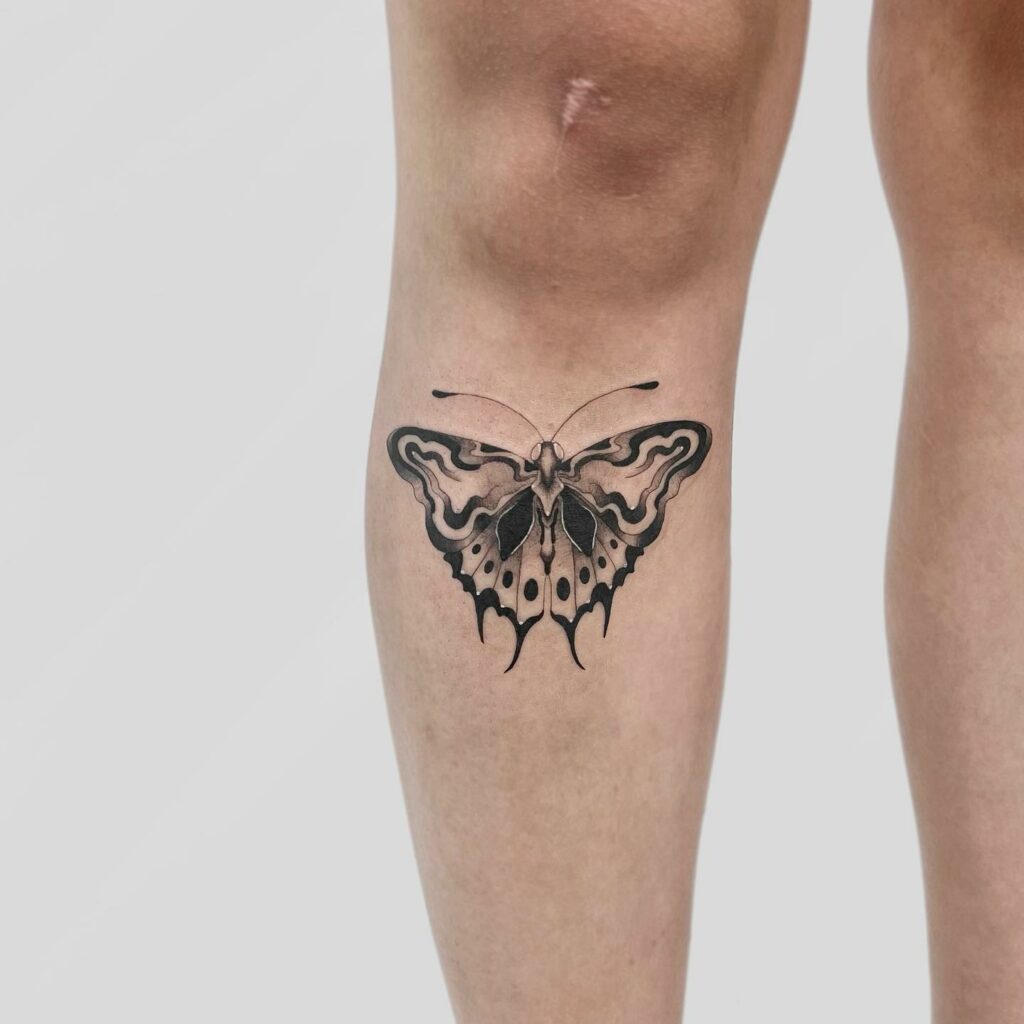 Looking for a small yet meaningful tattoo design that is packed with symbolism? Consider a butterfly tattoo on your shin! For over a decade, butterfly tattoos have been popular choices due to their ability to convey profound meanings through body art. This specific tattoo design features a simple yet impactful illustration of a Swallowtail butterfly, a species that represents the grace and beauty of the free human spirit.
Nature-inspired tattoos like this one are perfect for those who want a design that is deeply connected to their inner selves. Plus, butterfly tattoos have an enigmatic quality that emanates from their stunning colors, making them an excellent choice for a shin tattoo. Not to mention, a butterfly design doesn't have to take up a large portion of your leg, making it a great choice for those seeking a smaller tattoo with significant impact.
Grim Reaper Small Shin Tattoos For Men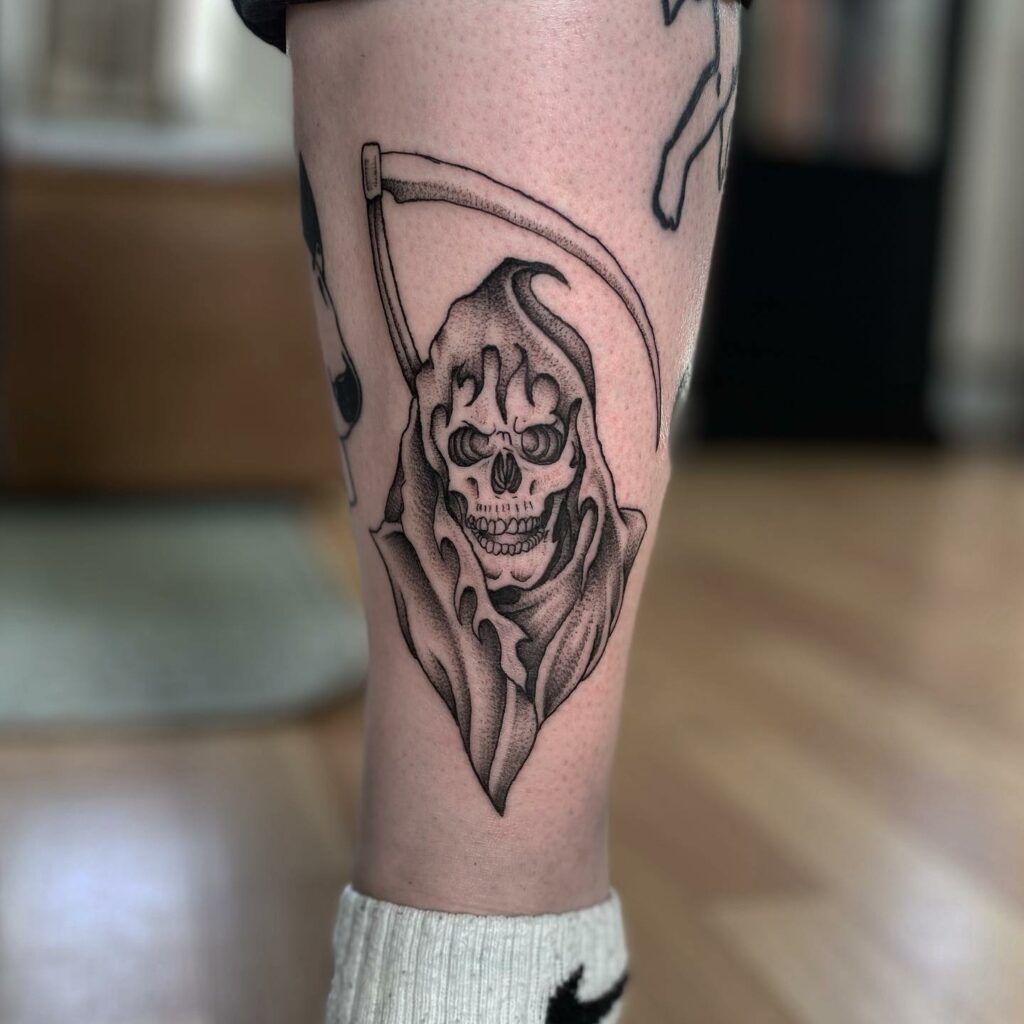 Looking for a dark-themed tattoo for men that captures the essence of cultural myths and legends? Look no further than this cool Grim Reaper tattoo. The Grim Reaper is a popular character that is well-suited to a dark-themed tattoo. The artist has skillfully incorporated intricate dot work to fill in the Grim Reaper's cape, giving it a harrowing look. Each fold is detailed and precise, making this tattoo stand out. This is a small tattoo that doesn't take up too much space and is less time-consuming than larger pieces, such as a full leg sleeve. So, if you're looking for a tattoo that's both striking and efficient, the Grim Reaper tattoo might be the perfect choice for you.
Ornamental Work Small Shin Tattoos For Guys And Girls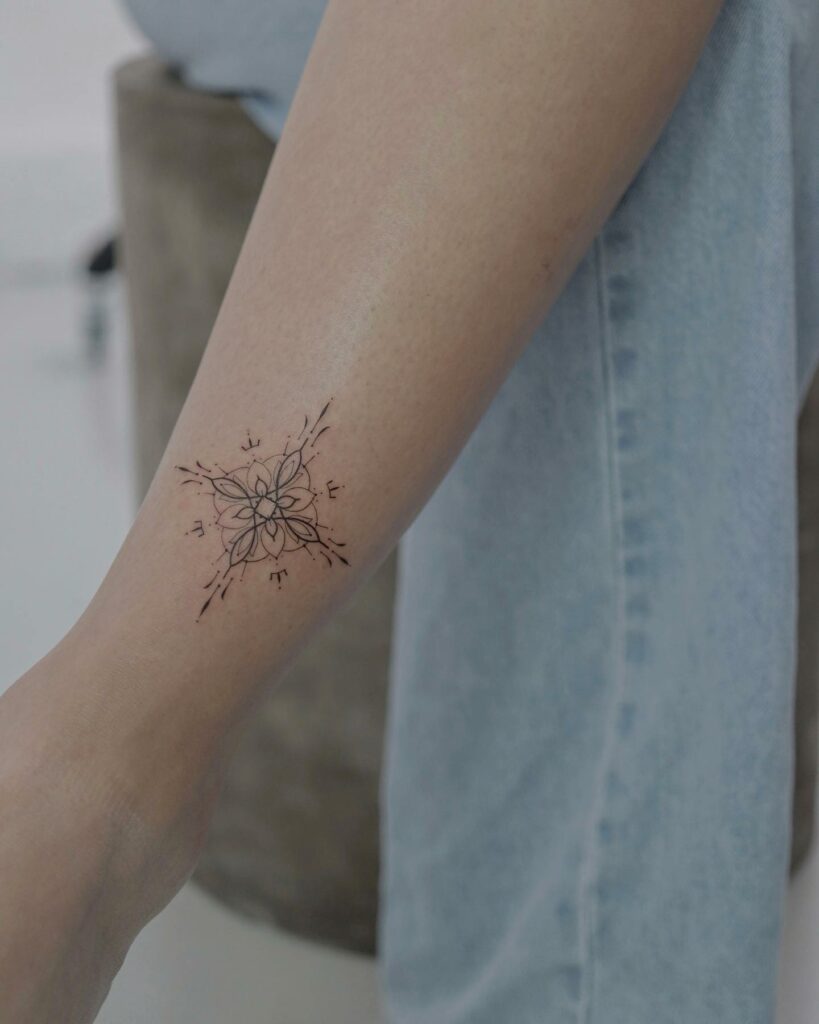 Mandala and ornamental tattoos are some of the most popular styles in the world of body art. These intricate designs feature repeating patterns like circles, waves, and lines, which come together to create stunning, cohesive artwork. One of our favorite tattoos in this style is an ornamental design on the shin.
If you're considering an ornamental tattoo, the shin is a great place to get it. Although the area can be painful to tattoo, ornamental designs don't require as much detail and can be created using a single needle to add small pieces that combine into a larger, beautiful piece. This can save you from spending excessive time in the tattoo chair and experiencing too much pain.
Ghibli Style Small Leg Tattoos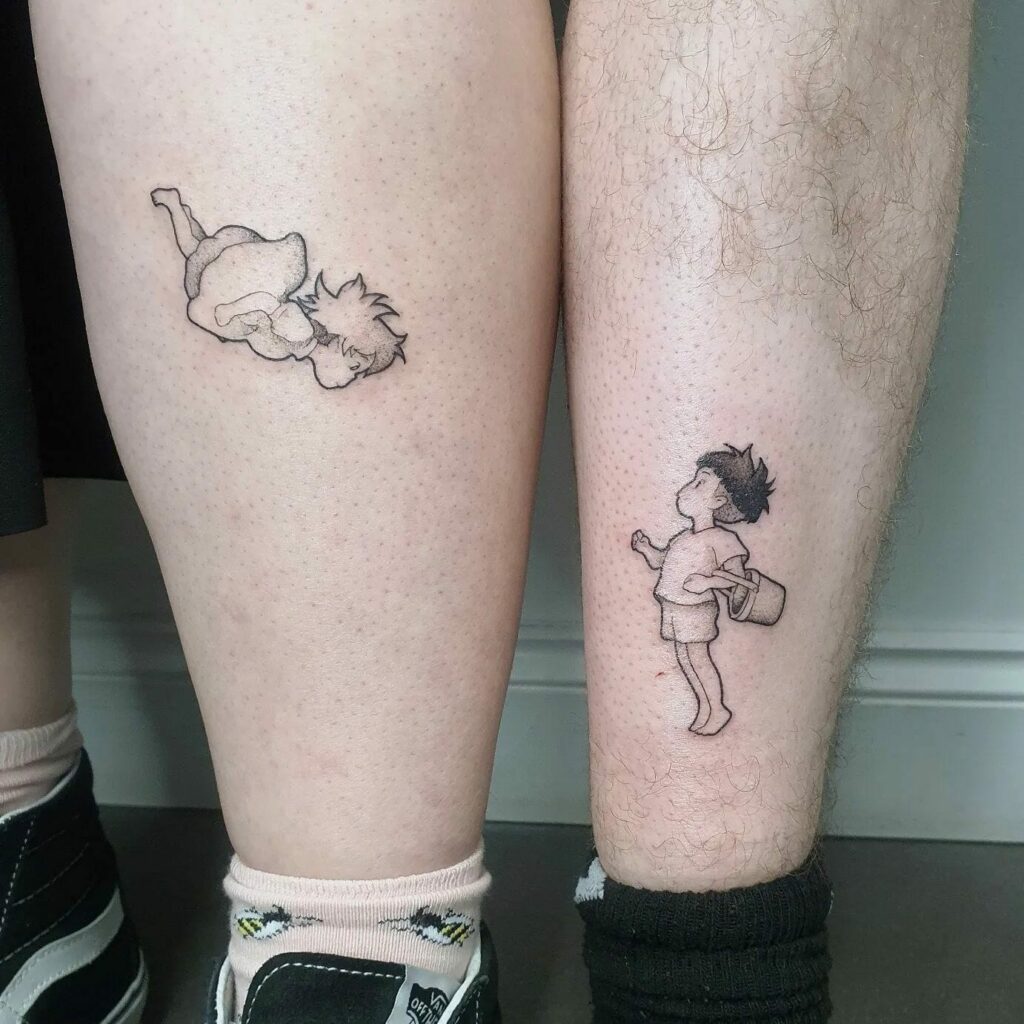 If you're a fan of classic Anime movies, why not show your love for them with a beautiful shin tattoo inspired by Studio Ghibli's Ponyo? This heartwarming movie is famous for its delicious Ramen bowl and the special bond between the main characters. The tattoo depicts a famous scene from the movie and is a lovely addition to your tattoo collection.
If you're looking for a couple tattoo idea, this illustrated style can be shared with your loved ones. It's essential to maintain the visual piece in pairs to ensure the artwork's symbolism isn't lost. While the tattoo is created in black and white, you can always add colors to the shin tattoo to make it more vibrant and alive.
Black And Red Small Shin Tattoo Ideas
Abstract tattoos are loved by many tattoo enthusiasts, and this shin tattoo is an excellent example. The piece showcases three unique faces from a single source, allowing for multiple interpretations based on personal perceptions. What makes this tattoo particularly striking is the intricate dot work used to create a sand-like texture that gives the piece a unique and subtle visual interest.
In addition, a deep red sun has been added to the design to make it even more visually stunning. You can personalize the artwork further by playing around with the design and color palette to create a version that suits your taste. This tattoo would look great anywhere on your leg, whether you decide to place it on your upper leg or lower leg.
Resting Kitty Leg Sleeve Tattoo Design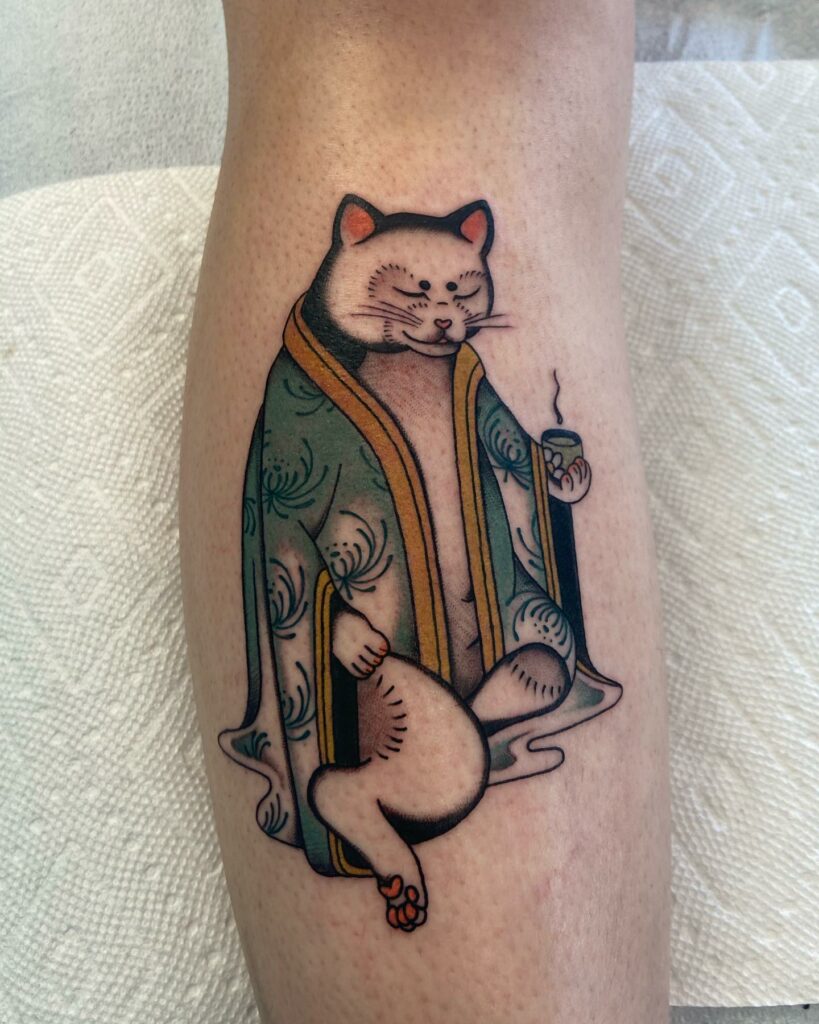 If you're a fan of traditional American tattoo designs, you'll love the beautifully illustrated resting kitty tattoo. This classic style of tattooing emphasizes bold line work and vibrant primary colors to create eye-catching pieces that stand the test of time.
In this particular tattoo, a traditional illustration style is used on a Japanese-inspired artwork, featuring a cute and cuddly kitty in a resting pose. The gentle colors used in this design make it a perfect addition to your tattoo collection without being overly bright or flashy.
This simple and small leg tattoo is an excellent choice for those who want to start small or add to their existing ink. Plus, it's a great conversation starter for cat lovers and tattoo enthusiasts alike. Don't hesitate to add this charming piece to your tattoo bucket list!
Wizard Mouse Small Shin Tattoo Ideas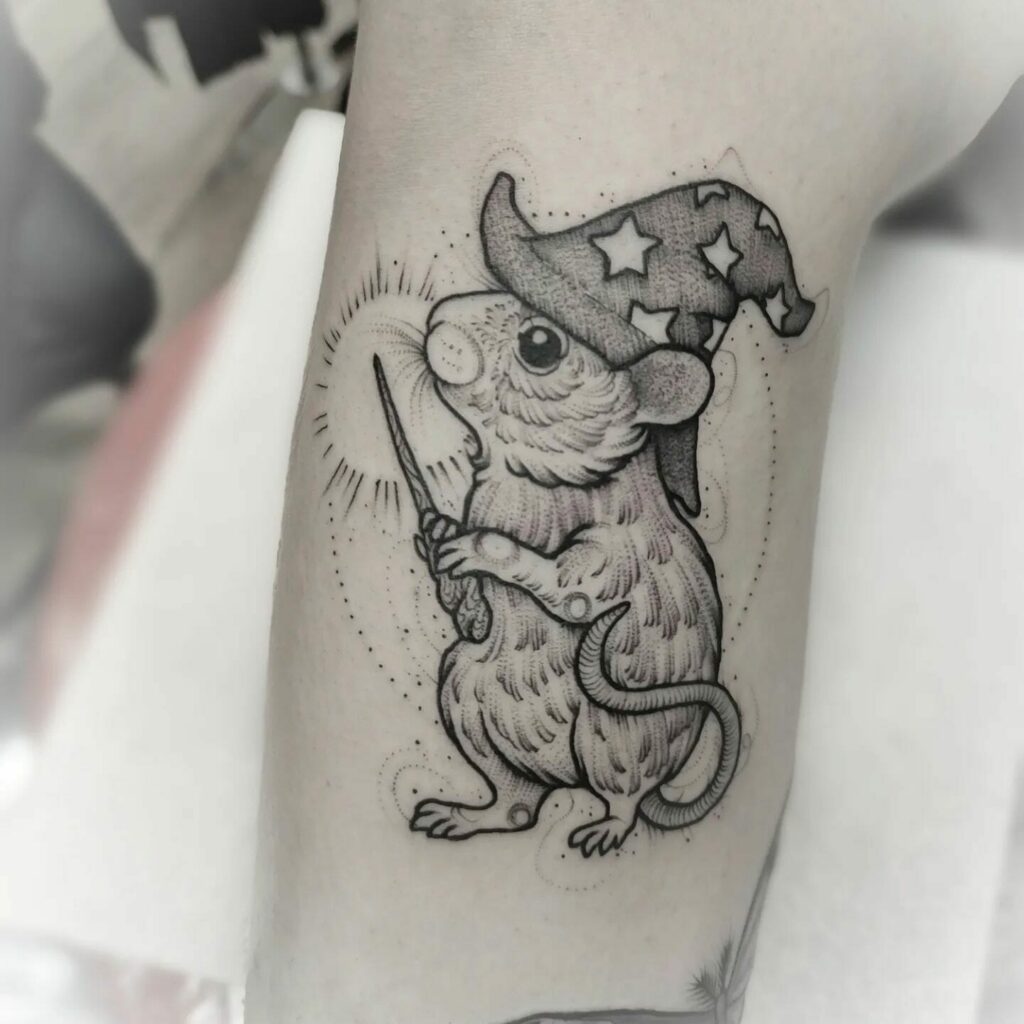 Looking for a cute and magical addition to your shin tattoo collection? Consider the wizard mouse! This design is perfect for those looking for a smaller tattoo that still packs a punch. The intricate details on the mouse's coat and magical aura make for a beautiful and whimsical design that is sure to catch the eye.
When choosing a smaller tattoo, it's essential to choose a design that will make the most of the limited space available. The wizard mouse is an excellent choice for this as it offers plenty of character and charm in a compact design. Whether you're a man or a woman, the wizard mouse tattoo is a great way to add a touch of magic to your ink.
Small Leg Tattoos For Horror Comic Lovers
Are you a fan of horror comics and looking for a spooky tattoo idea? Look no further than this Junji Ito-inspired piece featuring a small cat with a chilling expression. The simple yet effective design captures the essence of Ito's horror comics and is perfect for those who love dark-themed tattoos.
In addition to this particular design, Junji Ito has created many other frightening creatures that can serve as inspiration for your next tattoo. So if you're a Japanese horror comic addict or just looking for something scary to add to your collection, take a look at some of Ito's other works to find the perfect design for you.
Contemporary Floral Shin Tattoo Ideas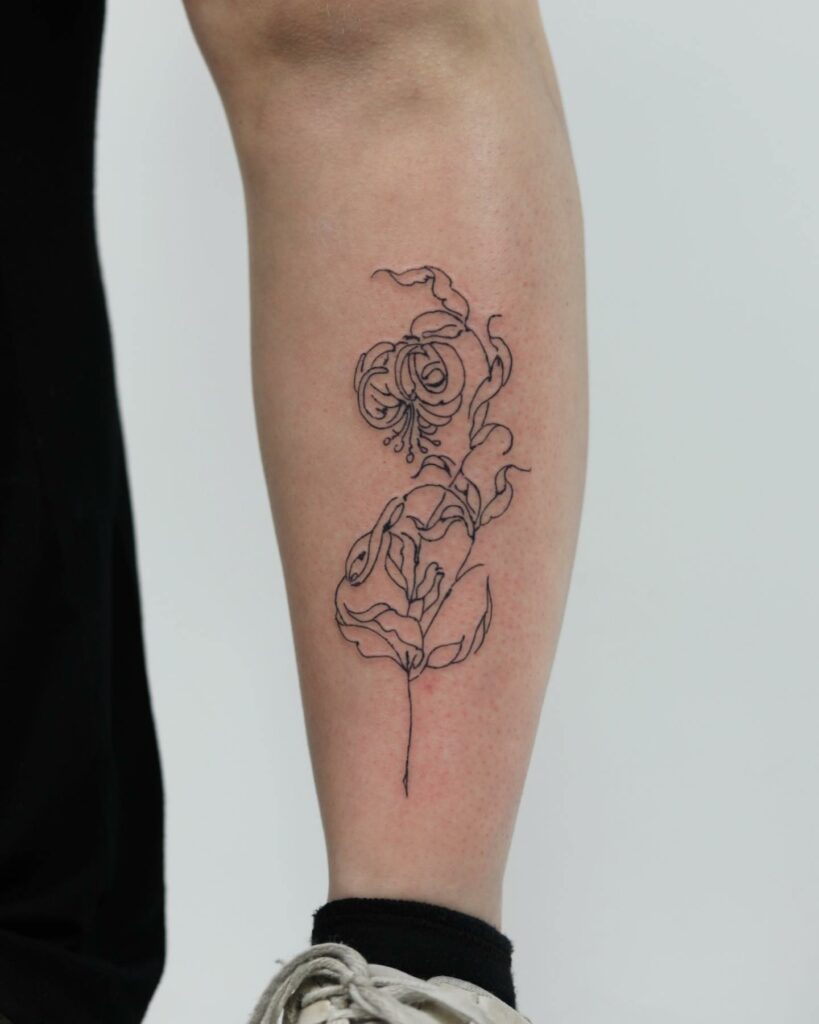 Line work tattoos are one of the most exciting styles of tattooing, known for creating unique and minimalistic designs. Flowers are a popular choice for tattoos, but this shin tattoo takes it up a notch by using line art to make a statement. The tattoo features a curled flower, which signifies losing vitality or fleeting moments in life. This floral design deviates from the usual ones featuring flowers in their prime, making it a compelling choice for people looking for something different.
Two-Headed Dog Leg Sleeve Tattoo Design
If you're looking for a special way to pay tribute to your beloved pets, we've got just the thing for you. Our dual-head puppy tattoo is an incredibly sweet way to show your love for your furry friends, whether they're by your side or have passed on. But don't limit yourself to dogs – any pet you hold dear can be the star of your shin tattoo!
We've given you a bunch of ideas to inspire you, so take your time and choose the one that resonates with you the most. Or if you're feeling creative, you can mix and match different elements from the designs we've shared and come up with a completely unique and personalized tattoo. At the end of the day, we encourage you to create a shin tattoo design that feels authentic and true to who you are.
feature image from Pinterest – Want your tattoo to look brighter? Try "Tattoo Balm"
Last reviewed and updated on February 19, 2023