Are you a fan of minimalistic tattoos? Feast your eyes on our collection of small, simple rose tattoos that are not only on-trend but also sure to make you stand out in any crowd!
Rose tattoos have become increasingly popular in recent times, and it's easy to see why. These elegant and dainty designs inspire women with their grace and beauty. Simple rose tattoos truly shine with their minimalism and purity, looking exceptional on the neck, fingers, shoulders, wrist, chest, arm, and other body parts, enhancing the artistry of body art.
Small rose tattoos boast their own unique charm, creating a stunning effect depending on their placement. With a variety of colors, delicate designs, and intricate inkwork, these floral tattoos are in high demand. From single roses to rose bushes, red roses, black roses, and even butterfly tattoos, there's a rose design to suit every taste.
A talented tattoo artist can help bring your vision of small red roses, black roses, or single roses to life. They may even offer ideas to cater to your preferences. Small rose tattoos carry a range of meanings, including love, affection, hope, grace, and sometimes grief. A red rose tattoo symbolizes romance, while a black rose tattoo conveys death, grief, and rebellion – despite its powerful meaning, it can still look delicate on the shoulder, fingers, neck, or wrist. Yellow rose tattoos represent new beginnings and positivity, making them an uplifting choice.
Discover more about small rose tattoos, red rose tattoos, tiny rose tattoos, traditional rose tattoos, realistic rose tattoos, tribal rose tattoos, black rose tattoos, and other captivating small rose tattoo designs that are impossible to look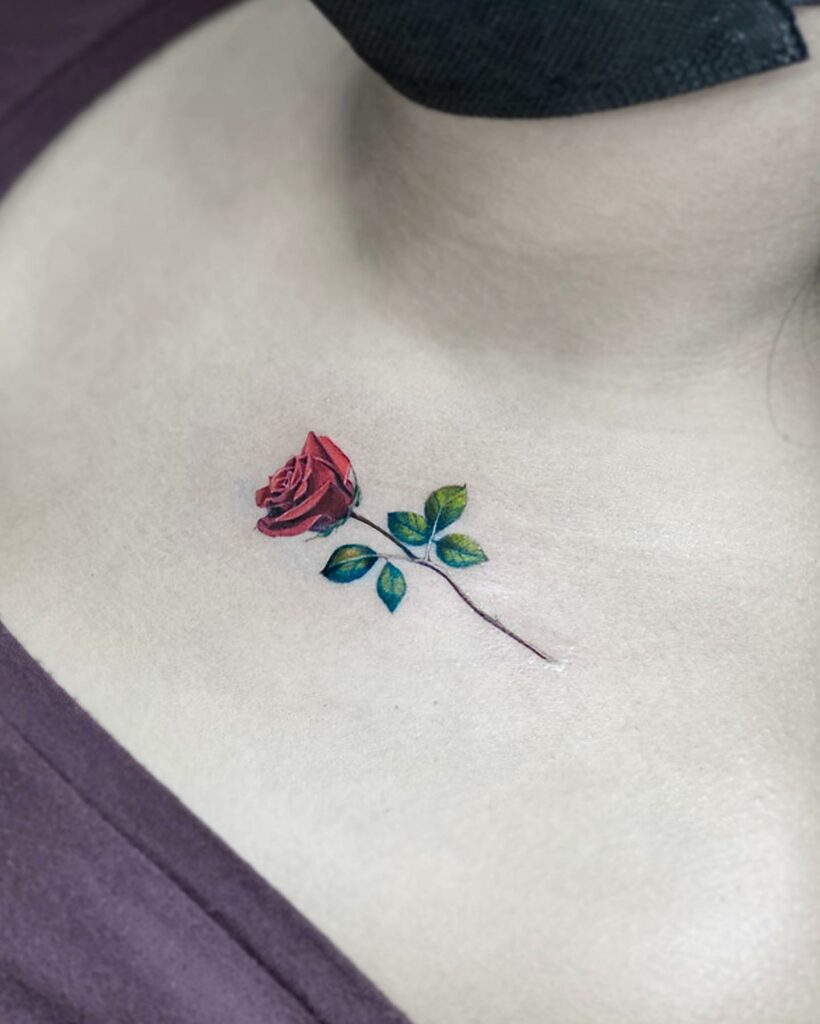 Small Rose Tattoo Designs To Make You Drool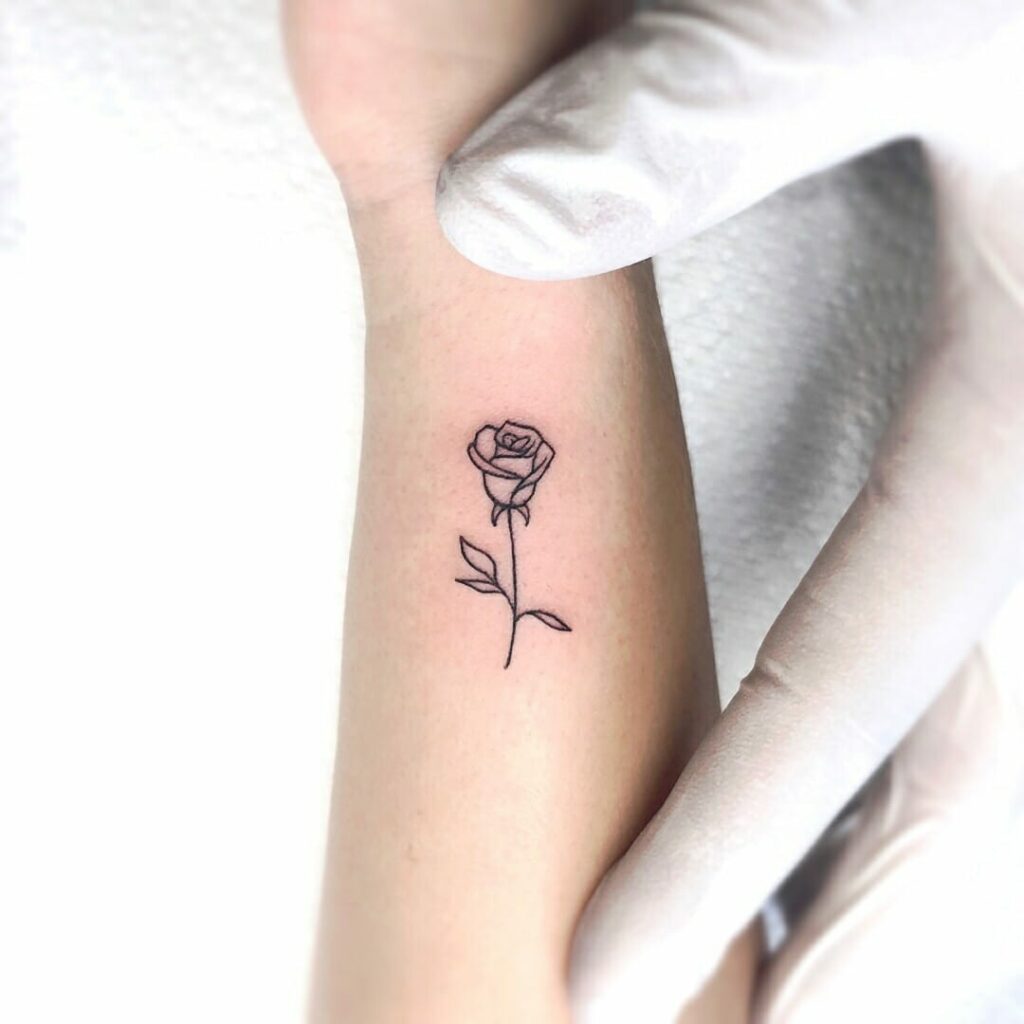 Rose tattoos have always been a symbol of elegance and grandeur. This small rose tattoo design is the perfect example of minimalism at its best. The black inked rose is simple yet stunning, and is situated just above the wrist, adding an element of charm to the overall look. Even though the tattoo is not very colourful, it is still eye-catching and stands out among other tattoos. This simple rose design signifies the beauty in simplicity and is a great source of inspiration for body art enthusiasts who love delicate and minimalistic tattoo designs. The placement of the tattoo is perfect and accentuates the delicacy of the rose. This design is a must-try for those who love simple yet beautiful tattoos.
Realistic Rose Tattoo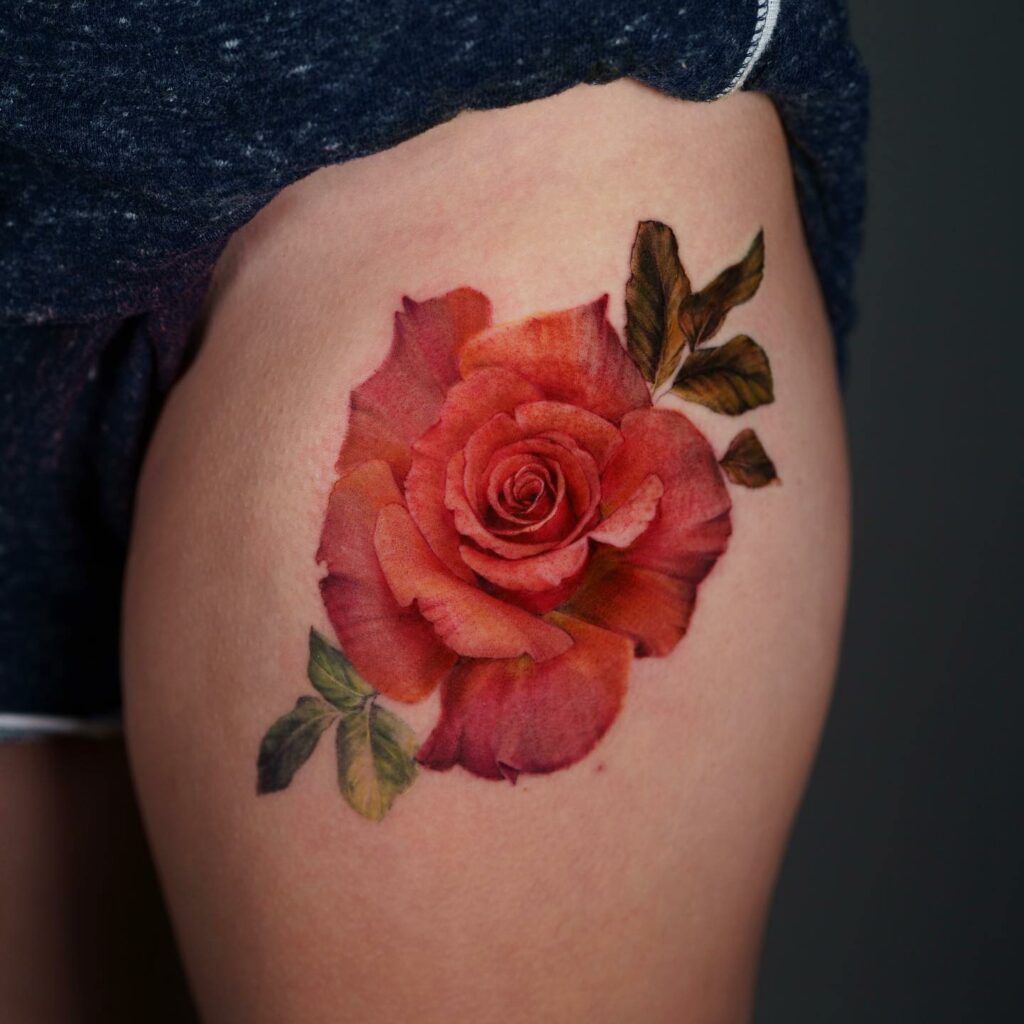 This tattoo design is not just any ordinary rose tattoo, as it features a beautiful blend of colours, including green and brown leaves, and thorns, which add depth and texture to the design. The meaning behind a rose tattoo can be quite profound, with its thorns symbolising protection, and its vibrant colours signifying love and passion. Even a tiny rose tattoo can convey a lot of meaning. Flower tattoos in general are known for their elegance and beauty, and a realistic rose tattoo is no exception. Whether it's a small red or yellow rose tattoo, or a simple rose tattoo drawing, a realistic rose tattoo can add a touch of sophistication to any body art collection.
Traditional Rose Tattoo Which Will Blow Your Mind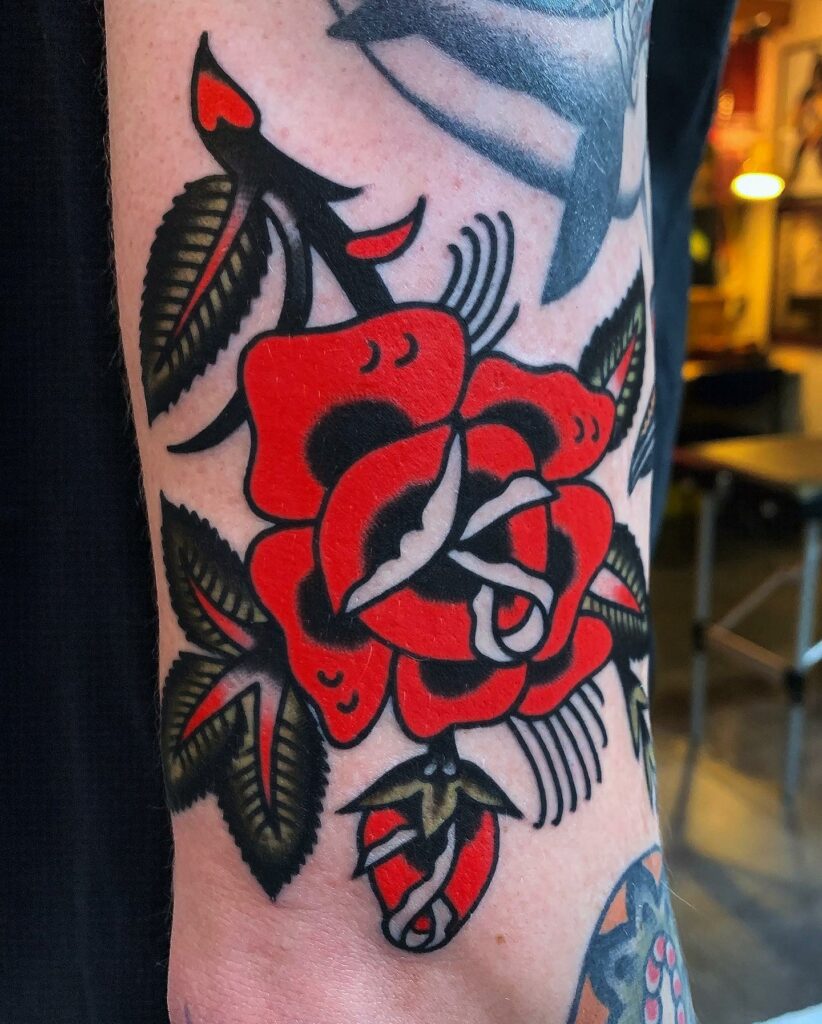 Rose tattoos are truly timeless and remain an ever-popular choice for body art enthusiasts. This small rose tattoo is a great example of how traditional designs continue to captivate us. The intricate details in the petals and leaves of the rose, along with the thorns, make this tattoo a striking piece of art. Placed just above the wrist, this location is perfect for those who want a small and delicate tattoo that is less painful to create. The use of vibrant green ink for the leaves adds a beautiful contrast to the soft shades of the rose petals. Overall, this tattoo is a stunning and elegant expression of beauty and grace.
Small Rose Tattoo In Different Colours
This stunning blue rose tattoo may not be traditional, but it certainly makes a bold statement. In Greek mythology, blue roses represent new beginnings, rebellion, and outspokenness. This makes it a unique choice for those who want to express themselves in a nontraditional way. The simplicity and elegance of the blue rose are why it's become a popular choice for women. It's not just the symbolism that makes this tattoo stand out, but the skillful use of blue ink to create a realistic and captivating design. Whether you want to make a statement or simply love the look of a blue rose, this tattoo is a great choice for anyone looking for something fresh and unique.
Simple Rose Tattoo Small That Are Going To Make You Updated In The Fashion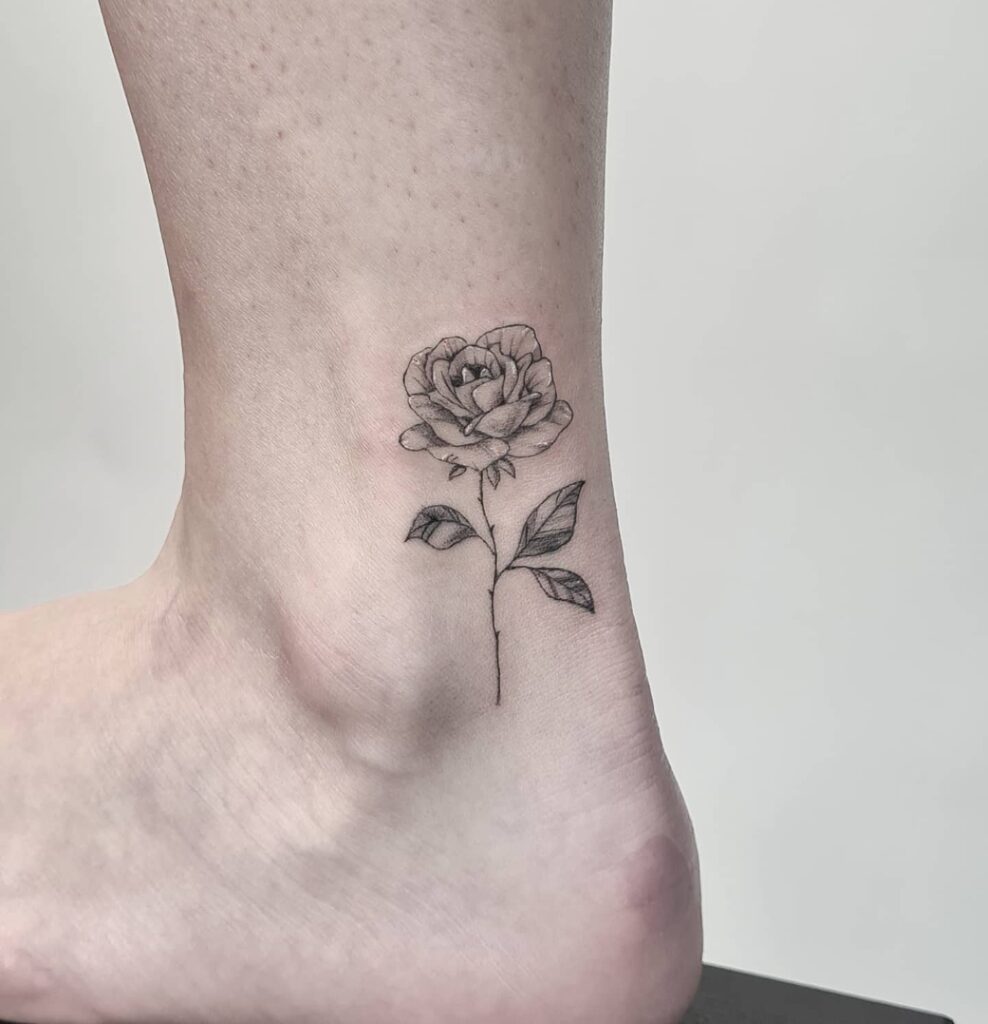 The beauty of a simple rose tattoo lies in its ability to showcase the intricate details and artistry of the design. In this particular tattoo, we see a small yet elaborate rose tattoo inked on the foot. The tattoo artist has paid close attention to every petal, creating a design that is both stunning and intricate. While this tattoo is done in black ink, rose tattoos can also be made with a watercolor effect, creating a more realistic and colorful design. Women are often inspired by the simplicity of this tattoo, which can be elevated with intricate black ink work.
Small Simple Watercolor Rose Tattoo That Looks Beautiful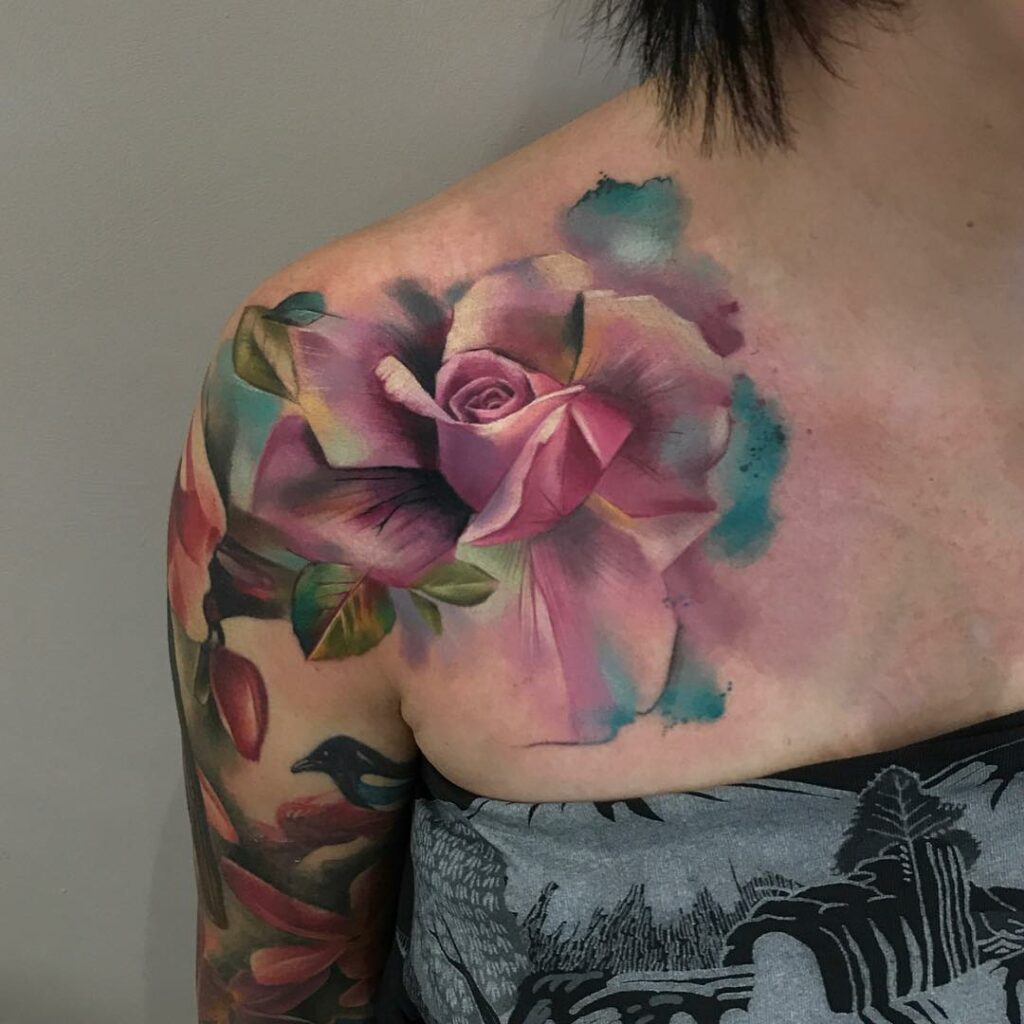 This exquisite design features a small, gracefully rendered rose that seems to come alive in a dance of color and light. The watercolor effect imbues the rose with an ethereal quality, transforming it into a true work of art that graces the shoulder with finesse. The enchanting design extends across the hand and shoulder, creating a visual symphony that seamlessly flows from one part of the body to another.
Crafting such a stunning piece of art requires the steady hand and creative vision of a highly skilled tattoo artist. Through masterful control of shading, color blending, and line work, the artist gives life to this captivating rose tattoo, making it one of the most beautiful and timeless designs one can choose to wear. As you embark on your own journey of self-expression through body art, remember that the right artist can make all the difference in bringing your unique vision to life.
Simple Rose Tattoos For Men
Men, like women, have a passion for tattoos, and there's a timeless appeal to tattoos adorning the arms. One particularly popular choice among men is the rose tattoo placed on the back of the arm. This location is favored for its simplicity and uniqueness, allowing men to wear their body art with pride.
The back of the arm offers an excellent canvas for showcasing the intricate ink work that characterizes rose tattoos, resulting in visually striking designs that capture attention. Combining artistry and masculinity, rose tattoos on the back of the arm serve as a powerful expression of personal style, ensuring that men feel confident and distinguished when sporting these enduring symbols.
Black Ink Rose Tattoos On Men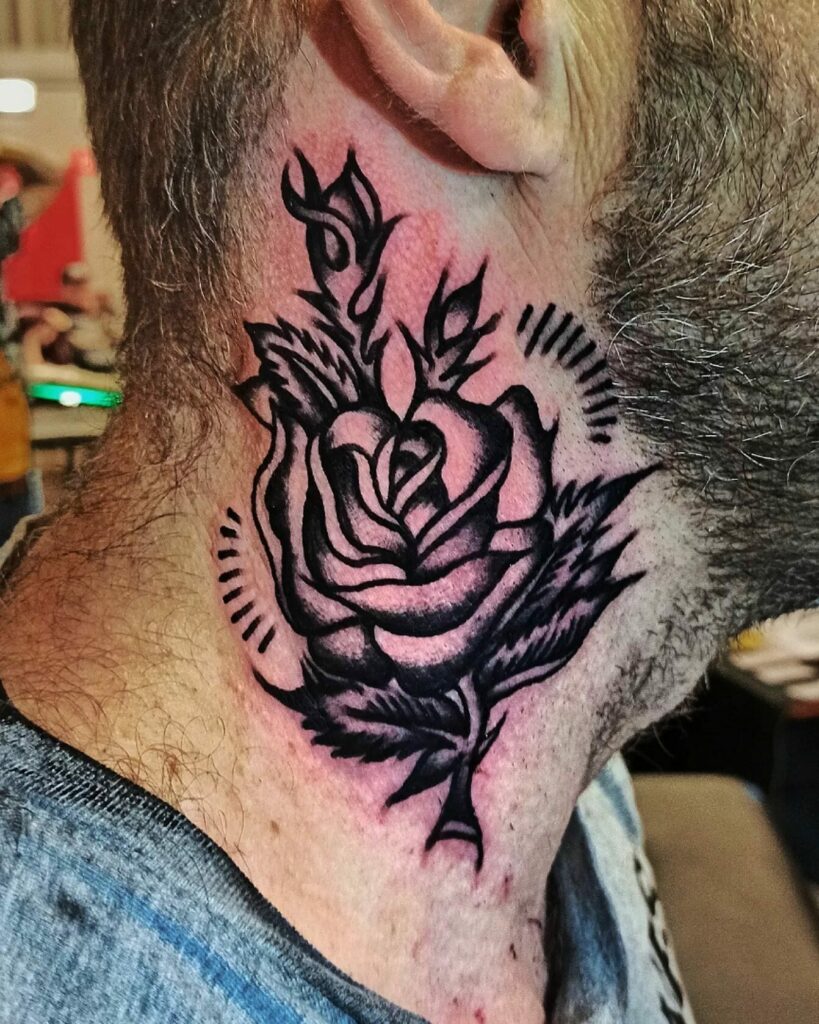 In contrast to the previously mentioned watercolor design, another captivating tattoo option is the bold and striking black ink design placed just beside the ear. This monochromatic style showcases the intricate and masterful line work of the artist, transforming the neck into a canvas for a truly breathtaking piece of body art.
Although the skin may appear slightly irritated immediately following the tattooing process, this is a normal and temporary part of the healing journey. With proper care and attention, the irritation will subside, revealing the stunning beauty of the finished piece.
Neck and arm tattoos have become increasingly popular among men, as these highly visible areas provide the perfect stage for showcasing one's personal style and artistic taste. The neck, in particular, is an intriguing choice as it allows for a more intimate and unique expression of one's identity. Whether you're drawn to the boldness of black ink or the vibrant hues of a colorful design, a well-crafted tattoo can speak volumes about who you are and the story you wish to share with the world.
Small Simple Wrist Rose Tattoo For Both Men and Women
In the fascinating realm of tattoo art, there are designs that transcend gender boundaries and appeal to a wide range of individuals. One such example is the versatile and enchanting small rose tattoo, which can be appreciated by both men and women alike. While some may hesitate to adorn their hands with a floral motif, this particular design is a unisex favorite that is cherished by many.
In the image we're discussing, the rose tattoo takes on a unique twist as part of a couple's tattoo. Its exquisite design combines the intricate patterns of a mandala with the elegance of eastern architecture. Although not a traditional miniature design, this tattoo still maintains an air of sophistication and beauty that is truly captivating.
A testament to the love shared between two individuals, this rose tattoo is a highly recommended choice for couples looking to express their affection and commitment through body art. The harmonious blend of artistry and symbolism makes this design an unforgettable way to celebrate the love story that binds them together.
Small Rose Tattoos By The Ear For Both Men and Women
In the captivating world of body art, there are tattoo designs that challenge even the most skilled artists, pushing the boundaries of creativity and precision. One such example is an intricate rose tattoo placed within the delicate contours of the ear, rendered in bold black ink. The finesse required to craft this small yet detailed design speaks to the remarkable talent of the tattoo artist behind it.
Although some initial inflammation may be visible in the area, this is a common and temporary part of the healing process. With proper care and attention, the swelling will subside, revealing the true beauty of this beloved and highly praised design.
Tattoos serve as a unique form of self-expression, allowing individuals to enhance their natural beauty with carefully chosen designs. Among these, the minimalistic rose tattoo stands out as a versatile and elegant choice that appeals to both men and women. The artistry involved in creating these delicate floral designs requires a steady hand and a keen eye for detail, showcasing the mastery of the tattoo artist.
Throughout history and across cultures, flowers have held special significance, symbolizing love, friendship, and new beginnings. In England, for example, flowers have long been cherished as tokens of affection and camaraderie. It's no wonder, then, that these meaningful blossoms have found their way into the realm of body art. Today, small, simple rose tattoos continue to make a lasting impression, resonating with individuals from all walks of life who appreciate their timeless beauty and grace.
feature image from Pinterest – Want your tattoo to look brighter? Try "Tattoo Balm"