Hello, fellow tattoo enthusiasts! Are you looking for a cute and cheerful tattoo design that expresses happiness and positivity? Look no further than our collection of small smiley face tattoo ideas!
A smile is a universal expression of politeness, trustworthiness, and happiness. It's no wonder that people love to smile and seek out ways to express their joy, whether it's through laughter or body art.
A smiley face tattoo is a fun and lighthearted way to showcase your happiness and love for life. This tattoo design is popular among females and can be customized to fit your unique style and personality. Whether you prefer a classic yellow smiley face or a more creative interpretation, there are countless options to choose from.
But a smiley face tattoo can also hold deeper meaning beyond just a symbol of happiness. Some designs incorporate practical messages or represent a particular moment or situation in life. It all depends on the artistry of the tattoo design and your personal preference.
So why not spread a little joy and positivity with a cute smiley face tattoo? They're a common sight in tattoo studios across the UK and are sure to put a smile on your face every time you look at it!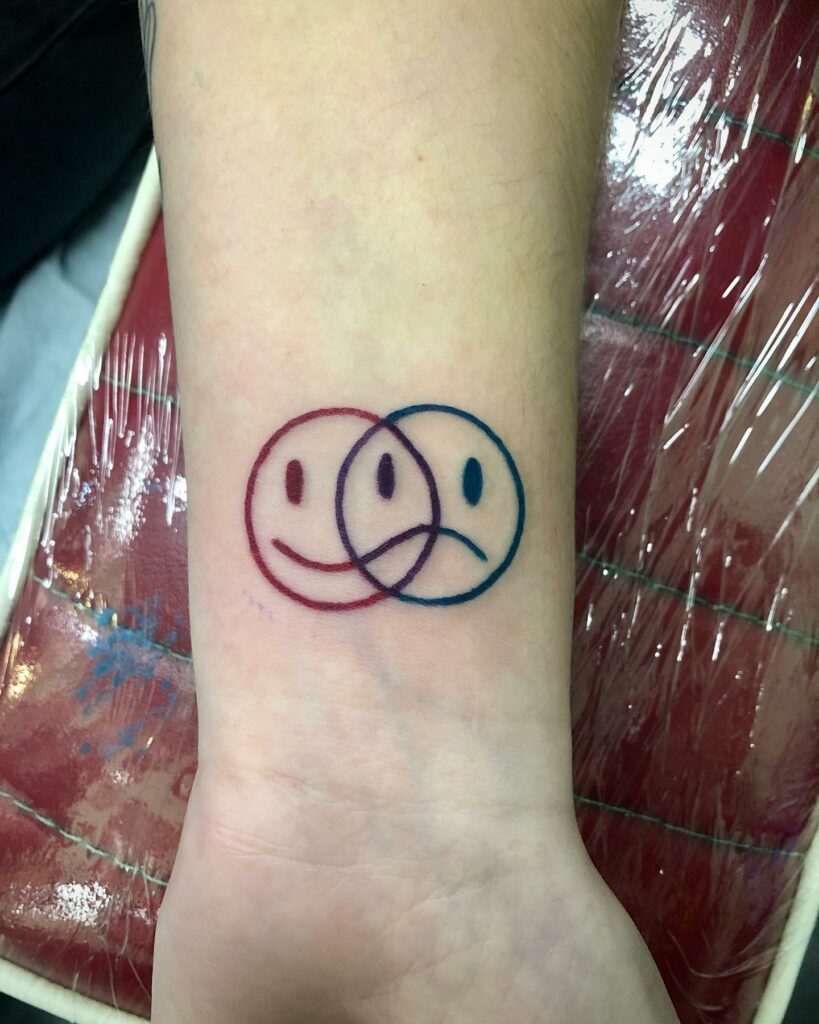 Smiley Face Tattoo In A Rainbow Color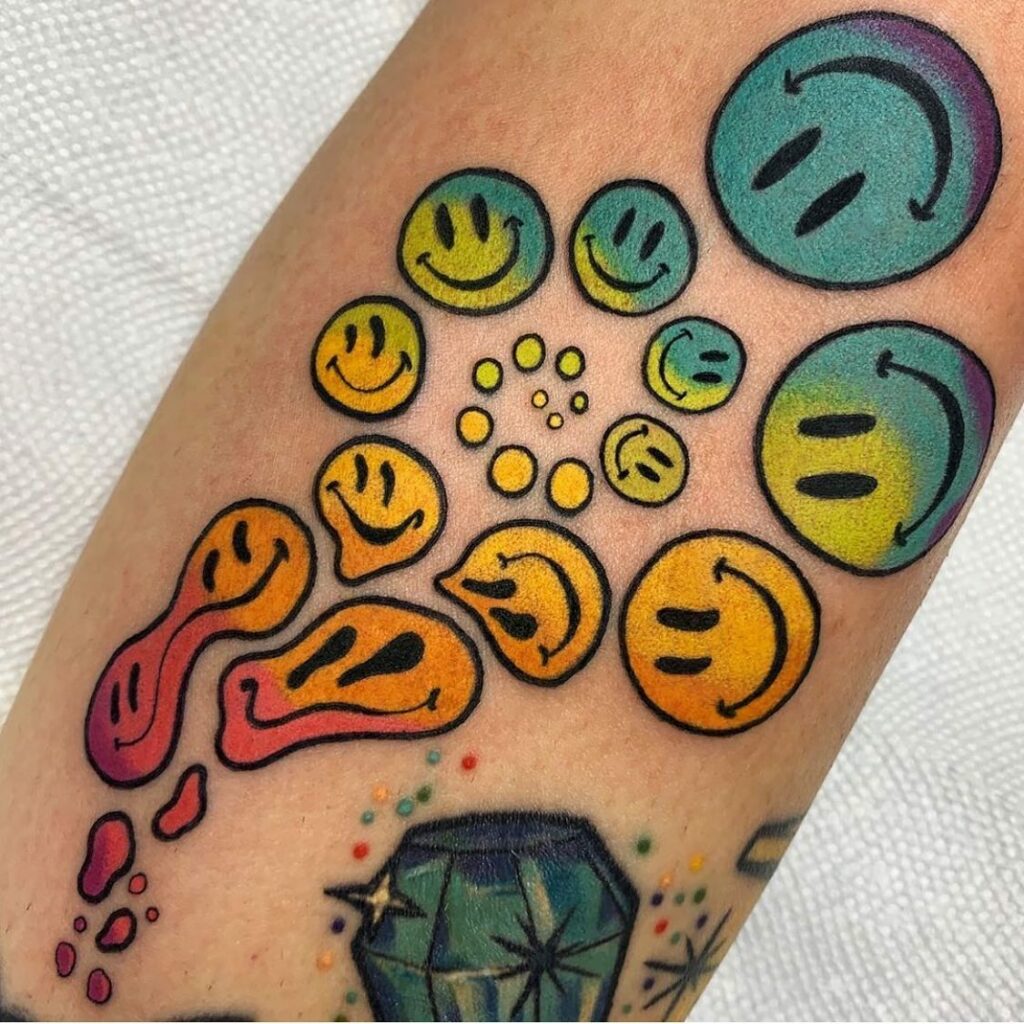 This is an absolutely delightful smiley face tattoo that showcases a variety of designs in different colours, all surrounded by a black border. But that's not all – this particular tattoo also includes a beautiful stone and colourful stars, making it even more captivating. This unique design can be seen as a symbol of togetherness and family bonding. When executed correctly, the vibrant colours of this tattoo can really make it pop. If you want to add even more colour, you can ask your tattoo artist to create this design in a rainbow pattern.
This rainbow smiley tattoo is a fun and colorful design that is sure to catch people's attention. When done correctly, it can look truly radiant and eye-catching. The black border adds a nice touch of contrast and really makes the colors pop.
If you want to make this tattoo even more unique and personal, you can ask your tattoo artist to incorporate tattoos of your favorite foods into the design. This will showcase your love for food and add a touch of playfulness to the tattoo. It's a great way to express your personality and bring a smile to the faces of those around you.
Smile Tattoo Showing Both Happiness and Unhappiness
This unique smiley face tattoo design features a smiling face on the outside, but with a deeper message of inner struggle and depression. It's a powerful reminder that sometimes we may be smiling on the outside, but struggling on the inside. This tattoo can be a symbol of strength and resilience, as well as a reminder to seek help when needed. It's a modern and practical tattoo that resonates with many people today. This tattoo can be placed on the forearm, and while it may indicate difficult times, it can also be a symbol of hope and overcoming challenges.
Single Smiley Face Tattoo On Arm
This small smiley face tattoo on the arm is a simple yet meaningful design that represents a peaceful life without any arguments. It is particularly popular among girls who want to express positivity and good wishes towards others. The smiley face is a universal symbol of happiness and joy, reminding the wearer to always stay healthy and enjoy life to the fullest. It also serves as a reminder to make their loved ones happy and appreciate the little things in life. With its small size and subtle placement on the arm, this smiley tattoo can be a great conversation starter and a way to spread good vibes wherever you go.
Couple Tattoo Of A Smiley Face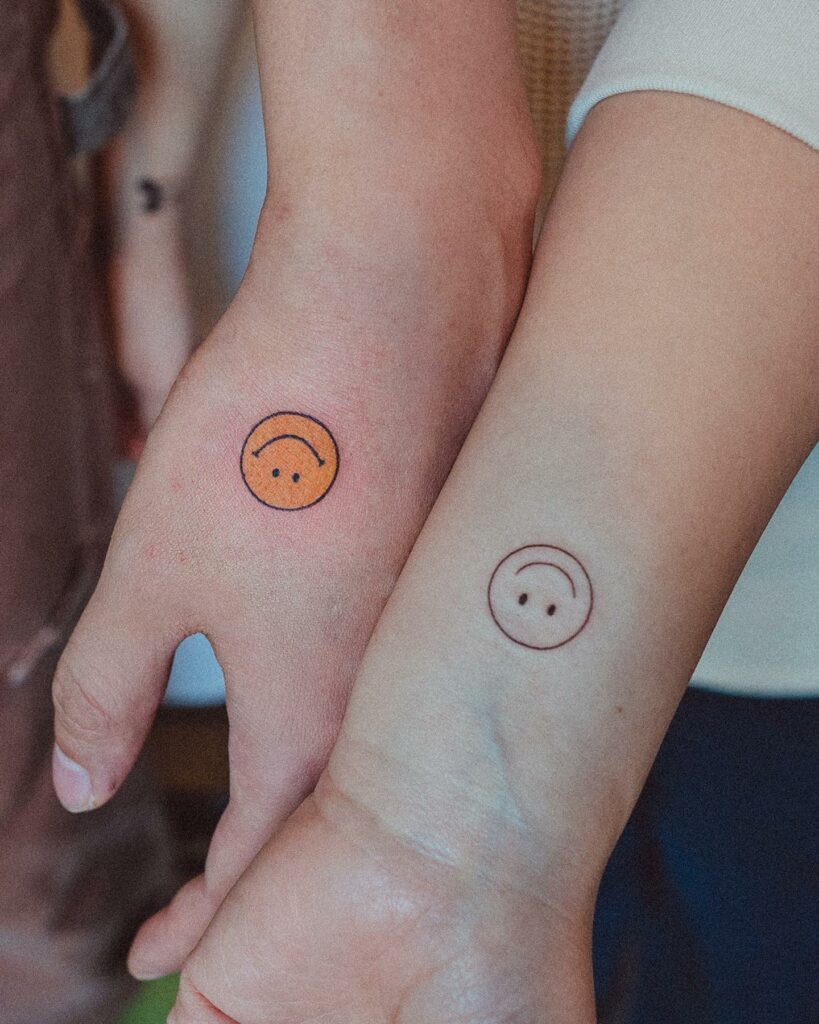 This is an adorable and meaningful matching smiley tattoo that is perfect for couples who want to show their love and affection for each other. The small and cute tattoos are a symbol of the beautiful bond and happy relationship between the couple.
This type of tattoo can be placed on various parts of the body like the middle finger, neck, wrist, toes or shoulders, depending on the couple's preference. The tattoo can be made in different colours as well, depending on the couple's choice.
The matching smiley tattoo signifies the deep love and strong connection between the couple. In this case, both the wife and husband have the same matching tattoo on their arms, making it a special and intimate gesture of their love for each other.
Tattoo of A Smiley Face melting
This is a unique smiley face tattoo that portrays a melting effect. The combination of black and white colors gives it a simple yet eye-catching look.
The design of this tattoo represents a person's feeling that their value decreases as time goes by. It reflects their unhappiness and struggle with life. However, the artistic interpretation of this design is captivating and skillful. This tattoo can be placed on various parts of the body such as the wrist, arm, neck, and shoulders.
This design is typically preferred by men between the ages of 30 to 40, who want to express their feelings through a tattoo. The shading in this tattoo is particularly impressive and can create a striking contrast.
Psychedelic Tattoo Art With Smiley Face and Mushrooms
This is a stunning and vibrant smiley face tattoo design that features playful pink mushrooms, bright and colorful flowers and leaves, and two charming yellow smiley faces. This amazing design spans the whole forearm and gives off a sense of joy and happiness. The smiley faces seem to be enjoying the colorful and whimsical environment. This tattoo design represents the beauty and wonder of nature, and it is perfect for those who want to showcase their love for the natural world.
Tattoo Of A Smiley Face Balloon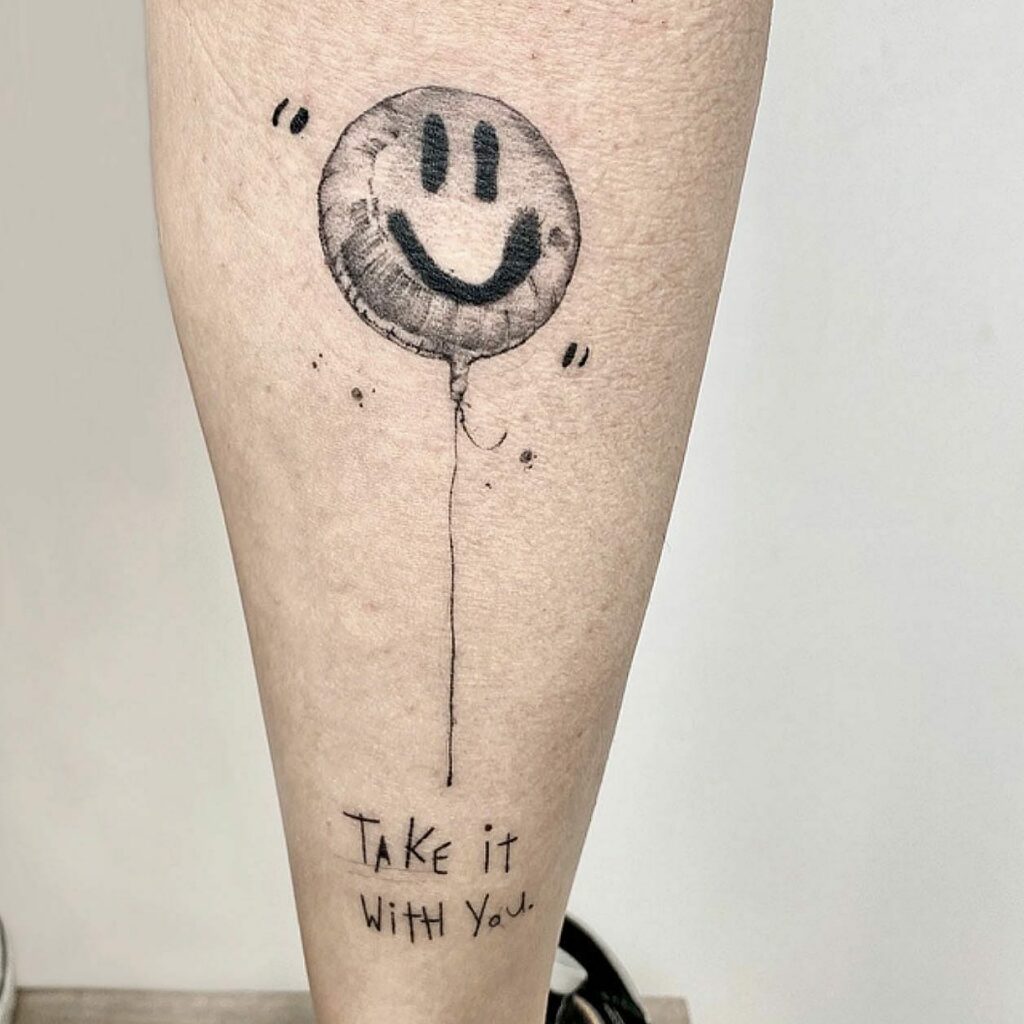 This adorable smiley face tattoo showcases a charming balloon with a smiley expression and the words "take it with you" underneath it. This beautiful art piece represents a message that can be used to express love and affection towards someone you care about deeply. It can be a symbol of friendship or a loving gesture between a parent and their child, wishing them a bright and fulfilling future. The tattoo can be customized in various colors to suit your preference, and you can add any other meaningful line to the design to make it unique and special to you.
Tattoo Of Group Of Smiley Faces On Arms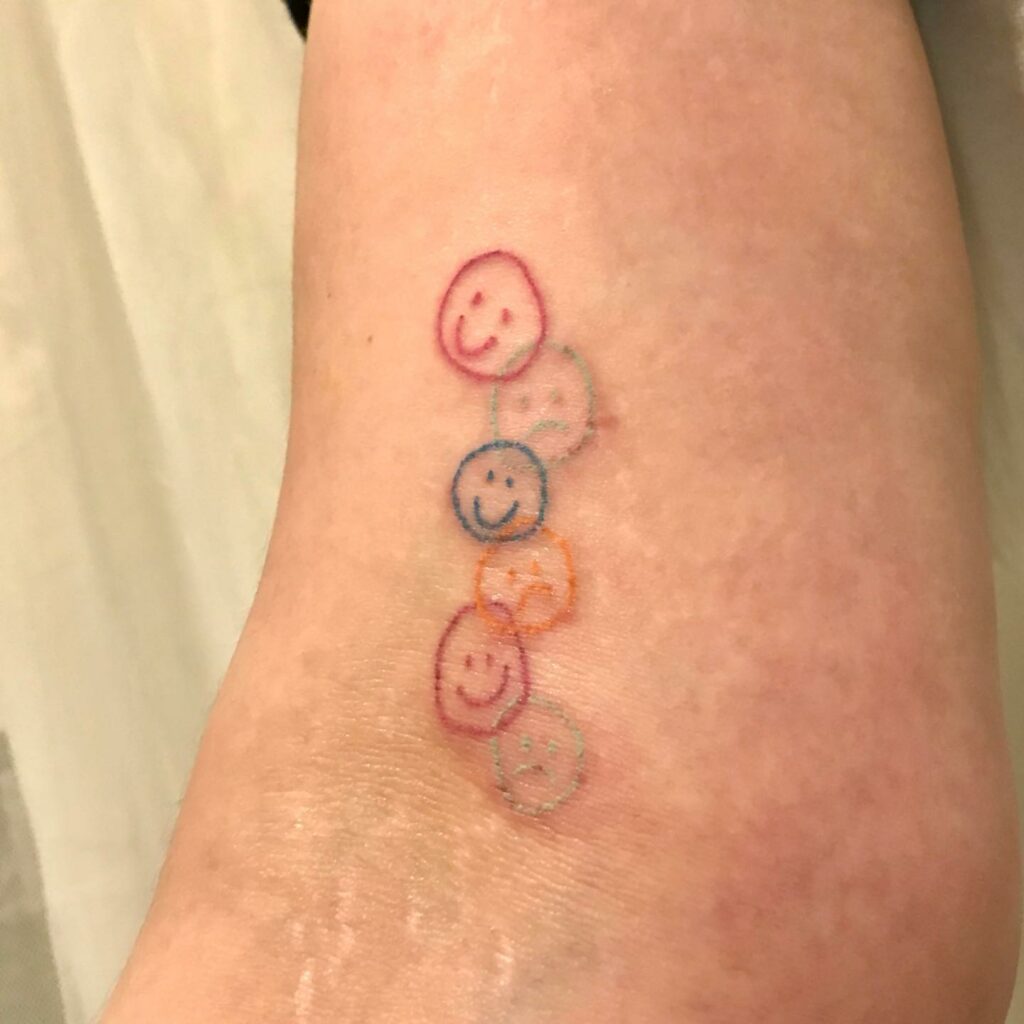 This is a fun and playful tattoo design featuring six small smiley face tattoos on the arm. Each smiley face is uniquely coloured in vibrant shades of red, blue, orange, pink and more. This type of tattoo represents a strong bond between friends, where the relationship is filled with love and happiness, and there is no room for misunderstandings or arguments. This design can be customized to feature the number of smiley faces that corresponds to the number of friends. For example, two best friends can choose to have this same tattoo on their arms to symbolize their special bond. This type of tattoo also serves as a sweet reminder of childhood memories.
Skeleton Smile Within A Smiley Face Tattoo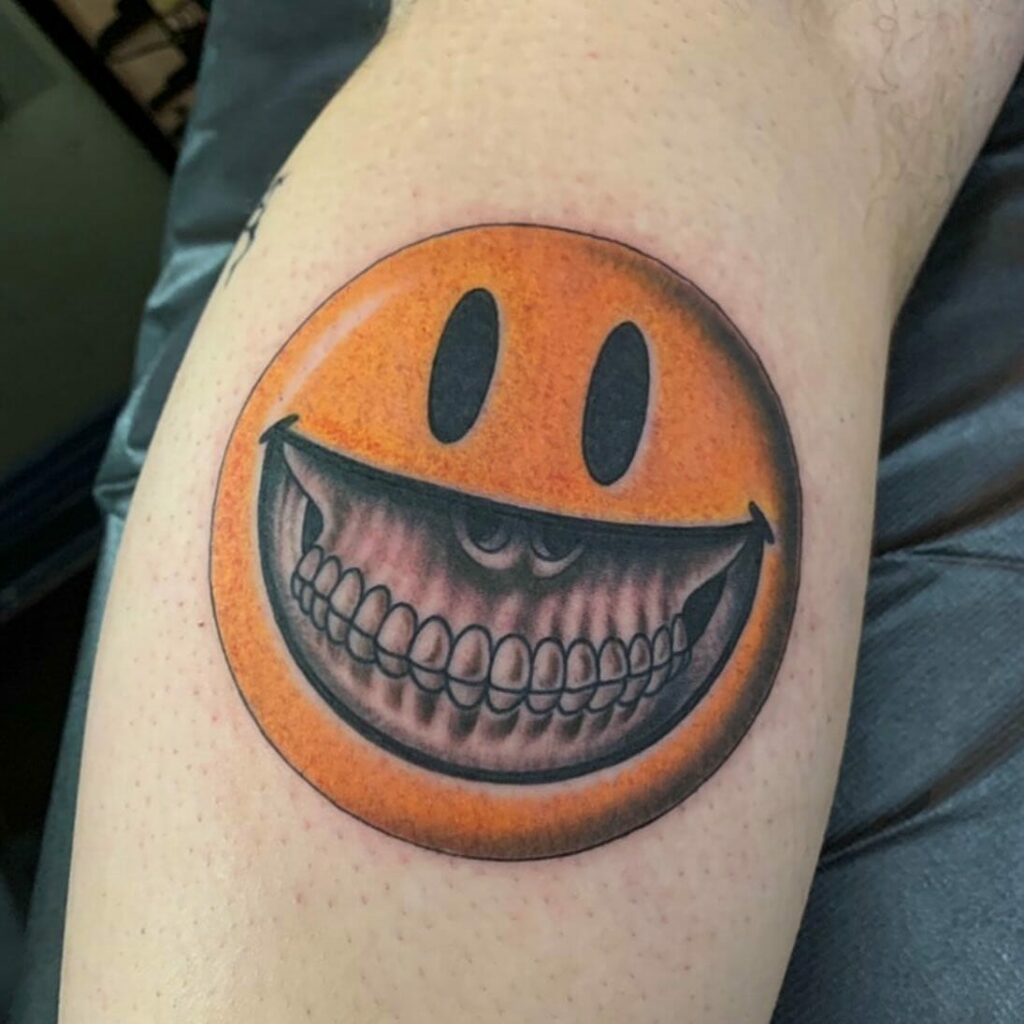 This unique tattoo design combines the traditional symbol of mortality, the skeleton face, with the universal symbol of happiness, the smiley face. The result is a design that is both funny and thought-provoking. The skeleton's smile can represent the idea of dying happy, or it can be a playful nod to those who enjoy pranks and scares. This type of tattoo is especially popular during the Halloween season, and the dark yellow color adds to the spooky vibe. If you want to add a touch of humor to your spooky tattoo collection, this skeleton smiley face tattoo is a great choice!
Smiley Face Tattoo With A Tiny Ghost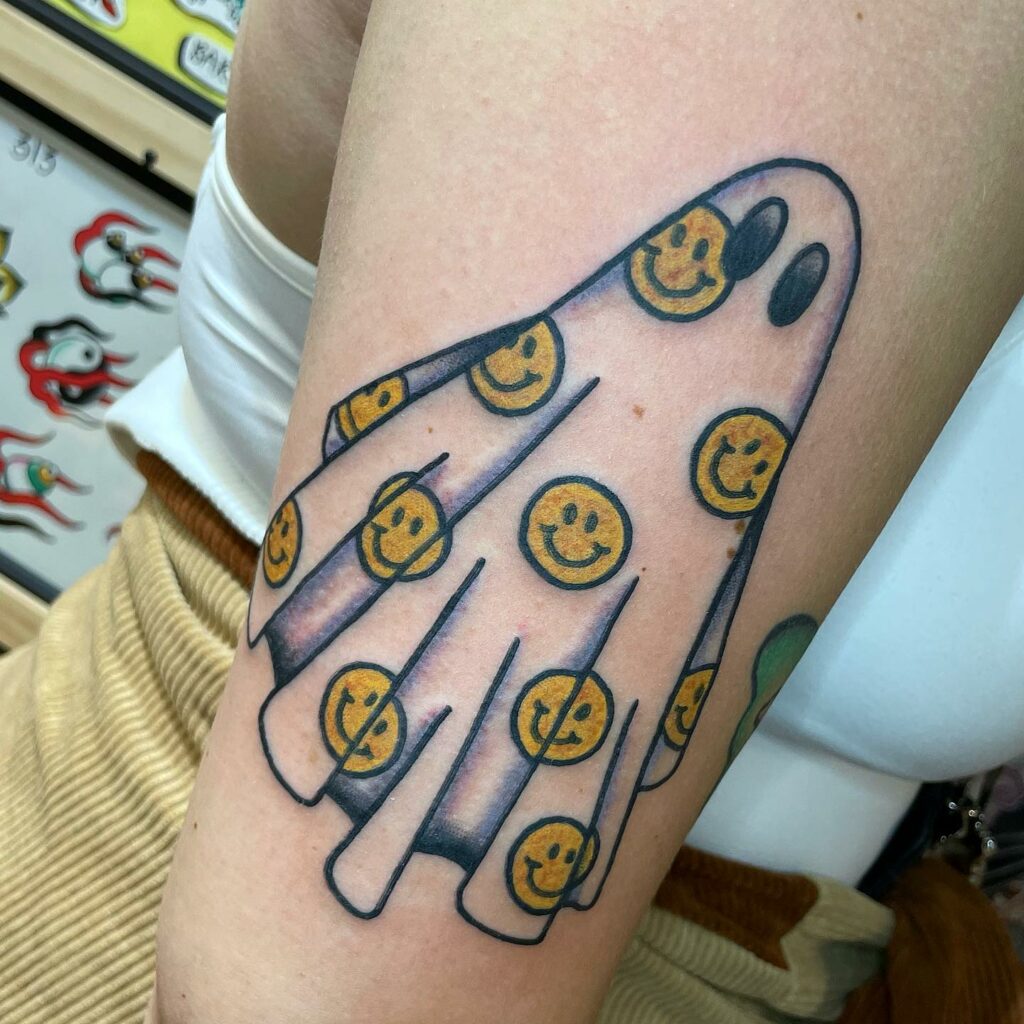 This charming tattoo features a happy little ghost wearing a stole covered in a full yellow smiley face tattoo. Not only is it adorable, but it also represents never-ending love before or after death. It's perfect for those who love to scare others and enjoy reading funny haunted stories.
Smiley face tattoos are a popular choice for both men and women. They're a great way to connect with others and create a strong bond within a community. Plus, a smiley face can make others smile too! If you're interested in getting a smiley face tattoo, keep in mind that the size should be small if it's going on your finger. You can also decorate the tattoo with flowers, animals, or other designs of your choice.
The cost of a small smiley face tattoo can range from $20 to $50. However, if you want to add additional elements such as lines, flowers, shades, or themes, it may cost $50 to $100. Ultimately, the cost will depend on the design you choose and the artist you work with. So, why not add a little happiness to your day with a smiley face tattoo?
Featured image from Pinterest – Want your tattoo to look brighter? Try "Tattoo Balm"
Last reviewed and updated on April 21, 2023