Do you find a full sleeve tattoo to be redundant? Then look no further; read about the small tattoo sleeve ideas curated just for you.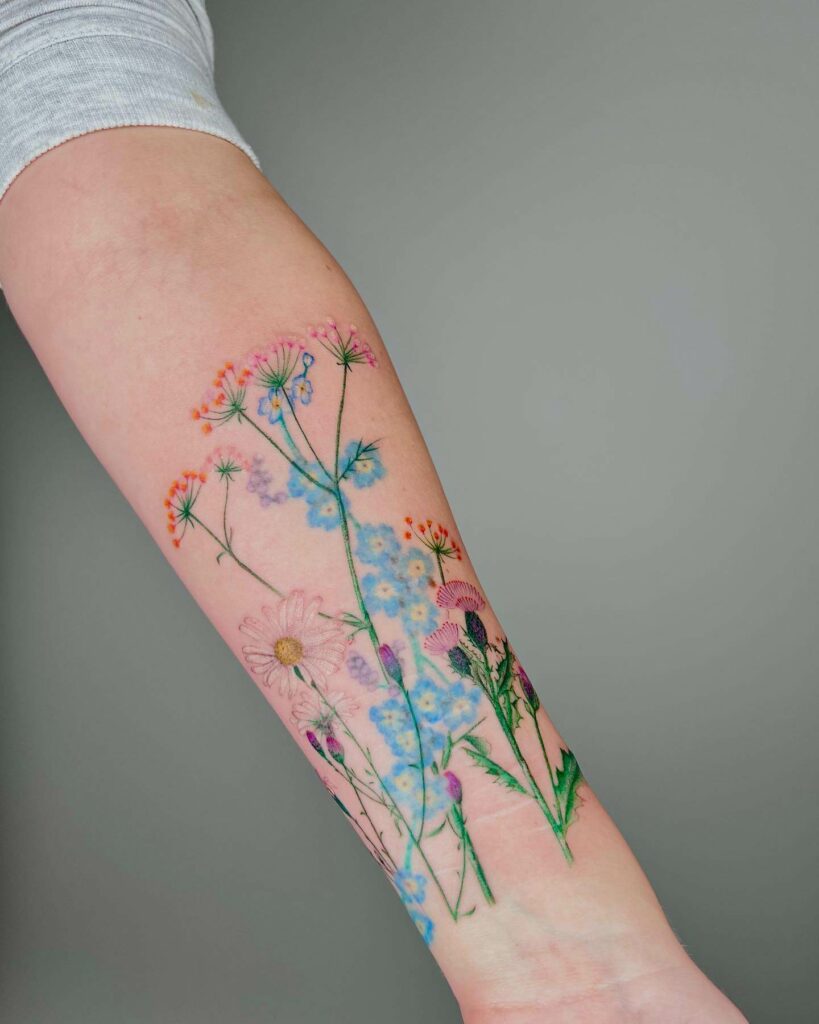 Small scattered tattoos can be your go-to option if you are not a fan of long full-sleeve tattoos.
Small sleeve tattoos are called half sleeve tattoos as well. It means that the tattoo does not confer with the full length of the arm and leg, and scattered designs are made henceforth.
There are many perceptions of people that sleeve tattoos hurt a lot. But on the contrary, it does not hurt even a bit and totally depends upon the nerve endings in your preferred tattoo placement area. Tattoo artists have often exclaimed that a sleeve tattoo costs much more than that of a normal large tattoo. Small sleeve tattoos have different themes or one similar theme that has been followed throughout the design. A few smaller tattoos consist of a half sleeve tattoo and make it look unique and one of a kind. If you are a bright, colorful tattoo fan, you can add a tinge of color to spice up your overall style statement. If you are repulsed by the idea of a full sleeve tattoo, which is apparently known not to make a good impression, it can equally look phenomenal if made with utmost care.
Here are some amazing and finely curated tattoo sleeves which are just for you to give you a nice inspiration for your new tattoo venture.
Flowers Arm Small Tattoo Sleeve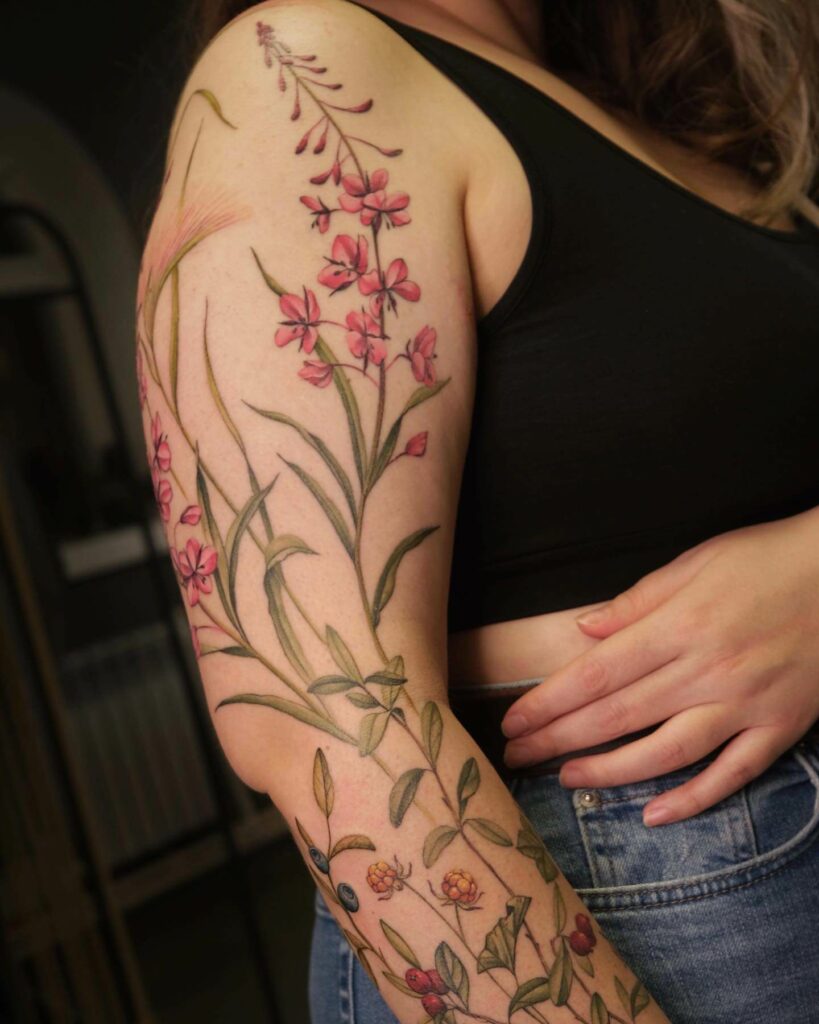 Floral tattoo sleeves are one of the top choices of an individual. It sends a calm and serene vibe which makes the tattoo one of a kind. This tattoo is made of Siberian plants, which are only grown in cold places.
The wearer might have made this tattoo abide by the concepts of serenity and grace. It helps the wearer to reconnect with some old scattered memories they have of this plant. It can also uphold the meaning of passion and grace, which the wearer wants to exude from this particular tattoo. The tattoo should be rated an 8 out of 10 for its simplicity and grace and the immaculate work of reminiscent memories by the tattoo artist.
Wabi Sabi Lifestyle Sleeve Tattoos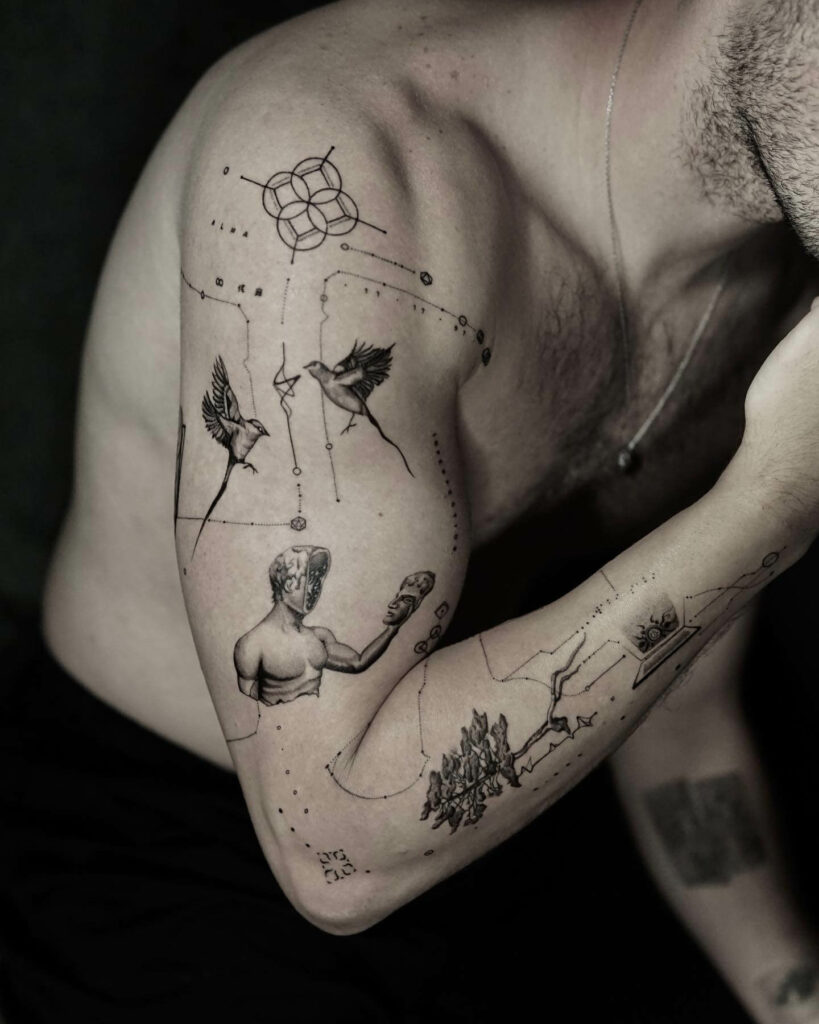 The Wabi-sabi lifestyle conferred the appreciation of beauty among the imperfections and simplicity which exist in the natural state of the world. This tattoo is made from the Japanese ideology of the wabi-sabi lifestyle, which, however, might be an easy concept to talk about but sometimes difficult to express.
This tattoo sleeve is more scattered with small tattoos all over the arm, making it a half-sleeve tattoo. The birds on the tattoo enhance its simplicity and confer the deep meaning of how the Wabi-sabi lifestyle can be reliving and freeing for an individual.
The wearer wants to pass a message to the people about how this lifestyle has changed their life and made them a better version of themselves. There is no visible inflammation found on the surface as well. On a scale of 10, this tattoo is definitely an 8 for its amazing expression and the manifestation of such a positive styling.
Filipino Small Abstract Tattoo Sleeve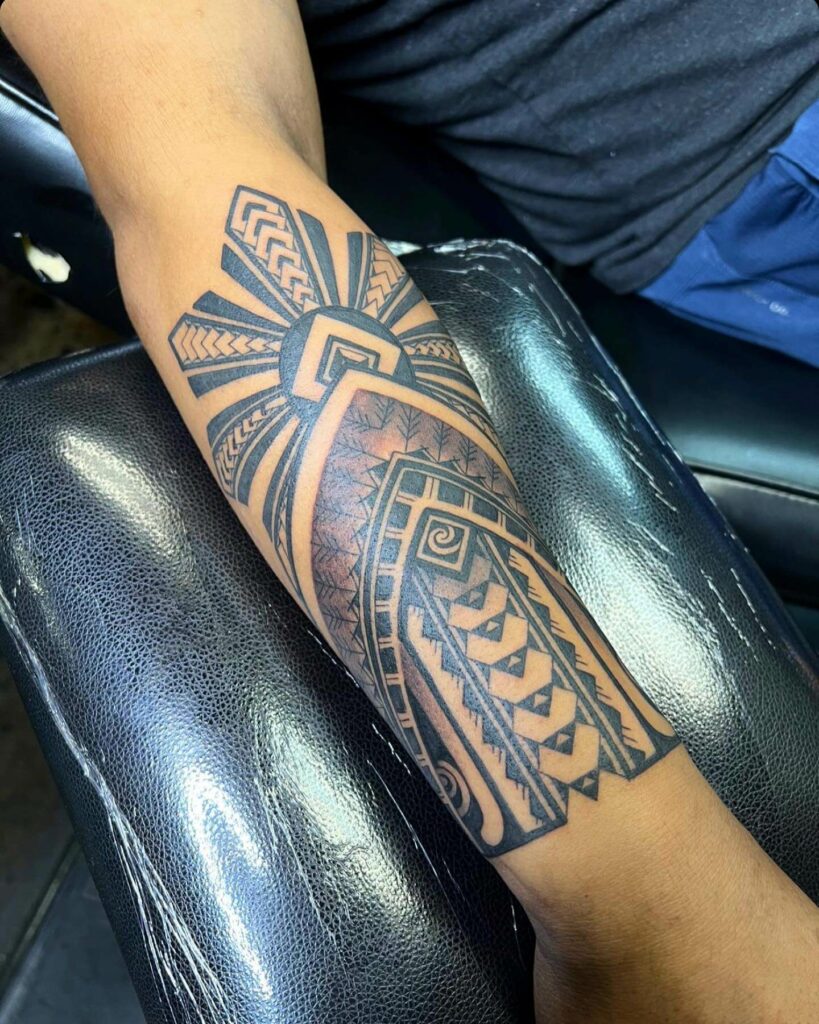 If you are in love with Filipino art and culture, this tattoo is a perfect option for you. This is made based on Filipino art and culture with its tribal architectural design. The intricate work of the black ink makes it look one of a kind.
This is a perfect tattoo option if you are a huge fan of Filipino heritage. The tattoo has just been made on the lower forearm, proving that the wearer has not scattered the tattoo but has made it on just one spot. The tattoo looks phenomenal on the wearer without any inflammation. On a scale of 10, this tattoo is definitely an 8 for its clean work and cultural appropriation.
Abstract Sleeve Tattoos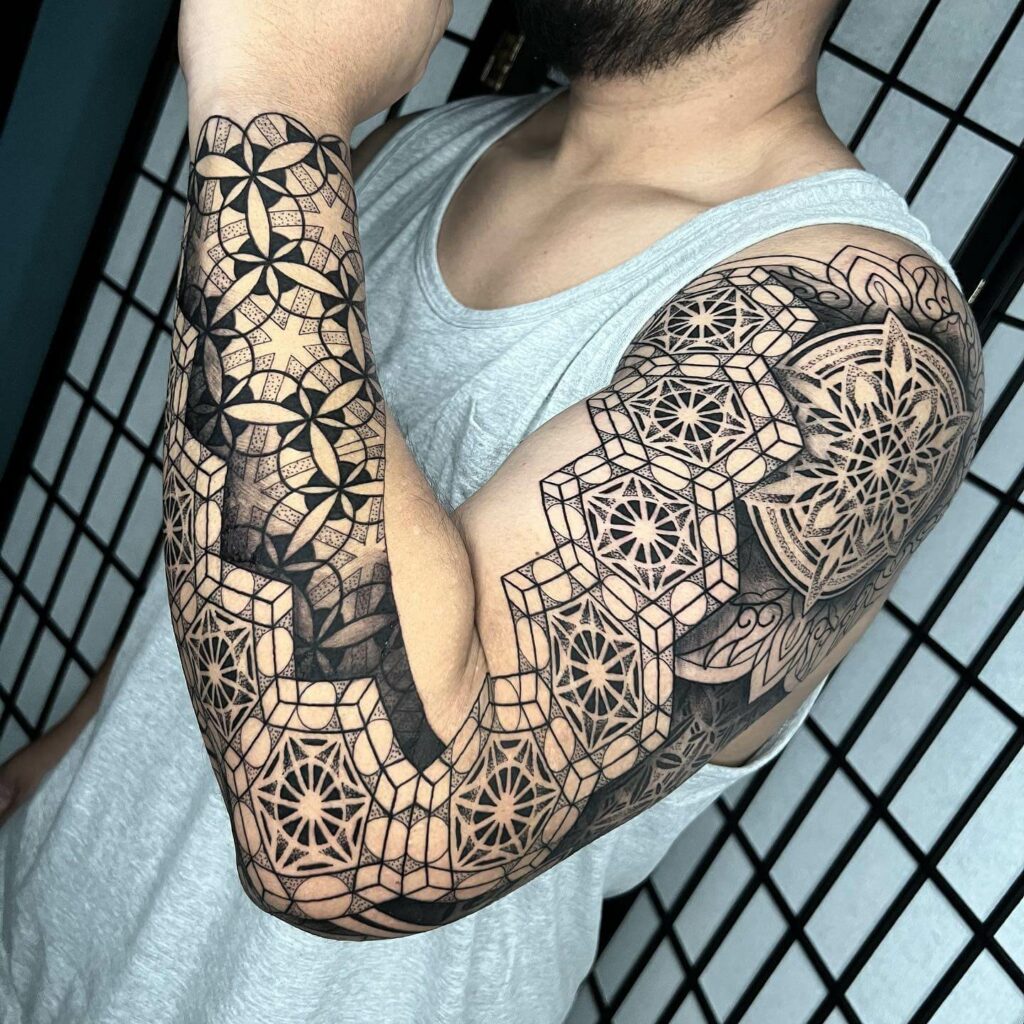 If you like abstract tattoos in a scattered yet full sleeve form of a way, this is a perfect tattoo option for you. The tattoo consists of several abstract geometric motifs that perk up the wearer's style.
The tattoo artist has made extremely meticulous work on the arms of the wearer, which makes it look absolutely gorgeous. The hues of black and grey perk up the style immensely and make it look one of a kind. No visible inflammations are seen on the tattoo, making it look extraordinary. You can customize this tattoo to your needs and make the best version for yourself. In totality, this tattoo is an absolute grab, and at the rate of 10, the tattoo is definitely an 8.5.
Leaves Japanese Sleeve Tattoos
Leaves symbolize the strength and support system of an individual. If you want to make a tattoo and confer strength and willpower, then this tattoo is surely a grab for you. The leaves here are made in the Japanese style of painting by using only black and grey hues in the color palette. The palette looks distinctive and unique and one of a kind.
The detailed work of making the leaves realistic looks rewarding and totally perks up the look of the wearer. There is also no visible inflammation found on the surface, which suggests that the tattoo artist has been careful while making this tattoo. The tattoo should be rated an 8.5 out of 10 for its realistic creative essence and beauty.
Mandala Style Patchwork Sleeve Idea
Mandala is a zen art form that is loved and adored by people all over the world. It is a very calming art form that has a very positive effect on individuals. This tattoo is a leg sleeve tattoo.
There are gaps between the tattoo which makes it not conferred to be a full sleeve tattoo, and because of its scattered and uniform design, the tattoo is one of a kind. There is also no visible inflammation on the surface, which is a commendable effort on the tattoo artist's part to make it look approachable and beautiful. Overall, the tattoo should be rated as an 8 out of 10 for its impeccable artistic skills and work and make them look like one of a kind.
Mexican Tribal Tattoo Sleeve
If you love Mexican culture and the tattoo art that comes along with it, then this tattoo is a total grab for you. This half-sleeve tattoo only on the calf of the wearer makes it look one of a kind and perks up the entire look. The tattoo is of a tribal entity with ornamentations that have been made above their head to make them look one of a kind.
The tattoo looks absolutely mesmerizing and really enhances the beauty of the wearer. This symbolizes that perhaps the wearer wants to channel some Mexican culture and energy among themselves, which can lead them to a positive approach to life. You can customize the tattoo in your own way to make it look the way you like. You can also adapt to a different culture, which you are fond of for your cultural appropriation. Overall the tattoo should be rated an 8 out of 10 for its cultural appropriation and beauty.
Mint Flower Arm Tattoo Sleeve
The Mint flower is often represented as a symbol of serenity and calmness. This lower forearm tattoo is beautiful and makes the wearer look gorgeous. Mint flowers have certain feminine traits. This is why it is a very common tattoo among women.
The tattoo is one of a kind, and the hues of lavender and turquoise in the picture make it look one of a kind. Perhaps, the wearer wants to channel positivity and calmness in life to succeed and fight their inner demons. Overall the tattoo can be rated a 9 out of 10 for the conceptualization of the tattoo artist as well as the wearer.
Tiger Rose And Clock Small Scattered Tattoo Sleeve
This tattoo has scattered images and scattered meanings. Tigers symbolize strength and support. Clock tattoos symbolize how much time we have and how much we should conserve to live our life to the fullest. Rose tattoo talks about the wearer's unquenchable love and passion for themselves and someone else.
This tattoo, therefore, connotes three different meanings being brave, tapping into one's inner strength before time runs out, and getting positive energy full of passion from the rose. There are no visible inflammations on the surface to be found. The work is extremely immaculate by the tattoo artist. It is definitely one of the best works to be seen for its symbolic gesture. Overall the tattoo should be rated a 9 out of 10 for its beauty and poise.
Flying Surrealistic Tattoo Sleeve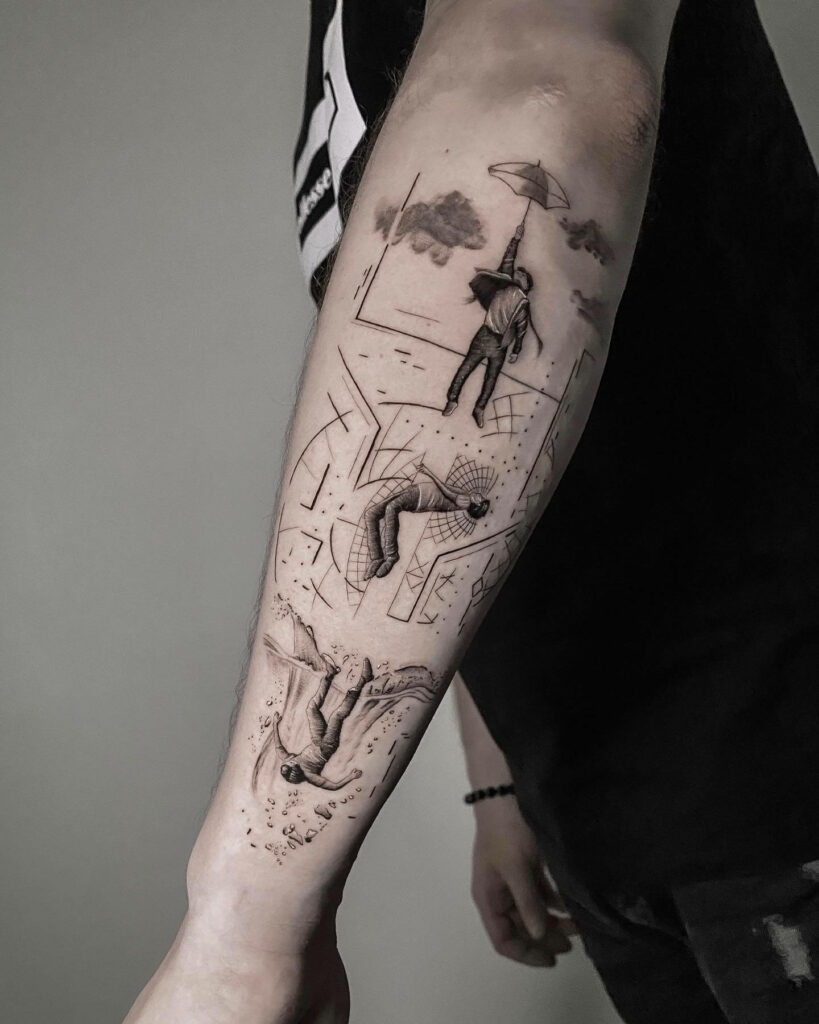 Flying tattoos often confer the philosophy of being free and being born again as a victorious person. This tattoo simply connotes that value. The designs here are scattered and have interpreted how an individual is trying to fly and become free and turn into a new person.
The tattoo is made in the form of modern tattoo art, which makes it look immensely beautiful and one of a kind. The tattoo suggests that the wearer cannot be tamed and they should be let fly and fulfill their dreams. The tattoo is quirky and one of a kind. On a scale of 10, this tattoo is surely a 9.5 for its immaculate work by the tattoo artist and quirky idea.
Small tattoo sleeves are surrealistic and one of a kind. It can inspire you to get one large or several small tattoos.
Feature Image from Pinterest – Want your tattoo to look brighter? Try "Tattoo Balm"